A Real "Bed" in the sky – Odyssey on Lufthansa's new First Class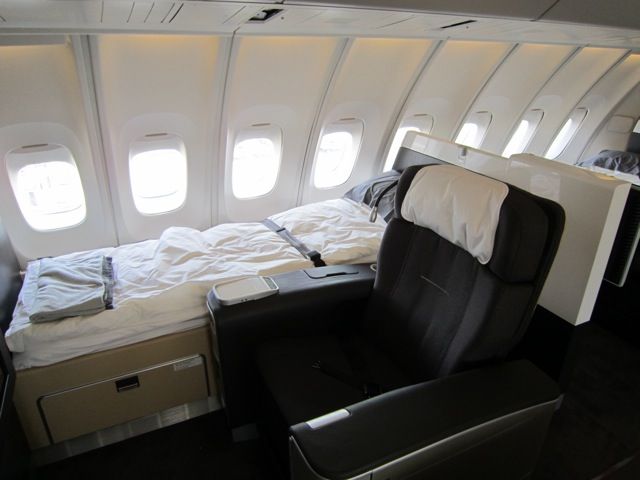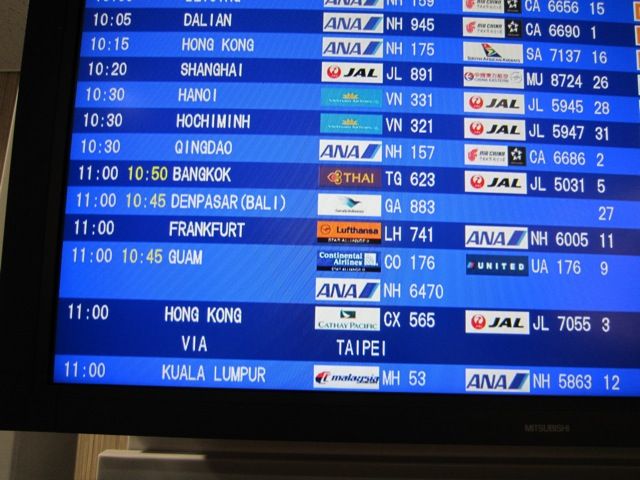 In order to get home, I decide to issue a Star Alliance award ticket, and after many interesting conversations with US Airways agents, I am able to book a roundtrip between Osaka, Japan and Chicago via Frankfurt in first class. I am sure there are many reports on United First so I am going to skip that part. Ironically I am writing this report sitting at 1A on N773US, which features the hybrid Continental livery and the new first and business class. Anyway back to Lufthansa, I believe Lufthansa decides to refresh its first class cabin on the Boeing 747-400s to match the new first class cabin launched on A380s (and I presume that these 747s will be kept a bit longer so something needs to be done). Someone brilliant at LH decides to go back to old school first class – how about a real bed next to the seat. It reminds me of Japan Airlines and Philippine Airlines old commercial showing bed in first class in the upper deck of the Boeing 747. So Lufthansa really gives it a magic and modernist touch, and the upholstery has changed to a brownish color, which is a bit more stylish than the blue color. Many fellow travelers have talked about it and there were tons of pictures, so I hope this trip report will help you "see" the product better, and since I still have a return flight in January next year, and more than happy to answer any question or try to address them in the future. If there is a particular aspect of the seat that you want to photograph, please let me know! Please make it reasonable. I am not going to ripe out the mattress to show what is behind it. LOL!
BTW this is my 200th Boeing 747-400 flight!
November 2, 2011
LH 741 KIX-FRA Lv1100 Arr1500 Boeing 747-400 D-ABVK "Hannover"
http://share.shutterfly.com/action/welcome?sid=8QbNHDNy5bqT0Y
Osaka Kansai Airport was quite busy this morning, as there was an upcoming public holiday in Japan and some people are taking advantage of a vacation. The morning period also features a major European departure bank (all European airlines depart in the mid-morning hours), and the first bank of flights heading to Korea, China, Hong Kong, and other regional destinations. Checking the load periodically suggests that I was the only one booked in first class and was definitely looking forward to a private cabin. Of course… anyway, check-in line was long at economy and the flight was definitely packed in the business and economy cabin this afternoon. First class nonetheless remained empty and I was immediately assisted. Check in took less than a few minutes, and I was on my way with a lounge invitation and a boarding pass in the traditional Lufthansa first class folder.
Check in display system – really cool and let you know exactly which airline and which cabin class use which counters and it is just nice to look it
Busy Lufthansa check-in area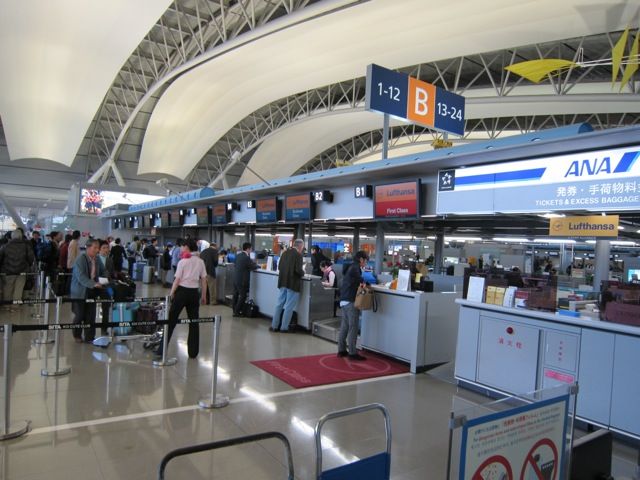 First Class line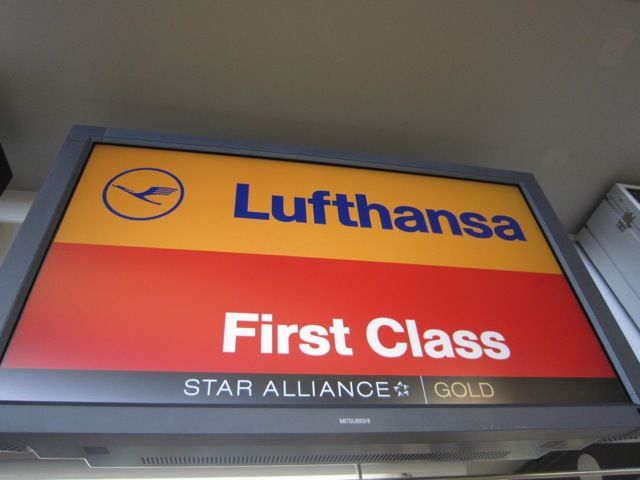 First Class carpet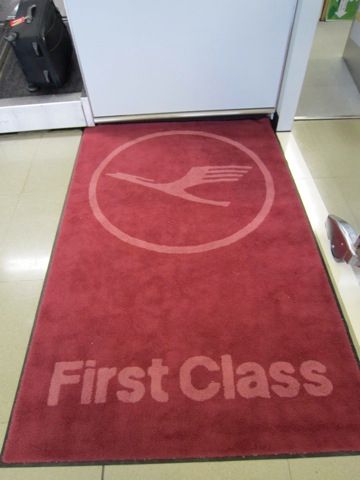 First Class check-in counter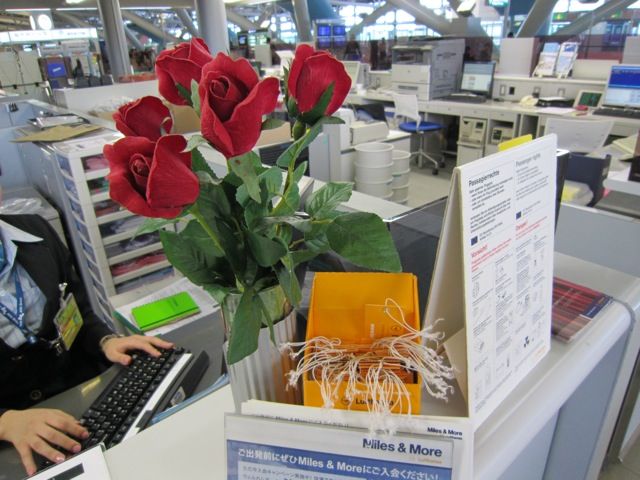 The departure hall was busy but things ran smoothly and I was able to go through security and immigration line within a reasonable amount of time. Just as I left the immigration counter, I spotted D-ABVK landing at R/W6R right on time. I took my time, as I knew the Asuka lounge was nothing special. After a quick shuttle ride to the North Wing, I first stopped at the gate and took some photos of the plane. Boeing 747 still amazes me even after flying Boeing 787. Getting ready for the return flight.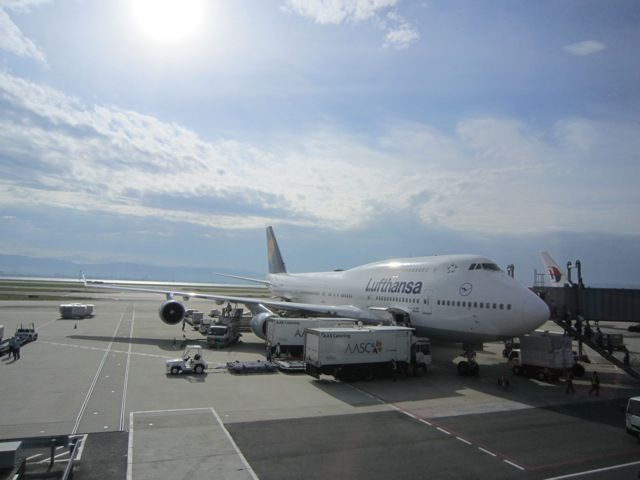 Gate 11 was our gate this morning (and I think LH usually uses this gate)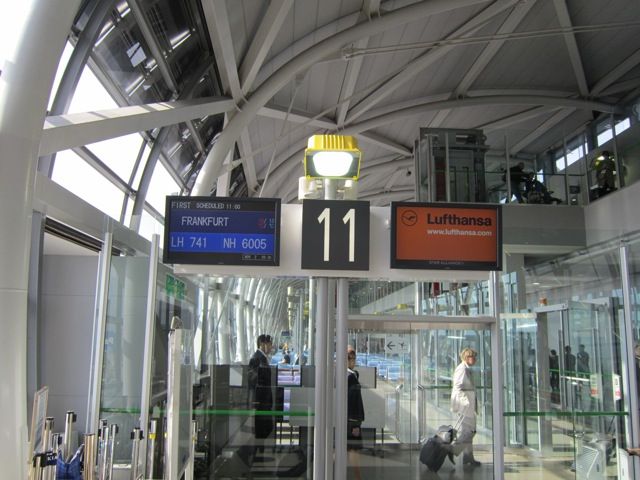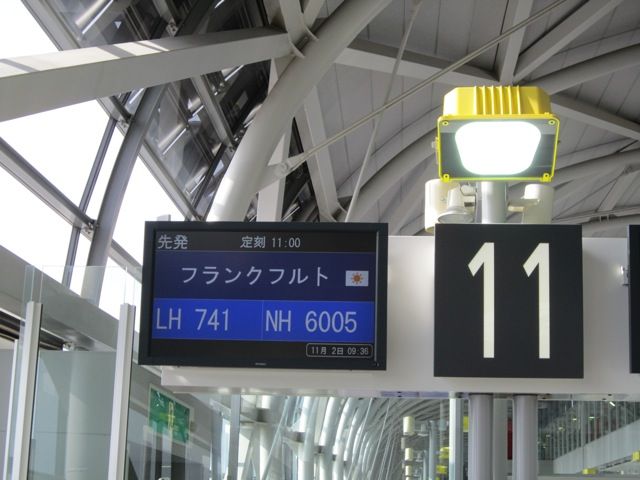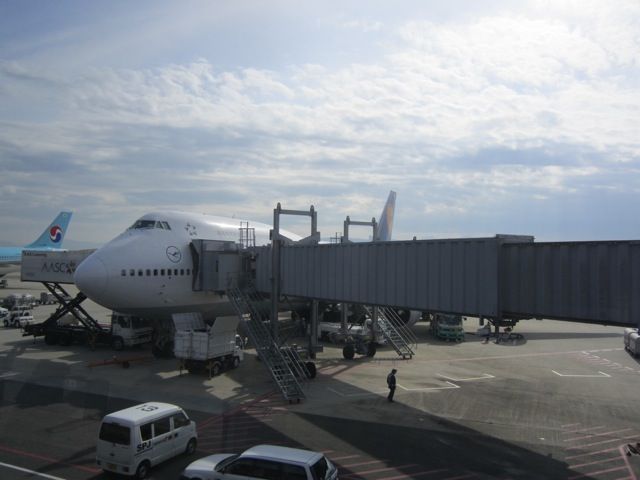 Then I head to the Asuka Lounge, which is shared by most Star Alliance partners and Delta. It is definitely an unimpressive lounge and if you want to spend more time at the airport mall, please do so. I used the lounge because I needed wifi for my iphone and laptop. If not, I would rather sit out there and watch planes. However one good thing about the lounge is that it is located right at gate 11, and no need to head out early.
Photos of lounge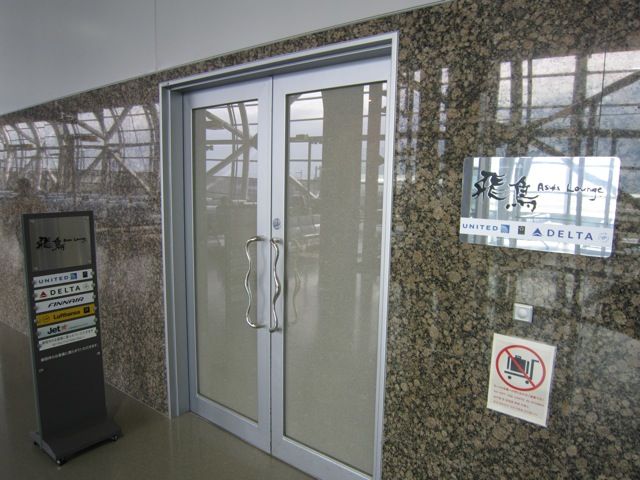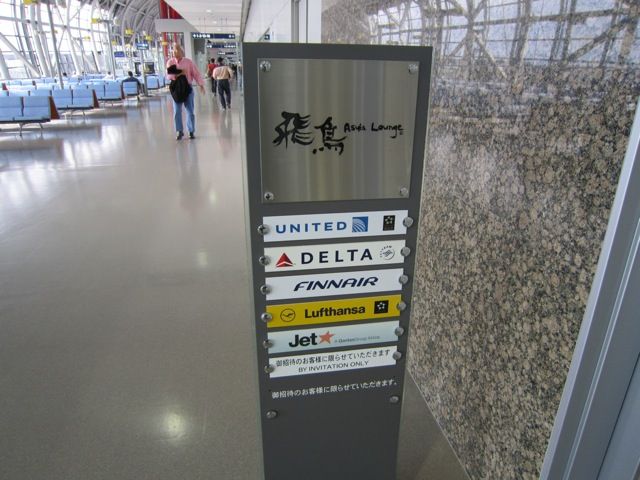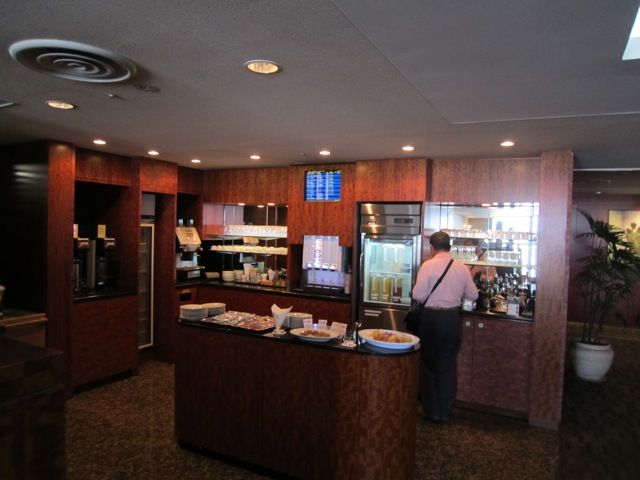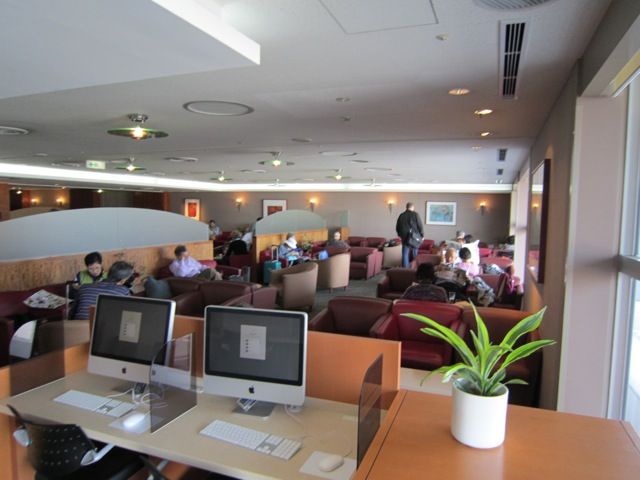 Finally at 10:30am, the lounge receptionist announced boarding for Lufthansa flight 741 and I headed towards the gate in a leisure pace, as there was a separate first and business class line. The agent spotted my F folder and welcomed me on board. I was the first one to arrive at the cabin, and two flight attendants were working the upper deck this afternoon, and they were both friendly. They greeted me in Japanese and showed me to my seat. It was an impressive cabin. Sleek and stylish! What a different from the old first, which is still good, but it is just nice to have a real bed to sleep in.
Many pictures… here it comes!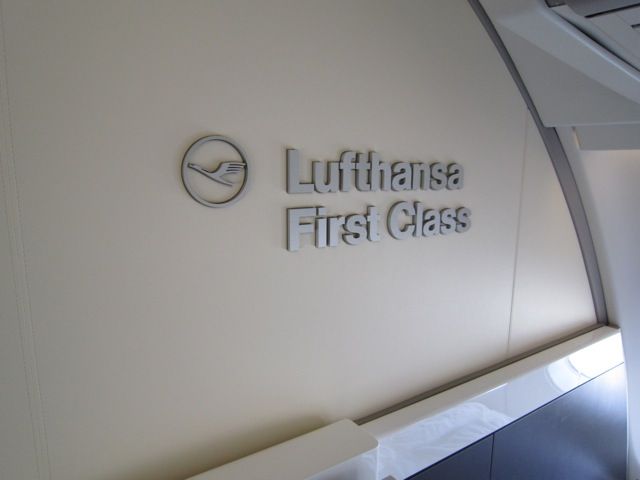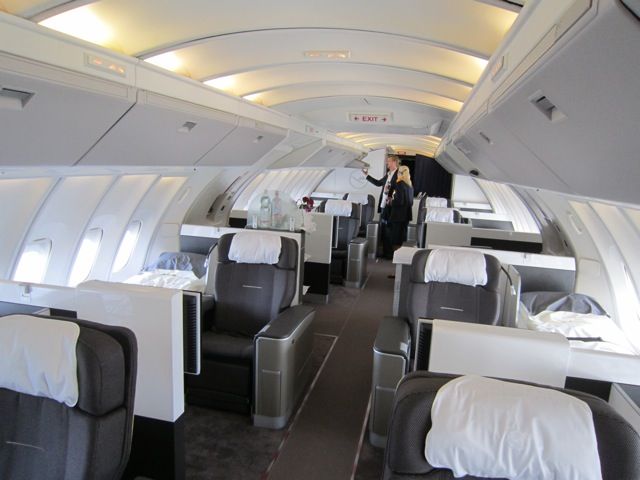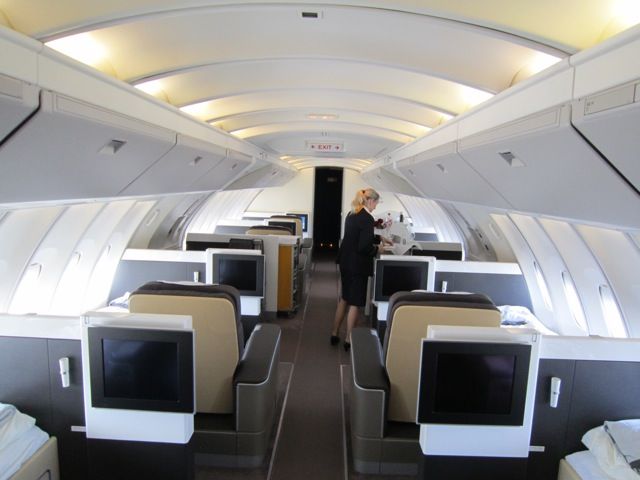 However my dream of being the only one ended as a non-revenue passenger also joined me in the first class cabin, but the service was still very attentive.
Anyway, I took a picture of each seat
81C
81H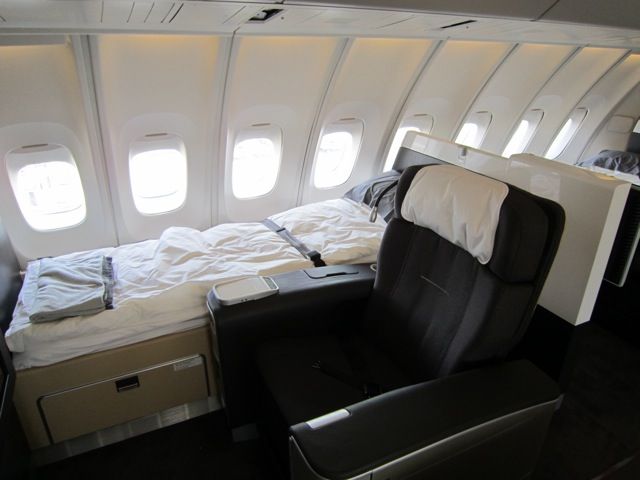 82C – no picture because that is where the other passenger is seating
82H
83C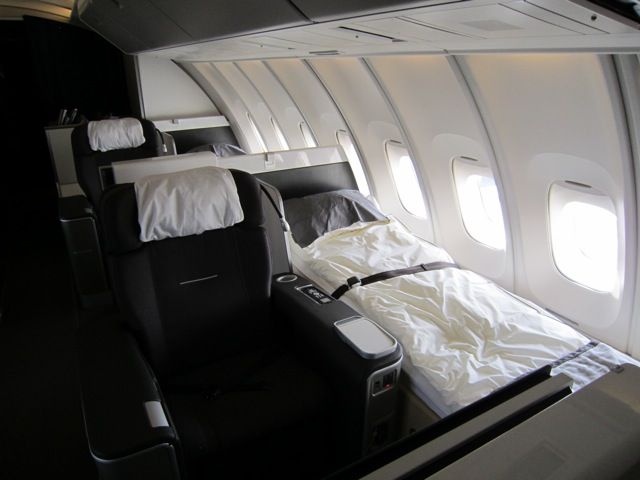 83H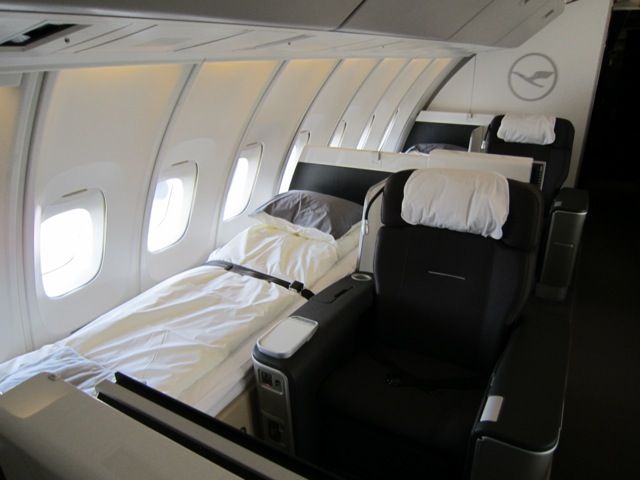 84C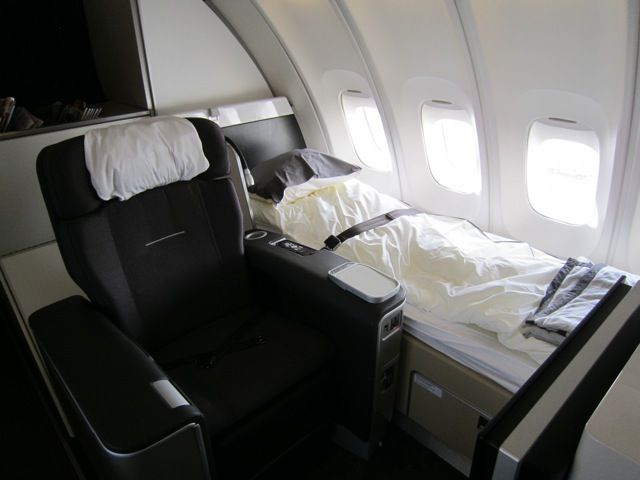 84H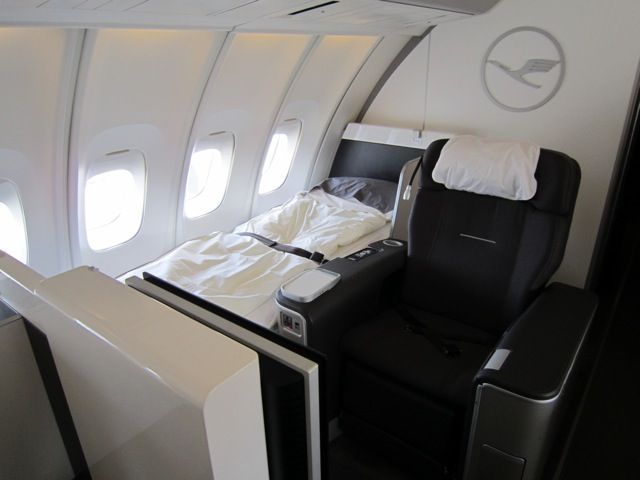 The seat itself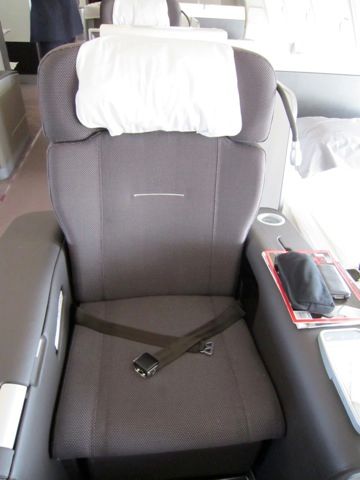 The bed – already freshly made with a pillow and an additional wool blanket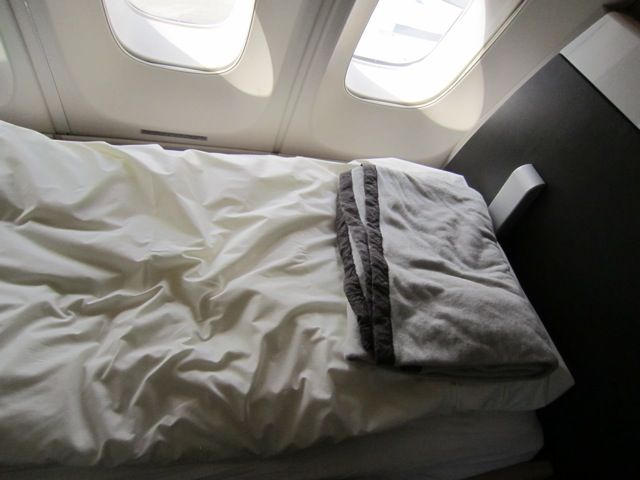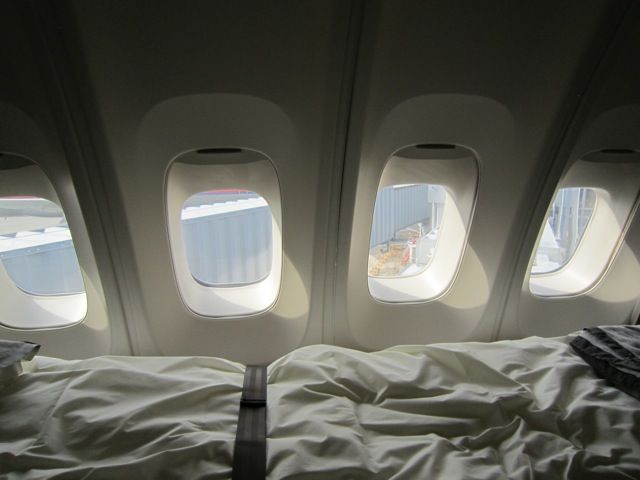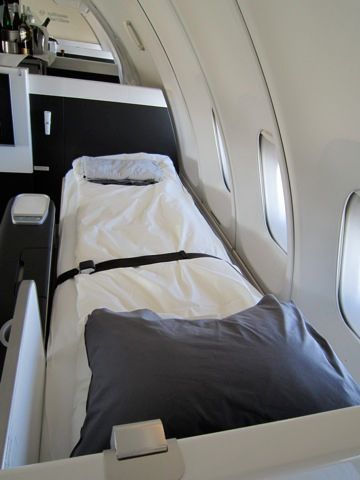 The F/As definitely were specially trained and were very friendly and personable. They smiled, unlike the typical German stereotypes, and it made every first class passenger feel special. Not sure if it is from the heart, but at least they seemed genuine. Beverage order was immediately taken and then a bowl of macadamia nuts came with it.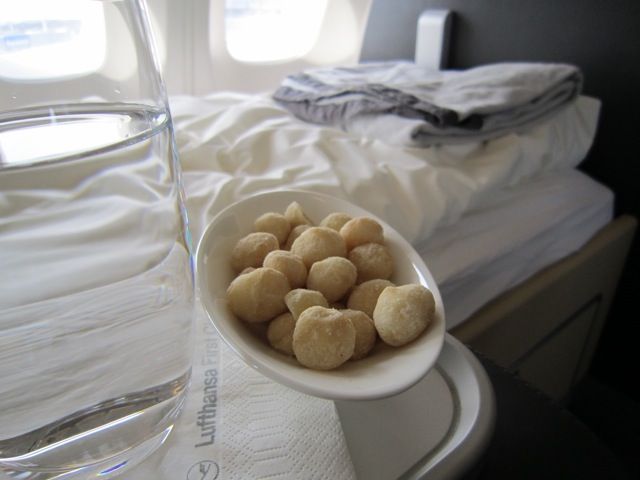 Amenity kit, sweater (blue Van Laak), trousers (brown pants), slippers, and duty free shop catalogs next
Amenity kit – Porsche Design (I still hope I will get the Riwona one in the future…)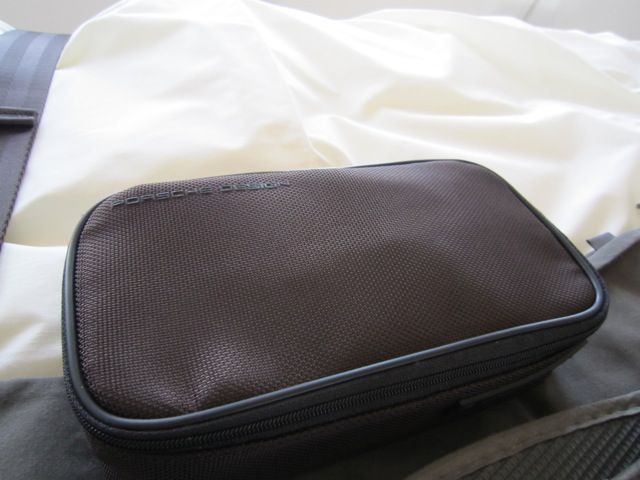 Pajama – sweater and trousers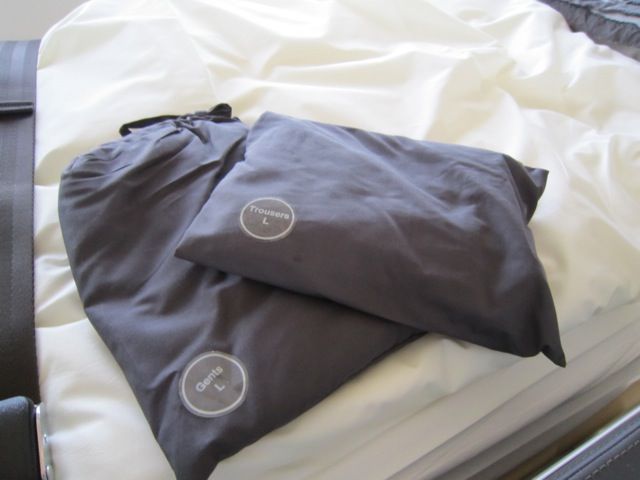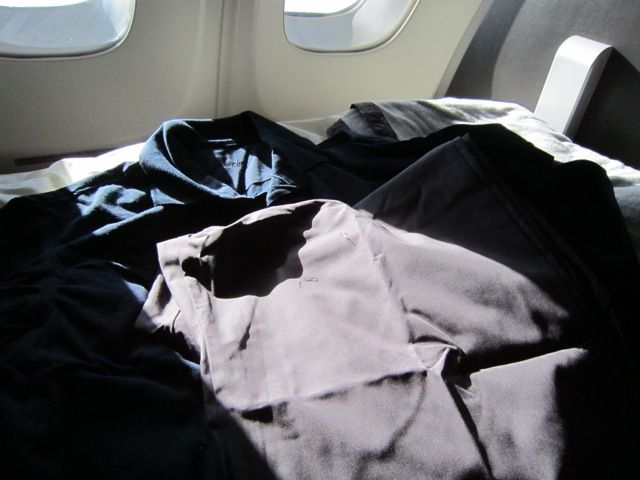 Slippers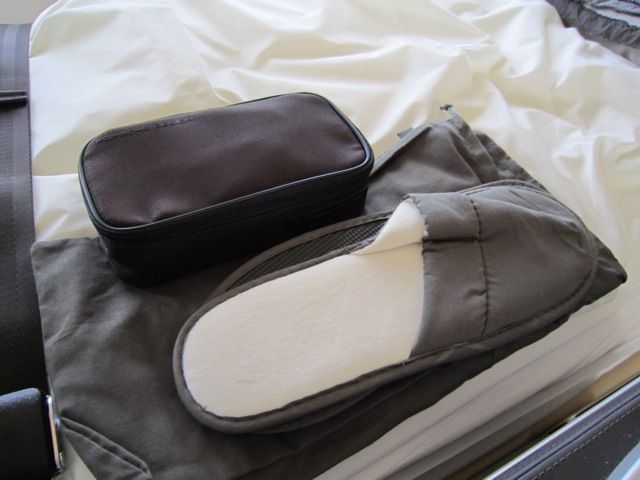 Boarding was completed at 10:55pm and we pushed back two minutes prior to scheduled departure time. We slowly made our way to the queue at R/W6R. It was a busy morning, but nothing like Narita or JFK or ORD. After CX 773 B-HNJ took off for Taipei, a Garuda's A330 PK-GPC taking off, and a China Southern A319 landed, we lifted off at 11:18am for an eleven hours and forty minutes flight to Frankfurt.
Kobe Airport
Itiogawa
We passed out Kobe airport, city of Osaka, Motosu, Gujo, and leaving Japan as we crossed the coastal city of Itiogawa and reached 29,000feet. Then we crossed the Sea of Japan towards Siberia, and climbed up to 35,000feet before reaching Troitskoye, near the city of Komsomolsk-na-Amure, and then the Aidan Plateau and Siberia. We descended back to 31,500 feet and then crossing the city of Norilsk, and then towards northern Russian coast, and then Gyda and Yamal Peninsula, Vaygach Islands, and then back up to 35,000feet before crossing Mezen in the Kanin Peninsula. After crossing the White Sea, we steadily climbed up to 36,000feet and then 38,000feet before reaching Finland, and passing the cities of Joensuu, Kouvola, and Helsinki. Then we headed towards the Sarremaa Island, and reaching the Polish coast by Lebsko Lake, and then passing the German cities of Szeczcin and Berlin, and then started our descent around Leipzig and towards Naumburg and Erfurt.
Seat belt sign was turned off at 11:18am and remained off the whole flight, despite the official LH policy is seat belt fastened whenever seated, which is always a good advice. Yes the bed has a seat belt too. Wine list was first passed out and here is the wine list for November and December 2011!
Champagne
2000 Champagne Laurent-Perrier Millesime, Frankreich
Or
Champagne Louis de Sacy Grand Cru Brut
Monthly Proposal
2006 Meritage, Artesa Winery, USA
Apertifs
Cmpari
Sherry "La Guita"
White Wines
2010 Merler Stephansberg Riesling Spatlese trocken, Weingut Kalfelz, Deutchland
2009 California Chardonnay, Round Hill, the Rutherford Wine Company, USA
2010 Marlborough Sauvignon Blanc "Icon," Nobilo Wines, Neuseeland
Red Wines
2004 Chateau Belgrave, Cru Classe, Haut-Medoc, Frankreich
2006 Callabriga Douro, Sogrape Vinhos, Villa Nova da Gaia, Portugal
Dessert Wine
2008 Huxelrebe und Ortega Beerenauslese, Weingut Bischel, Deutschland
Monthly Proposal
2002 Alter Birnenbrand, Guglhof, Osterreich
Spirits
Jack Daniel's Tennessee Whiskey Old No 7
Johnnie Walker Blue Label
Bushmills Malt 10 years old
Smirnoff Red Vodka
Bombay Sapphire Distilled London Dry Gin
Cognac Lheraud Cuvee 30
Calvados Pays d'Auge AC, Daron
Fernet Branca
Etter Weihnachtspflumli
1998 Etter Zuger Kirsch
Sake and Plum Wine
Tsukinoi Jyunmai Ginjyo Kurazake
Tatsuriki Tokubetu Jyunmaishu "Mukashi"
Tsukinoi Nihonshu Shikomi Umezake
Liqueur and Port
Bailey's Irish Cream
2007 Late Bottled Vintage Port, Niepoort
11-12/2011
The purser than came by and did her greeting, and we exchanged some friendly conversation. She wished me a pleasant flight and it was very standard LH procedure.
Hot towel in lacquer tray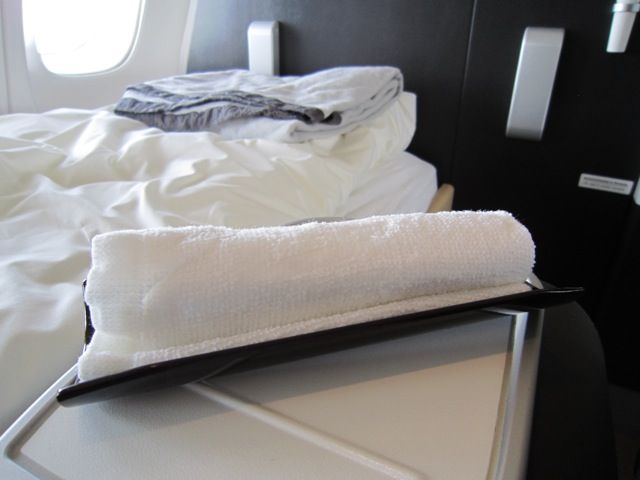 Champagne came next and Champagne Laurent-Perrier Millesime was featured today. Amuse bouche was a carrot and cauliflower panna cotta, which was pretty special.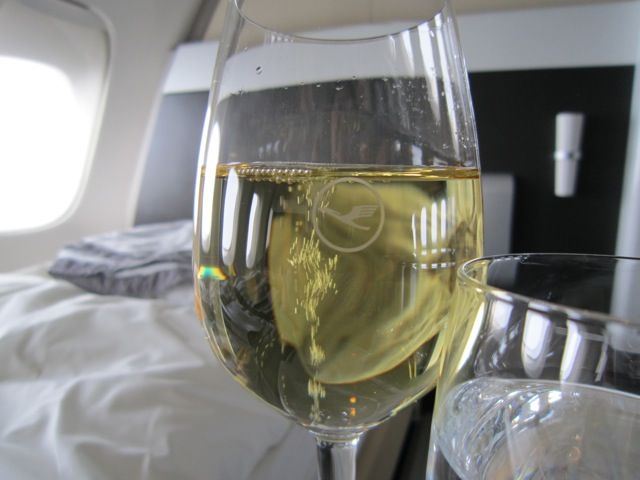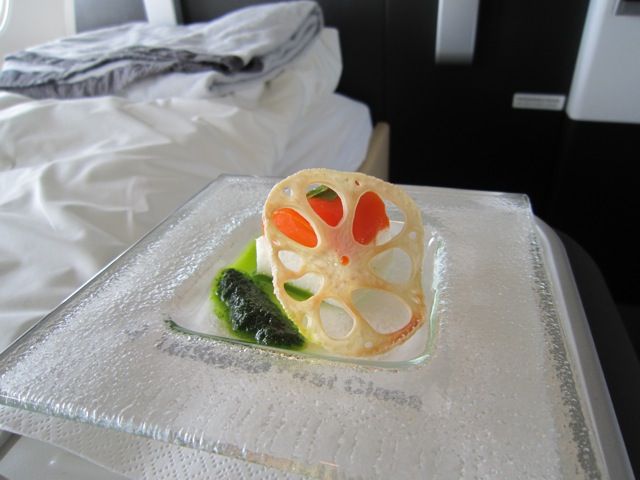 Then entrée order was taken, and as you may or may not know, Lufthansa was very generous in terms of food, and you can literally eat everything in the menu, if you can handle it. As the F/A said, it is a day flight and you should be hungry in first class. My request for the roast duck appetizer, and then the Japanese meal was answered with "of course, no problem"!
Here is the full menu for the first meal:
Featuring meals designed by two Lufthansa Star Chefs from Swissotel Nankai Osaka, Gerhard Gerber and Masahiko Ikebe
Lunch Service
Western Cuisine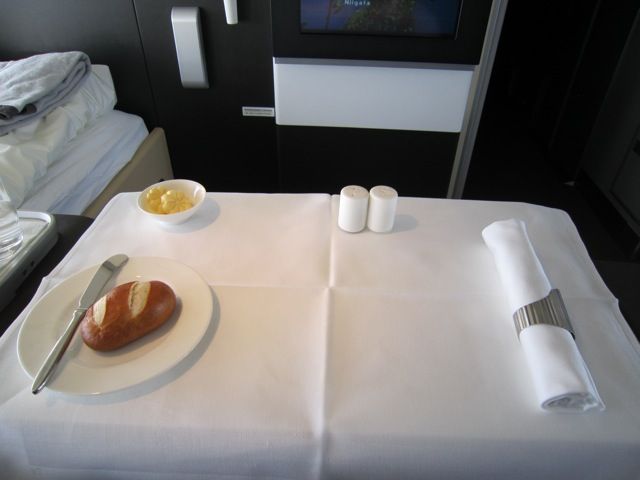 Choices of Hors d'oeuvre
Caviar with traditional garnishes
Combination of Sesame crushed Yellow Fin Tuna, grilled Watermelon and Capsicum Parfait
Honey glazed Duck Breast, vegetable salsa, micro greens and sesame dressing
Salad
Seasonal Salad with Cherry tomato and Paprika presented with Dressing
Choice of Main Courses
Pan-seared Tenderloin of Beef with Vanilla reduction and Tomato oil
Sautéed Green Asparagus and Sweet Corn Potato Cake
Or
Cod Saltimbocca with Balsamic Reduction and Avocado Oil, sautéed Spinach and buttered Gnocchi
Selection of Cheese and Dessert
Camembert, Gorgonzola, Gruyere, Cheddar, Goat Cheese garnishes with Grapes
Chocolate spicy cake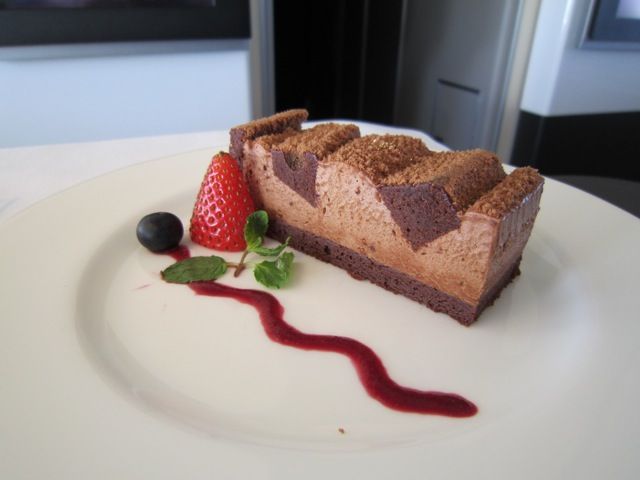 Fresh Fruit
Japanese Cuisine
Zensai Sanshu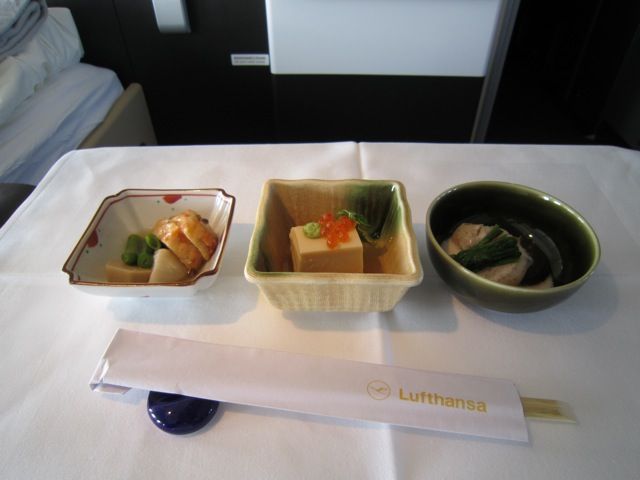 Caviar with the traditional Garnishes
Scallops and Shiitake Mushroom with Bonito flavored cream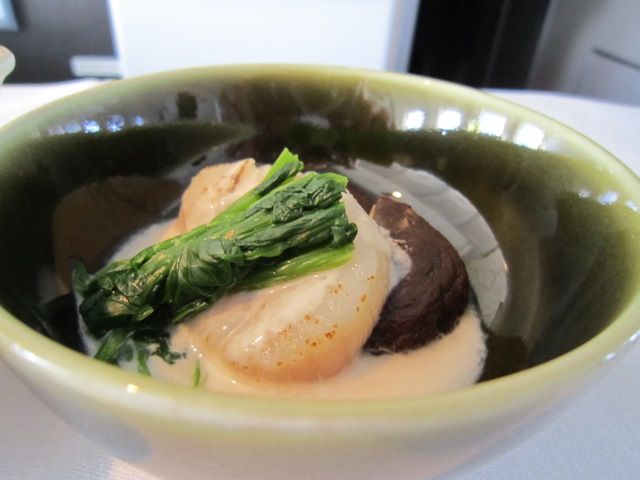 Kudzu Cake with Cod Milt, Salmon Roe and Dashi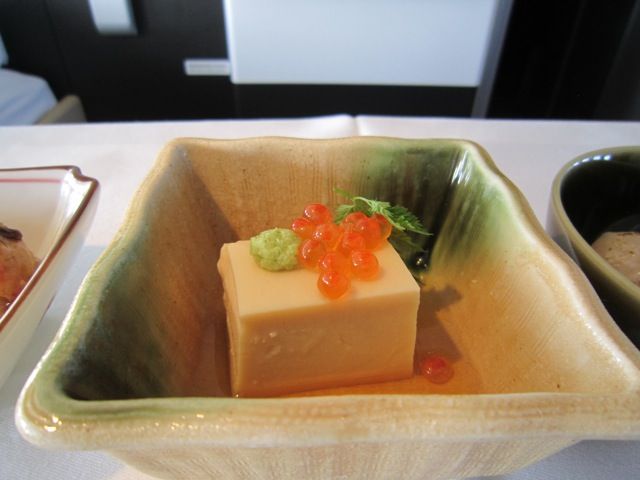 Hassun
Snow Crab Sushi, seared Blowfish Sushi, Fish Roe rolled with Kelp, blanched Blowfish Skin served with Ponzu sauce, Gisei-Tofu and Kumquats simmered in Syrup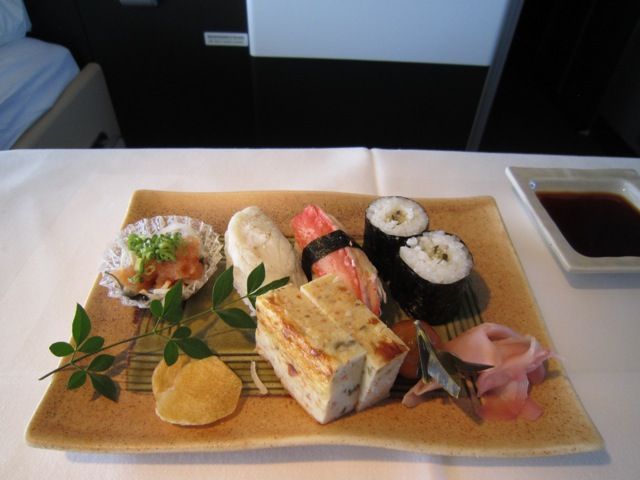 Suimono Wan
Japanese Clear Soup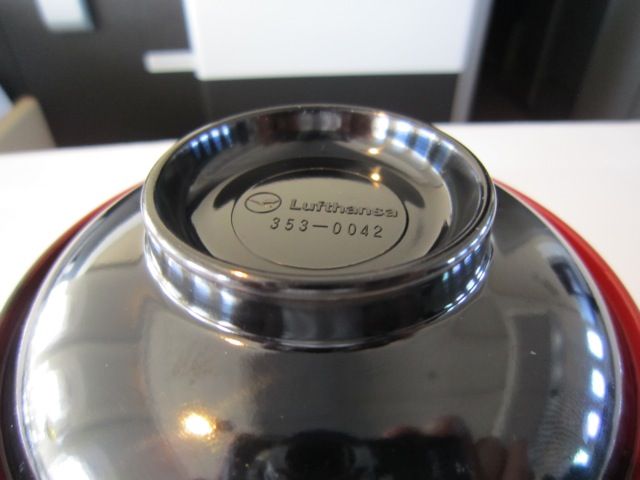 Omozakana
Slow cooked Beef Cheek and white Radish, Broccoli and steamed Tawara Rice
Or
Simmered Sea Bream and Turnip served with Gin an Sauce, Kintoki Carrot and steamed Tawara Rice
Gohan
Steamed Rice wrapped in Bamboo Sheet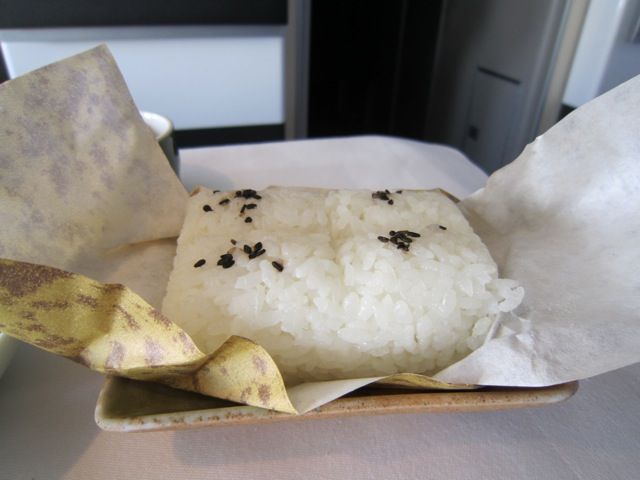 Misoshiru
Miso Soup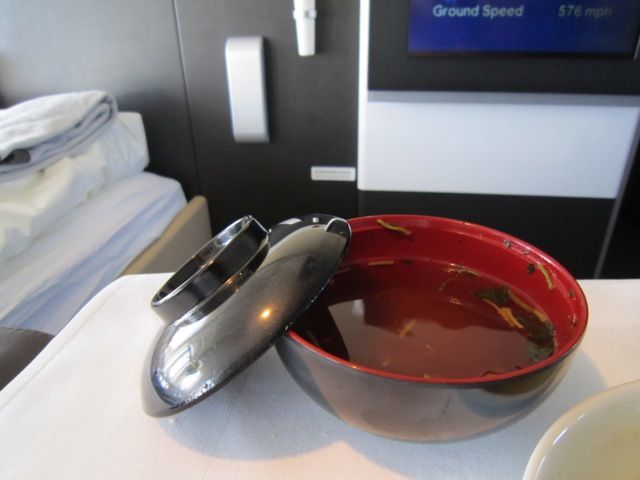 Konomono
Simmered Japanese Taro and deep fried bean curd and Gin an Sauce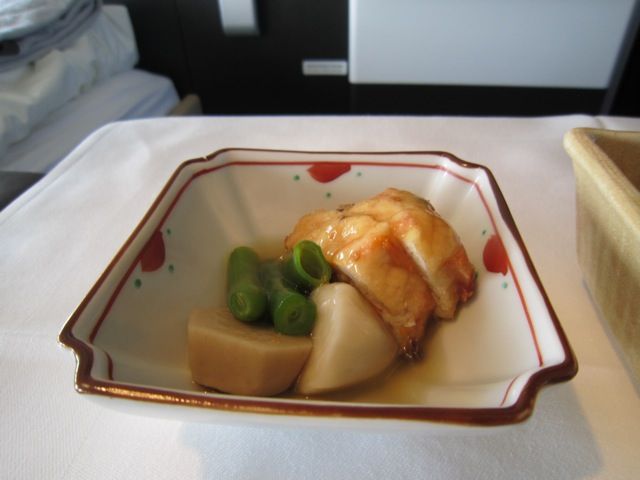 Wagashi
Fresh Fruit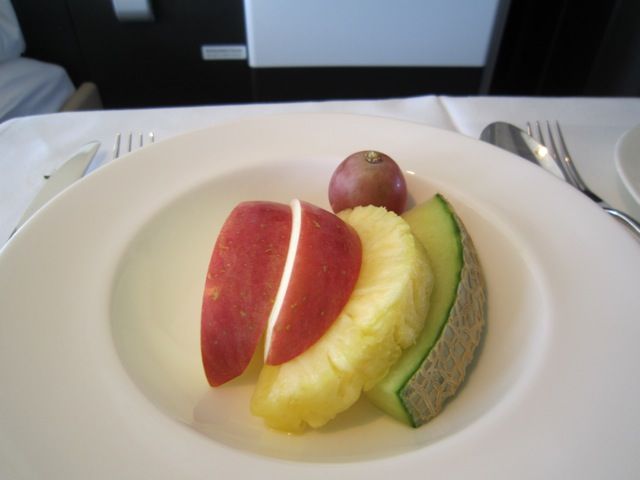 Japanese Sweet with Otemoto Stick
We are pleased to serve you a selection of canapés, Onigiri, biscuits, and fresh fruit during the flight.
It was truly a feast and the food was very good considered that it was served at 35,000feet. The pace was right and you definitely did not feel rushed, and the F/A always allowed some times between the courses, and wines were refilled. "Of course" was always the respond if you asked for anything.
Green tea
Pralines – caramel with salt, mango, and nougat
Digestive – Blue Label
Wine station in front of exit door in the upper deck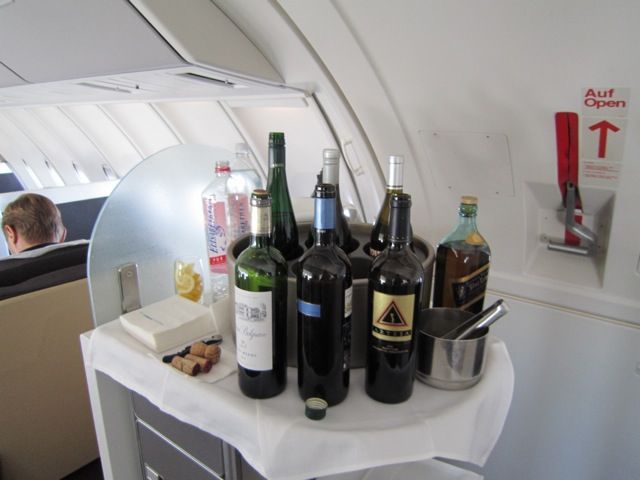 Rose – Lufthansa's signature first class branding
Seat in fully reclined mode – not much recline, but a good cradle chair. I think LH can add more recline to it though.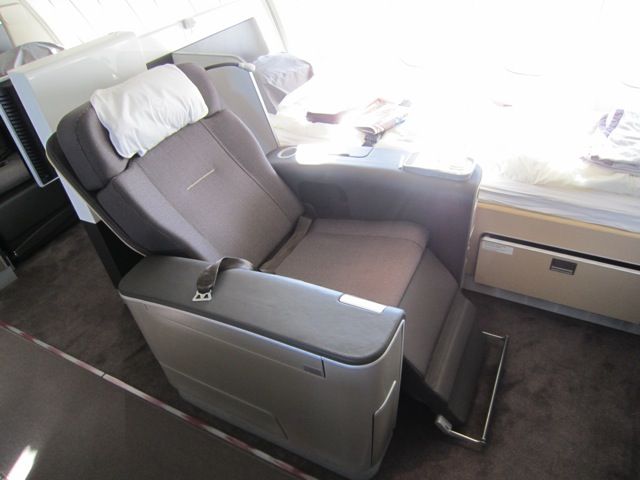 Seat control – footrest, lumbar, and recline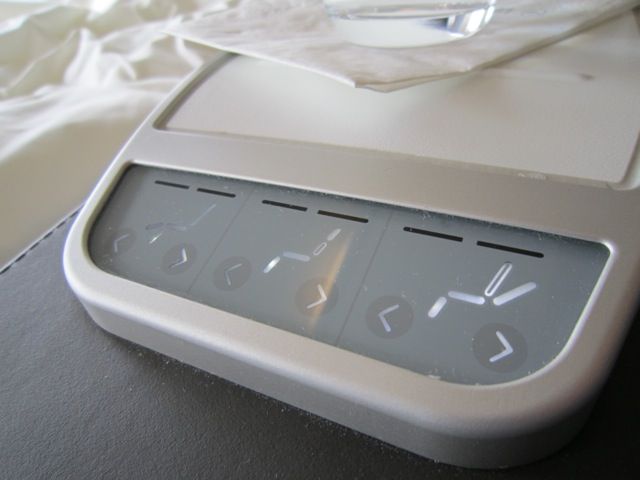 Power Outlet and USB drive
Storage space – one under the bed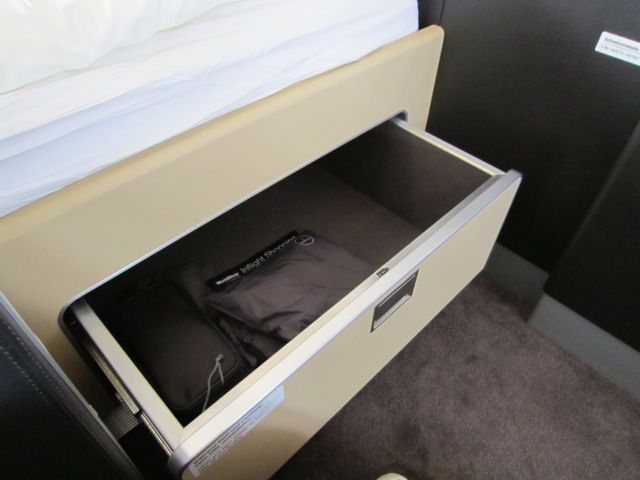 One behind the seat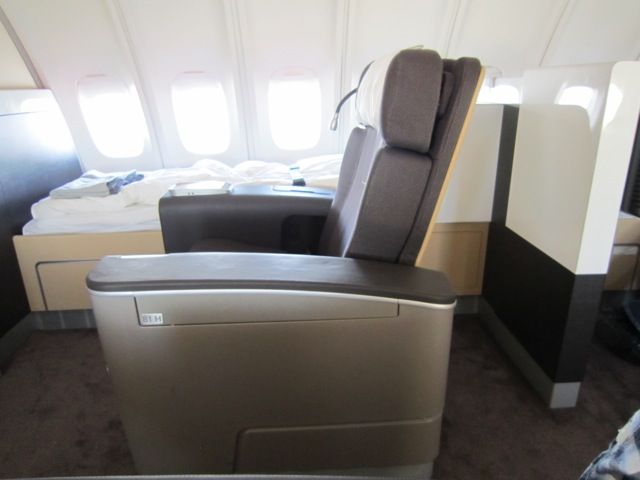 Personal light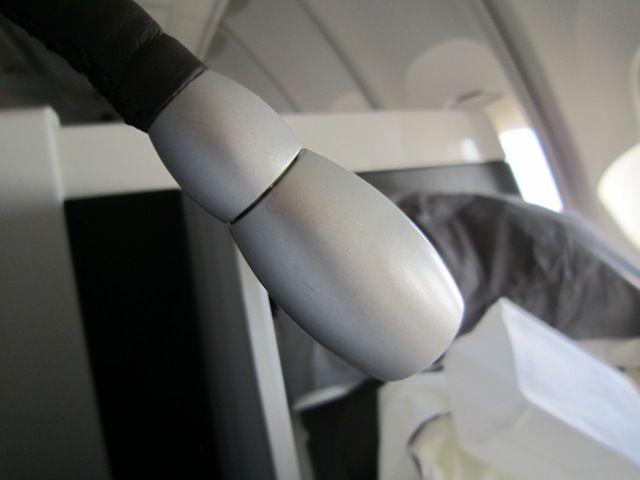 Night light in the bed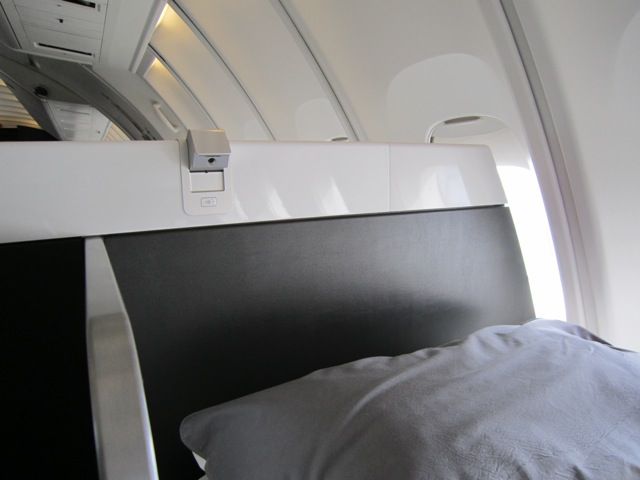 Remote control
Bottled water holder
Side storage bin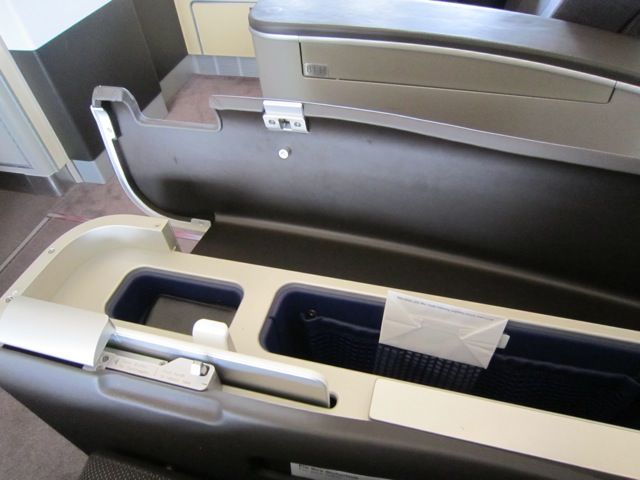 Storage bin for personal objects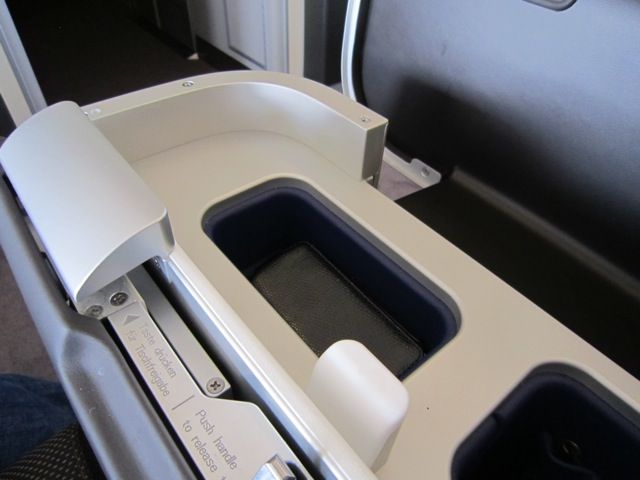 Toilet in the forward upper deck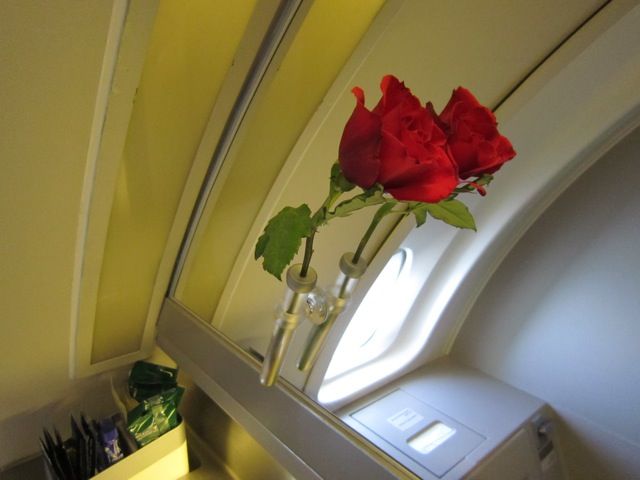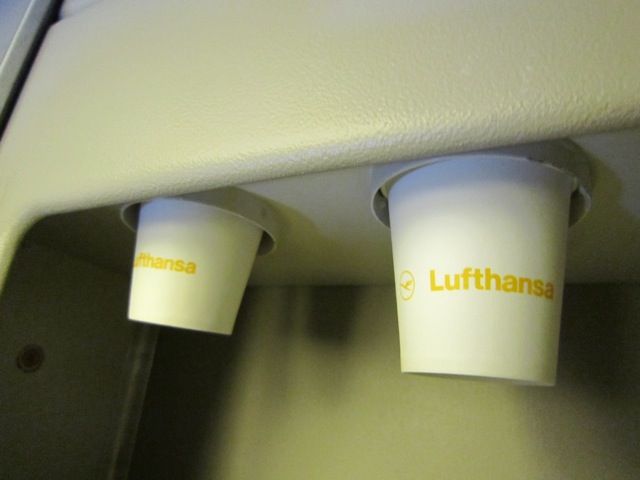 Entertainment system – the new television screen is large and has a clearer picture, but it is not touch screen. The content seem to be quite good, and I believe A380 has a larger library of movies and televisions though. I did not take part of it at all but BOSE headsets were offered (but only good for use on an airplane – the plug).
Two and half hours after takeoff, bottled waters were passed out, along with duty free service. Window shades came down and I went to sleep for a good half of the flight. My time clock was all messed up by now, but I did not want to sleep the whole flight, as I wanted to be able to go to sleep later in the night. The bed was very comfortable and just felt like a regular single bed. I did not need the second blanket, as the cabin temperature was kept rather warm.
However a word about my seat 81C, which was bulkhead seat, and it was next to the bathroom and there was quite a bit of foot traffic throughout the night. The crew was fairly quiet and the bed had another private shield. However for those sensitive passengers, you should go with Row 83 and 84.
And when I finally got up, the F/A immediately came by and asked if I needed any snacks and beverages, and felt free to ring the F/A button. It was just the right amount of service without too much interference. I finally got some cakes and it was a nice snack to munch on.
Nice set up
Plate of small pastries
Raisin cheesecake, fruit tart, fig cake, and marble cheesecake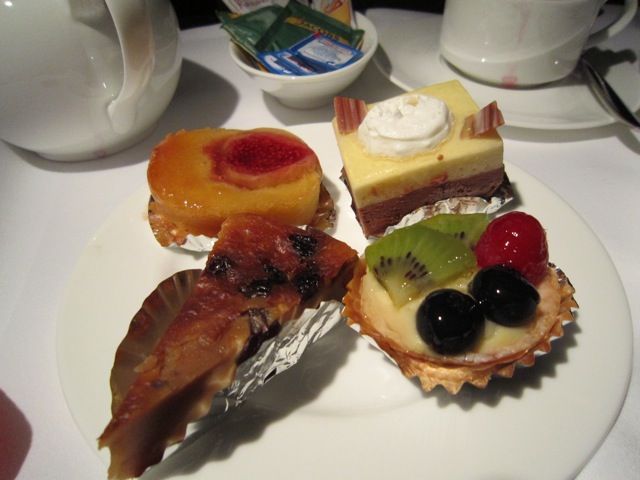 Berries tea
Then I worked on my trip reports and dinner service started around 1:03pm local Frankfurt time. Hot towel made its reappearance and presented in a nice lacquered tray. Then the dinner menu was passed out. My request to delay my meal service for ten minutes was met with "of course and just let me know when you are ready"! My other seatmate slept through it so I was offered everything in the menu.
Here is the dinner menu – once again a choice of Western and Japanese!
Western Dinner
Cold and hot Specialties
Smoked Salmon and Papaya Tartare with Micro Greens and Honey Mustard Dressing
Mustard Crusted Roast Beef with Mediterranean salad
Combination of Duck and Chicken Breast wrapped in Bacon with pink Peppercorn glaze, sautéed spinach, poached Apple and Potato Galette
Chicken and Bacon Ravioli with Olive Oil, semi-dried tomato and toasted pine nuts, Parmesan cheese
Dessert
Carrot cake with Almond
Japanese Dinner
Hassun
Osaka pressed sushi featuring Mackerel, Prawn and Egg, Sea Bream, minced Chicken cake covered with Poppy Seeds, small River Fish rolled with kelp, Petit Arrowhead Bulb pickled with Sweet Vinegar and Ginger
Men
Soba Noodles and Soba Sauce
Omozakana
Simmered Black Rockfish with simmered An Sauce, grilled tofu and steamed Tawara Rice
Konomono and Misoshiru
Plum, Cucumber and Radish, Miso Soup
Mizugashi
Fresh Fruit
LH 741 11/11-12/11
So how does it work? For the Western dinner, the first two courses are cold appetizer dishes, and then followed by two hot dishes, and then a dessert. You can literally eat every dish on the menu, and I ended up having both the appetizers, and the first main course. My request for soba noodles was met with of course. It was a nice dinner and I was pretty hungry towards the end of the flight.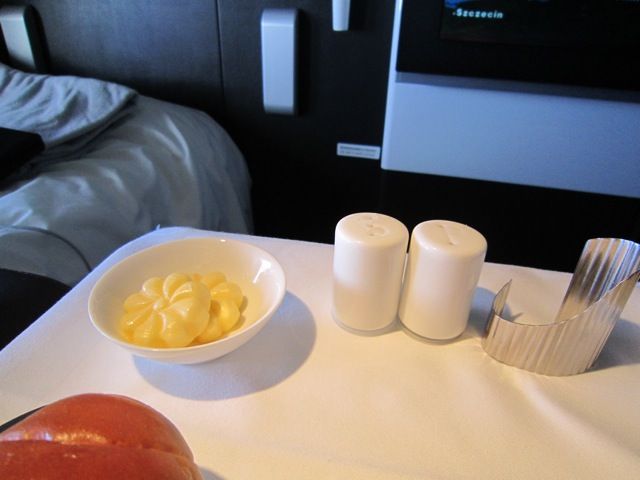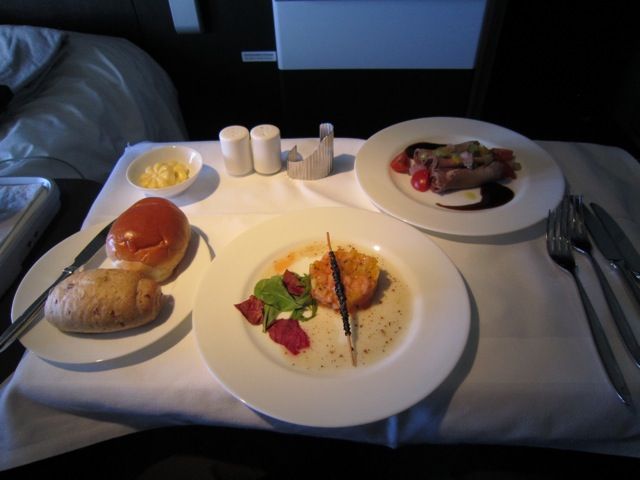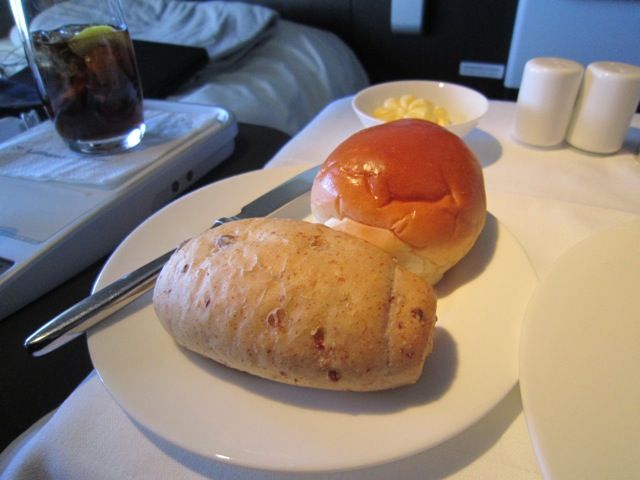 Salmon tartar
Roast Beef
Soba noodles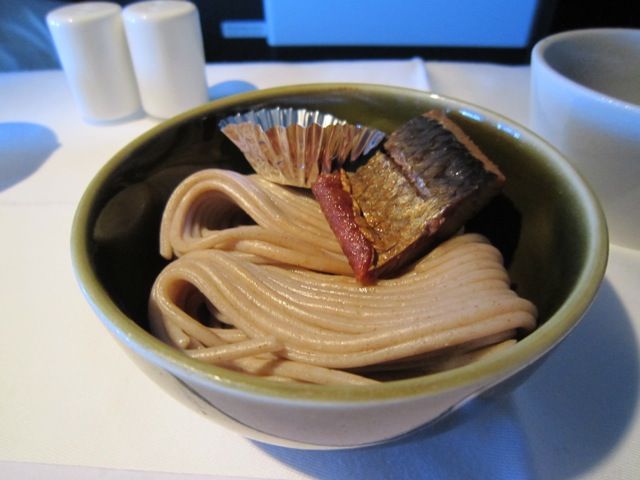 Duck and Chicken breast wrapped in bacon – very nice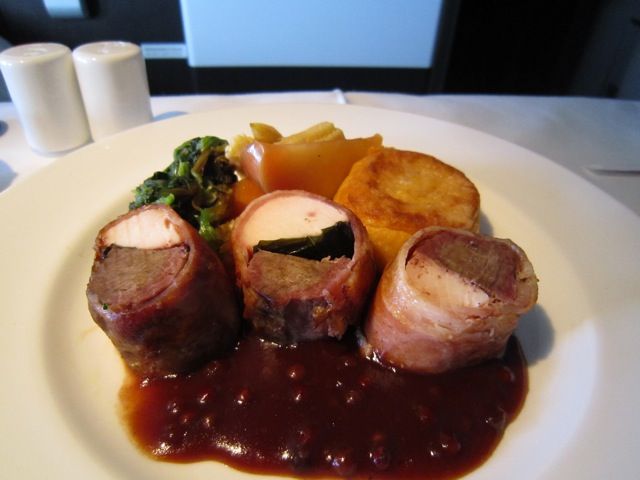 Carrot cake with almond – very delicious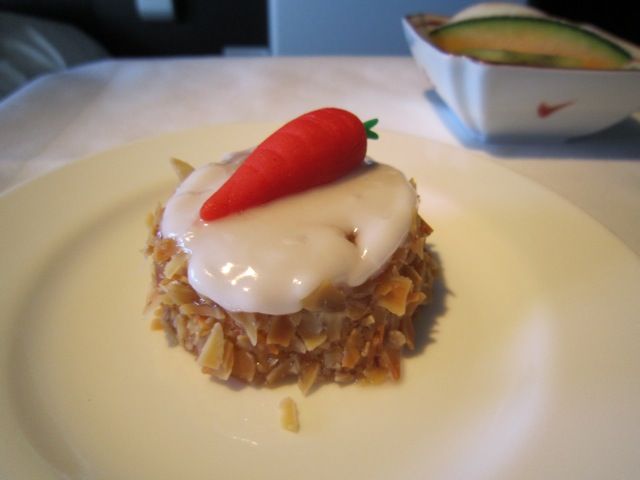 Fresh fruit – of course – Cantaloupe, kiwi and apple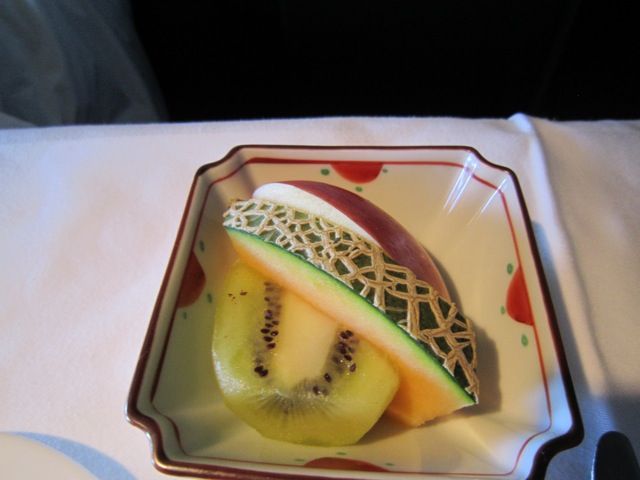 After dinner, I changed back to my normal clothing, and descent soon began at 2:21pm local time, and then ATC control did not put us on hold much, and soon we were able to turn back the airport, and landed on R/W7R at 2:58pm. After waiting for a few planes to takeoff at R/W7C, we slowly taxied towards Gate B23, next to an A380 D-AIME at B28, which had just arrived from Beijing as LH 721. It also meant a busy line in the immigration counter, but not bad, as most passengers had already gone through immigration. There were just tour groups, so things were just a bit confusing. However the strangest thing was that it was almost my turn, and this officer just stopped me at the yellow line, and made a phone call for a minute. It was a bit surreal, and I hope it was an urgent call asking for help, not a personal call. Anyway, no question was asked and I went through easily. It was a very strange path heading to the baggage claim hall passing through a public area, which meant two custom checkpoints. Once I got to the baggage claim, bags were slowly coming out and mine was among the first bags to come out. Priority tags work very well in Japan and Germany. To give United credit, my priority bag came out first in Chicago too.
Photo of D-AIME of course – a perfect way to end this trip report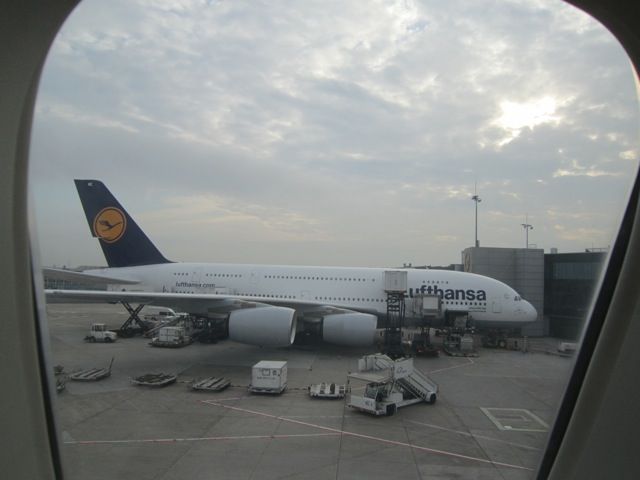 In conclusion, Lufthansa definitely scores very well in my book and the service is especially good given the light load. The F/As were personable and smiled all the times. They spoke perfect English and every request was met with an "of course." The bed is definitely the highlight – a bit old school, but is actually a good feature to have. No need to worry about having F/A to make up my bed and more space for my stuff to lie around. It almost feels like home. Thanks for reading all the trip reports!
Carfield