People Express Inaugural Day June 30, 2014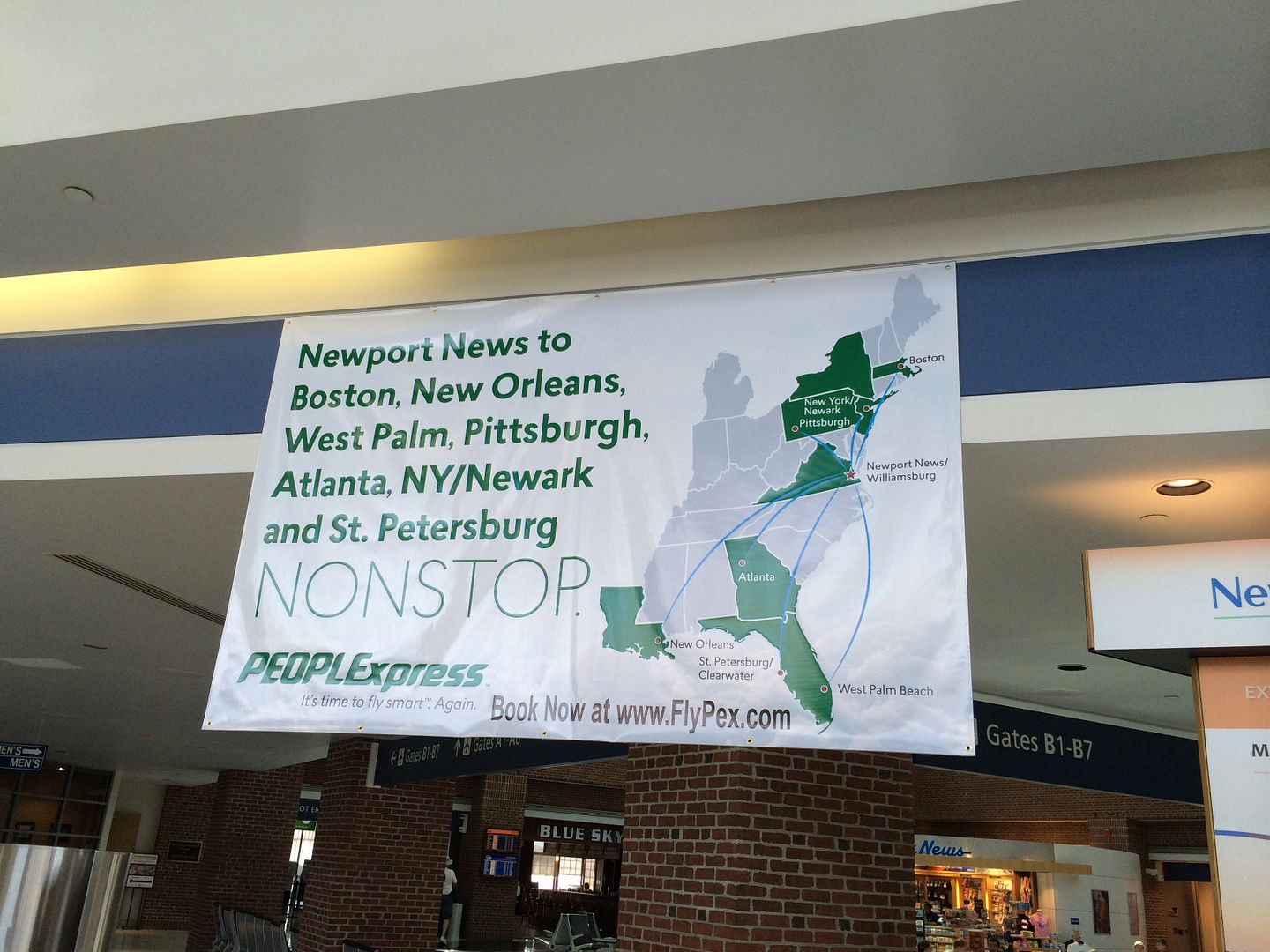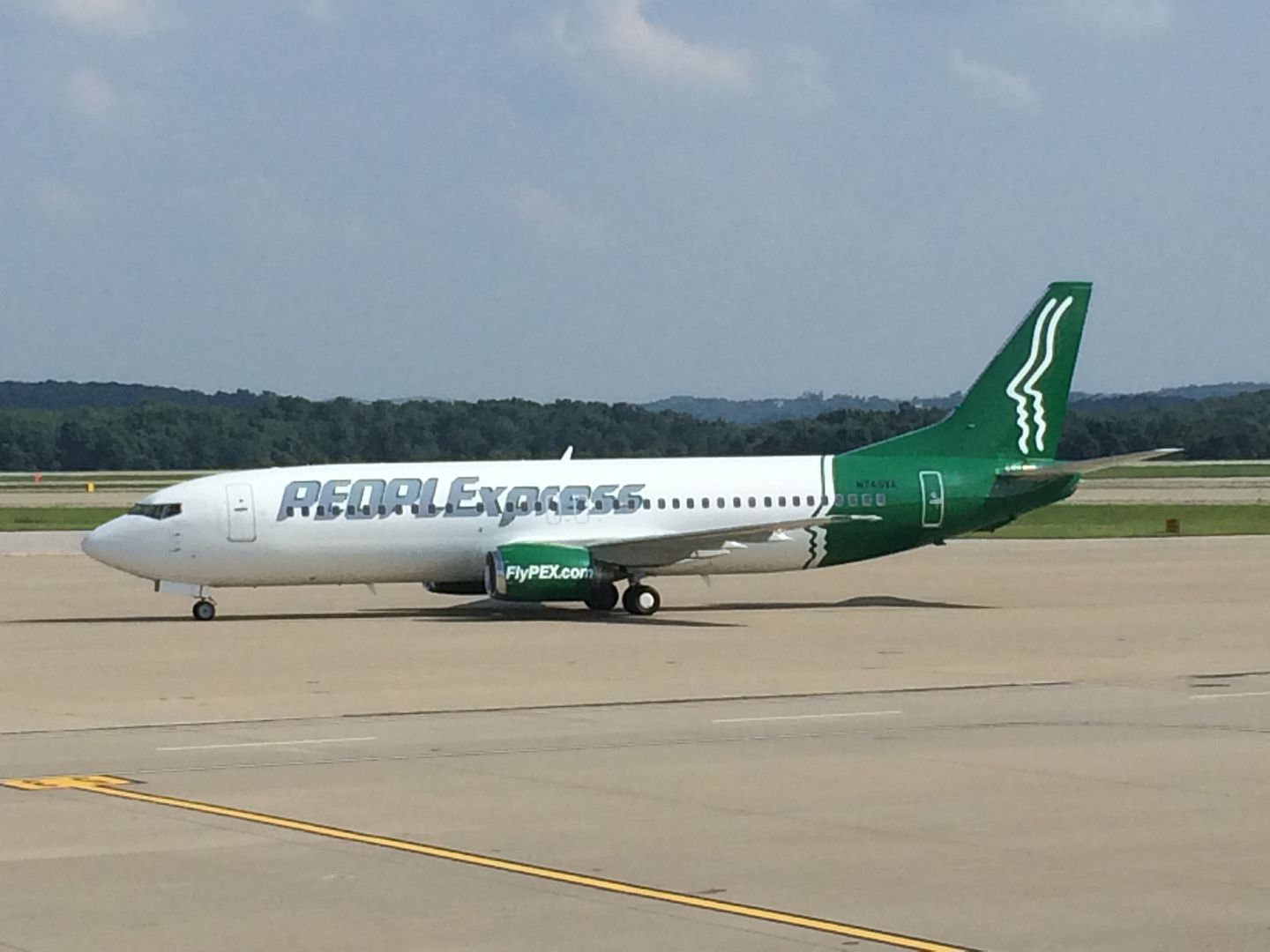 Link to the full album:
http://s1213.photobucket.com/user/Carfield76/library/People%20Express%20Inaugural%20Jun%2030%202014
Flying a brand new airline on its first day of commercial operation is always a tempting proposition and I still remember fondly on flying the first ever Virgin America commercial flight from SFO to JFK, and the startup date for People Express coincides perfectly with my weekend stay in NYC!  Ideally I would fly the outbound from Newport News to Newark but since I needed to be in NYC Sunday night, I went with the second best option: Flying the inaugural from Newark to Newport News (PHF) and then the inaugural from Newport News (PHF) to Pittsburgh!   The "new" People Express decides to adopt the ultra low cost airline (ULCC) model, and joining the rank of airlines like Allegiant Air, the "new" Frontier Airlines, and Spirit, so my expectation is little to none, even on inaugural flights.  I think I am still pleasantly surprised, and can feel the enthusiasm of the PHF staffs.  However it is definitely still a learning curve for every staffs and the airline can use a few more weeks of preparation week.  With just two different airplanes in your fleet, plane swapping is a frequent occurrence, not just a random event.  The staffs really get stuck when this event occurs.   N745VA, the People Express Boeing 737-400, had the "Living Large" section, while the all white Boeing 737-300 N732VA has no "Living Large" section and exit rows were not the same.  You can imagine the problem when plane swaps happen and I cannot even imagine what will happen on a full flight.  Boarding passes are printed out in A4 papers, and there are still many issues, such as changing seats and familiarity with the new baggage policies that they are dealing with.  I also feel that the overhead bin carry on charges is not reinforced, as the agents are not even familiar with these new policies.  However the airline is great, but I am still not sure how a ULCC can make money by using these two relatively fuel-thirsty planes built in the eighties – N732VA was built in 1985 and N745VA was a bit younger and built in 1989, not to mention the conditions that they are on and how outdated the interior and amenities are.  N745VA receives a new paint job but the seats are just refurbished with new upholstery covers.  You can see dirt marks everywhere and the toilets are definitely from a different era.  It will be interesting to see People Express will proceed, while relying on Vision Airways operation. 
June 30, 2014
V2 251 EWR-PHF Lv1000 Arr1115 Boeing 737-400 N745VA "Dedicated to Philip Morisi"
People Express uses Terminal B for its twice daily Newark operation, and Newark Airport authority has already updated most of the road signs, and I notice People Express name is on most signage on my way to the terminal.  People Express check-in lobby is located on Level 2 next to Delta and close to Door "5."   There was no wait at all, as the load was very light.  Most passengers on this flight were high-level staffs, guests, and medias, who traveled on the inaugural flight from PHF to EWR, and just returning home.  However the inbound flight looked pretty promising.  It will take People Express some times to build up the Newark market.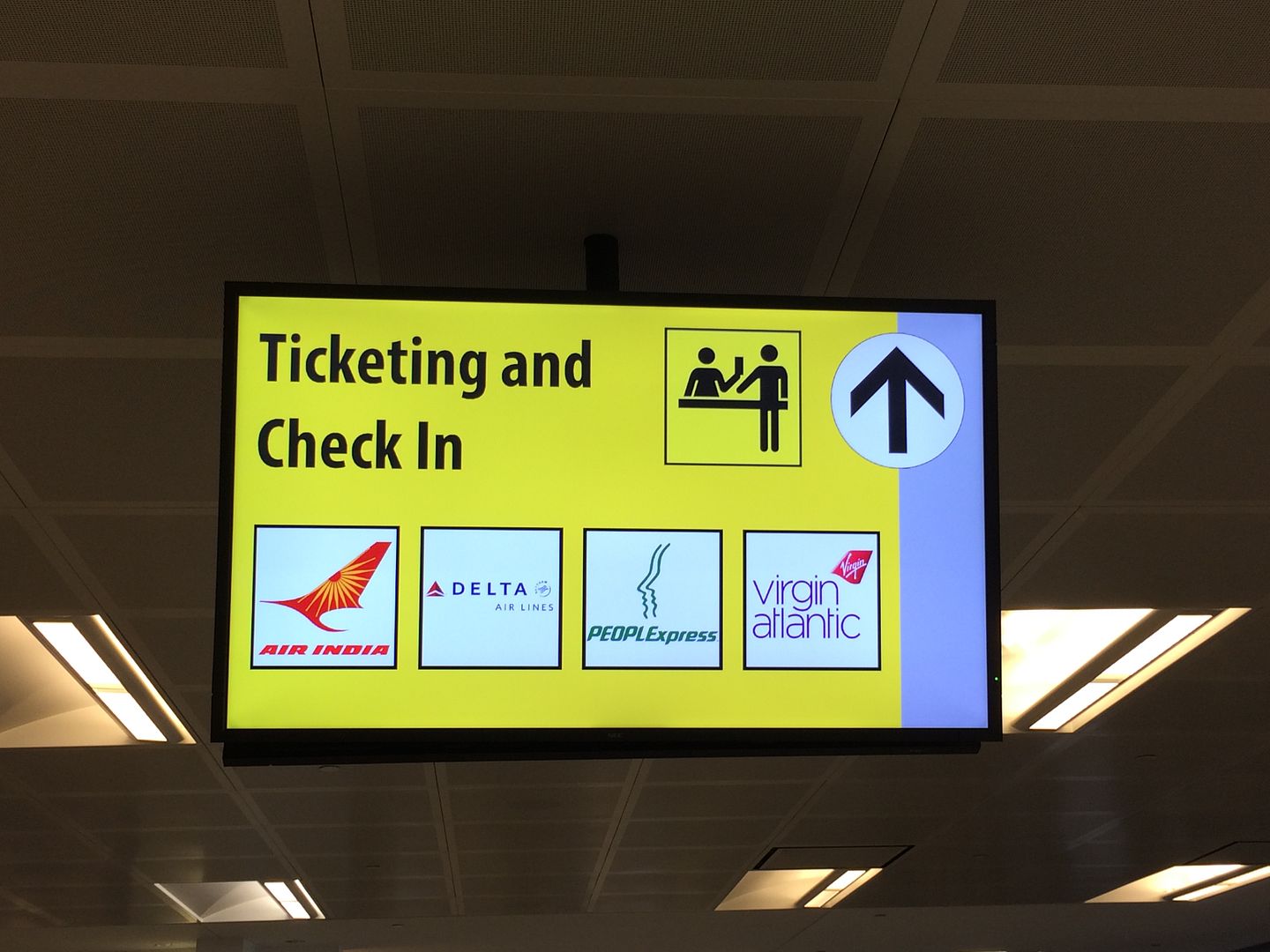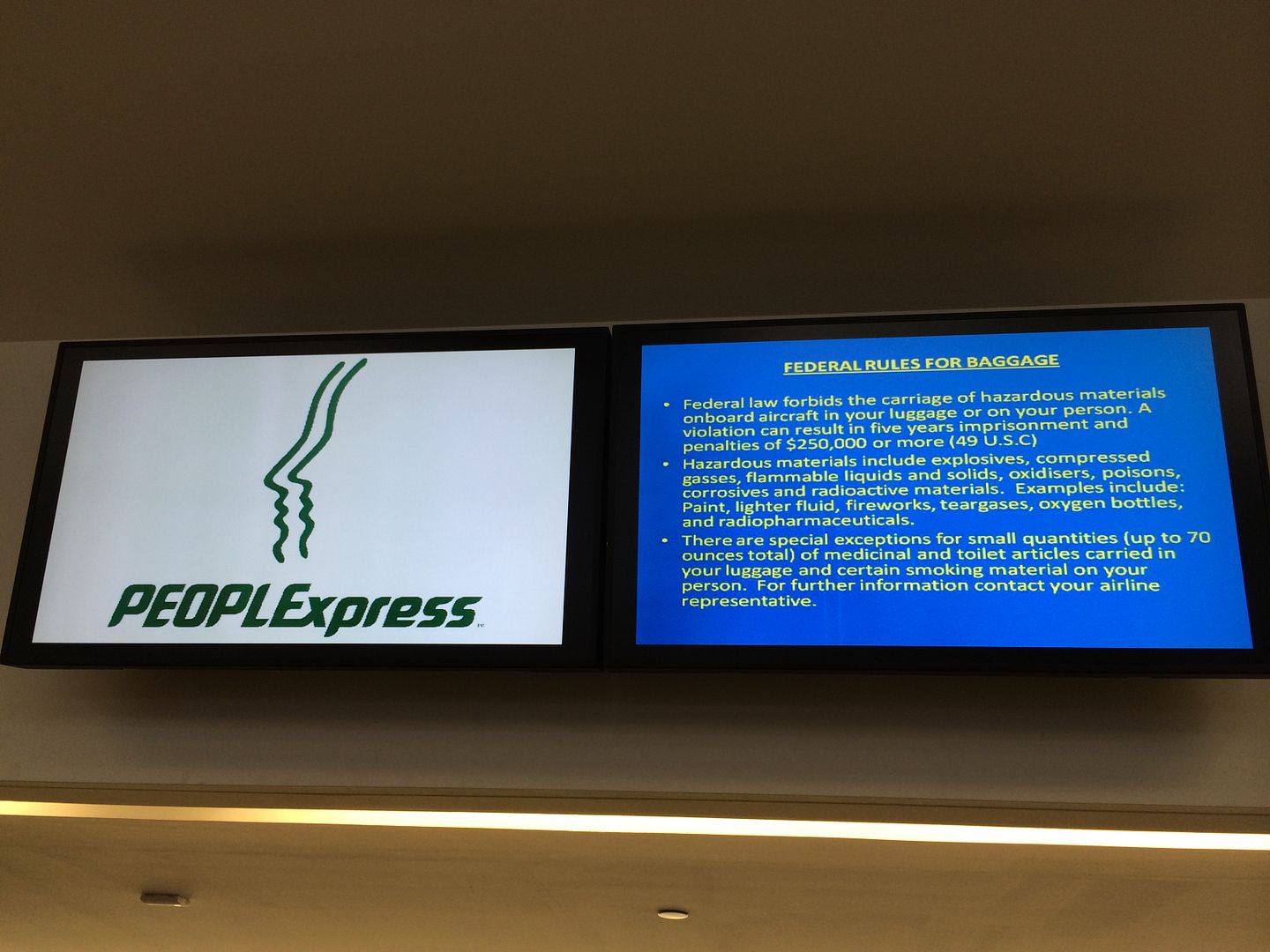 Here is the new baggage sizer and all carry on that is required to put on the overhead bin is subject to a fee, and it is cheaper to check in bag than to bring a carryon to the plane.  You will see these sizers all over People Express stations.  I am not sure how they are reinforcing it, as they do not put special tag on my carry on or have special remarks on my boarding passes that show me buying a carry on bag.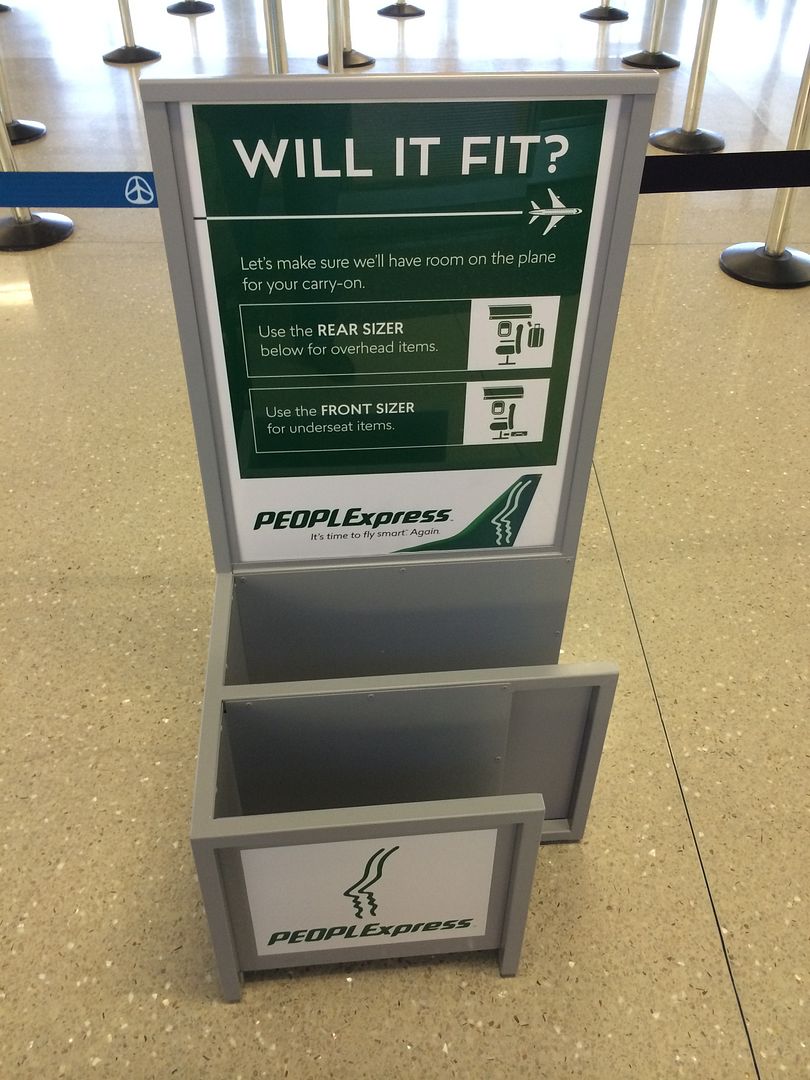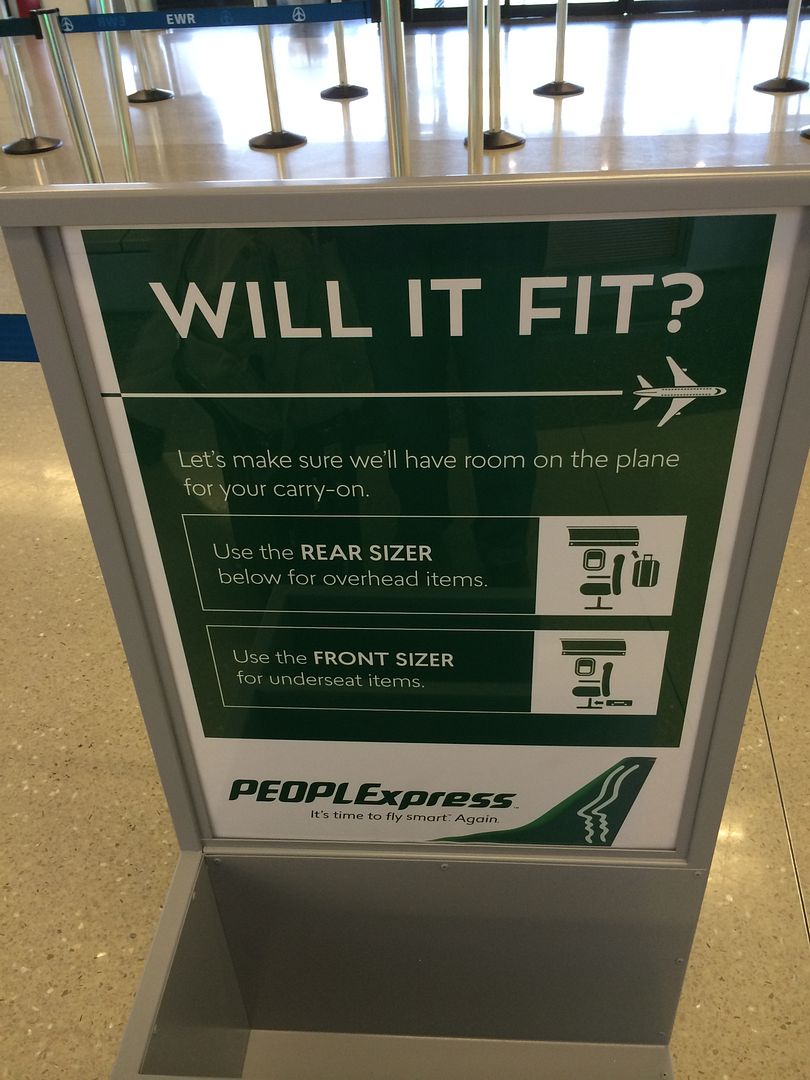 Security was also very quiet, as the early morning flights to London had already departed.  Porter Airlines is the only occupant with mid-morning flights.  No TSA Pre this morning!  Please be aware that there are not much vendors in this particular satellite.  There is a restaurant but is not opened at the morning hours.  There is only one café that is opened with breakfast food.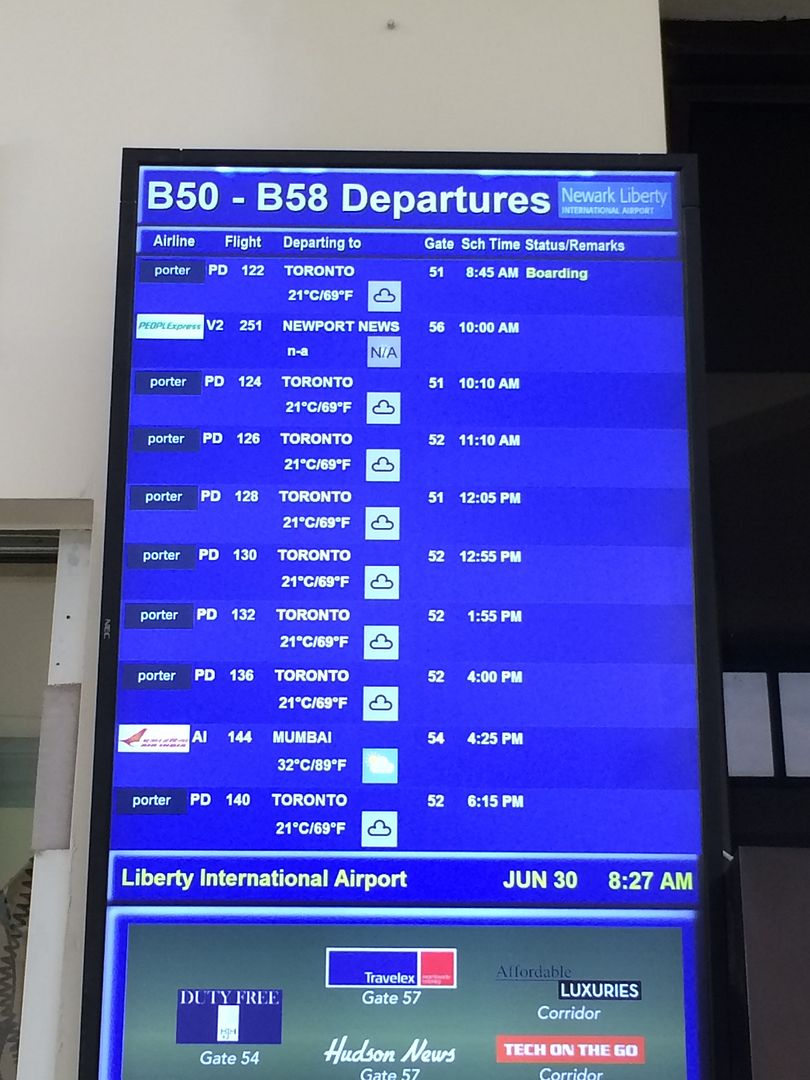 I was pleasant surprised to see a small buffet of tea/coffee/bottled water and chocolate cake being offered at the gate.  The Newark Airport authority staffs were friendly and making sure every passengers getting something to drink and eat.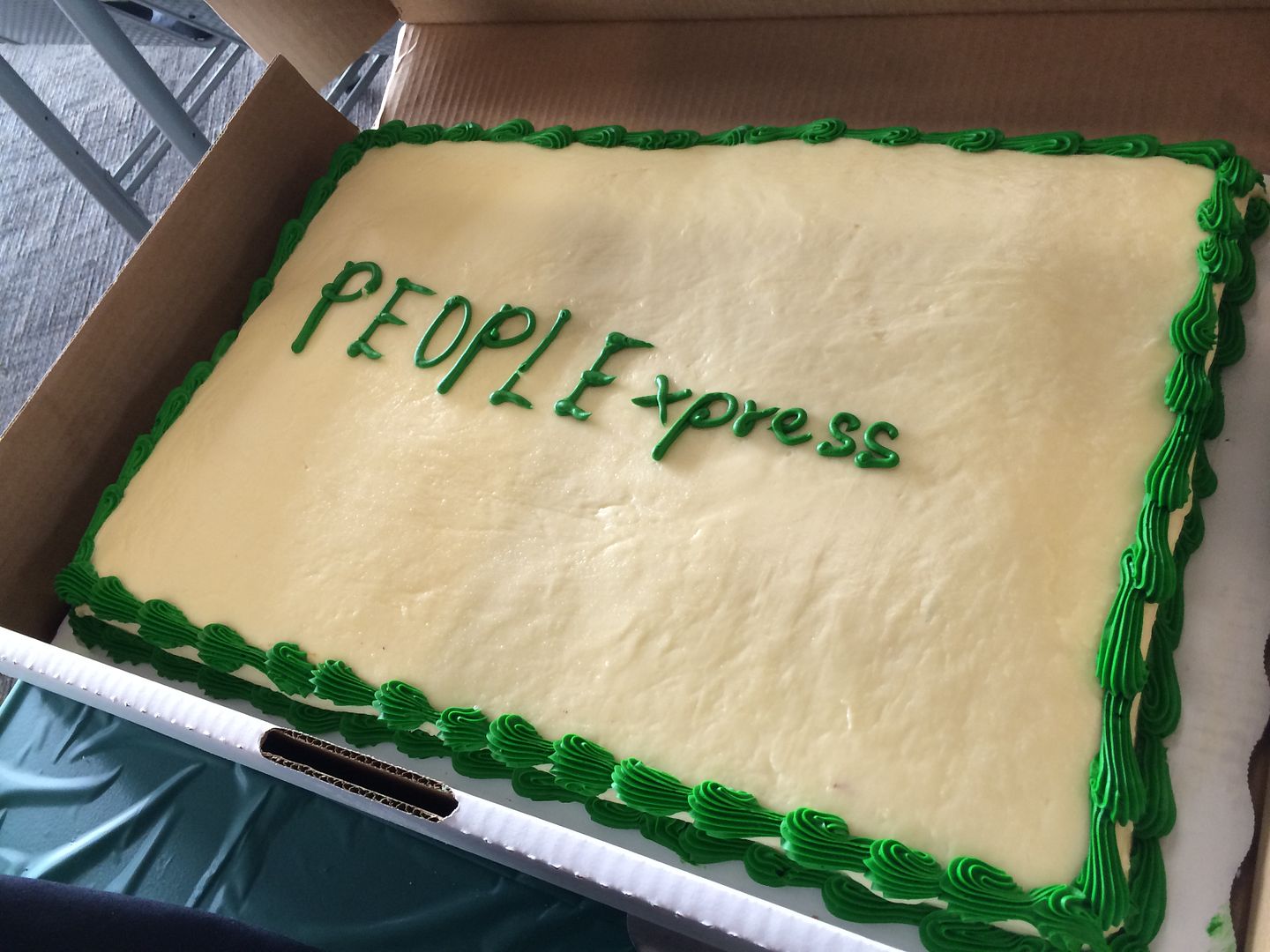 The inbound flight from Newport News PHF landed early but took some times taxing before parking at Gate 56.  The ground staffs were relatively efficient in deplaning passengers, and I noticed that there were real cleaners cleaning the planes in between the flights.  The F/As and pilots did not have to clean the planes like other LCCs and ULCCs.  The gate area became more excited after the inbound flight arrived.  Many passengers were flying back on the same flight, and it was obvious that many special guests brought the whole family with them.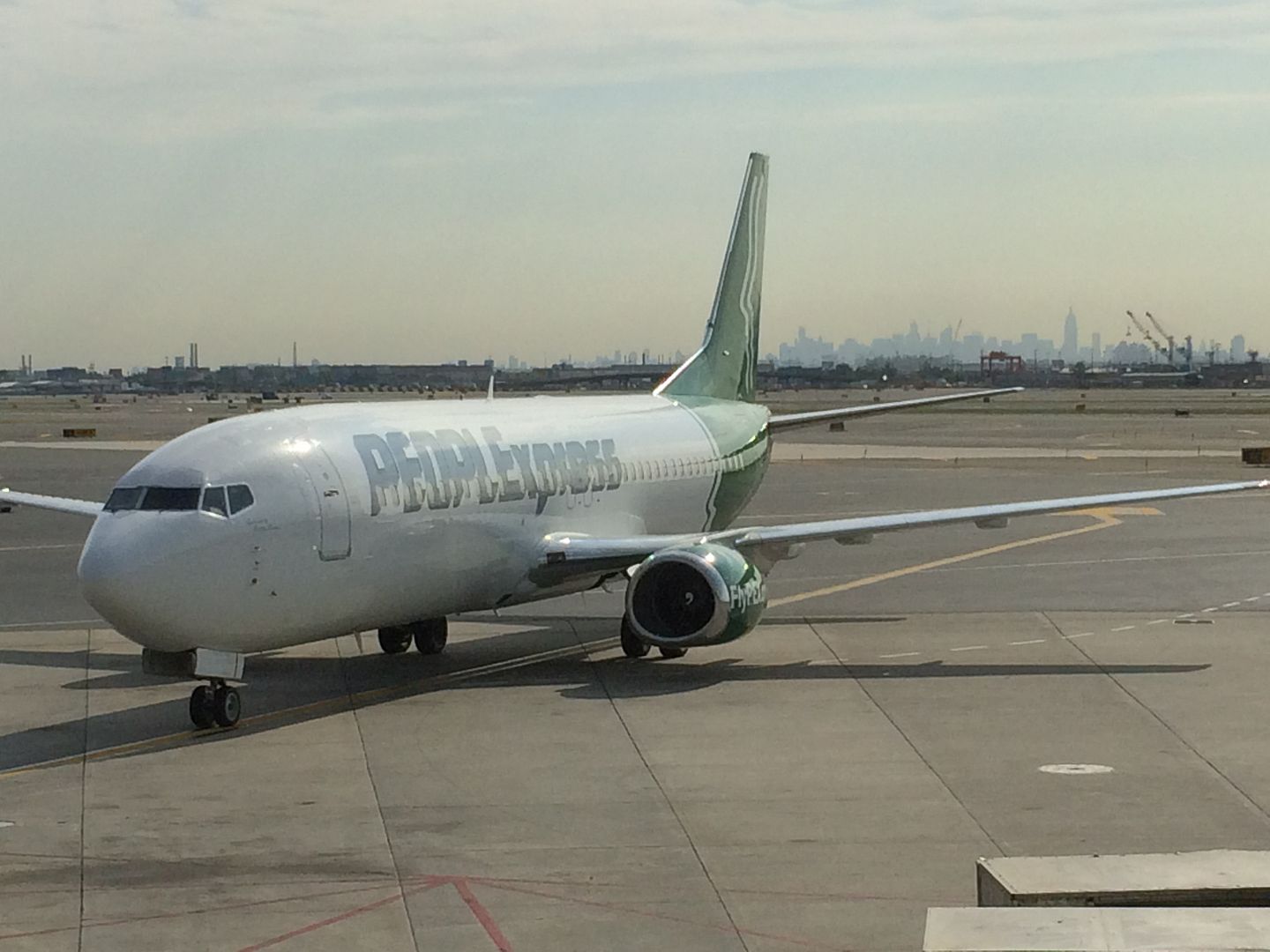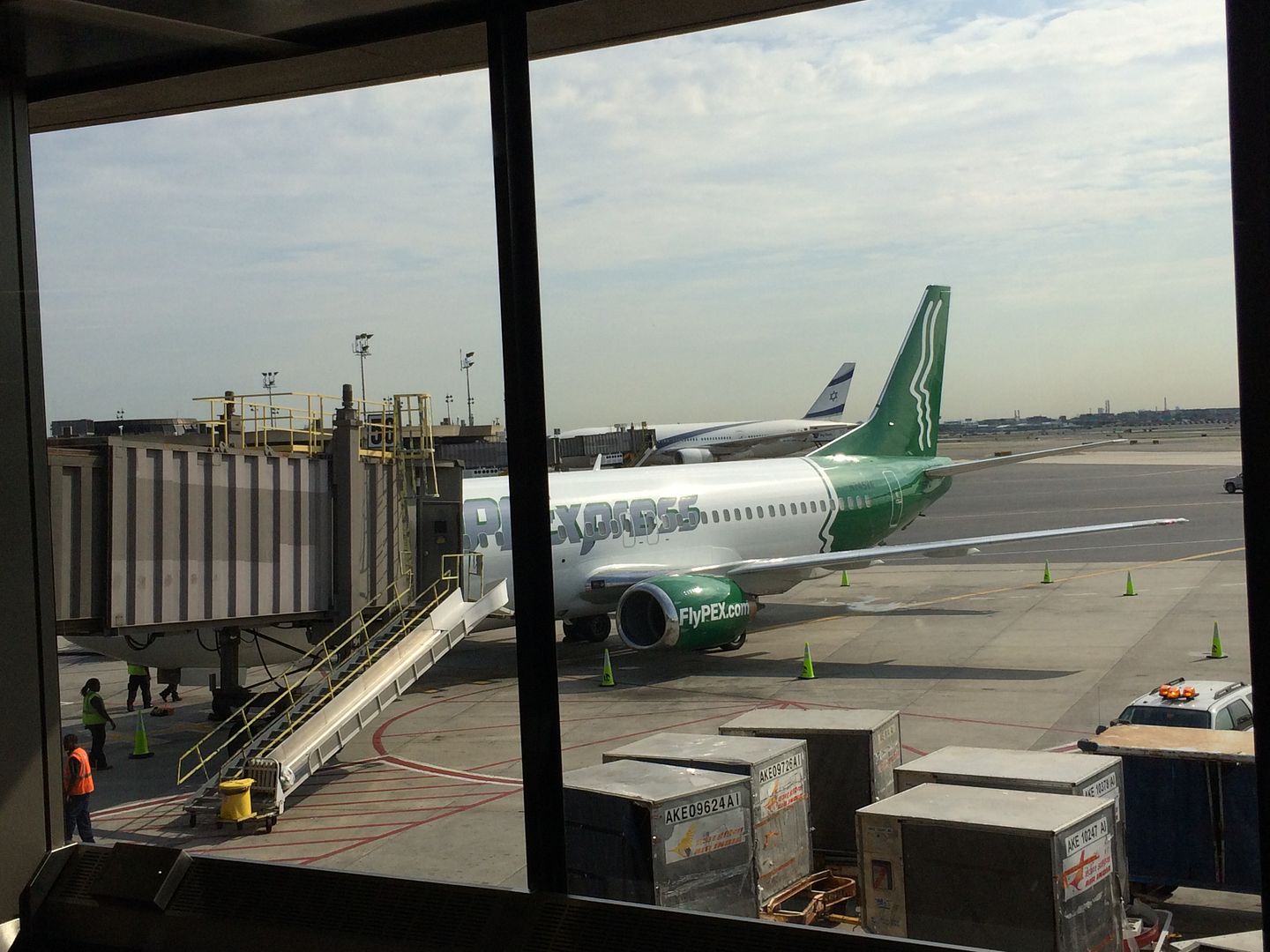 Richard Heslin, the general manager of EWR, Jeff Erickson, the CEO of People Express, and Mike Morisi, the founder of the new People Express each made a small speech welcoming guests, and it was a nice gesture. 
CEO of People Express – Jeff Erickson
Boarding began at 9:38am, and unfortunately it was a bit chaotic.  Thankfully People Express charges for roller on suitcases, so most people checked their bags.  Plus many guests did not have bags.  If most airlines don't have the carry on problems, boarding can actually be efficient.  After pre-boarding, passengers seated in row 15 and above were boarded first, and then the rest of the plane boarded.  Passengers in "Living Large" section – People Express' version of first class – did not receive any additional service other than the bigger seats.  $59 is the current charge, which is reasonable, and there is supposed to be "priority boarding," but the Newark station totally messed them up.  If you don't pay for a seat, you will be assigned a random seat.  Other than the airport manager, these newly hired or outsourced ground agents were pretty rude and had plenty of New York attitudes.  I was not impressed but not surprised about these big personalities.  I have a feeling that these agents do not receive enough training yet.  Instead of leading people to a second line, the agent just yelled at passengers.  Given then it was People Express' inaugural flight and most passengers were first timers with a fully stuffed gate, the agents should be more patient.
The leading F/A, a middle aged Asian man, was greeting passengers, and everyone was in a good mood.  Here are a couple shots of the "Living Large" section and the overall cabin.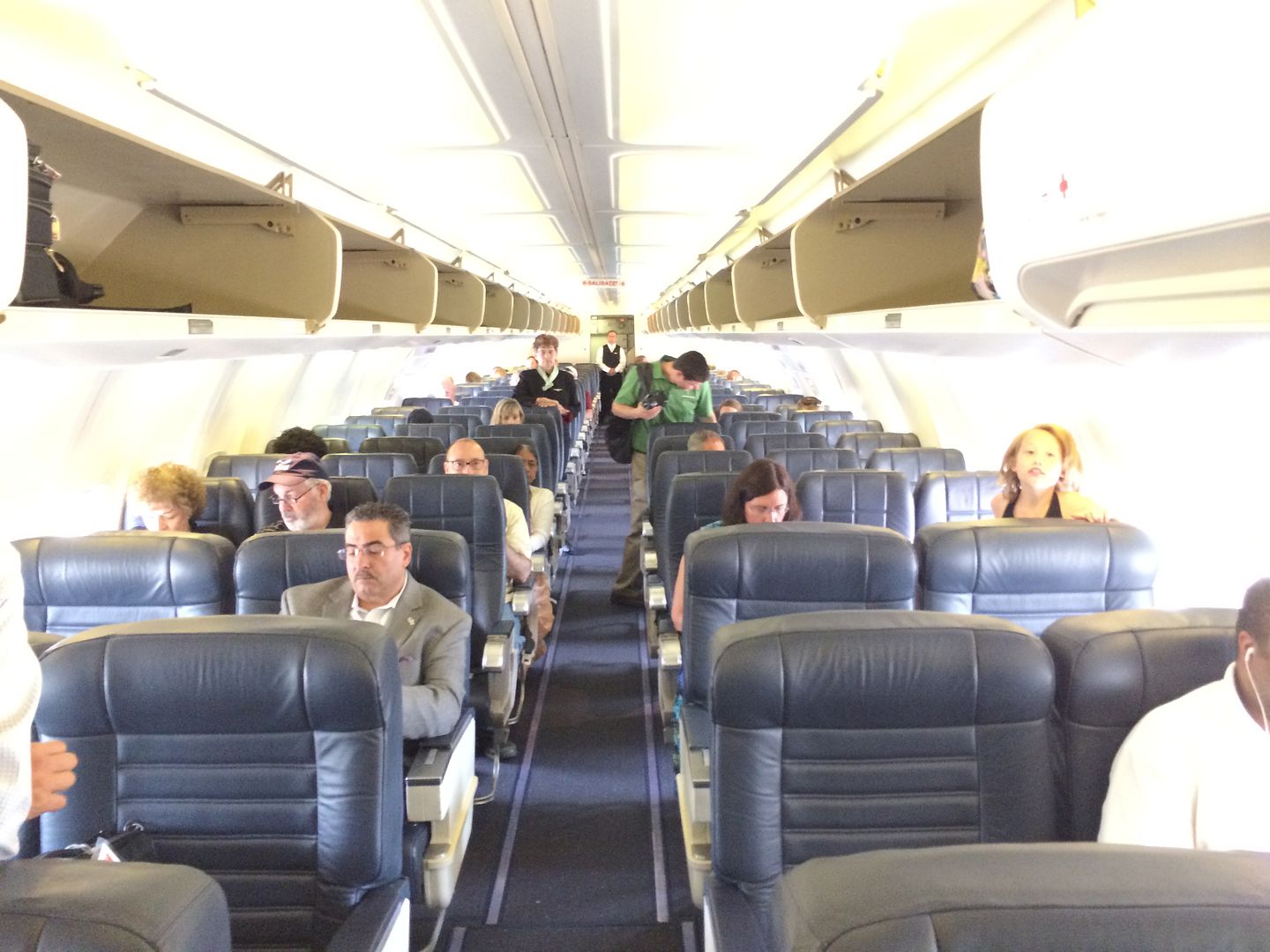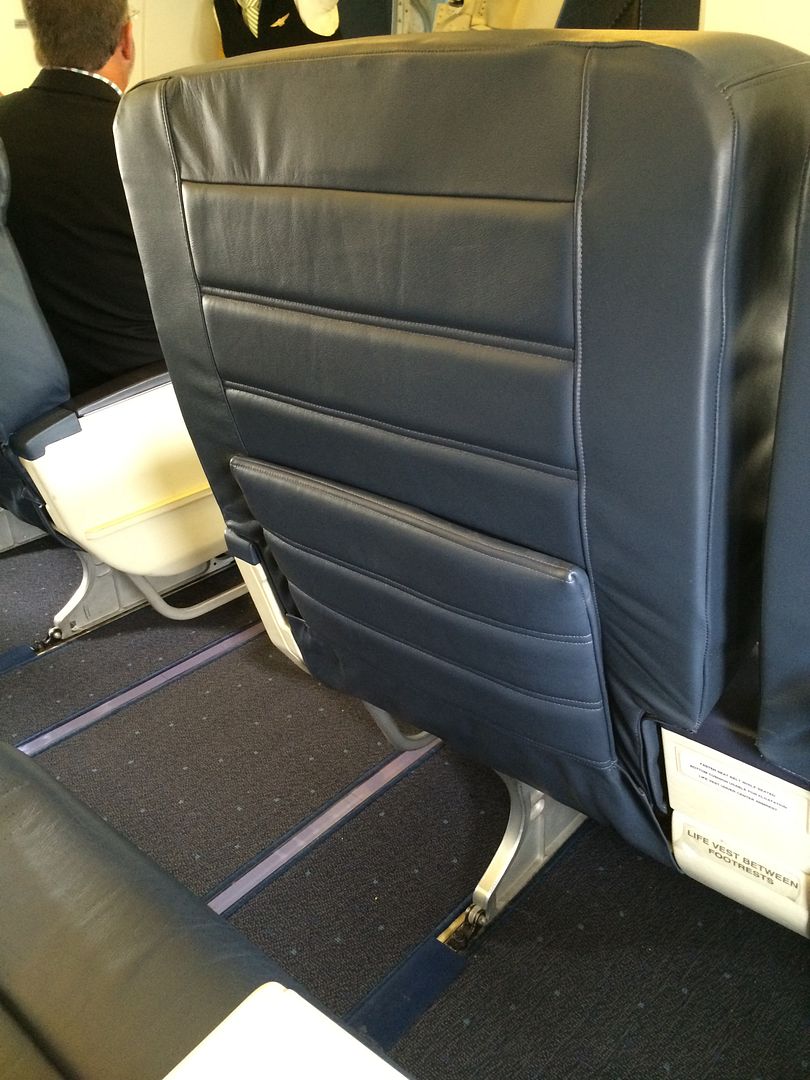 However, N745VA has definitely seen better days, despite receiving a new coat of paint and the seats are refurbished with new leather seat covers.  There are many scratch marks on the armrest and various surfaces like the tray tables and beverage trays.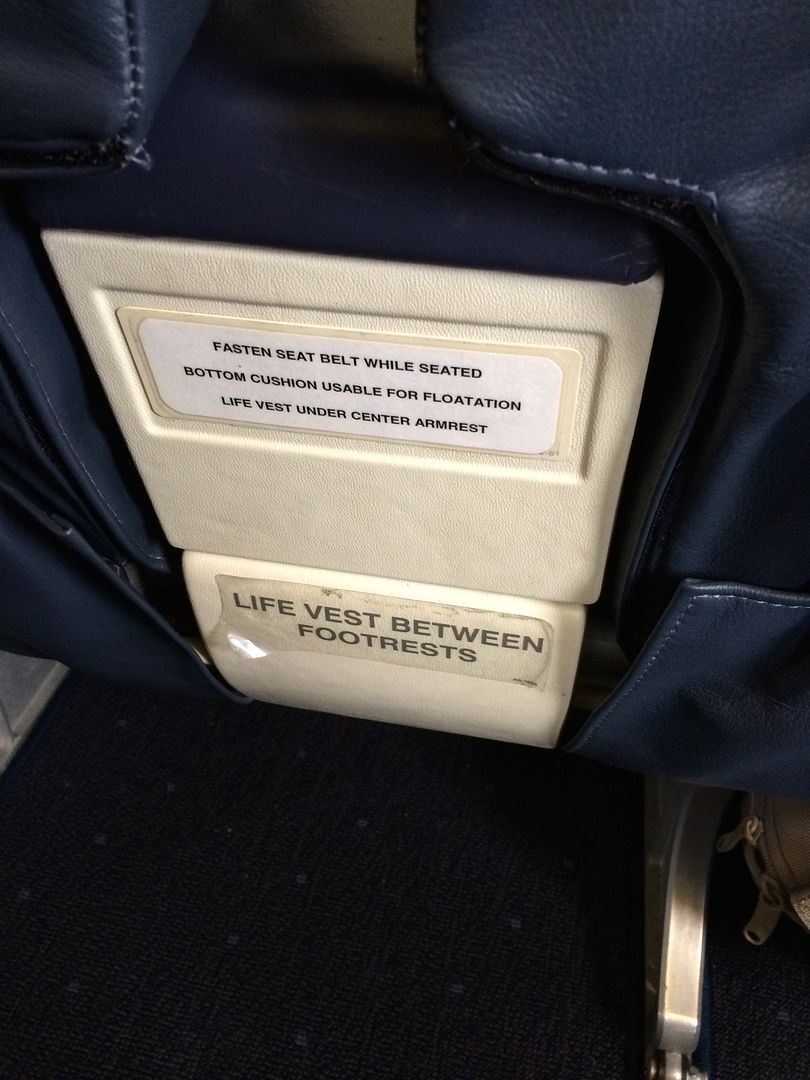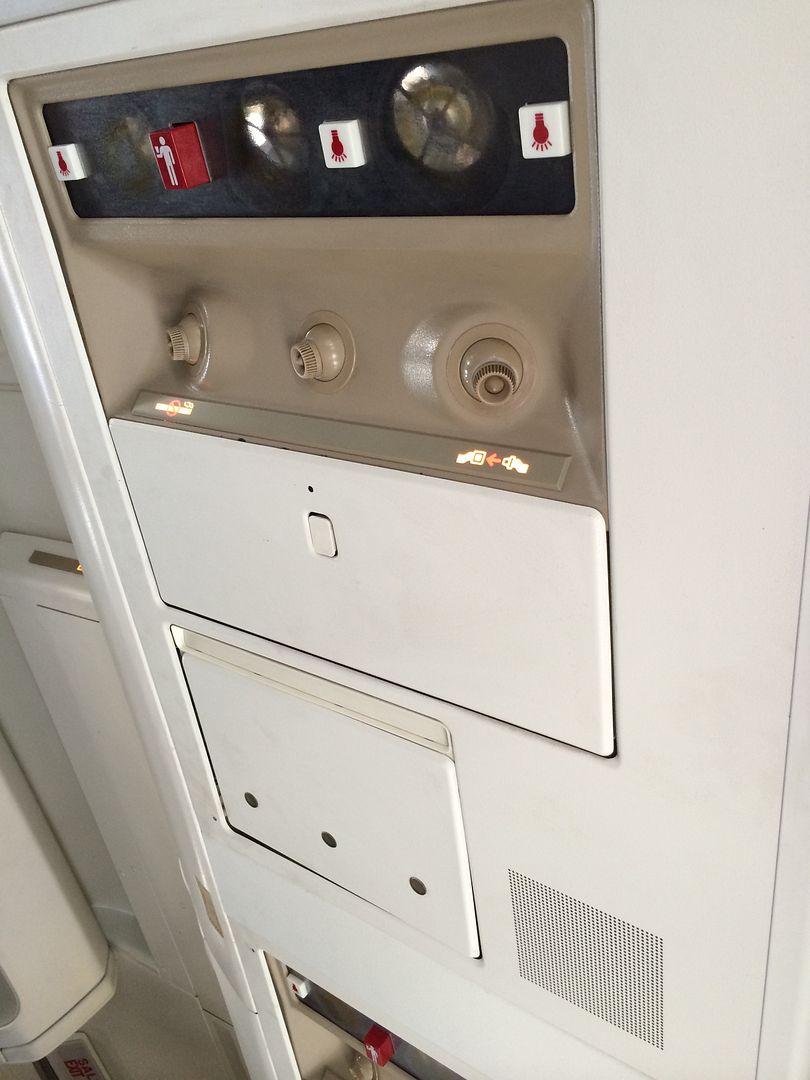 The windows are in horrible shapes – that's why all the scenery pictures do not come out great.   There are so many scratch marks.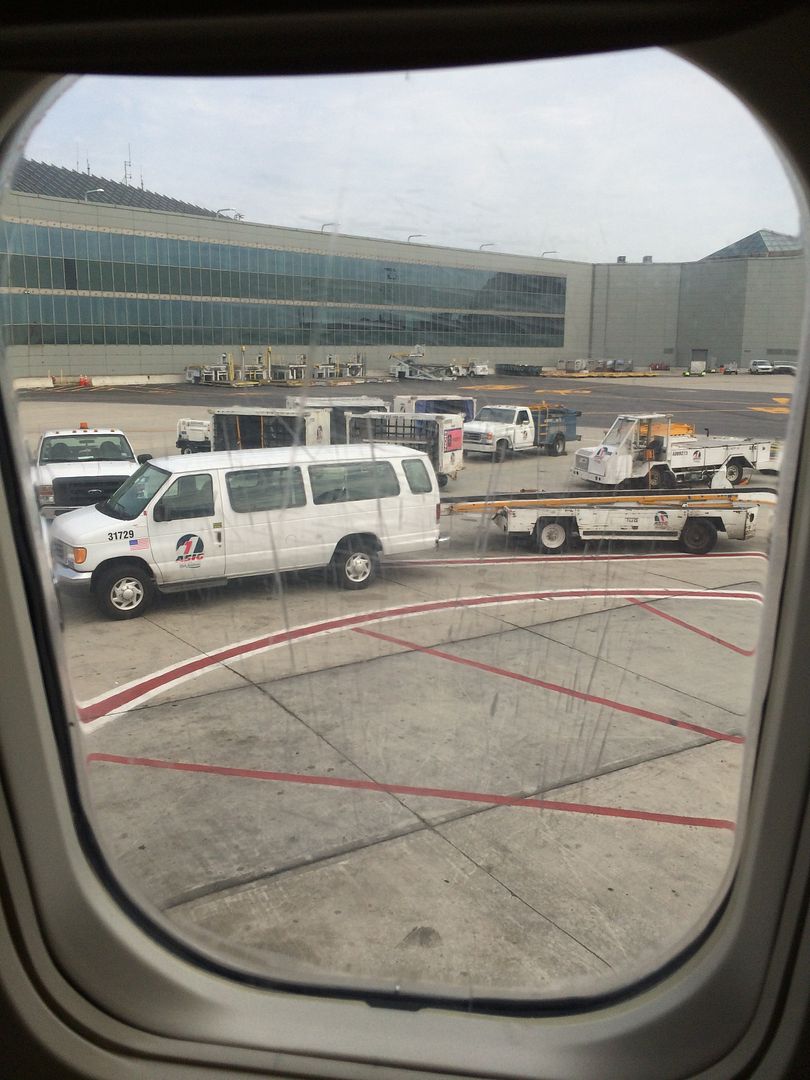 Beverage tray – in pretty bad shape and not to mention "dirty" considered that this was the second scheduled flight of People Express.  I can barely extend the beverage console!
Old school headset console but please note that there is no in-flight entertainment – paid or complimentary.
Vision Air safety card – no in-flight magazine
However, unlike the new generation of slim seats, these seats are well padded and comfortable.  Legroom at the "Living Large" section is comparable with other US domestic first class seats on the 737s.  To my surprise, there was more legroom than first class on Alaska Airlines' Boeing 737-400s.   
Legrest too
ASIC is the ground agent for People Express in Newark.
One more thing about charging for carry-on was a smoother boarding experience, despite the chaos processing the media's return flights, and many guests were just returning on the same flight from PHF.  So everyone knew the routines.  Door was closed on time at 10am and we pushed back four minutes later.  Newark Airport had prepared a departure water canon this morning, and it was always nice to experience these salutes.   Everyone was clapping and the atmosphere was festive.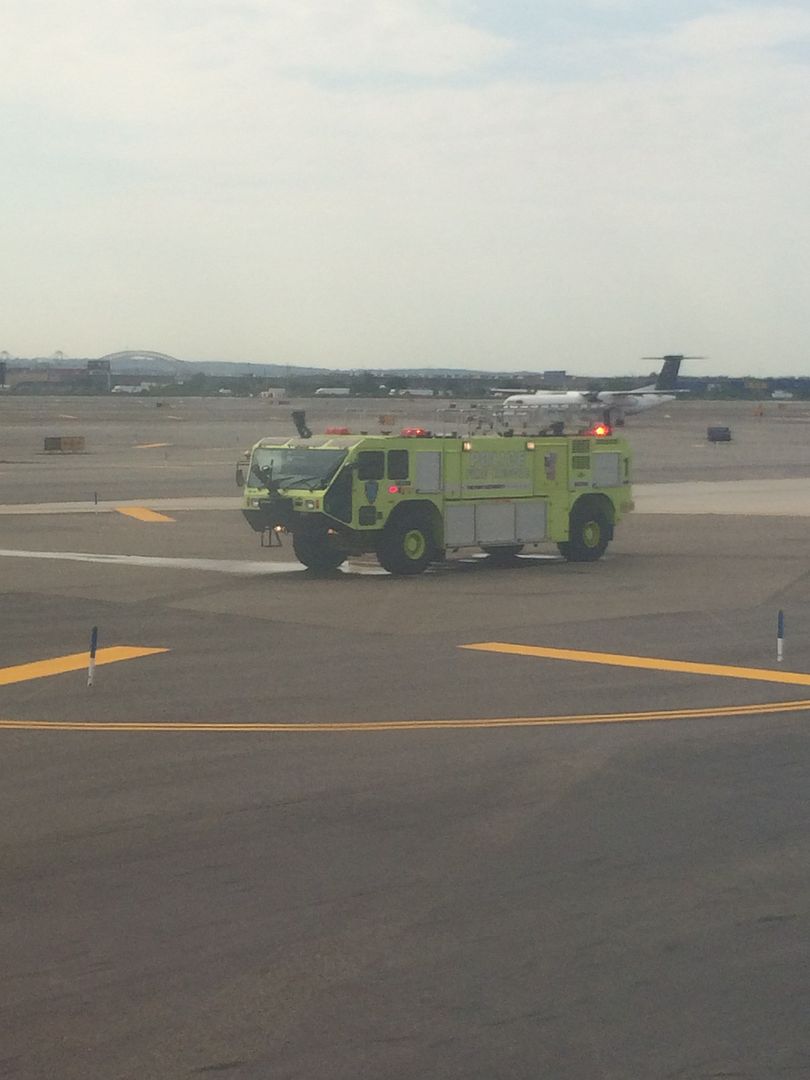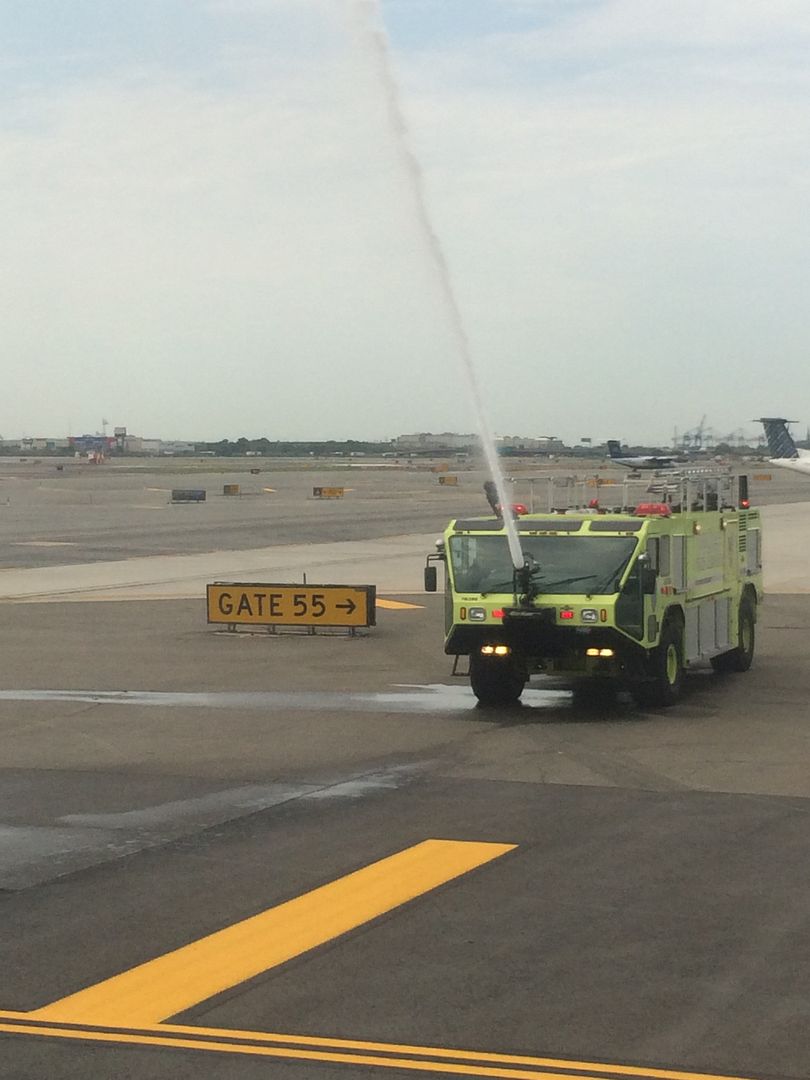 Newark was very quiet at these mid-morning hours and there was only one United's Boeing 737-700 Winglet waiting to takeoff in front of us.  We took off from R/W22R at 10:14am.   
Flying time was forty-four minutes with a cruising attitude of 26,000feet. 
In-flight service is a bit different from the website description and I am not sure if it is because today is the first day of service or People Express is not prepared to handle all the money exchanges yet.  Regardless, the service is similar to what other airlines offer on this short flight.  Packages of mini pretzels were first handed out to all passengers by one F/A, who came around with a basket, and according to www.flypex.com, there would be free snack boxes, but I guess pretzels make more sense.  And then there was a beverage service and only chilled beverages were offered – Coke, Diet Coke, Sprite, Ginger Ale, bottled Dasani waters, bottled orange, or apple juices.  They were all complimentary on these two inaugural flights.  Full can/bottles were offered too.  Everything was served in plain plastic cups and napkins – no branded stuffs at all. 
During the speeches, Jeff Erickson mentions about offering a low cost product with young and energetic employees.  I am not sure about "young" but the F/As all look like that they have worked at some other airlines, and I consider them veterans or seasoned F/As, rather than new and young F/As.  I have no complaint though because they are all friendly and excited about the new service.  They are very efficient.  However I will change my tag line, if I am Mr. Erickson.  If they want to go with the "energetic" and " fun" themes, the current F/A uniforms look rather stuffy and remind me of F/As working on a traditional airline, rather than a fun low-cost airline.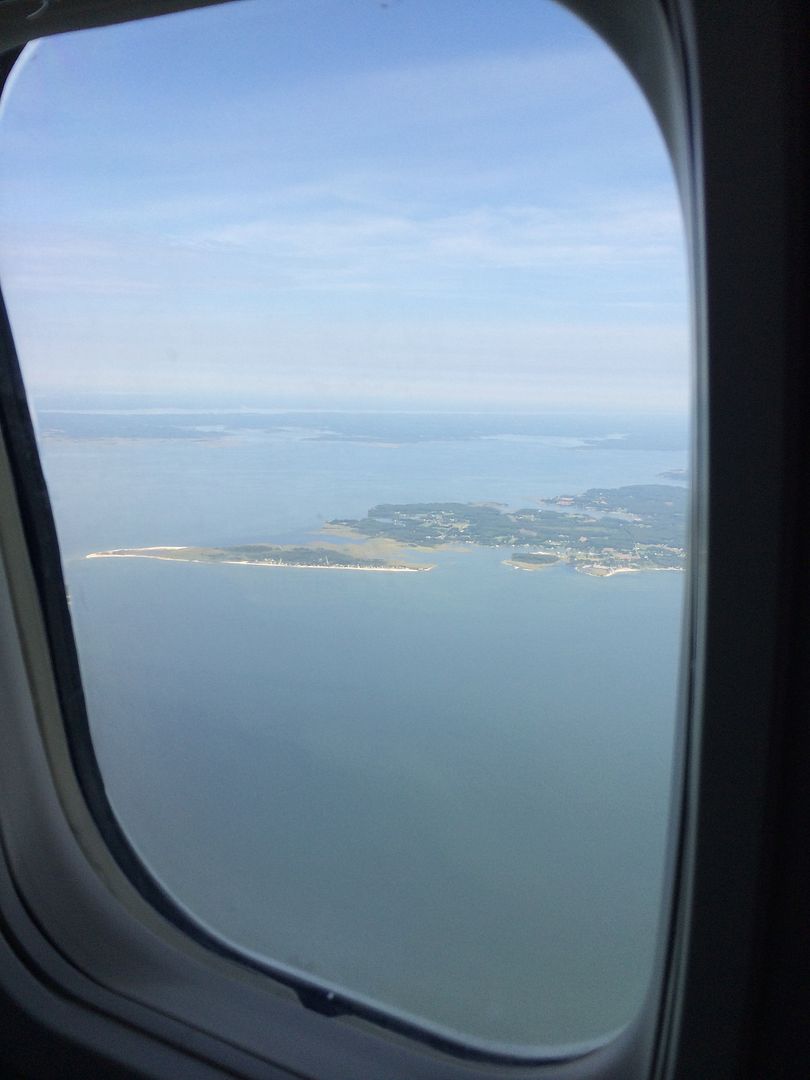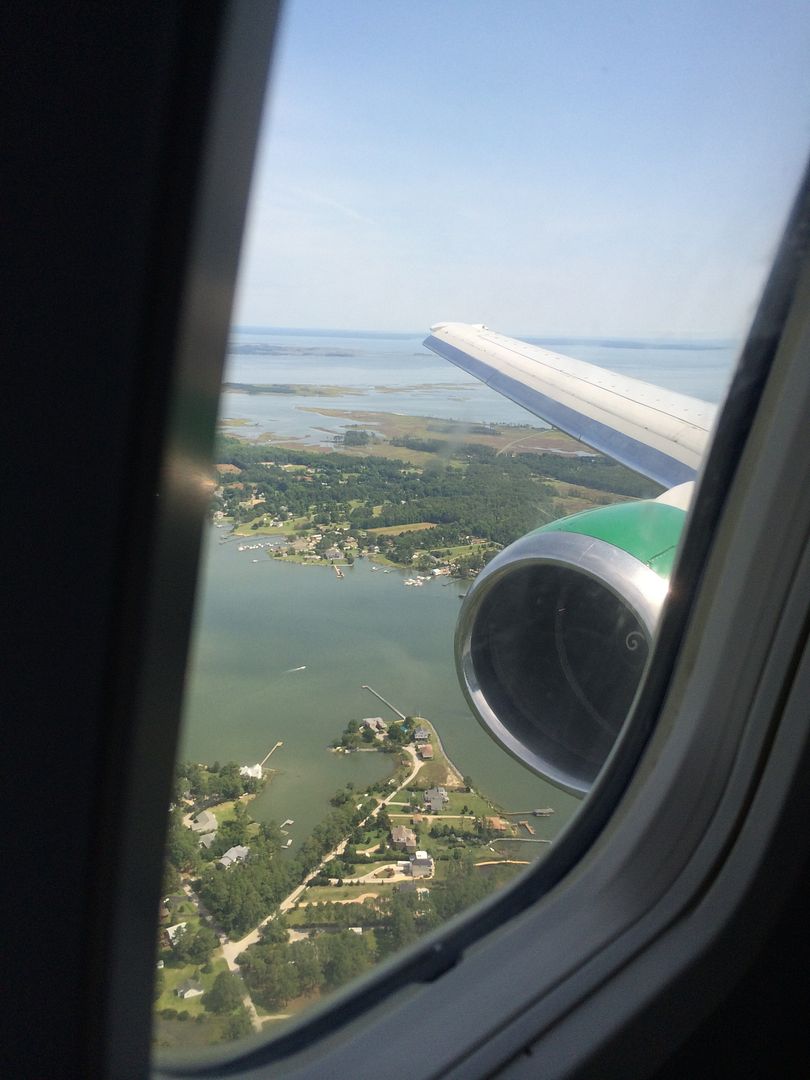 Descent soon began at 10:41am and it was a straightforward approach into R/W25.  We landed at 10:58am and received another water canon salute on arrival.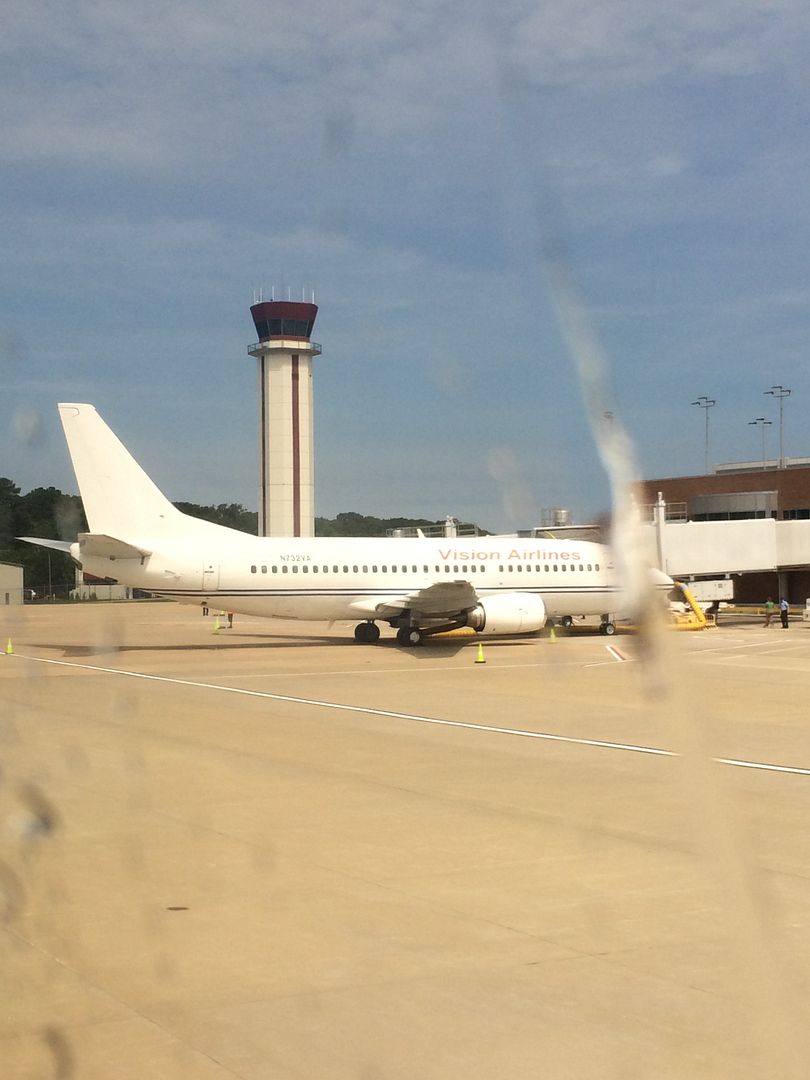 We parked at gate A5 a few minutes later, with the other People Express (painted in Vision Airlines) Boeing 737-300 plane parked at gate A6.  N732VA worked the morning rotations to Boston and please note that there was no "living large" cabin on this particular plane.  According to the rooster that I peeked on, this 737-300 supposes to work the daily Boston and Pittsburgh flights for now, and the People Express plane works the double Newark rotations. 
I took advantage of the long turnaround time at PHF and took a few cabin shots.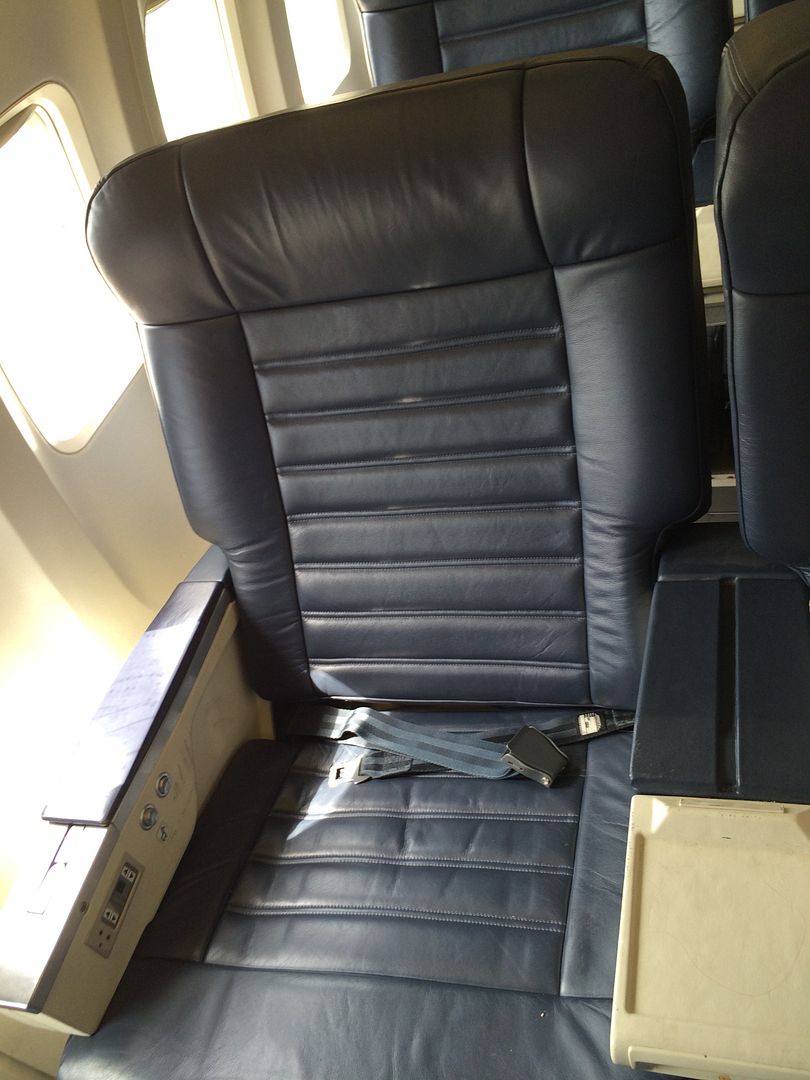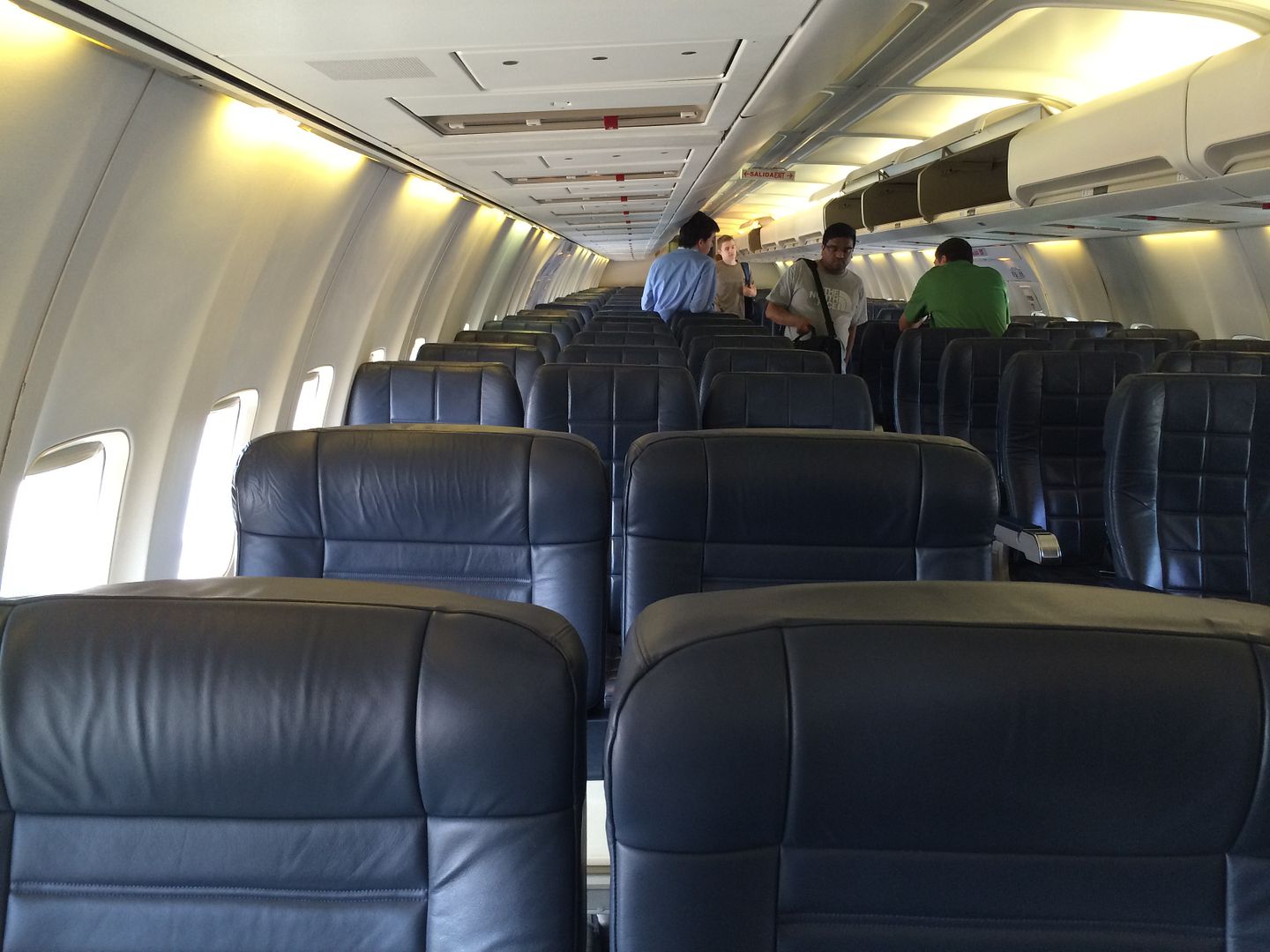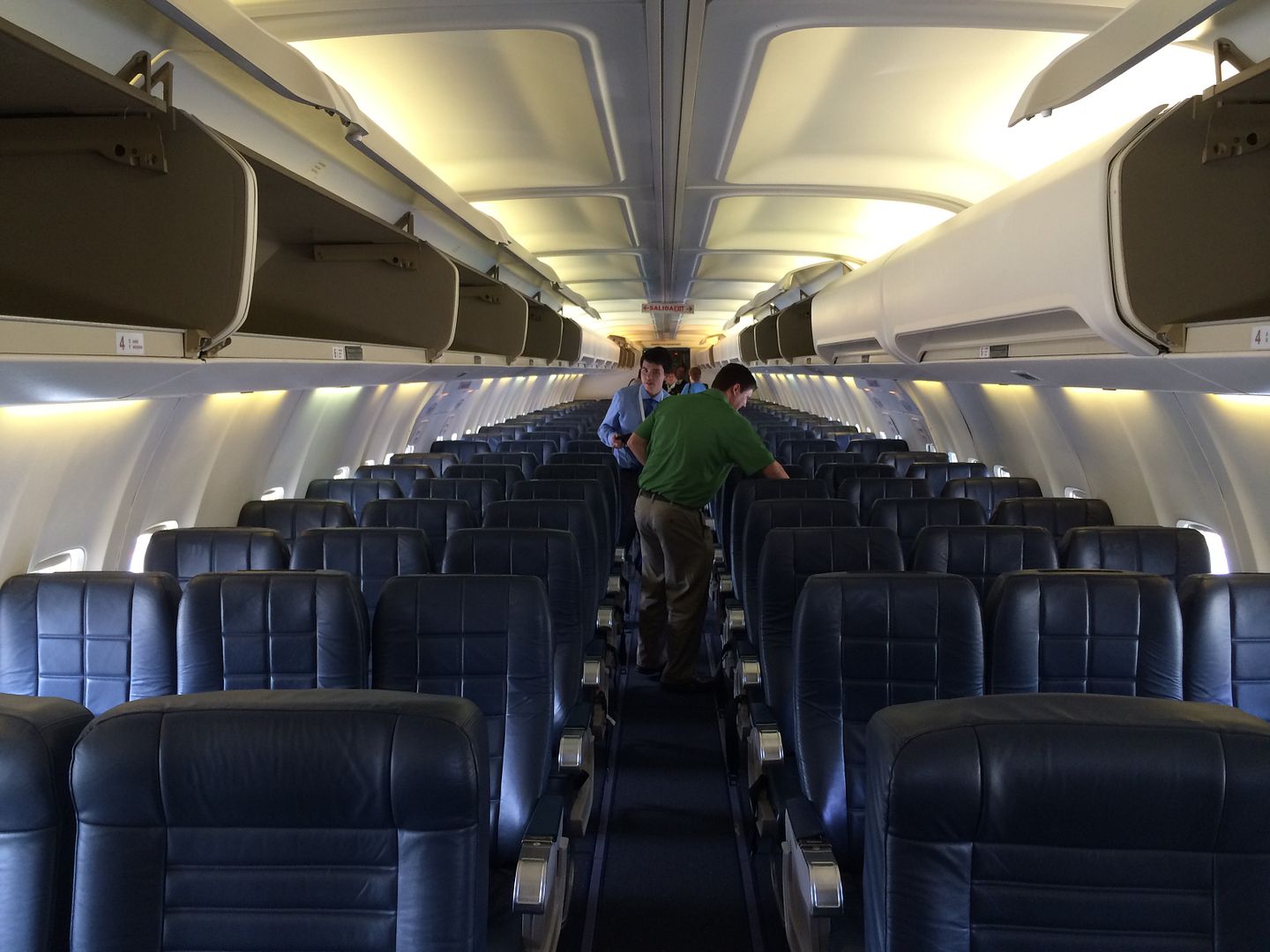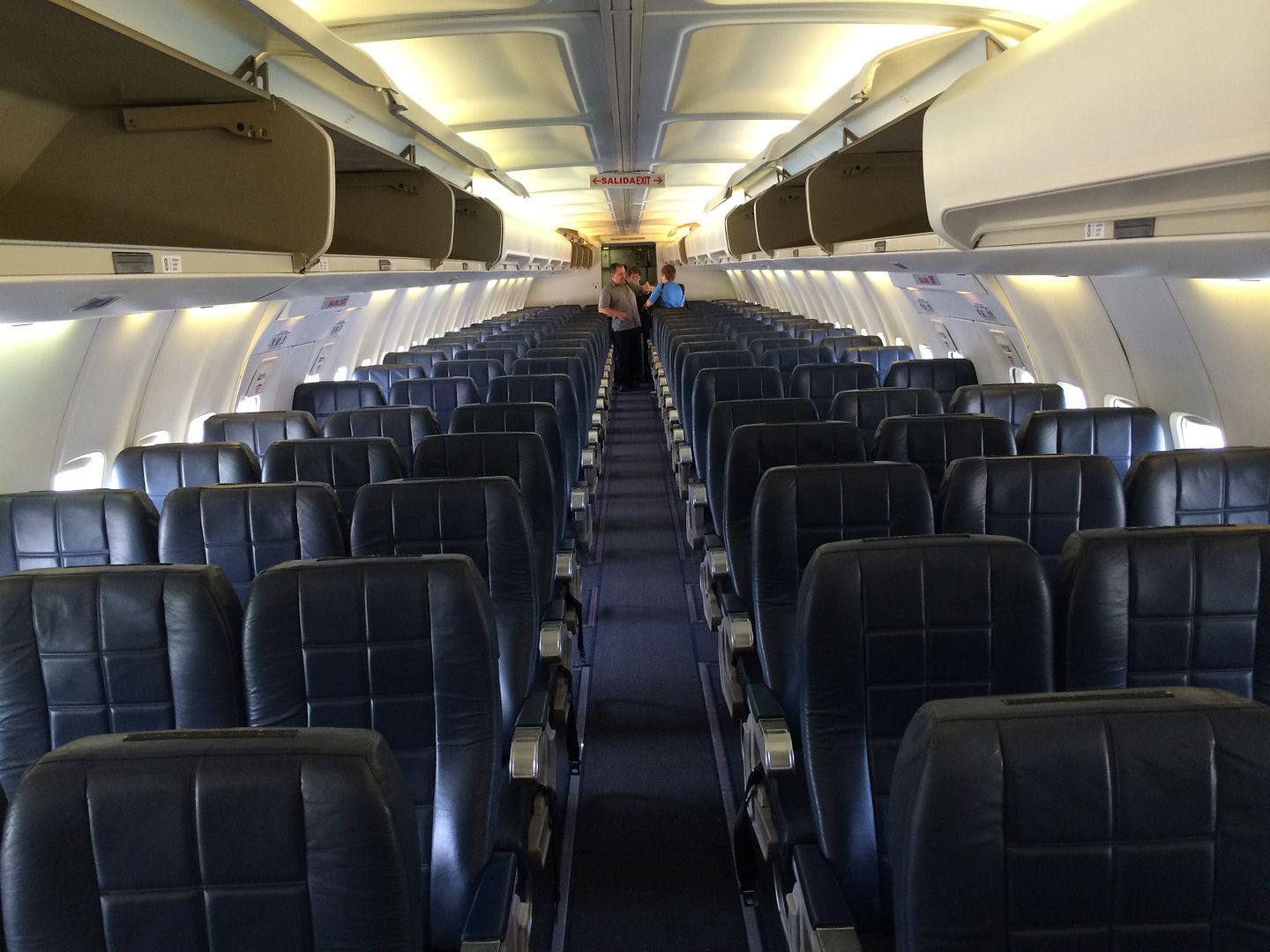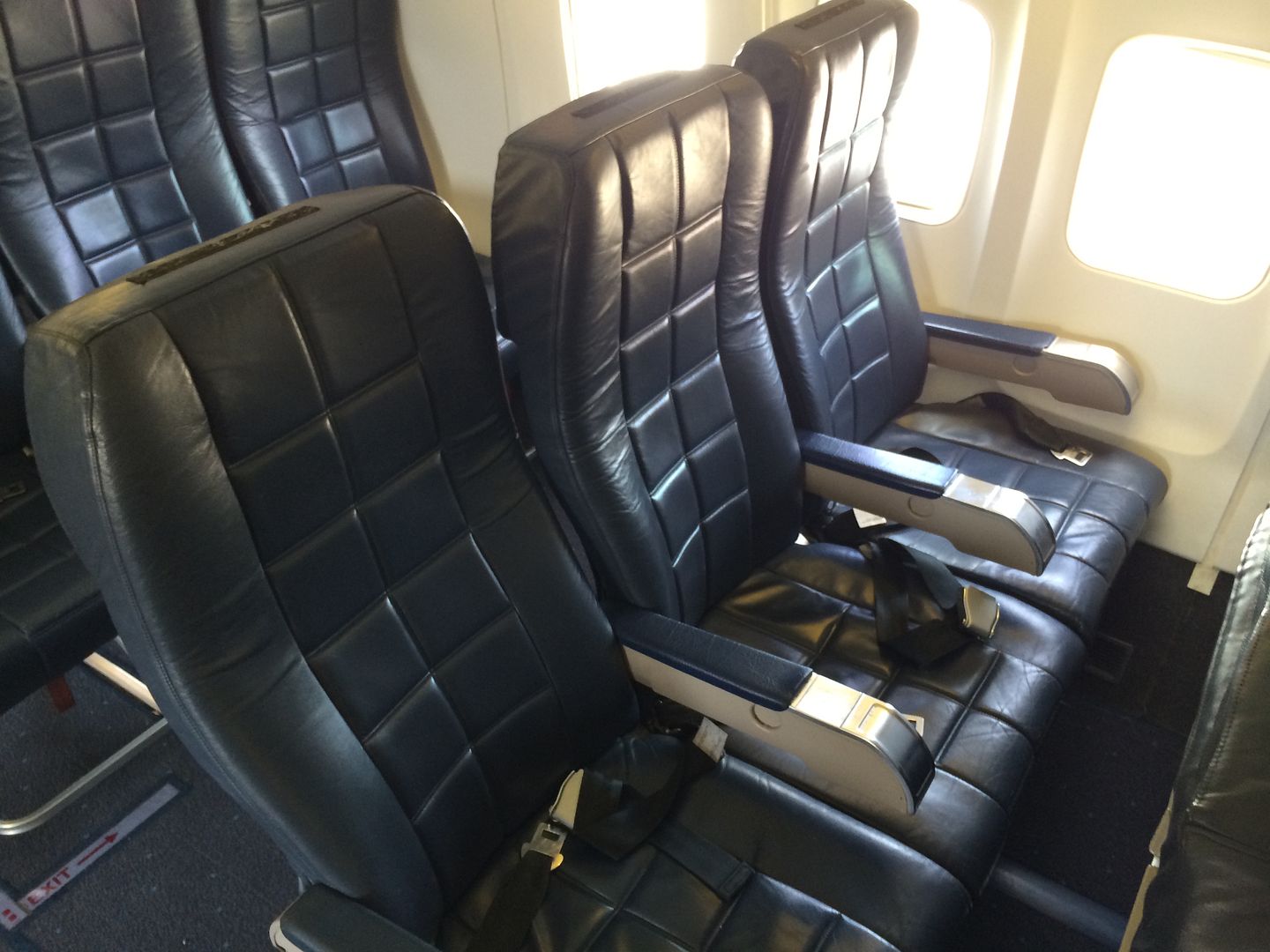 From twitters, I found out that they passed out People Express' thermo bugs, so I just asked one of the staffs and got the last one rationed for the morning inaugural flights.  Thankfully they also passed them out for the afternoon inaugural flight to Pittsburgh, so no worries!  I still got my inaugural gift.  I never expected a gift bag or even first flight certificate, but a thermo was cool.   
Cake at PHF
Just a few pictures of Concourse A, which serves Frontier and People Express!  The only establishment is a kiosk hosted by the Blue Sky café at the airport, when there are flight departures.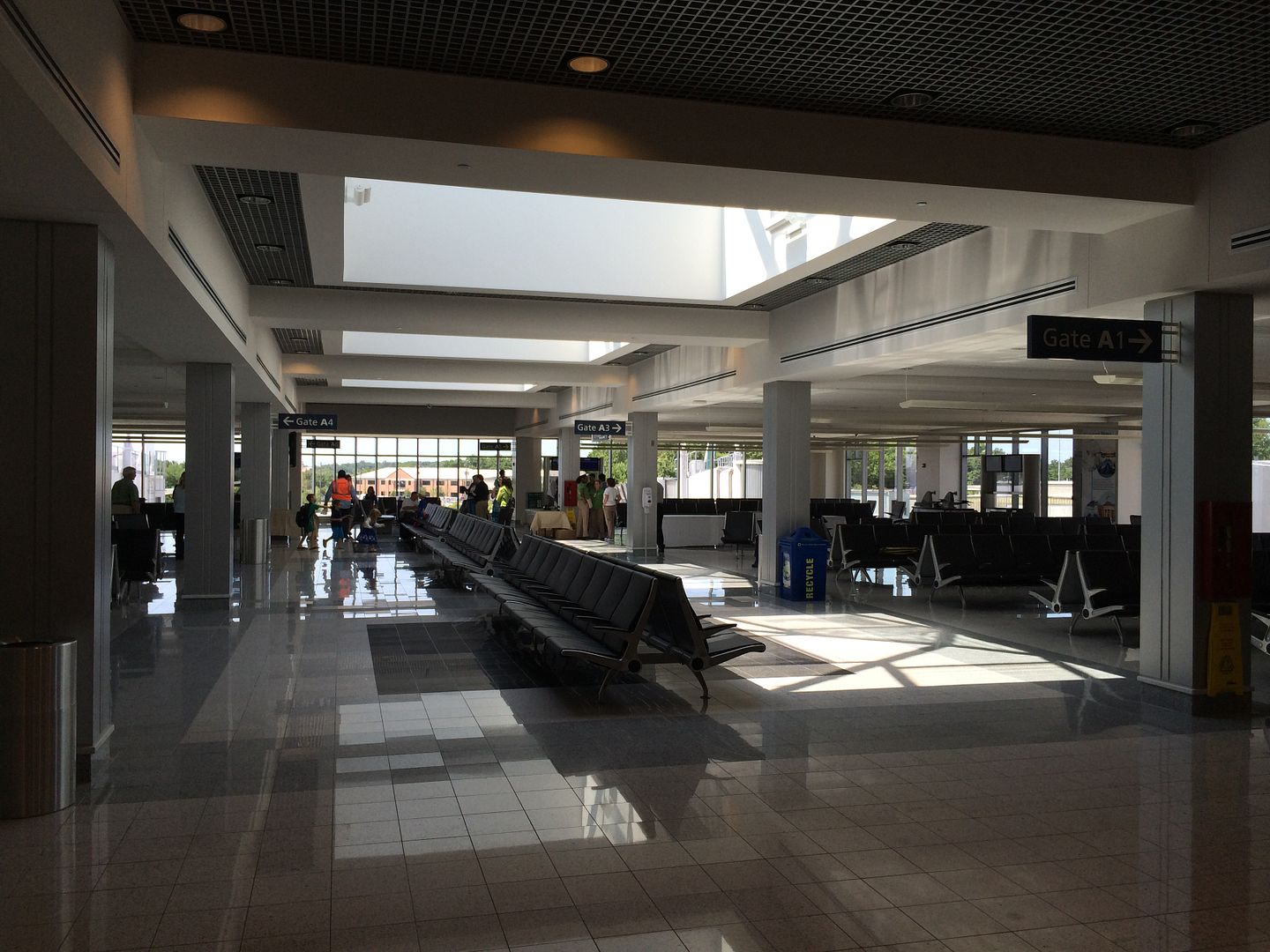 Baggage Claim area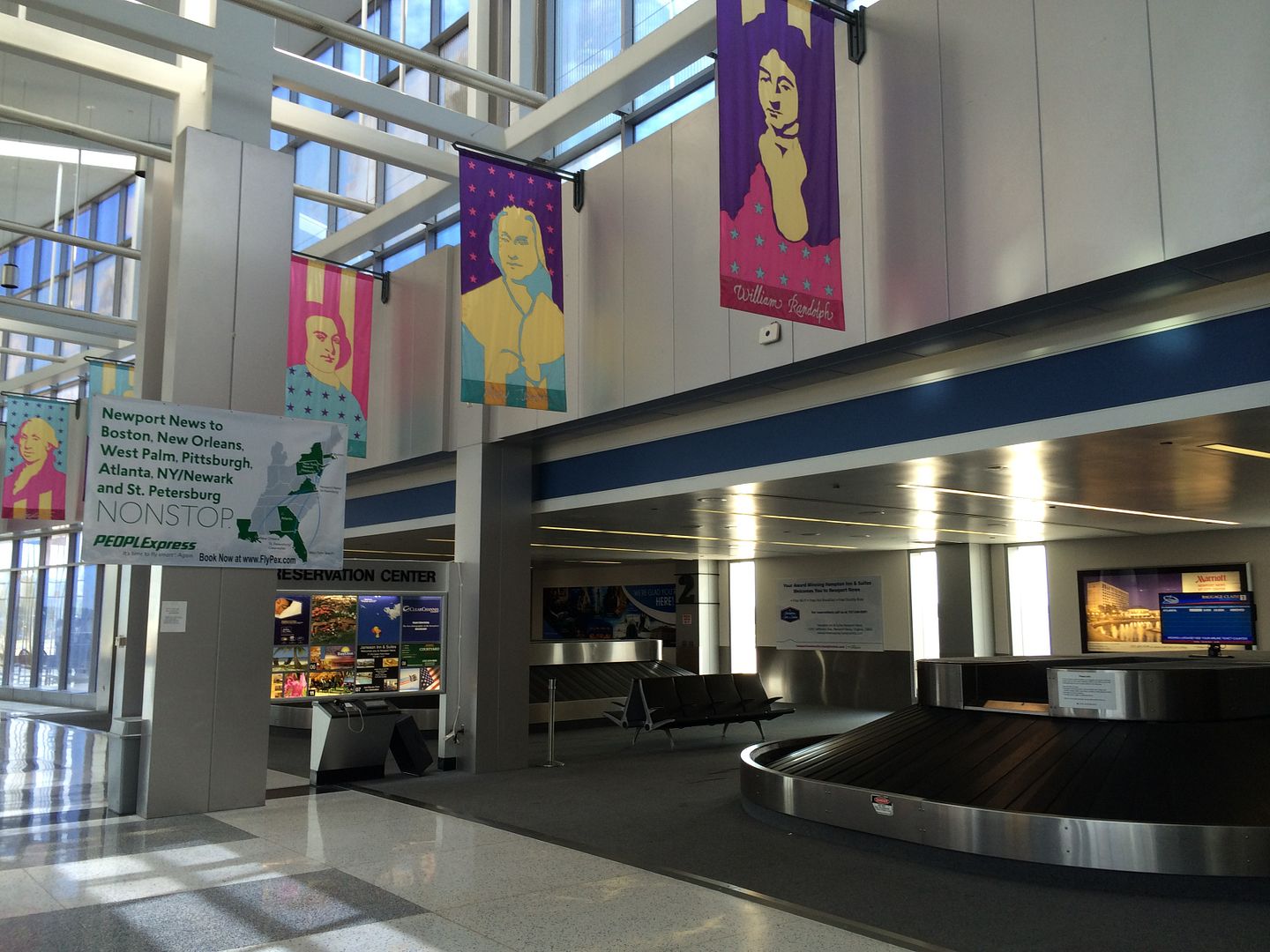 Newport News Williamsburg Airport (PHF) is small regional airport with mostly regional jet operations from Delta and US Airways, as well as Allegiant Air and Frontier Airlines.  There is a single "Hudson News" store, as well as a single restaurant outlet – Blue Sky Café, and I had a surprisingly good crab cake sandwich. 
Entrance to the airport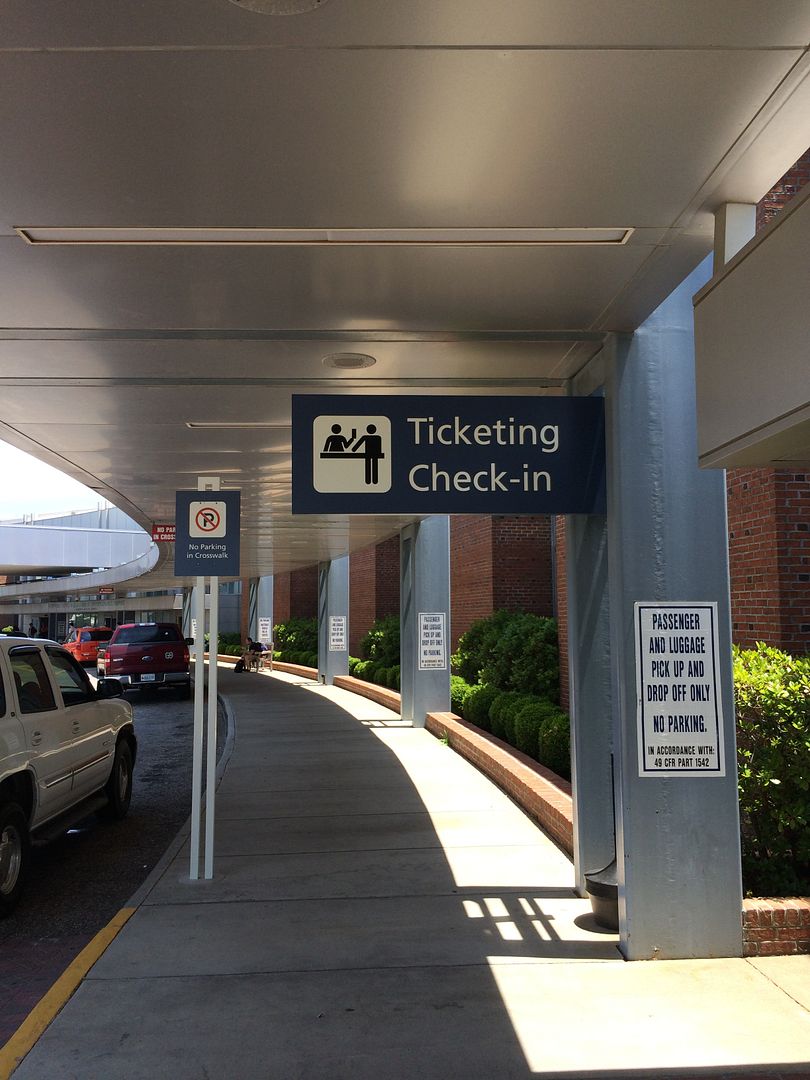 June 30, 2014
VS 201 PHF-PIT Lv1500 Arr1600 Boeing 737-300 N732VA Original Boeing 737-400 N745VA "Dedicated to Philip Morisi"
Check-in
Check-in opened two hours prior to check-in.  I headed over there around 2:15pm, and the counters were not too busy with passengers, but staffs were a bit slow, as they were still trying out the new system.  They were very apologetic and seemed glad that they got to work with real passengers and practiced more, before the busy July 4th weekend.  I recommend you to arrive early at airports during this upcoming weekend if you are flying People Express.  There was no kiosk or any automated options.  Of course web check-in was not available.  I honestly don't know how People Express can be efficient without all those automated check-in tools.  Martha tried to check me in but ran into issues with printing my boarding pass.  She asked if I wanted to pick a specific seat or let the computer choose a random seat assignment with no fee.  I then kindly reminded her that I bought a "Living Large" seat.  Then she tried to find my name on a pre-printed manifest and then realized that there was an aircraft swap.  Both the Boston and Pittsburgh flights are scheduled to use the Vision Air's Boeing 737-300 N732VA, which has no "Living Large" cabin.  Then one of the managers told me that they might switch back to the People Express Boeing 737-400, since this was the inaugural flight.   He told me that they would refund the difference between the Living Large and exit row seat, and if they swapped back to the 737-400, they would reverse the charge and gave me back the Living Large seat.  The staffs really apologized for taking so long, but I honestly did not mind, as there was nothing much going on at PHF anyway and I was not in a rush.  I just played with my phone, while they fixed the seat.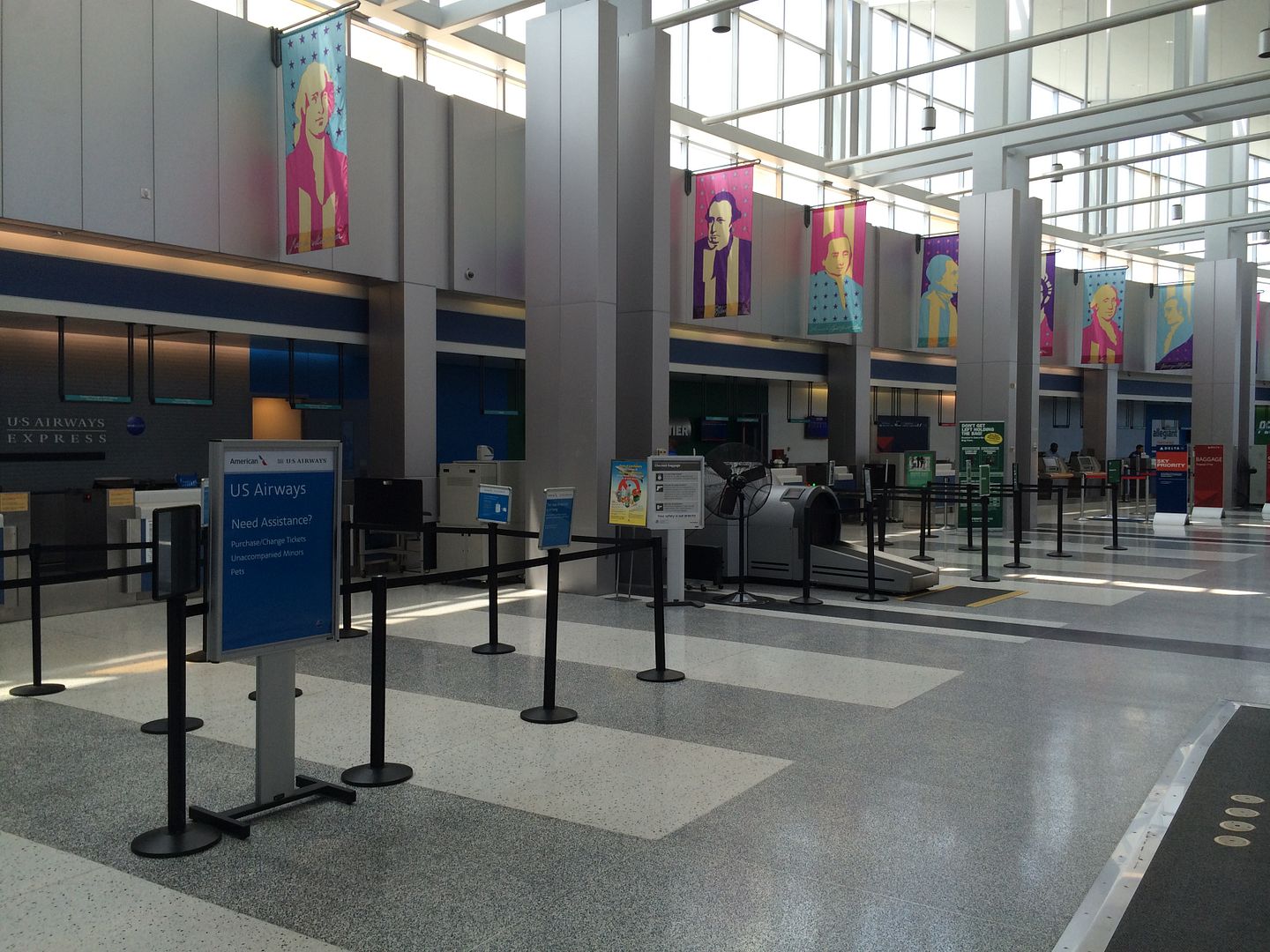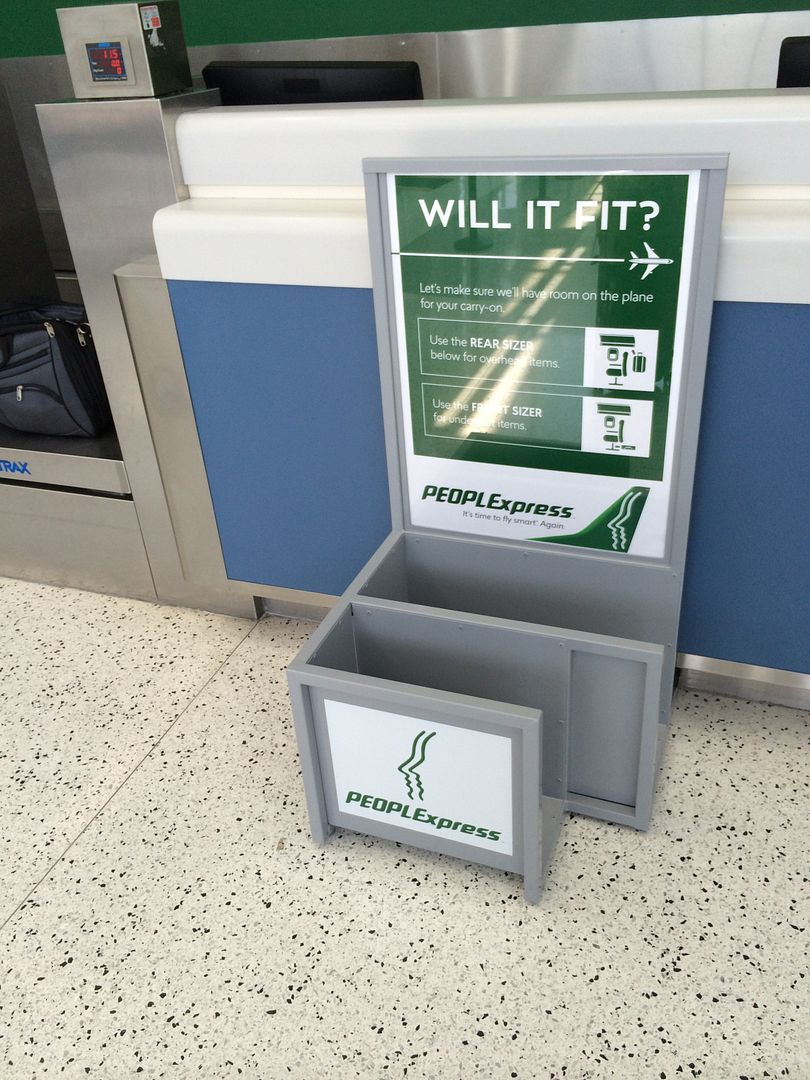 Model of the airport
The security checkpoint opened about 90 minutes prior to departure, as there was a gap in the afternoon hours.  There was no wait and the load on the inaugural PHF to PIT flight was around 20 passengers plus the high level staffs heading to PIT for the inaugural flight.  Pittsburgh Airport authority took this People Express' inaugural pretty seriously.  Both the founder Mike Porisi and the CEO Jeff Erickson were on the flight to Pittsburgh. 
Then I heard discussions in the gate area that they were trying to switch back to N745VA for the Pittsburgh inaugural, as it would be nice to bring in the official painted plane.  At 2pm, it was official and the gate agent, who remembered me from the check-in desk, immediately worked on changing me back to "Living Large."  This time, I just told them to assign me a window seat and I would just take a seat and did some work in the nearby gate area.  I knew this was going to be a challenge.  After fifteen minutes, they just told me that they could not reprint my boarding pass but just asked me to board first and to pick any "Living Large" seat.  The flight was empty anyway.
Nonetheless, the People Express staffs at Newport News Williamsburg airport were much friendlier and talked with each passenger.  That is the attitude that will help you to build a loyal following.  They also passed out the thermo to each passenger flying the inaugural flight to Pittsburgh.  There was no more buffet or speech though.  It was a nice family atmosphere.    
Control Tower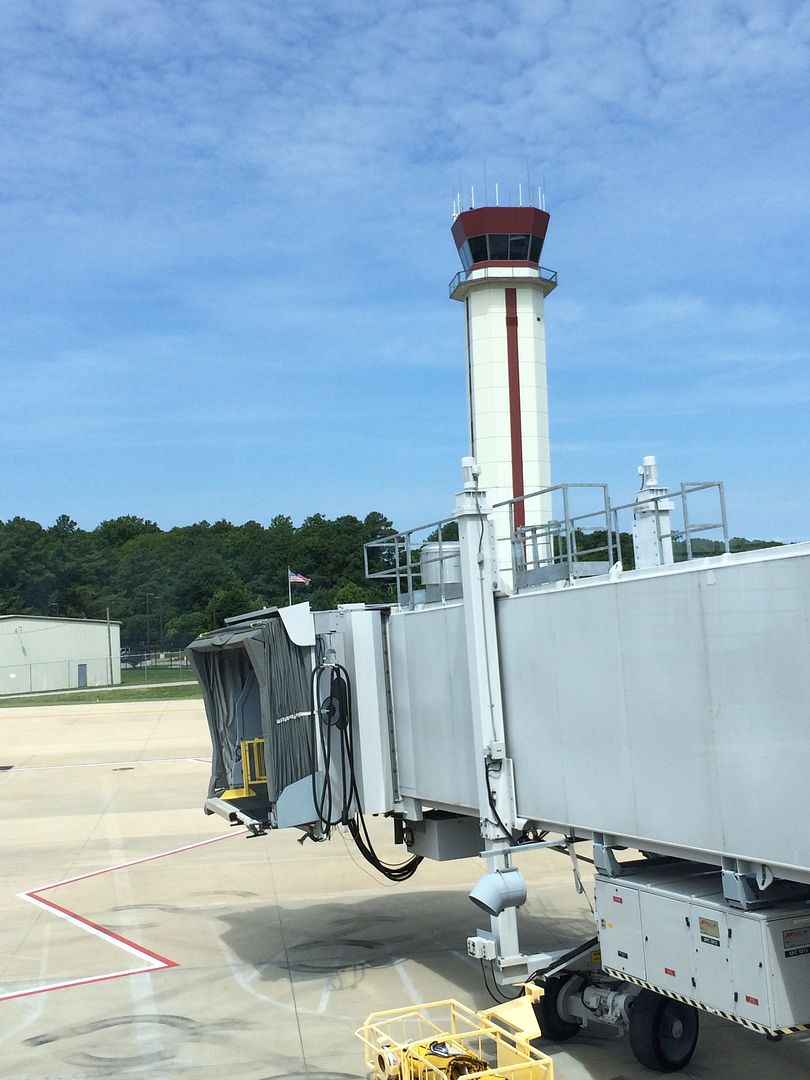 N732VA – Vision Airlines' B737-300 for mainly Boston and Pittsburgh flights
Gate A5
Boarding finally began at 2:40pm, and I found out that "Living Large" passengers received priority boarding.  Of course wheelchair and other mobility restricted passengers get to board first, following by "Living Large," and then due to our light load, general boarding took place all at once, instead of rows of five form back to front. 
I took the opportunity of priority boarding with a few empty cabin shots with Sonja smiling in the exit row.
Door was closed slightly late, as refueling was delayed due to the aircraft swap.  Door was closed at 2:56pm and we pushed back on time.  The taxing took a bit longer due to construction at the airport, and we had to taxi halfway down R/W7 to the parallel taxiway and then took off from R/W25 at 3:15pm.  Flying time was slightly longer than normal, as we needed to navigate through some storms.   Flying time was fifty-four minutes with a cruising attitude of 22,000feet. 
Shortly after takeoff – beautiful day here at Newport News
In-flight service was identical with the last flight – beverage (full can of diet coke) with mini-pretzels
Same sequence: Mini-pretzels from a basket à beverage cart rolled out (ice was offered) – cold drinks only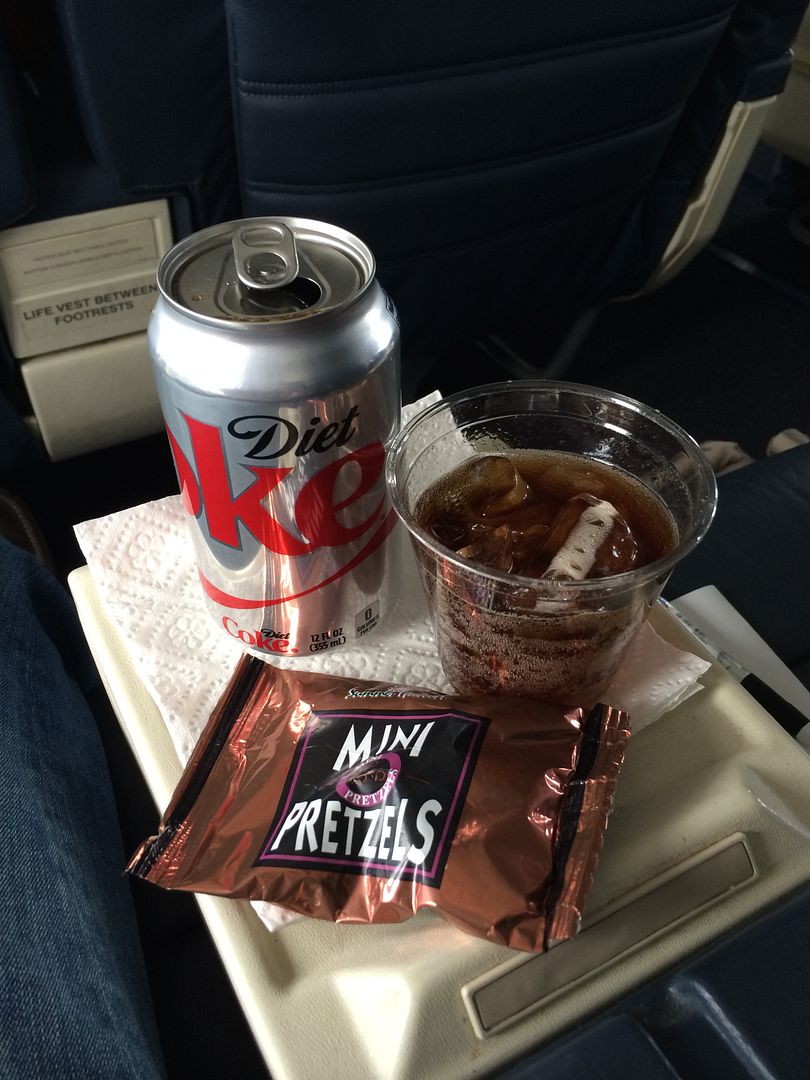 Since I got both 3A and 3B, I got to fully recline my seat and raised the leg rest.  Here is a photo of the "Living Large" seat in fully recline position!
More cabin shot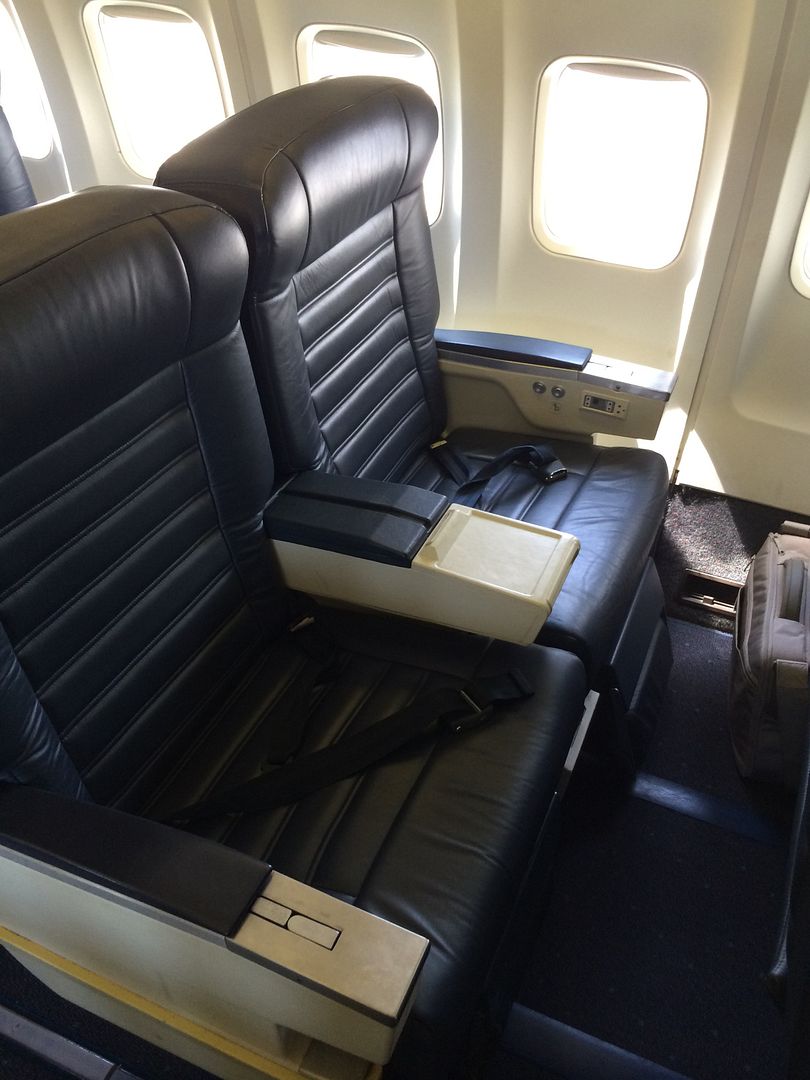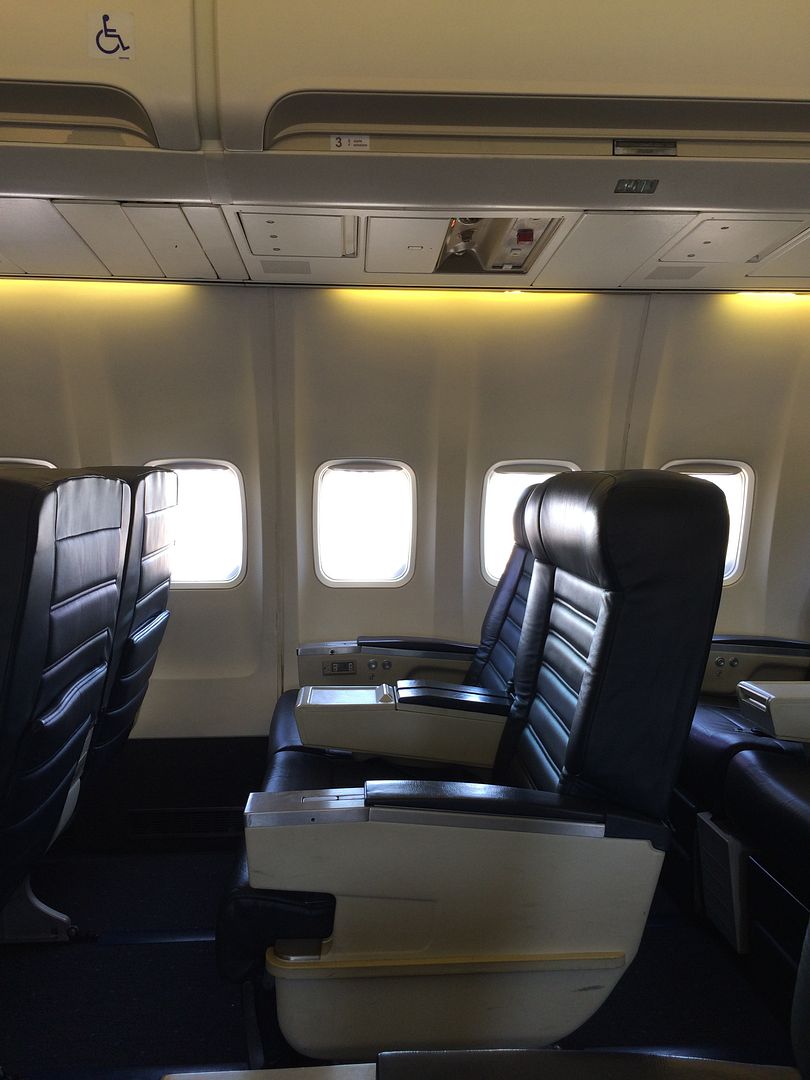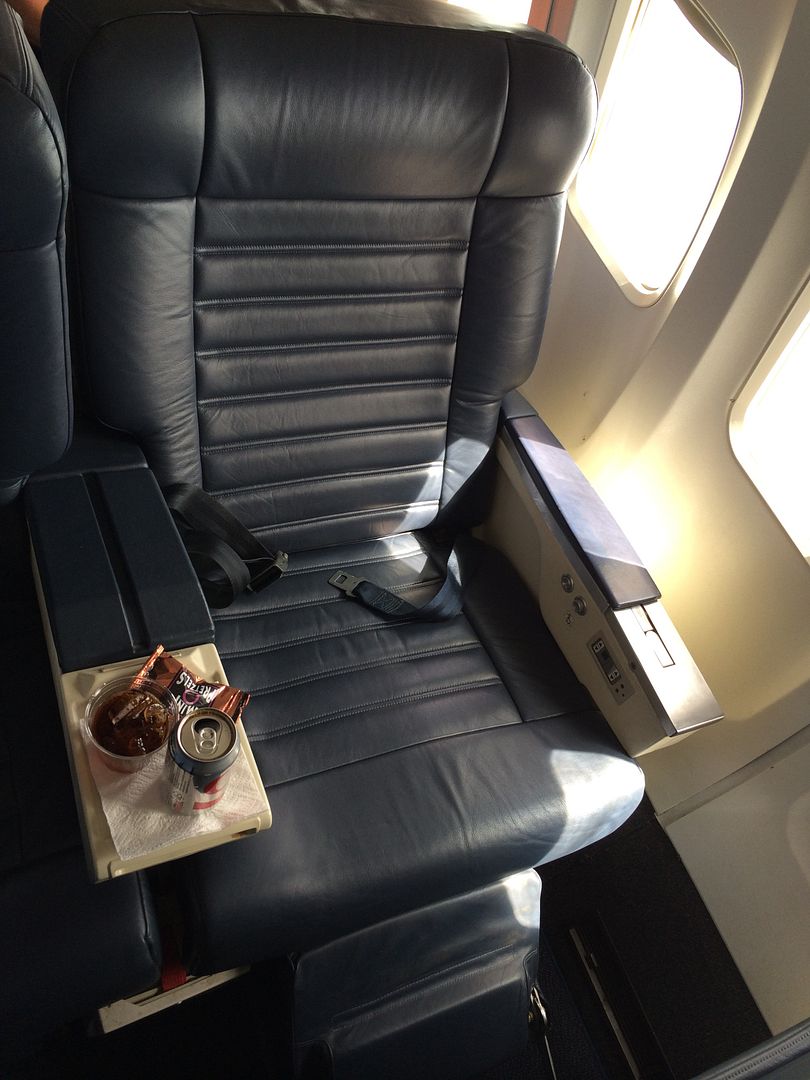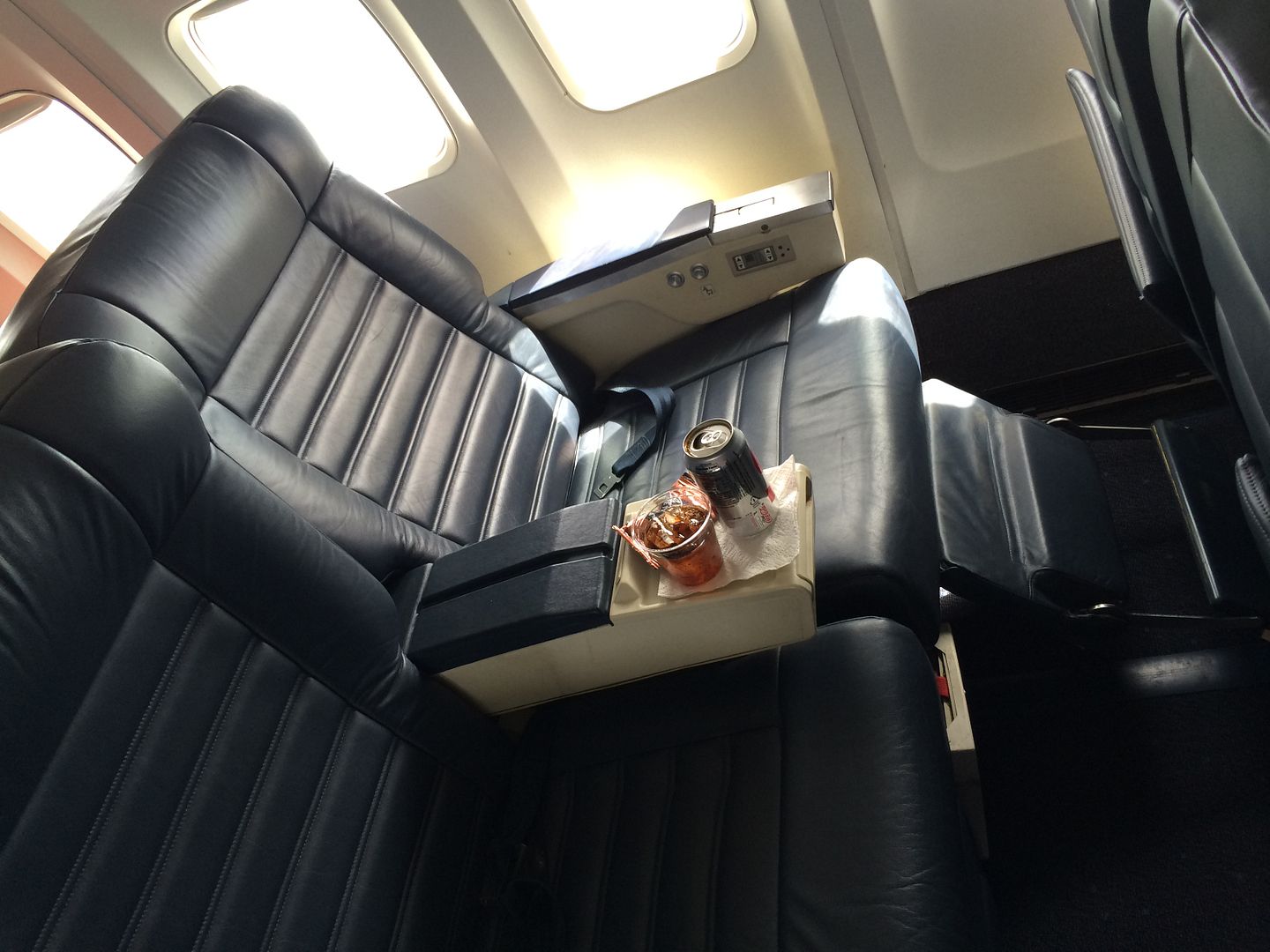 Cabin shot
Cabin shot – view from back to front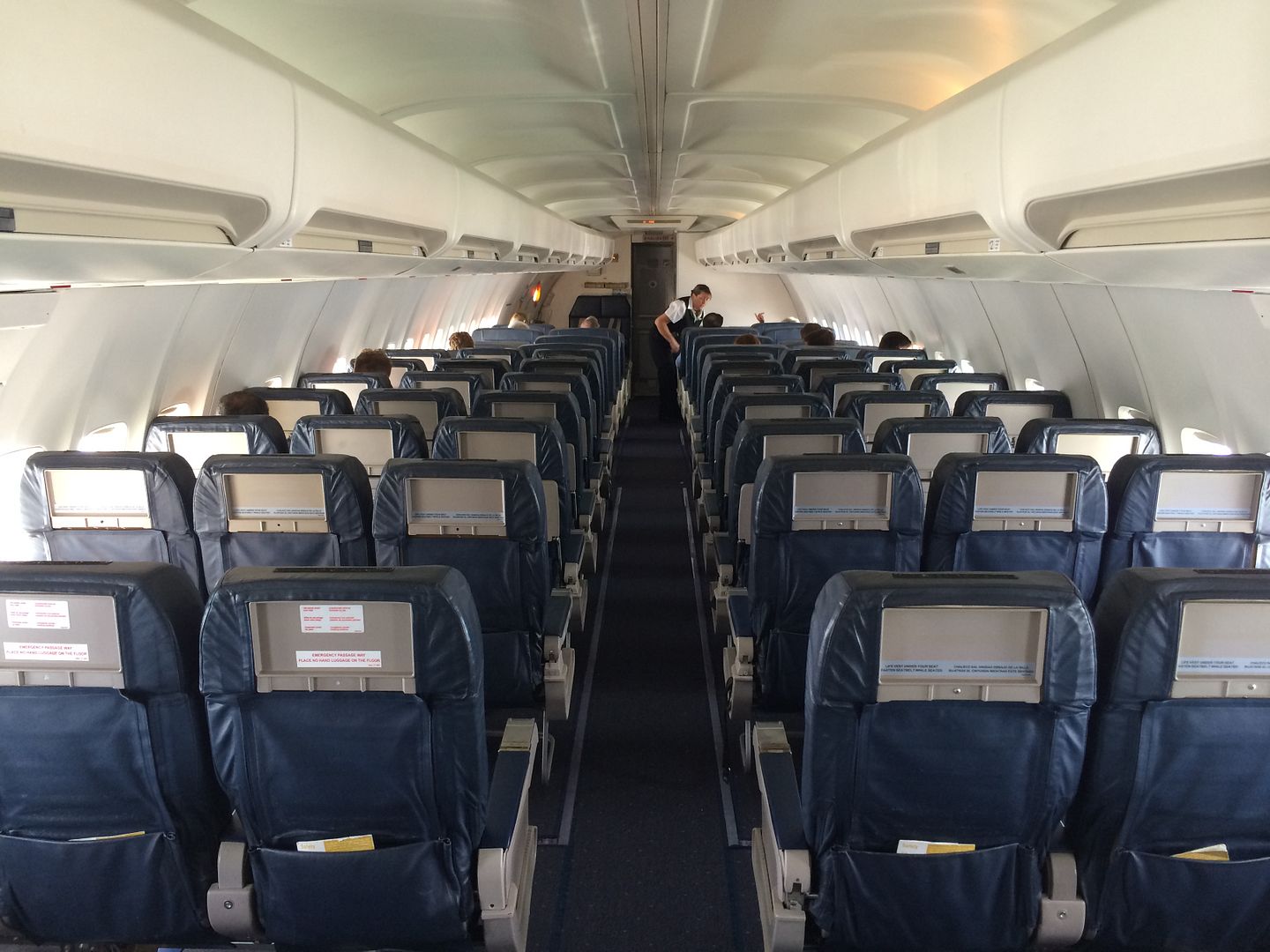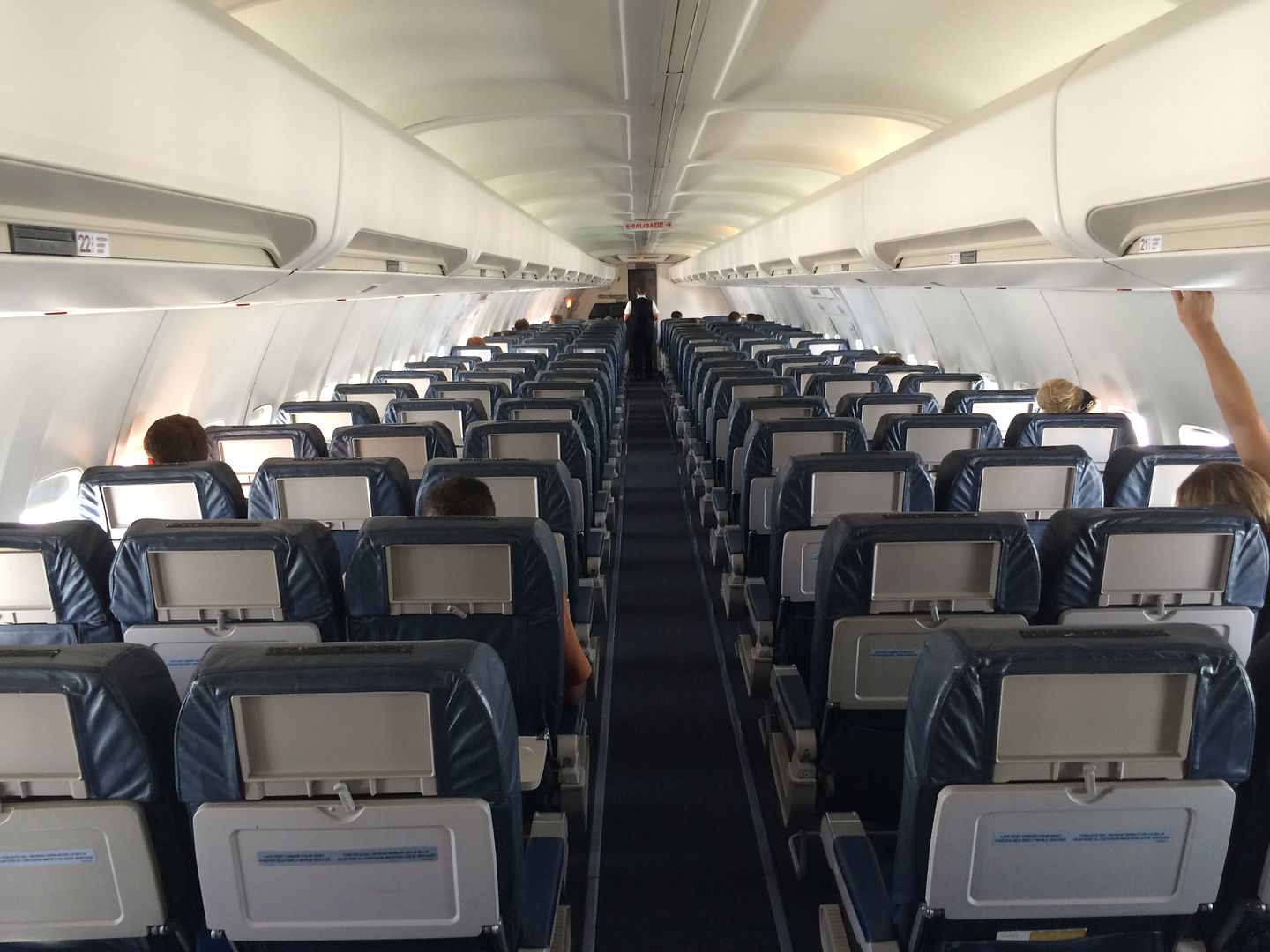 Regular economy class seats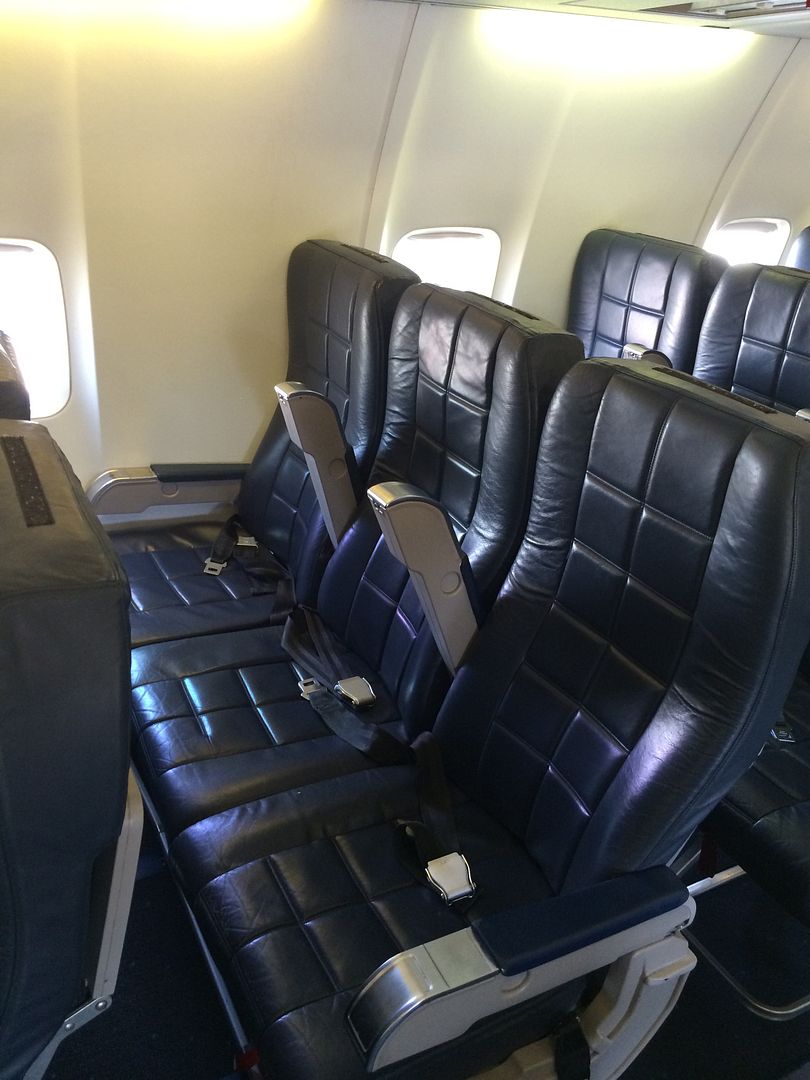 Exit row seats
Photo of engines
Descent soon began at 3:51pm and I took a few pictures of Pittsburgh, as we got closer to the airport.  Given the bad conditions of the windows, these pictures did not come easy.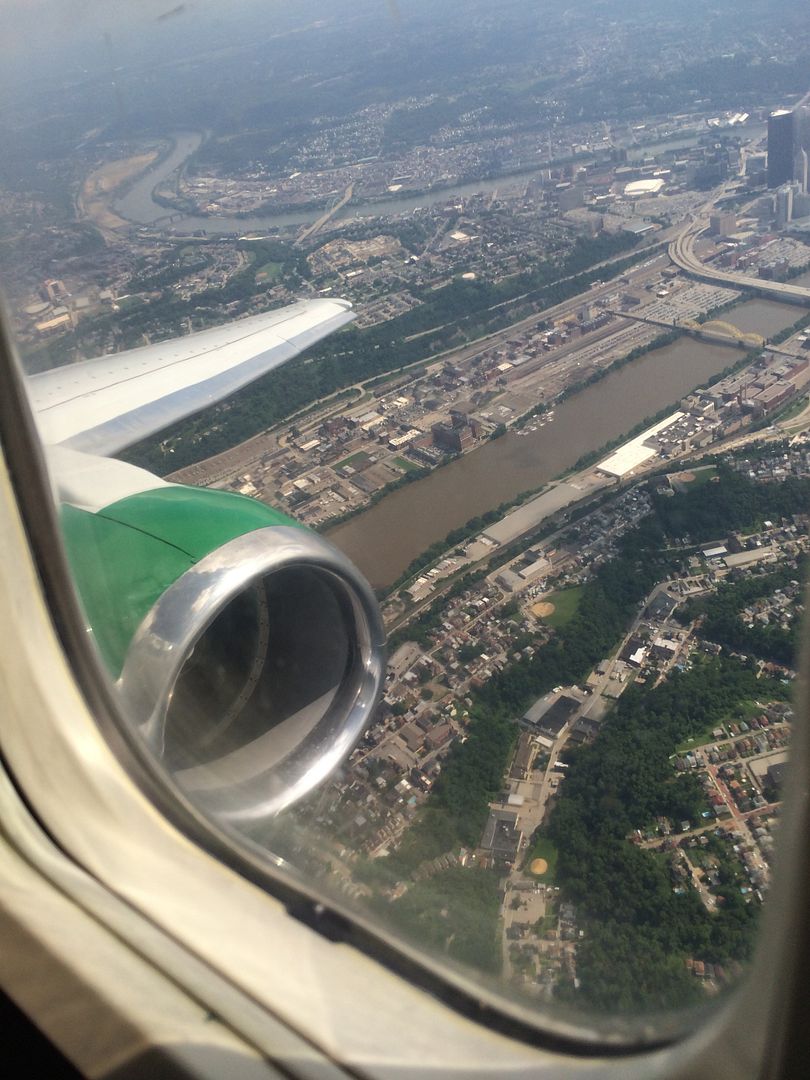 We landed on R/W28L at 4:09pm.  There was no water canon salute for our flight's arrival or the return of this flight back to Newport News.
We parked at gate C53 at 4:13pm.  C53 is the new People Express' gate in Pittsburgh airport.
Pittsburgh airport was a bit more prepared for their inaugural flights.  They finally gave a proper cake for the inaugural flights.  Too bad, the load from PIT to PHF was pretty low – even less than the inbound flight.   But given the short notice, it will take time for People Express to build the load.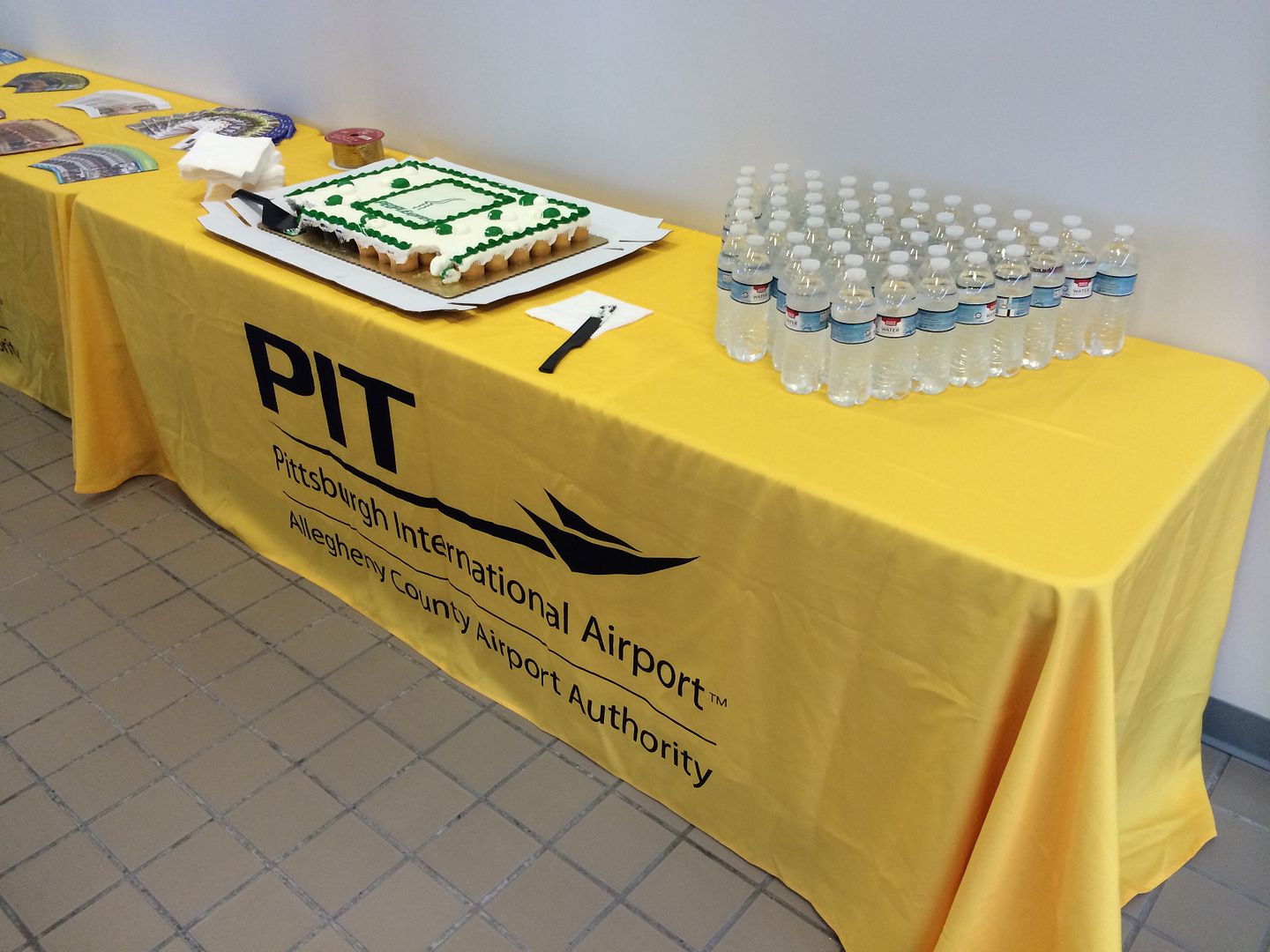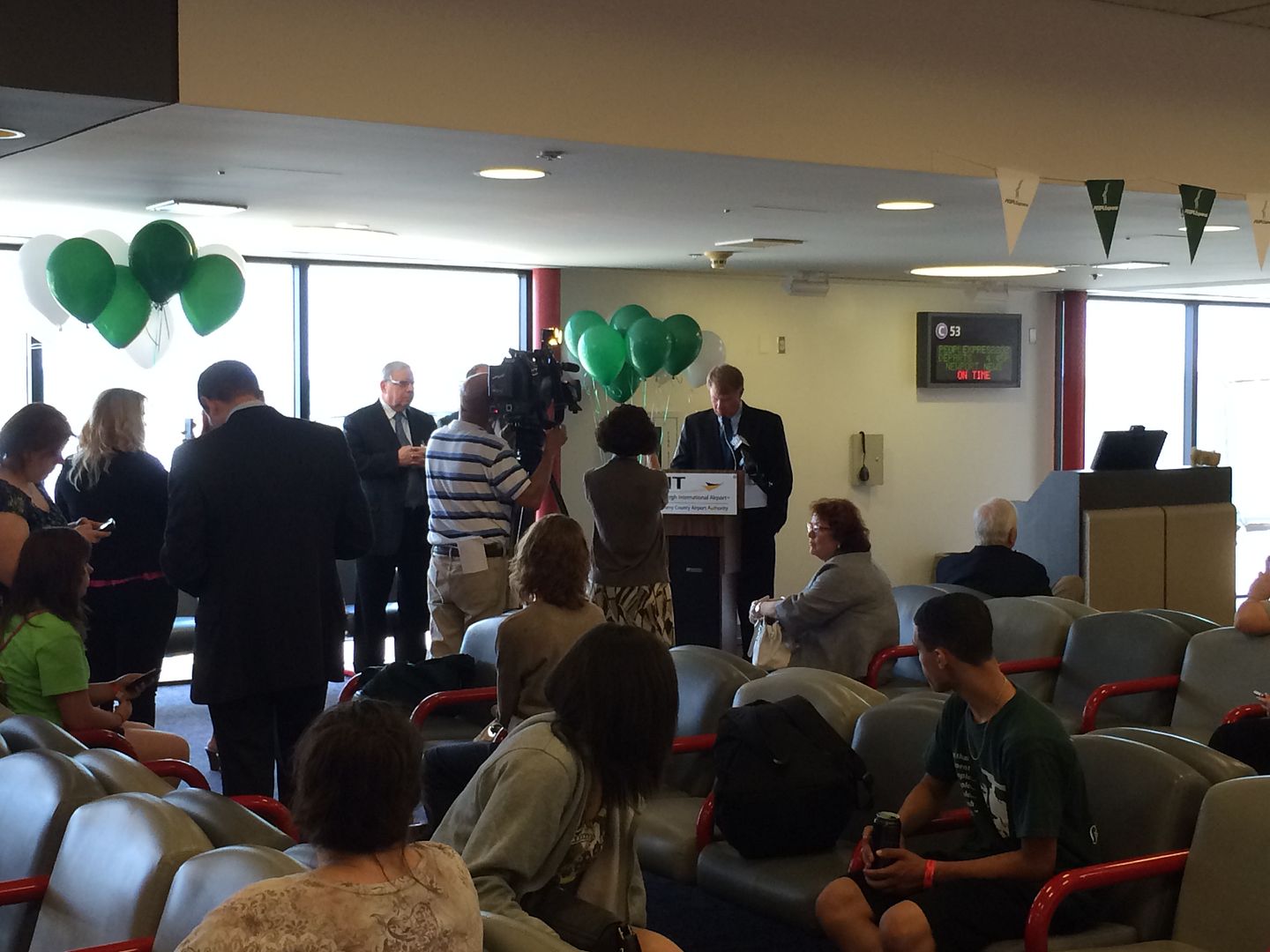 In conclusion, People Express Airlines is definitely a work in progress, and you can see that they really rush through the inaugural flights, in order to take advantage of the busy July 4th weekend and the summer season.  There are many items that still need to be taken care of.   The brand itself is an interesting concept but using these beat-up planes by Vision Air really does not give the best impression, especially these planes are simply given a fresh paint and the seats with fresh faux leather seat covers.  Other than these relatively minor items, People Express is fine.  It is a ULCC so customer service is really not its main focus.  My concern is how profitable it is to use Boeing 737-400s on these short hops (45-50 minutes), and it is not even full.  I always believe that the most successful airlines are those that are innovative, rather than being followers.  People Express does not quite convince me that they are an innovator yet.  Nonetheless, there are some good people working for this airline and I wish them the best of luck! 
N745VA heading back to Newport News