Ethiopian Airlines Trip Report 2015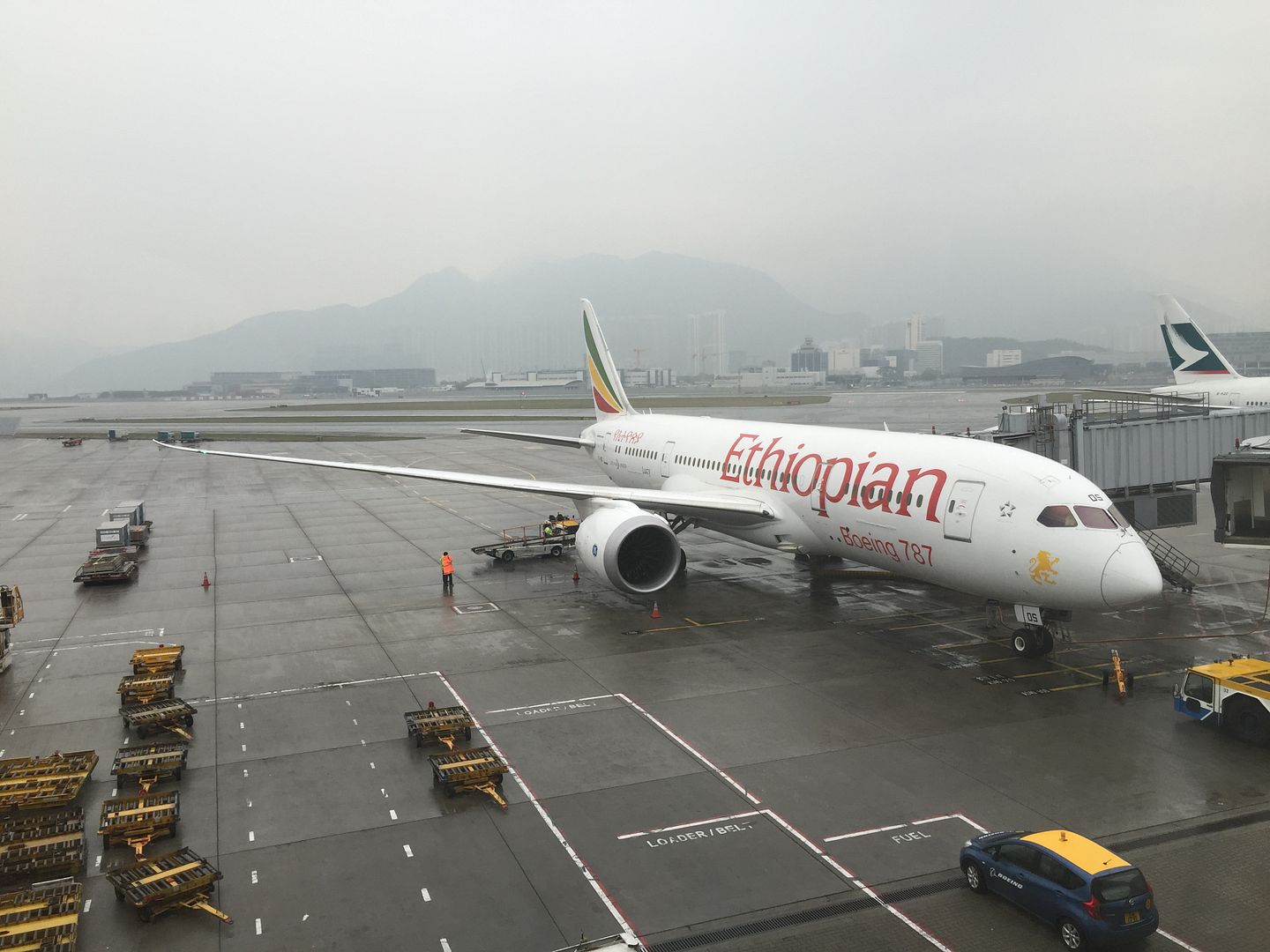 I haven't really written a trip report for a while, but since there is little written about Ethiopian Airlines 787s, I decide to share my recent experiences on ET.  Ethiopian Airlines actually operates a large amount of fifth freedom intra-Asian flights, including HKG-BKK, HKG-ICN, and HKG-NRT (beginning in April).  ICN/NRT are exclusive 787 flights and the price is okay – a little less than $5000HKD roundtrip.  To summarize this experience, I am glad that I flew this roundtrip especially I don't really have plans to fly to Africa, and will I desperate to repeat it?  It is possibly a "No," unless there is a major fare sale.  However, the crews are very friendly, despite some of them can smile a bit more.  The seats are okay for these short regional flights.  The catering is weak, but better than expected.  Here is a full trip report!
March 25, 2015
ET 608 HKG-ICN Lv1440 Arr1945 Boeing 787-8 ET-AOS "Lucy"
Check-in:
Ethiopian Airlines uses SATS as their ground agents, and they occupy three counters in Aisle G for the flight to Incheon.  There is a separate business class/Cloud 9 lane, but with our light load from HKG, it is more for show.  The agent was cordial and polite, and my bag was tagged with a Star Alliance Gold tag, and I was given an invitation to the Plaza Premium lounge. 
Lounge:
I decided to use Singapore Airlines' Silver Kris Lounge, which has recently be renovated.  The agents had no issue admitting me in with my boarding pass and Turkish Airlines' Elite Plus Star Alliance Gold card.  The new lounge was pretty impressive, and I saw most of the furniture at my visit to the Sydney lounge a few months ago.  The buffet was okay, but still not as good as its home base lounge at Singapore.  However it is definitely better than Plaza Premium Lounge, especially the staffs look happy working there and are very attentive.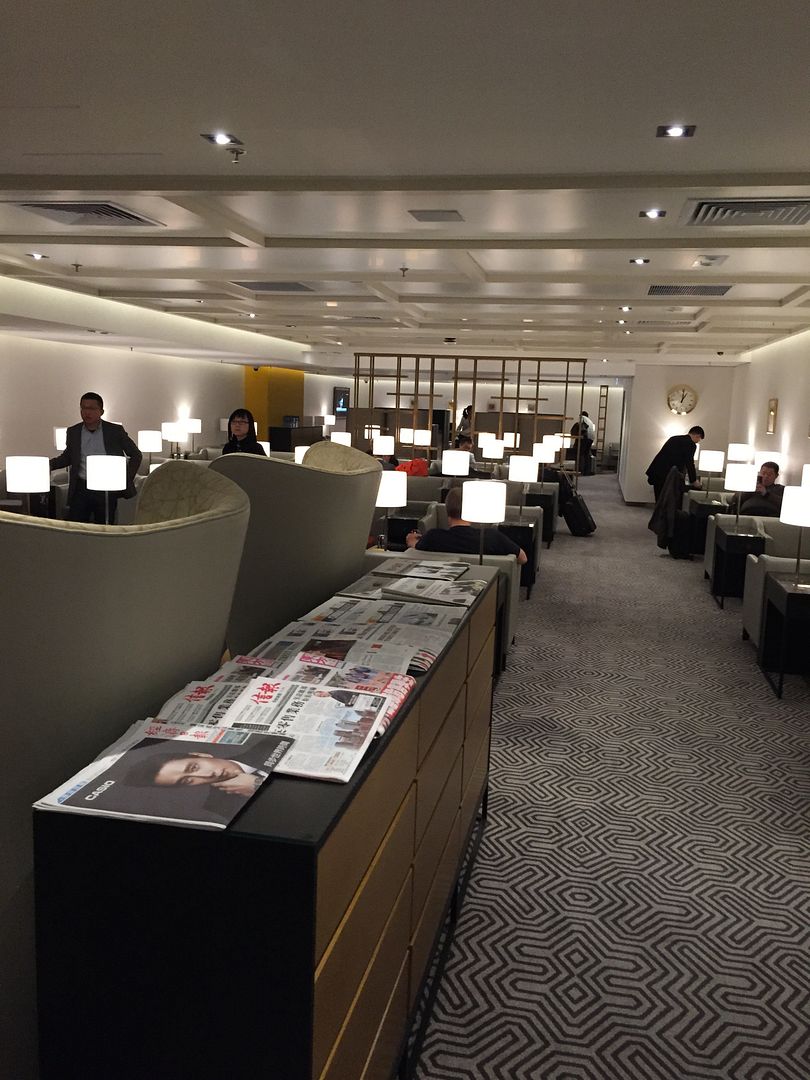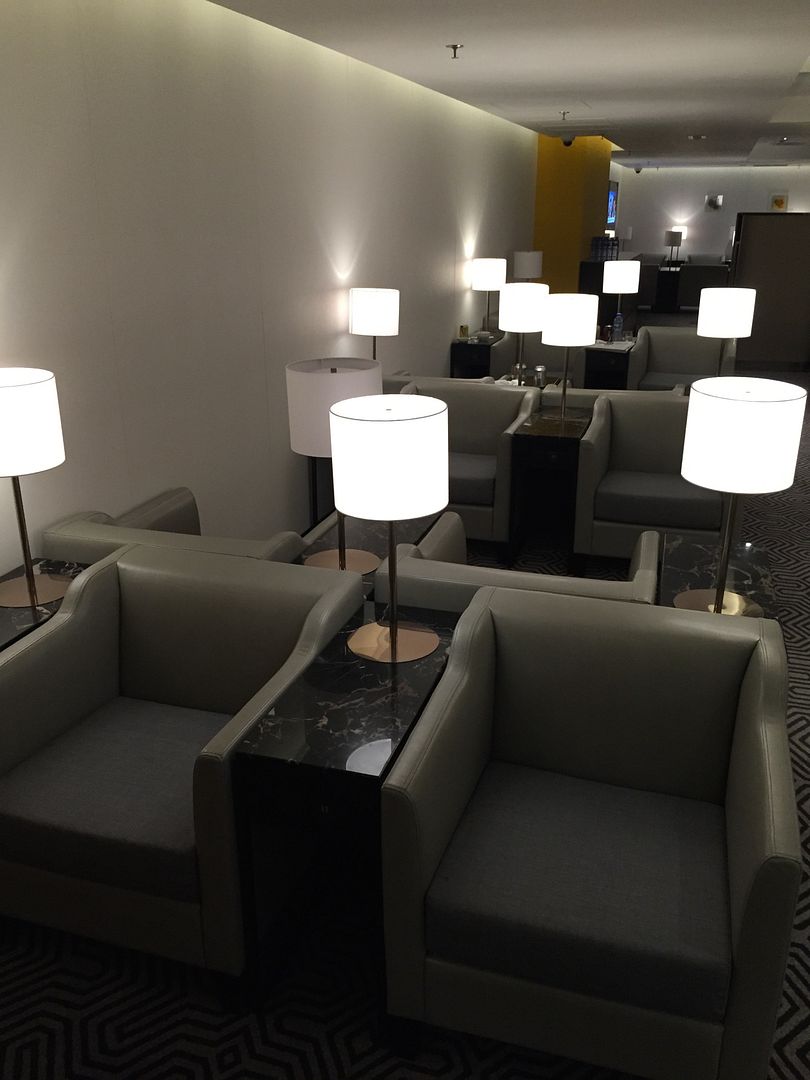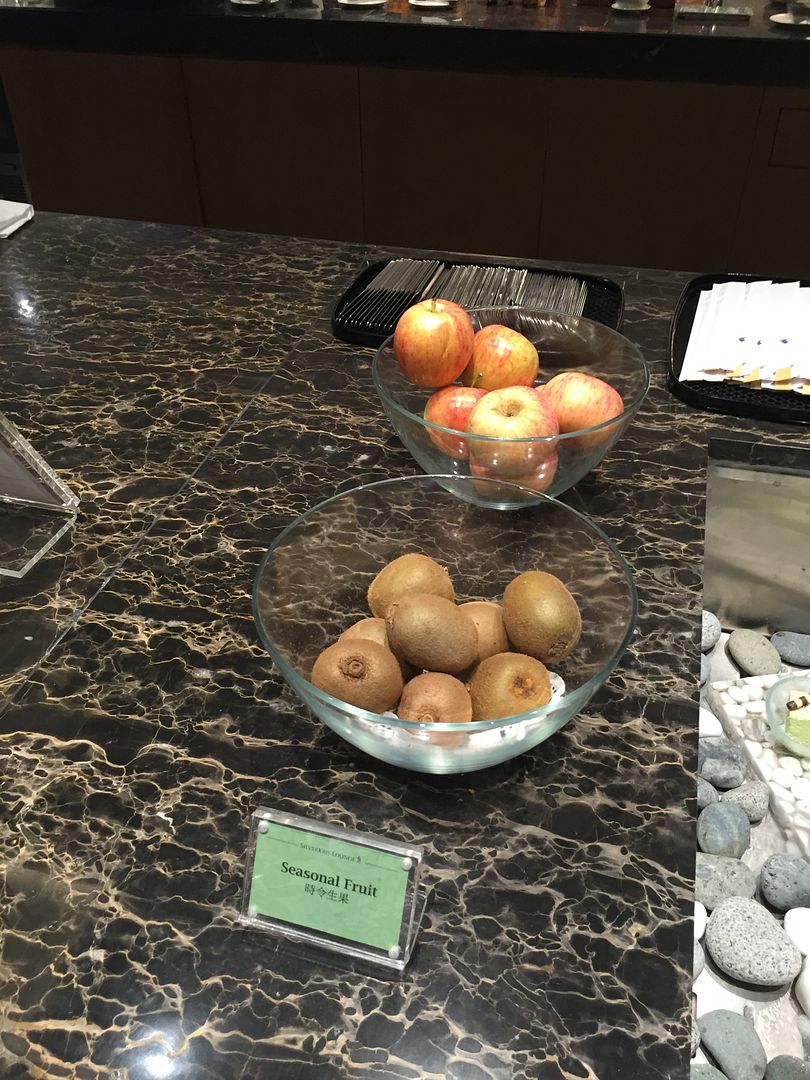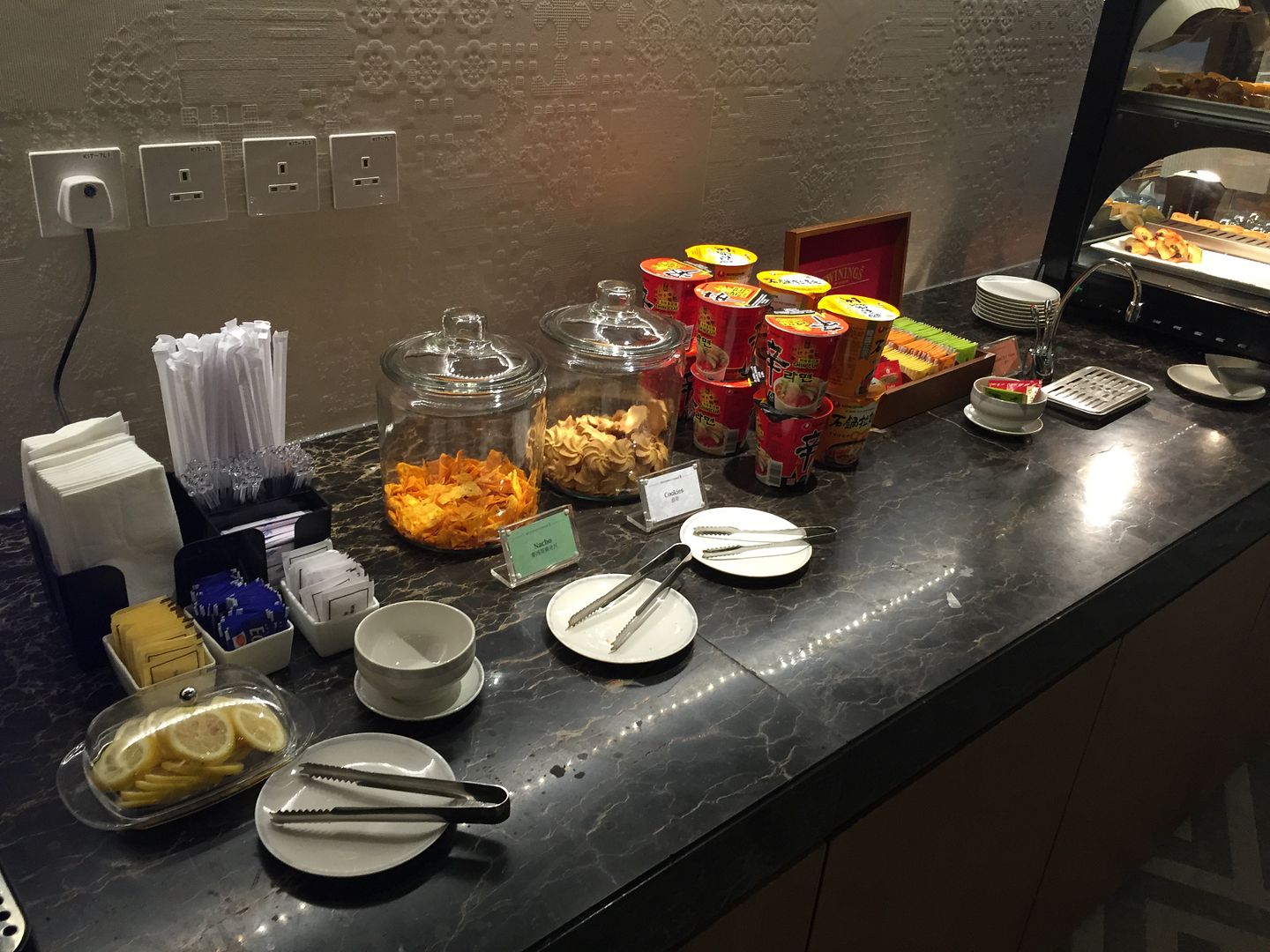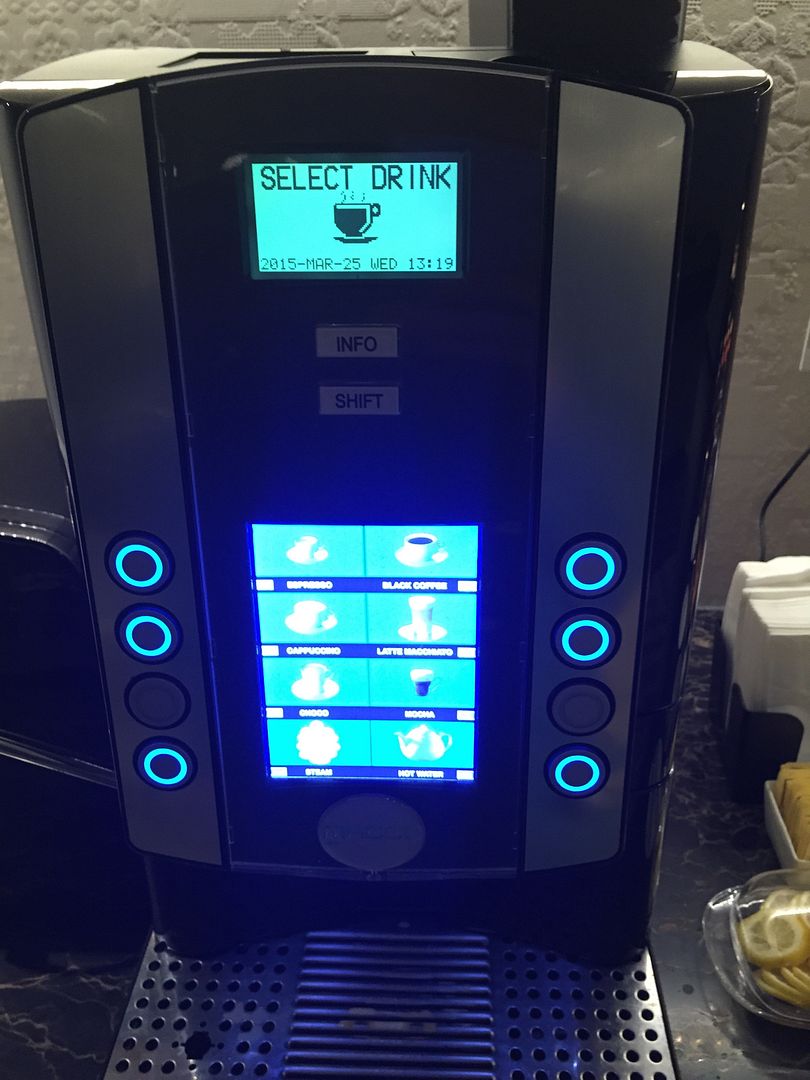 A lovely bowl of Laksa
Gate:
Ethiopian Airlines actually runs a very reliable operation in HKG, and the flight arrived early from Addis Ababa, and parked at Gate 47.  Since connecting passengers had to stay onboard, the boarding lounge was very quiet.  I did not believe that more than twenty passengers boarded here in HKG.  I was the only J passenger boarding in HKG, joining the other connecting passenger.  We each had half of the aircraft. 
ET-AOS "Lucy"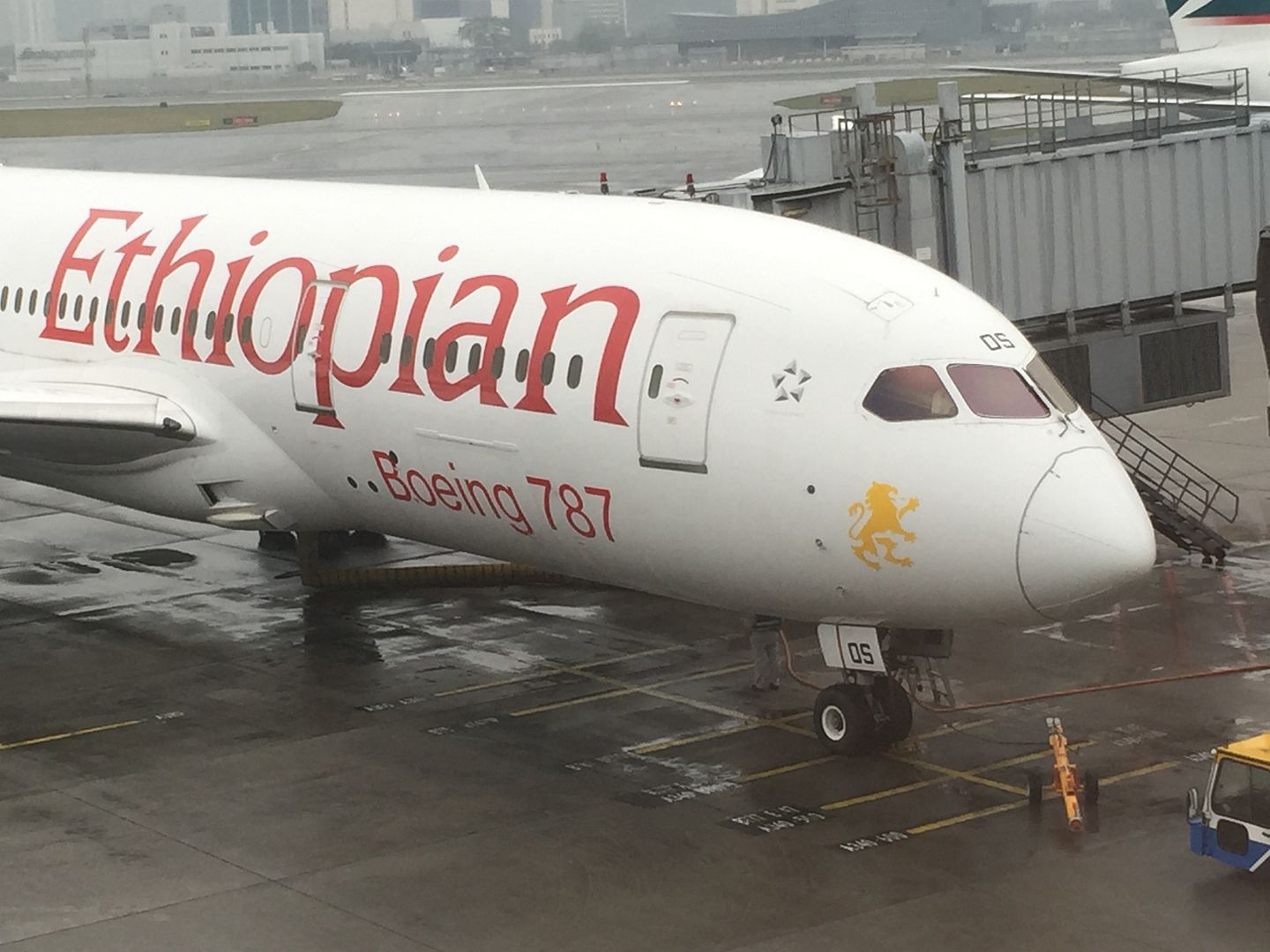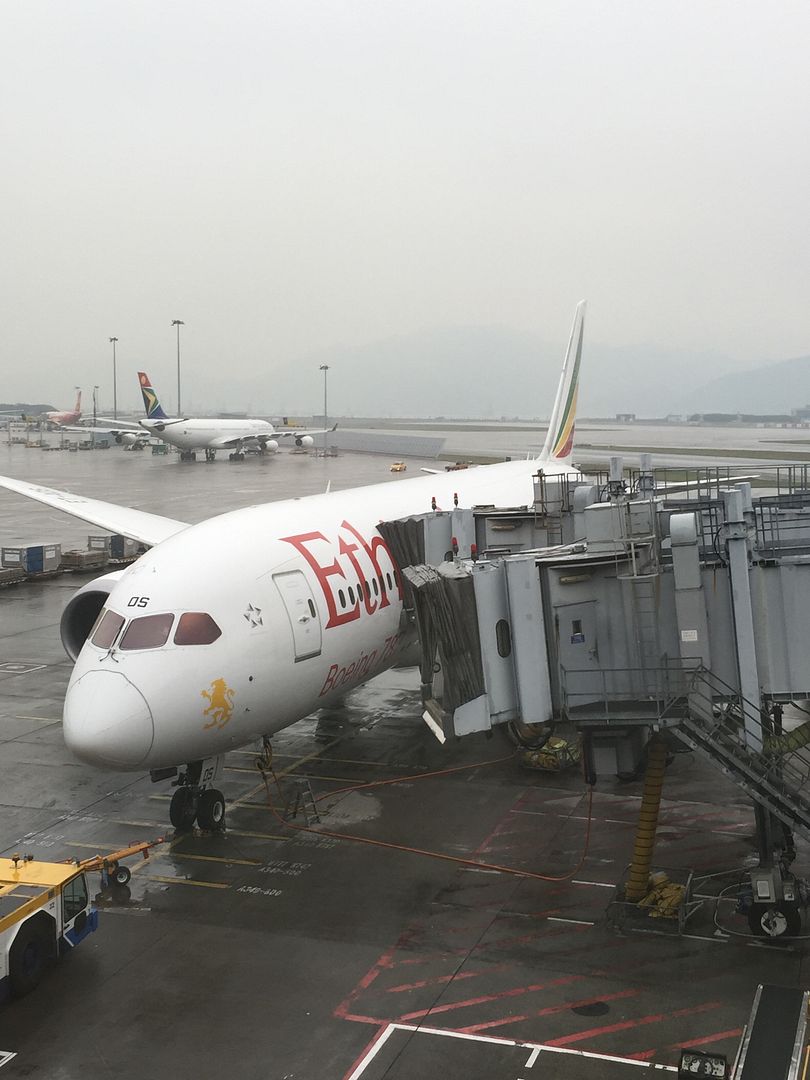 Quiet gate
Cabin Shot
The purser welcome me onboard and I was told to take any seat I wanted.  He was very friendly!
Ethiopian Airlines operates two versions of business class seats for its 787 fleet.  The latest three additions will feature lie flat seats, similar to the kind that United used on its 787s and its two-class aircraft.  There is still no aisle access, but the seats will go lie flat.  Those newer 787s will possibly stick with the new LA flights and more premium heavy runs to Europe and US.  Most Asian flights will see this first generation of business class seats, that don't go fully flat.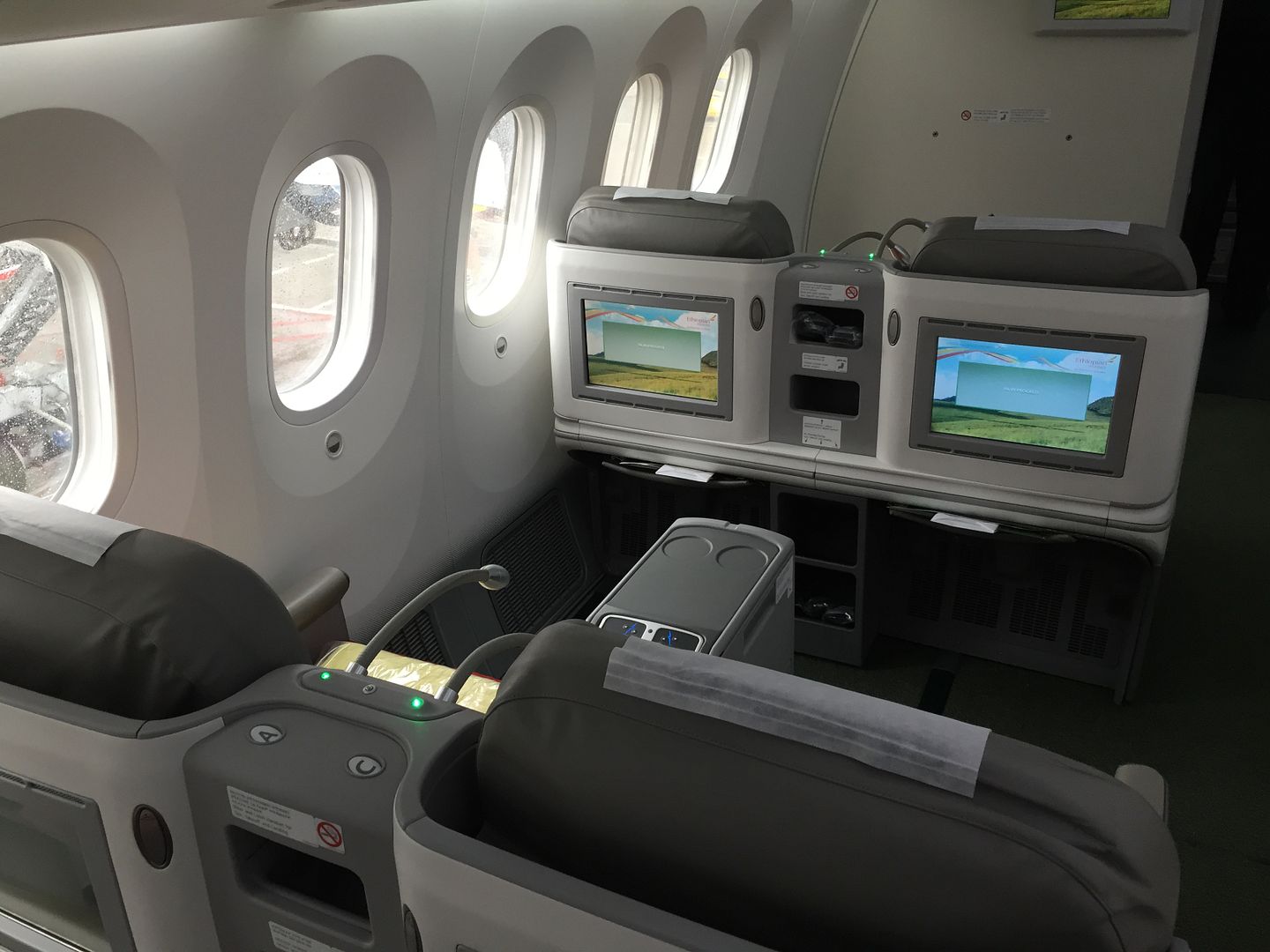 Seat
Seat Control Panel
Power outlet and seat control console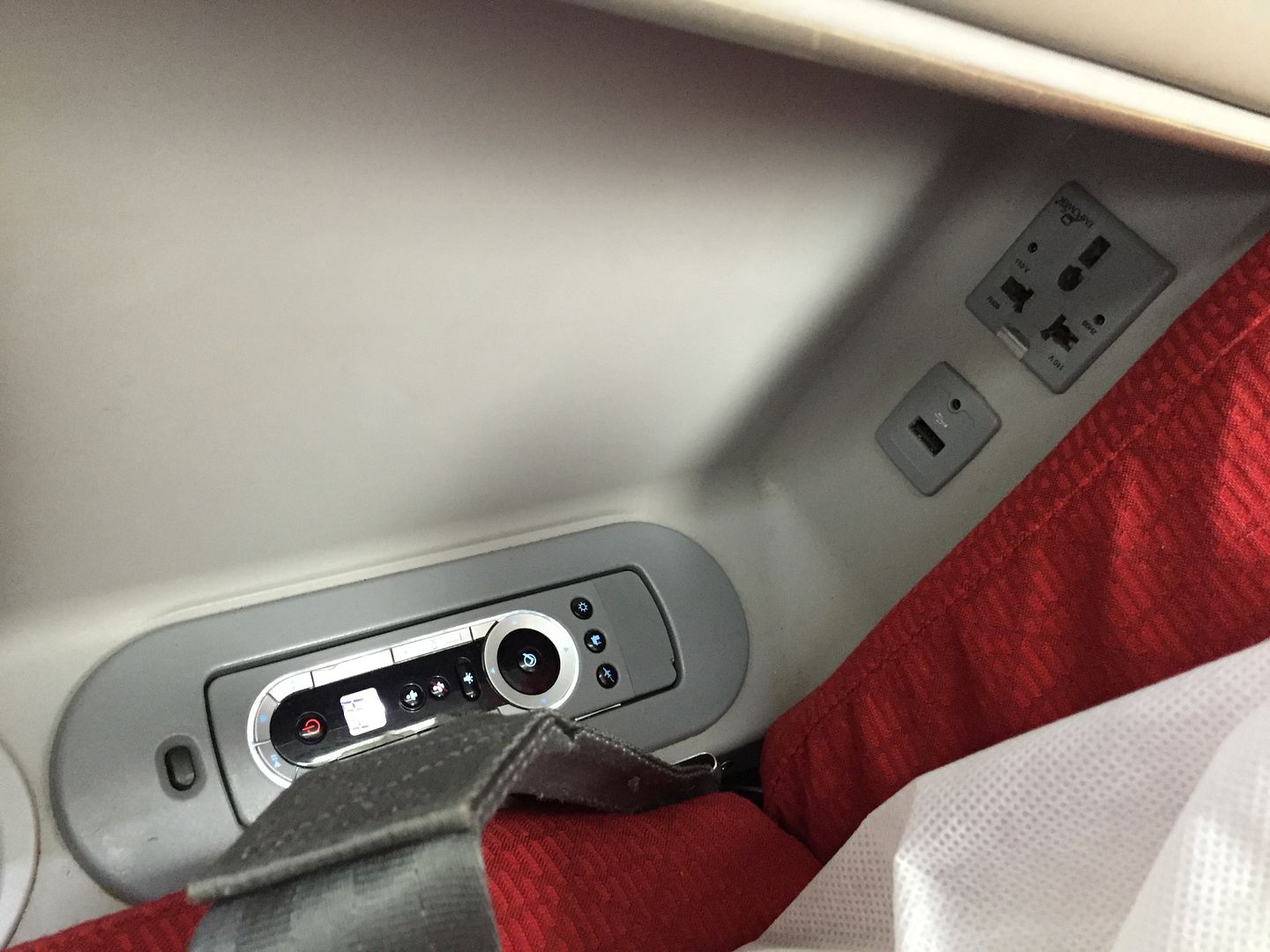 Storage for headsets and small items
Shoe storage
Pre-takeoff
Beverage was offered prior to departure, along with a wide array of newspapers and magazines.  Service was attentive on this outbound flight.  Local newspapers like Apple Daily was offered, but the return was completely different.  No reading literatures were offered at all. 
Amenities:
Pillow – the weakest part – just a typical economy class pillow
Duvet was offered though!
Given the light load, door was closed early at 2:29pm, and we pushed back five minutes later.  It was raining in HK this afternoon, but there was no ATC slow down. 
Spotted the Royal Brunei 787 V8-DLC
Catering:
To my surprise, a printed wine list and menu was passed out to the two passengers.  The meals for all the four segments were included in the menu.  However, printed menu was not offered on the return.  A hot snack was offered on this three hours and two minutes flight to Incheon.  This meal was a bit weak, as everything was served in one tray, and there was no cocktail snack to go with first beverage service.  Nonetheless, there was a full dessert service with cheese, fresh whole fruit, and dessert.  The F/As encouraged you to have as much dessert as you want.
Here is the full wine list:
Beverage list
Liquor
Johnnie Walker Black Label
Chivas Regal
Gin
Vodka
Port Wine
Aperitifs
Campari
Red Martini
White Martini
Liqueurs
Bailey's
Benedictine
Cointreau
Drambuie
Remy Martin VSOP
Tia Maria
Port wine
Beers
St. George
Heineken
Carlsberg
Juices
Orange
Pineapple
Apple
Mango
Tomato
Soft drinks
Coca Cola
Tonic
Ginger Ale
Light Coke
Sprite
Pepsi
Mirinda
Ambo mineral water (sparkling)
Tea Selection
Regular
Green
Cinnamon
Chamomile
Coffee
Brewed Ethiopian coffee
Nescafe – decaffeinated/caffeinated
Italian Espresso – decaffeinated (Buscaglione)
Caffeinated – Emilio's Caffe
Cappuccino
Exclusively on B-777 and 787 only
Champagne
South African
Barton and Gustier Chateauneuf-Du-Pape, From the vineyards of Rhone Valley, France
Rioja Vega Reserva, Spain
Bornos Verdejo – Rueda Spain
Barton and Gustier Chablis, From the north of Burgunday, France
Ethiopian Rift Valley Wine
Rift Valley Cabernet Sauvignon
I stick with Diet Coke on this flight.
Here is the menu:
ET 608
Hong Kong to Seoul Incheon
Hot Snack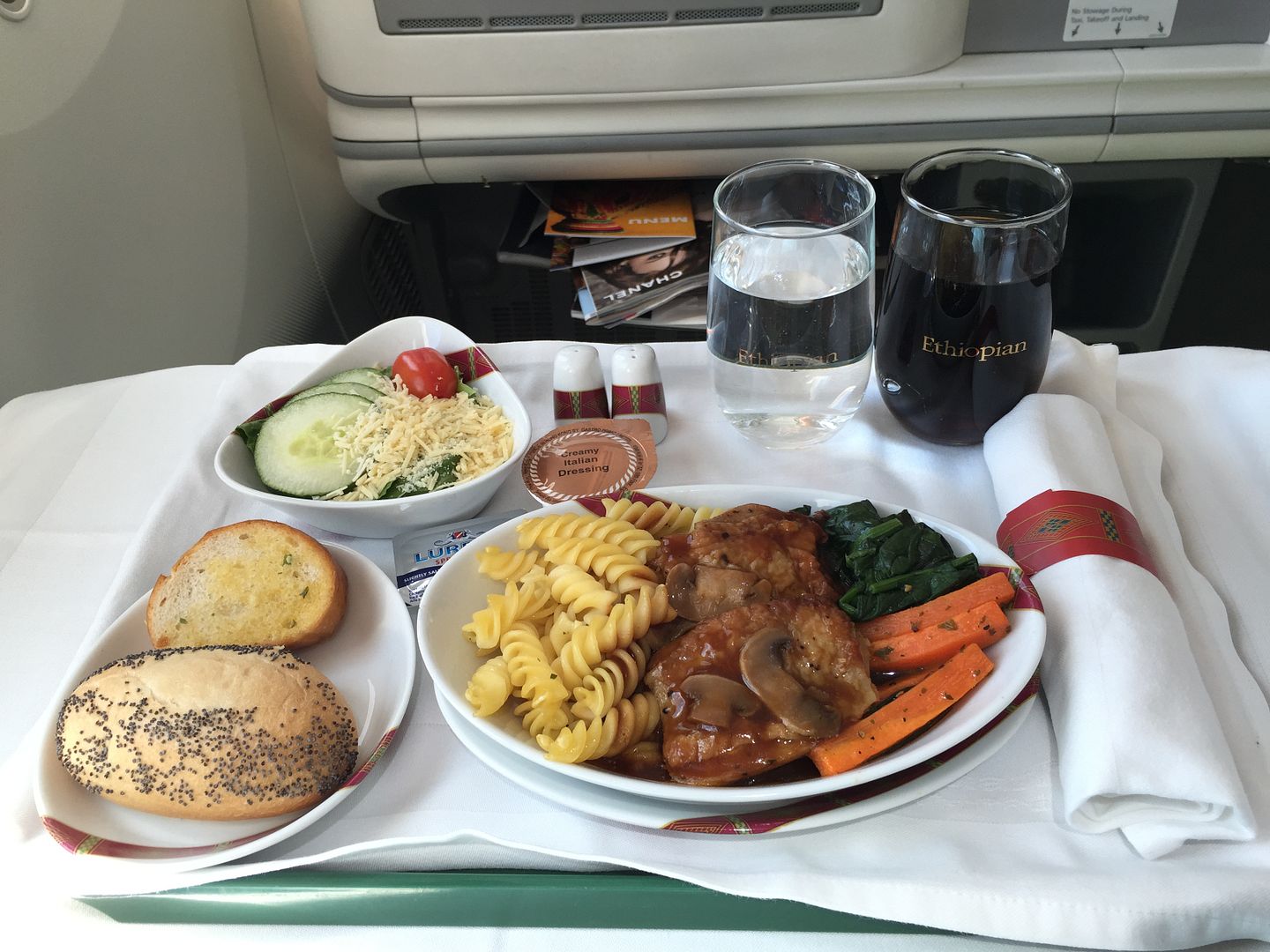 Fresh Seasonal salad
Breads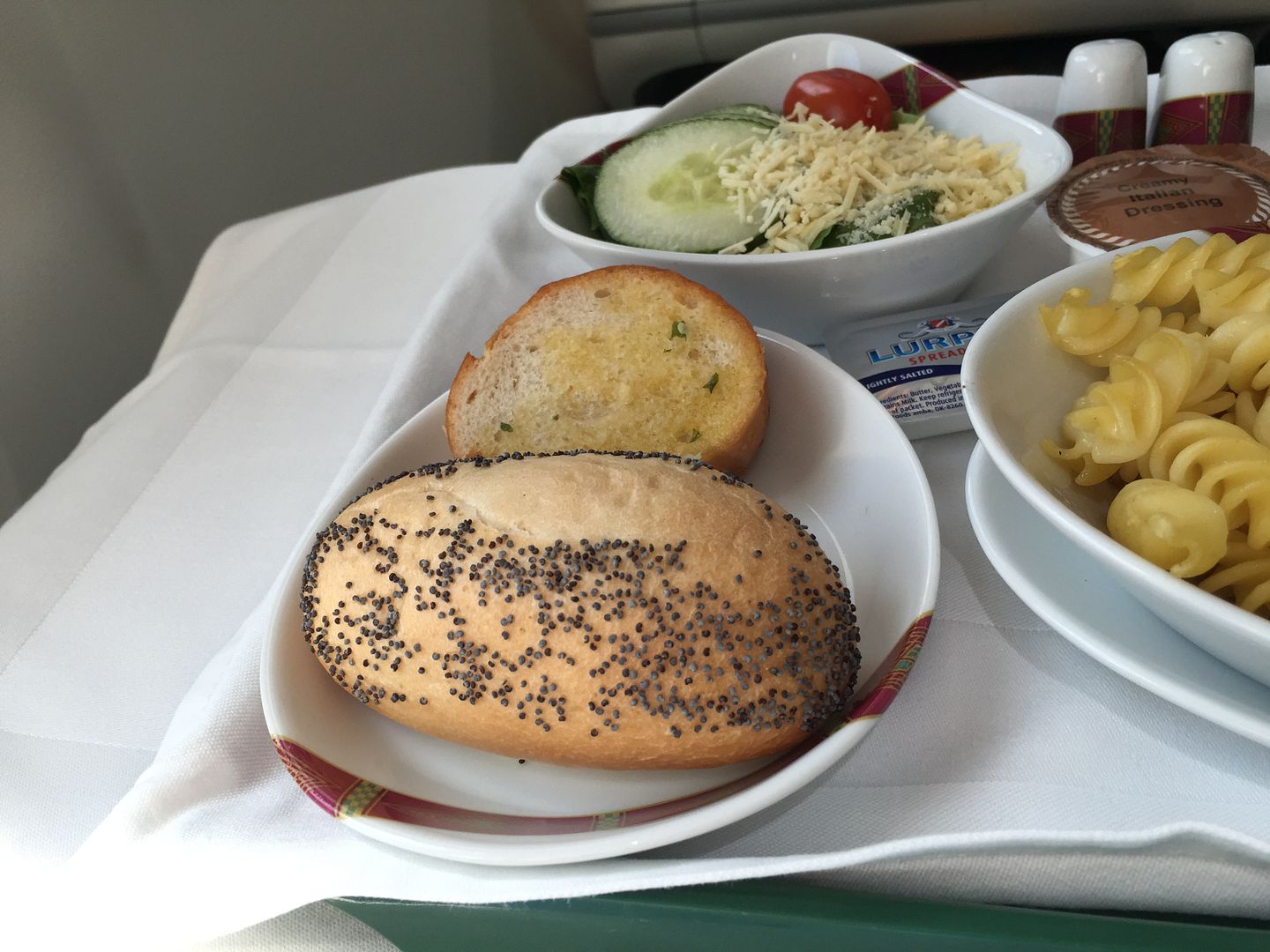 Main Course
Deep fried Beef Knuckle Strip with steamed rice, pak choy, lotus root, carrot and sa cha sauce
Or
Pan-Fried Chicken with fussily, spinach, carrot and mushroom brown sauce
The chicken was actually quite delicious, and dark meal was used for those who cared – not too surprising and I of course prefer dark meat over white meat, especially at 38,000feet.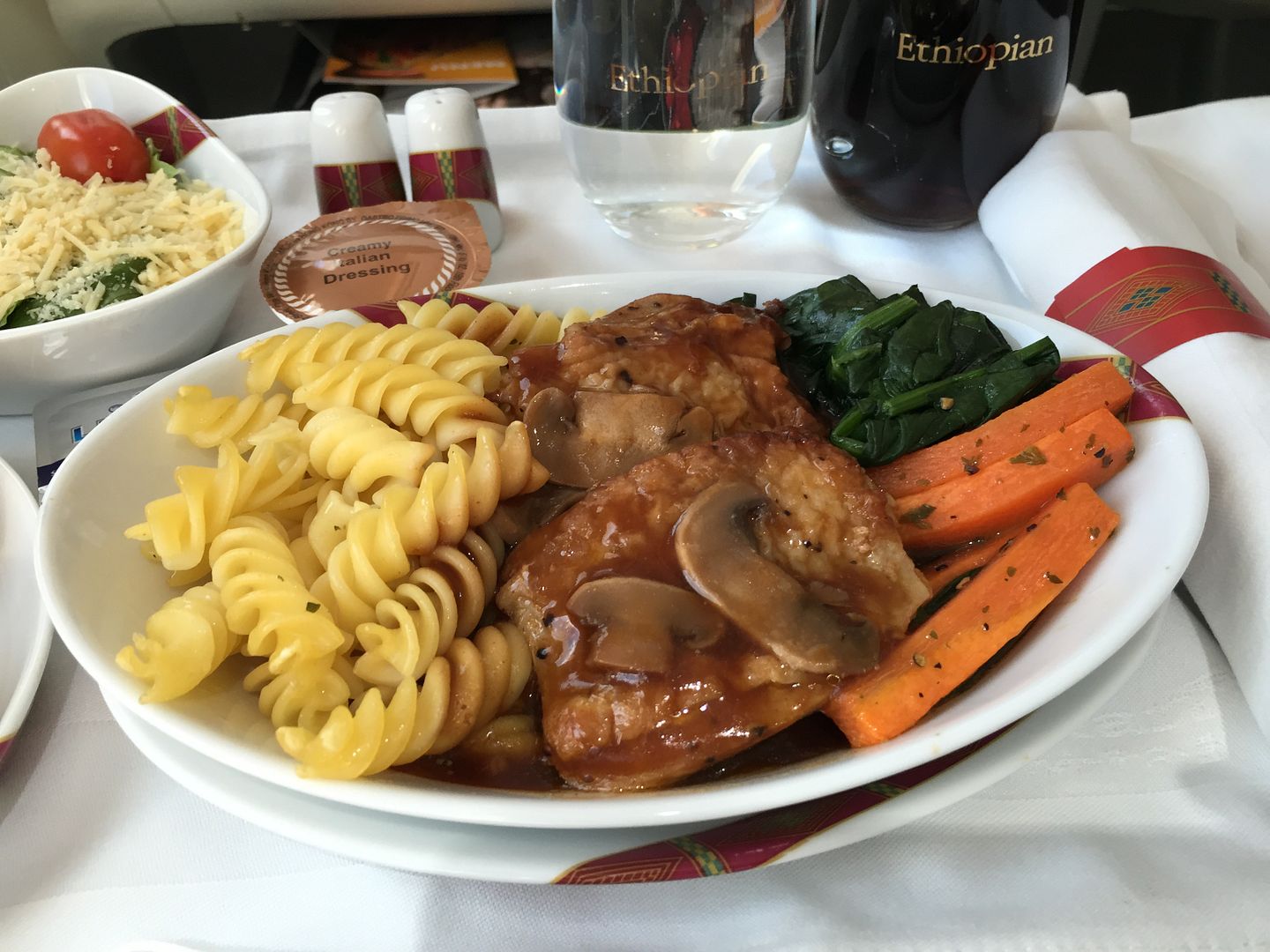 Dessert
Choose from our selection of pastries, fresh fruits and cheeses
Ethiopian Coffee and Tea Selection
Tiramisu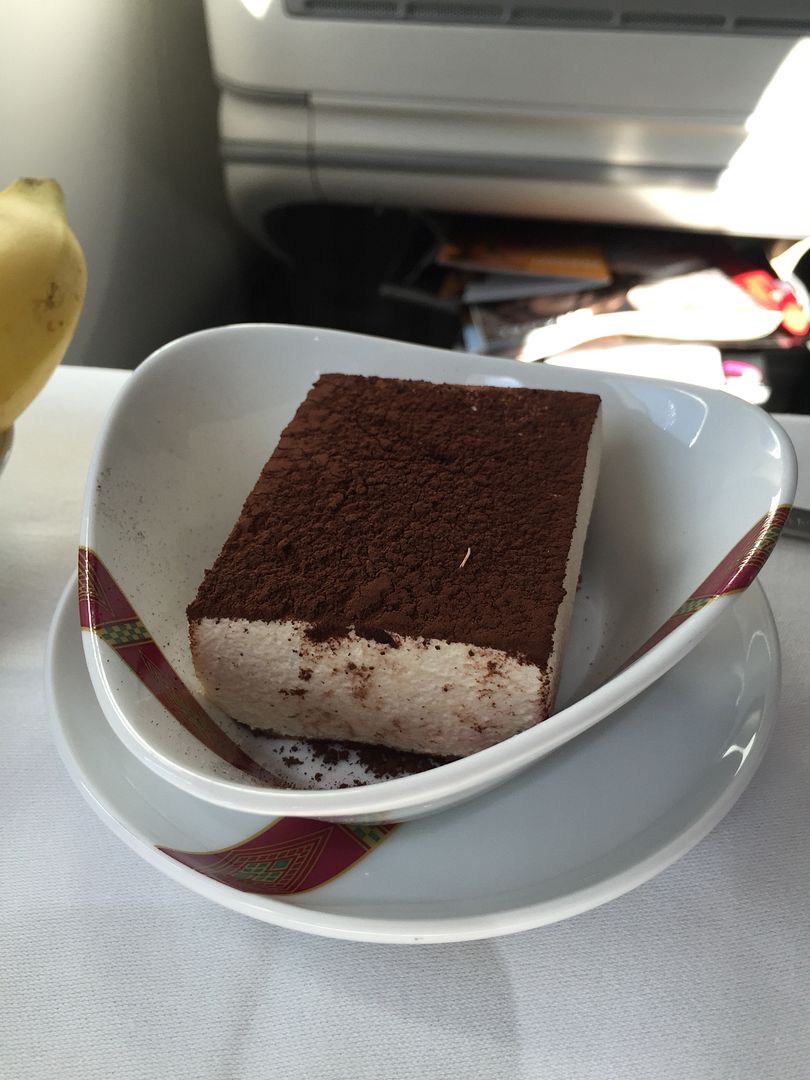 Banana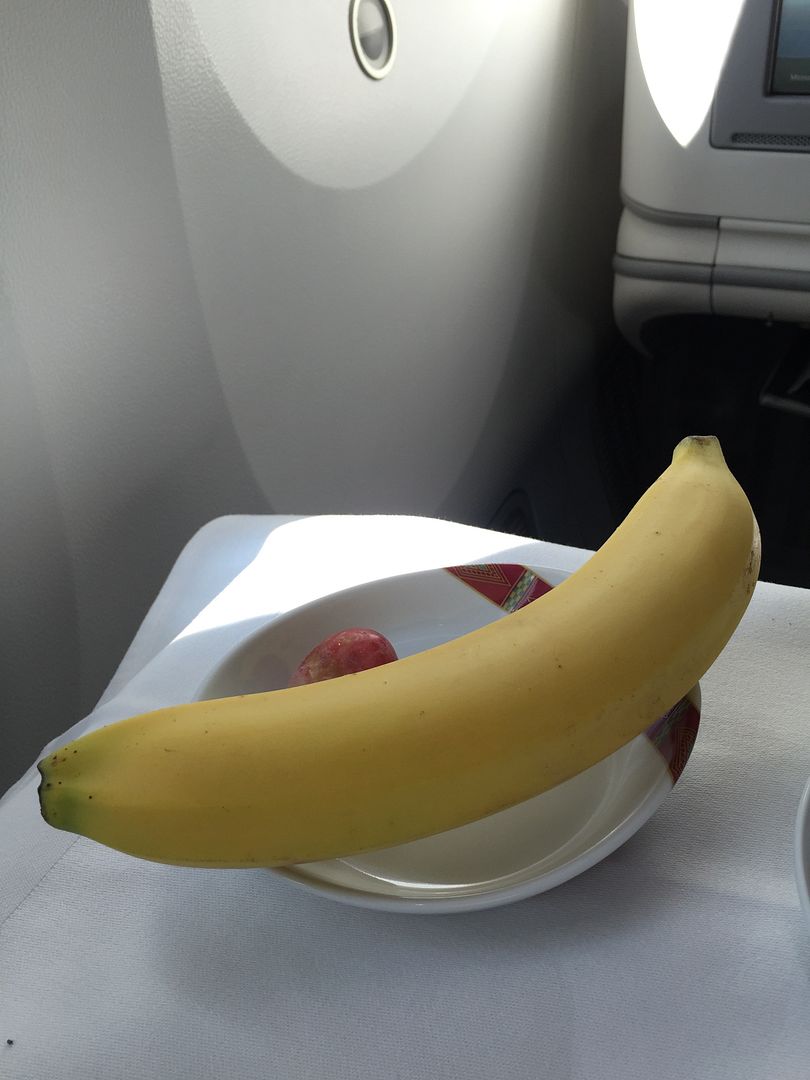 Ethiopian Peppermint tea
Bottled waters were passed out after the meal – once again, this was not offered on the return flight.
Reading literature
Your typical inflight magazine/duty free brochure/safety card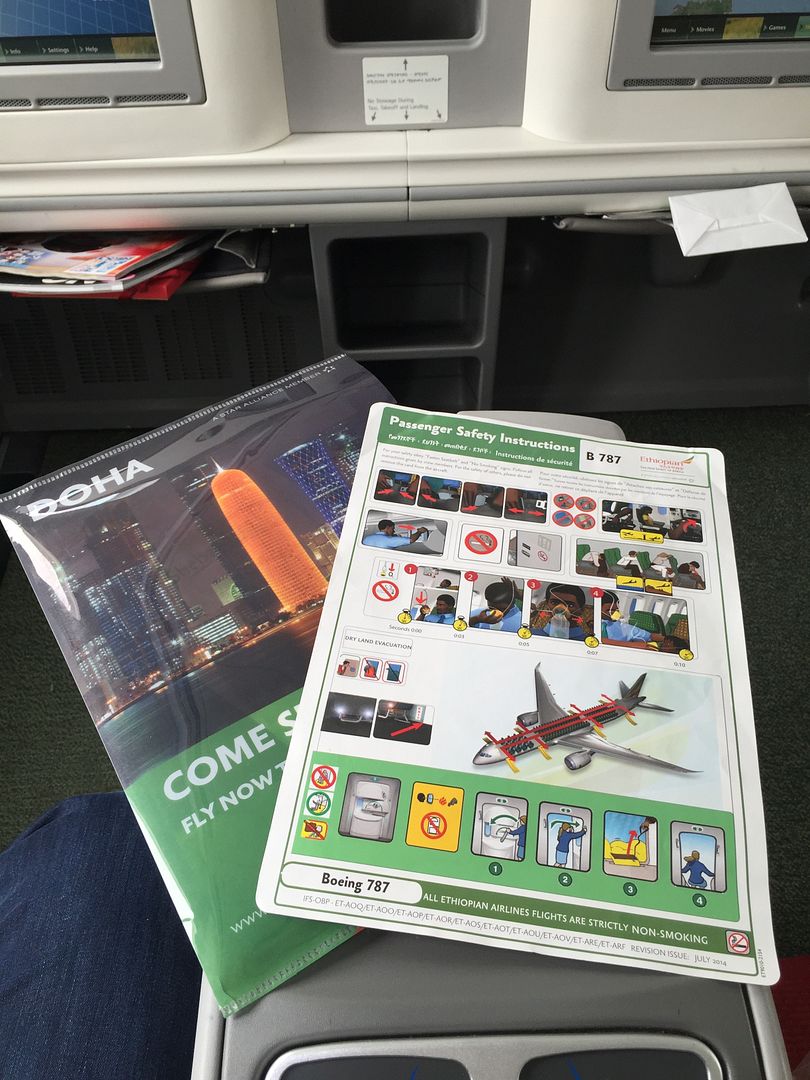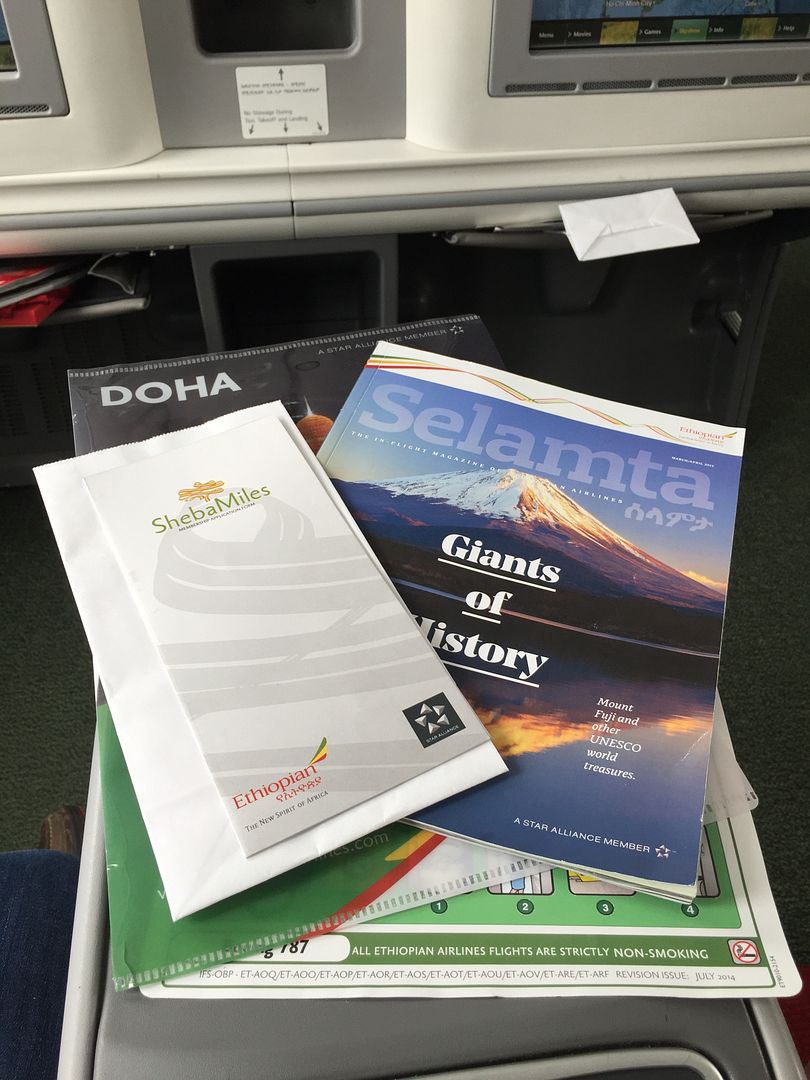 An interesting note for all those aviation enthusiasts out there: Ethiopian Airlines actually does not use your typical HKG-Taiwan-Jeju-ICN routing, but actually flies mostly over the PRC. 
We headed north towards Shenzhen after taking off from HKG, and then stayed at 39,000feet while flying across Chinese cities of Ganzhou, Quzhou, Hangzhou, and Shanghai, before flying across the Yellow Sea at 38,000feet.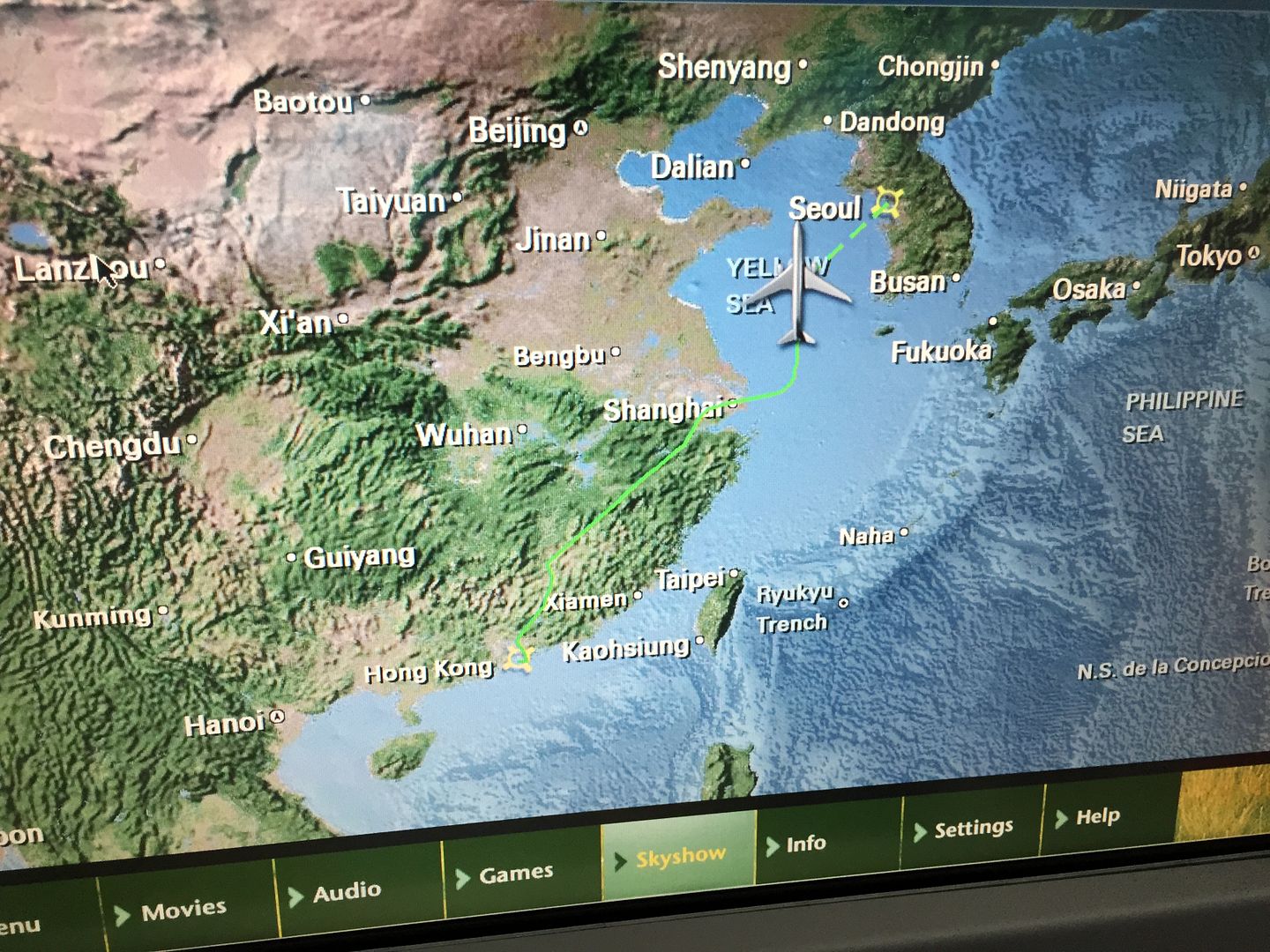 Over Shanghai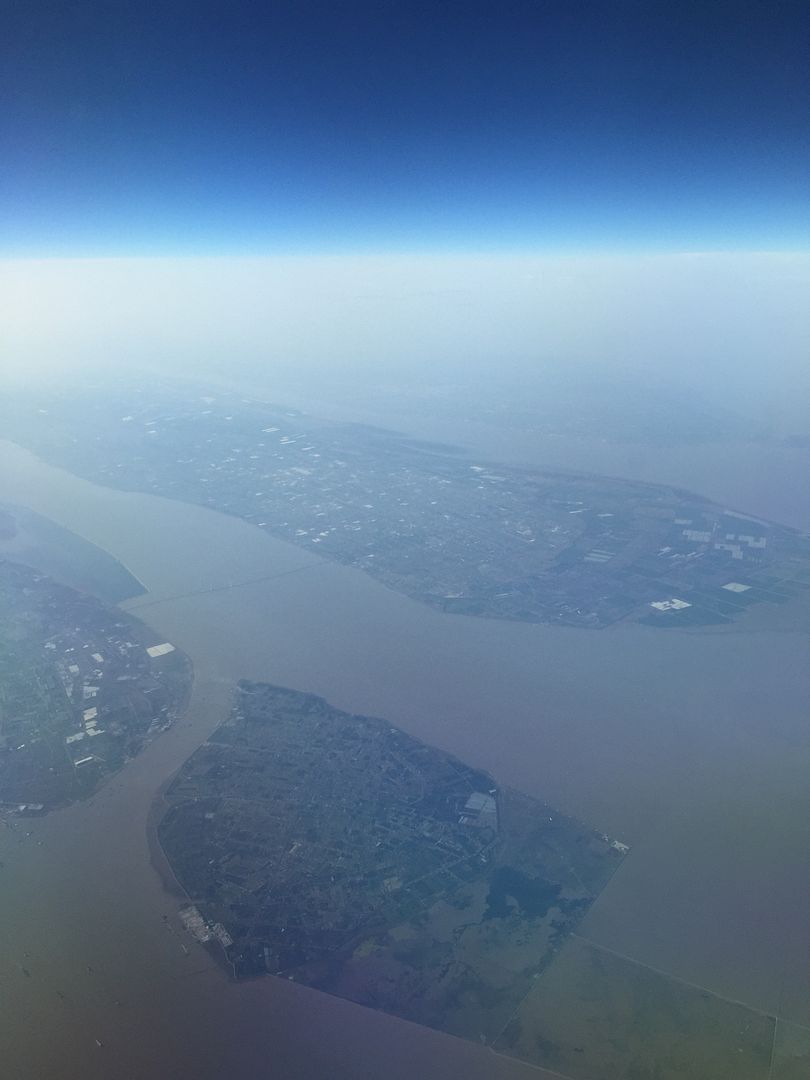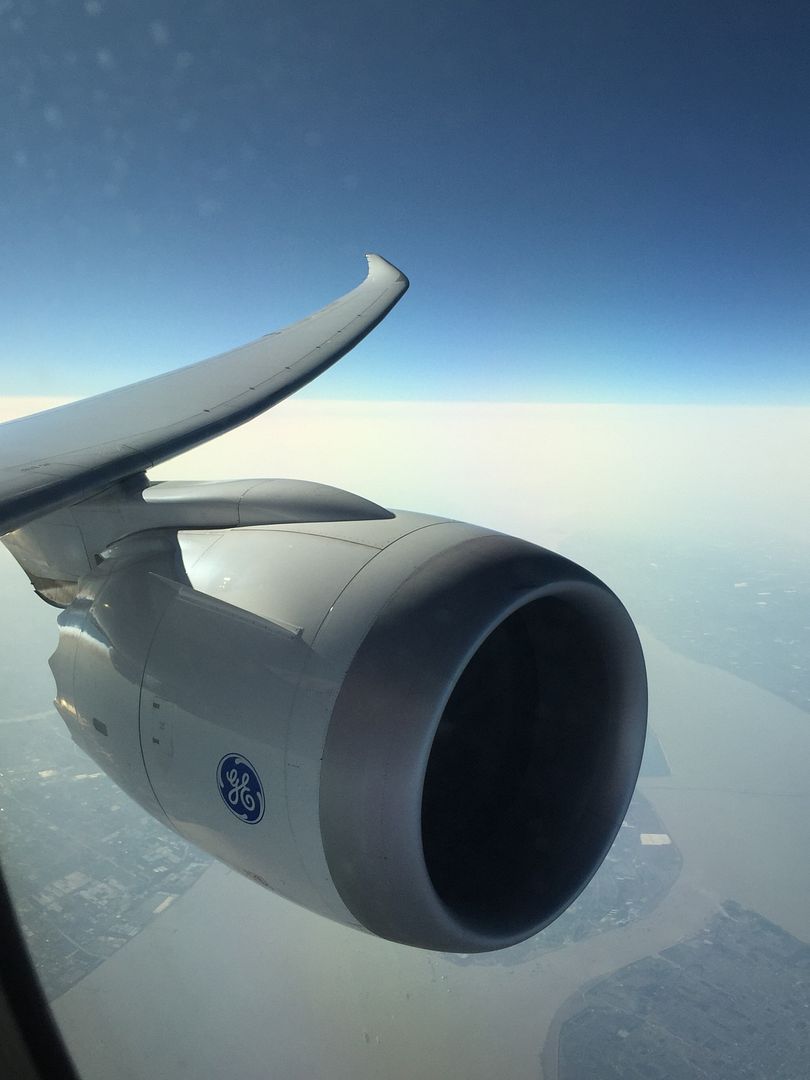 After the snack service, I tested the seat and took the following pictures:
Recline position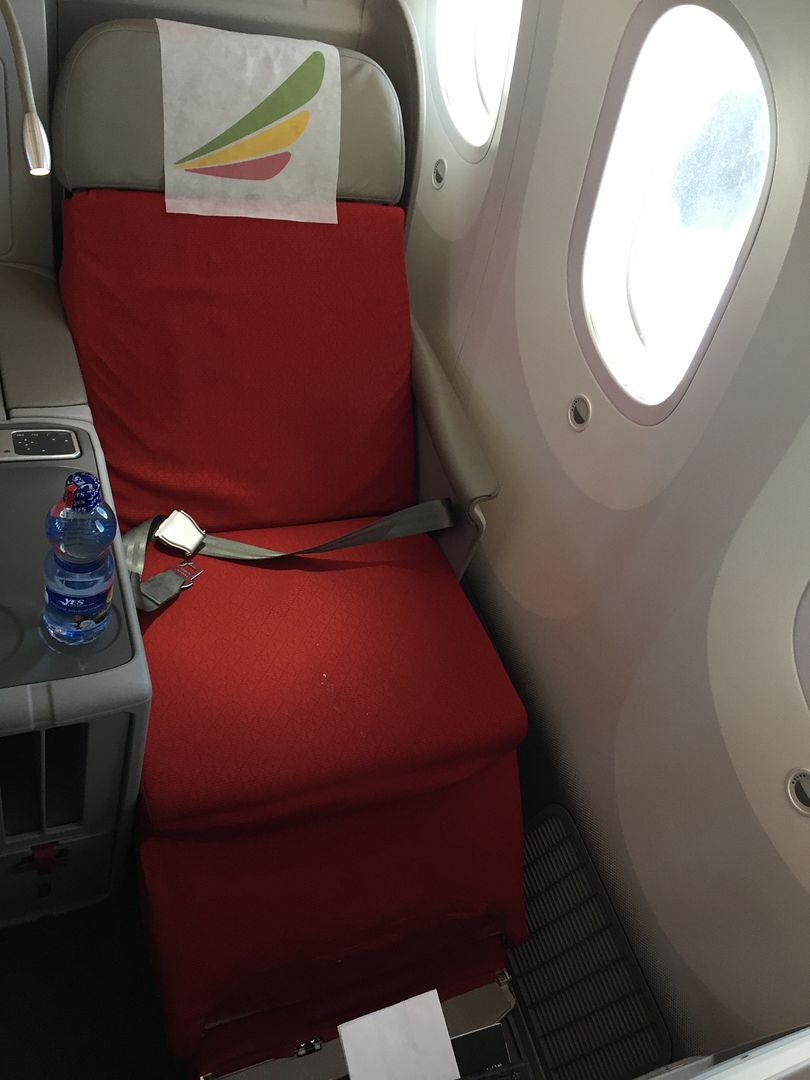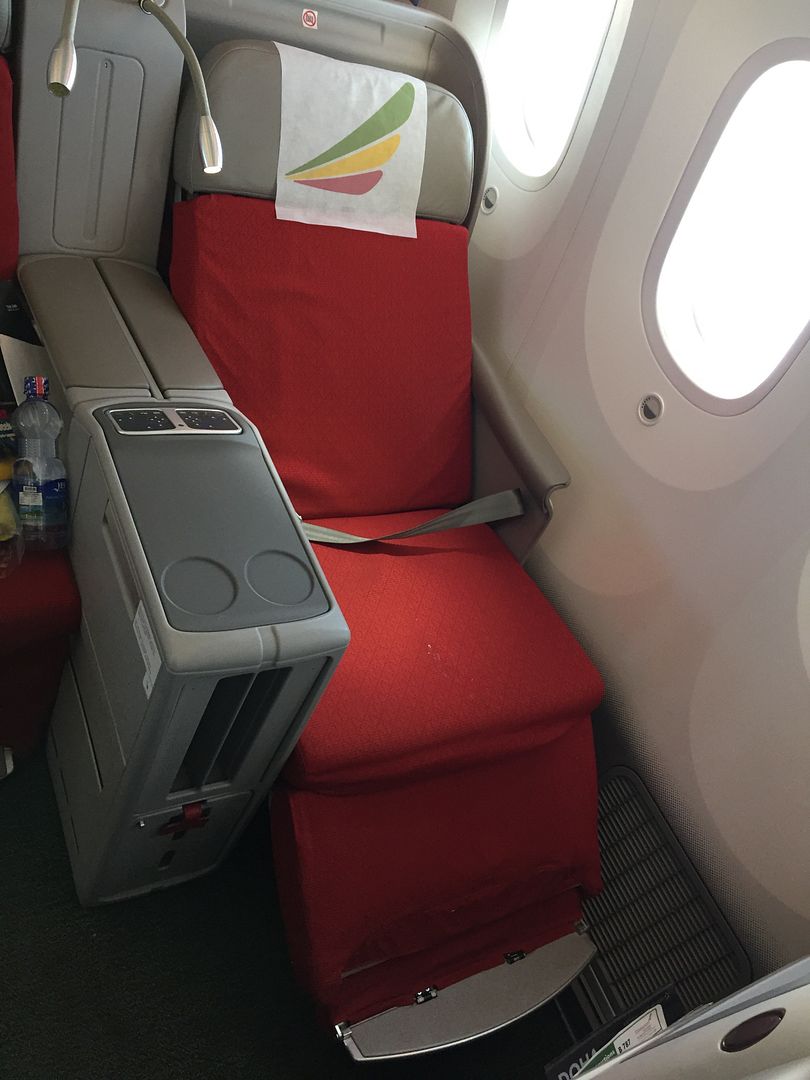 Sleeping position – really not full flat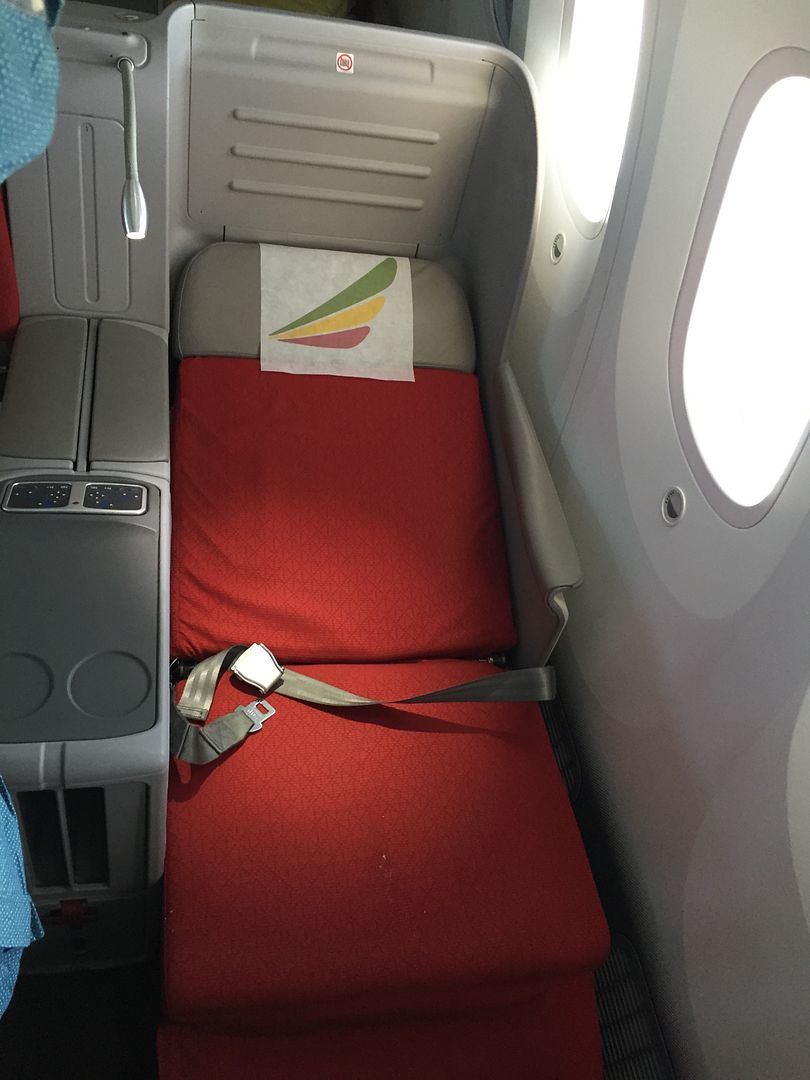 Sunset
The purser was very friendly and I had a great chat with him, regarding Ethiopian Airlines operation.  He told me that the flight between ADD and HKG were always full, but the onward flights to Seoul Incheon always struggled a bit.  He was excited about the new flights to Dublin, Los Angeles and Tokyo Narita soon.  I have a feeling that service is very good because of his great leadership.  Similar to other airlines operating these kind of fifth freedom service, they overnight at HKG after arriving from ADD, and then they will work the return from ICN to HKG on the same day, and then overnight at HKG, and then back to ADD. 
Descent soon began at 6:29pm Seoul local time.  Things were pretty busy at Incheon at these hours.
We landed on R/W33R at 6:58pm and parked at gate 125 at 7:11pm, next to Jeju Air 737.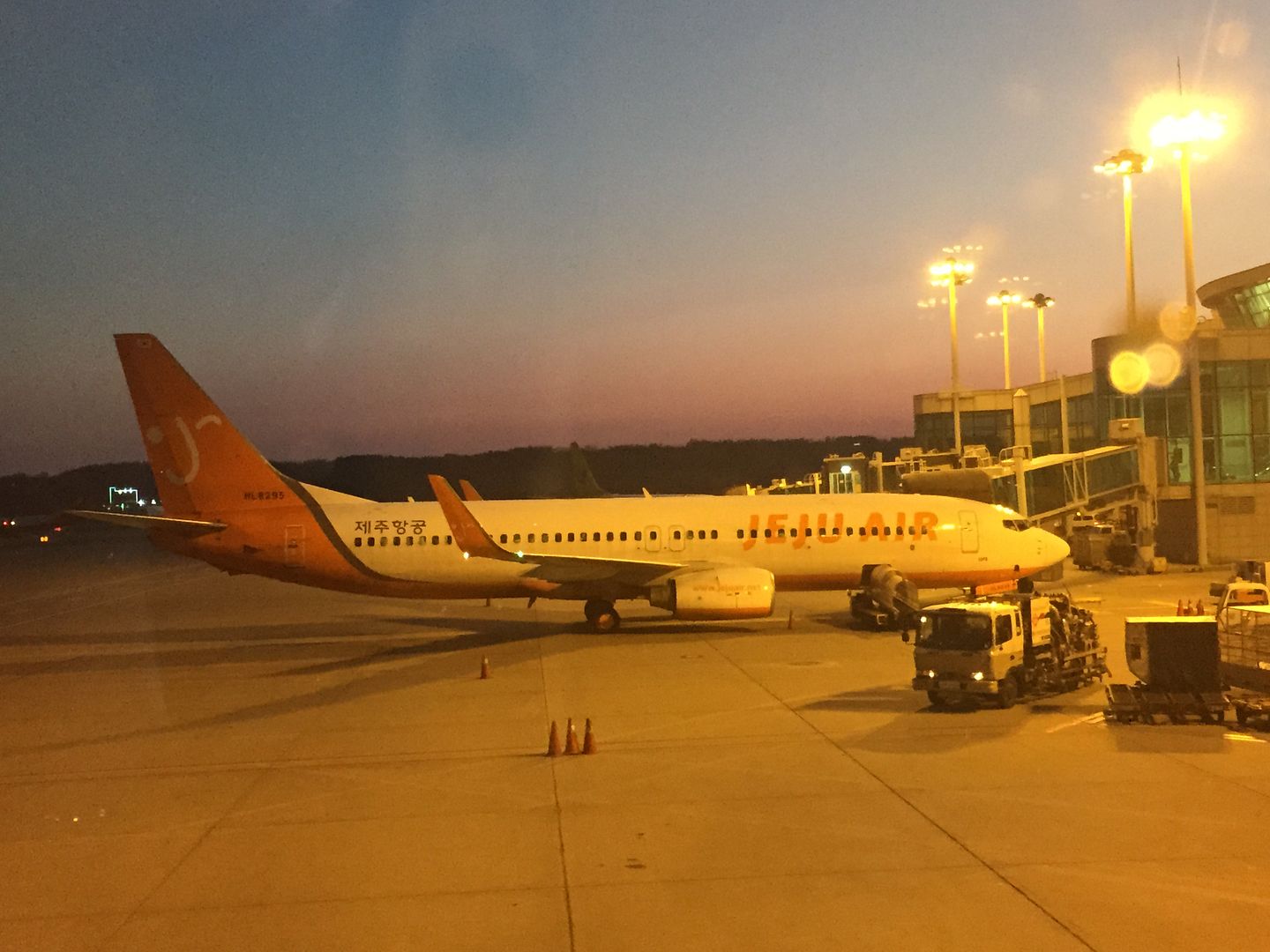 April 7, 2015
ET 609 ICN-HKG Lv2050 Arr2335 Boeing 787-8 ET-AOV "Taj Mahal"
The return flight was a completely 360 from the inbound flight, as the flight would be 100% full due to the end of the long Easter/Ching Ming holidays in Hong Kong. 
Cloud 9 check-in
ET counters operated from Aisle J, and the counter opened at 6:05pm.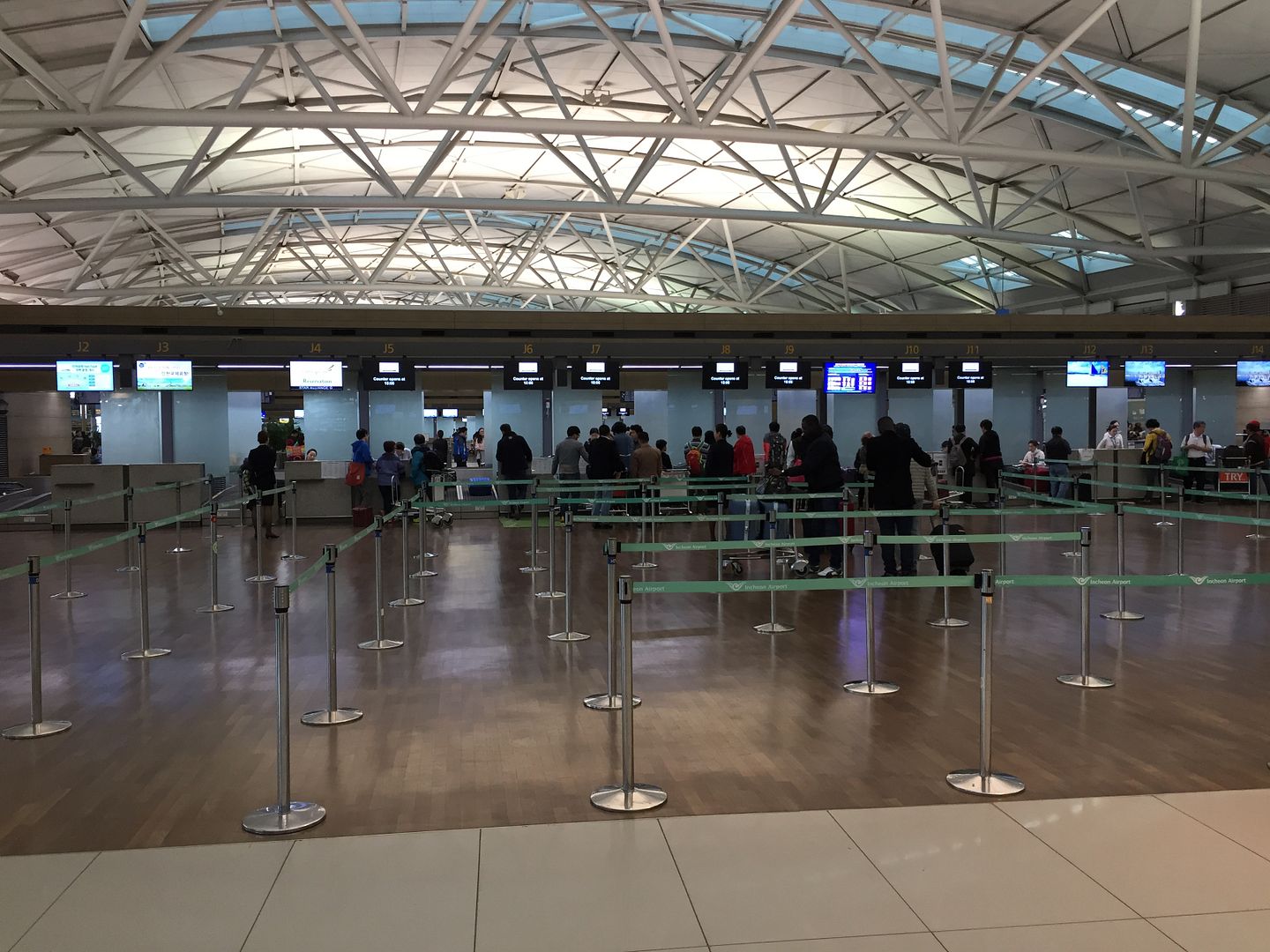 Ethiopian Airlines used Asiana business class lounge to no surprise.  Sorry no pictures! 
ET-AOV arrived early from HKG!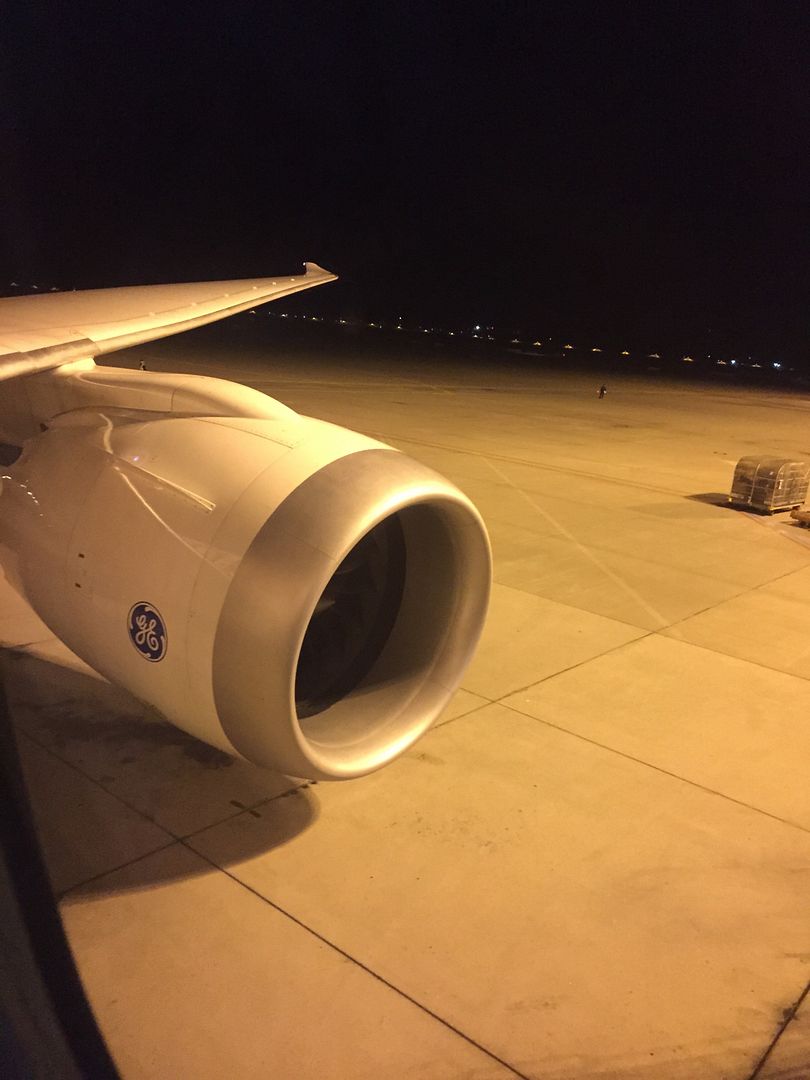 When I arrived at the gate, 125 again, boarding was already underway.  But it did not matter because the door would not close till 9:02pm.  I am not sure about the purpose of early boarding, if you are not closing early. 
The J cabin was almost all full, except three empty seats.  I am not sure if the whole cabin was paid passengers.  There were three F/As serving the J cabin.  While they were efficient, only one of them was friendly.  No pre-takeoff beverage was offered to me.  Unlike HKG to ICN, no reading materials were offered, and there was no printed menu.  I have a feeling that since the cabin is filled with opup, some cabin items are not offered. 
We pushed back at 9:06pm and took off from R/W33L at 9:17pm for our three hours and thirty-five minutes flight to Hong Kong.  We used the same routing via the PRC, and there was lots of head wind, which explained our longer flying time.  We climbed to 39,000feet while crossing the Yellow Sea, and then descended towards 38,000feet before entering the PRC airspace through Shanghai and Hangzhou. 
Trolley was used for obvious reasons, due to the full cabin. 
Diet Coke again for beverage –no cocktail snack was offered!
Here is the menu for the return flight:
Please note that appetizer is not offered, and I have a feeling that that's the reason why a printed menu is not offered.
Dinner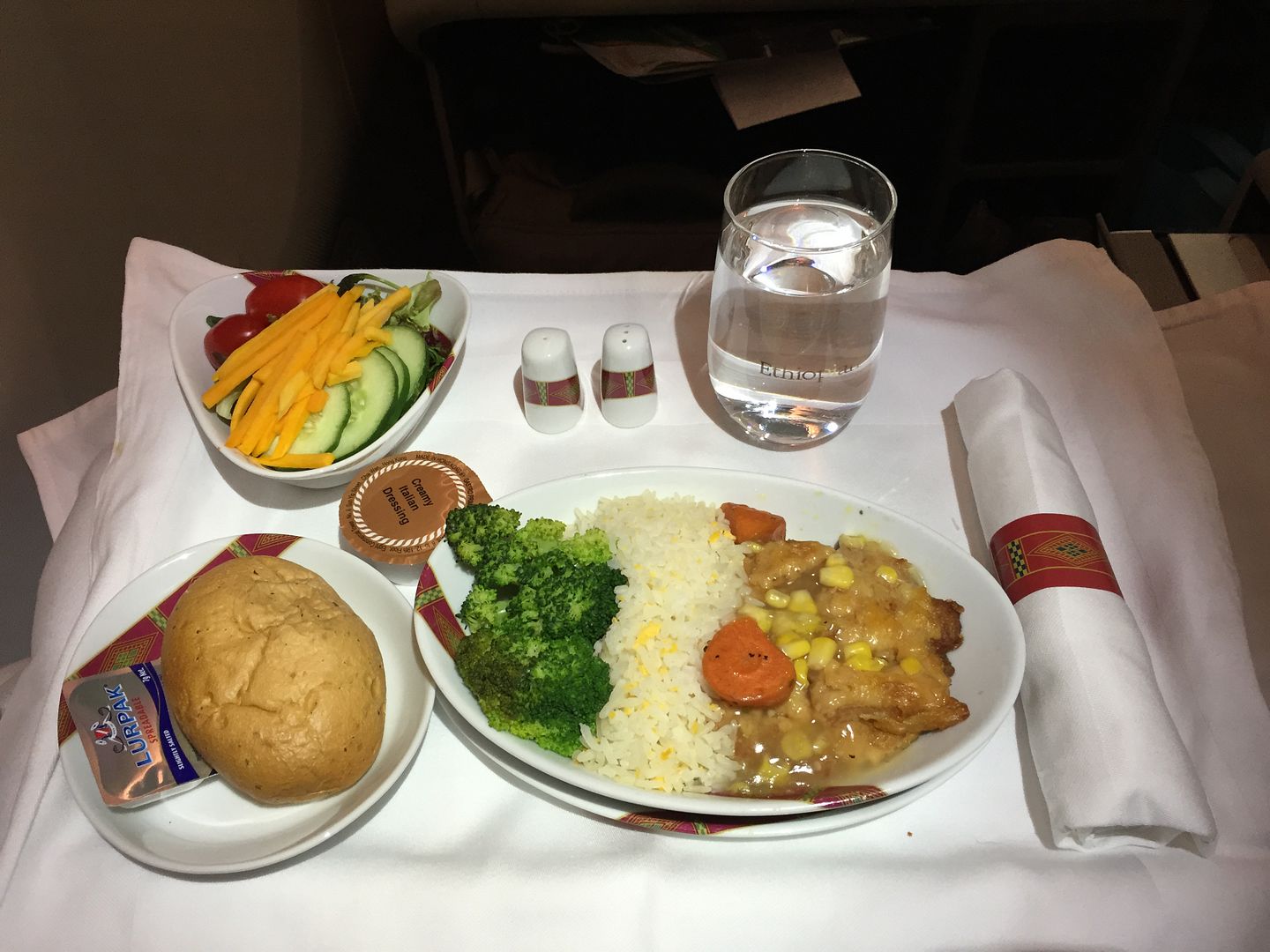 Fresh seasonal salad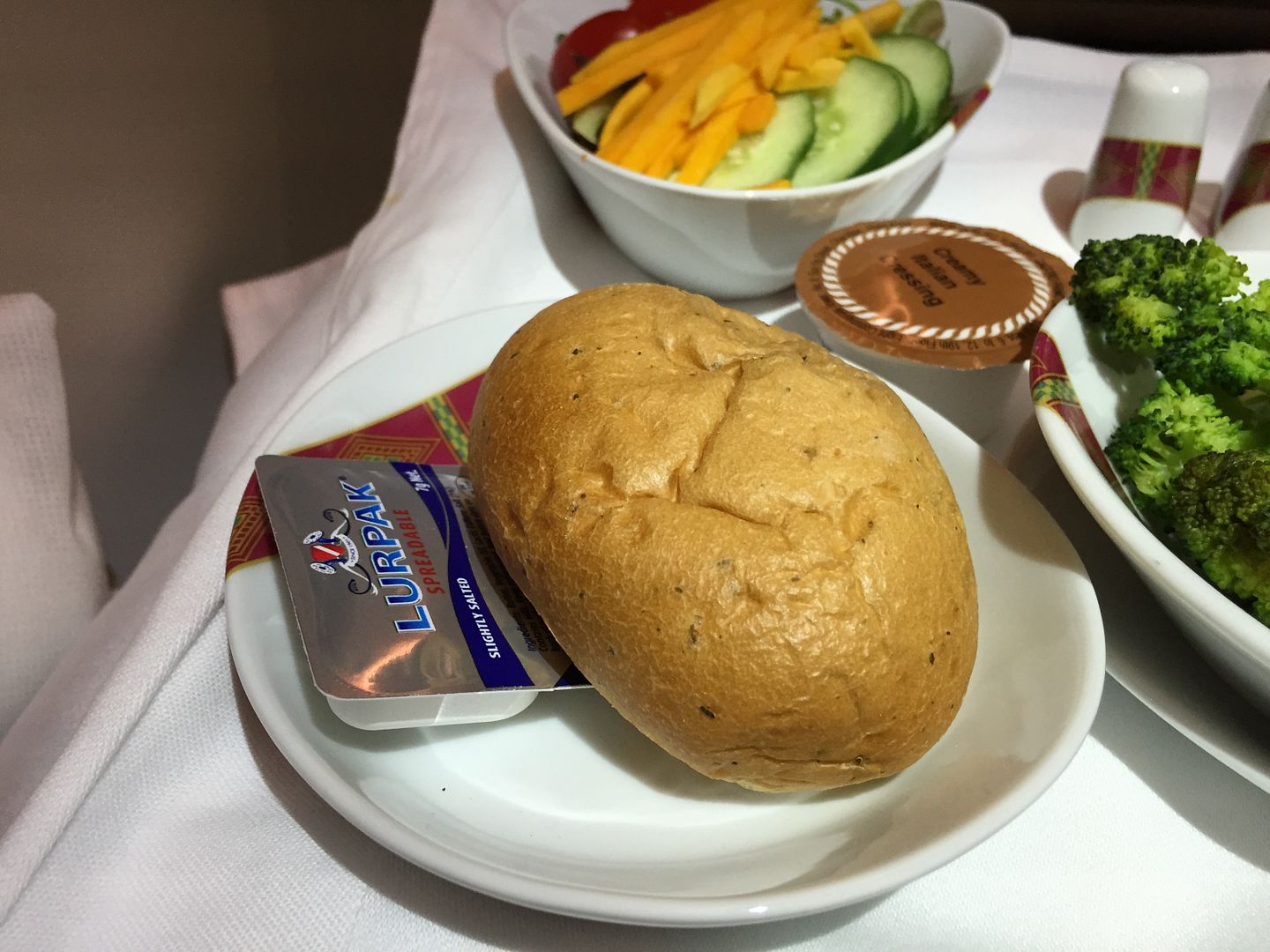 Starter
Smoked snow fish with potato and mixed salad
Main Course
Deep-fried chicken leg with egg fried rice, broccoli and kernel corn sauce
The entrée was not warmed enough, or already turned cold when they came to my side. 
Or
Stewed Beef Cube with noodles, mixed vegetables, and cumin sauce
Or
Fussily noodles with mixed mushrooms, cheese and white cream sauce
Dessert
Choose from our selection of pastries, fresh fruits and cheeses
Ethiopian Coffee and Tea Selection
Boeing 787 seat chart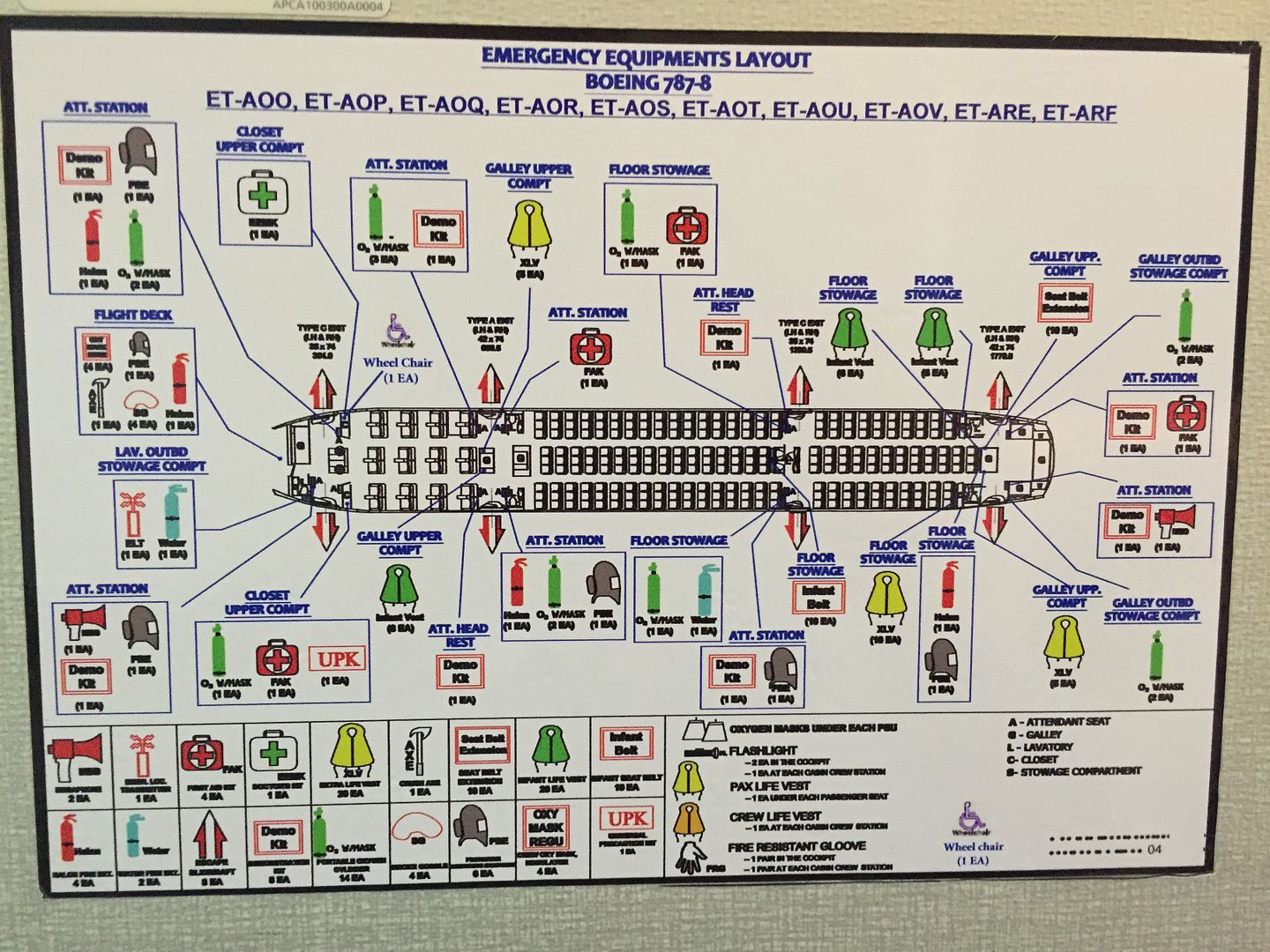 The service was really lacking on this return flight, and no bottled waters were passed out after dinner.  There was no beverage offering and the F/As just hide in the galley for the rest of the flight. 
Descent soon began at 11:23pm Hong Kong local time, and we landed on R/W7L at 11:52pm.  We parked at gate 19 two minutes before midnight.  There was a boarding pass check at the end of the jetbridge.  I sort of wish that the F/As would have made an announcement.  Hong Kong airport was extremely busy tonight and the baggage claim was crowded, as three flights share the same belt.  The first bag arrived around 12:21am, and priority tagged bags were delivered first. 
In conclusion, this is definitely an interesting experience and I am happy to add Ethiopian Airlines to my flight log.  However I don't think I have any desire to fly it soon or repeat this route.  There seems to be lots of inconsistency on the service and the catering is a bit weak. 
I hope you enjoy this trip report!
Carfield
PS. My next report will be an ambitious one, as I am plan to fly a range of LCCs based in Malaysia, Taiwan, and Thailand across a few days time.  I hope I will manage to fly all the planned new airlines and airports.