Intra-Asia 2015 Final: Flying in Thailand: JT/K8/WE
Here is my final installment of my recent travel in Asia.  I flew three brand new airlines within my day in Thailand, which was definitely an ambitious task.  There were some missteps and annoying last minute schedule changes, but things all worked out especially I don't need to worry about checking in luggage at all.  I am sure most non-Asian travelers or even non-Thai travelers will find one of these airlines unfamiliar, but Kan Air ends up being the most interesting airline for the day.  I hope you will enjoy this report on Thai Lion Air, Kan Air, and Thai Smile Air.
Full album of my Domestic Thailand flying:
http://s1213.photobucket.com/user/Carfield76/library/Spring2015/ThailandLCCApril2015
April 22, 2015
JT 8518 DMK-CNX Lv1115 Arr1235 Boeing 737-900ER HS-LTP
Thai Lion Air is one of the latest franchise airlines of the Lion Air Indonesia group, and one of the hybrid LCC/full service Thai airlines trying to fight for a share of the booming Thai domestic market.  Unlike Malindo Air, its model is a bit closer to its mother company, which offers little service and cramps its plane like a typical ULCC.  It is completely different from its older brother in Malaysia.   At the same time, it also offers 15kg of baggage allowance as well as free seat assignment – 24 hours prior to departure.  Online check in is available and unfortunately, the Thai Lion Air app only works if you have a iTunes Thailand account. 
Check in area:
Since I have no baggage and want to secure a seat assignment, I checked in around fifteen hours prior to departure, and there were plenty of empty seats to choose from, but exit row seats and bulkhead sections are all blocked.  You can reserve those seats even if you offer to pay.  I got 15F during online check in and decided to try my luck to get a seat towards the front.  Unfortunately, I could not get anyone to help me, regardless of hopping around a few counters.  There were staffs, but unlike its slogan, no one was offered to help and give me information.  I was not impressed by an airline, which claims to care.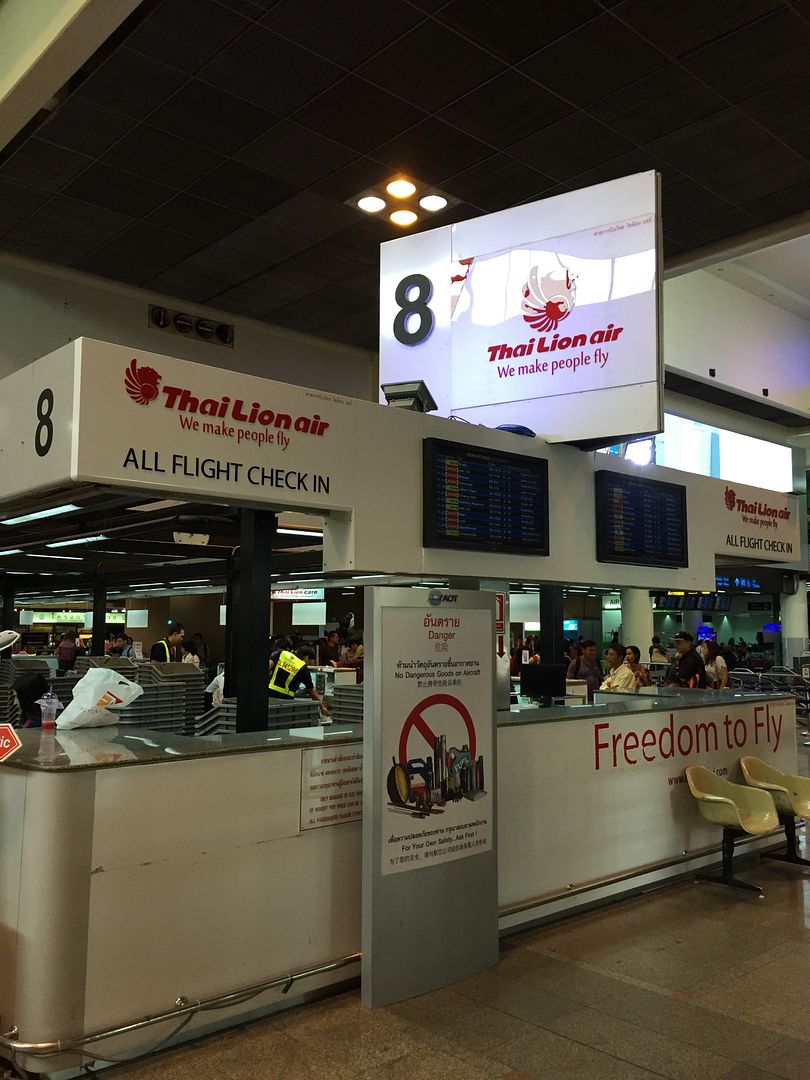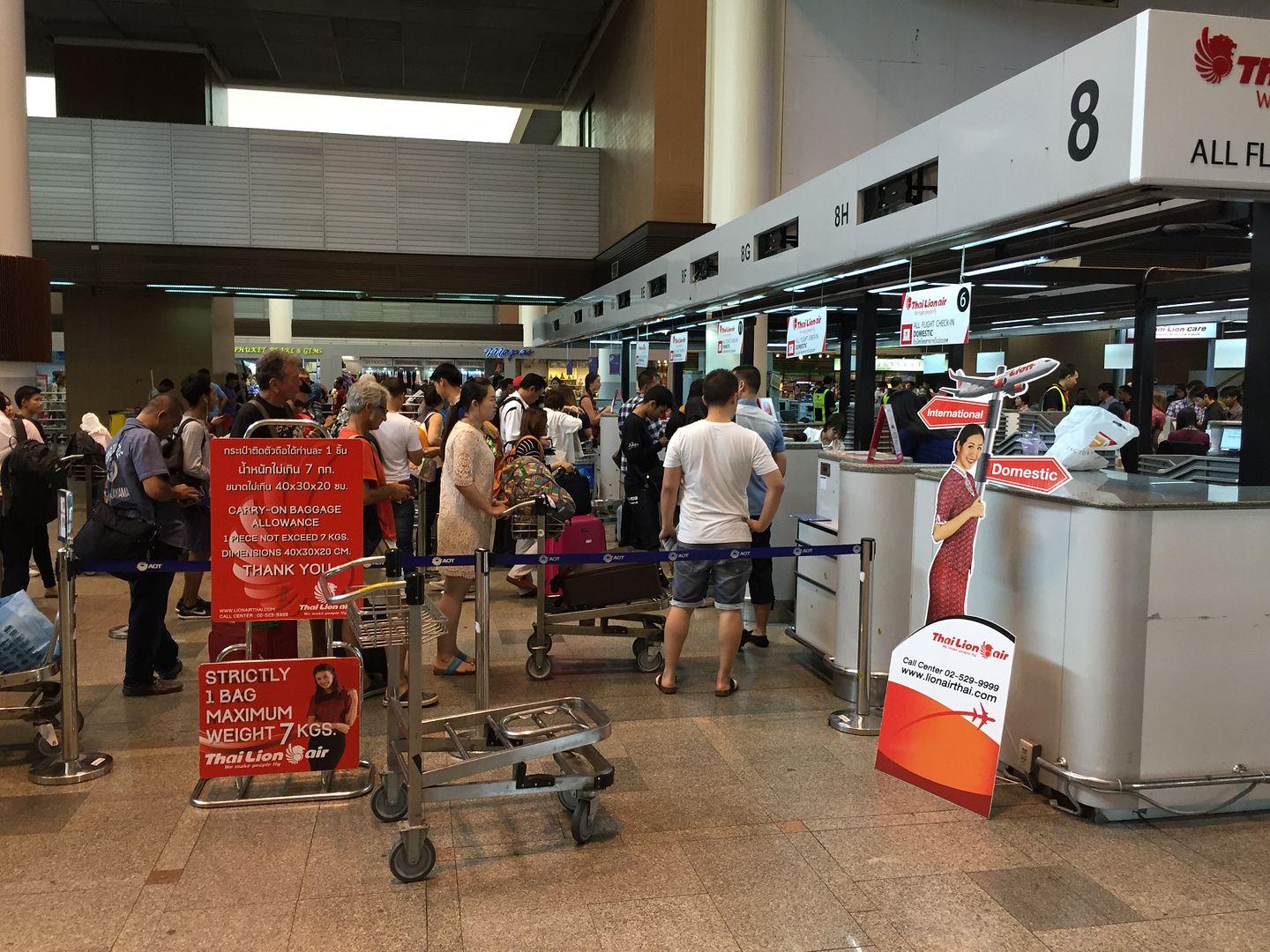 Bus gate was used today, as the plane was parked at former Terminal Two.  The plane was parked at stand 55.  Boarding began at 10:43am with the front section first (Row 1-20), and one good thing was that they did not cramp as people in the bus as possible.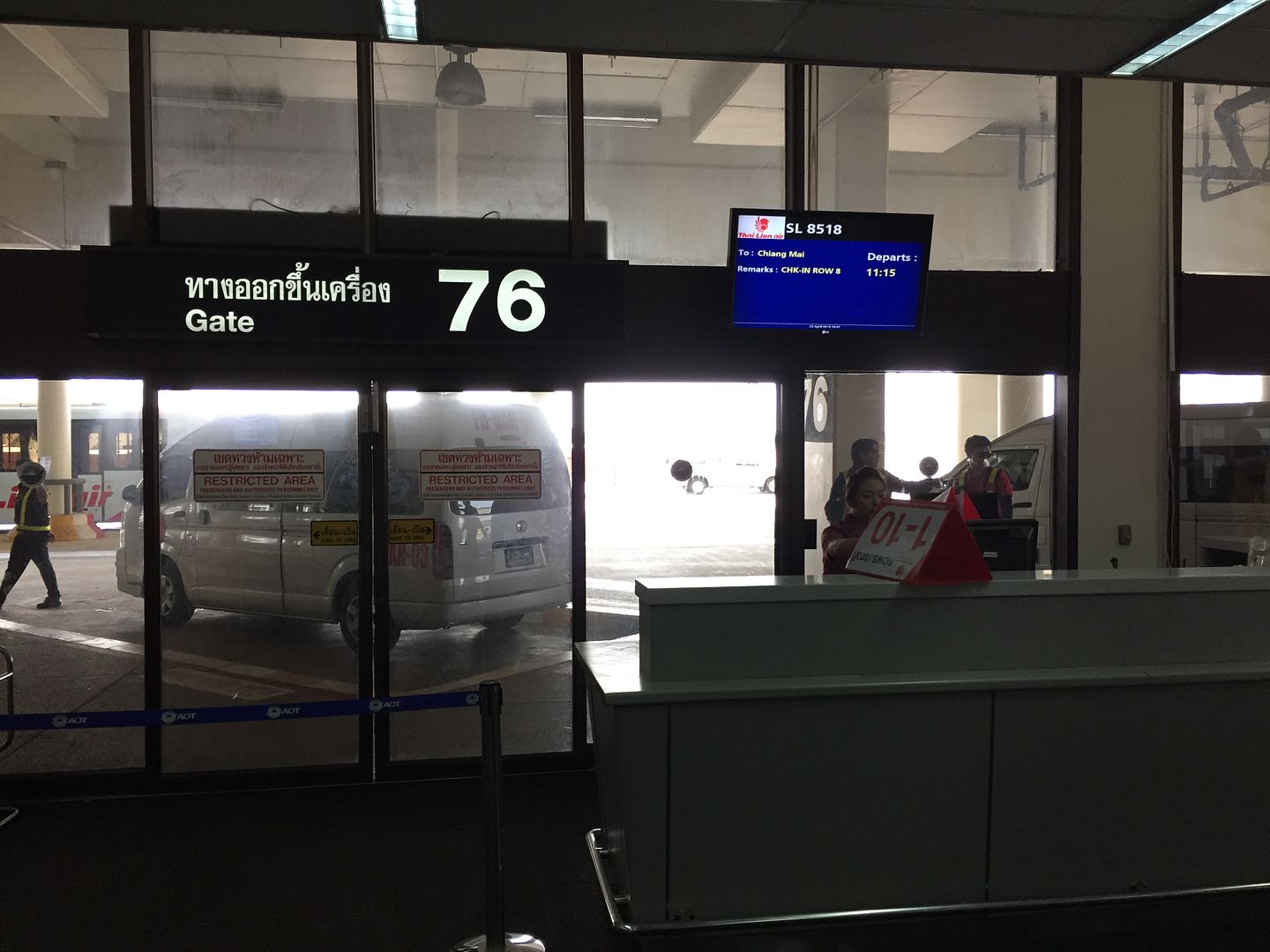 I love bus gate because it gives you a chance to get closed to the plane.  The photo taking bothers no one.  I notice that Thai people love selfies. 
HS-LTP – my first time flying Thai Lion Air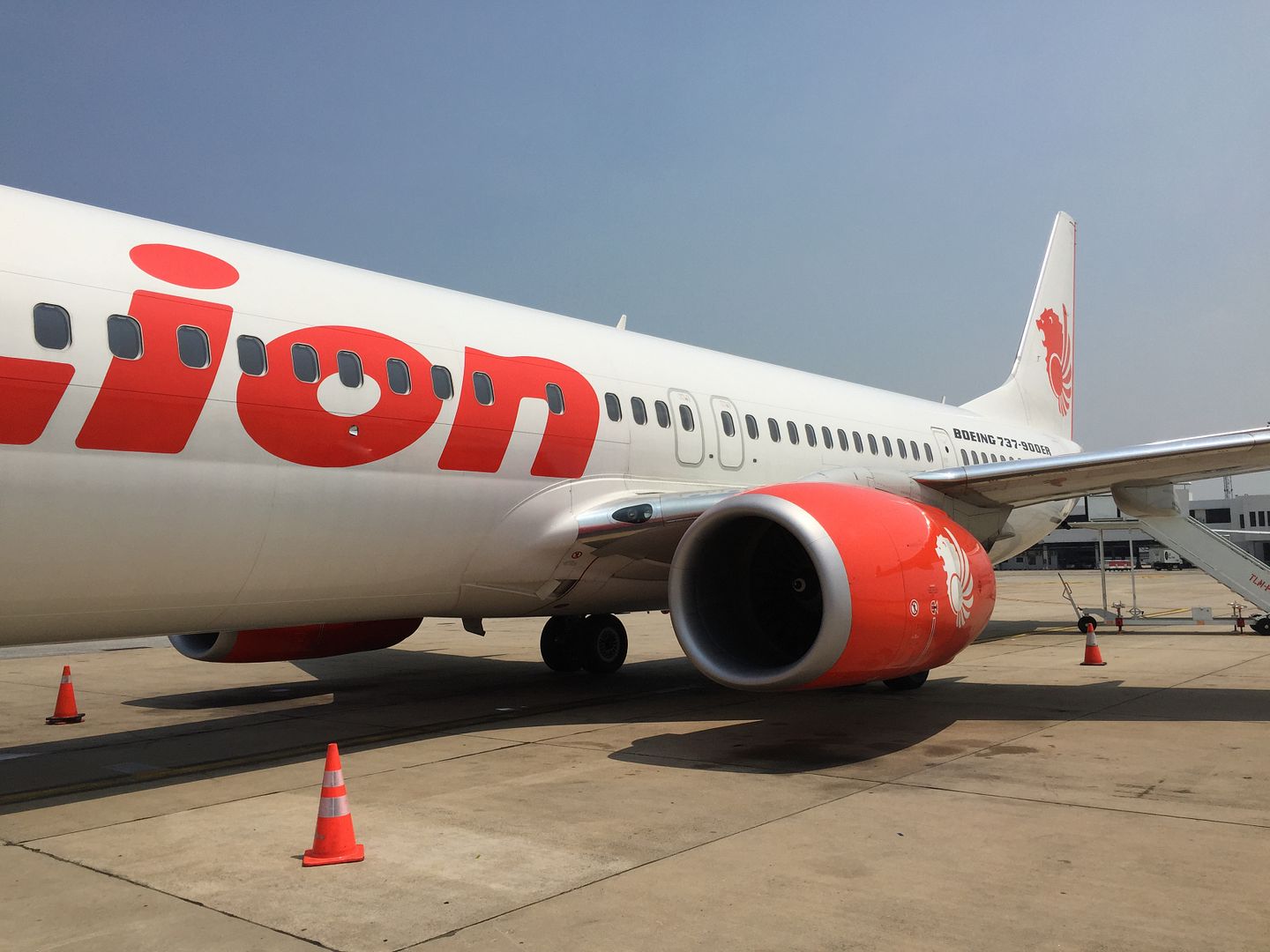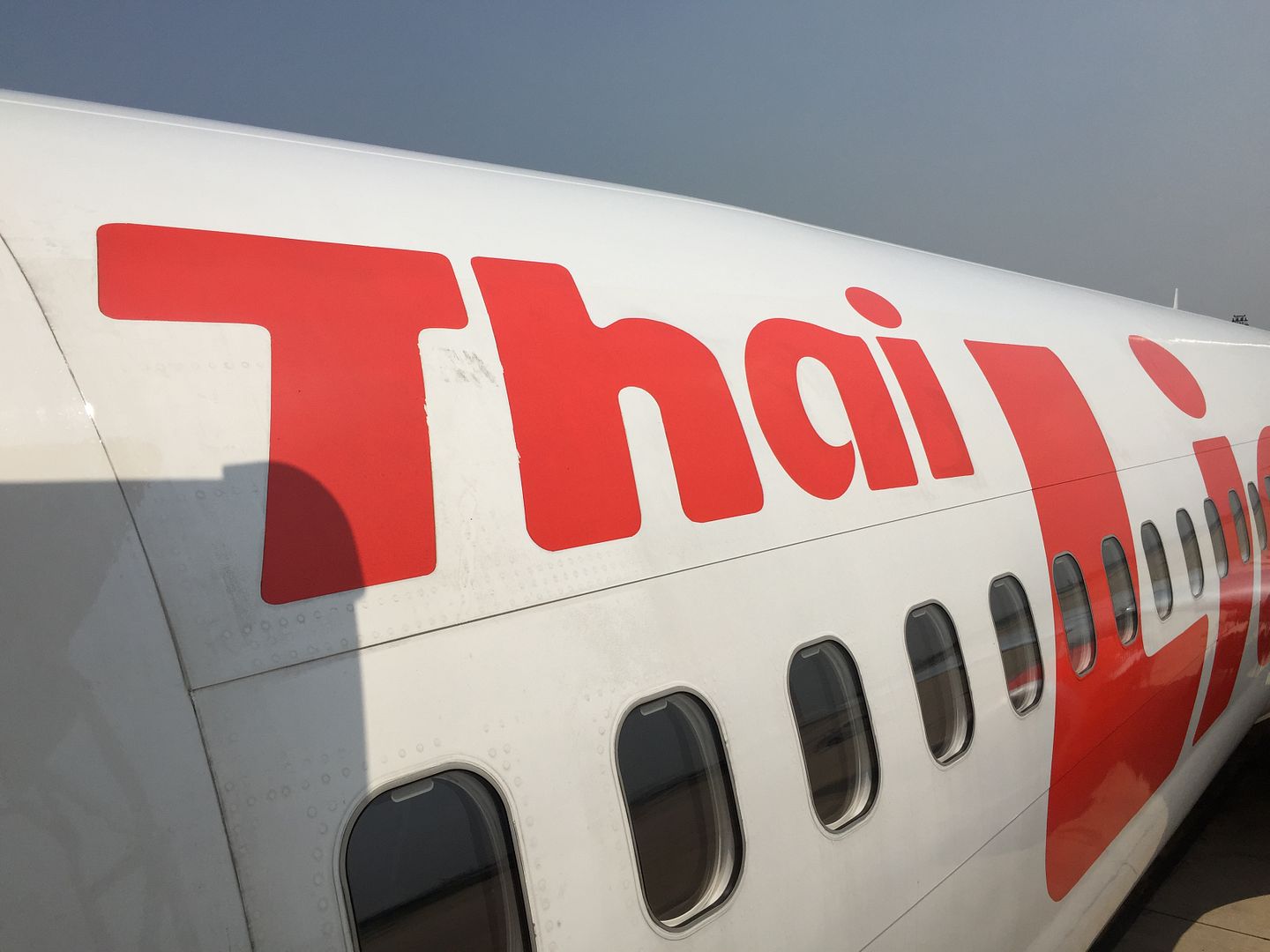 This Boeing 737-900ER is brand new and the conditions of the plane are fine.  Two friendly F/As welcome passengers on board, and the seats sort of remind me of the Malindo Air's ATR 72-600s Y seats.  They are a bit more padded though. 
Cabin shot
Really tight seat pitch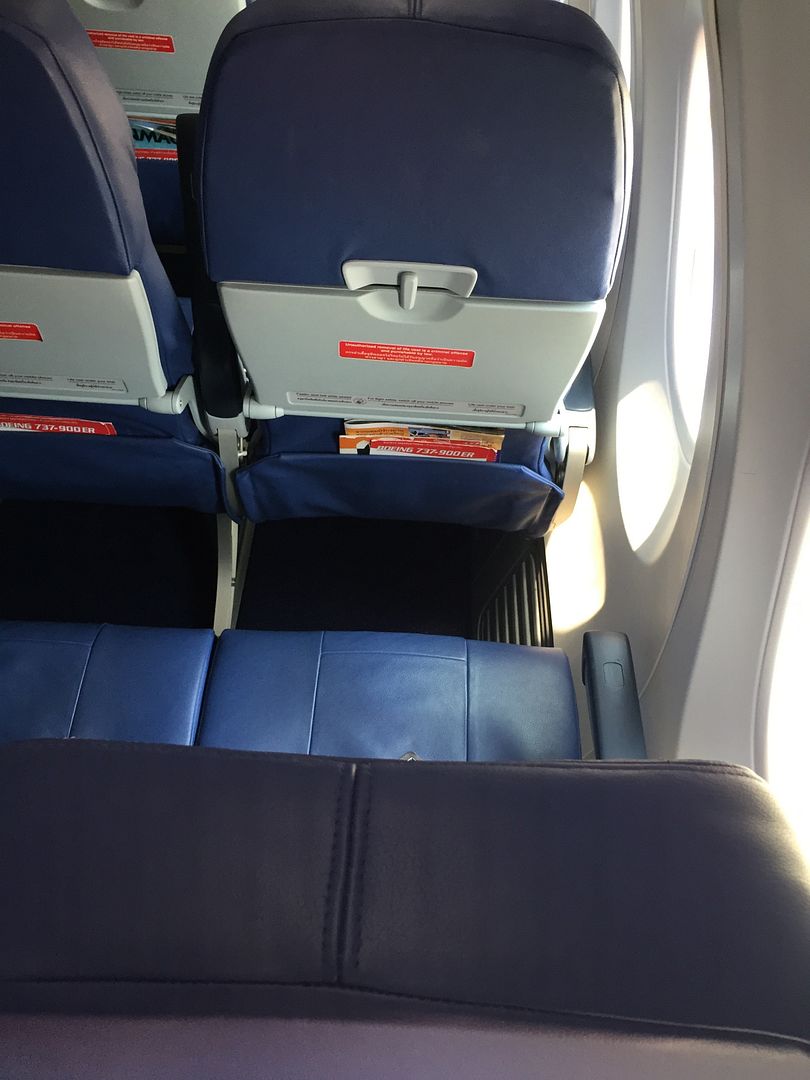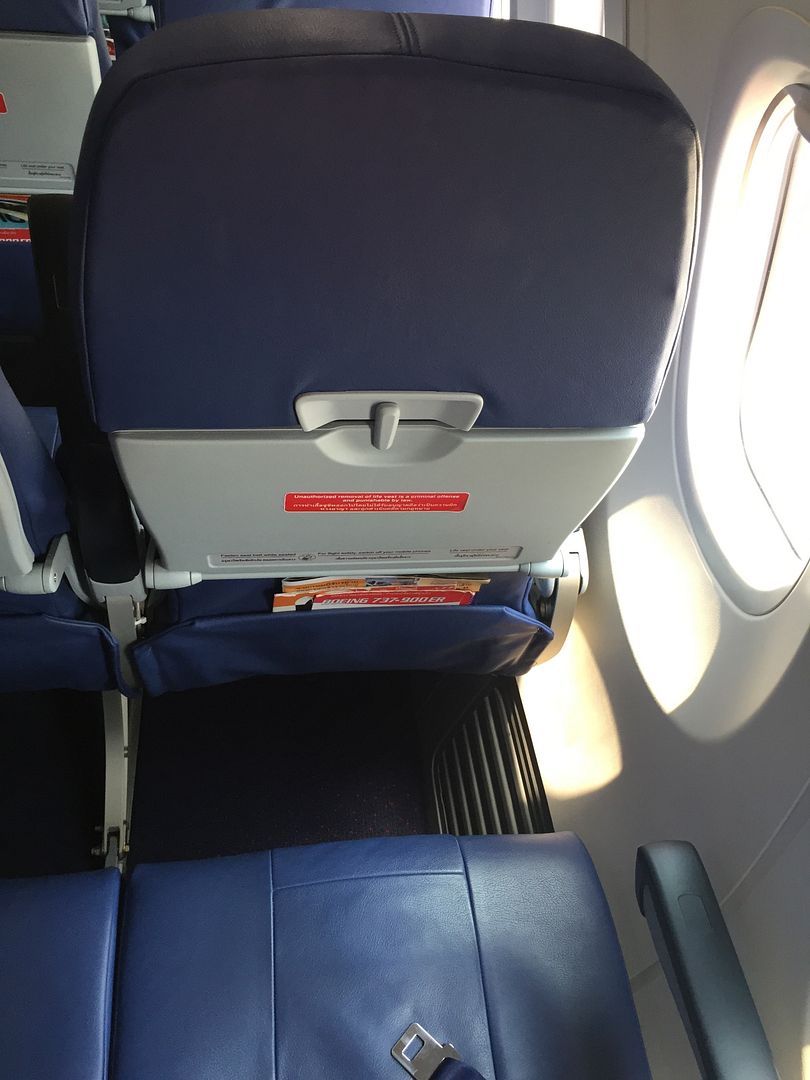 I sat at 15F and my knees immediately touched the seats in front of me.  Thank goodness that the guy in front of me did not recline his seat!
Reading literature
The flight was about two-third full with the front section empty.  There was another Thai Lion Air flight to Chiang Mai that departs 20 minutes earlier.  Door was closed almost on time at 11:16am.   We pushed back three minutes later, and we took off from R/W21R at 11:33am.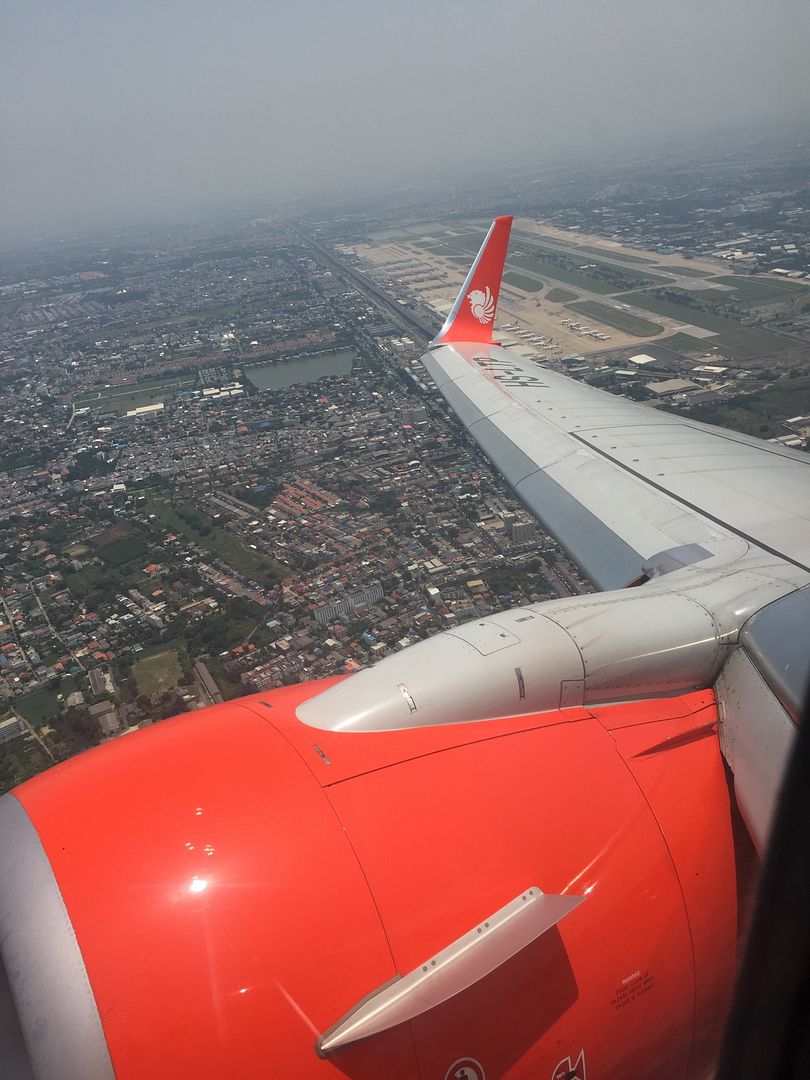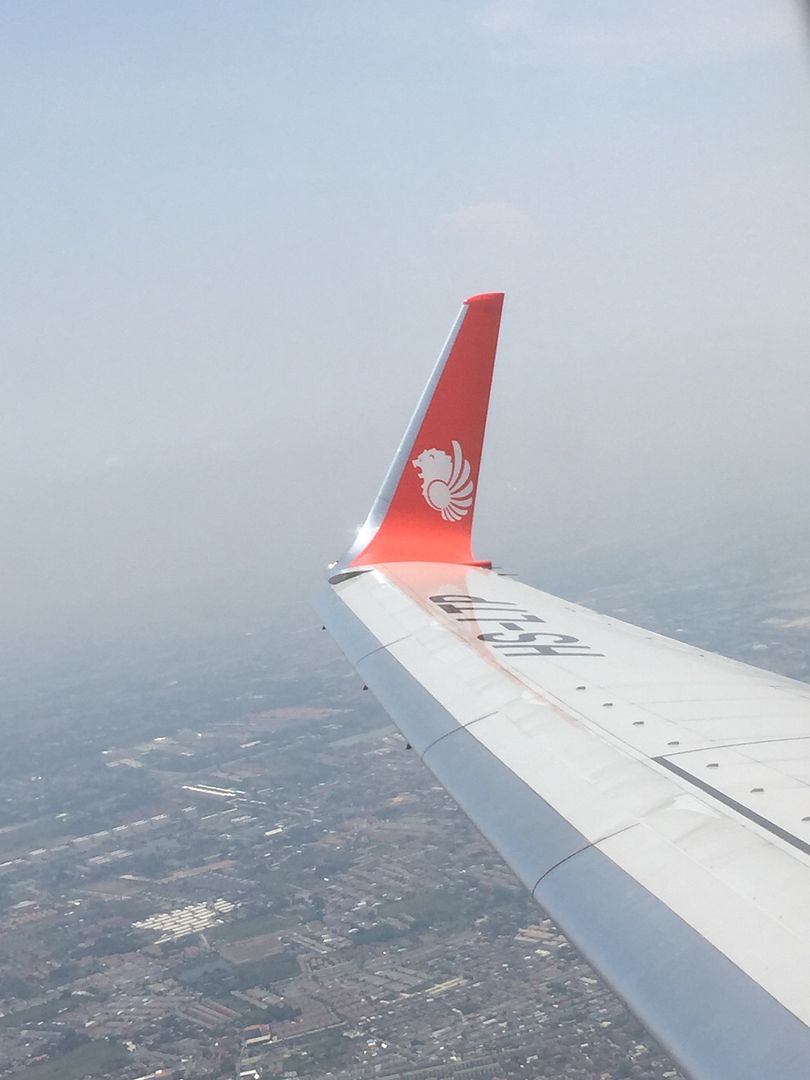 The flying time was fifty-three minutes with a cruising attitude of 32,000feet.
There was no complimentary refreshment service and you cannot prebook any hot meals.  The website indeed gave little information to what kind of snacks are being sold on these flights.  To be honest, I still have no idea what is being sold and is not being sold after flying it.
Here is the full menu!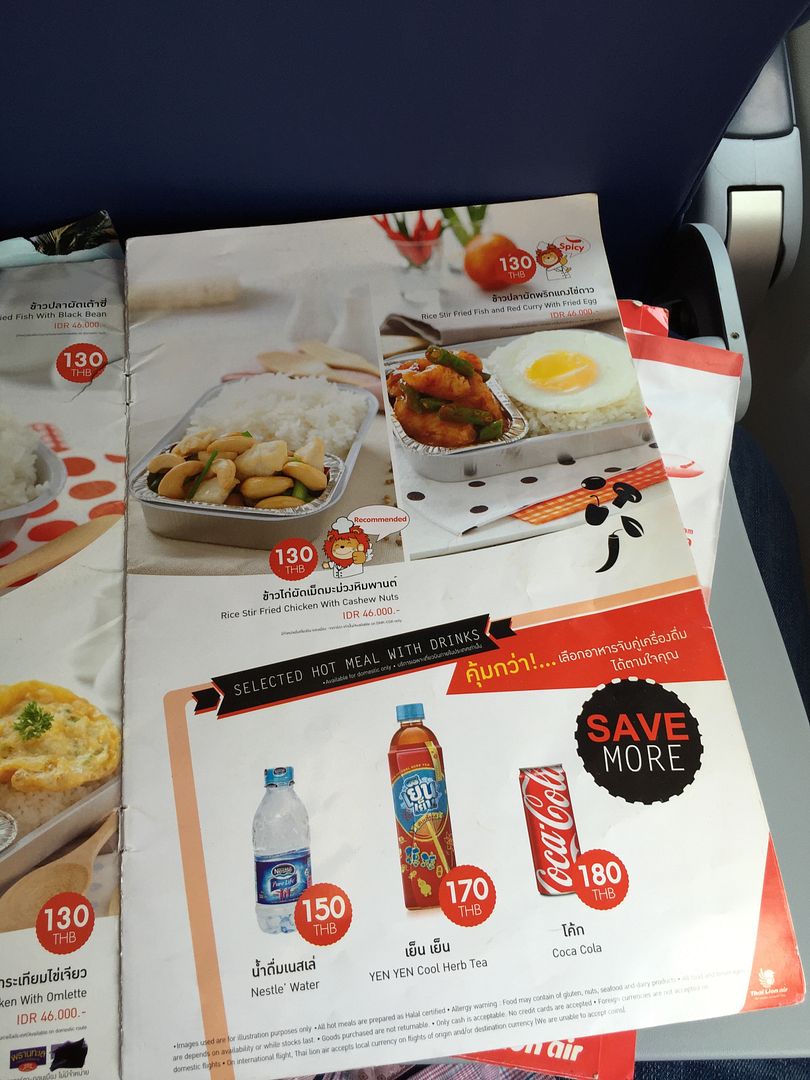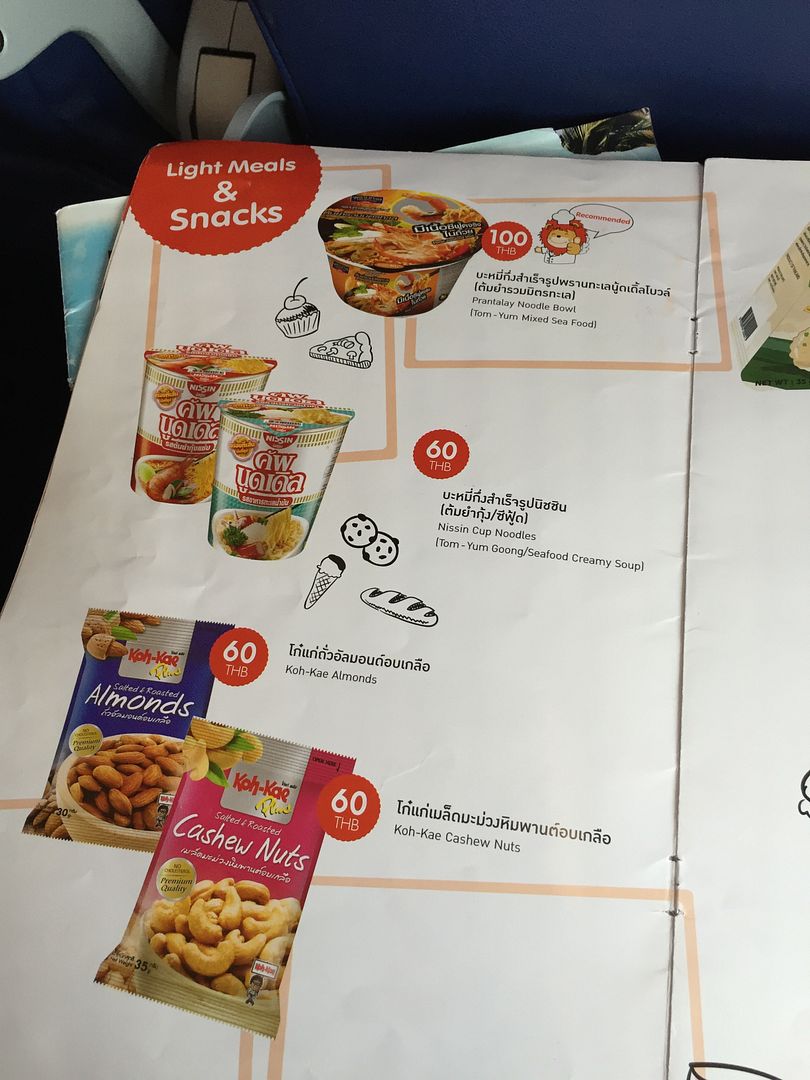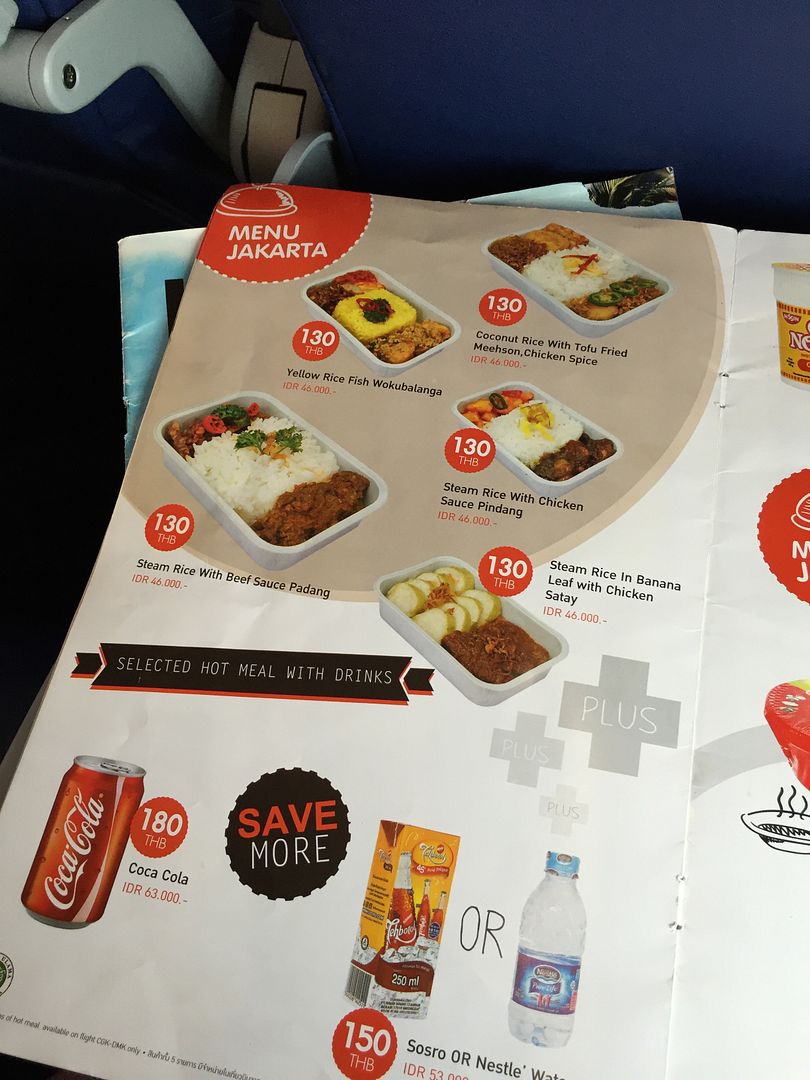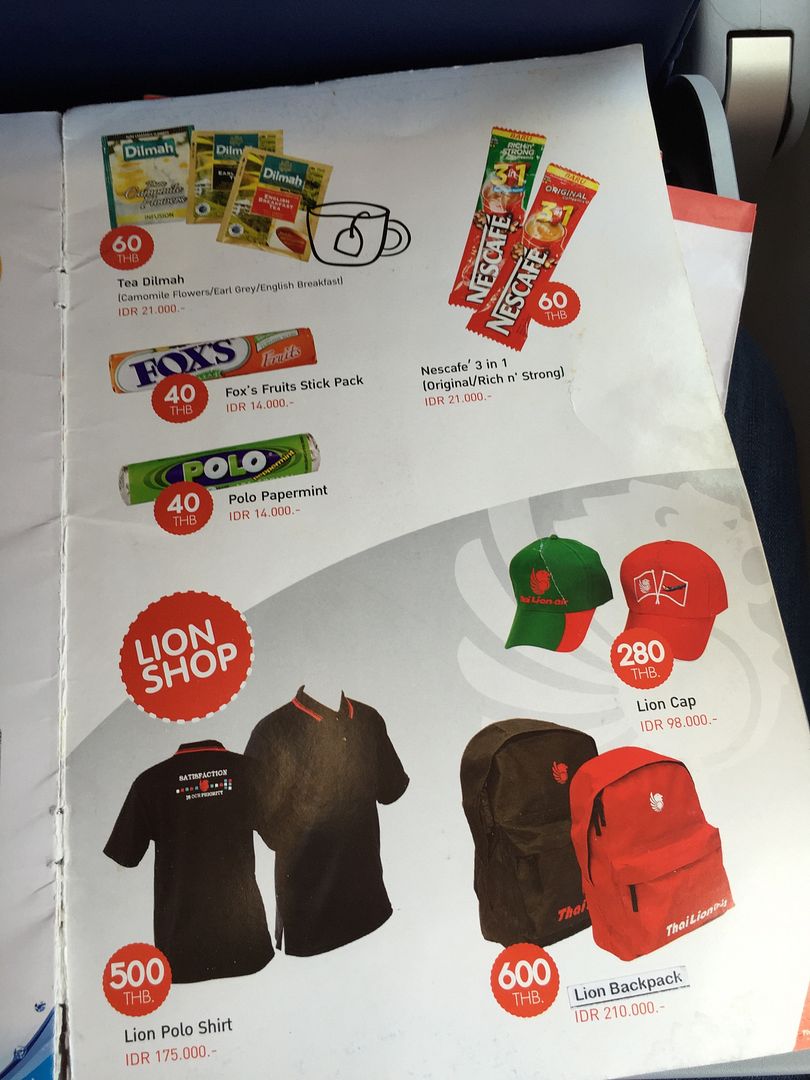 Some of the hot meals look pretty attractive, but without the ability to pre-book, it is hard to order on the spot and then have to rush through the meals.  The F/As rolled out the cart at 11:45am and I did not see one person buying anything.  The F/As were not aggressively selling anything.   They made no eye contact with passengers, so I was not surprised to see that no one was partaking on this BOB service. 
Descent began soon at 12:03pm, and we landed on R/W36 at 12:26pm.  We parked at stand 12, as the earlier Thai Lion Air flight got to use a real gate today.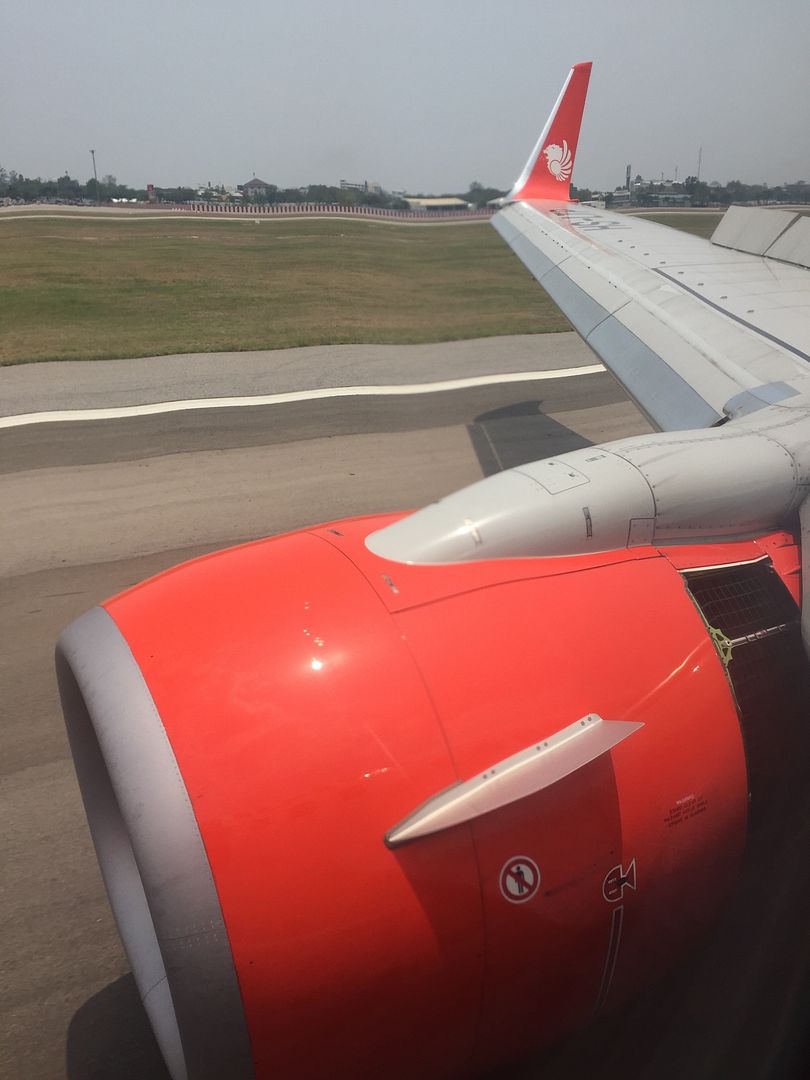 Spotted this interesting Thai regional airline next door – anyone knows what Legacy Air is?
One last shot of HS-LTP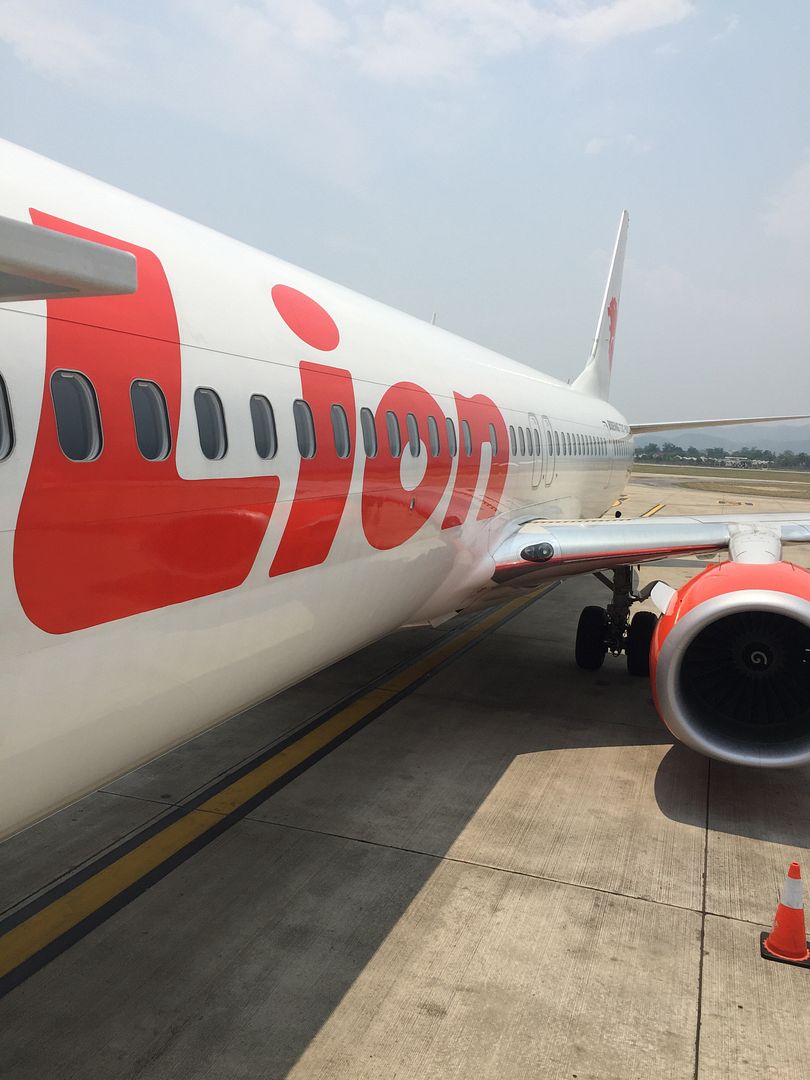 In conclusion, I really have no interest to fly Thai Lion Air in the near future.  Compared to Nok Air and Thai Smile (both offered a hybrid product and even a free snack bag on the flight), Thai Lion Air is lacking.  I felt that Thai Lion Air needs to make a strong brand soon – is Thai Lion Air going to be the barebone LCC, or is Thai Lion Air going to be heading to the direction of Nok Air and Thai Smile?  Its operation is obviously not as good as Air Asia, and both Nok Air and Thai Smile offer 15kg of baggage allowance and nice refreshment (water and a pastry).   Choose one and go in that direction!  I feel that it misses out on many opportunities in gaining more auxiliary revenues like offering seats for sale and pre-book catering and more fare bundles.   IMHO, Thai Lion Air is leaning towards a LCC, so why don't they just go the way Thai Air Asia does?  It is hard to compete with Nok Air and Thai Smile Air, which have a stronger and fun brand. 
Thankfully my next ride is on an interesting Thai regional airline called Kan Air.  Kan Air operates mainly from its hub in Chiang Mai with a small fleet of two ATR 72-500s, a Cessna 208B Grand Caravan and a Beechcraft Premier 1 Executive jet.  It is definitely trying to be a boutique full service airline, rather than a LCC.  It offers hot meals on all ATR flights, and the cabin is not as cramped as other ATR 72 operators.  Instead of the typical 72 passengers cabin, it fits only 66 economy seats. 
K8 8325 CNX-KKC Lv1330 Arr1450 ATR72-500 HS-KAF
I booked this ticket through its website, which is a bit on the basic side, but with a small operation, it is sufficient.  I paid 990Baht for this ticket, which is only half of what Thai Lion Air charges me on a borderline LCC service.  However I was pretty upset with their unannounced schedule change.  They only sent me a notice the day before my flight that the flight would depart at 1:30pm instead of 2:05pm.  My Thai Lion Air flight from CNX was not scheduled to arrive in CNX till 12:35pm.  Thankfully I did not have check in baggage and my flight was on time.  The agent at Kan Air did not seem to mind me arriving 45 minutes prior to departure. 
Check-in counters
Seating chart for Beechcraft Premier 1
I peeked at the seat chart of our flight, when I checked in.  First I was happy that ATR 72-500 was used on my flight, and second, the flight was only one-fourth full with about 26 passengers.  I was among the last to check-in.  Due to weight and balance, the front section was closed, but I still got two seats to myself at row 8.  The agent was efficient and friendly, much better than the check-in agent later at Thai Smile Air premium counters and the indifferent Thai Lion Air agents I came across earlier in the morning. 
As expected, they used a bus gate, and Kan Air even has its own branded van to bring passengers to the flight.  They only need two vans today. 
Boarding began at 1:07pm and they boarded Row 1 to 10 first, and then rest on the second van.  No one was in a hurry anyway. 
Here is Kan Air's latest delivery – HS-KAF!  I believe it was just delivered a month or two ago!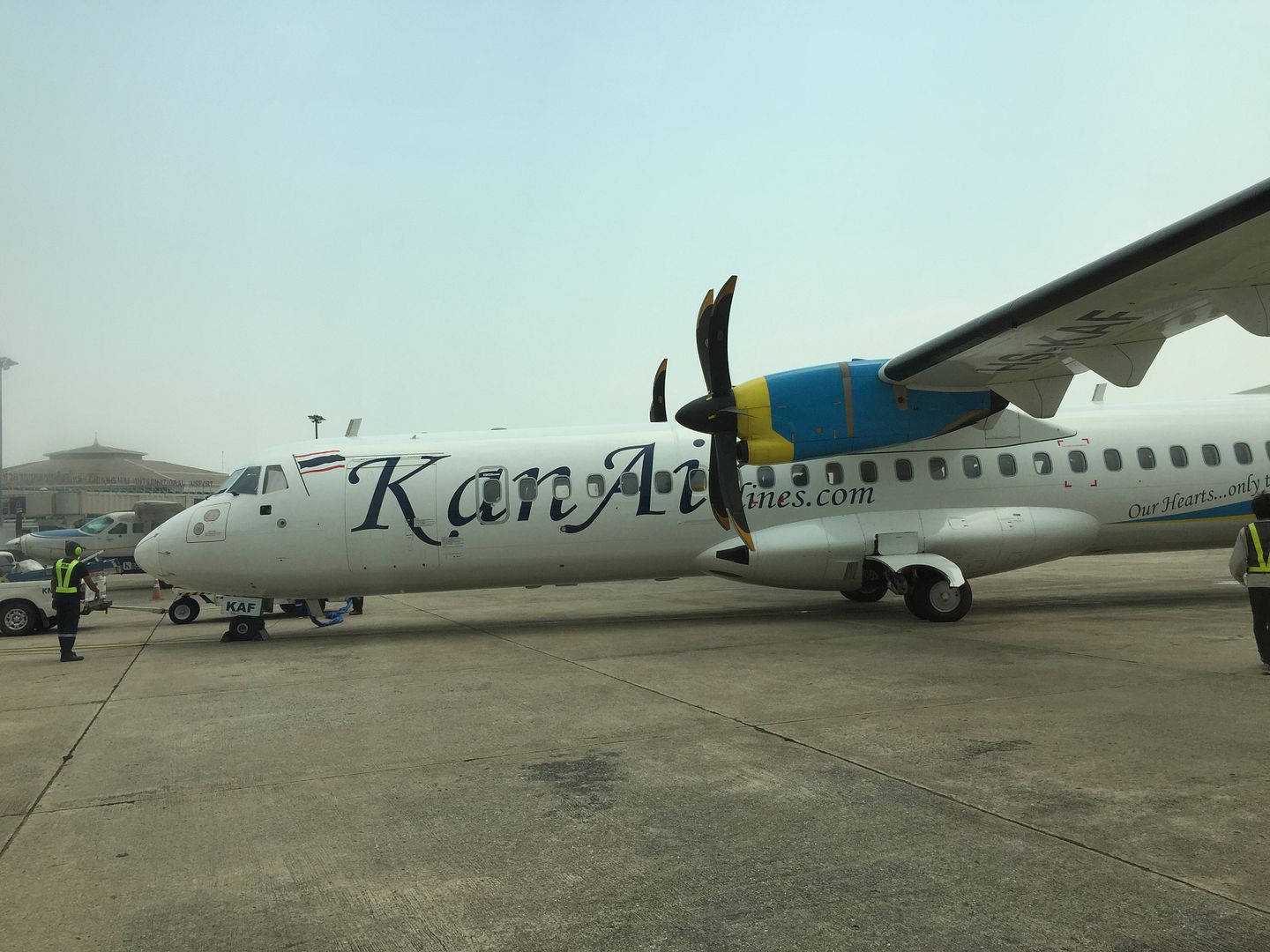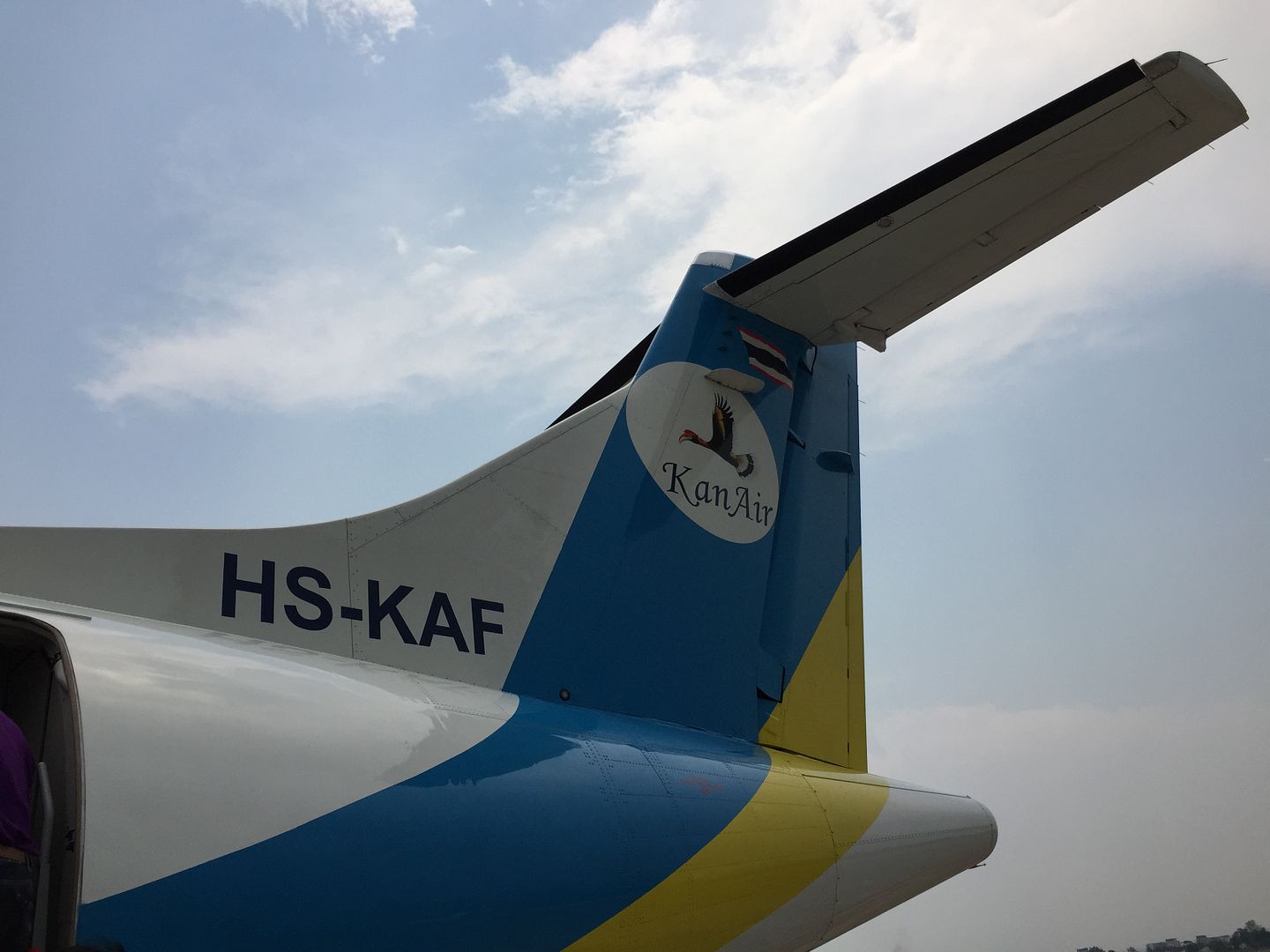 Cabin shot – the cabin was relatively simple and Kan Air chooses a grey color scheme for the upholstery.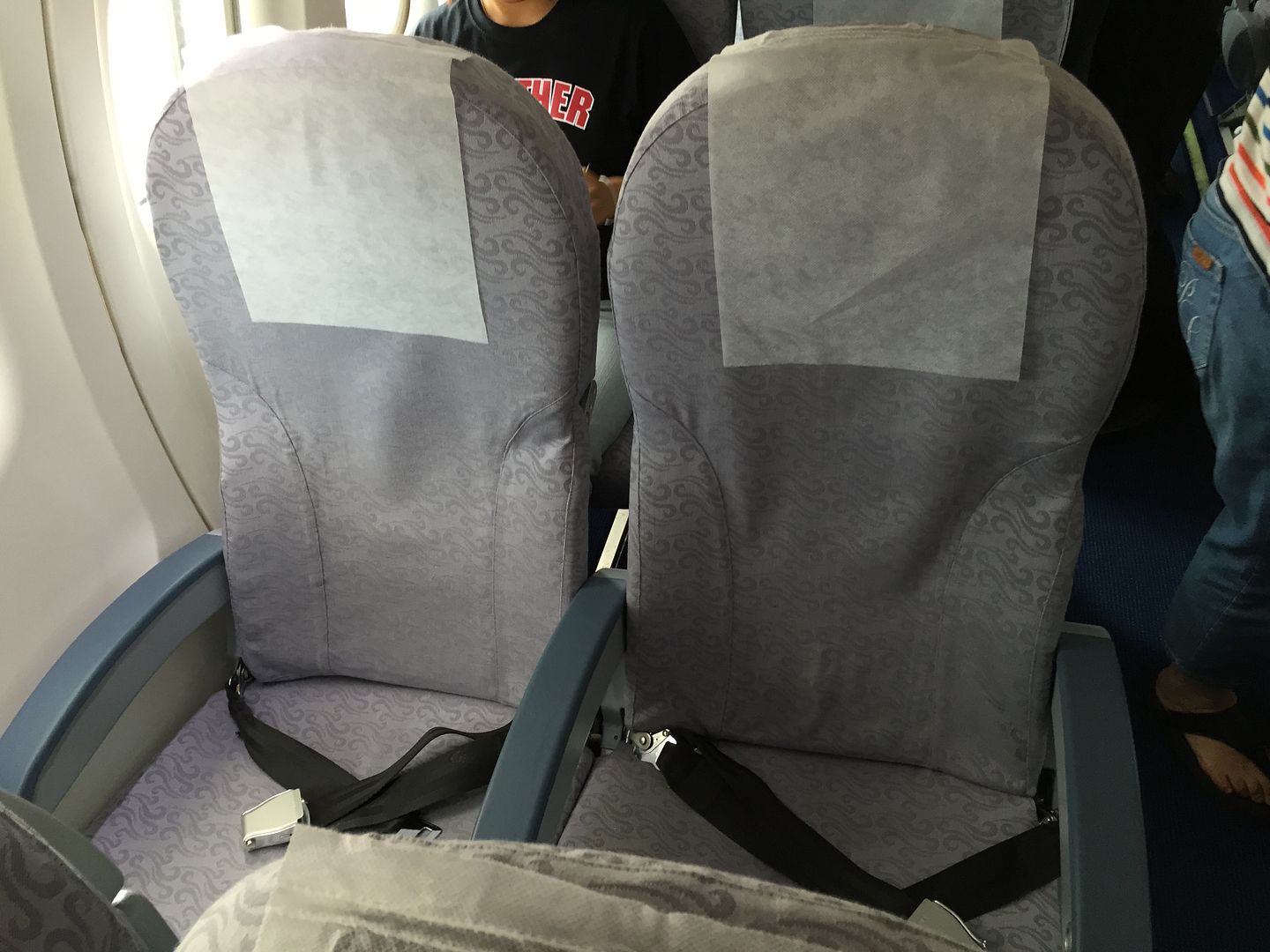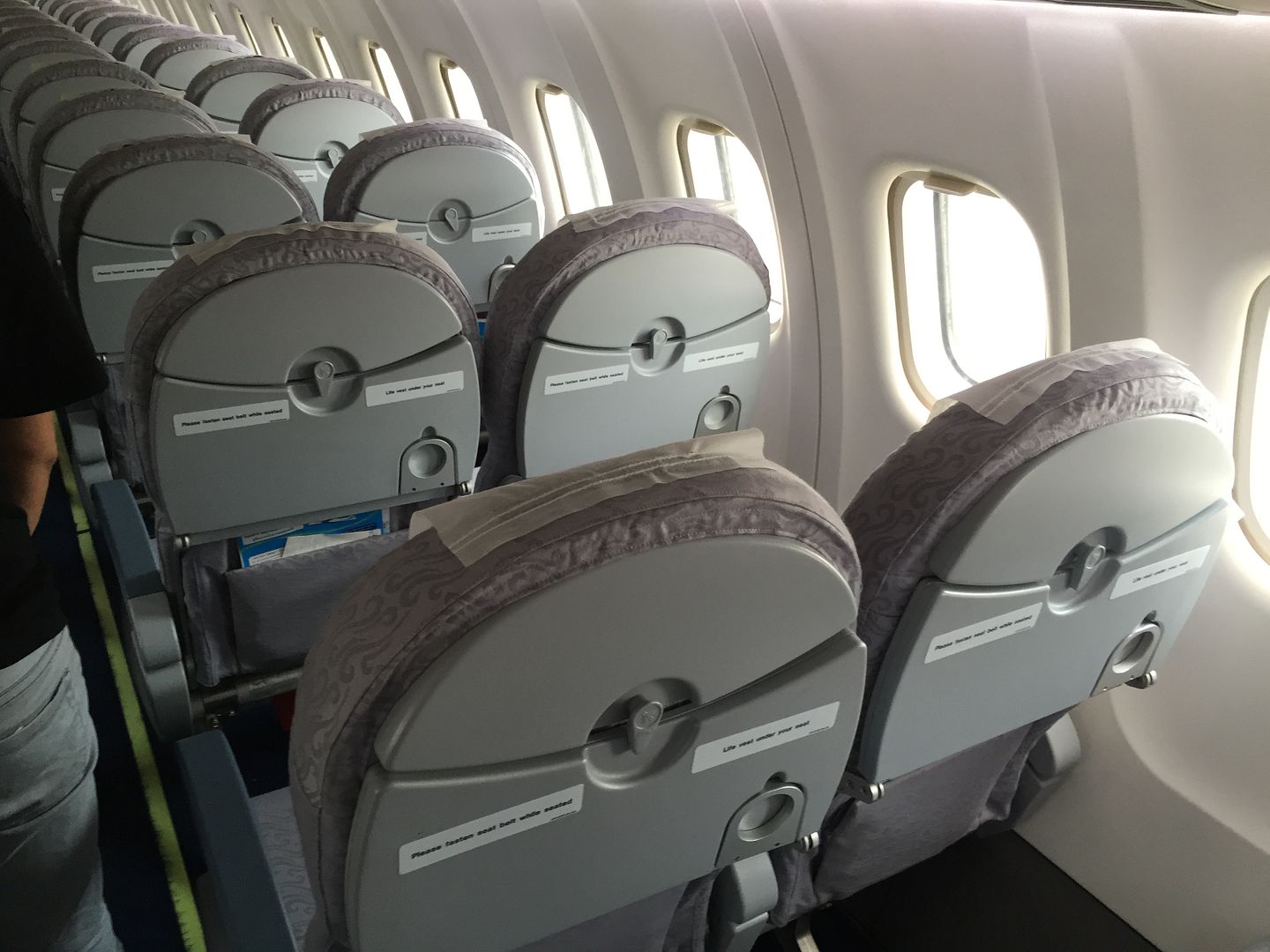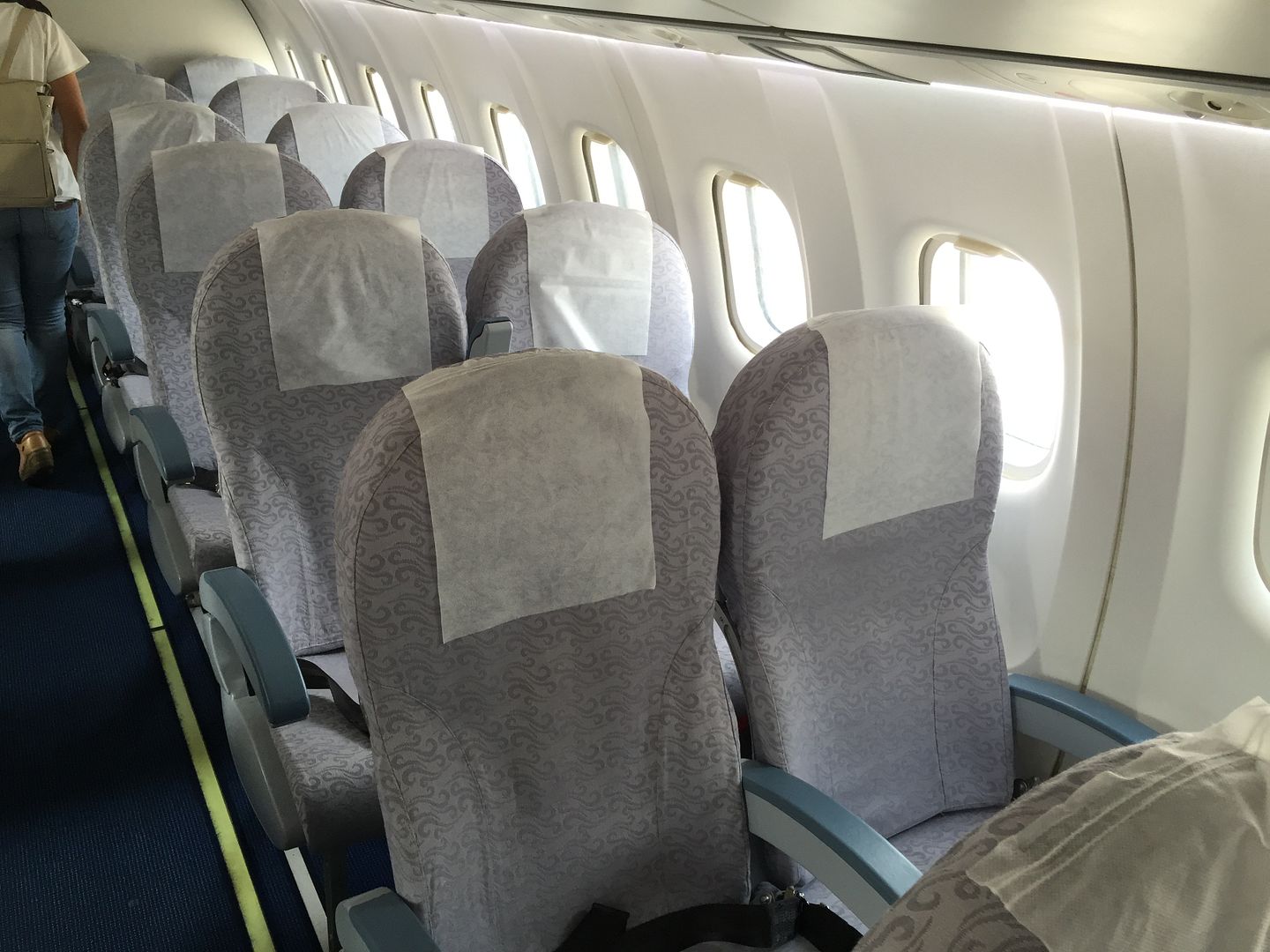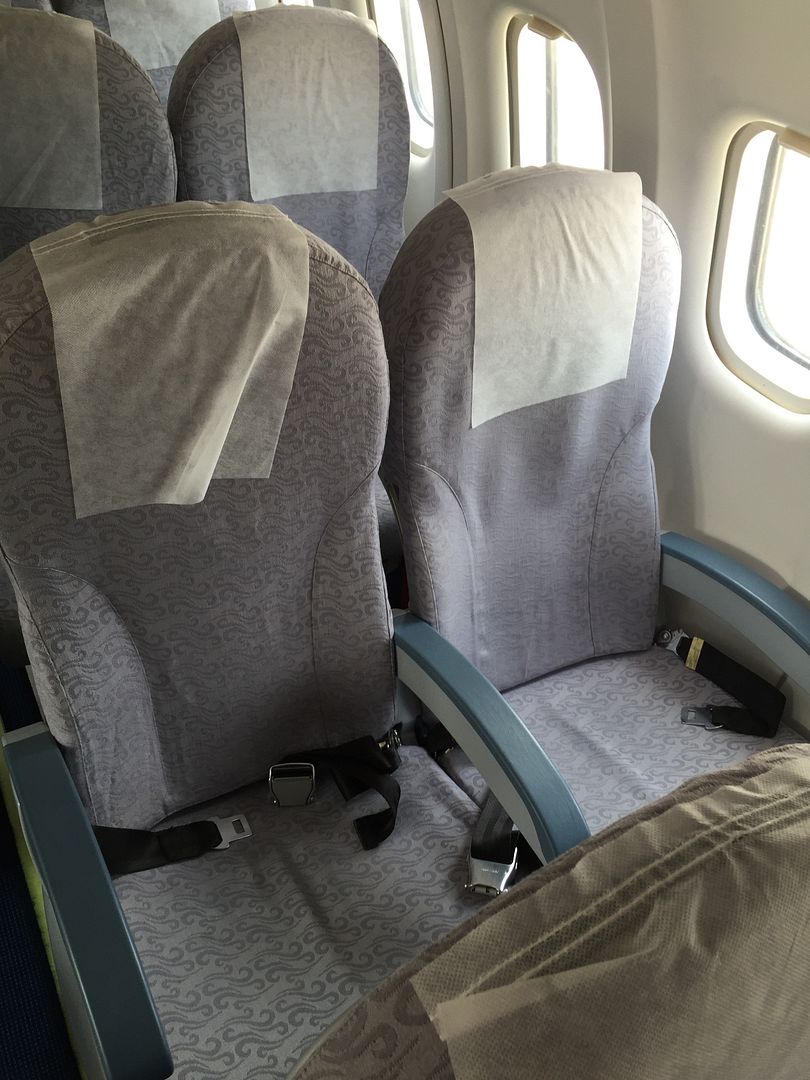 There were two F/As welcoming passengers.  They looked young and professional. 
The legroom looked like 30-31" like a typical turboprop and at least it felt more comfortable than my previous flight on Thai Lion Air.
Shot of the propeller
With this light load, door was closed fifteen minutes early at 1:15pm, and we pushed back four minutes later.  We took off from R/W18 at 1:23pm.  Flying time was an hour and nine minutes, and I have no flight data to share, as I cannot trace Kan Air on flightradar24 and the cockpit crews did not make any announcement during the flight.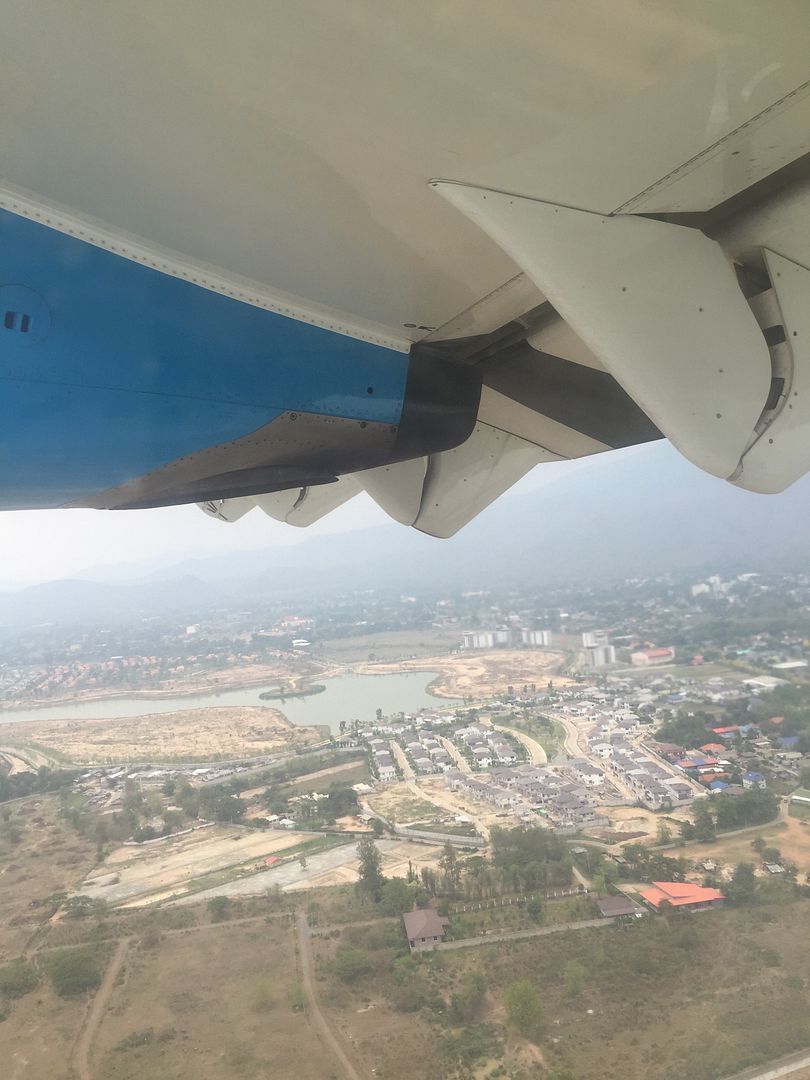 Tray Table
Little Cup holder
It has no in house magazine, but there is a safety card and a Thai travel magazine.  They asked you not to remove it from the plane. 
F/As announced today's meal choices through the P/A – the first dish was a stir-fried minced chicken with basil leaves and rice, or a pasta dish.  The first F/A passed out the meal, which contains the hot entrée, a orange cream cake, and a plastic cup for tea/coffee.  The second F/A came out with the beverage cart, and there was a limited selection of beverages including water, orange juice, coca cola, tea or coffee.  After meal tray was collected, there was a coffee run, followed by another water run.   The service could not be better.  The meal was actually delicious and the service was courteous. 
Hot lunch service: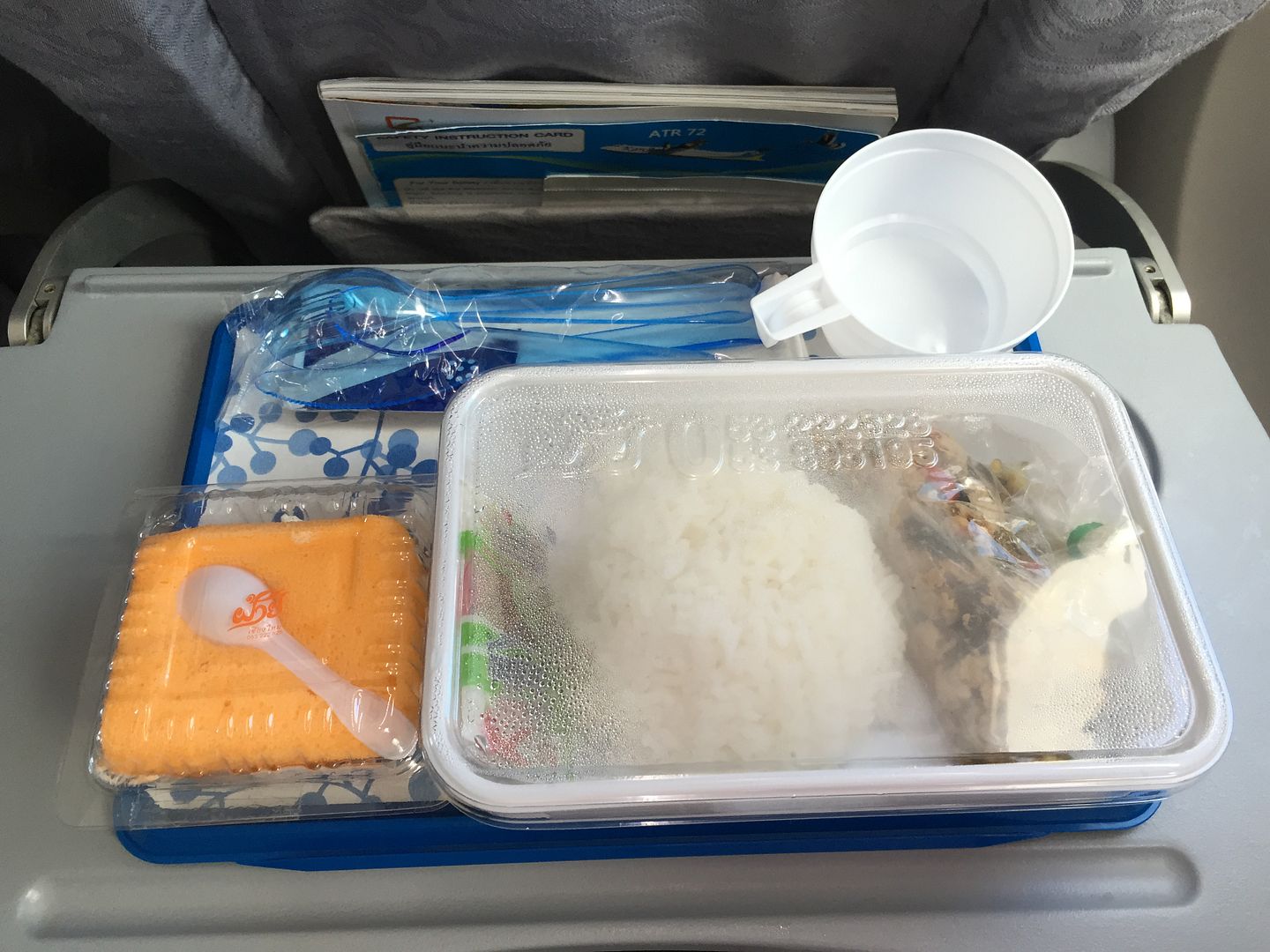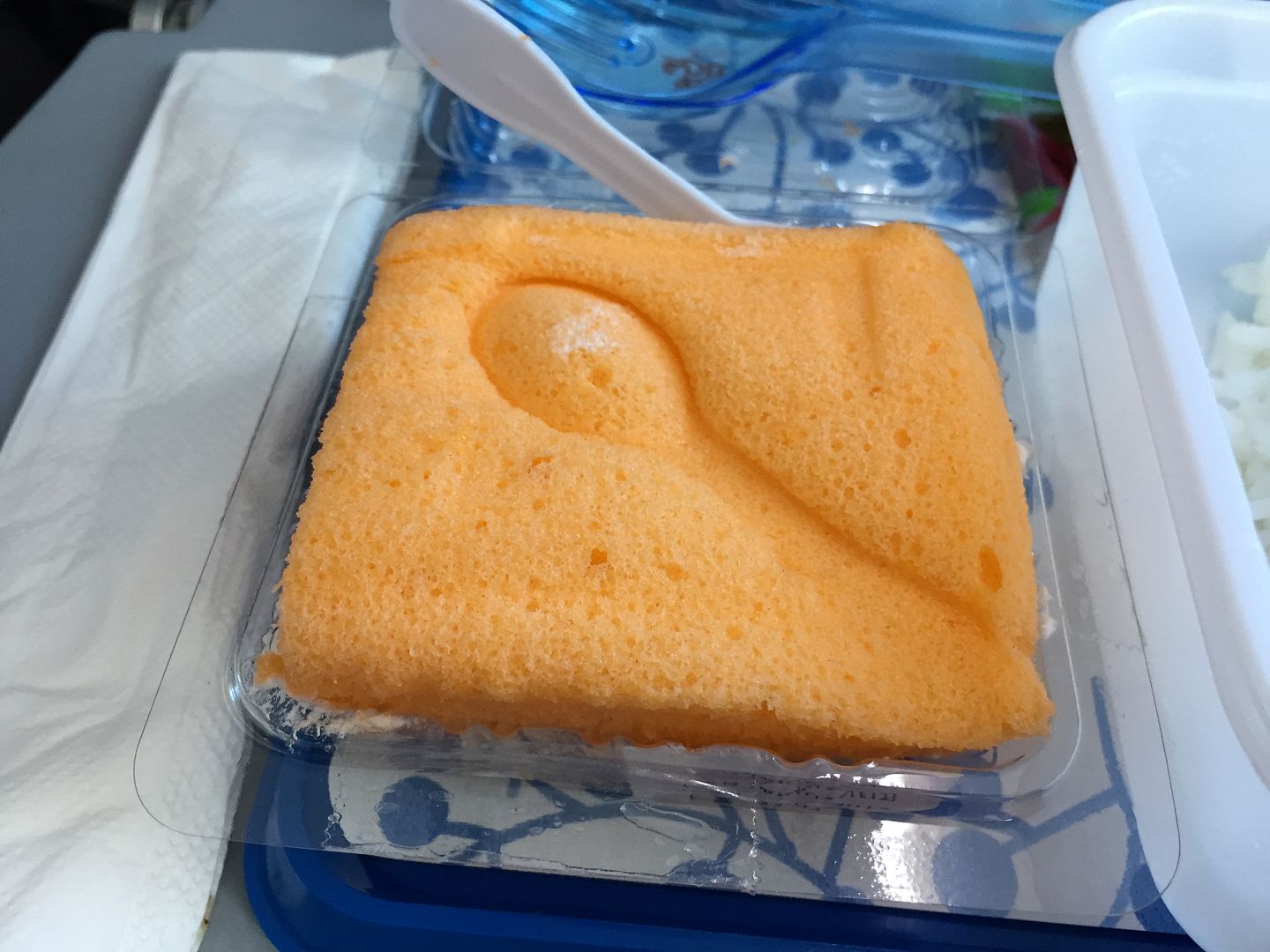 Water after meal: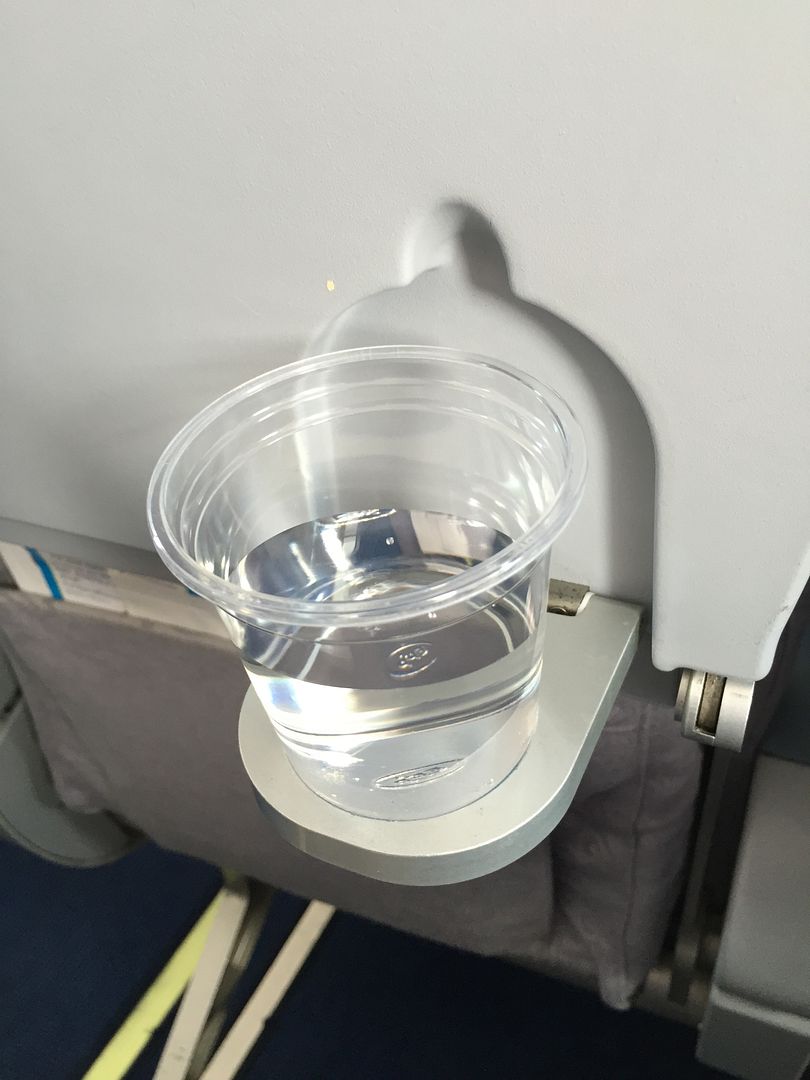 Getting closer to Khon Kaen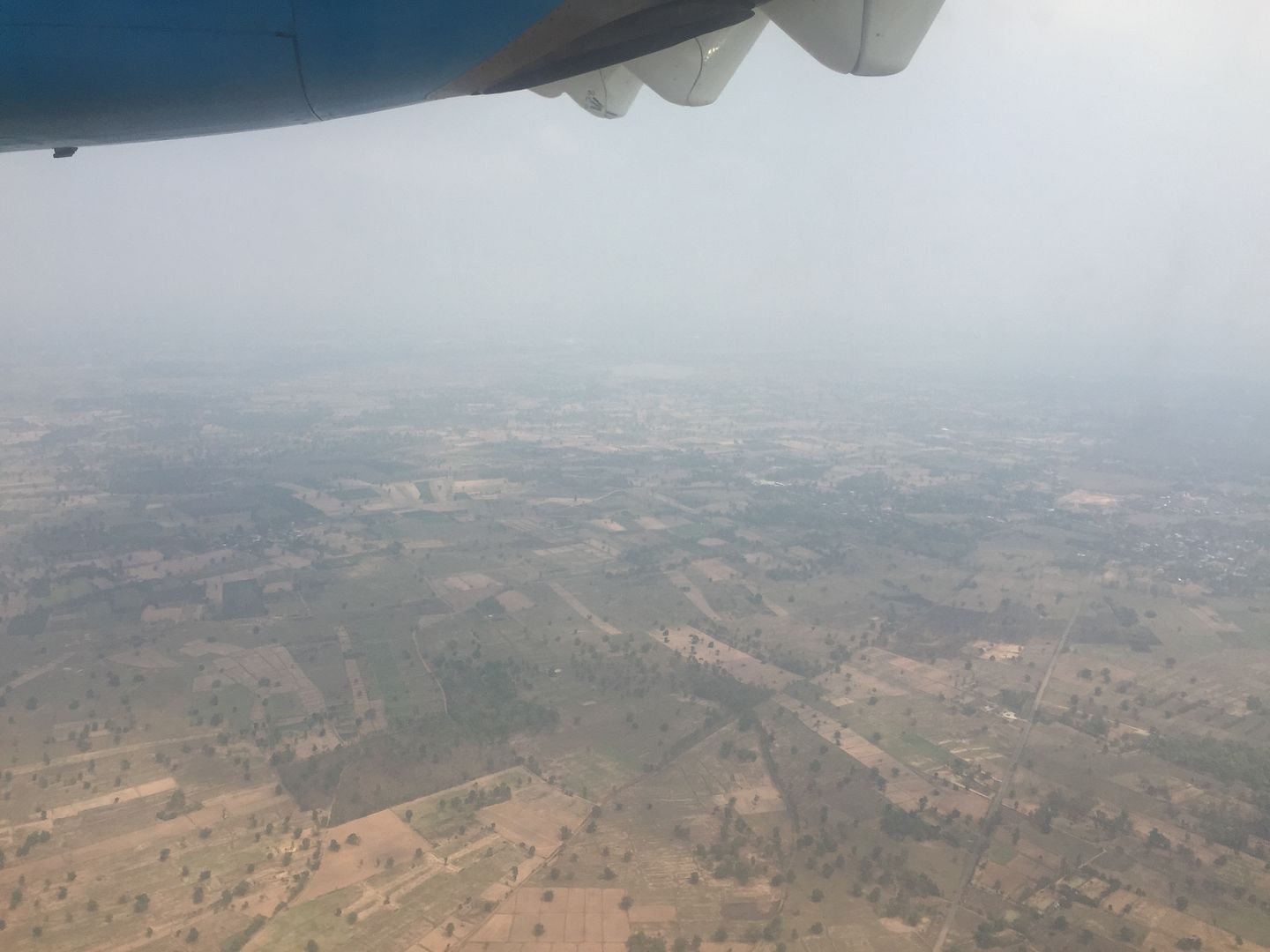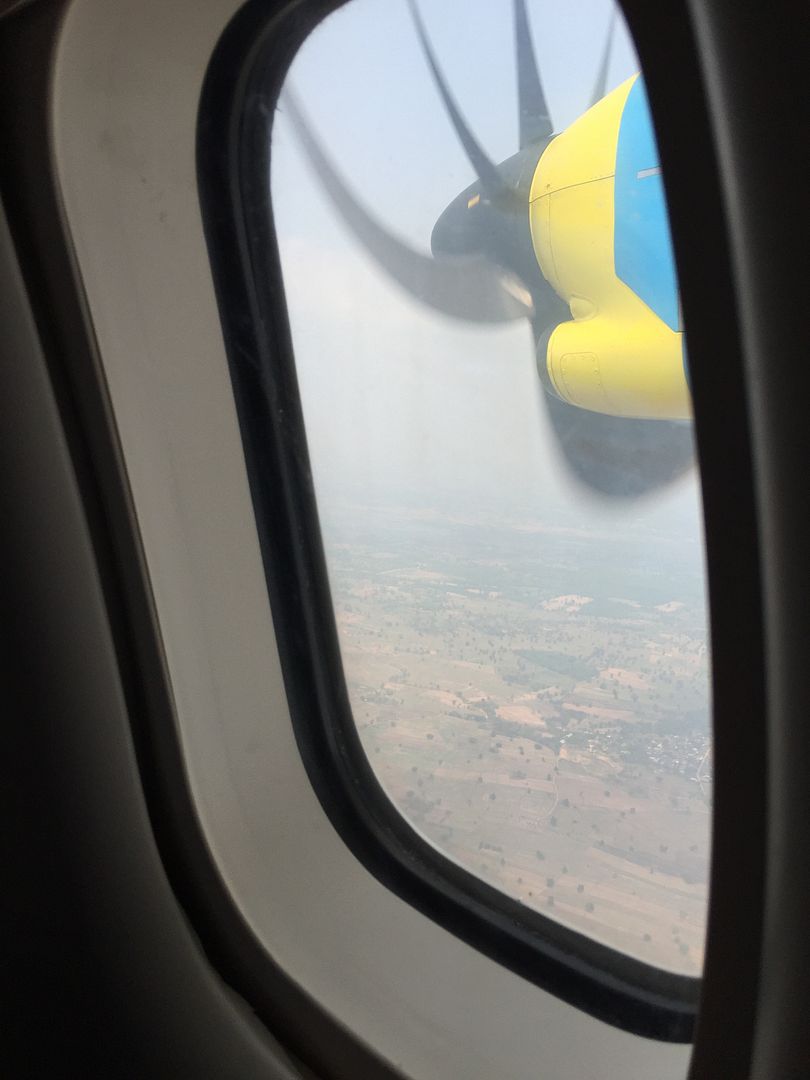 Descent began at 2:16pm and we landed on R/W03 at 2:32pm, and parked at stand number one.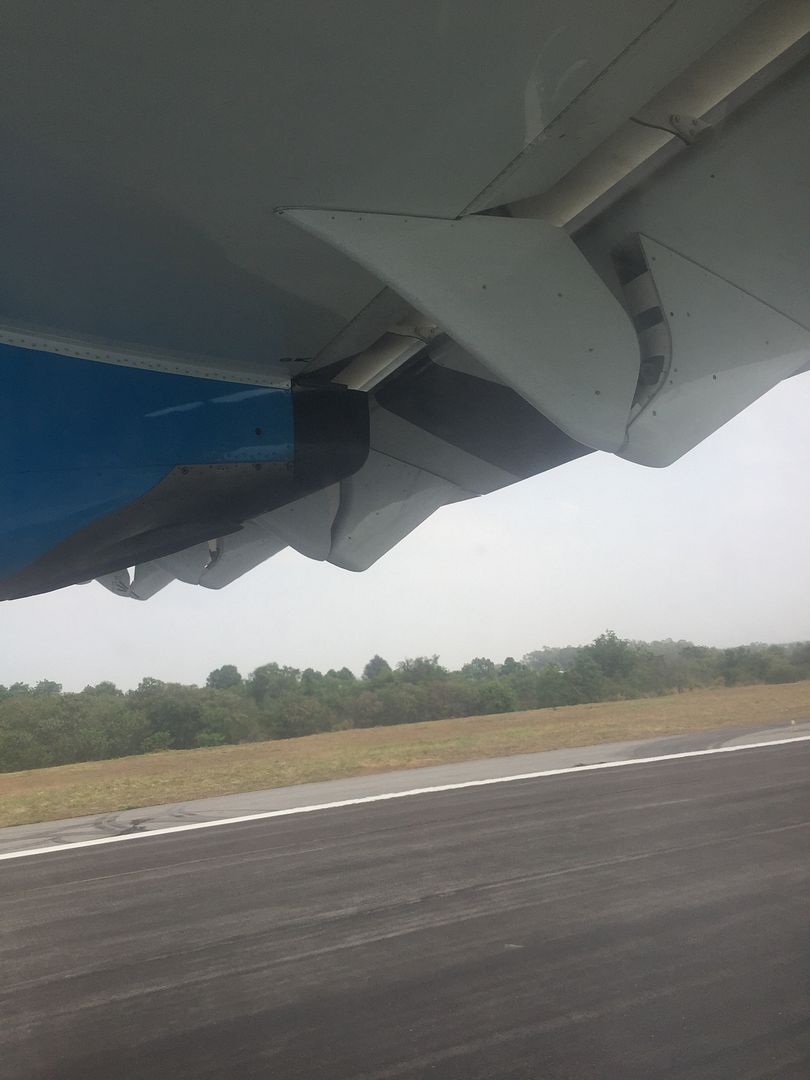 The greatest thing about Khon Kaen airport is that I can take as many pictures as I want!  No one was chasing me.  The airport was small with only one jetbridge and all other gates are stands.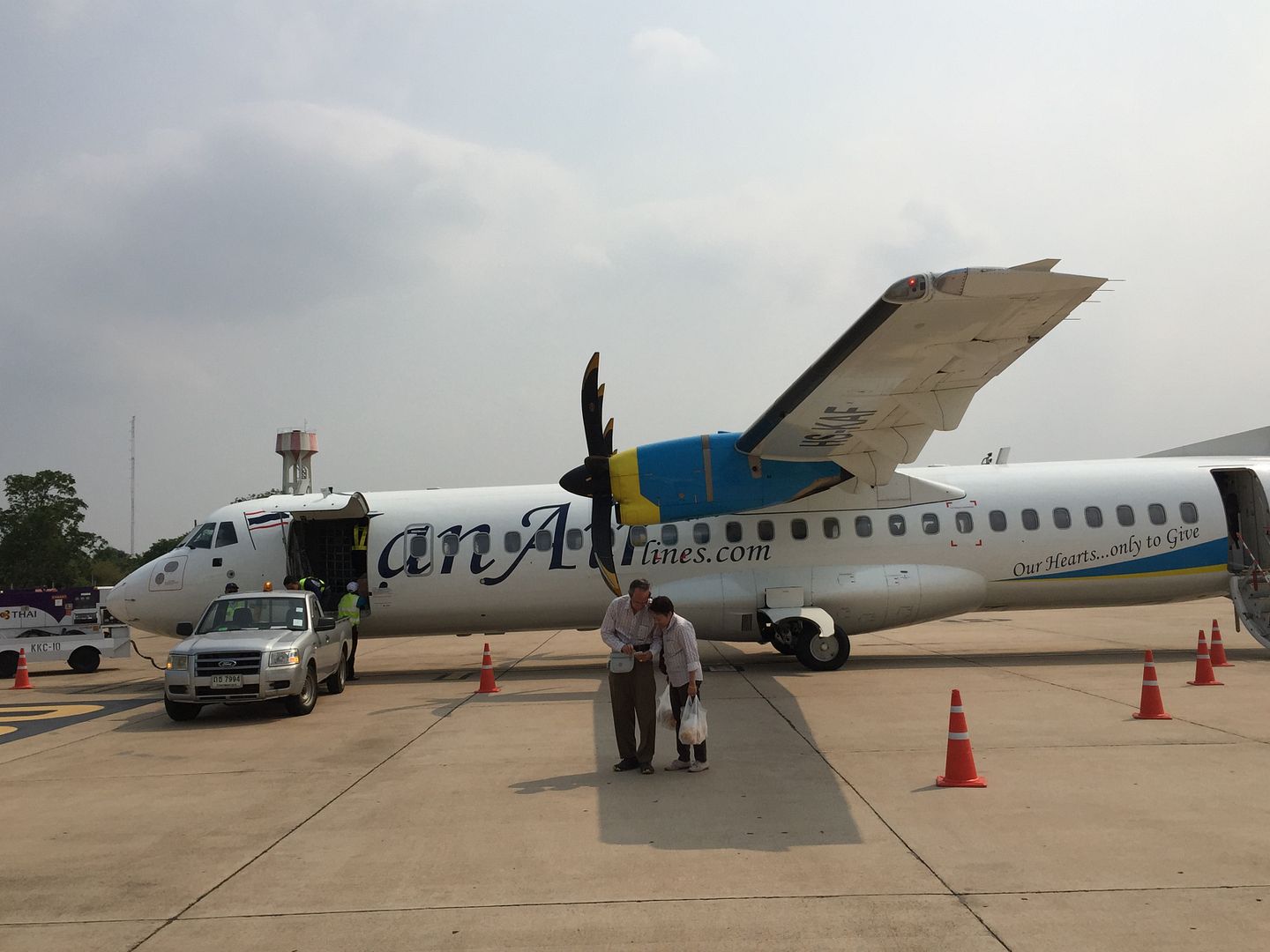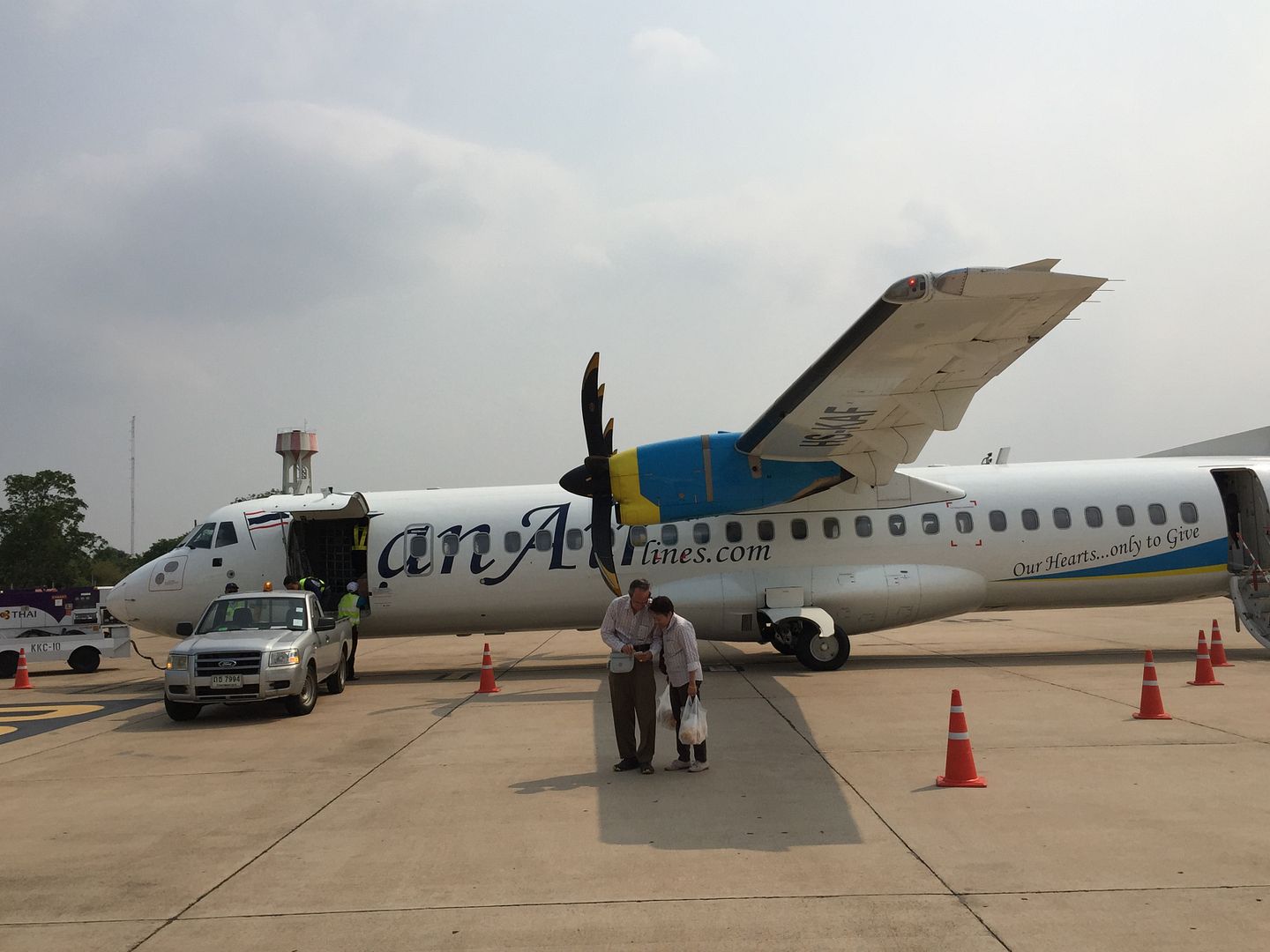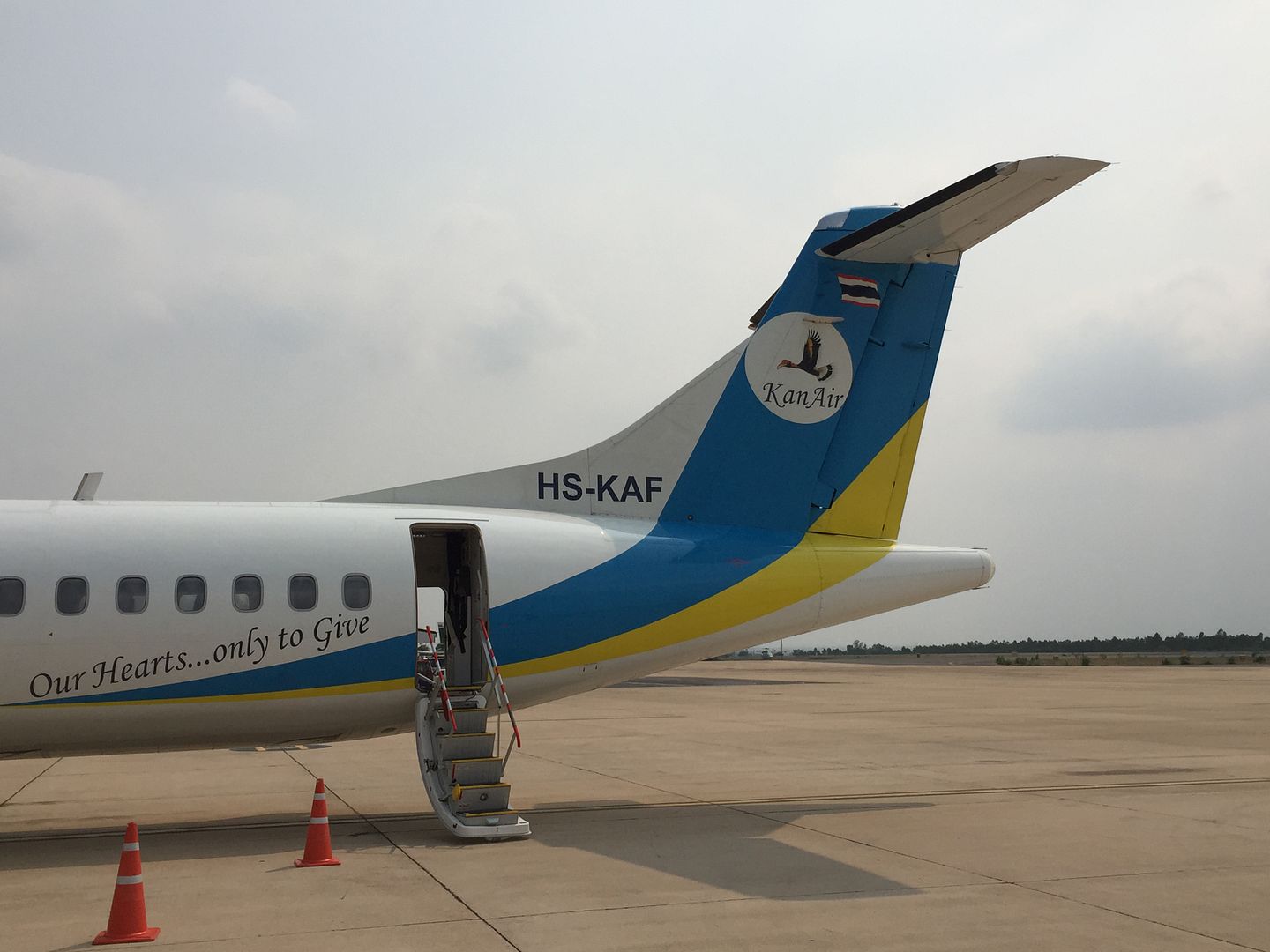 Thai Smile Air next door – if I know about the earlier departure time, I would actually book this Thai Smile Air flight, instead of waiting for another three hours in a really hot Khon Kaen airport with no air conditioning.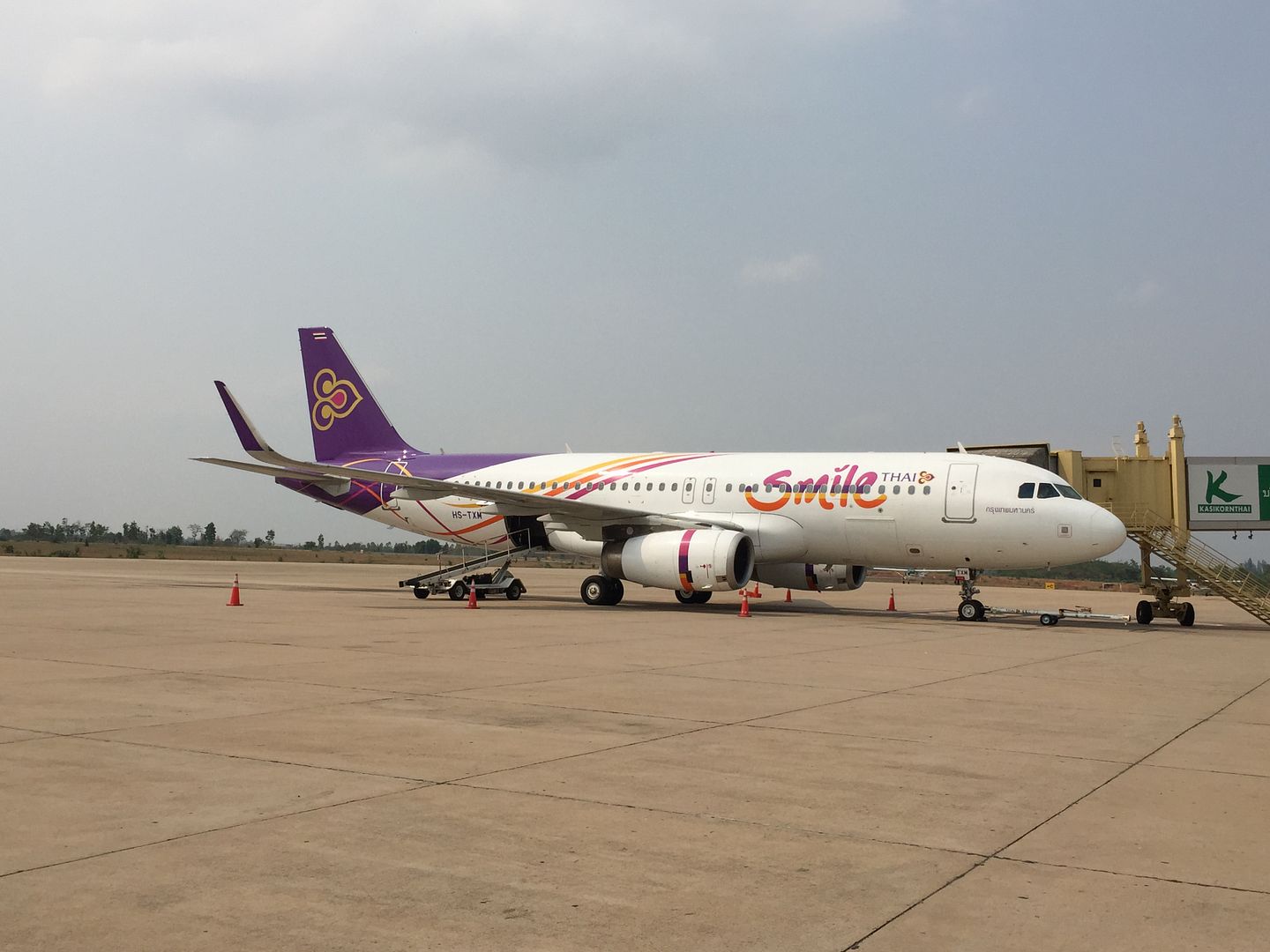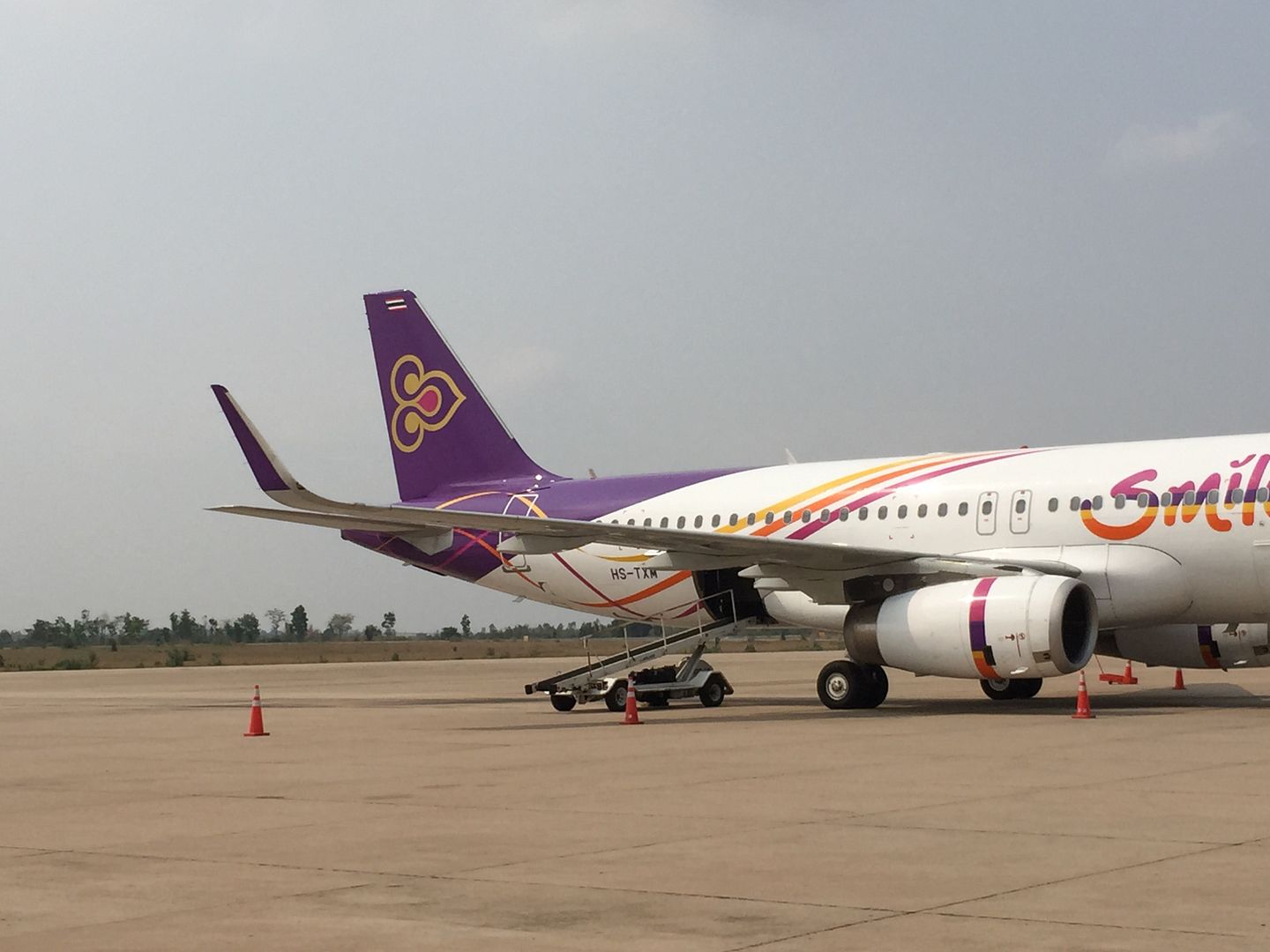 Kan Air is definitely a pleasant surprise and I won't hesitate to fly it again in the future.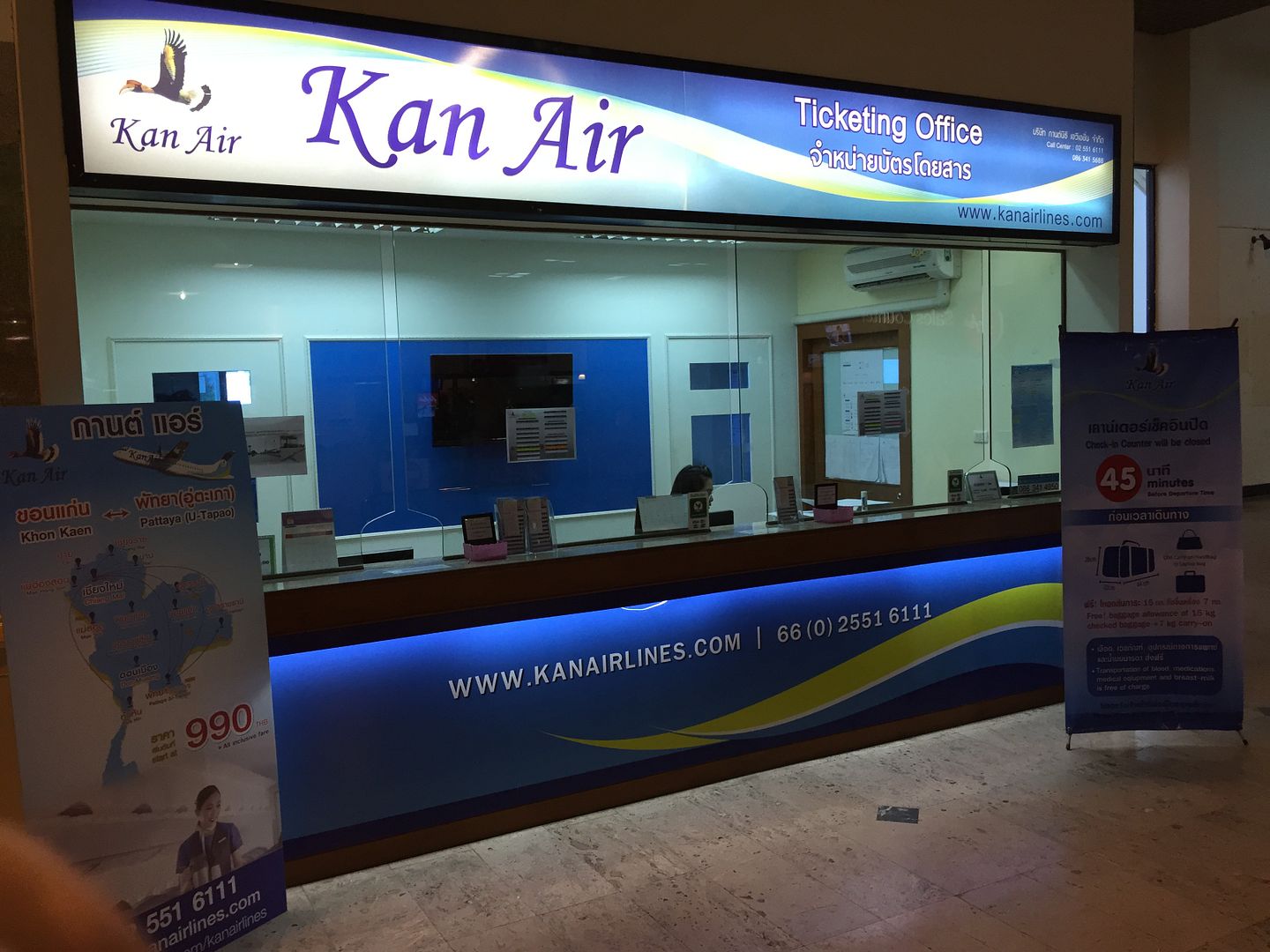 WE 59 KKC-DMK Lv1755 Arr1850 Airbus A320-200 Sharklet HS-TXN "Udon Thani"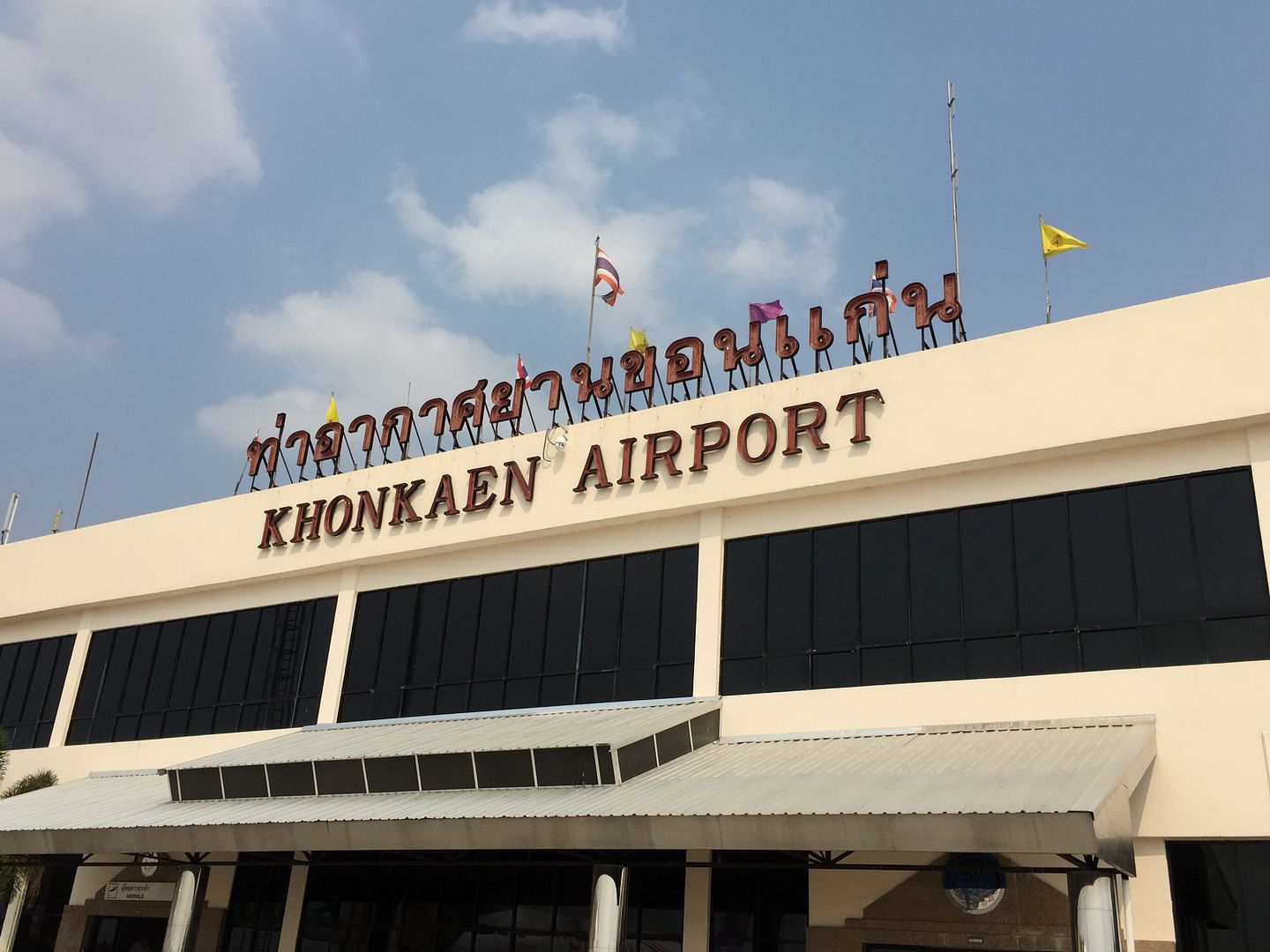 As I have mentioned earlier, Khon Kaen airport was not a particularly fun airport for long layover.  The airport was small and lacked air conditioning.  Since it is mainly a domestic airport, there are only two rows of check-in counters that service Thai Air Asia, Nok Air, Kan Air, and Thai Airways.  Thai Smile Air uses the same check-in counters as Thai Airways.
Photos of the terminal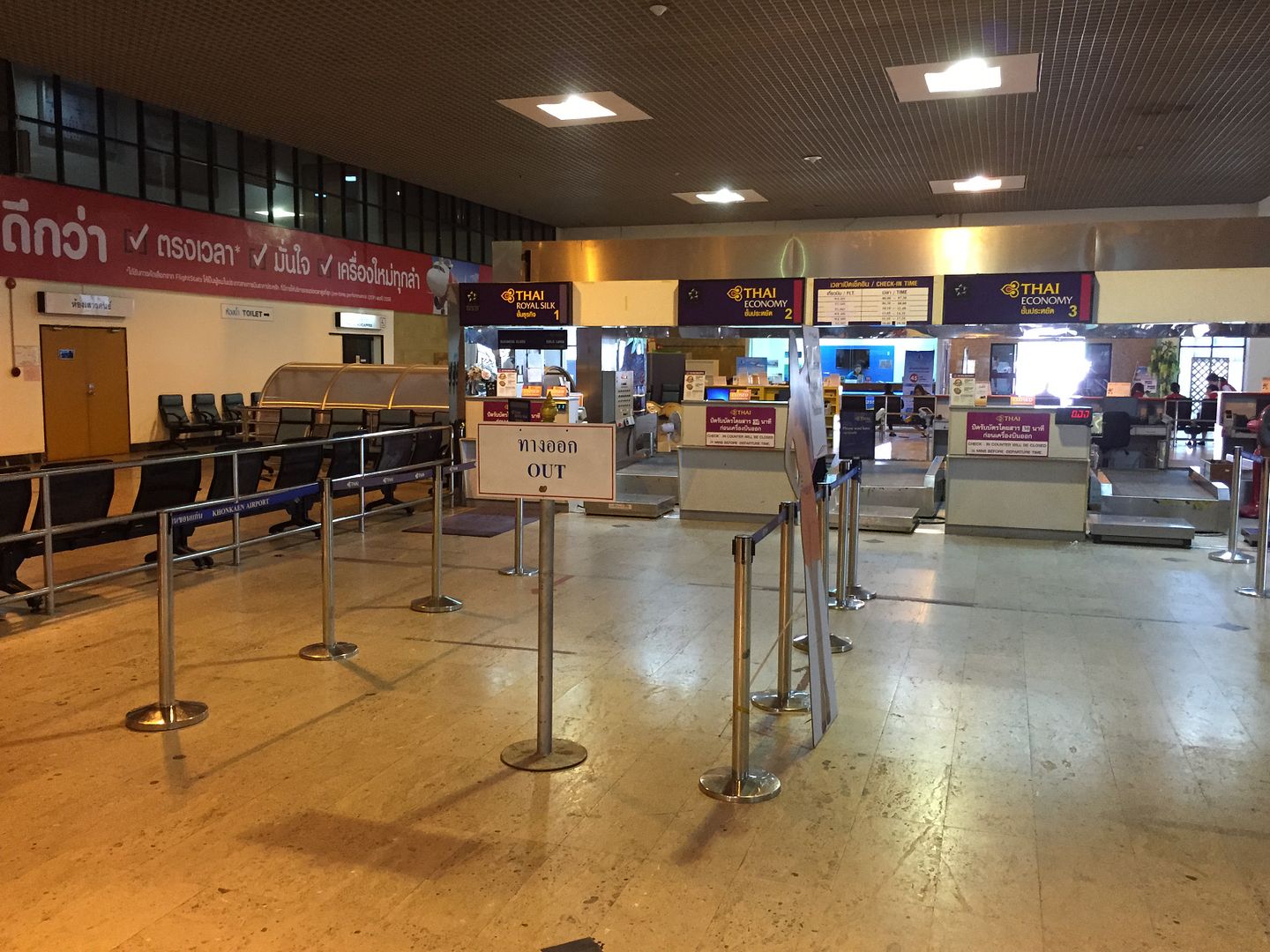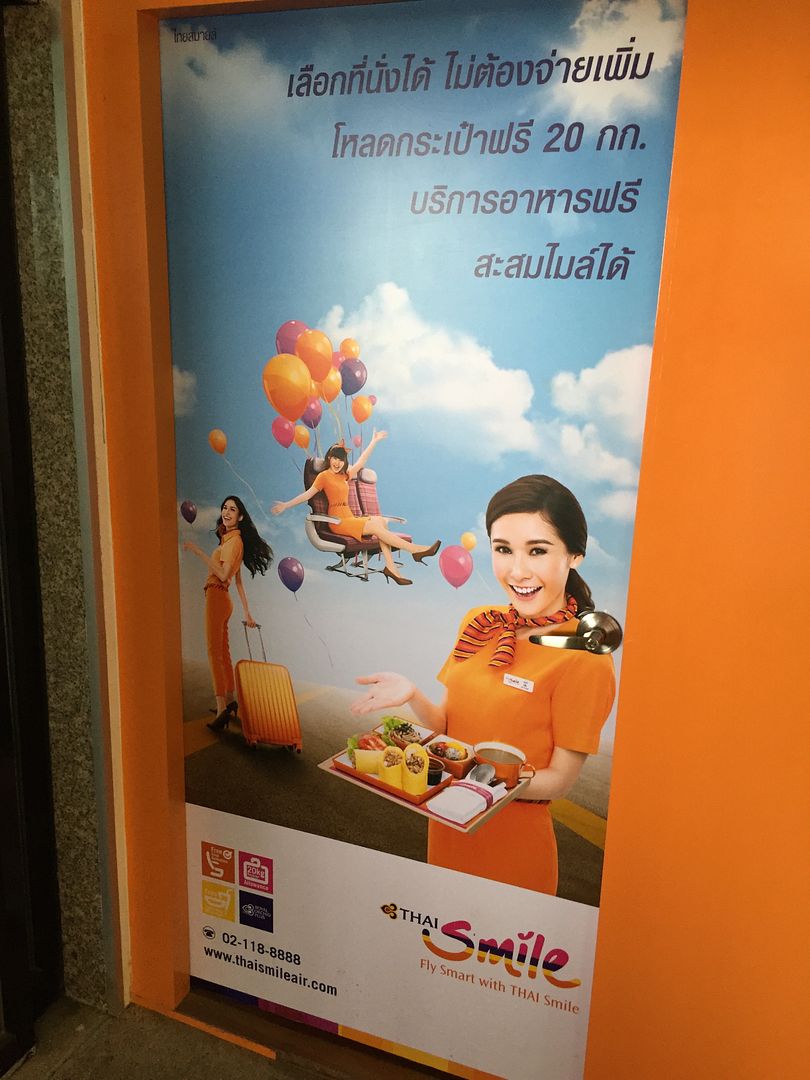 My original plan was to just check in, got my boarding pass, and stayed at the Royal Orchid Lounge.  Yes there is actually a Thai Royal Orchid lounge here to KKC, but the indifferent agent basically told me that they would not start to check in till two hours prior to departure.  He asked me to come back at 3:55pm.  Even the domestic checkpoint would be closed after the departure of these 3pm bank flights.  Therefore I just found a coffee shop, bought a drink and sat there for the next hour.  The airport was really quiet. 
At 3:55pm, I went to the check-in counter and got my boarding pass.  The agent was a bit more cheerful this time, after noticing that I was flying Thai Smile Plus, which is its business class product.  The checkpoint unfortunately did not open till a bit later.  Anyway, here is the gate holding area – not much except advertisement and a few shops.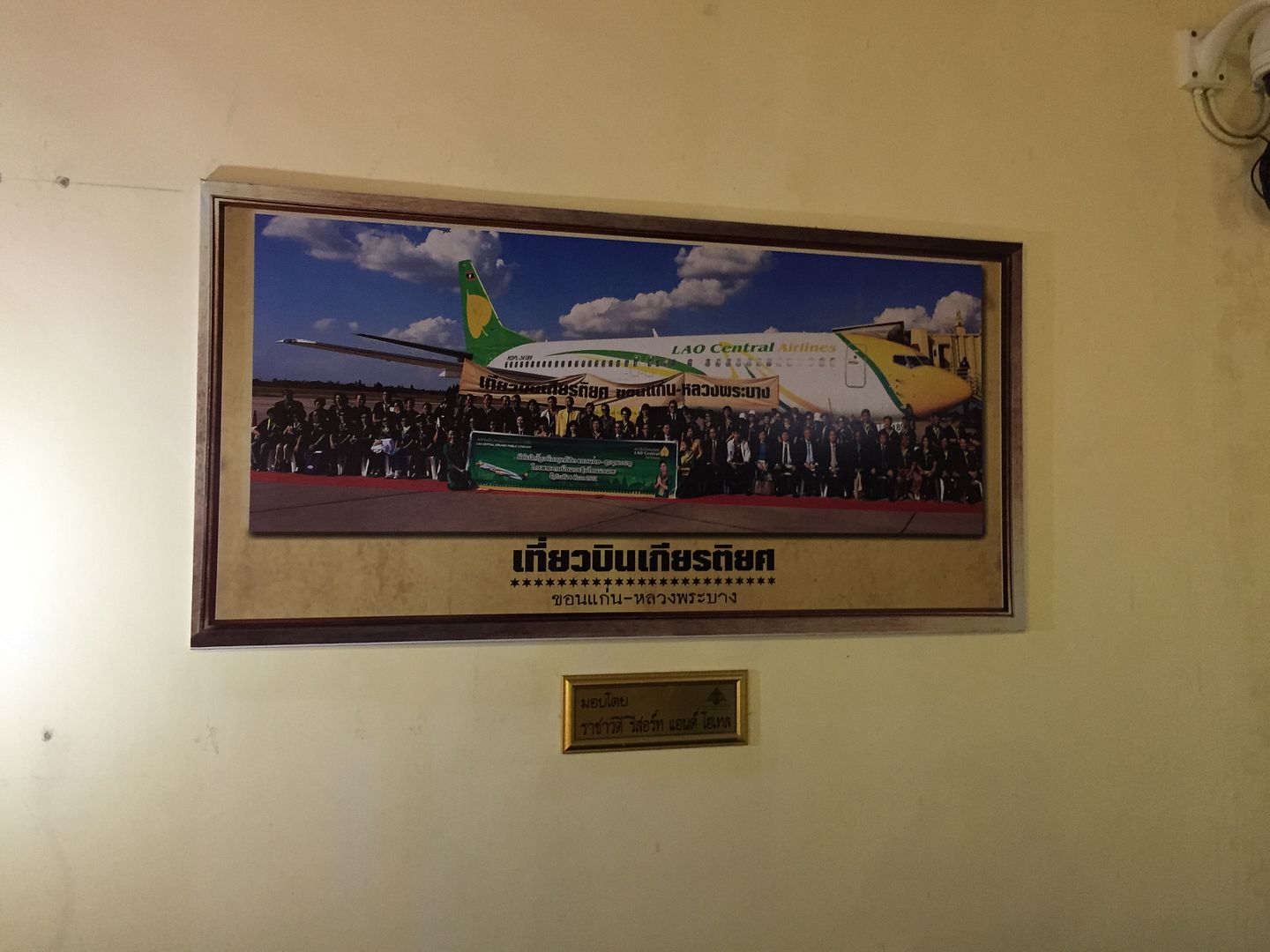 I got boarding number ONE:
I headed towards the Thai Royal Executive lounge and hoping for better a/c.  It was just remotely better and at least I got get a cold drink, charged my laptop and used their free wifi, which was a bit on the slow side.  Considered I was the only one using the lounge during the whole hour and half, I could not imagine the speed when TG uses its Airbus A330s for the BKK flight later in the evening. 
Thai Royal Executive Lounge
Self-service bar – limited beverages and snacks – sausage Danish, sweet buns, and cup noodles
The lounge is a bit out dated in its décor and setting, but is still a nice quiet place to rest.  I recommend new air conditioning units though.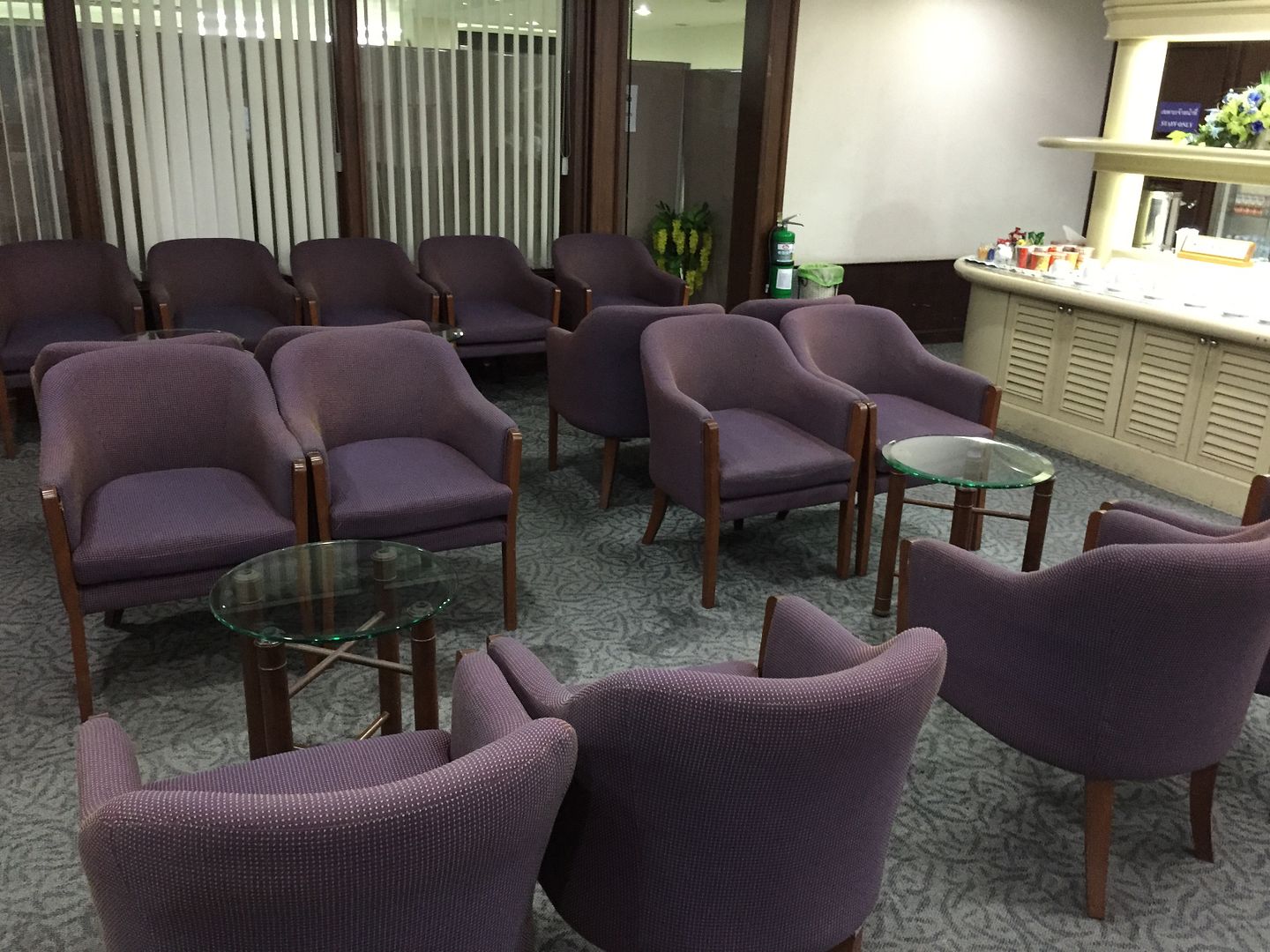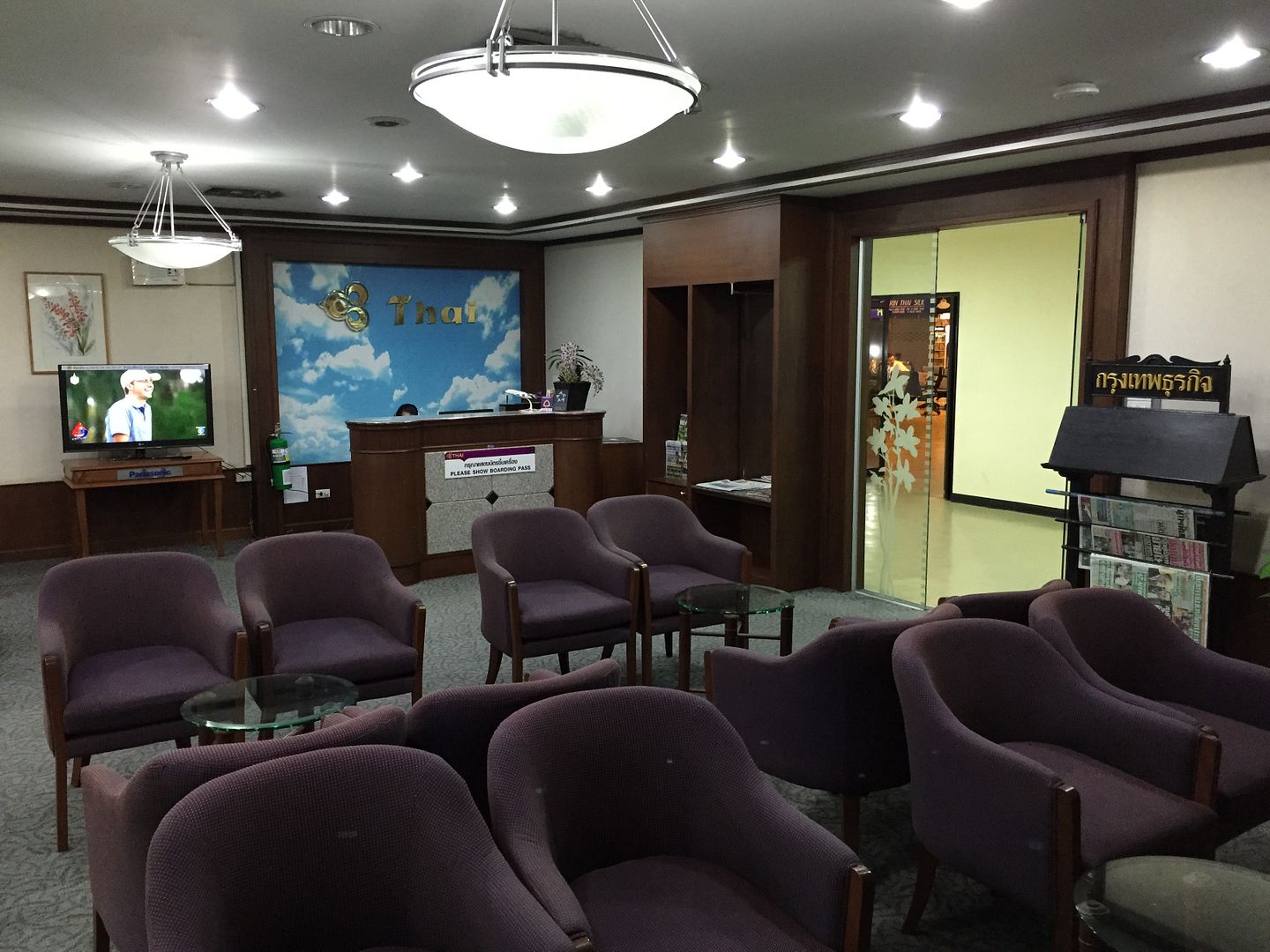 We used gate 1 today, as no one was fighting over the jetbridge this evening.  HS-TXN arrived early from Bangkok Don Meuang airport, and boarding began at 5:25pm.  Smile Plus passengers were welcomed to board first and strangely, the jetbridge was the coolest place in the whole airport.  It was very nice and cool in the jetbridge.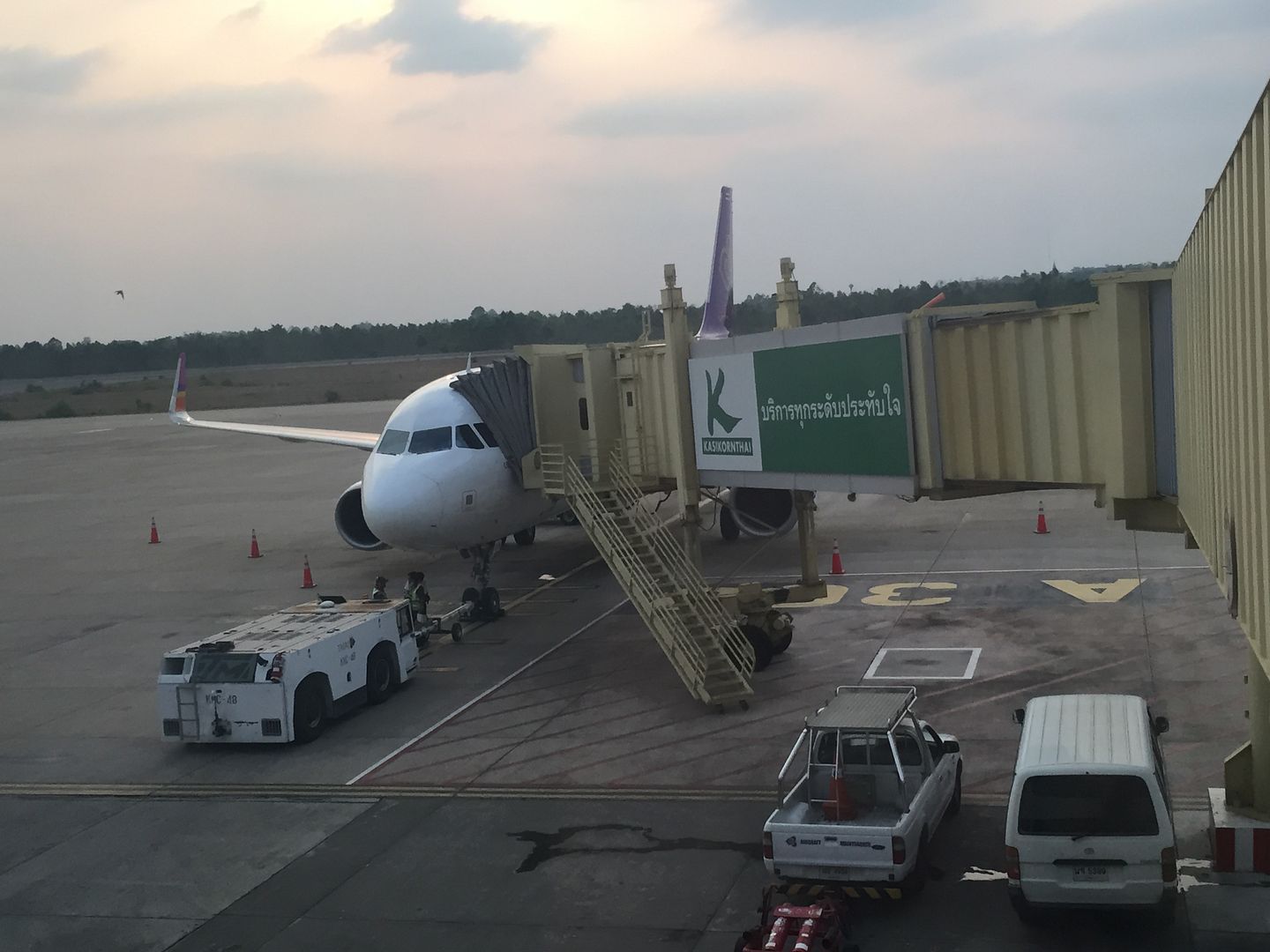 It was not a busy flight so I got more opportunities to snap some pictures before the other two J passengers arrived.  The aircraft was smartly designed and I love the color scheme.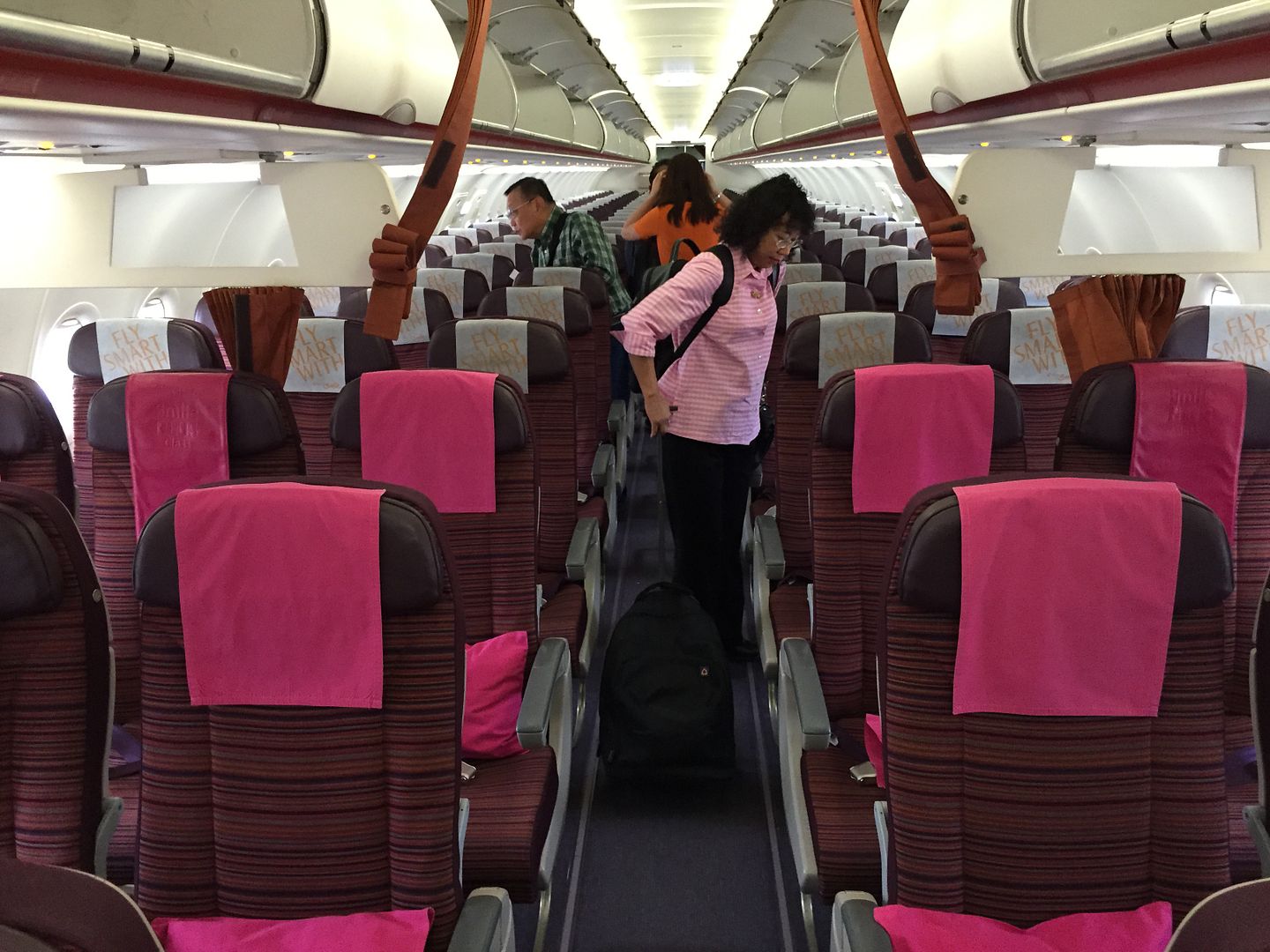 A pre-takeoff beverage was offered – lemongrass juice, which was much welcomed.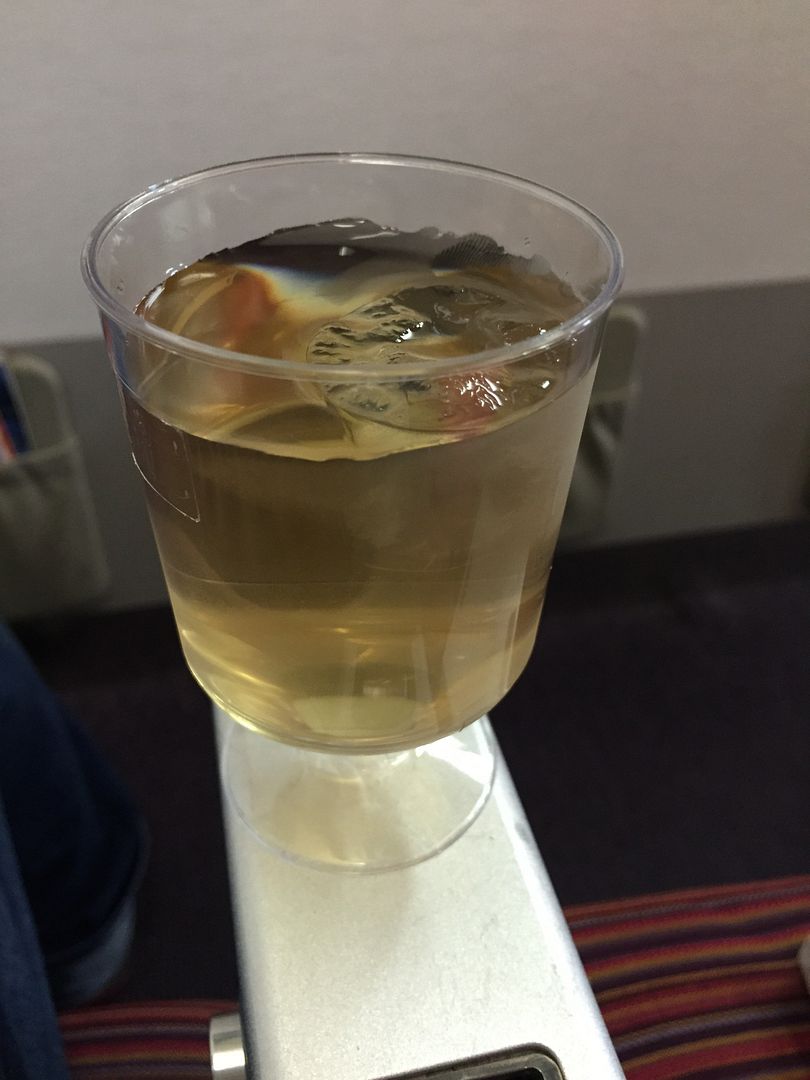 I was originally in the bulkhead seat but with light load, my request to move to row 32 was granted with a smile. 
Row 32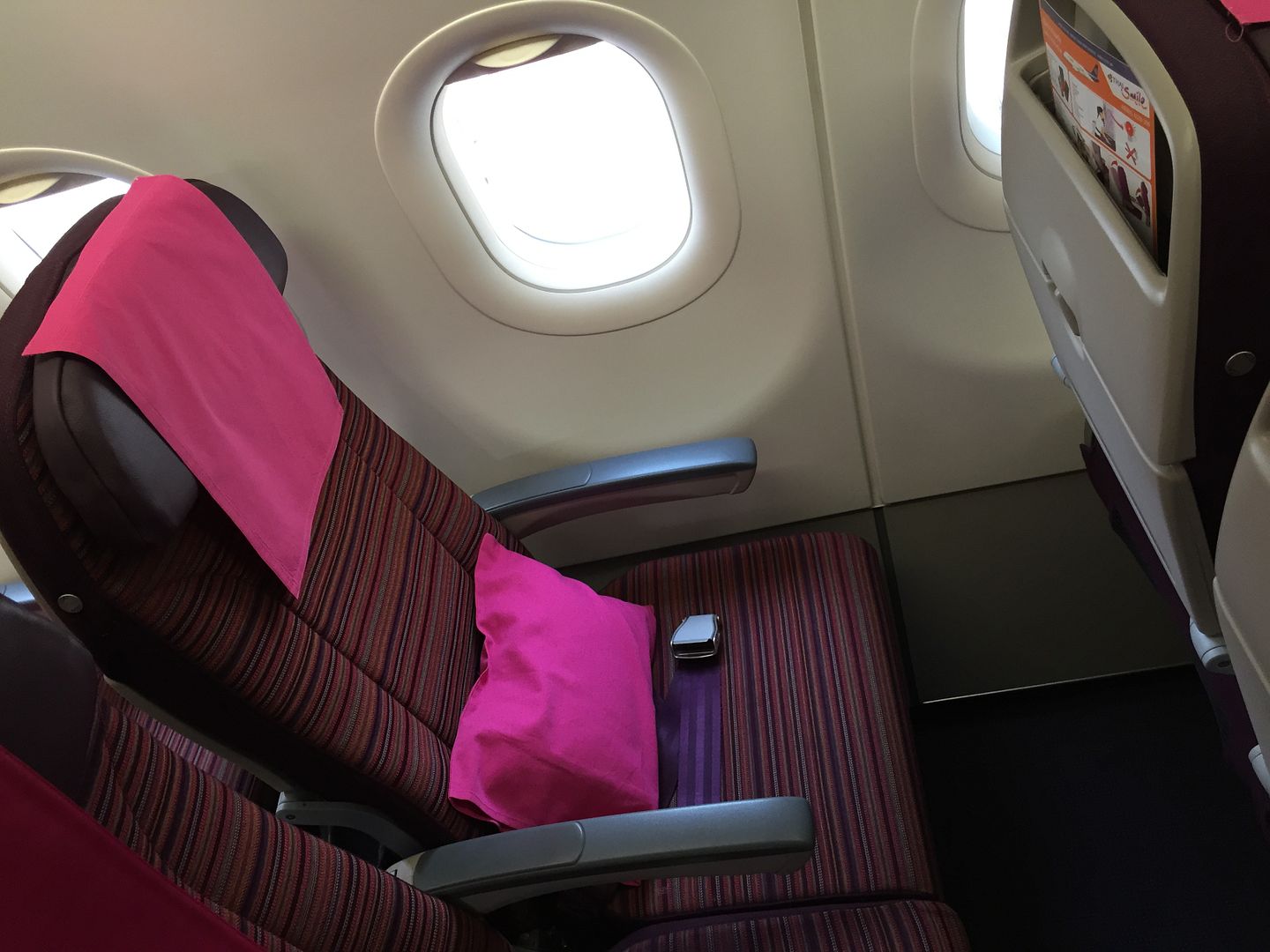 Thai Smile Plus was more a European style business class, than a real business class product offered by its mother company.  The catering is actually pretty similar, but because of the lack of the real business class seats, the price is generally 10-15% cheaper.  The middle seat is blocked and the legroom is about 34-35". 
Thai Smile Air has been trying to be more independent, and it is beginning to use its own code and has its own fleet of A320s.  It even has its own Thai Smile inflight magazine now.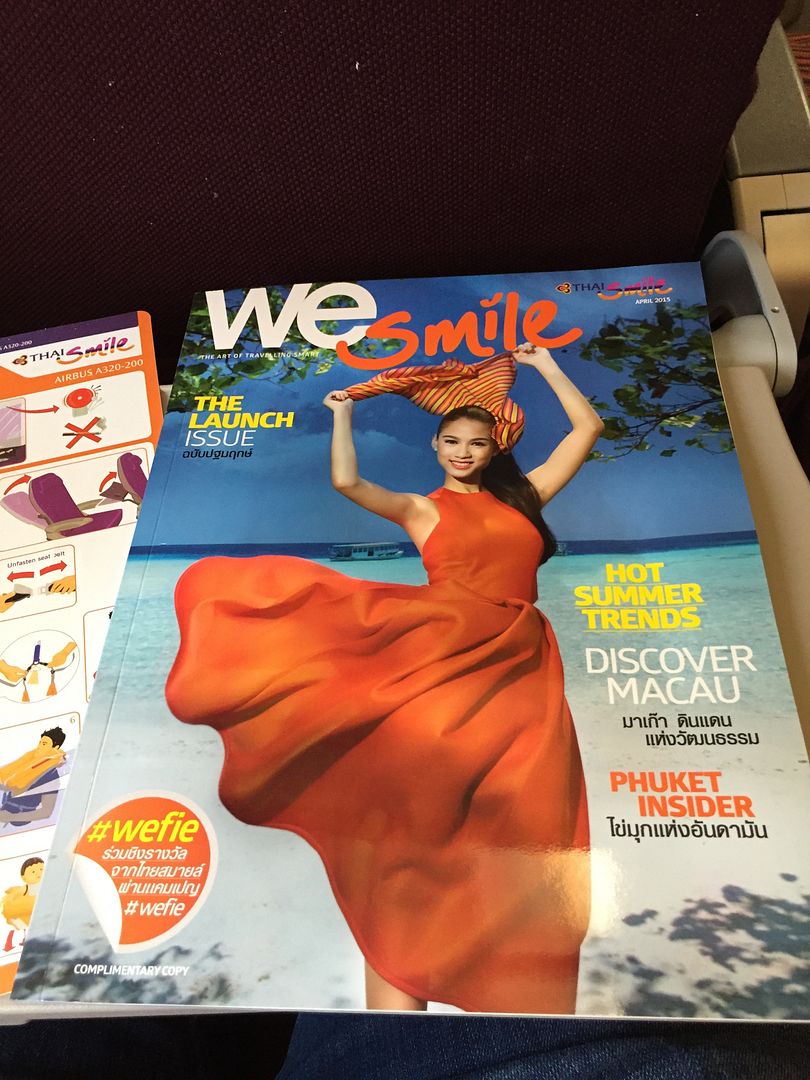 Door was closed early at 5:44pm, and we pushed back three minutes later.   There was an Air Asia A320 HS-BBL parked right into the gate.  Our early departure meant that this Air Asia flight did not need to use the stairs.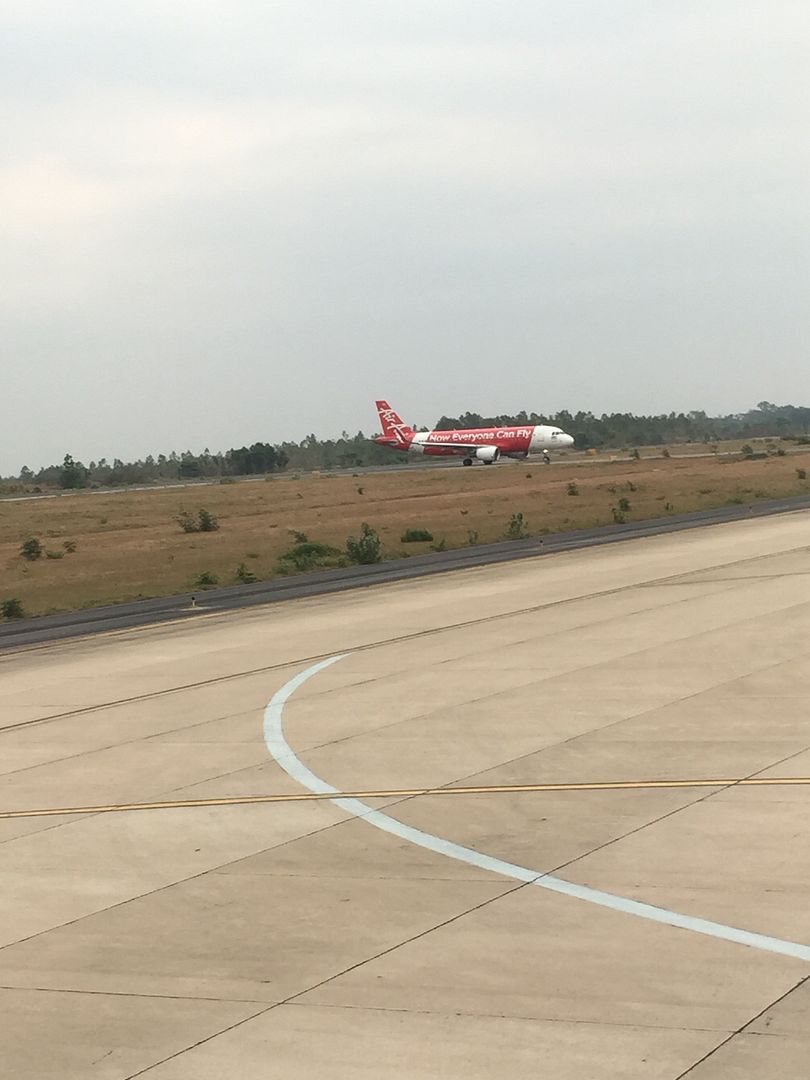 With little traffic, we took off from R/W21 at 5:55pm.  Flying time was a short thirty-eight minutes with a cruising attitude of 28,000feet.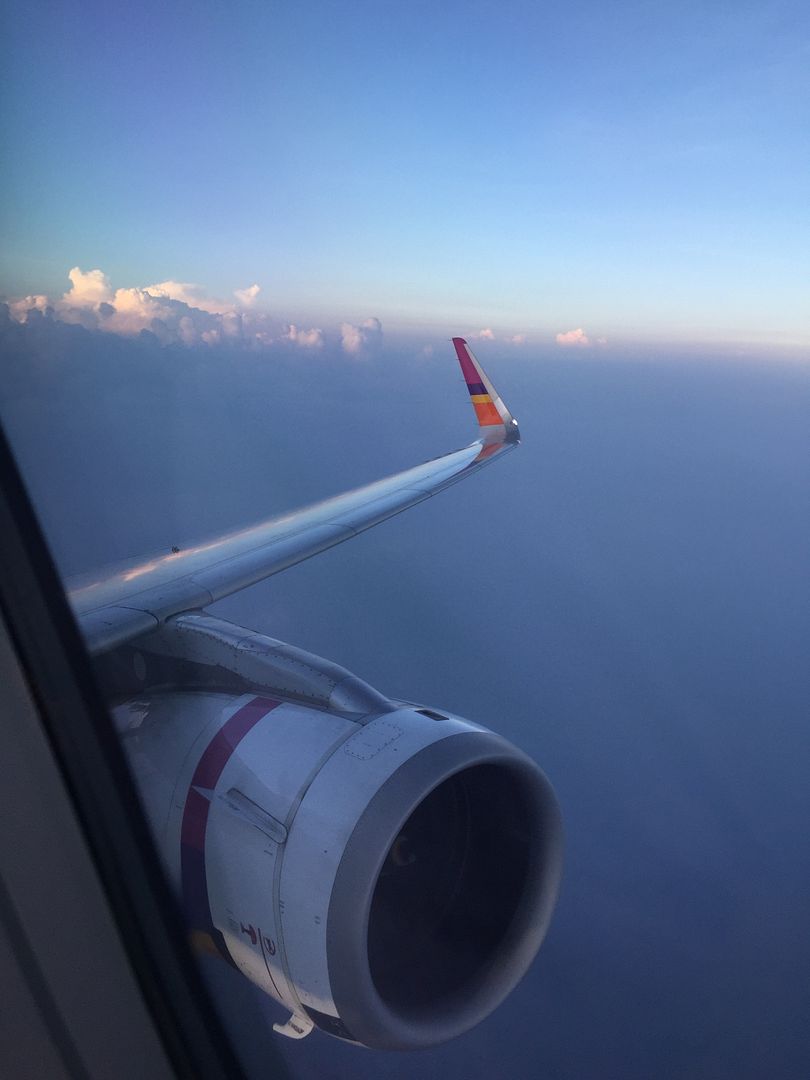 Meal order was taken prior to departure.  There were two choices of cold meals today: Grilled fish or grilled chicken with your choice of non-alcoholic beverage – juices and soft drinks and tea/coffee!  Economy class got a snack pack. 
Fresh linen was used to cover the table – Thai Smile branded!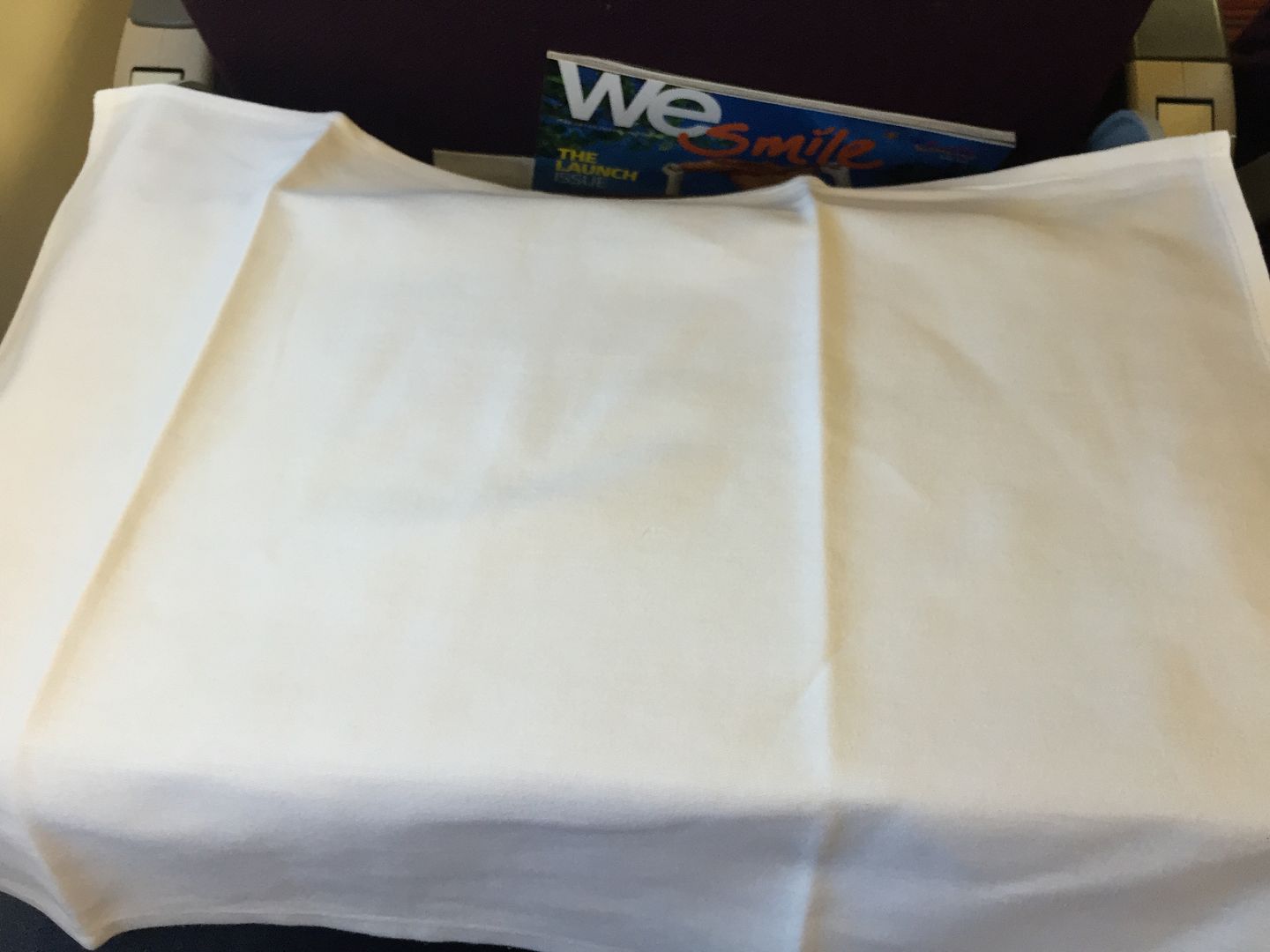 The meal tray – All Thai Smile branded including cups, glasses, and even silverware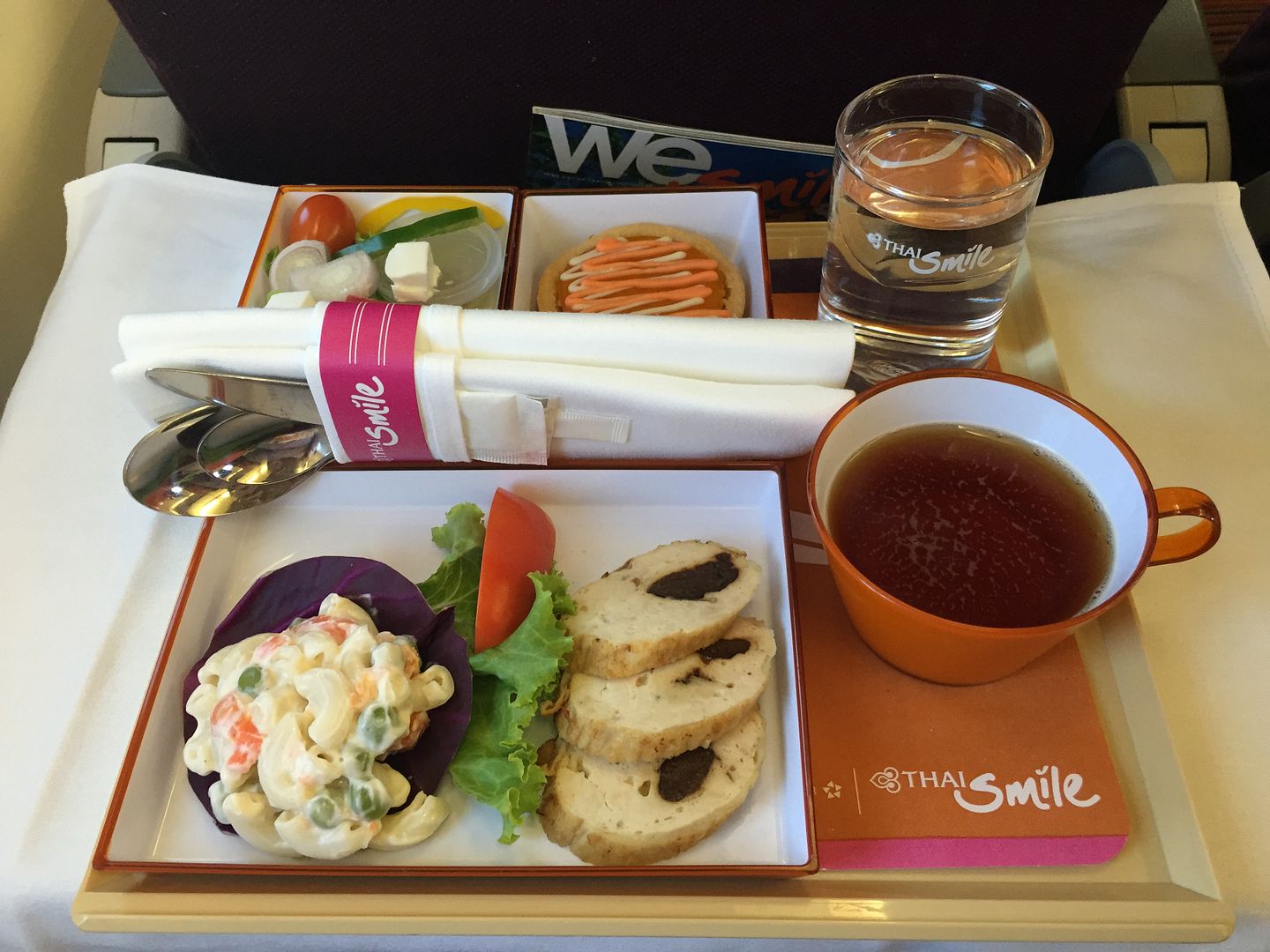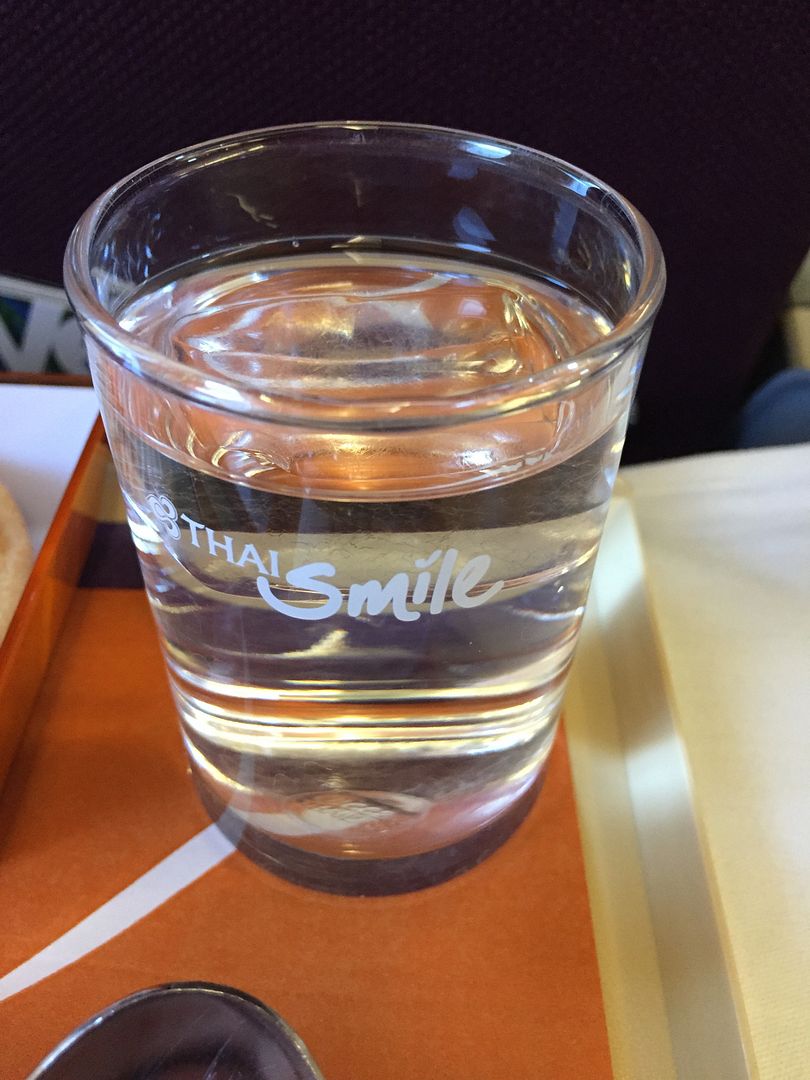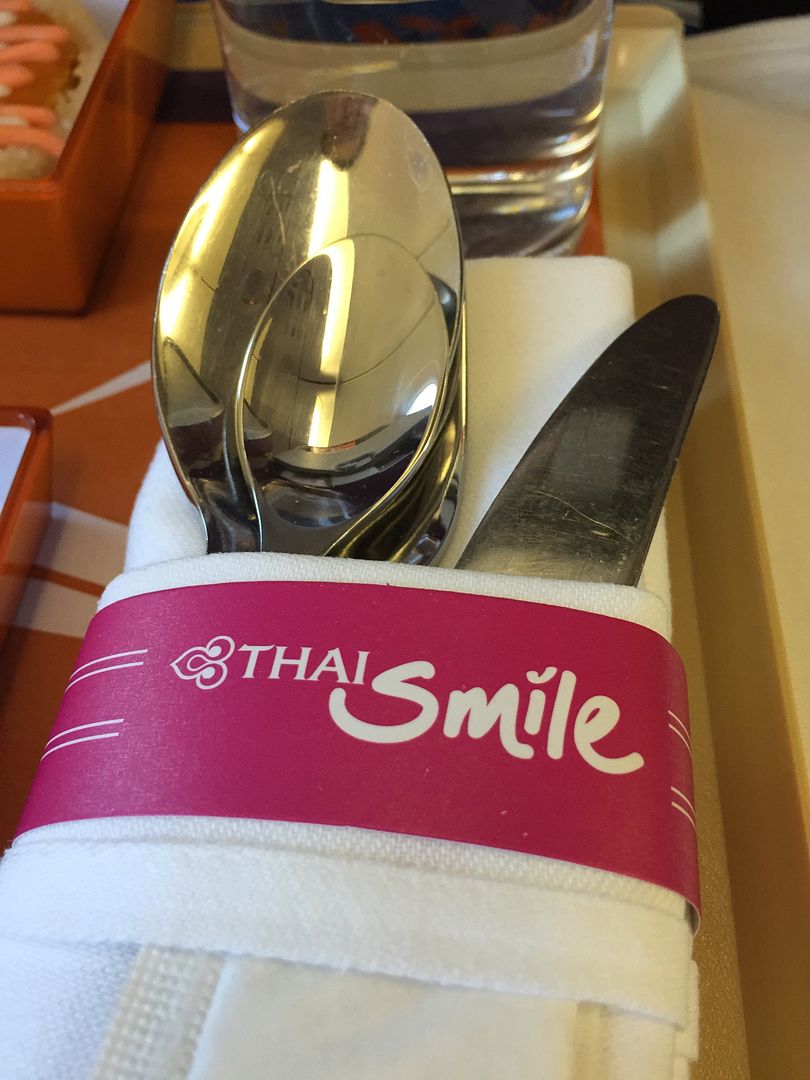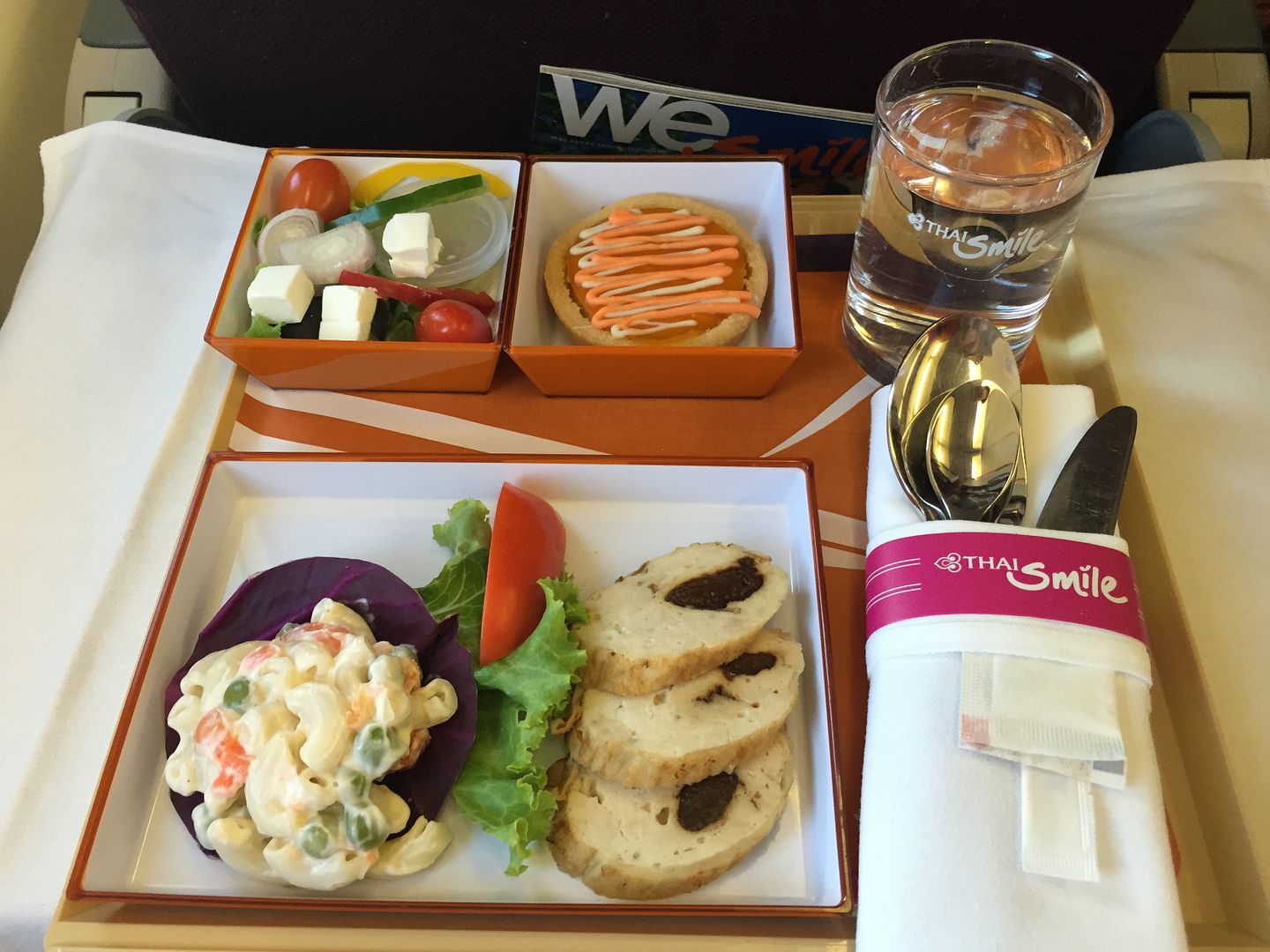 The entrée was a nice grilled chicken with mushroom stuffing accompanied by a macaroni salad.  There is another salad with feta cheese, cherry tomato and Italian dressing.  Dessert was a orange custard tart.  The meal was nothing fancy, but nice for these short flights.
Curtain was closed
Seats in recline mode
Descent began short at 6:13pm and it was a beautiful day here in Bangkok.
We landed on R/W21R at 6:33pm and parked at gate 34 six minutes later.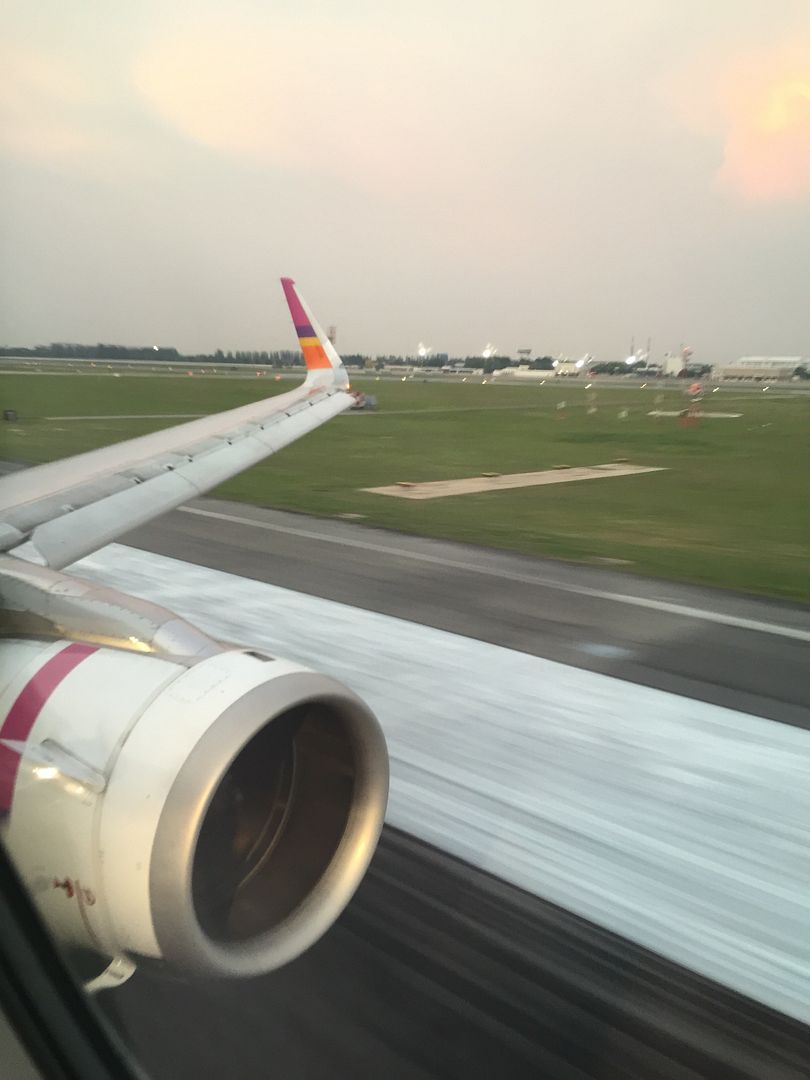 Another Thai Smile A320 next door!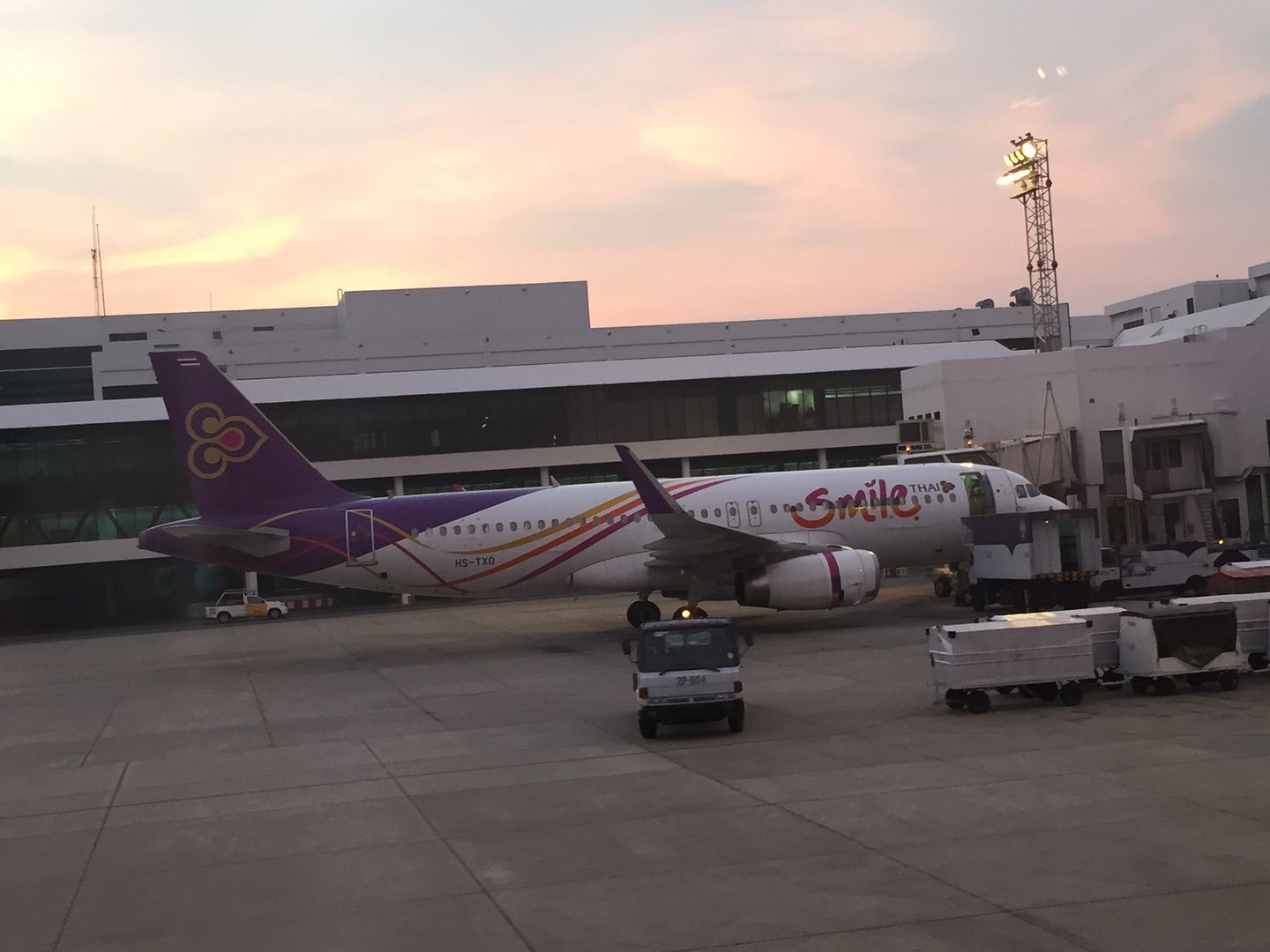 In general, it was a nice ride and I like Thai Smile.  Maybe the light load helped too, but I will not hesitate to fly it again.  I only hope that Thai Smile can reopen a lounge here at DMK, given its plan for future expansion.  There should be plenty of former lounge spaces that could be reopened quickly. 
I hope you enjoy this series of trip reports!  I enjoy exploring all these new airlines and my next trip report will be the inaugural of NokScoot's scheduled services.  As you know Thailand has a few issues, and NokScoot is affected heavily.  I hope its Nanjing inaugural will not postpone anymore and will take place on June 2. 
To end this report, I actually got fly Thai Air Asia's "Truly ASEAN" painted plane the next day and got a bus gate.  It is a perfect end to the report!  Thanks for reading again! 
Thai Air Asia's A320 HS-ABE "Truly ASEAN"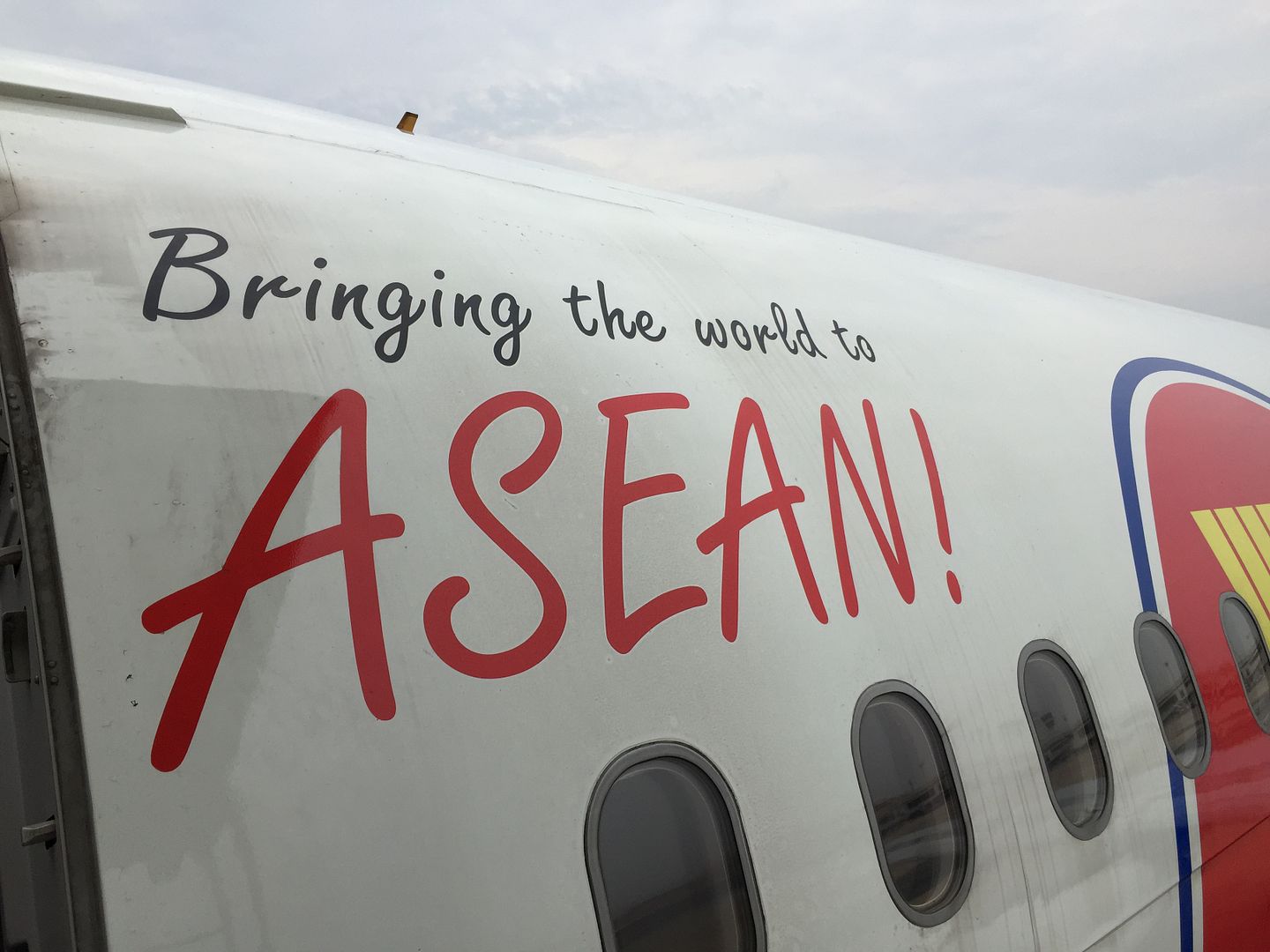 Carfield