Aussie Trip Report 2015 Part 2: Flying the Miners' Express – Airnorth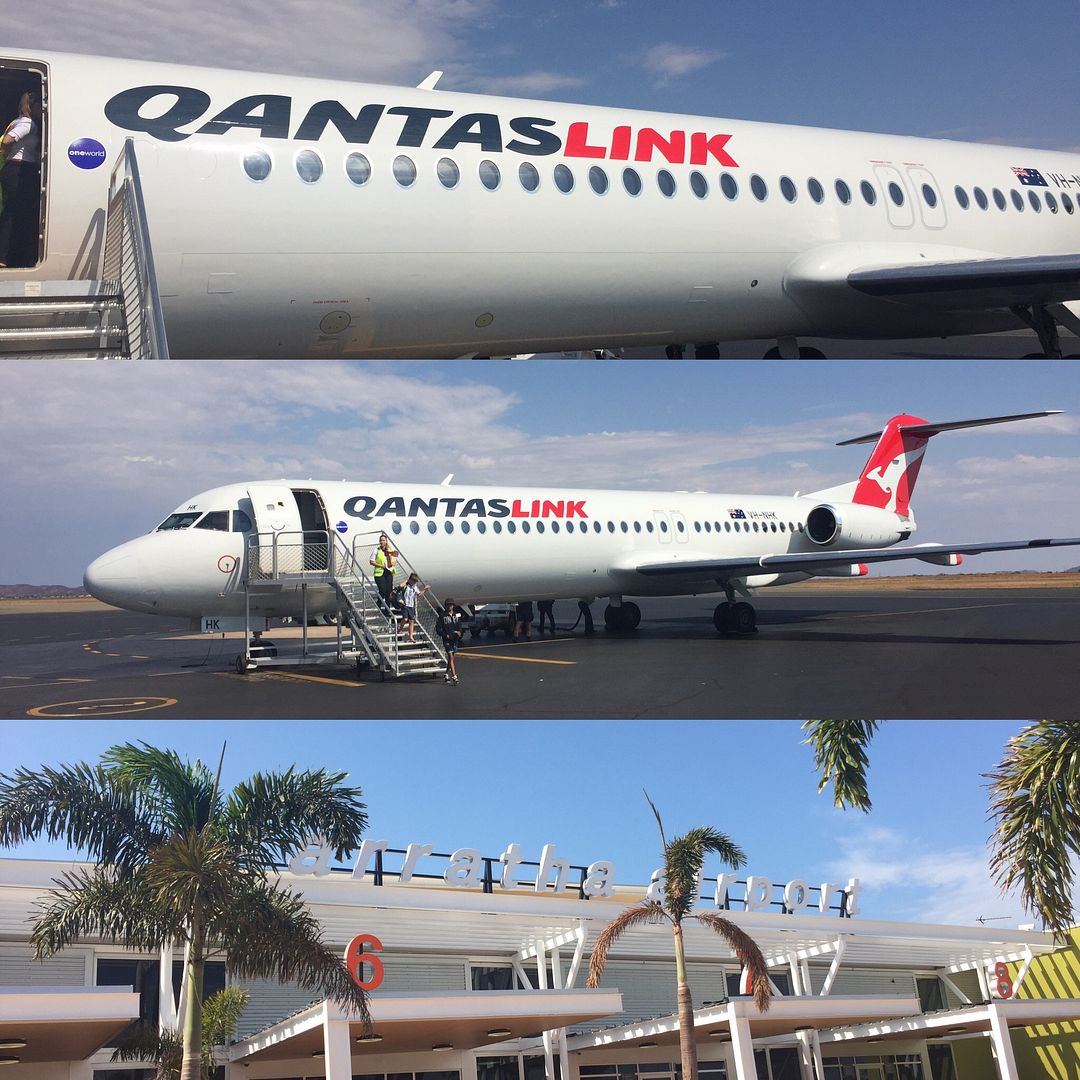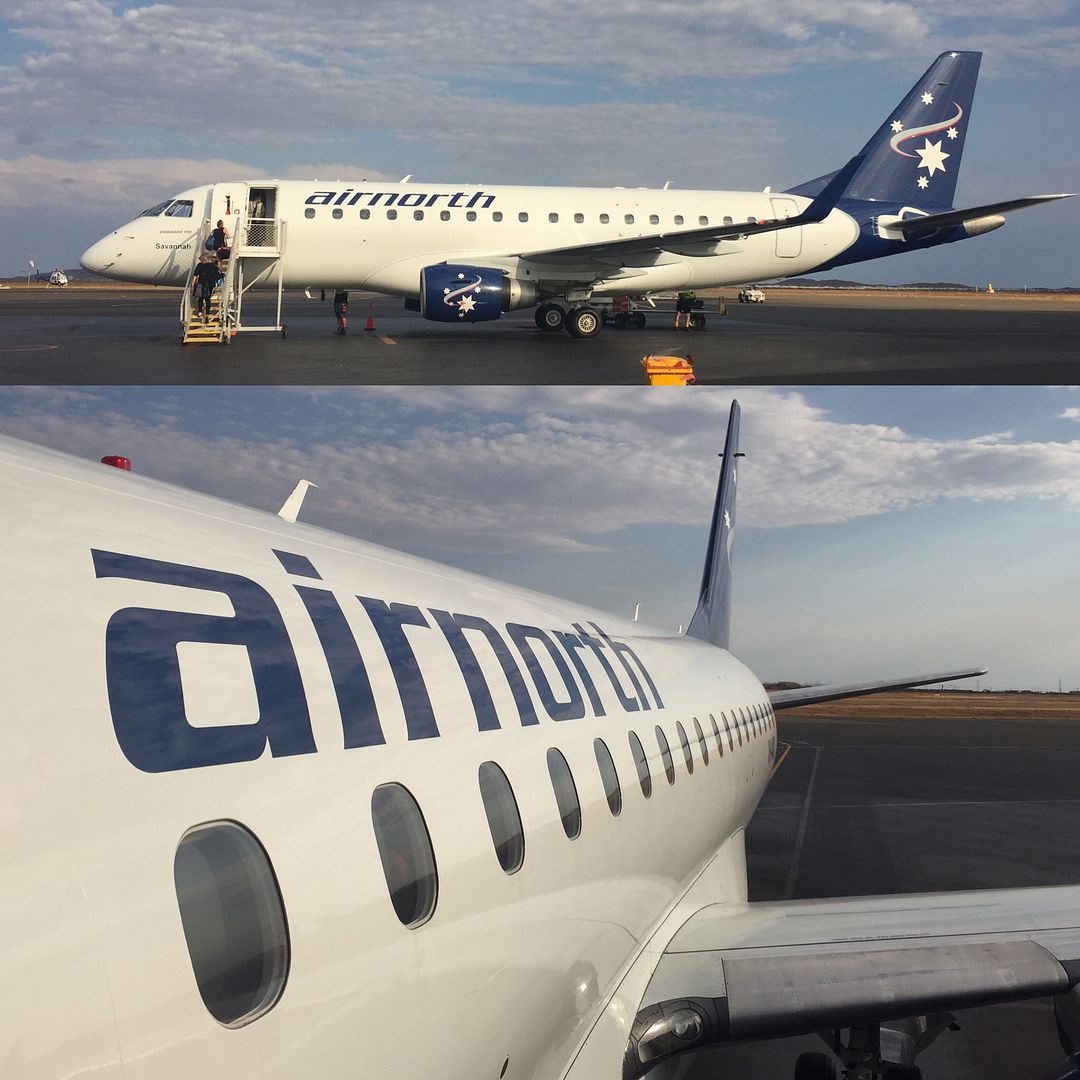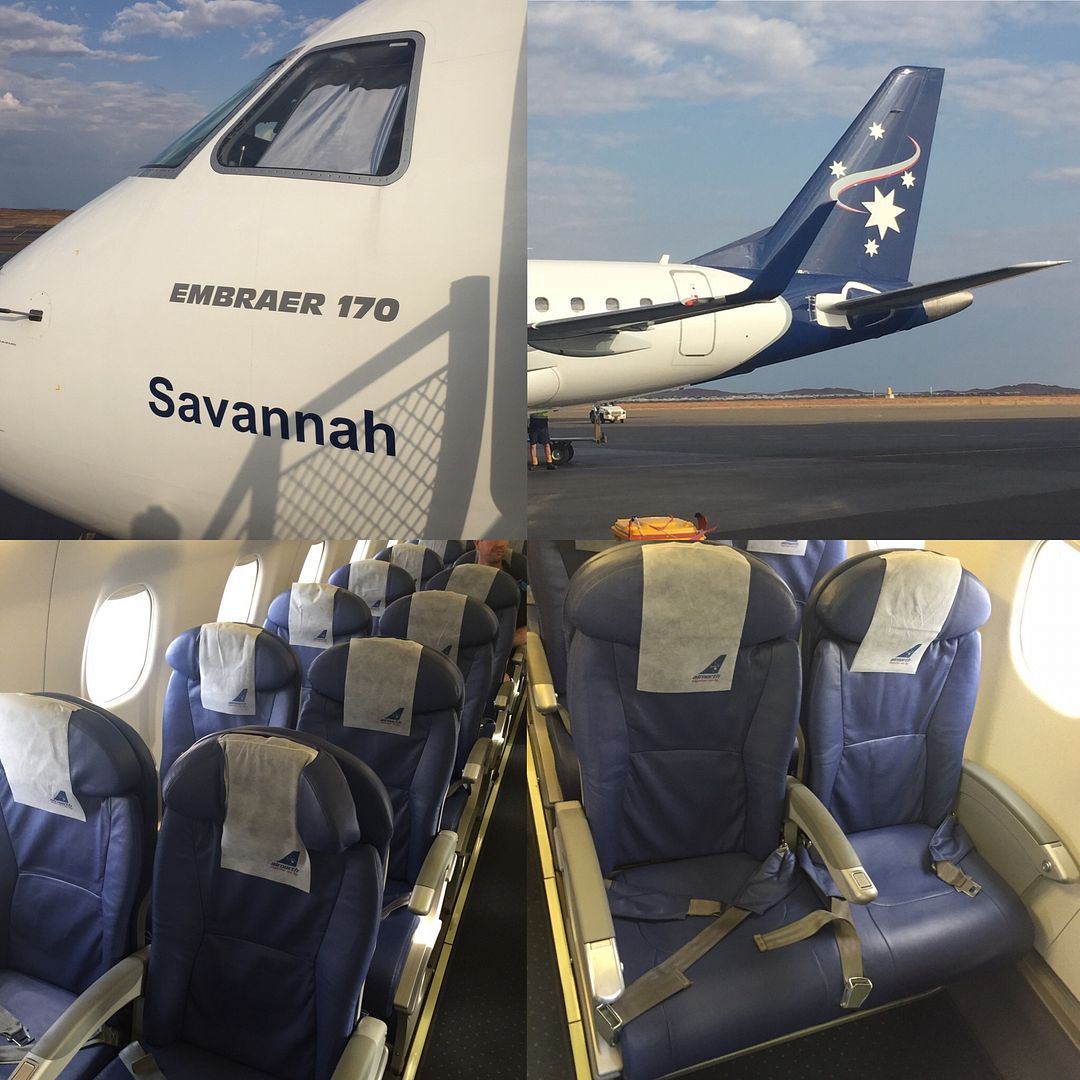 The second part of the trip report will focus on some of the interesting flights connecting major Australian cities with various mining towns.  I have been looking for interesting flights to take and Airnorth comes to my attention.  My original flight is to take its flight from Perth to Darwin via Kununurra, but after looking at its schedule, I decide to go for a more exciting milk run from Karratha to Darwin via Port Hedland and Broome.  The flight actually operates twice a week and is a circular route: Darwin-Broome-Karratha-Port Hedland-Broome-Darwin, and the stage length of each flight makes flying an EMB-170 tolerable.  In addition, Qantas codeshares with Airnorth on that particular route, so it makes buying the ticket a bit easier, and if there is any irregular operation, I am at least more protected.  From Perth to Karratha, I decide to pick a Qantas Link Fokker 100 flight operates by Network Aviation.  Unfortunately, Network Aviation has painted many F100s into Qantas color now, so I don't get to fly a more original aircraft.  I think it is safe to say that I get a bit more excitement than I wish on this particular milk run.
Full album: http://s1213.photobucket.com/user/Carfield76/library/Fall%202015/NTAdventures
October 9, 2015
QF 1624 Perth to Karratha Lv1240 Arr1440 Fokker 100 VH-NHK Operated by Network Aviation
I arrived Perth International airport about two hours prior to departure, and had a great chat with a cab driver, who has moved from Pittsburgh to Perth.  Qantas operates a very large operation here in Perth, and the airport has already featured some of the most advanced check-in technology.  Self-service is definitely the key here, and you even print out your own baggage tag.  But as an Oneworld Emerald passenger, I headed straight to the priority line for a more personalized service.  Most check-in agents here in Australia are very friendly and the agent was laughing when she saw my itinerary.  She checked my bag all the way to Darwin and my request for an exit row seat was honored.  She was even able to print out a boarding pass for the Airnorth flight, but no exit row on the EMB-170 flight. 
Kiosk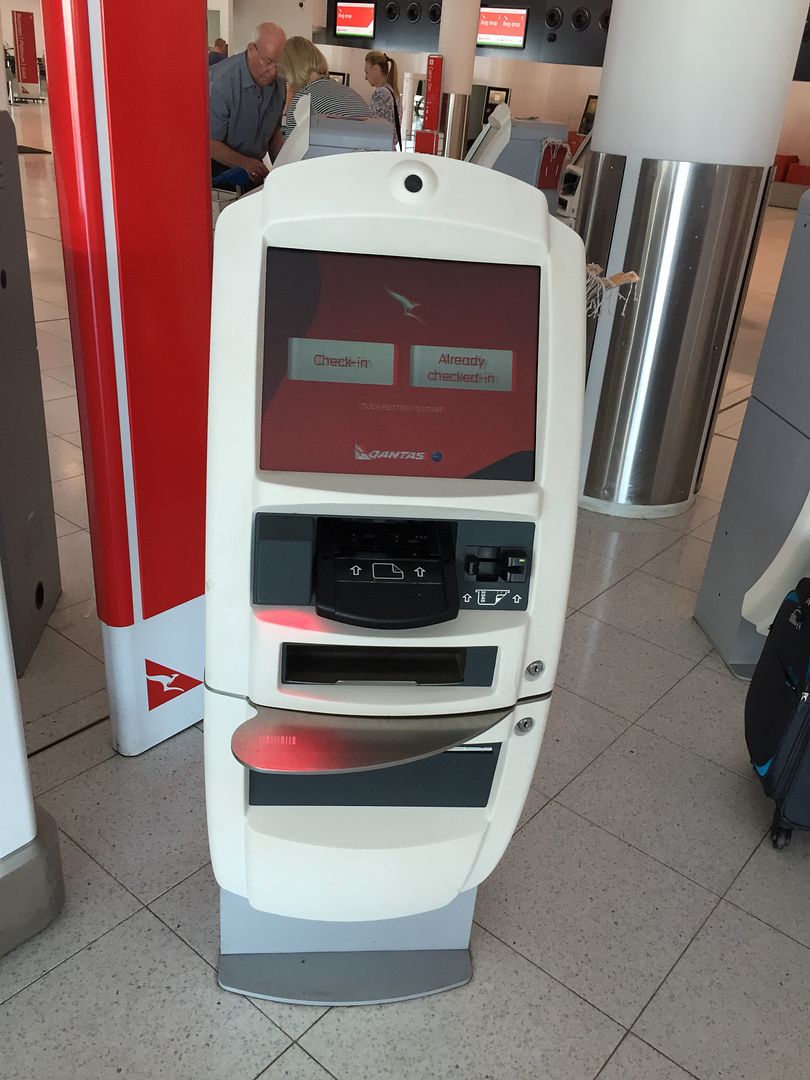 Baggage dropoff point
We got a bus gate this afternoon and boarding began at 12:10pm.  Our load was relatively light this afternoon, and the bus soon departed from the depot after they found every passenger.  Our plane, VH-NHK, was parked at stand 502, and this Network Aviation plane has been repainted into Qantas' livery. 
This Fokker 100 looked great and the cabin, despite reflecting the design of a former era, was well maintained, and the seat pitch looked decent.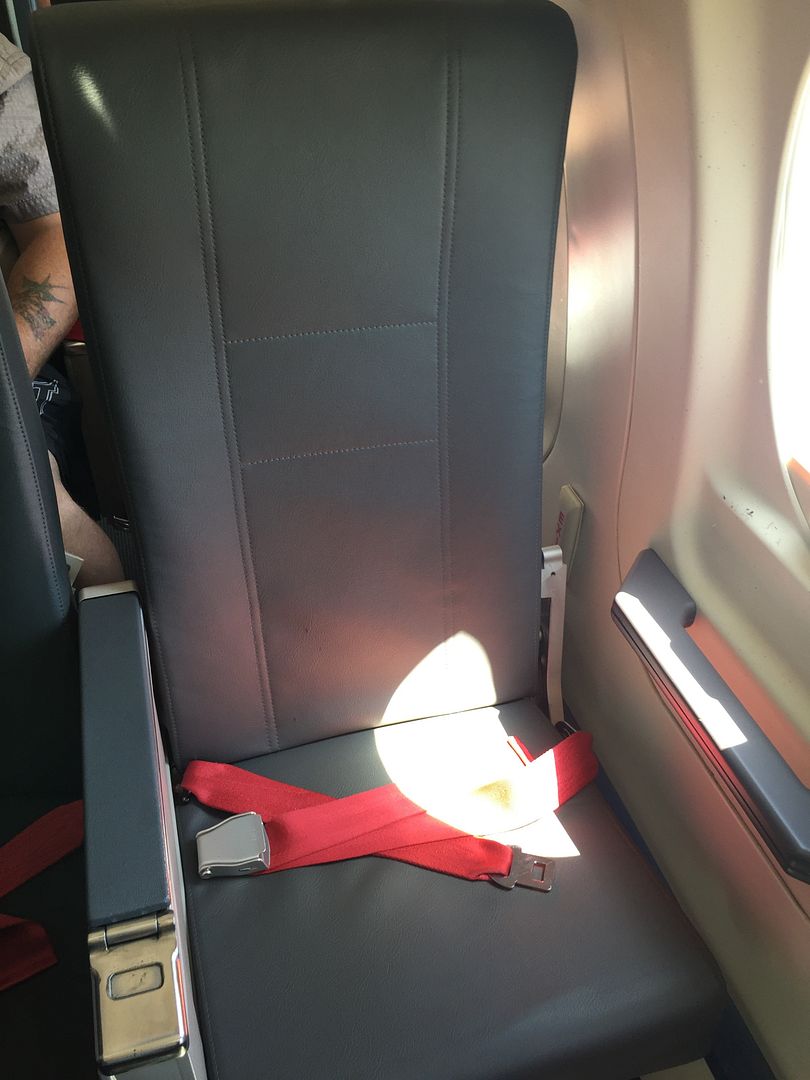 Entertainment for the flight – no audio/video but two QF magazines – one for QF link and one for QF mainline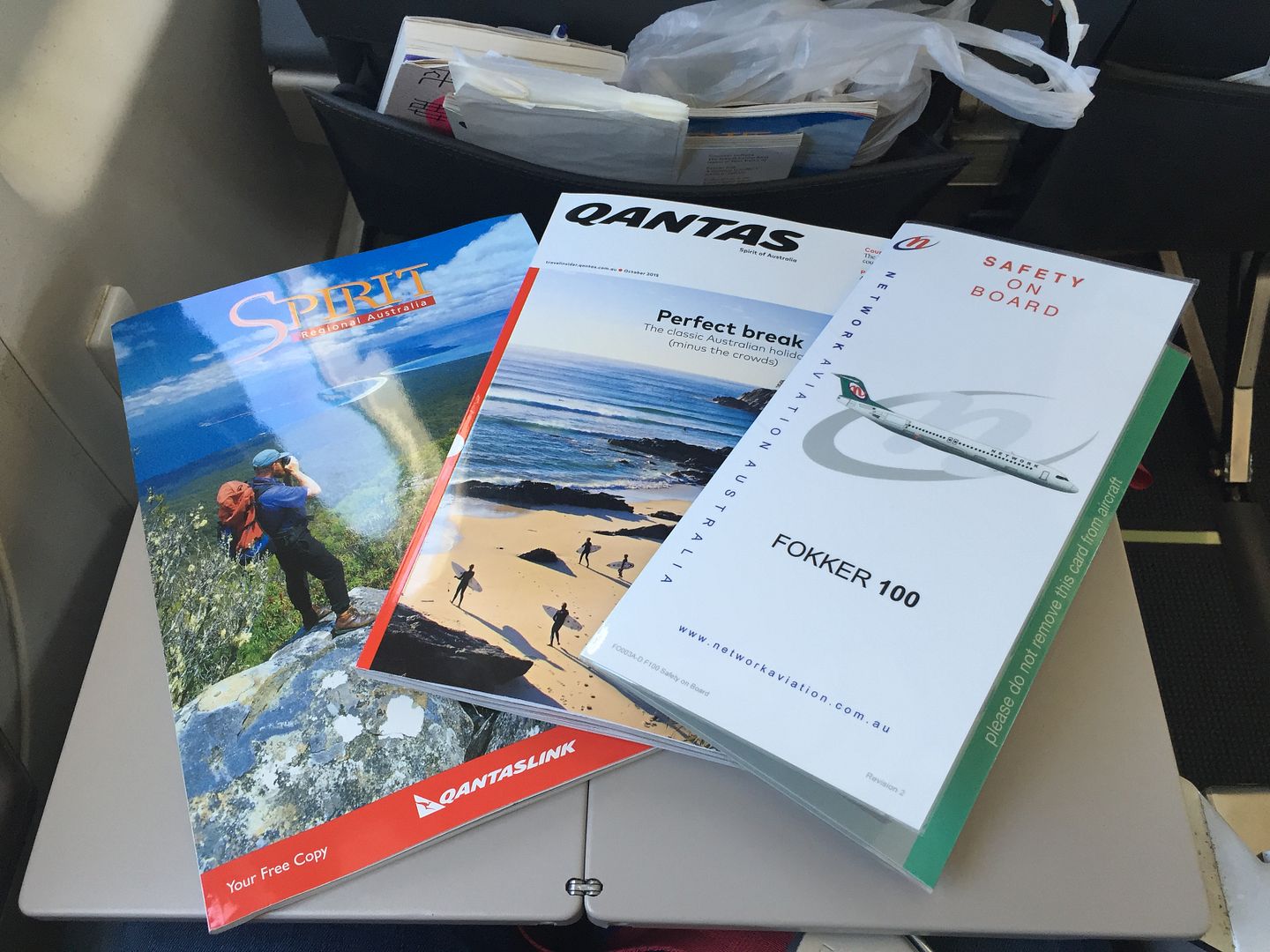 Safety card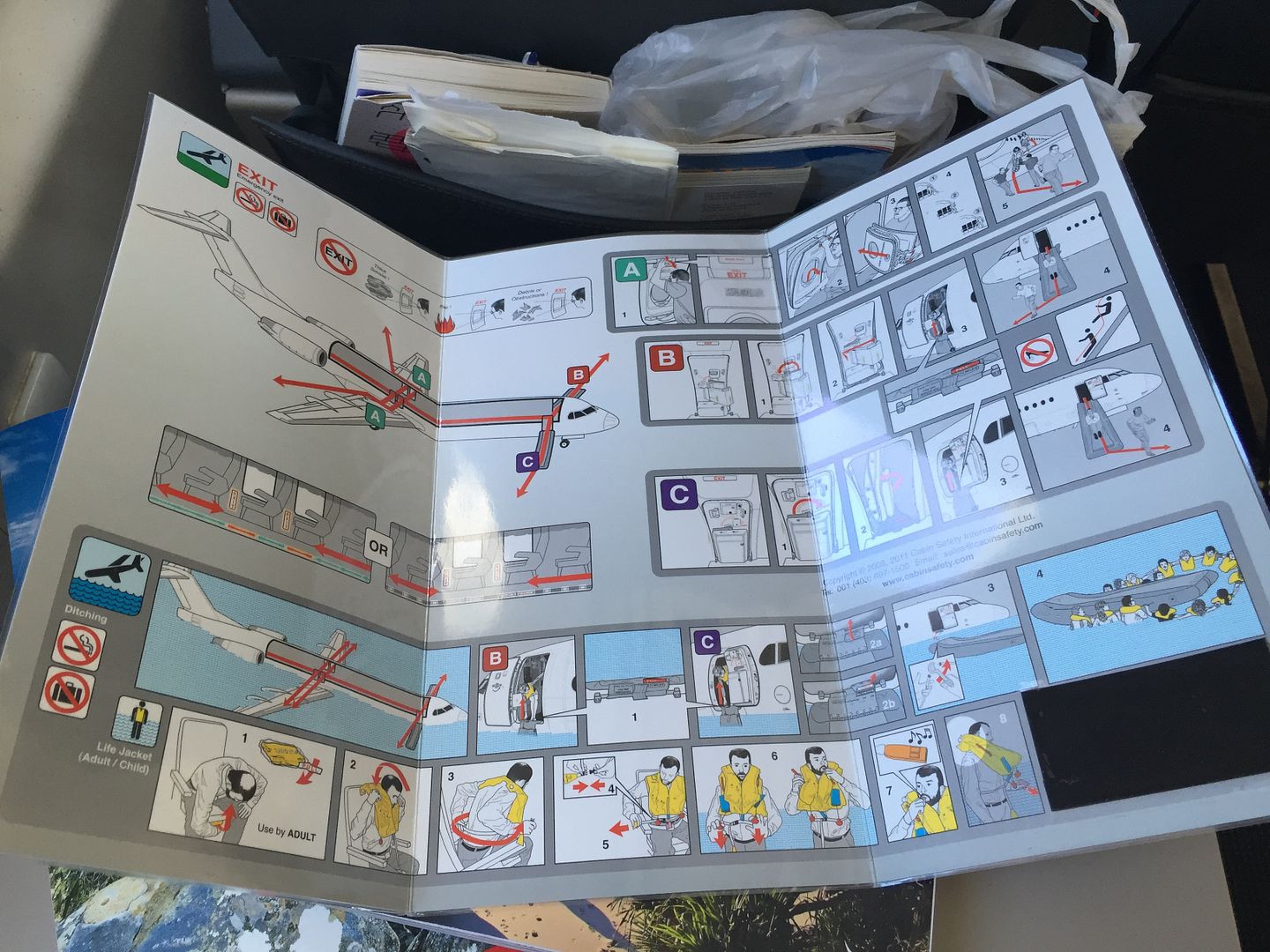 Oval shaped window
You honestly can't really tell which specific regional carriers are operating these flights, as the F/As are wearing Qantas' uniform.  There were three F/As working on this flight, and they were all friendly.  Door was closed at 12:38pm.  We pushed back right on time, and took off from R/W24 at 12:52pm.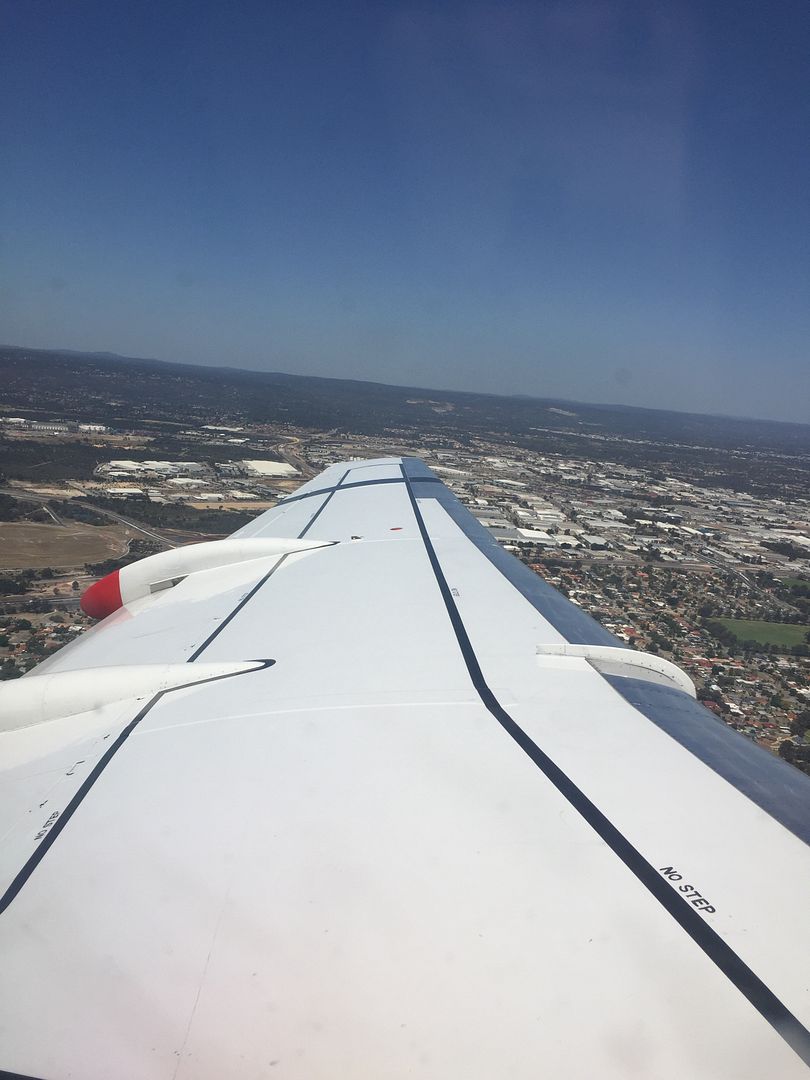 Flying time was an hour and forty-eight minutes, as we first climbed to 33,000feet, and then to 34,000feet.
Unlike US domestic flights, most domestic Aussie flights regardless of length feature a meal or snack.  Qantas is definitely offering a more substantial meal/snack, compared to Virgin Australia in economy.  On today's flight, a hot lunch snack was offered.  Temptation Bakeries must have signed a long-term contract with Qantas' catering, but its hot gourmet tart (like a quiche) was pretty good.  Today's flavor was cauliflower, leek & cheddar.  The lunch box came with a packaged cheddar cheese and crackers.  There is a full beverage service, as well as a paid bar (free beer and wine only at selected times of the day).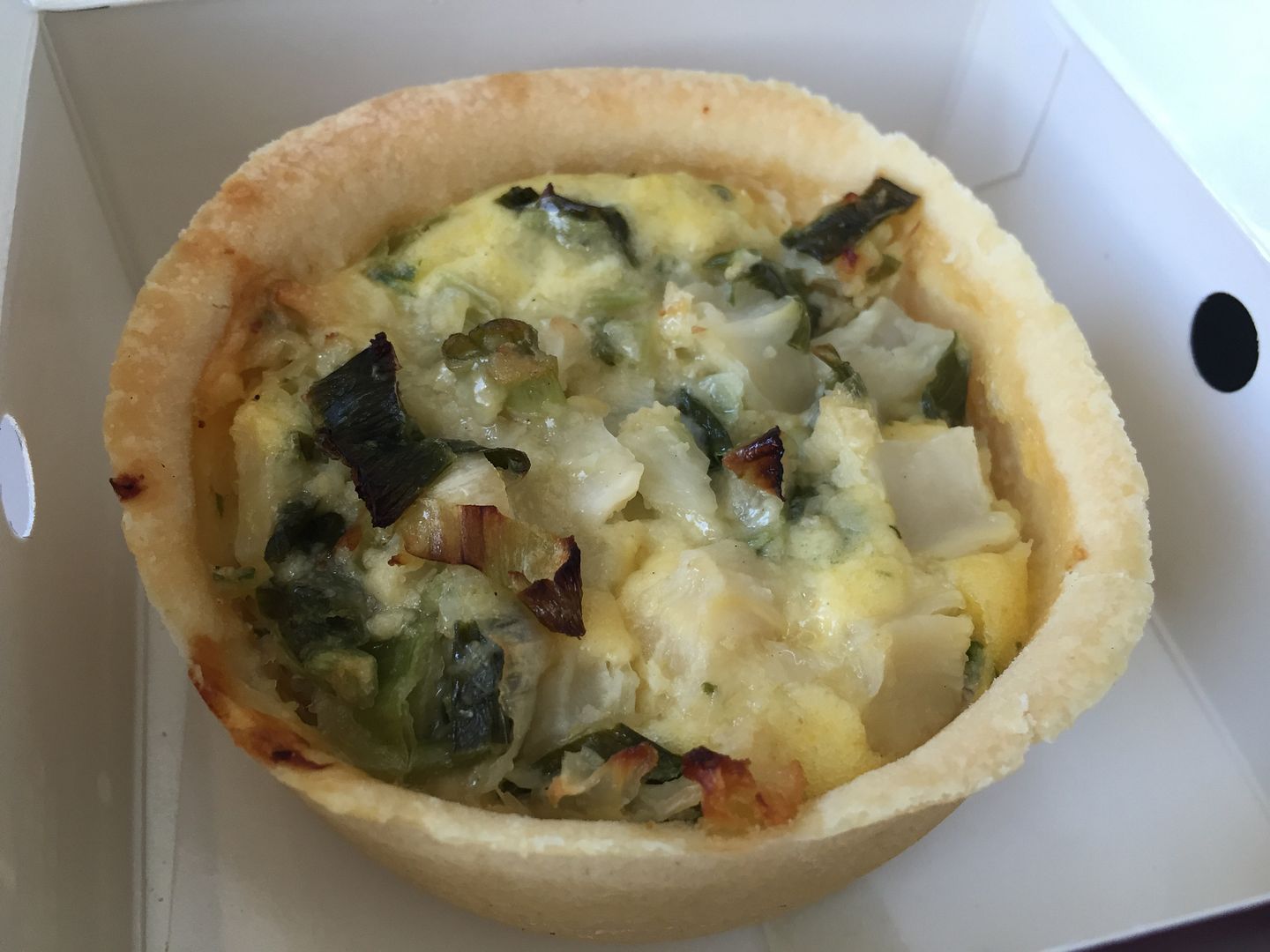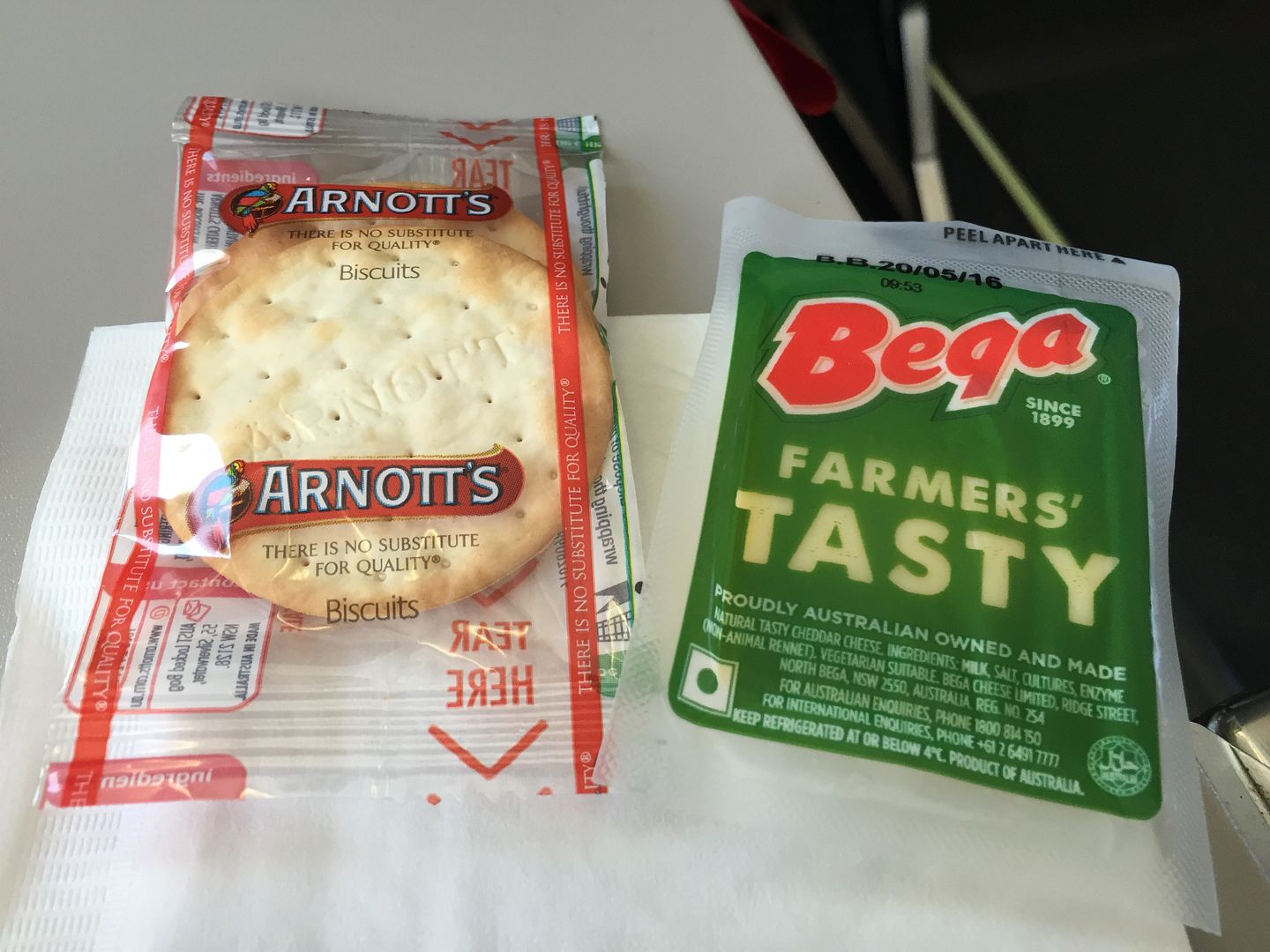 Tray table
Cabin shot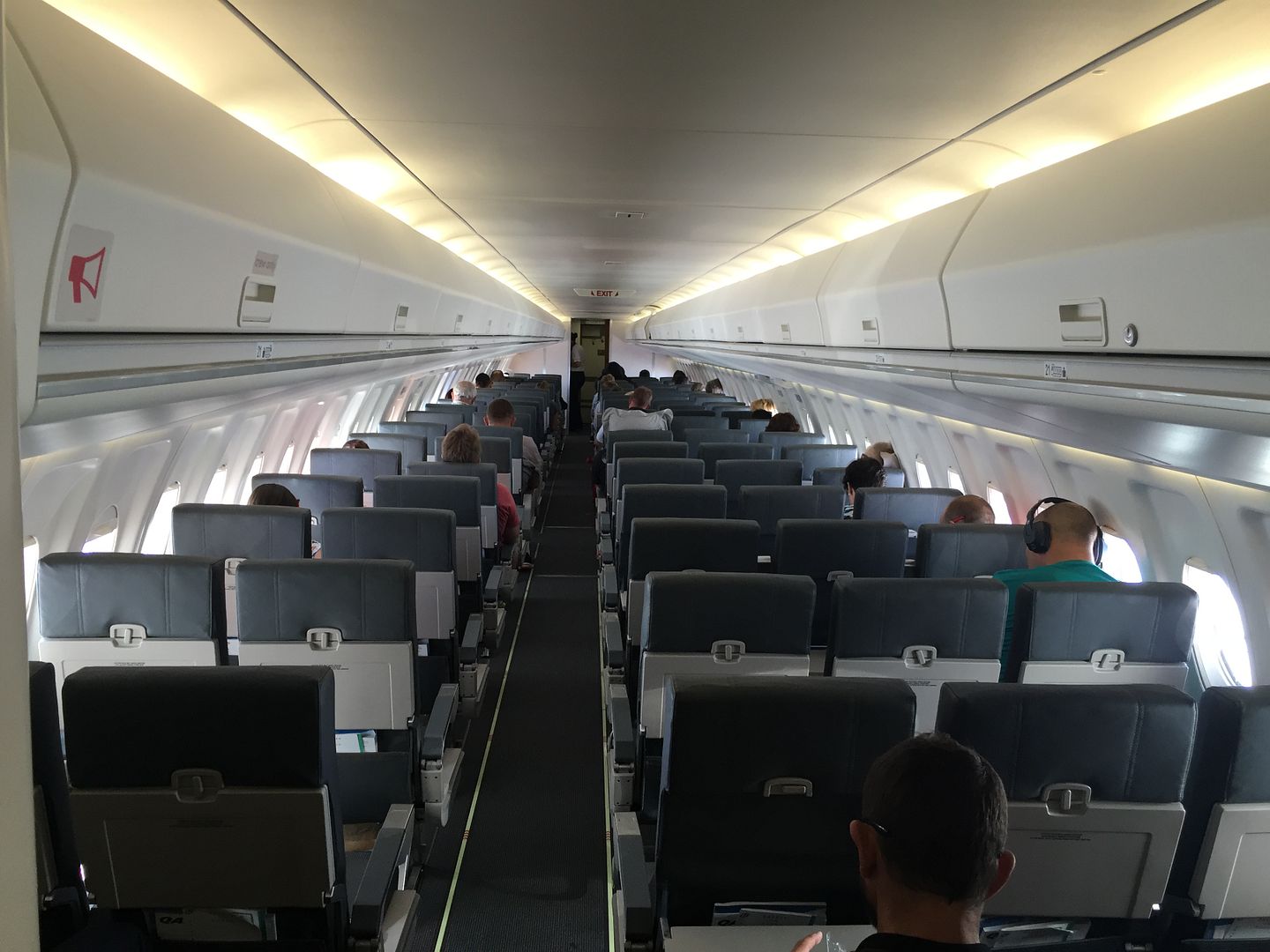 Descent soon began at 2:22pm, and it was a beautiful day here at Karratha.
We landed on R/W08 at 2:40pm and parked at Stand 2 five minutes later.
Shots of VH-NHK at Karratha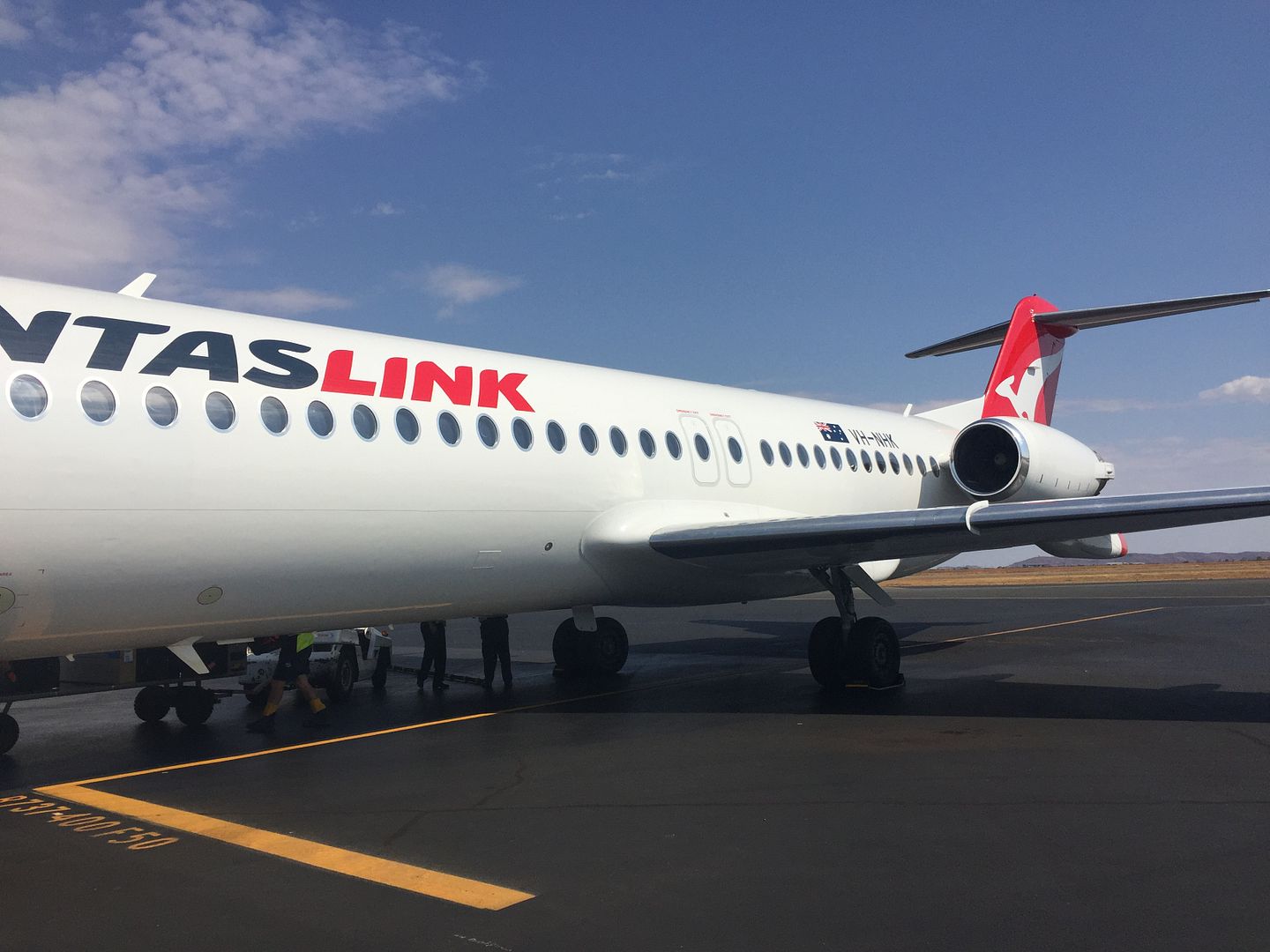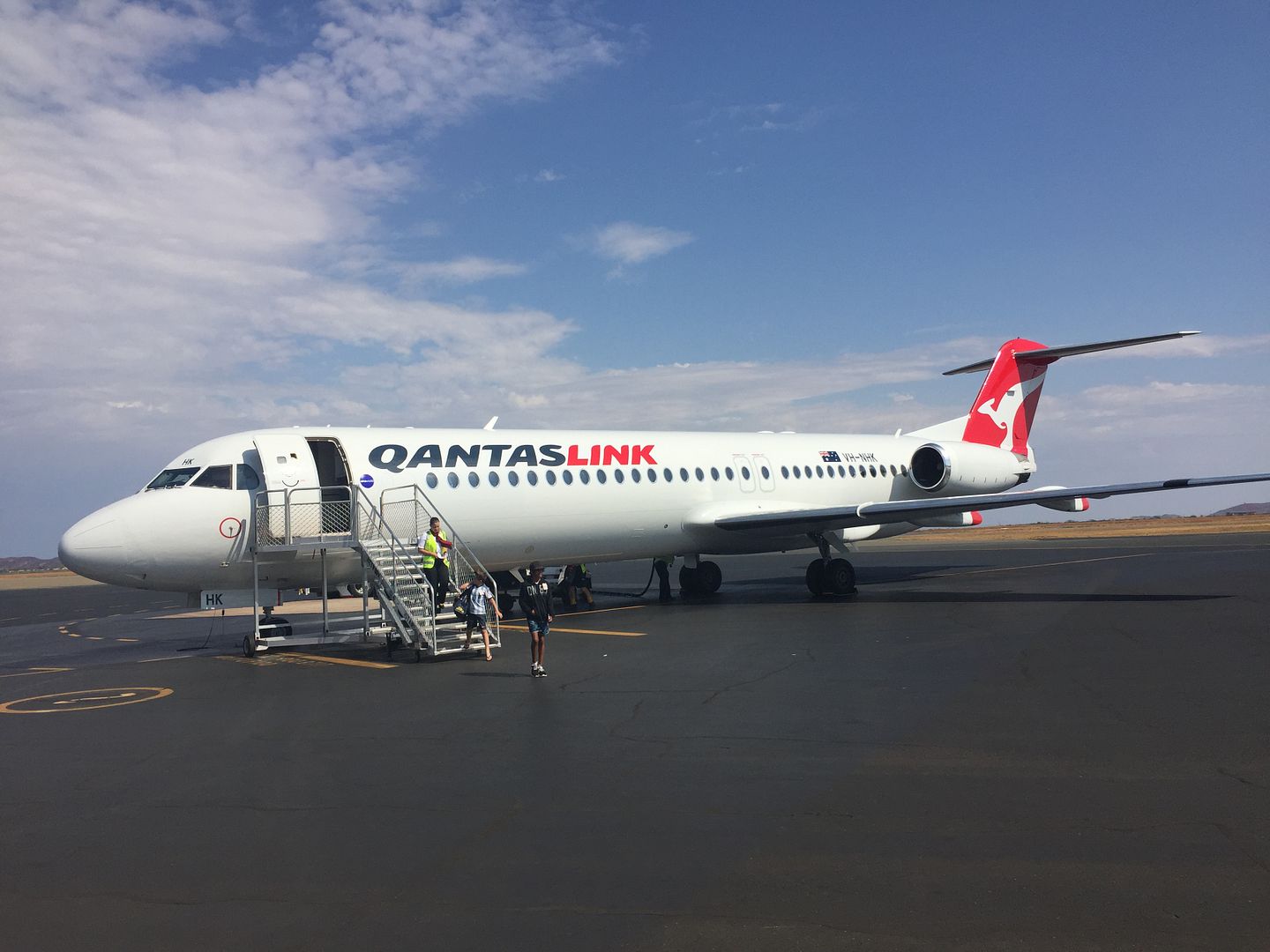 Karratha International Airport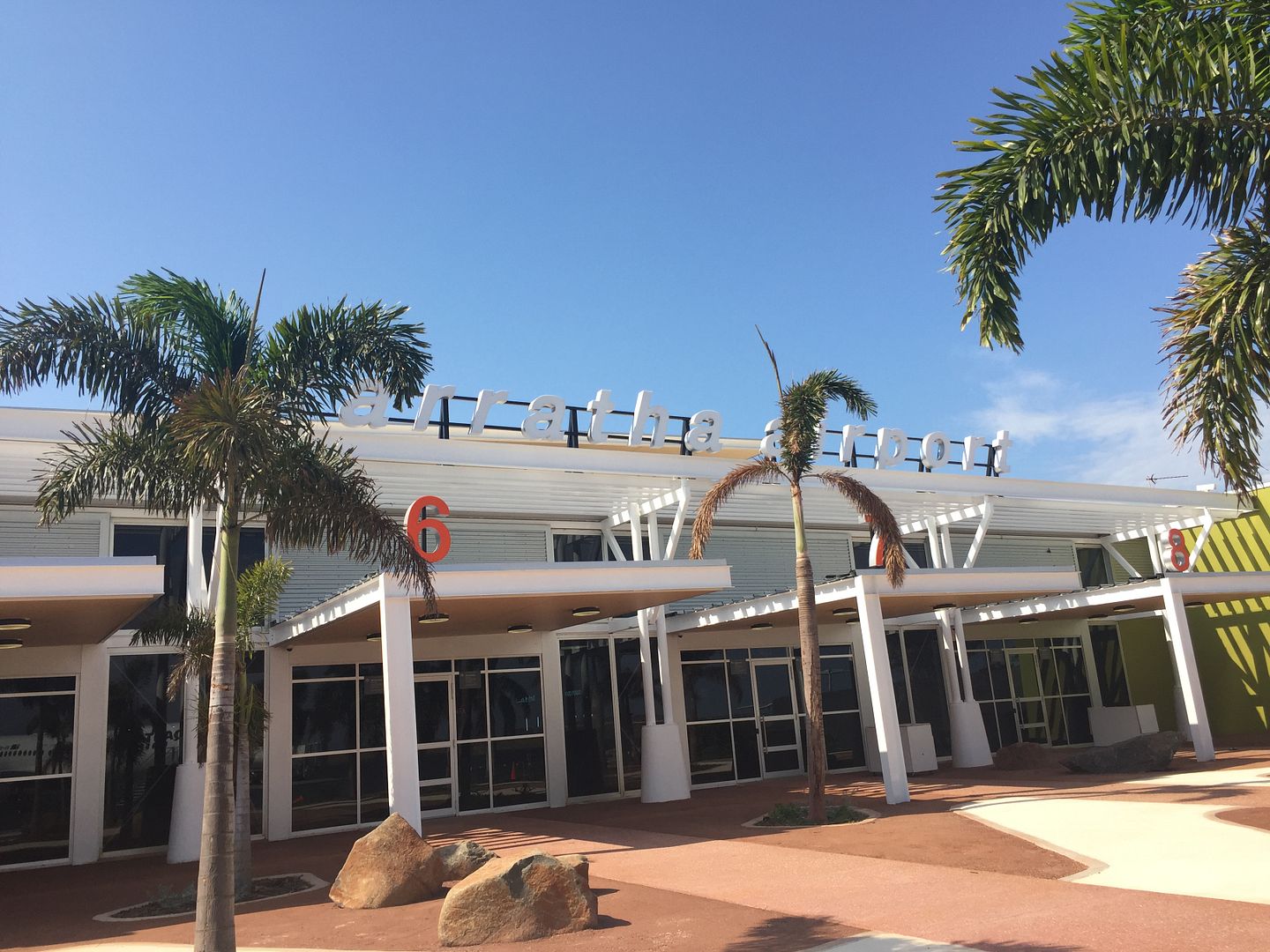 Baggage claim: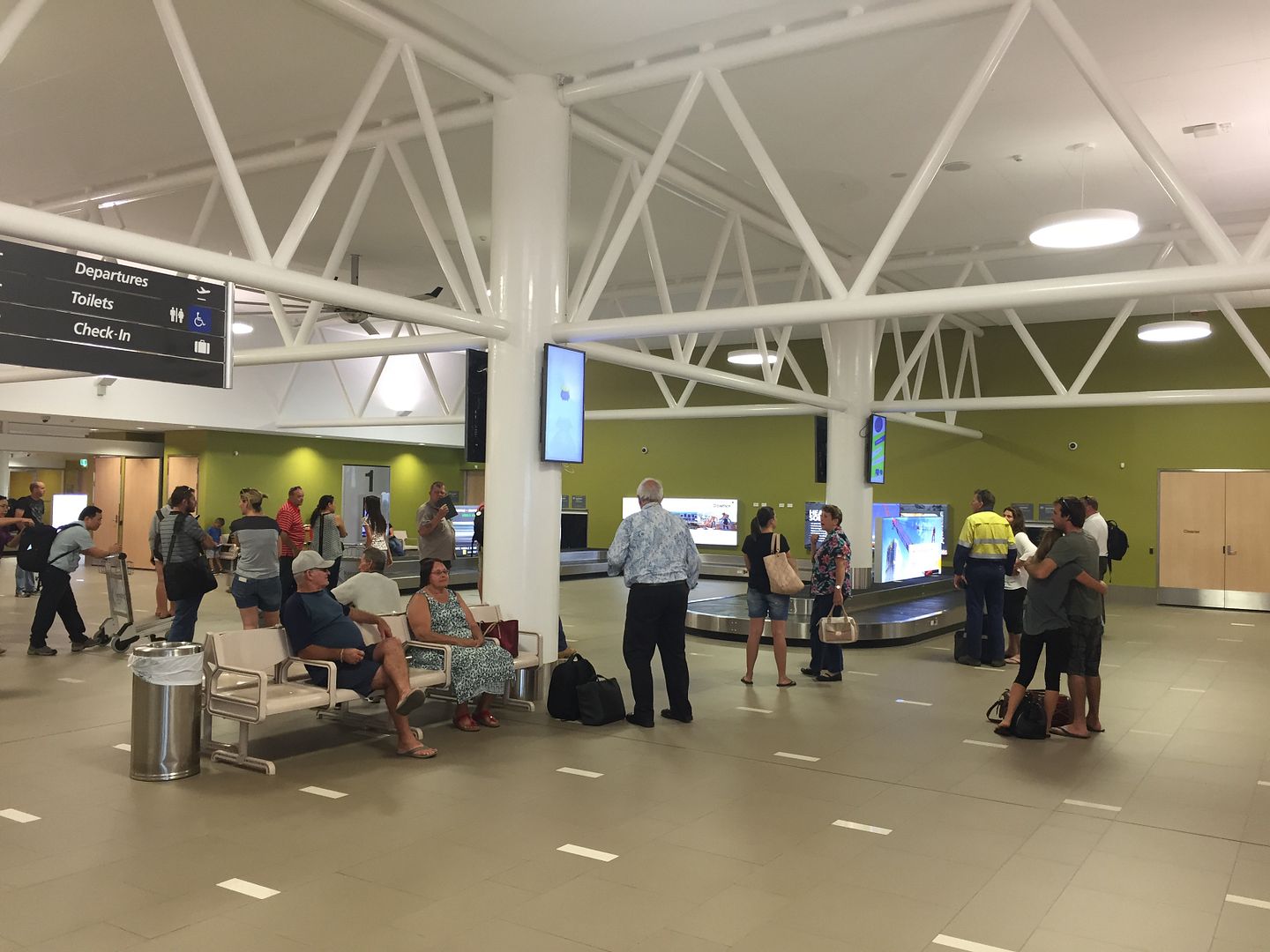 TL 355 Karratha International to Port Hedland International Lv1630 Arr1705 EMB-170-100LR VH-ANO "Savannah"
Karratha Intenrational Airport is actually a very modern regional airport an updated terminal, and compared to Port Hedland and Broom, Karratha definitely is one of the more modern and pleasant terminals.  The Australian government definitely has invested much money into many of these regional airports. 
Check-in area:
Virgin Australia Regional
Qantas/Air North
Qantas Regional Lounge
It is basically a small room with light snacks and free beverages – both alcoholic and non-alcoholic.  It was quite crowded but I caught a moment of quietness between a Perth bound flight and my Air North flight.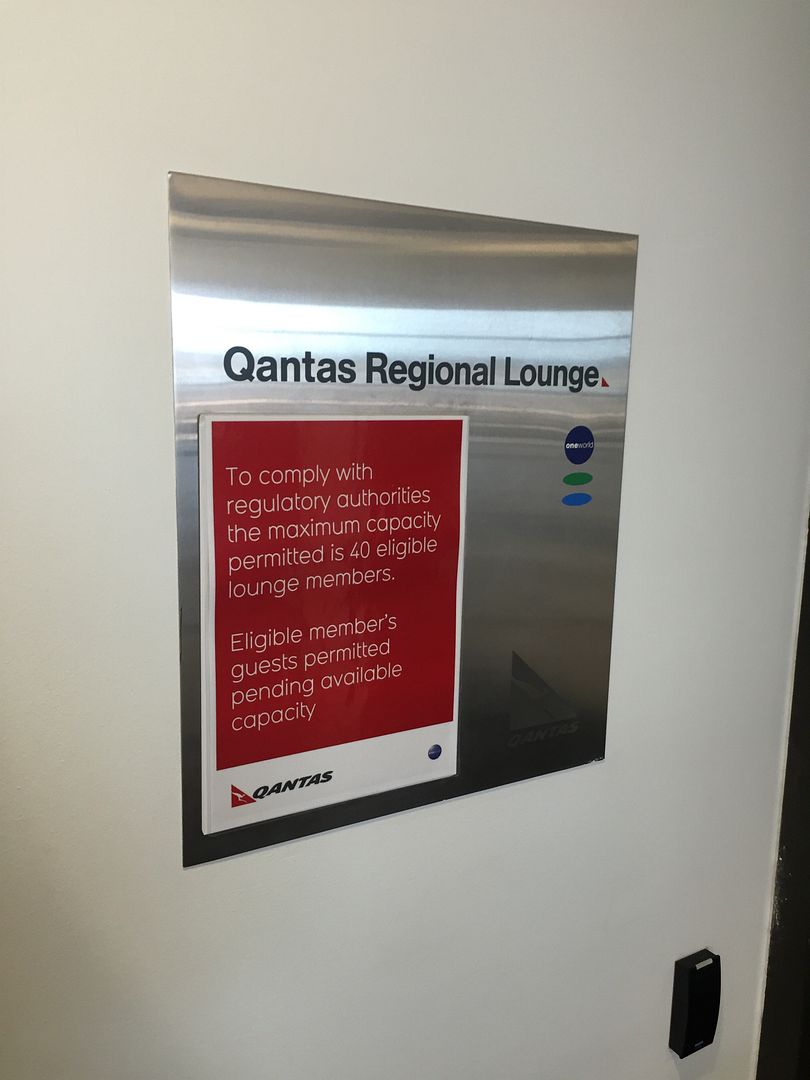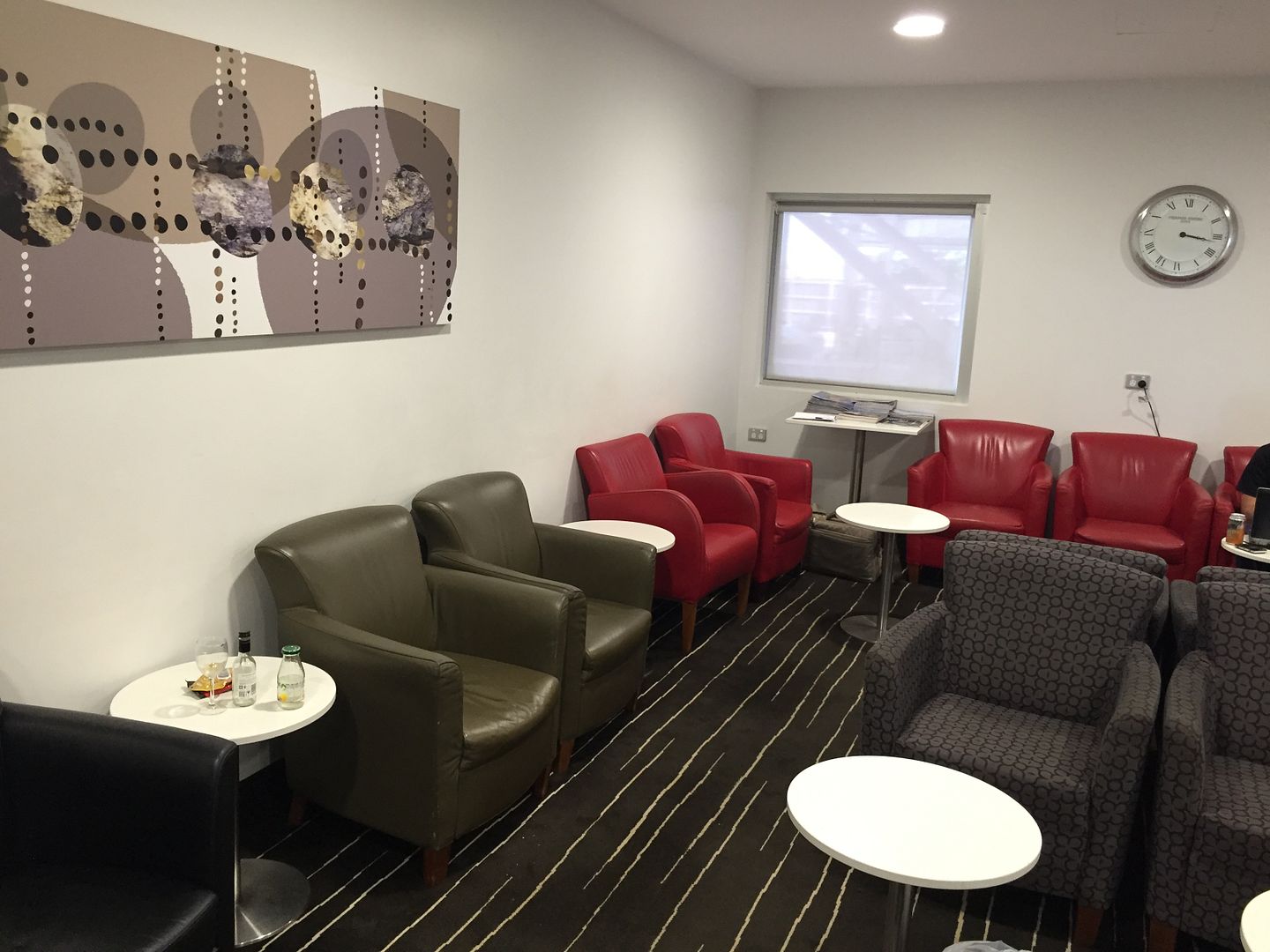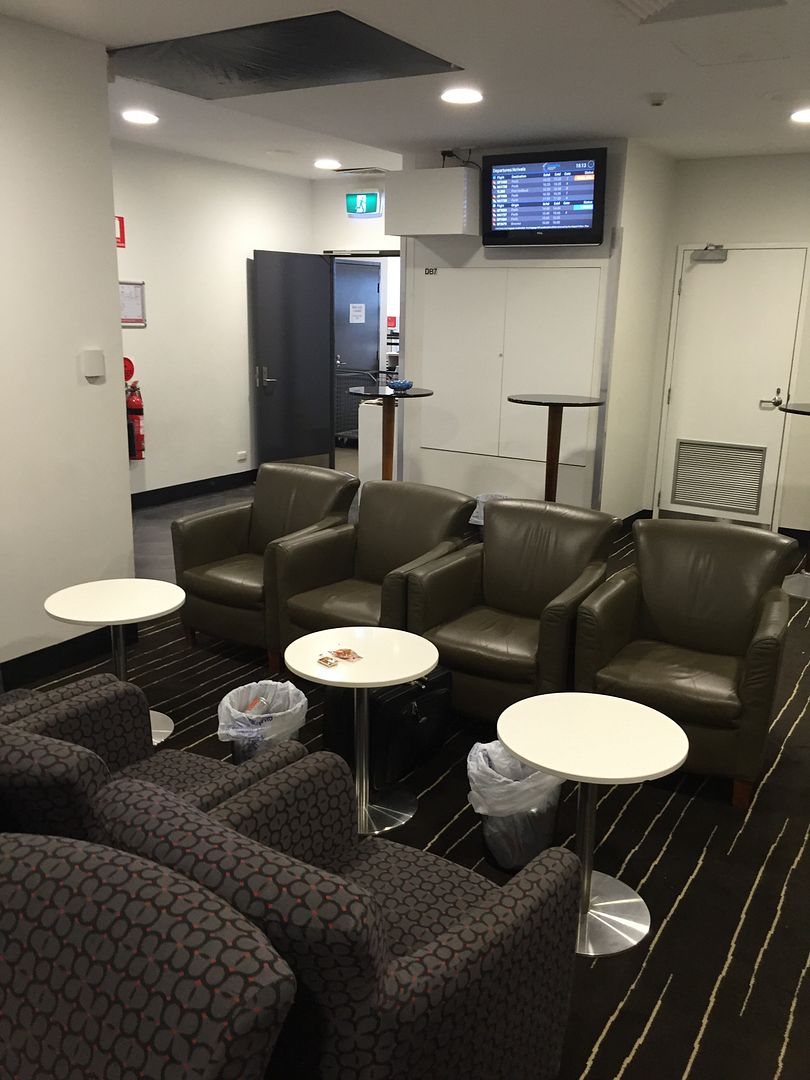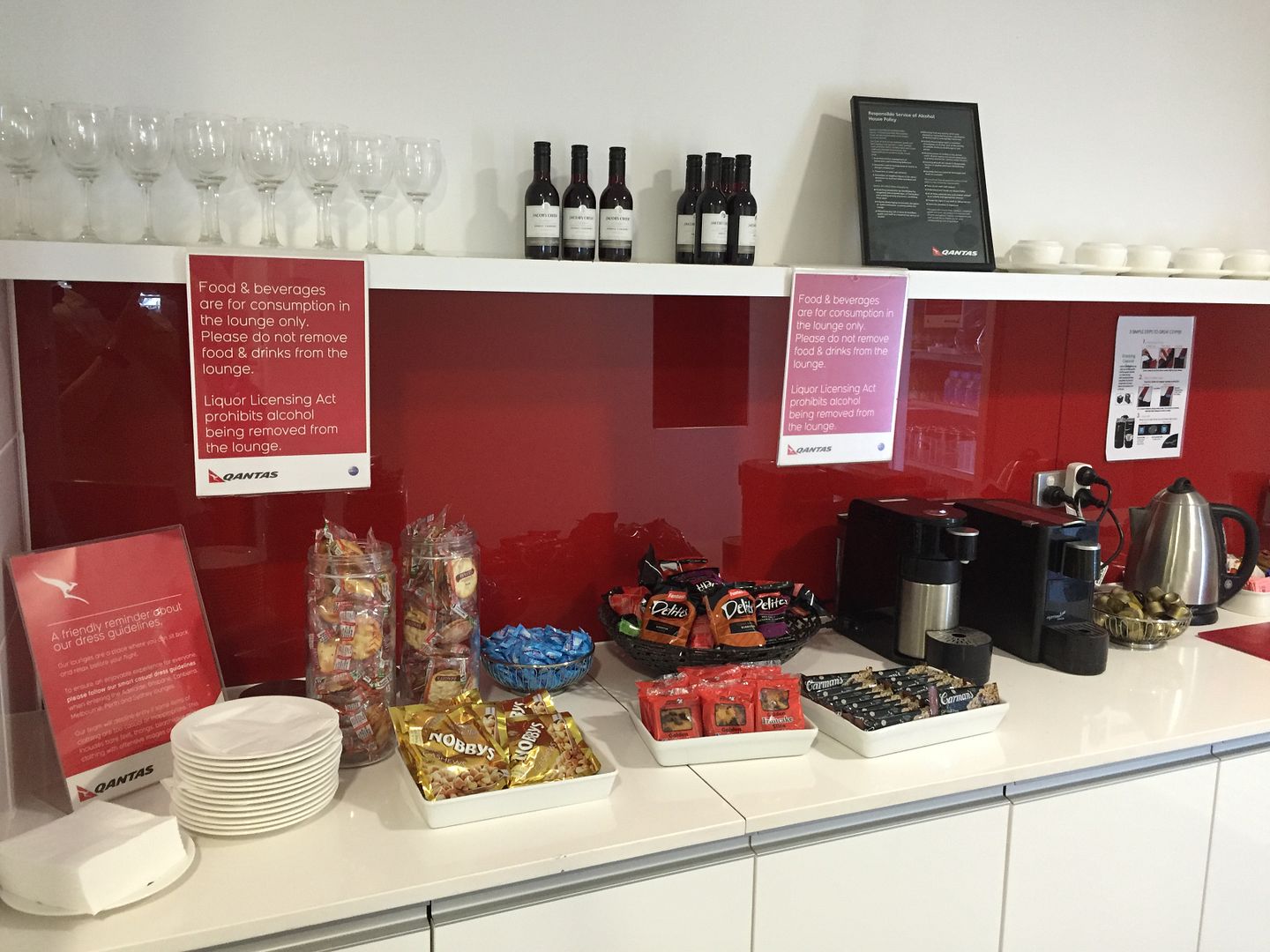 Security was a breeze and those agents were very kind and patient, which was a far cry from TSA and even worst, the Canadian equivalent, CATSA. 
Boarding began at gate 8 around 4:33pm, as the inbound flight was running late.  It was quite a walk towards stand #1 but I did not mind at all. 
Airnorth has a fleet of 4 EMB-170s, which all originated from Hong Kong Express, and the first EMB-170 "Savannah" VH-ANO was being used on our TL355 flight. 
Savannah looked good this afternoon here at Karratha.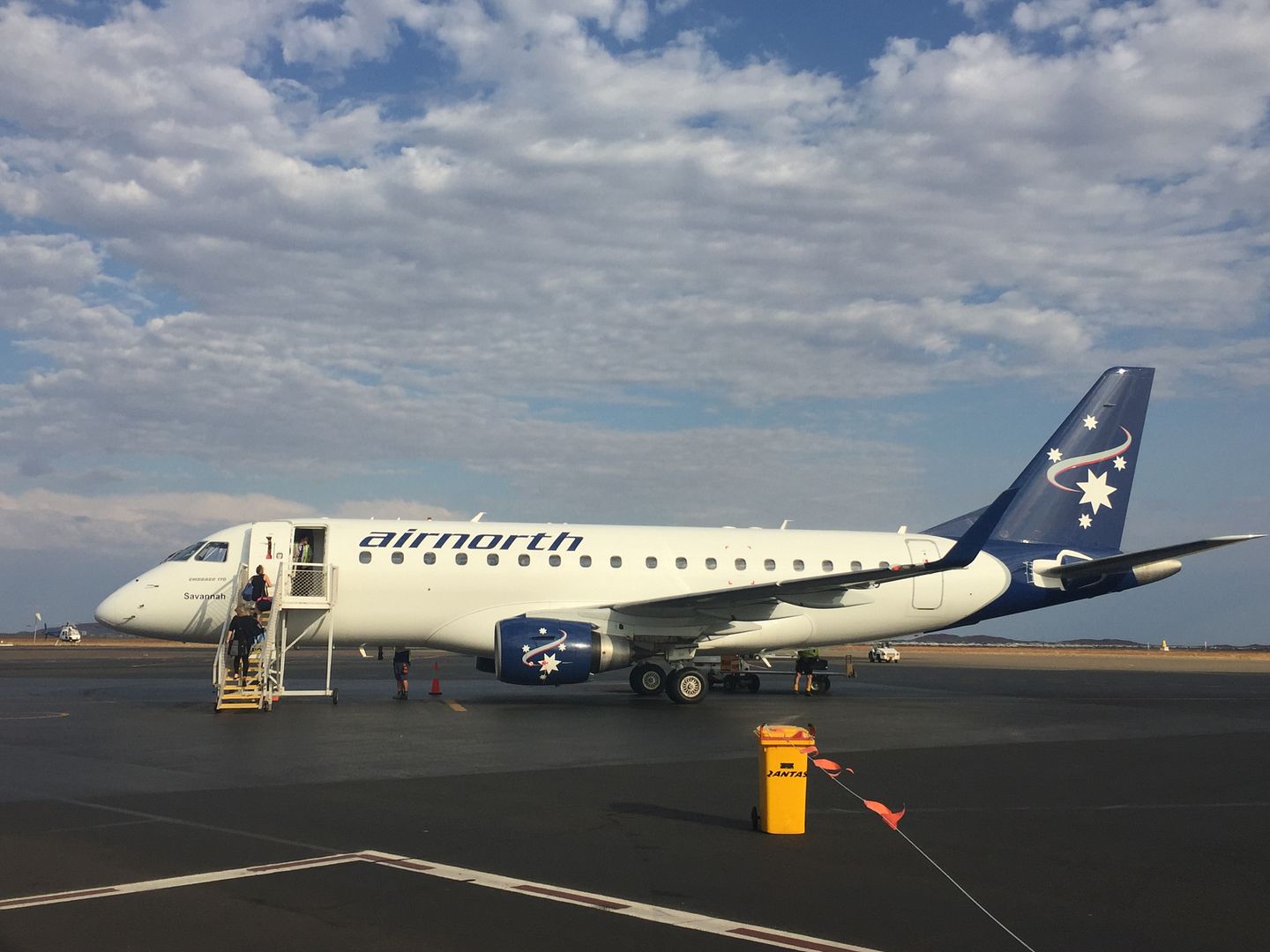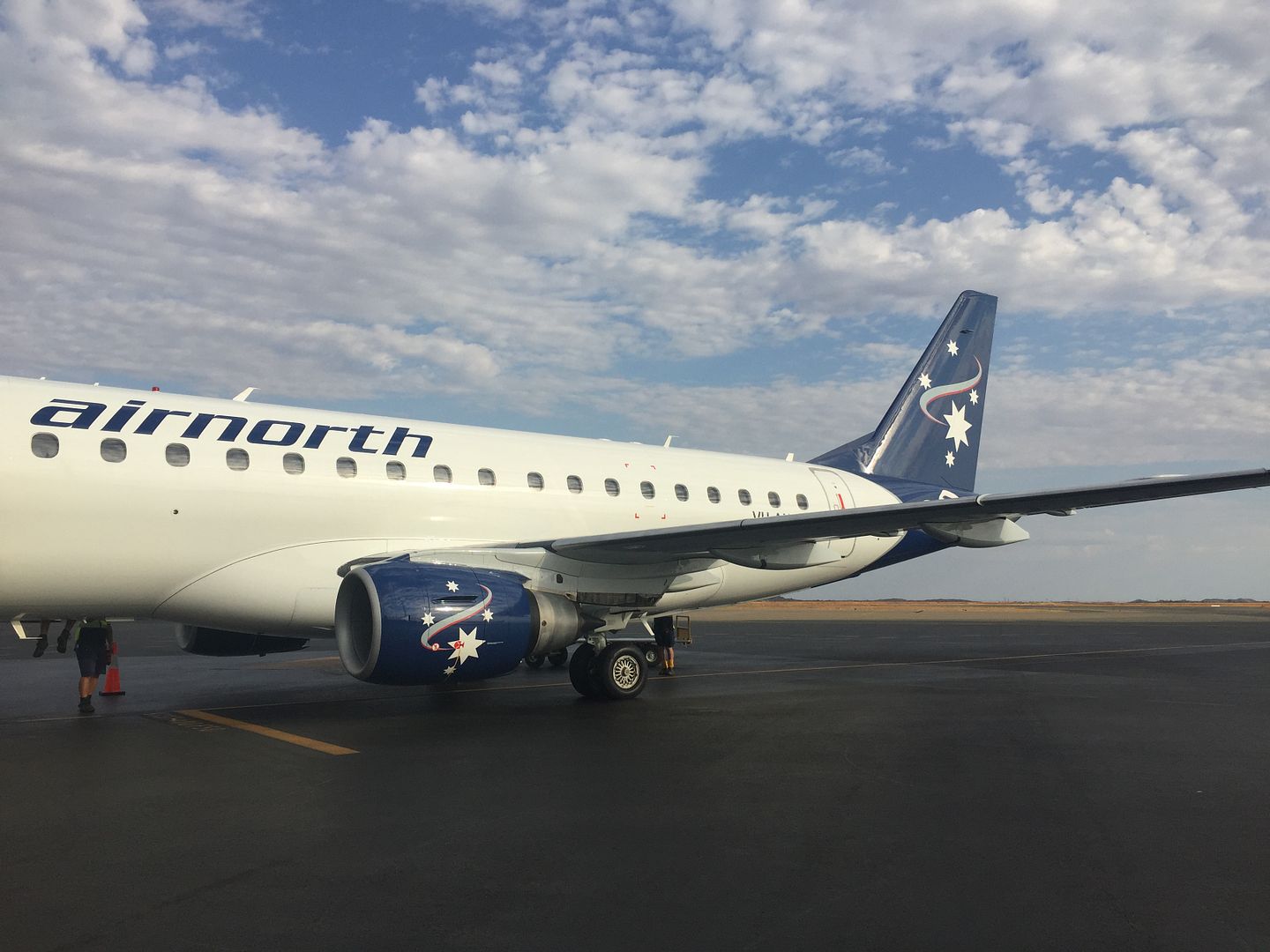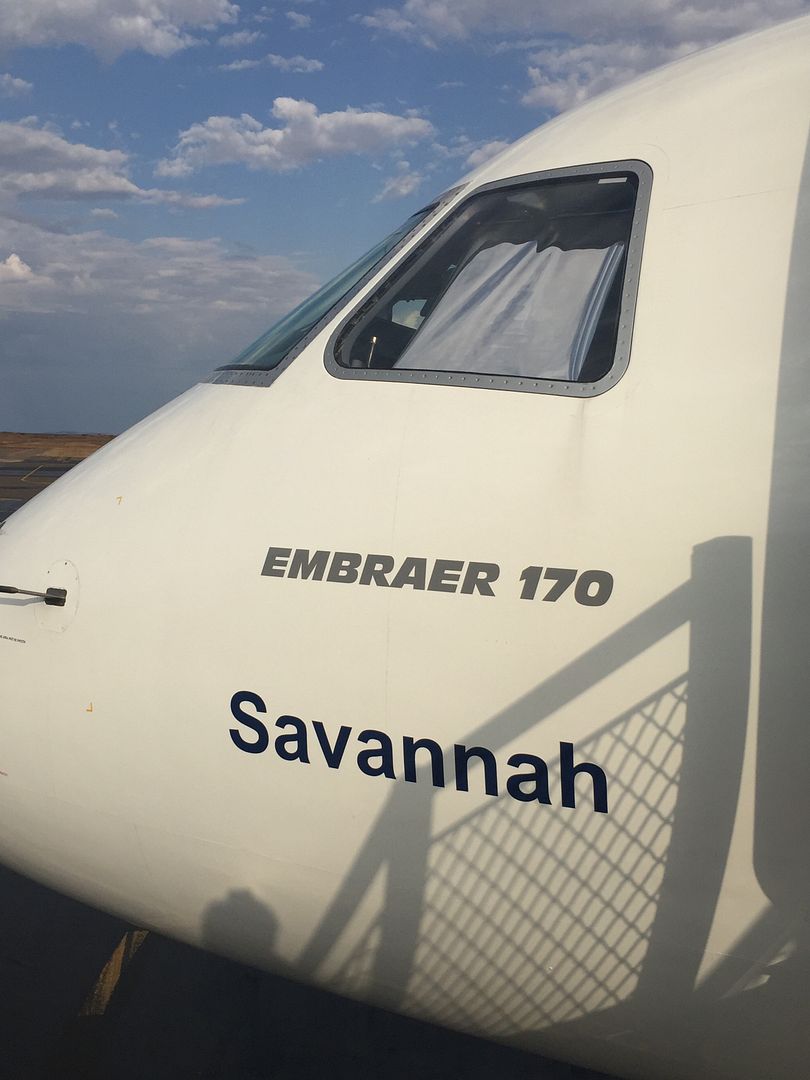 Really nice cabin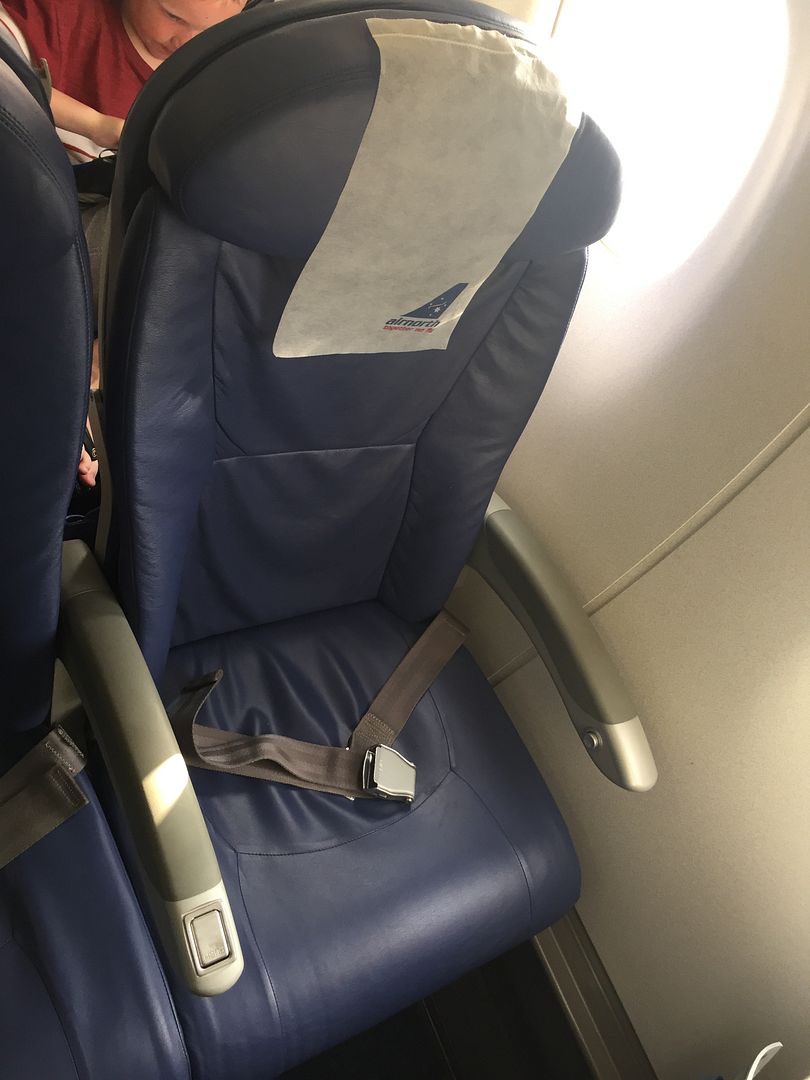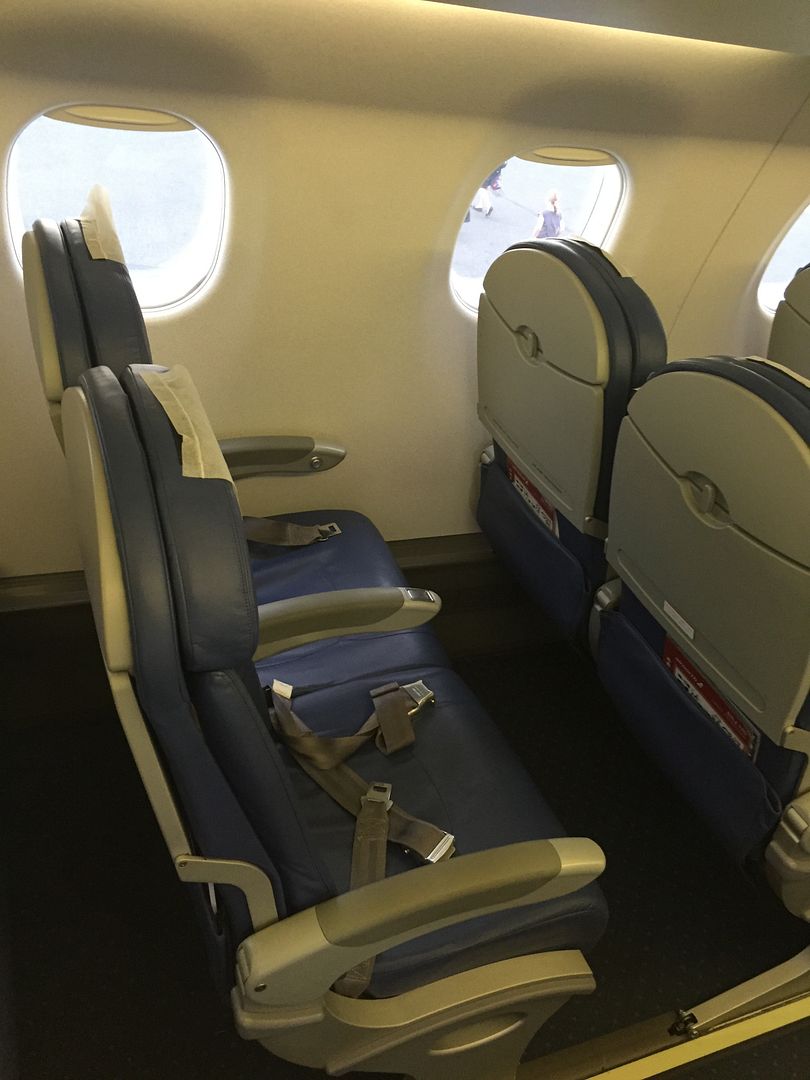 Jessica, the leading stewardess, was welcoming Karratha's passengers in the doorway, and there was no cabin shot because there were a number of passengers already sitting in the cabin that came in from either Darwin & Broome, that were heading to Port Hedland.  Door was closed at 4:40pm and the crews were trying to catch up some time. 
At 4:48pm, we took off from R/W8 for our twenty-five mintues flight to Port Hedland.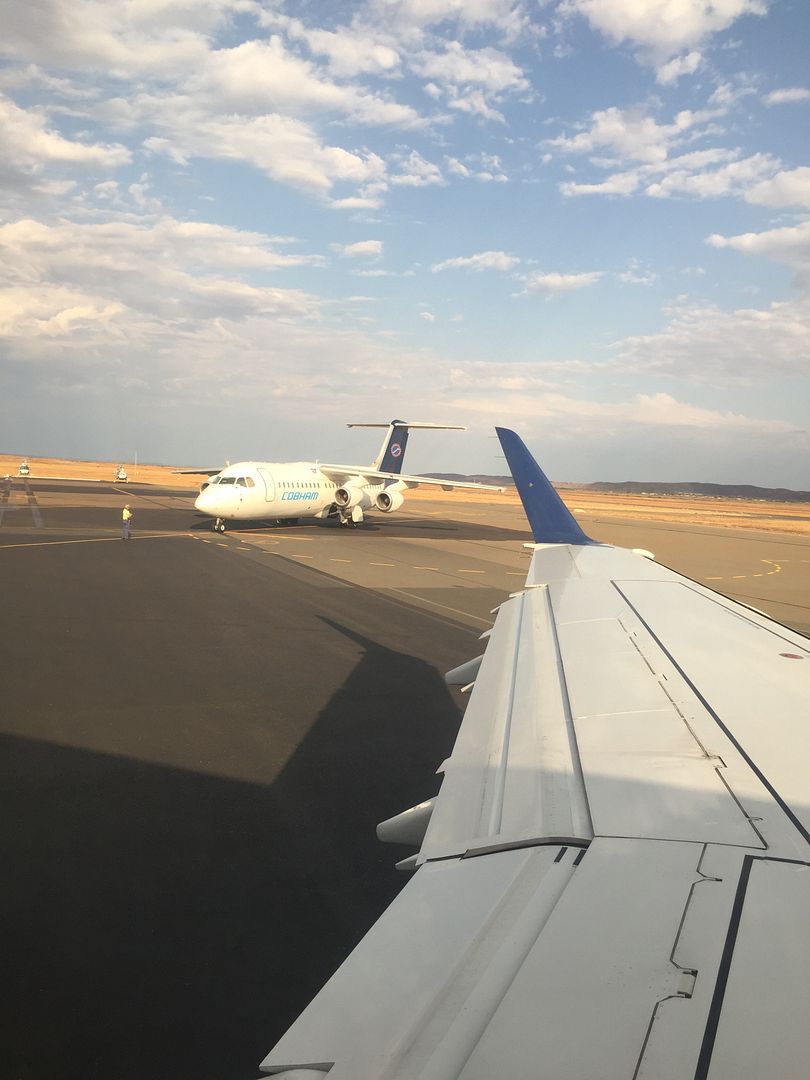 There was no service on this short flight and we stayed at 17,000feet most of the flight. 
Legroom shot – really not bad at all
Inflight entertainment – in flight magazine – no audio or video equipment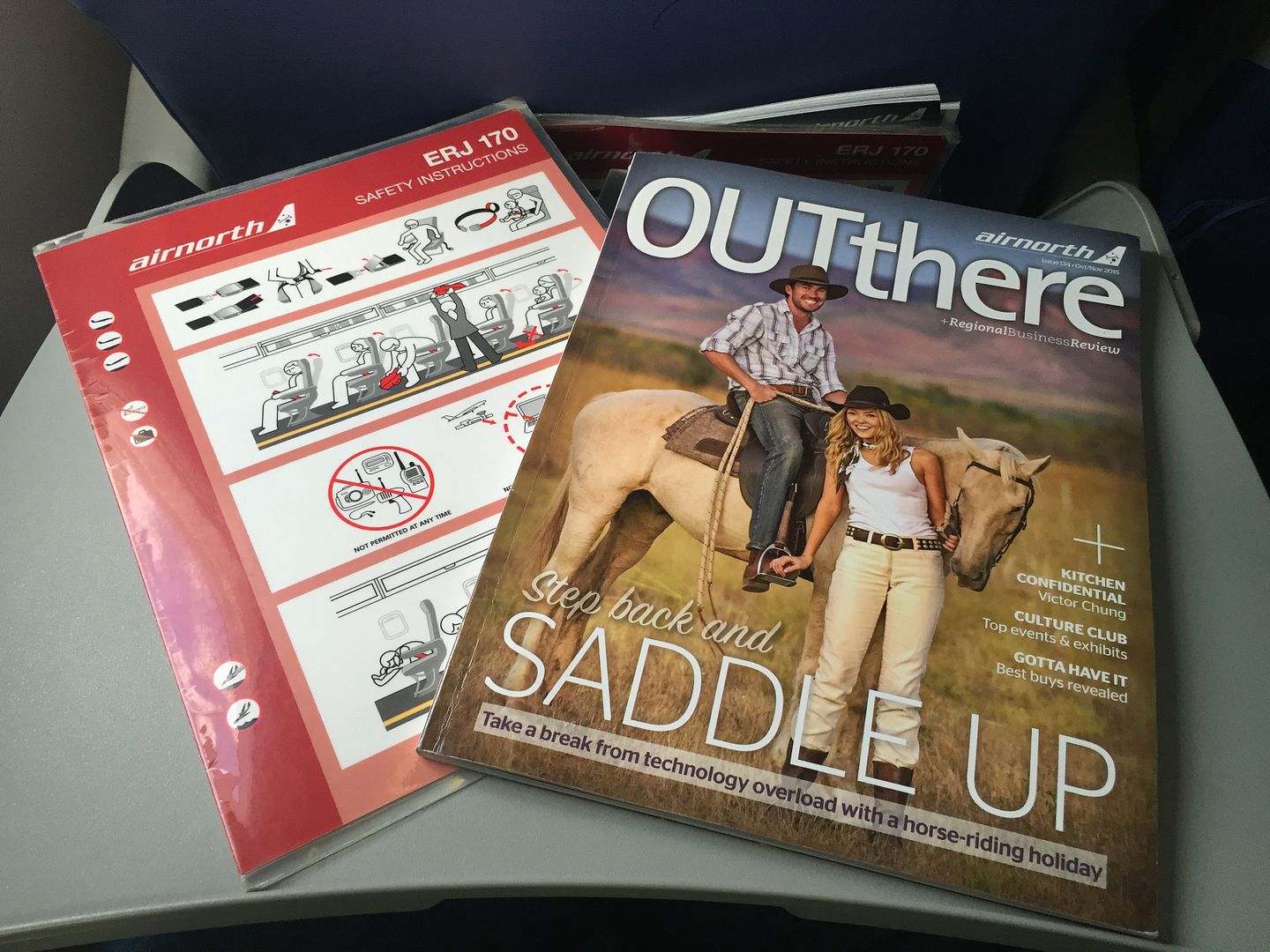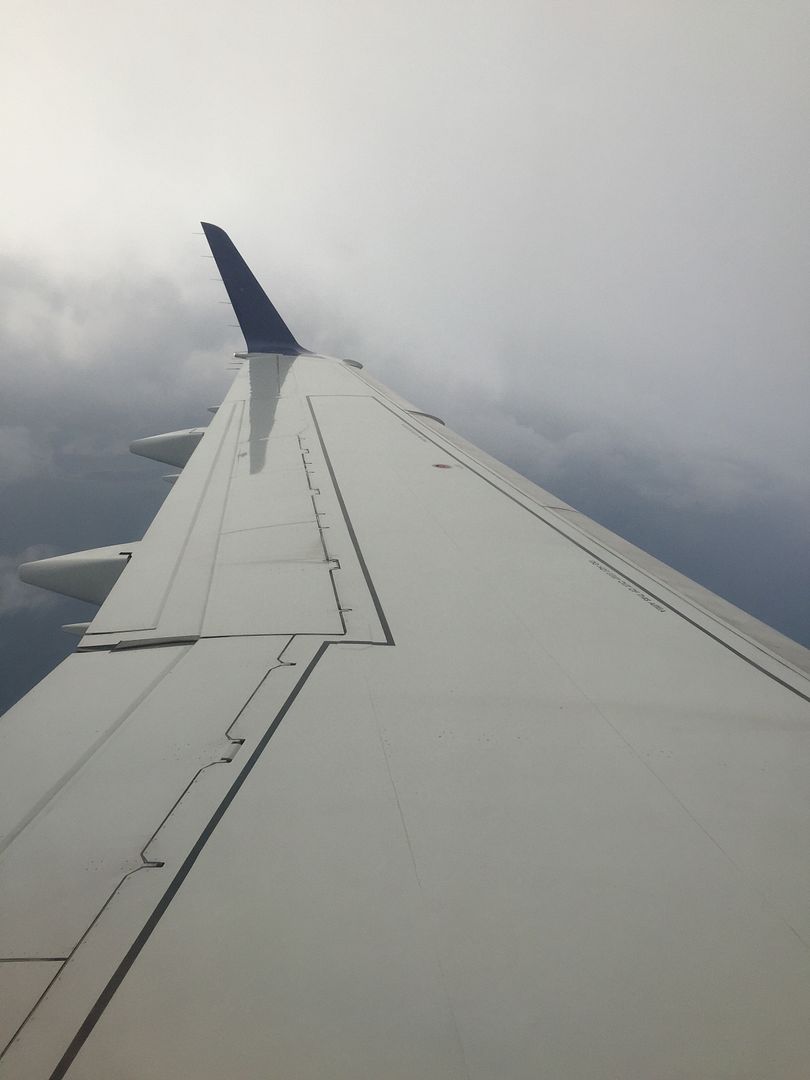 Descent began at 4:59pm and we landed on R/W14 at 5:13pm.
Jessica soon announced in the P/A that all passengers had to disembark here at Port Hedland, as there was a little change in plans.  It was definitely the first sign of trouble to come!
The ground staffs were definitely not expecting everyone deplaning here, and we were all directed to the arrival area, which meant that we had to go through security again.  Thankfully they don't need a name check here, or else all our boarding passes would be invalid.  For the next two hours, the passengers were really not kept informed, except that there were some technical issues with the plane and please wait in the gate area.  We saw the last two flights of the day arrived, boarded, and left, and was the last group of passengers staying after.  The restaurant was closing, and I regretted not buying some snacks earlier.  Announcements were spare and there was no Airnorth or Qantas staffs at the gate answer questions. That was actually worst part of this ordeal and the FDIS was of little use, as they could not even display the gate number for our flight.  I felt bad for the security staffs, who had to do an overtime. 
Finally the gate agent came to the gate with the pilot, and we knew that it was bad news.  The pilot told us that there was an issue with the blades of the plane, whish supply the air-conditioning but most importantly, start-up and various process.  They need a new part and it was obviously not available here at Port Hedland, in which Airnorth flew twice weekly.  It was too late to send another plane to Port Hedland, and there were no other flights departing the airport this evening to anywhere.   The airline should put everyone up in a hotel and we would depart the next morning when the replacement aircraft arrived.  The agents were very apologetic and sprang into action, but you could tell that this was not a common occurrence.   We all exited the secured area so the cleaning staff could do their work and the security staffs could go home.  There was more waiting, as those passengers originating at Port Hedland were given the options to go home (which most did).  For those originating from Karratha, we had to wait for hotel arrangement. 
Port Hedland is a town with a population of 14,000, and its main industry is various kinds of mining and a major shipping port because of its natural deep harbor.  It is an industrial city, so I don't expect any fancy hotel.  My concern is whether they can find enough hotel rooms.  In the end, they managed to put us up at the Ibis Styles Hotel, which is really a fancy motel, but honestly it can be worst.  Some of the passengers were hoping for the beachfront hotel, but I knew that was impossible, but since the crews stayed at a different hotel, they might actually be staying there.  There were more waits and waits, as we finally got our hotel voucher.  The airline ordered taxies, where were more Super Shuttles, and I just hopped on the closest one.  By the time we got to the hotel, it was way past 8pm, and the hotel only had one computer/station for check-in, and with dinner service closing at 9pm, there was more rush to order room service.  We were each given $20 for dinner, which was just useless.  Although it's a three star hotel/motel, the restaurant is actually one of the town's nicest.  Fortunately my Accor Club Silver status gave me some additional discounts. 
The voucher actually contains many interesting facts, but since there are names there, I decide not to post the picture, but to share with you the details. 

Airnorth uses "Travelliance," which is a global online company connecting airlines with hotels during these kind of irregular operations, and its website is quite interesting.  They help airlines to make arrangements for all kinds of crews and under all circumstances.  There were 29 passengers that needed a room for the night, and most of them were solo, except one request for a family room.  The airlines paid AUD$219 per room including AUD20 for breakfast and AUD20 for dinner.  Phone calls were not provided.  It costs Airnorth $5694AUD, not counting taxies and crew accommodation.  Sometimes we argue that airlines will get cheaper rates, but in these small towns, their choices are really limited.   At the same time, this flight is not cheap by any means, so Airnorth has no excuse for not putting anyone in a hotel during this IRROP, especially it is in the middle of nowhere.
Ibis Style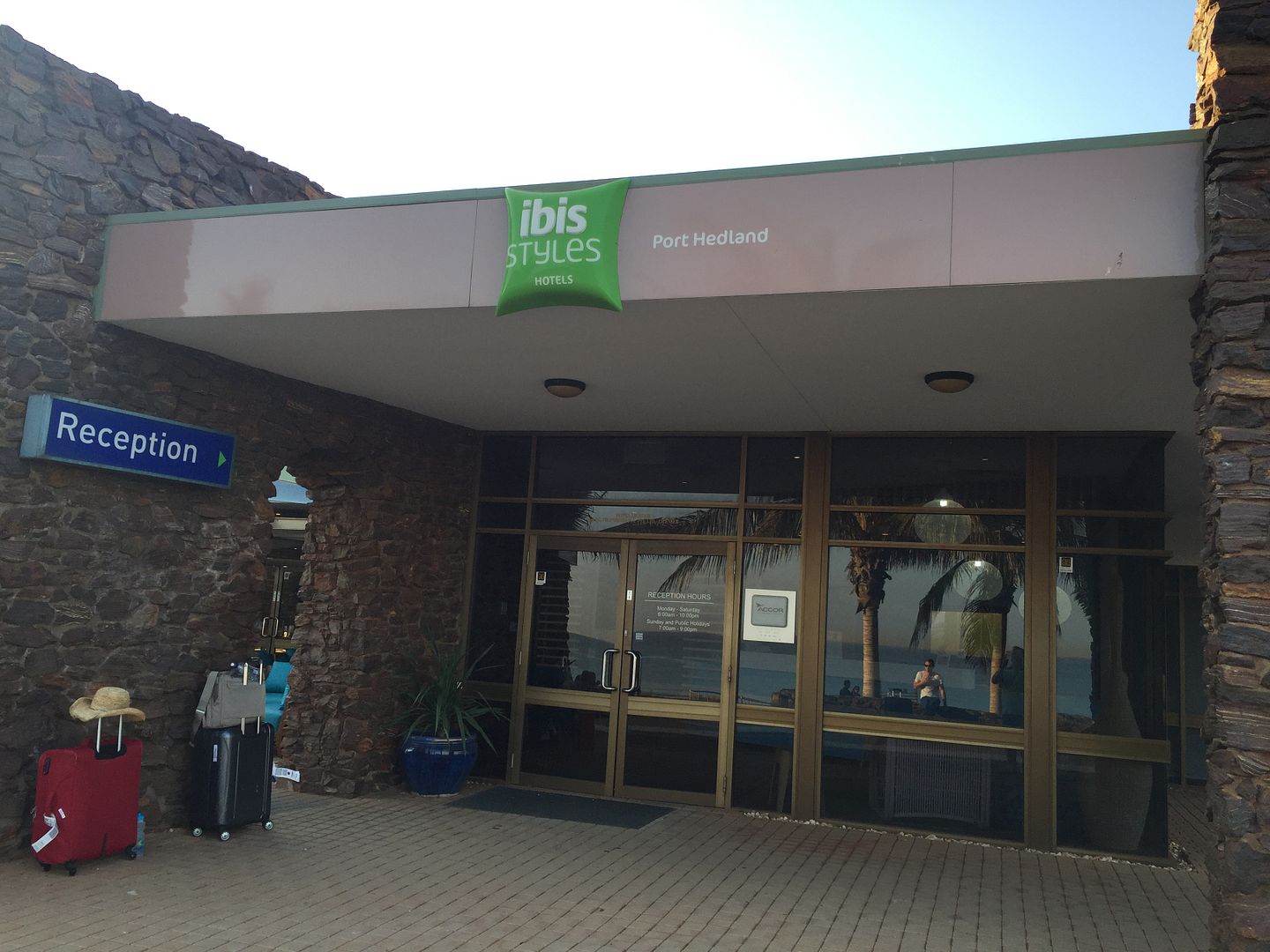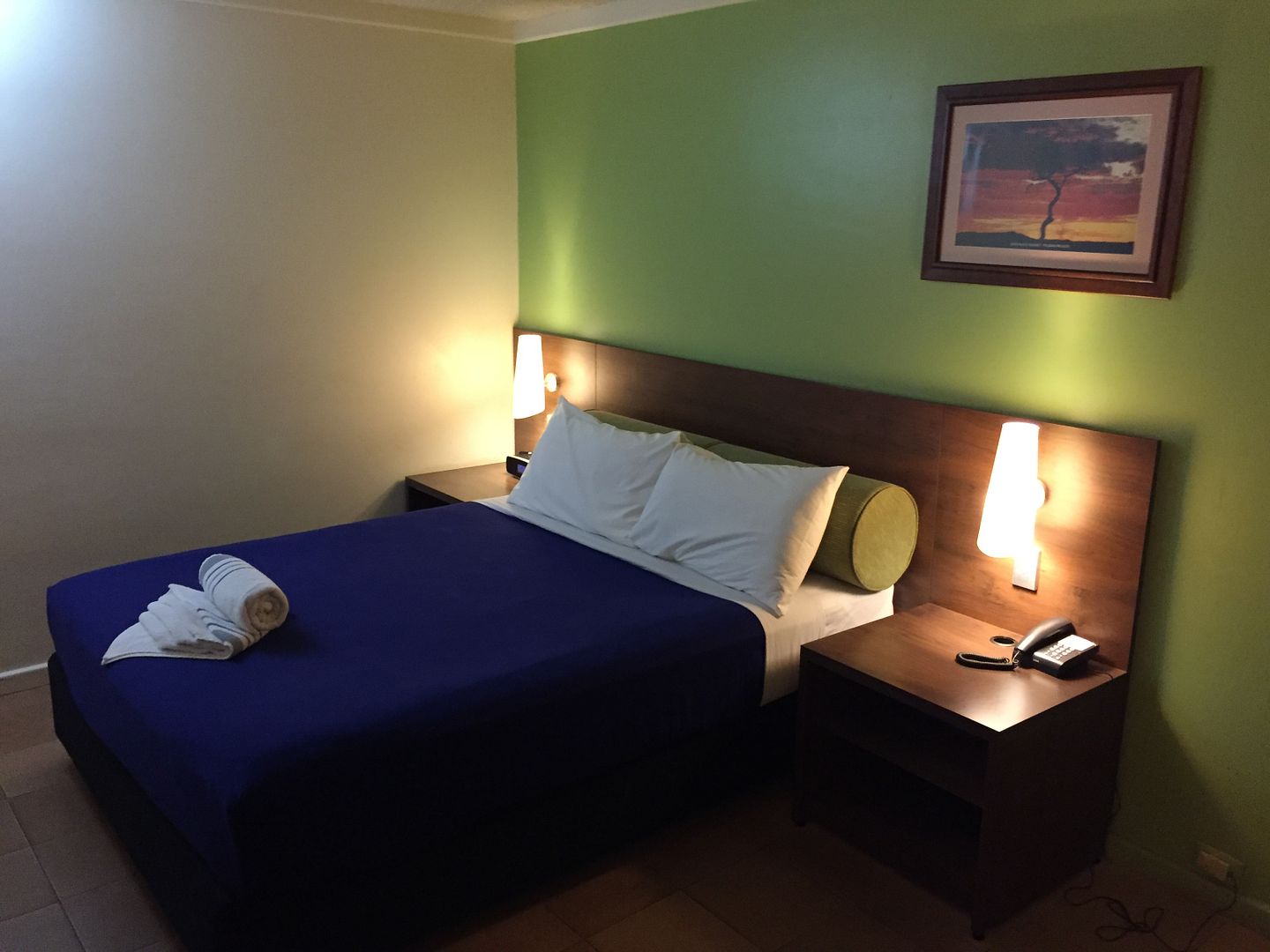 The hotel was not bad, but there was no Internet service at all.  Most of the passengers were put in rooms that were really far away from the main hotel building.  After so much hassle in the airport, I just wanted to sleep.  However I did check on the status of Air North's EMB-170s before going to sleep, and thankfully Airnorth did not operate a full schedule on the weekends, and there were two EMB-170s in Darwin.  One would have to go to Dill the next morning, but the other one was not working any flight.   Although Novotel Darwin Atrium refused to not charge me the first night of my two-night stay (but I have insurance), I went to bed knowing that there would be a rescue plane coming over the next morning.
Beautiful sunrise at PHE – not sure if I will ever come back again
Breakfast was provided for free in the hotel, and hot breakfast began at 6am.  Most of us were able to get some breakfast before going back to the airport, which only has a café on site.  Some passengers chose sleep over food, but after the rather long waits yesterday, I better ate something before this morning's ordeal.   I also took the opportunity to use the free wifi in the lobby area to track any plane coming into PHE, and was happy to see that VH-SWO was flying over to Port Hedland, but I was not sure if we needed to be at the airport so early.  The plane did not arrive till 7:53am. 
October 9, 2015
TL 355 PHE-Broome Lv0840 Arr0935 EMB-170 VH-SWO
Back at PHE – the terminal is not as fancy as Karratha, but I like the infusion of local arts in the terminal.  It made it a bit more colorful.
Baggage claim
Terminal
Qantas/Airnorth check-in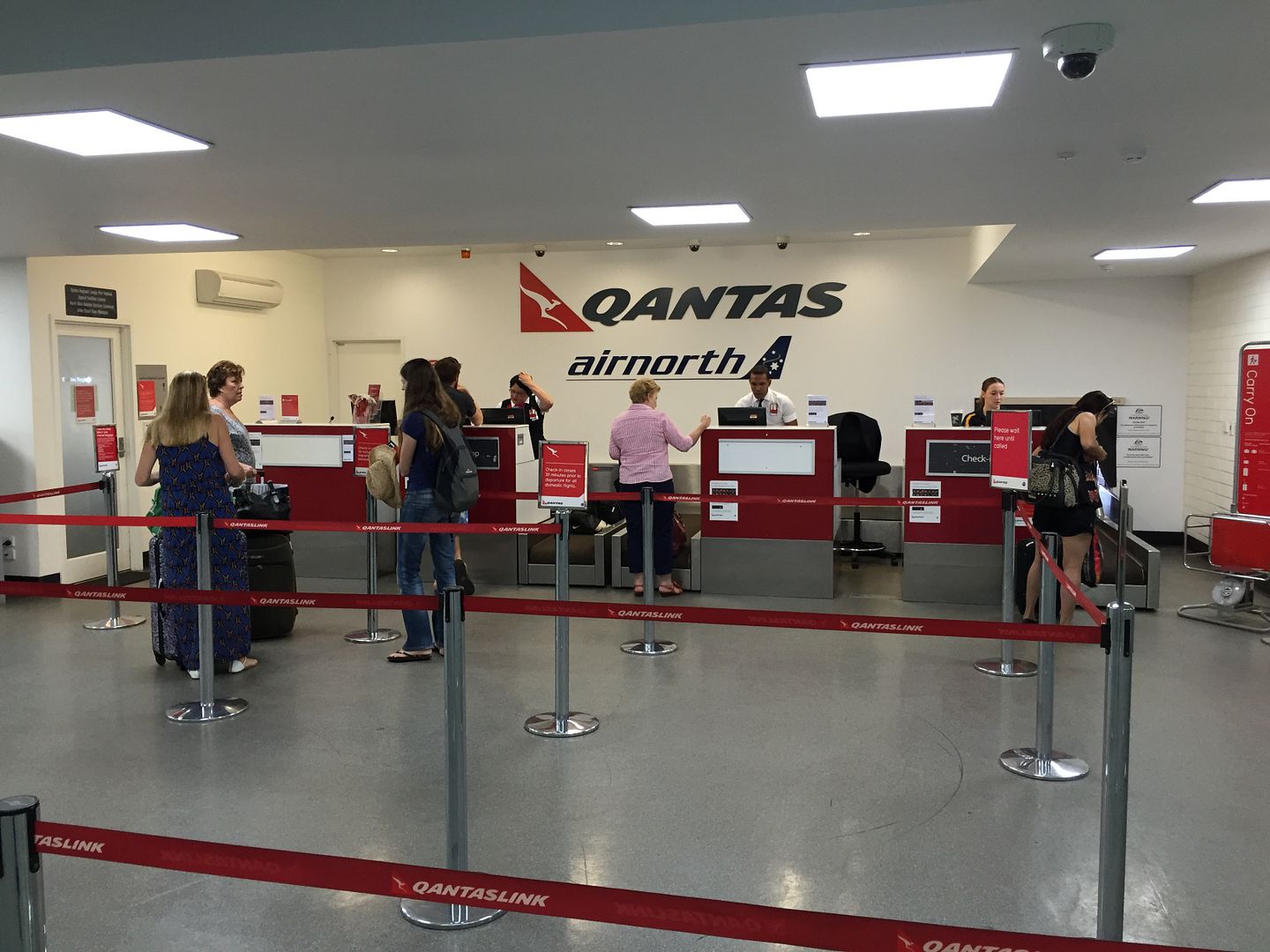 This morning's activity – interesting to see an afternoon international from and to Bali on Virgin Australia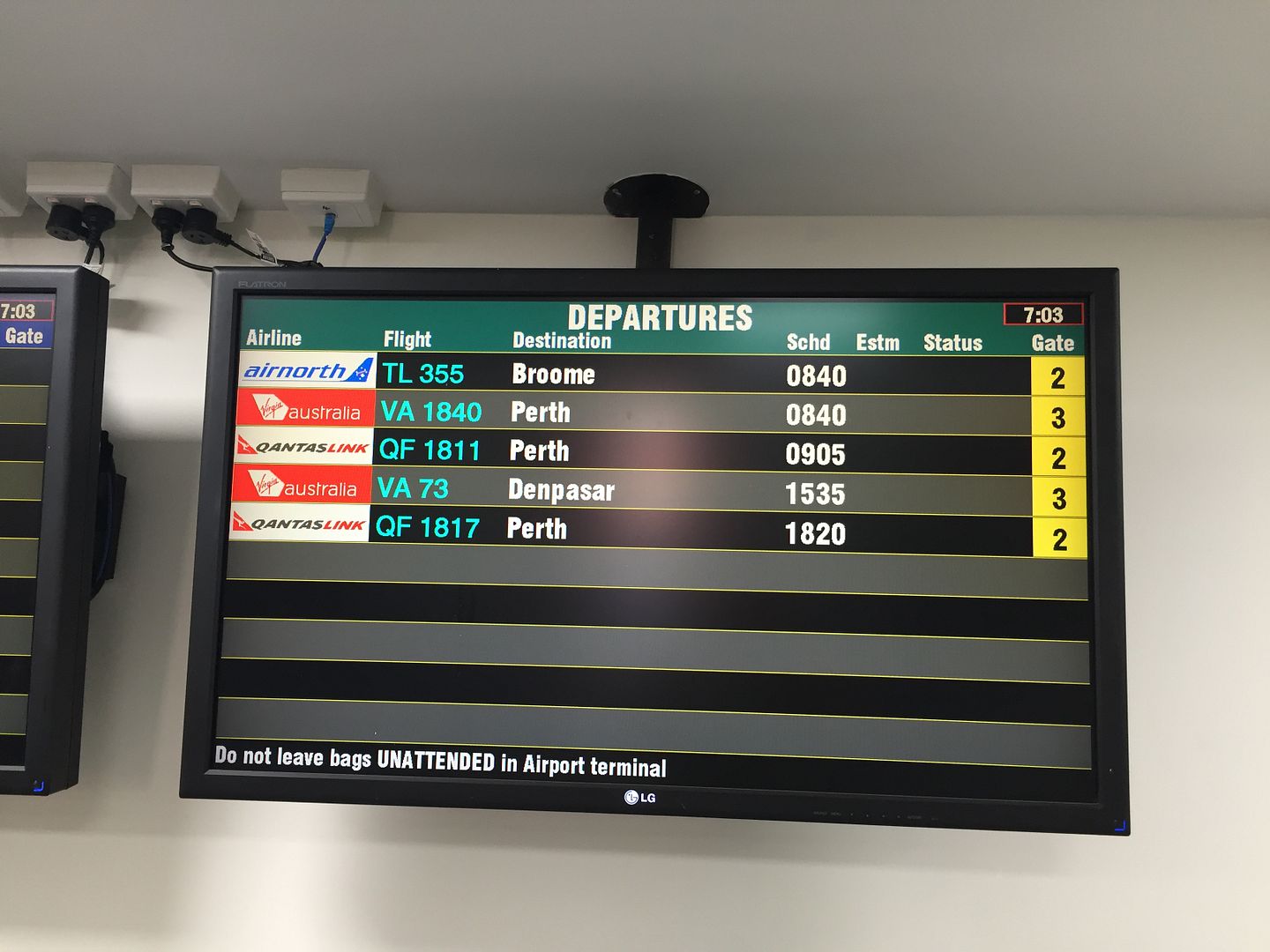 Gate:
Everyone had to check in again with an updated boarding pass and many baggage tags need to be reissued.  All three counters were opened, and since it was just a quick reissue, things went on smoothly.  I had a feeling that the staffs wanted to complete all our check-ins before handling their regular morning flight to Perth.  
Qantas actually has a lounge here in Port Hedland, but was not opened when I was there.  If I knew about the length of the wait, I might have stayed in the public area and spent the hour there. 
VH-SWO finally landed at 7:53am.  Unfortunately the old colorful Soloman's livery was removed, but I was happy to see a replacement plane coming in.  I then overheard some confusion on whether they are going to continue on the original plane or the new plane.
The waiting game resumed with little information, and I soon saw the arrival of the Virgin Australia's flight (operated by Skywest livery F100) this morning and the Qantas' Boeing 717 flight.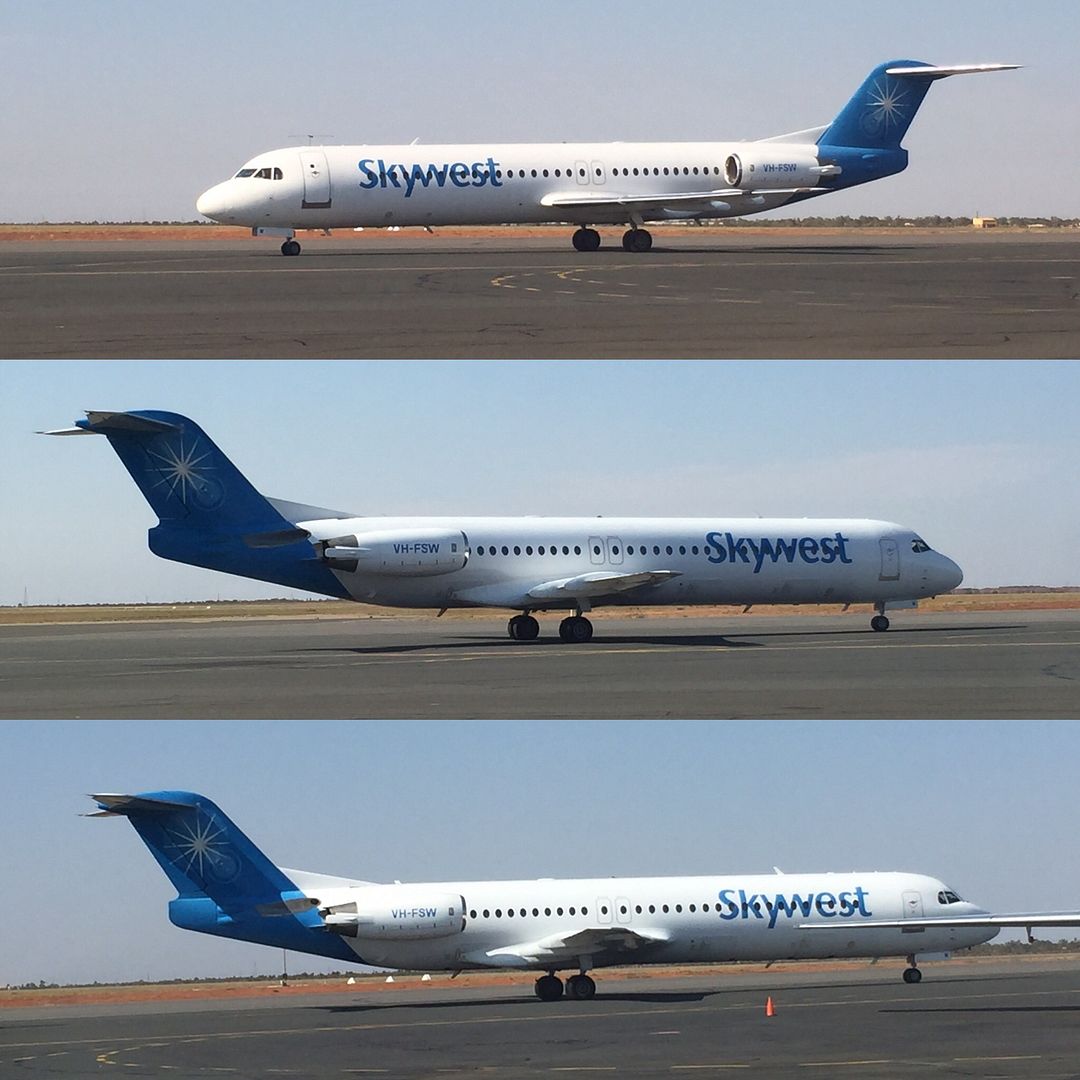 Both flights came and went, and despite our flight arrived the earliest, we departed the last.  Boarding was finally called at 8:45am and we were directed to the new plane. 
Poor Savannah being fixed
Our new plane
Finally some cabin shot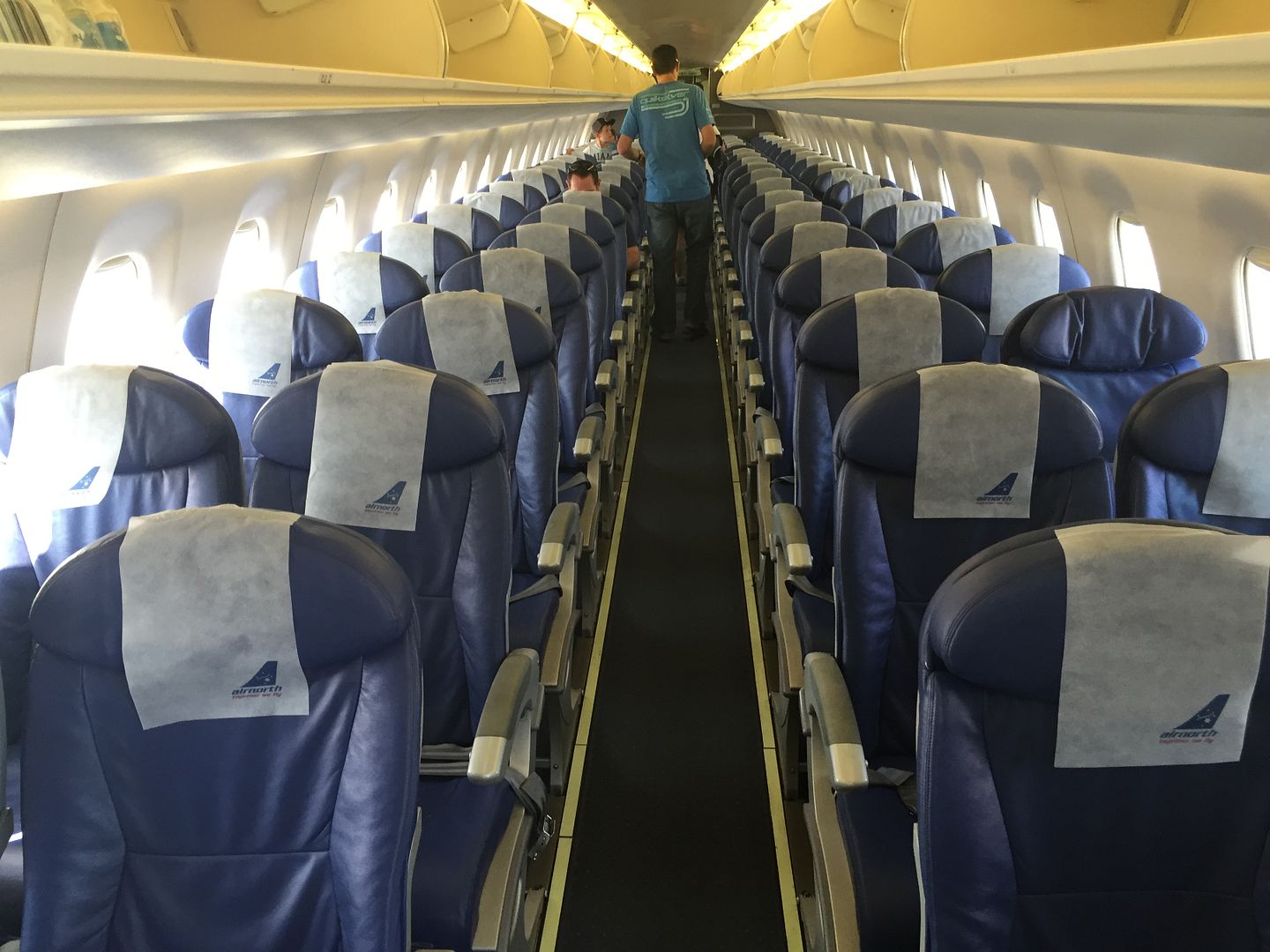 Row 1 definitely has the most legroom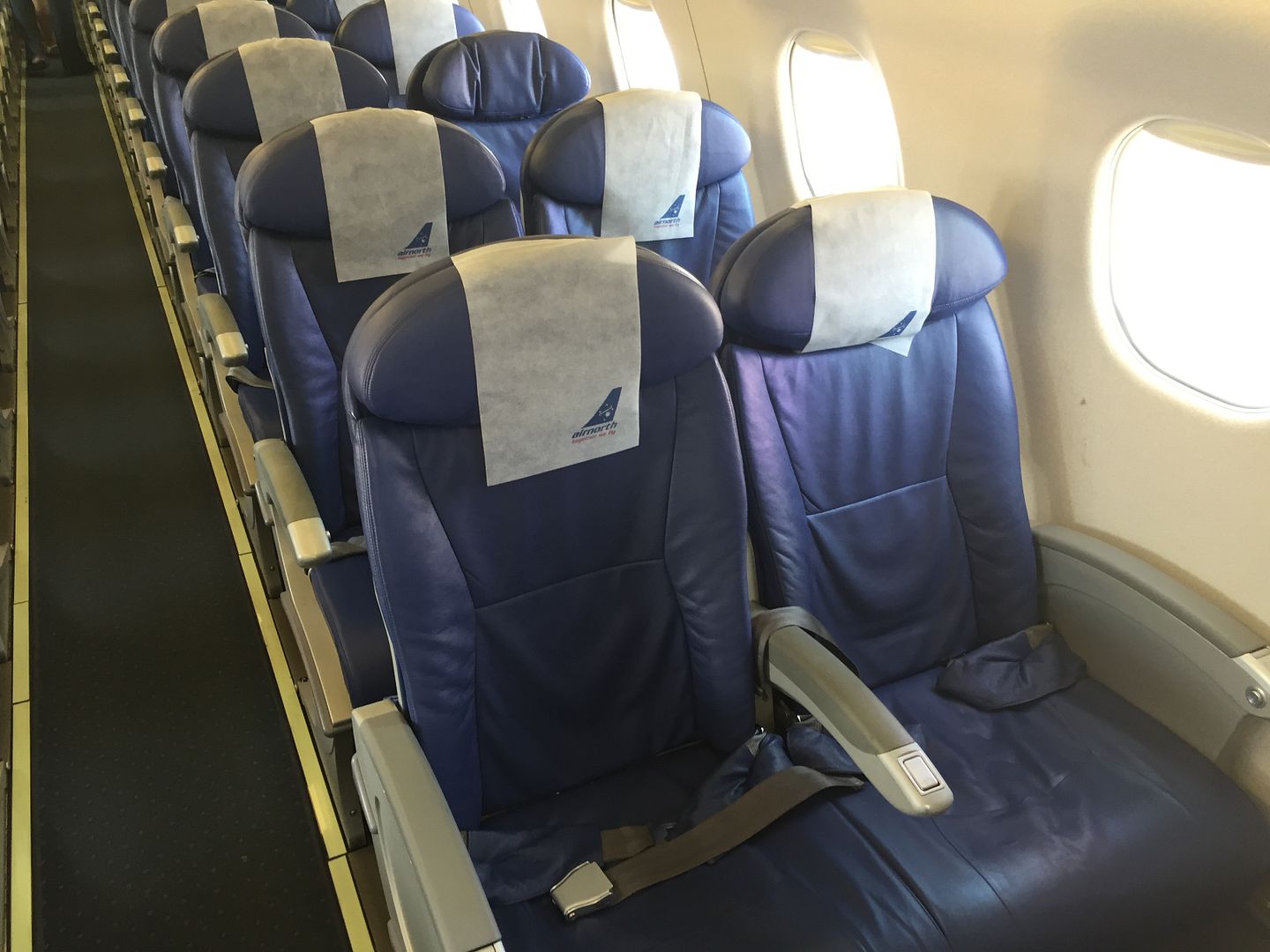 Jessica and Travis were welcoming passengers again and today definitely went smoother than yesterday.  Door was closed at 8:56am with a push back time at 9am.  We took off from R/W14 at 9:05am for our forty-five minutes flight to Broome.  We cruised at 35,000feet.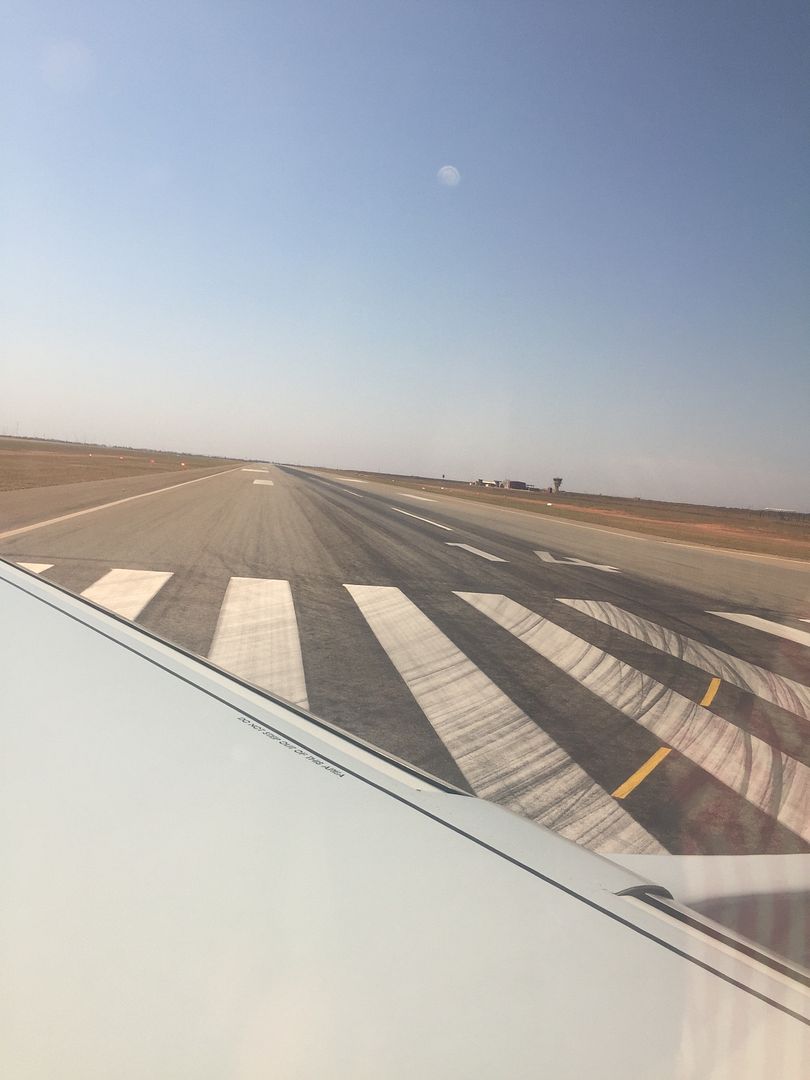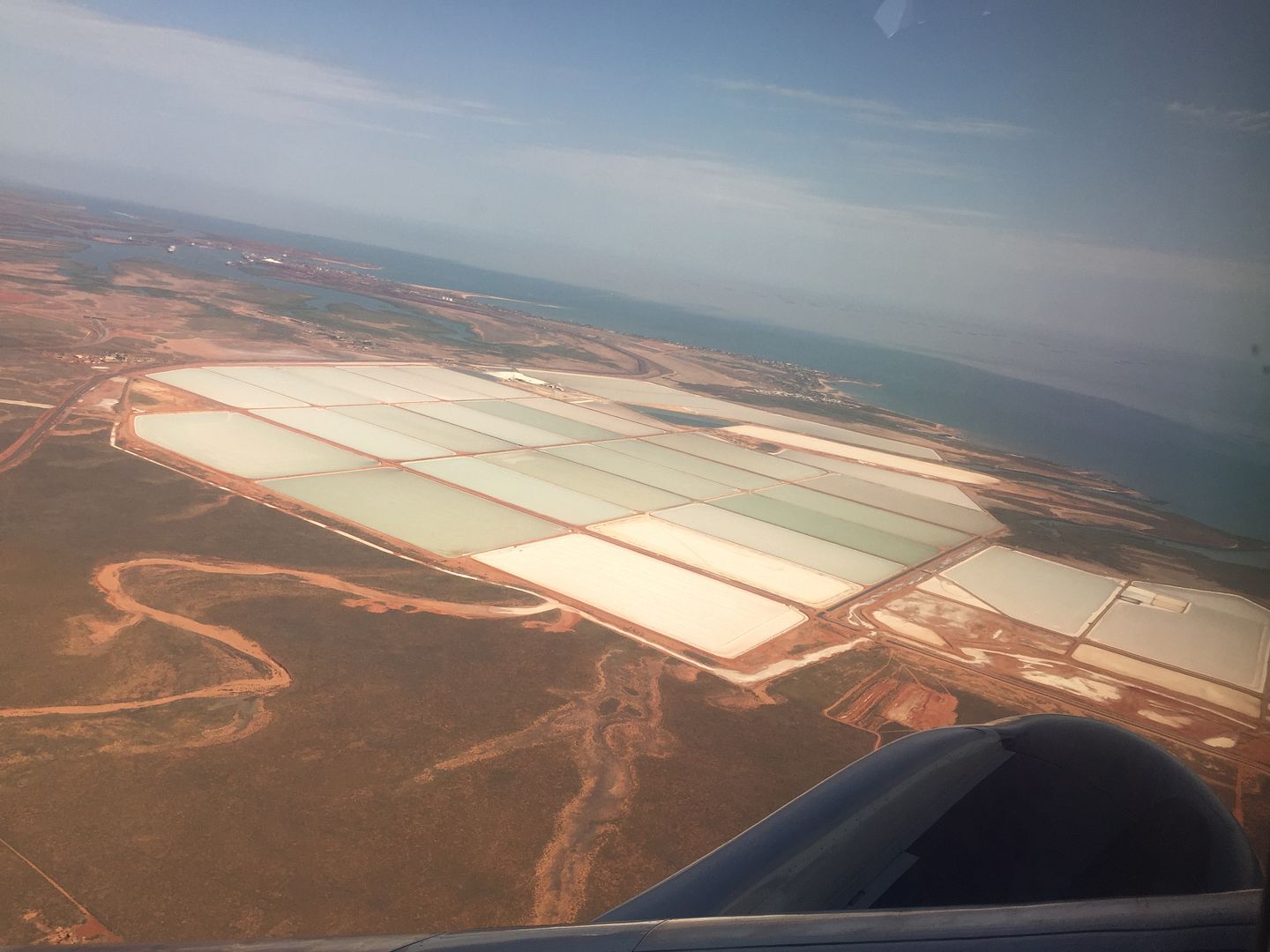 In-Flight Service:
In-flight service was quite extensive for this forty-five minutes flight, and both Jessica and Travis did it with a smile.  Local newspapers (NT Times) were first passed out, followed by a basket of muffins.  Unfortunately, the only food available was muffins this morning, but given the last minute nature, I honestly could not expect a more substantial snack.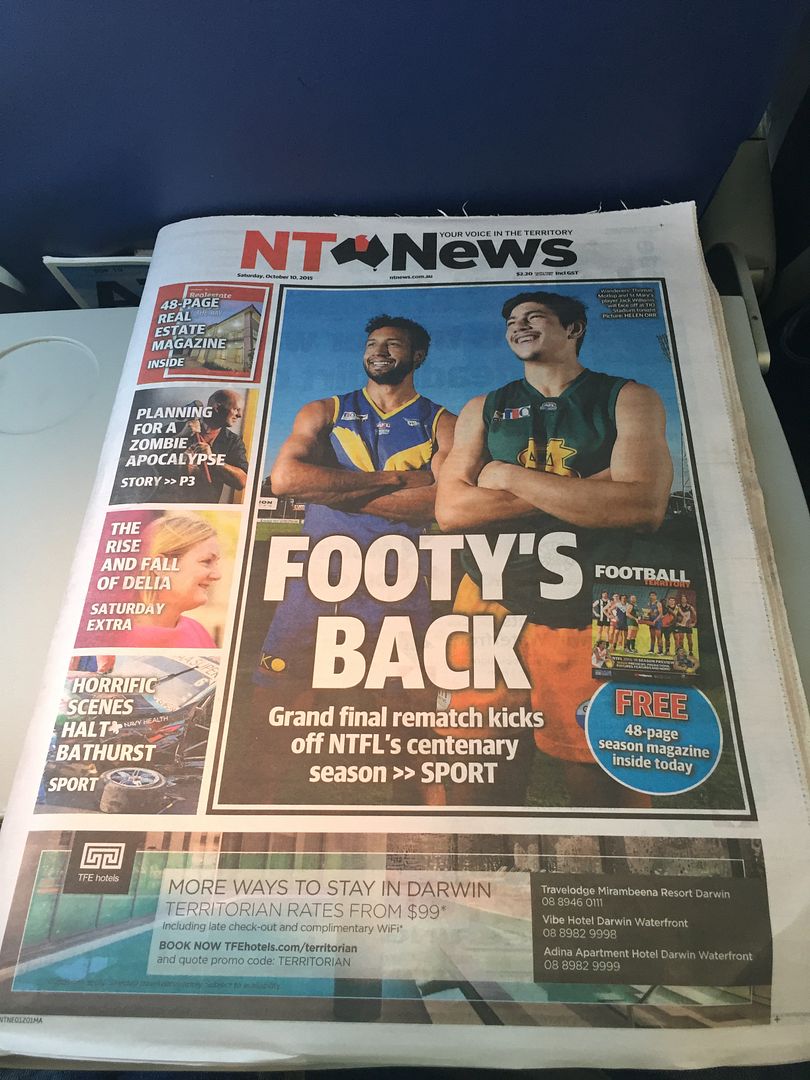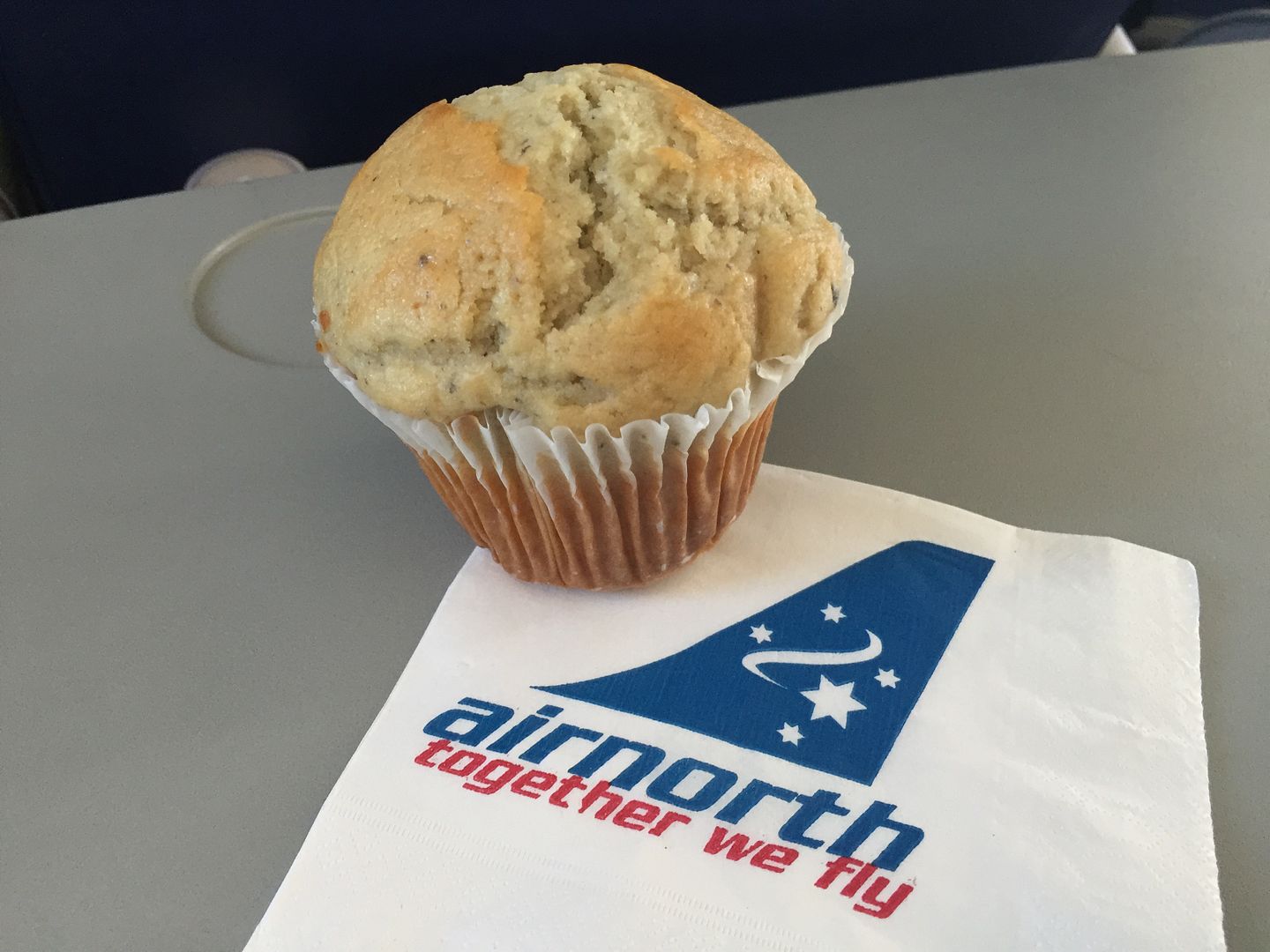 I love the napkin
After the muffin, Travis passed out full sized bottled water, and Jessica pushed out a beverage cart featuring a free bar including sparklng wine, and a full selection of soft drinks and juices.  Tea and coffee orders were taken, as Jessica told passengers that they might not be able to do a hot beverage service due to the short flight time or possible turbulence.  In the end, they managed. 
Full-sized bottled water – really impressed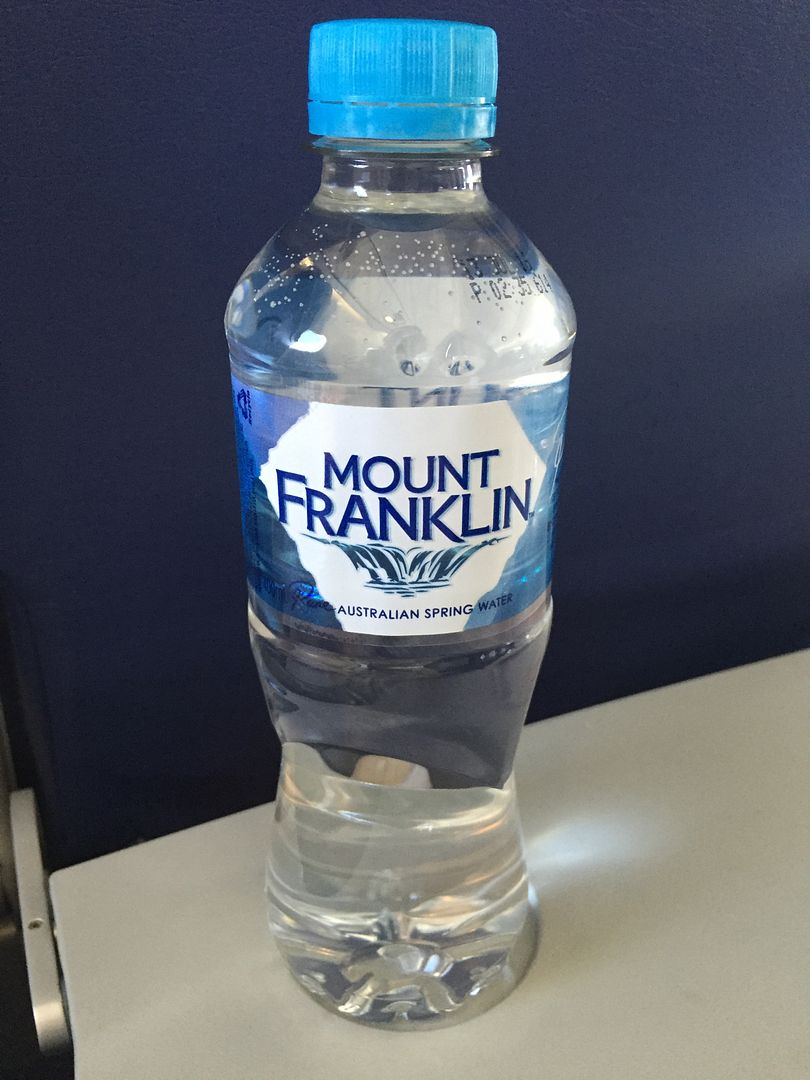 Descent soon began at 9:28am.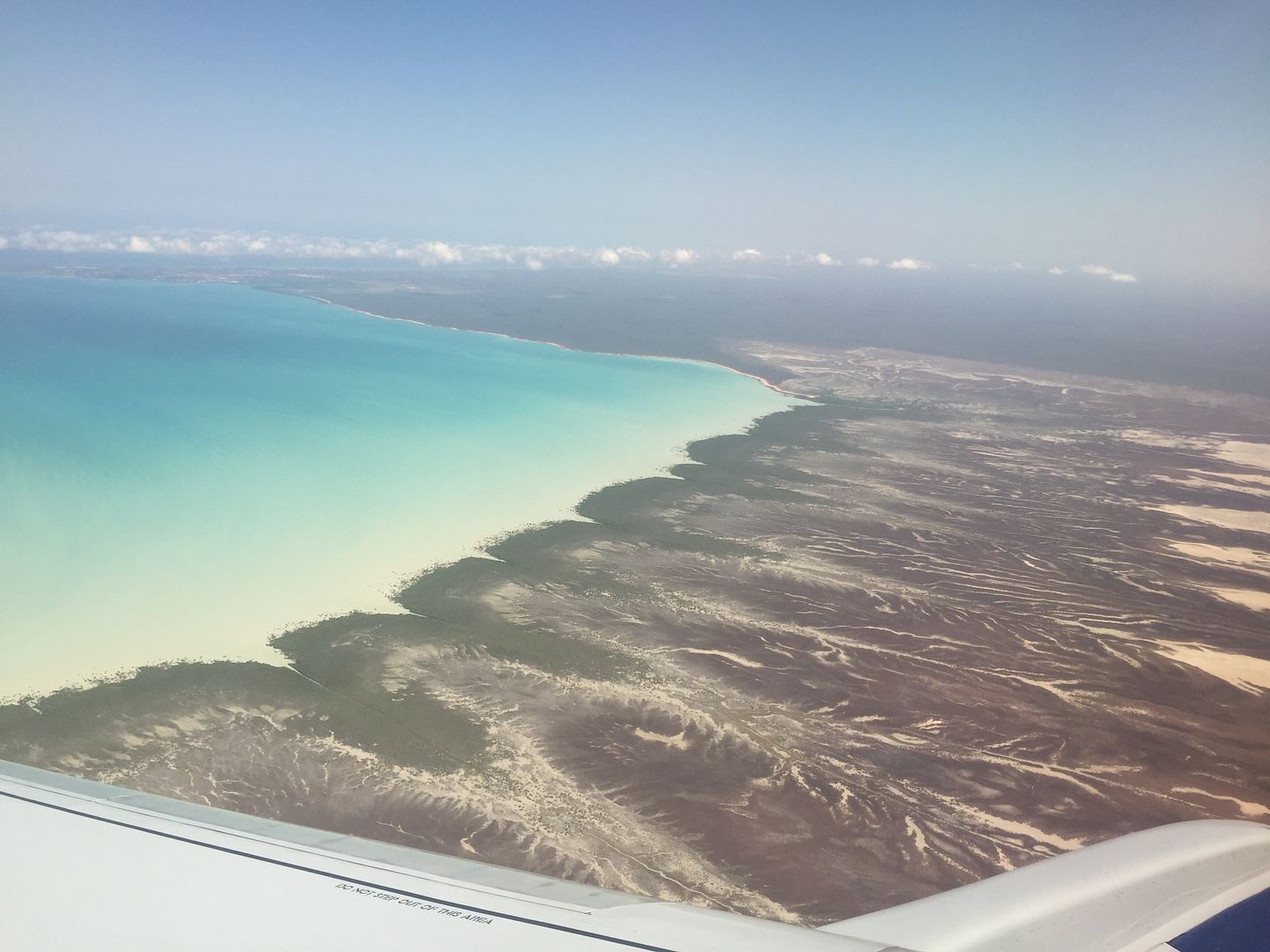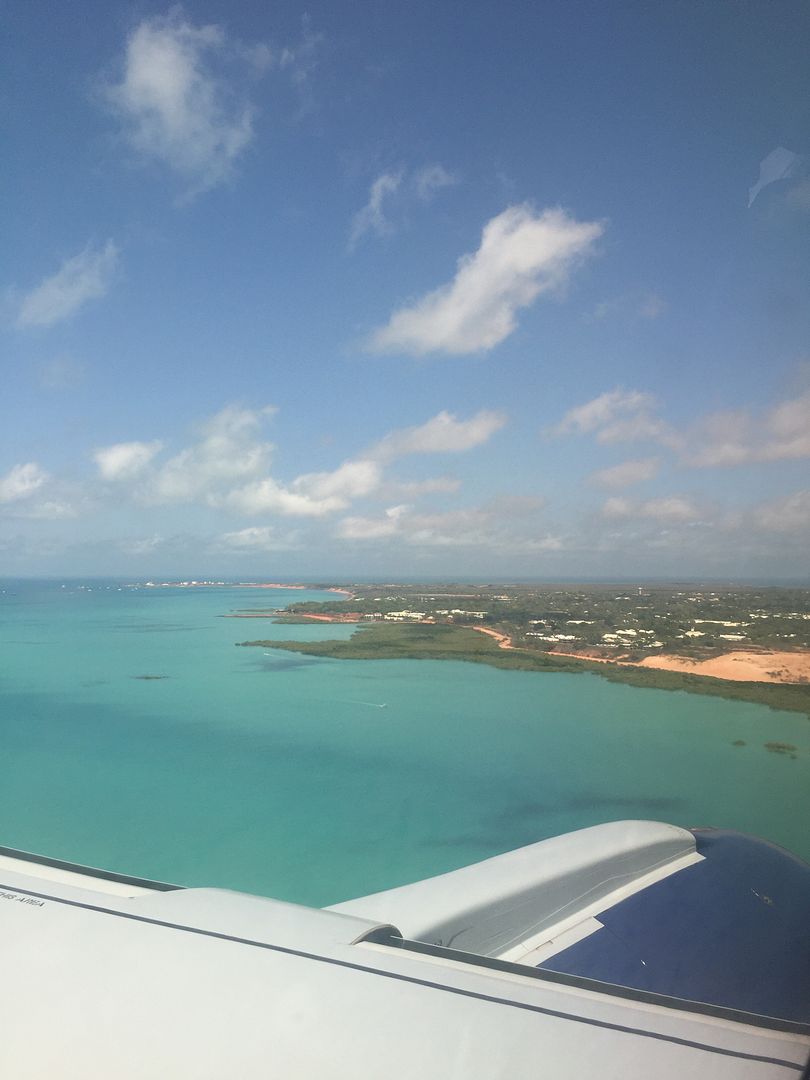 We landed on R/W28 at 9:49am and parked at gate 2 six minutes later.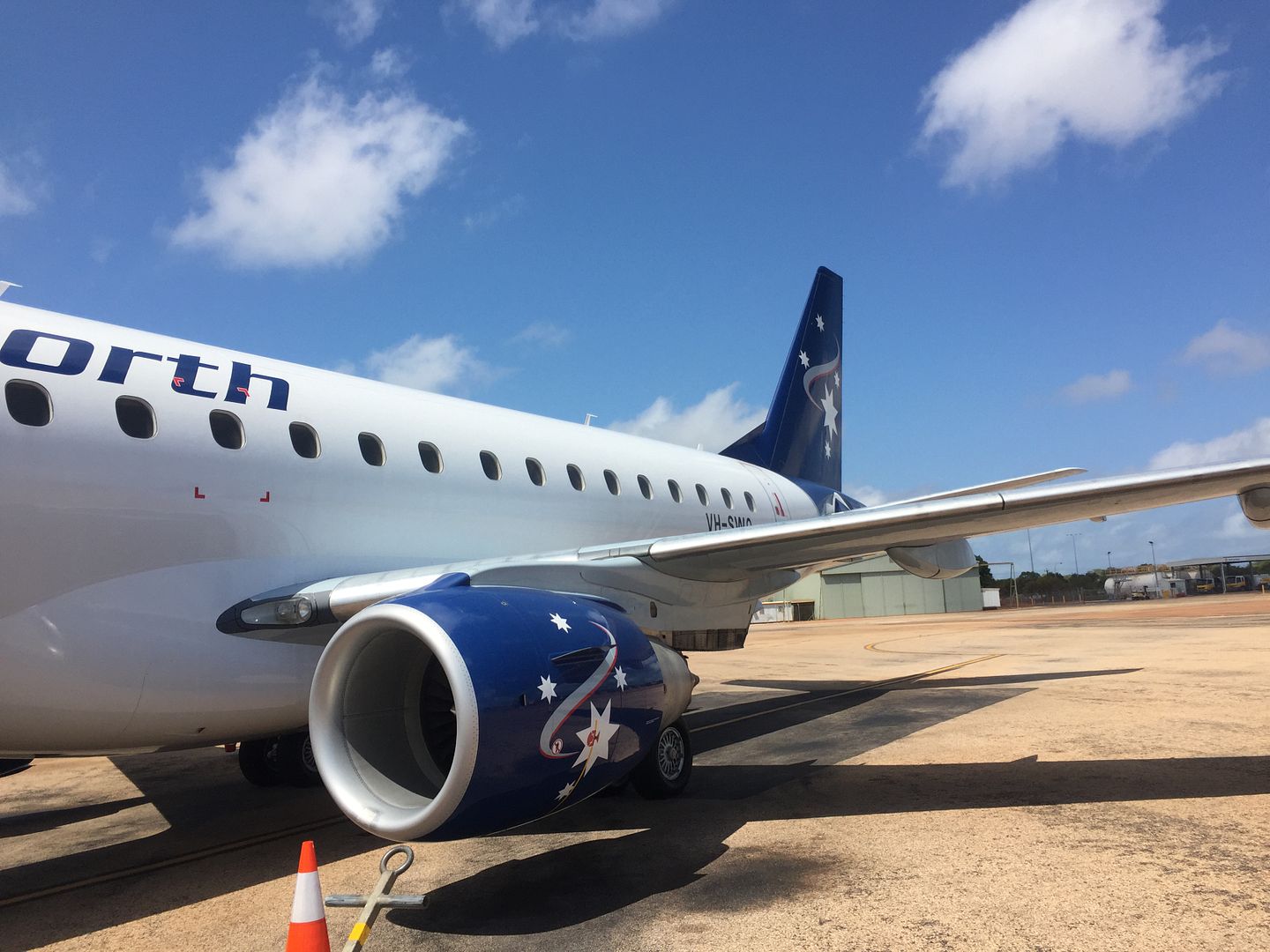 We were required to deplane here at Broome because they would refuel the plane here.  Transit passengers were directed towards the secured gate area, while Broome bound passengers were directed to baggage claim. 
Broome terminal definitely reminds me some of the Hawaiian airports – very tropical. 
TL 355 BME-DRW Lv0940 Arr1250 EMB-170 VH-SWO
Airnorth Regional at Broome
One of the most stupid rules that I came across in Australia during the few days flying in and out of these small airports is the rule prohibiting the use of mobile phone in the tarmac.  Given how close the terminal towards the plane is, and how the staffs are using walkie-talkies to communicate, not to mention all the cell phones inside the pockets of the ground staffs, baggage handlers, and passengers inside the plane, I don't understand how those mobile phones will affect the operations.  It just made no sense when a gate agent barked at you for using your cell phone to take photos, while she was holding on to walkie-talkie.  I did not understand the objective of such a rule and maybe I need to carry my camera for my future regional flights.  Most agents did not care, but there were always a handful of them.  With the noise in the tarmac, they literally had to shout, which further annoyed me.   So sorry for the limited plane pictures here at Broome!
A few passengers left us here and a few passengers boarded here, but I still had two seats to myself.  Airnorth basically tried to assign solo travelers two seats to him or her if possible, which was a nice gesture.  Boarding resumed at 10:13am and door was closed at 10:24am.  We pushed back a few minutes later and we took off from R/W28 at 10:33am for our an hour and twenty-nine minutes flight to Darwin.  Our cruising altitude was 37,000feet.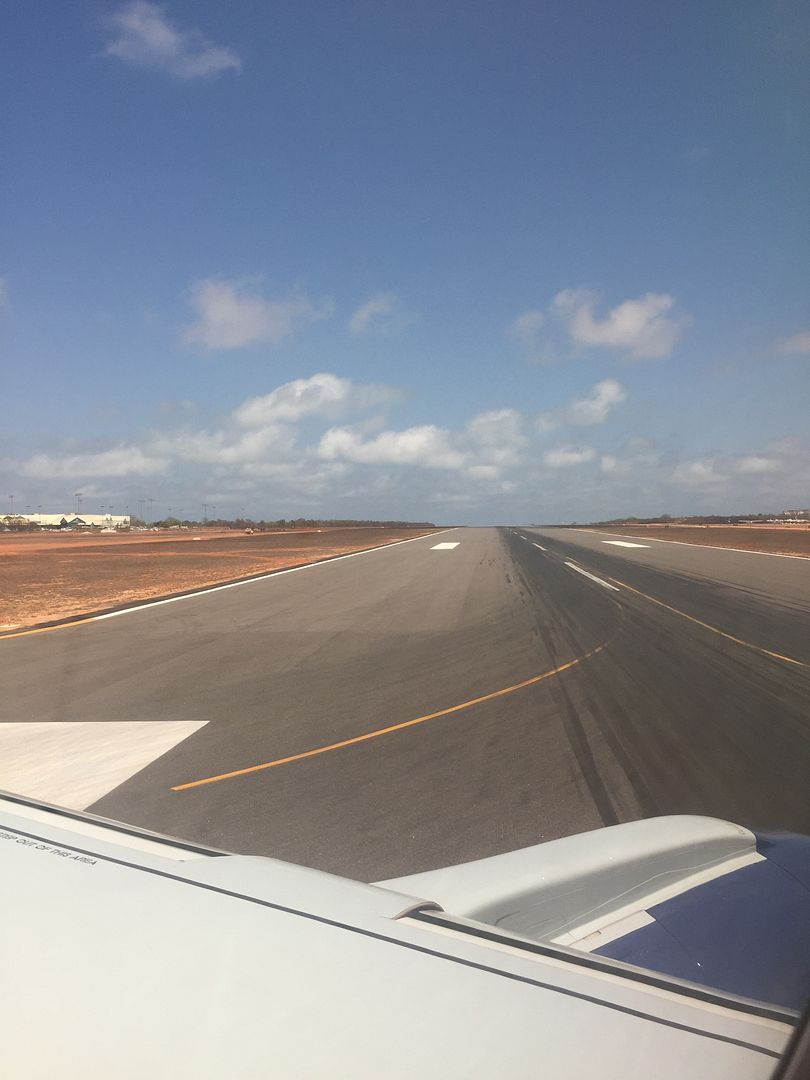 Interesting to see a Costco next to the runway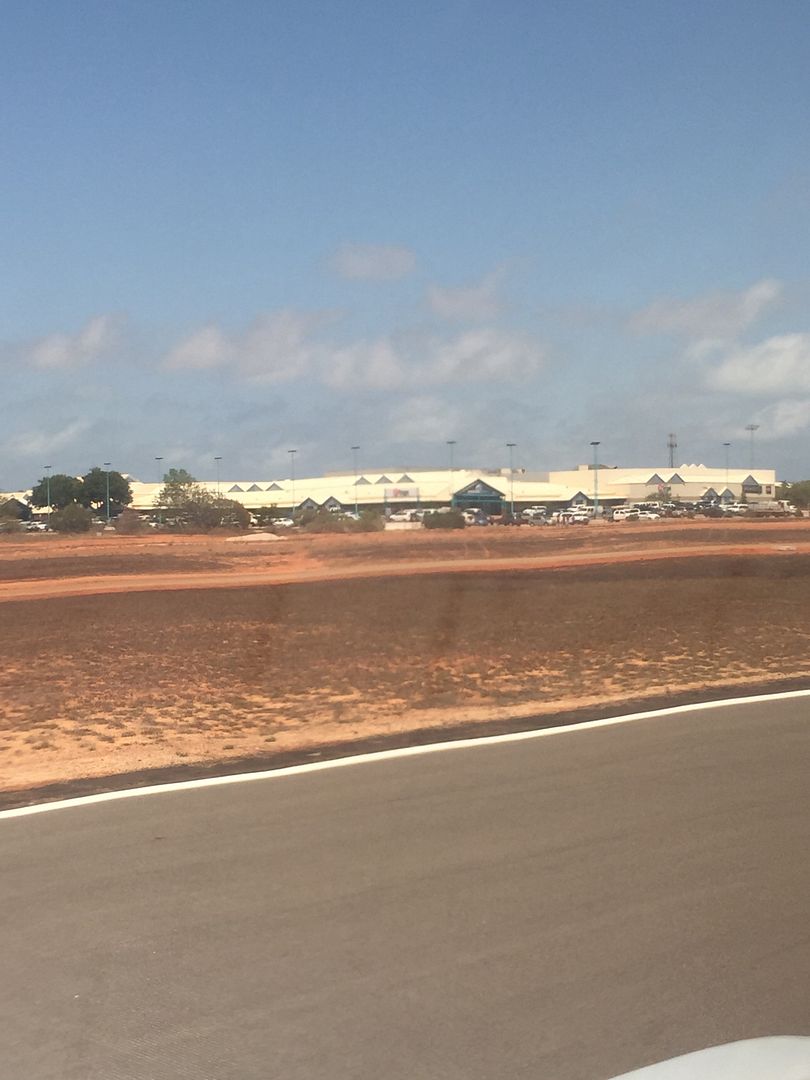 The same service was offered again, and I sort of wonder what should be offered on the regular flight.  Anyway, Jessica and Travis were efficient, and I decided to get a bottle of white wine too.
Interesting to note that the aft bathroom still retained all the old traditional Chinese signage, and it feels a bit nostalgic seeing all these Chinese writing that remind me of my birth place and an airline, that is now LCC, instead of full service regional carrier. 
Descent soon began at 12:59pm Darwin time, which was an hour and half ahead of Broome. 
We landed on R/W29 at 1:32pm and quickly taxied to parking stand number 6. 
Darwin airport
This time nobody was barking at me, and I took a few photos!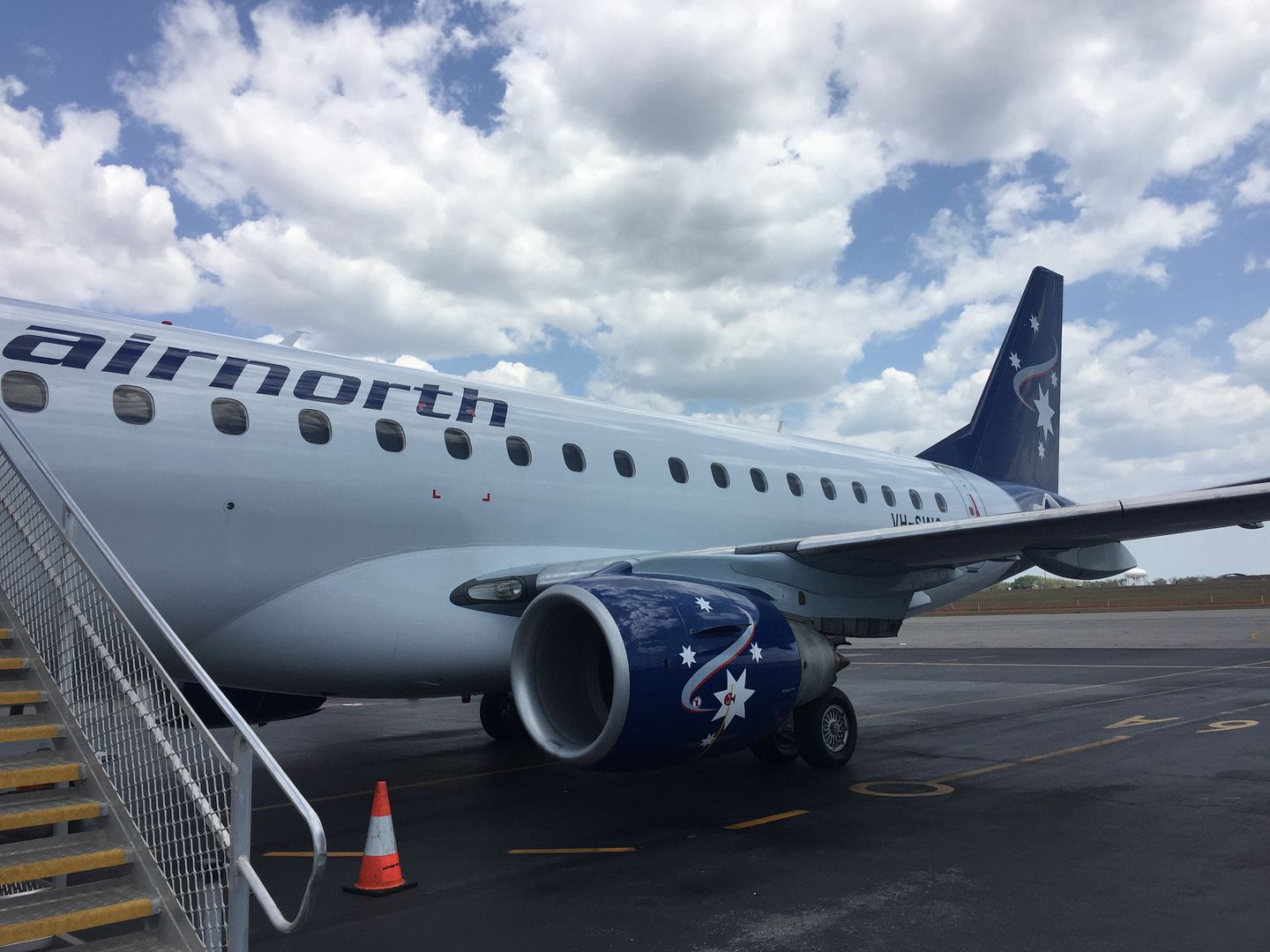 Goodbye Airnorth, but I am sure we will meet again!
Airnorth Check-in at Darwin – its major hub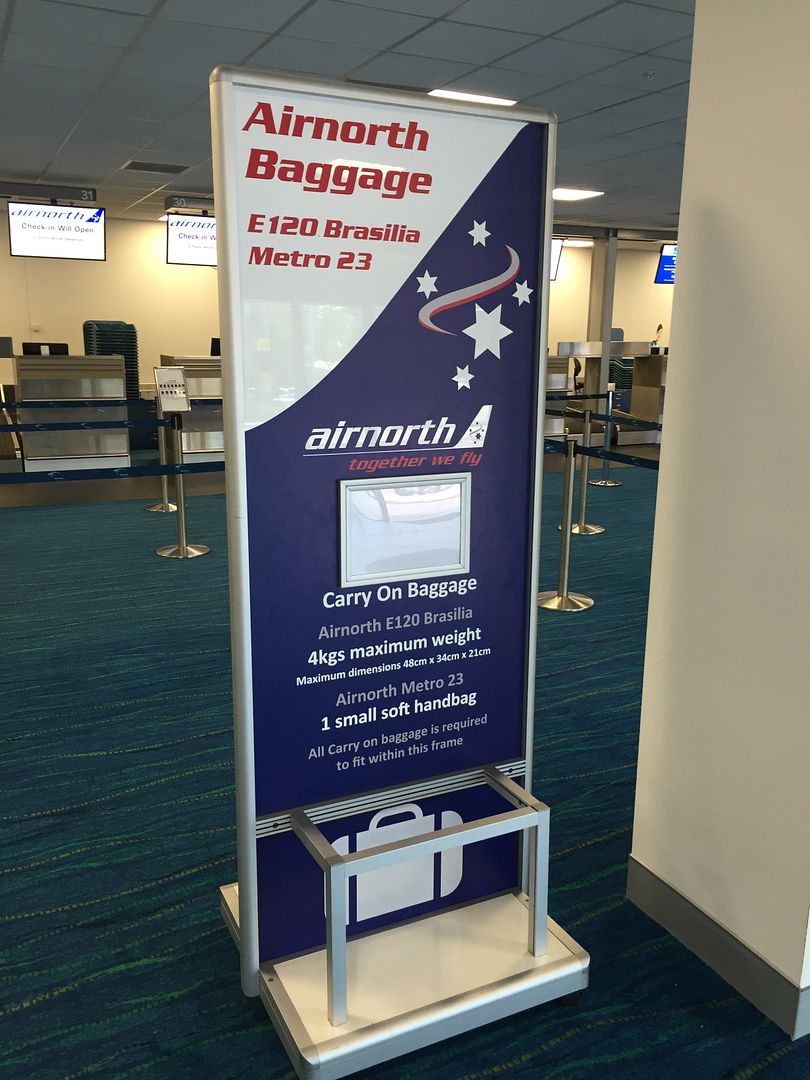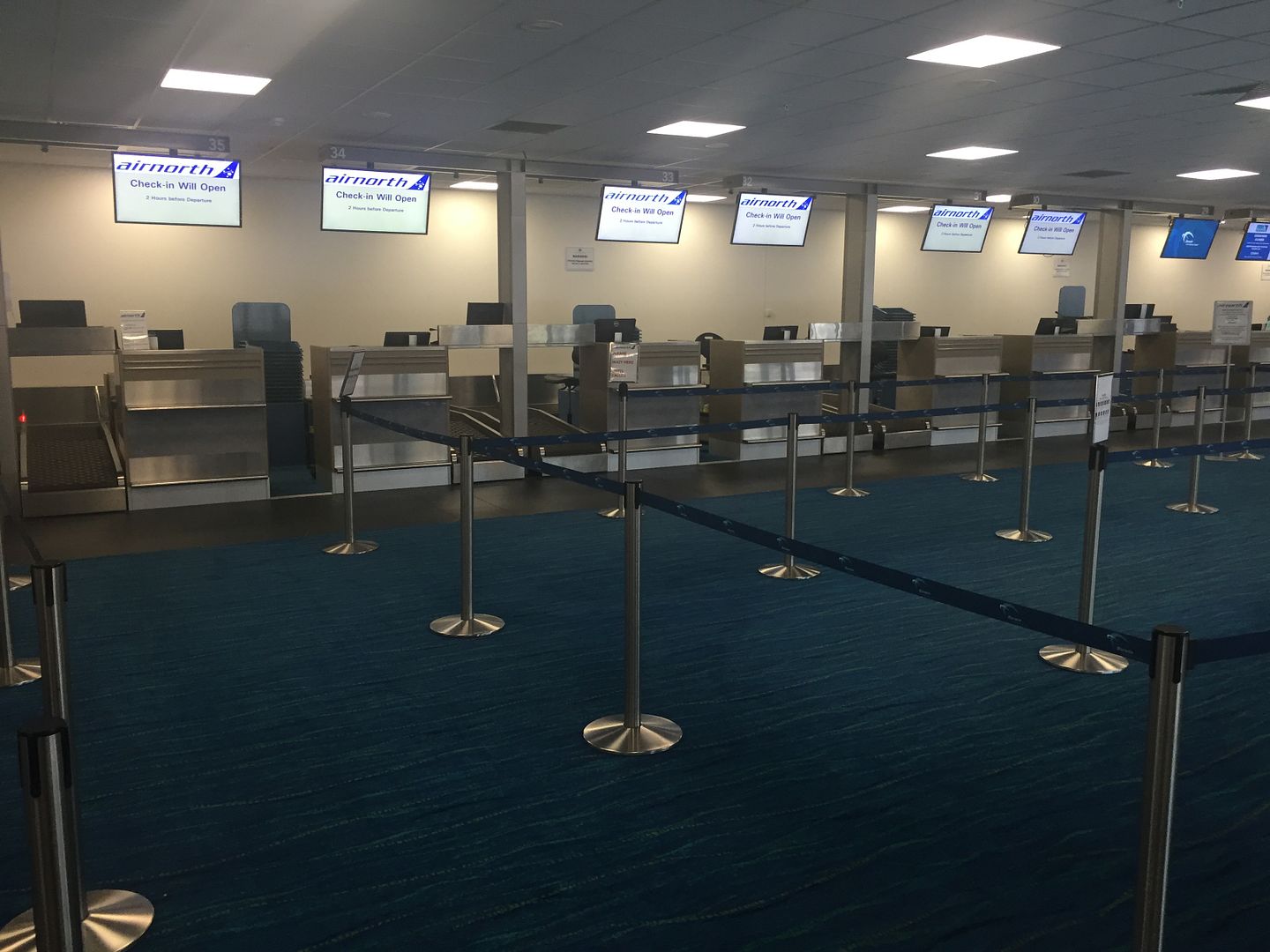 In conclusion, it was a relatively interesting journey on Network Aviation and Airnorth Regional.  I can claim that I have flown both Air North (Canadian Yukon) and Airnorth Regional (Australia), which is a nice trivial thing for an enthusiast.  For the delay, Airnorth performed mostly well, but I just wish that there would be more communications, and less waiting.  Of course things could go worst given our stranded location, but after knowing how they stocked their flights, I felt that the ground staffs could have at least passed out some bottled waters and when they knew the flight was cancelled, they could have given us some of the snack boxes that they had originally planned to serve, while we were waiting for the hotel and taxi.  Anyway, I was most impressed with my fellow passengers, who were mostly calm.  Airnorth runs quite a nice operation and after looking at the route maps, there might be a few more flights that I would like to try the next time I am in Australia. 
The next section will be about a comparison of the Capital Shuttle run by Qantas and Virgin Australia. 
Carfield