Virgin America Hawaii Inaugural Trip Report 2015
Virgin America, unlike JetBlue, does not treat all inaugurals as equals, but in general, you know your inaugural will be special if Virgin America calls you two weeks early, and tells you that there will be media on your flight and offers to rebook you for free if you want a low-key flight, or if Sir Richard Branson was on the guest list.  When Virgin America announced Hawaii six months ago, I did not even hesitate to book especially I spotted first class seats available, especially from SFO to Honolulu.  The price is $677 one-way, (which seems to be the lowest rate on this route in first class), which is actually not too bad.  Plus I noticed that they scheduled a four hours layover at Honolulu for the return flight so I knew it would be worth it.  Of course, I did not want to miss out the chance to fly a scheduled A320 ETOPS flight to Honolulu.  I think everything works out in the end.  Although this launch was still not as good as the Fort Lauderdale inaugurals with both SFO and LAX featuring a nonstop flight on the same day at similar times, it is still a cool inaugural experiences, and Virgin America not only rolls out the red carpet, but also surfboards. 
Full album
http://s1213.photobucket.com/user/Carfield76/library/Fall%202015/VirginAmericaHawaiiHNLInaugural11022015
November 2, 2015
VX 51 SFO-HNL Lv0900 Arr1240 Airbus A320-200 Sharklet N281VA "Pineapple Express"
Check-in:
The only special check-in was the media check-in counters, but you could spot all the Hawaii-themed inaugural post board all over the terminal.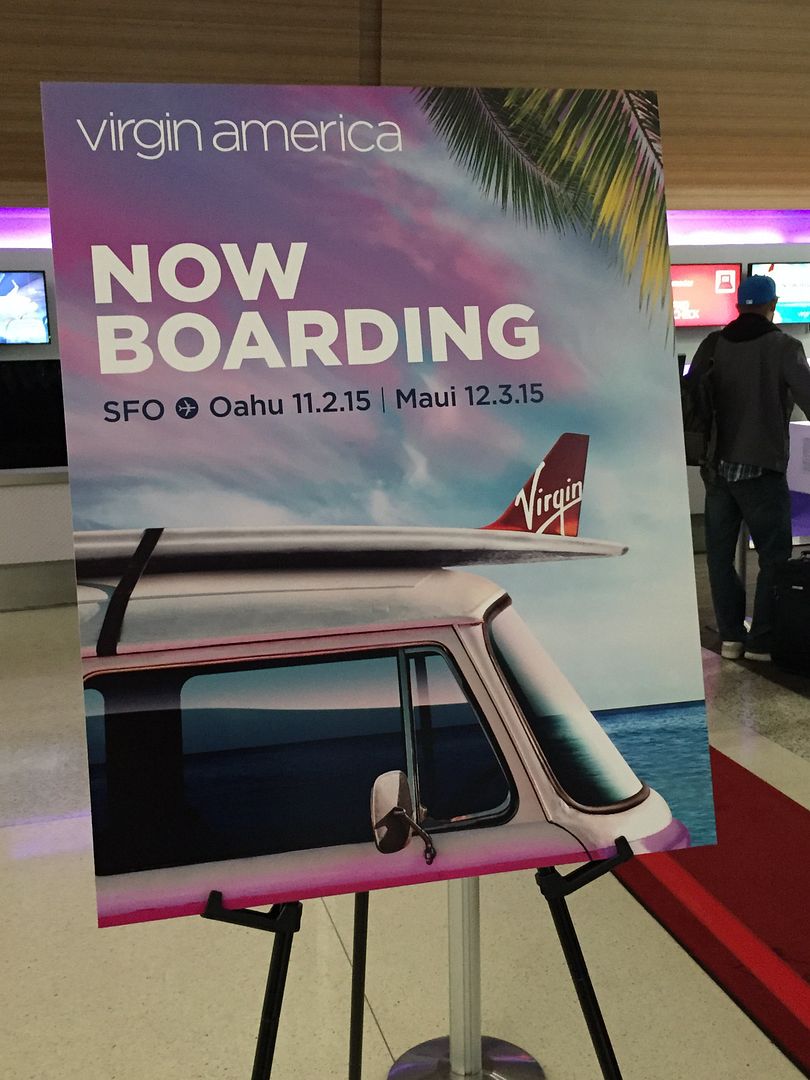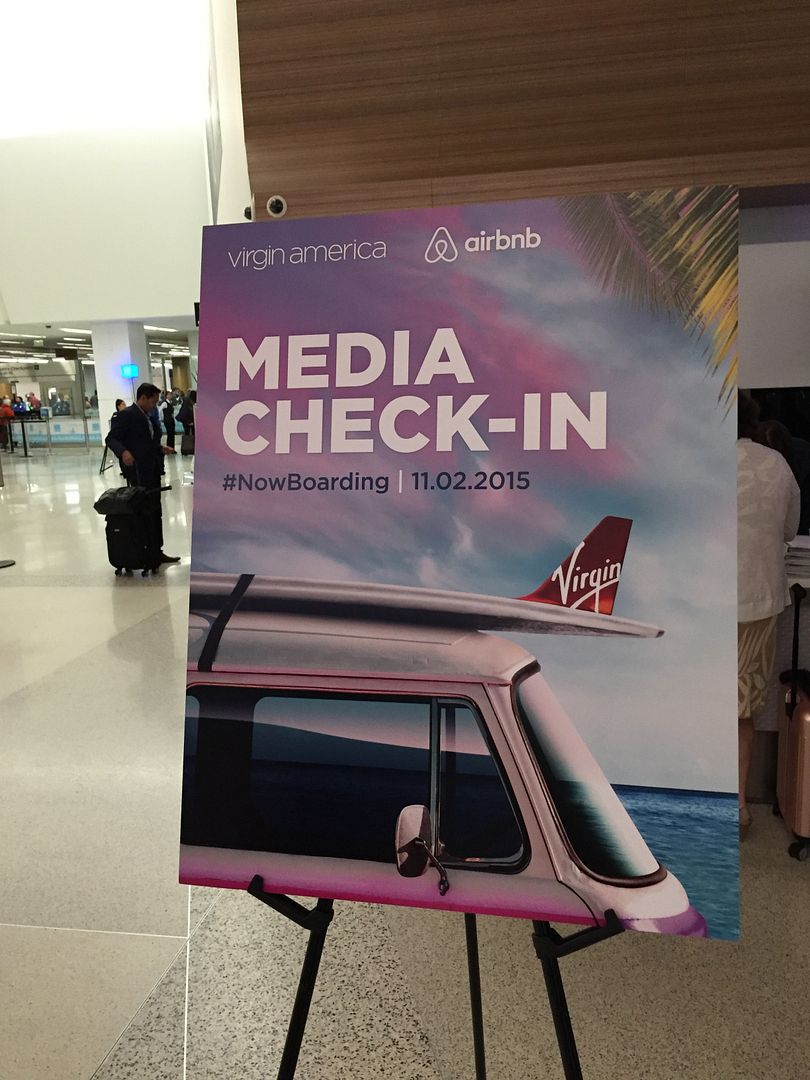 First Class check-in was fairly typical and the agent was polite, but not particularly exited about Honolulu. 
Gate: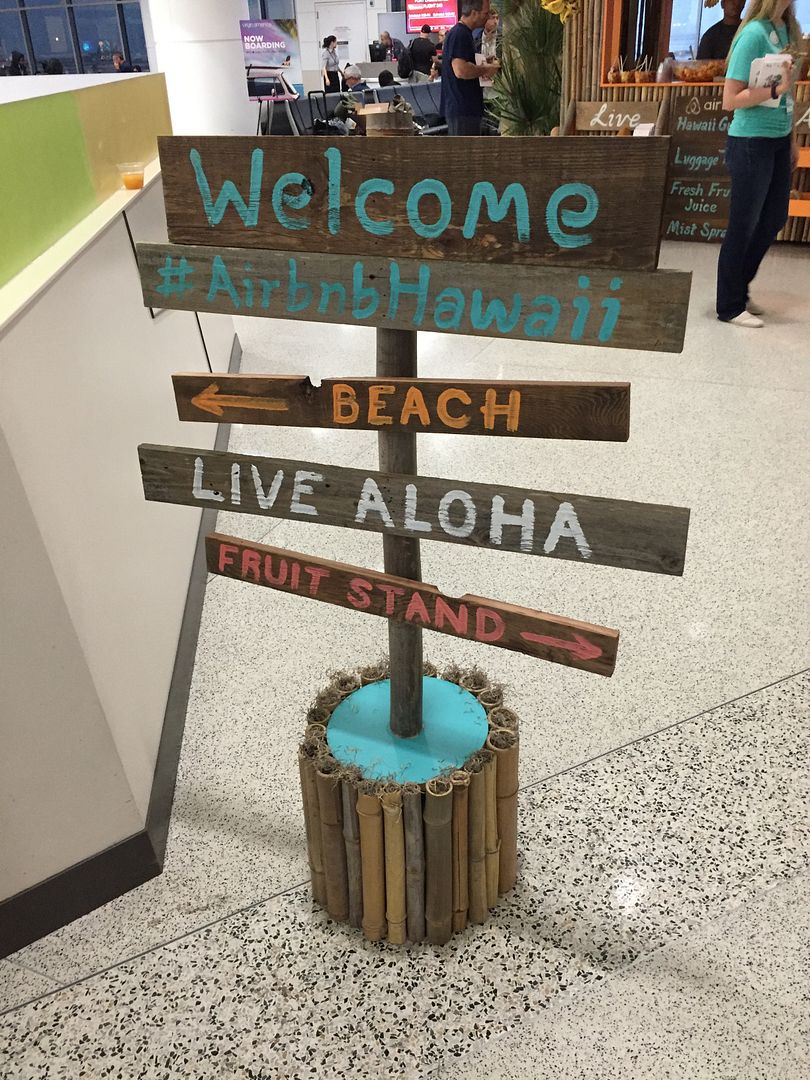 Gate 54B was our gate, and N281VA "Pineapple Express" was already here at SFO.  Instead of the Netflix "House of Card" sticker a few weeks ago, a "Hawaiian woman" motif took its place – not sure if it is permanent, but a nice touch.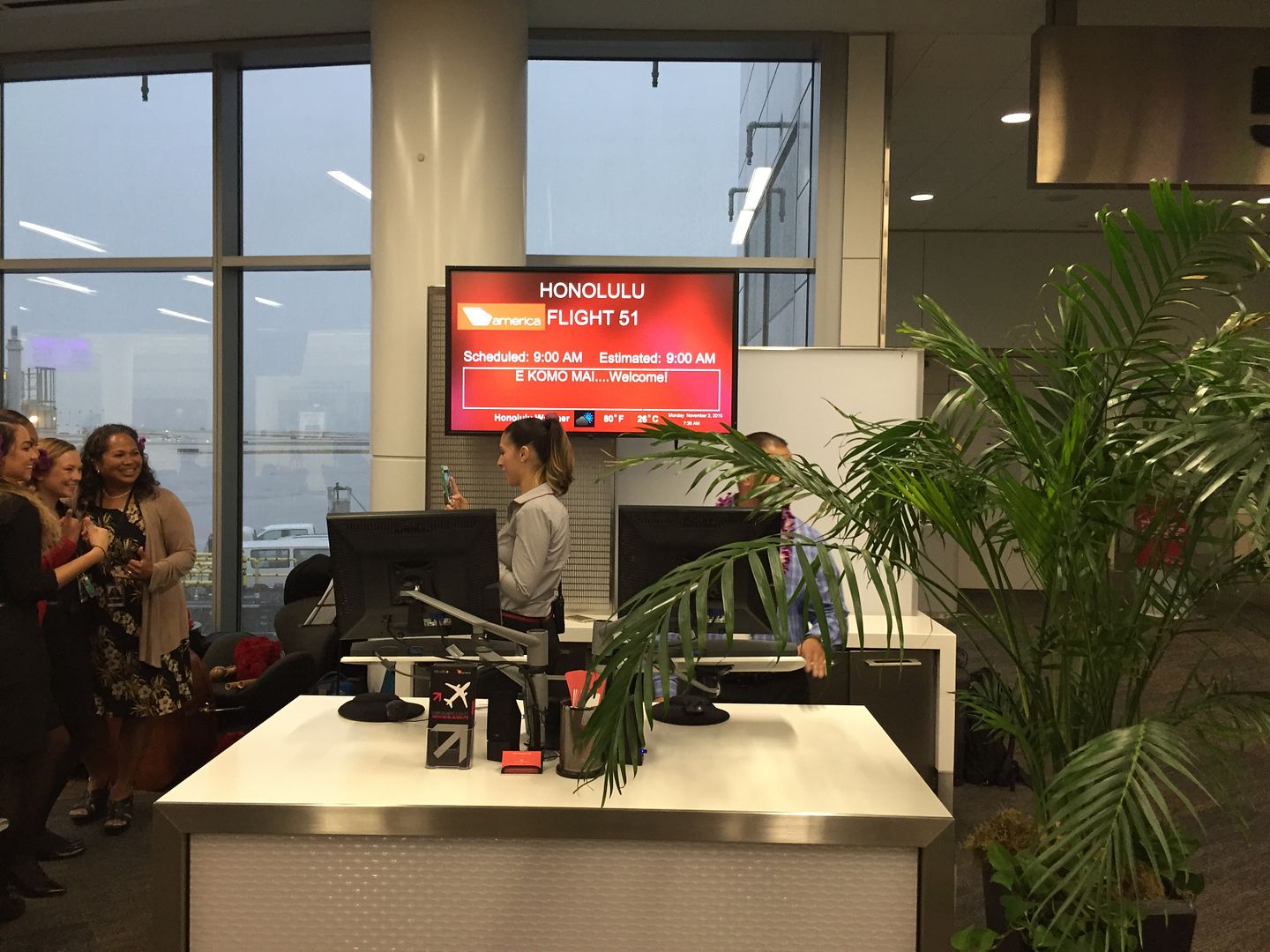 Airbnb Booth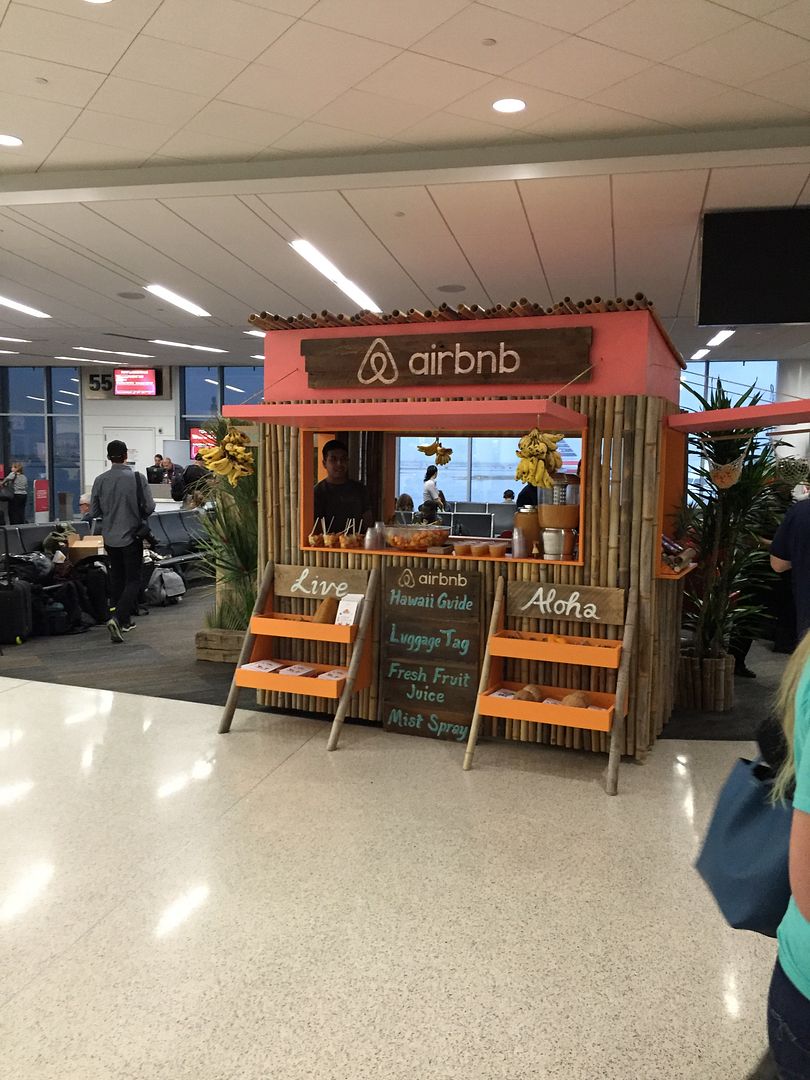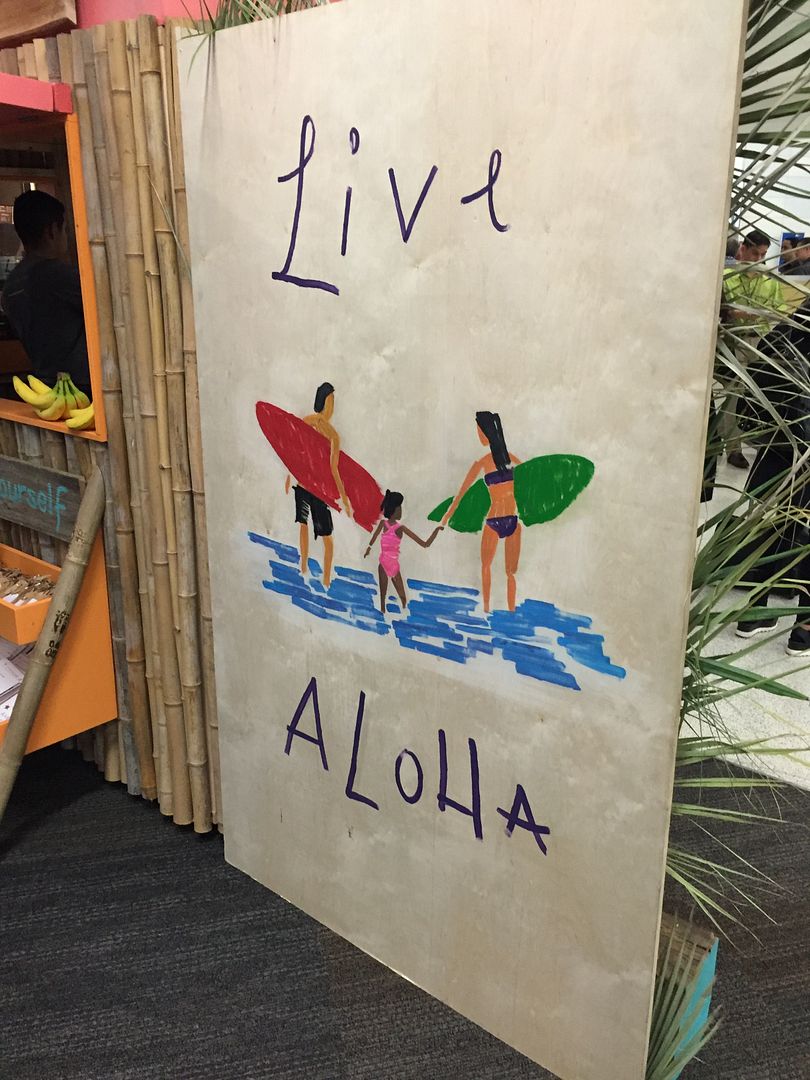 AIRBNB sign was all over the place, as it was the main sponsor of today's inaugural.  Its CEO made a few speeches throughout the day. 
Virgin America crews – I guess they either worked today's flight or had ties with Hawaii.
Buffet – early morning POG cocktail (strong too), along with fruit, yogurt parfait and pastries
Hula dancing of course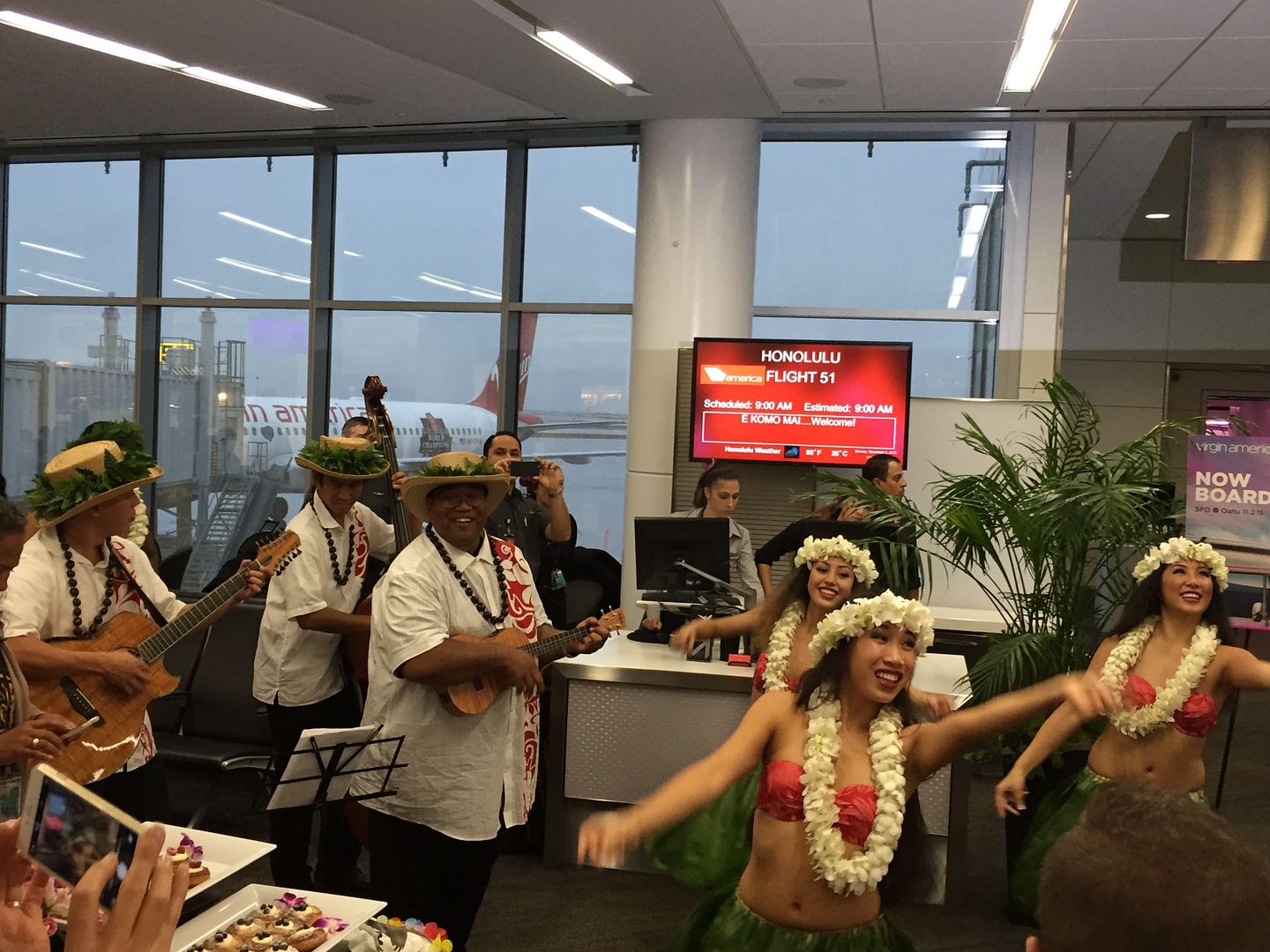 Speech time: SFO spokesperson, David Cush, Jonathan Mildenhall (Airbnb CMO), and Sir Richard Branson, which is today's super star
Sir Branson even danced a little bit.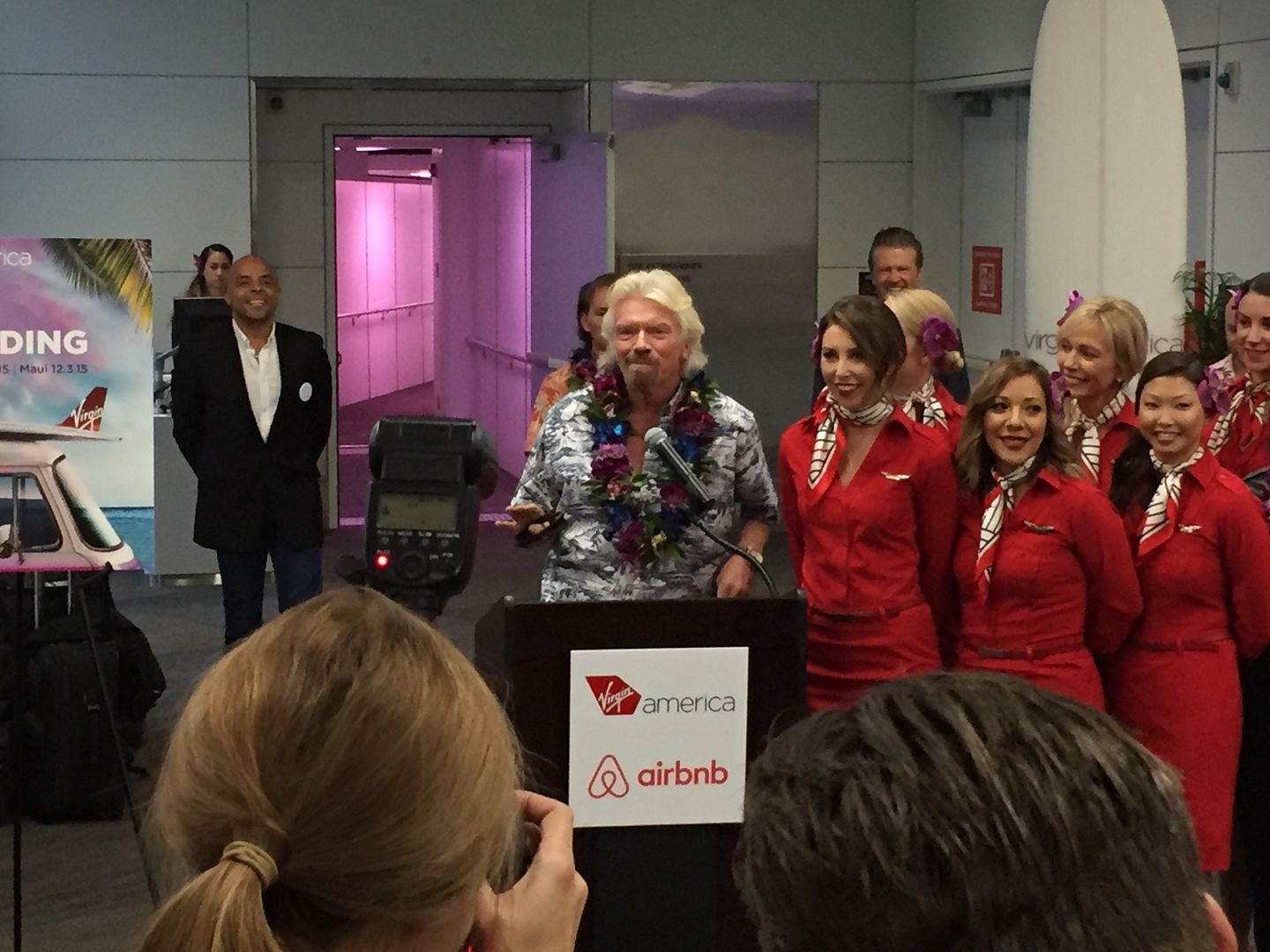 Boarding began at 8:23am and the cabin was already filled with a good number of VX staffs and Sir Branson was already sitting at 1F.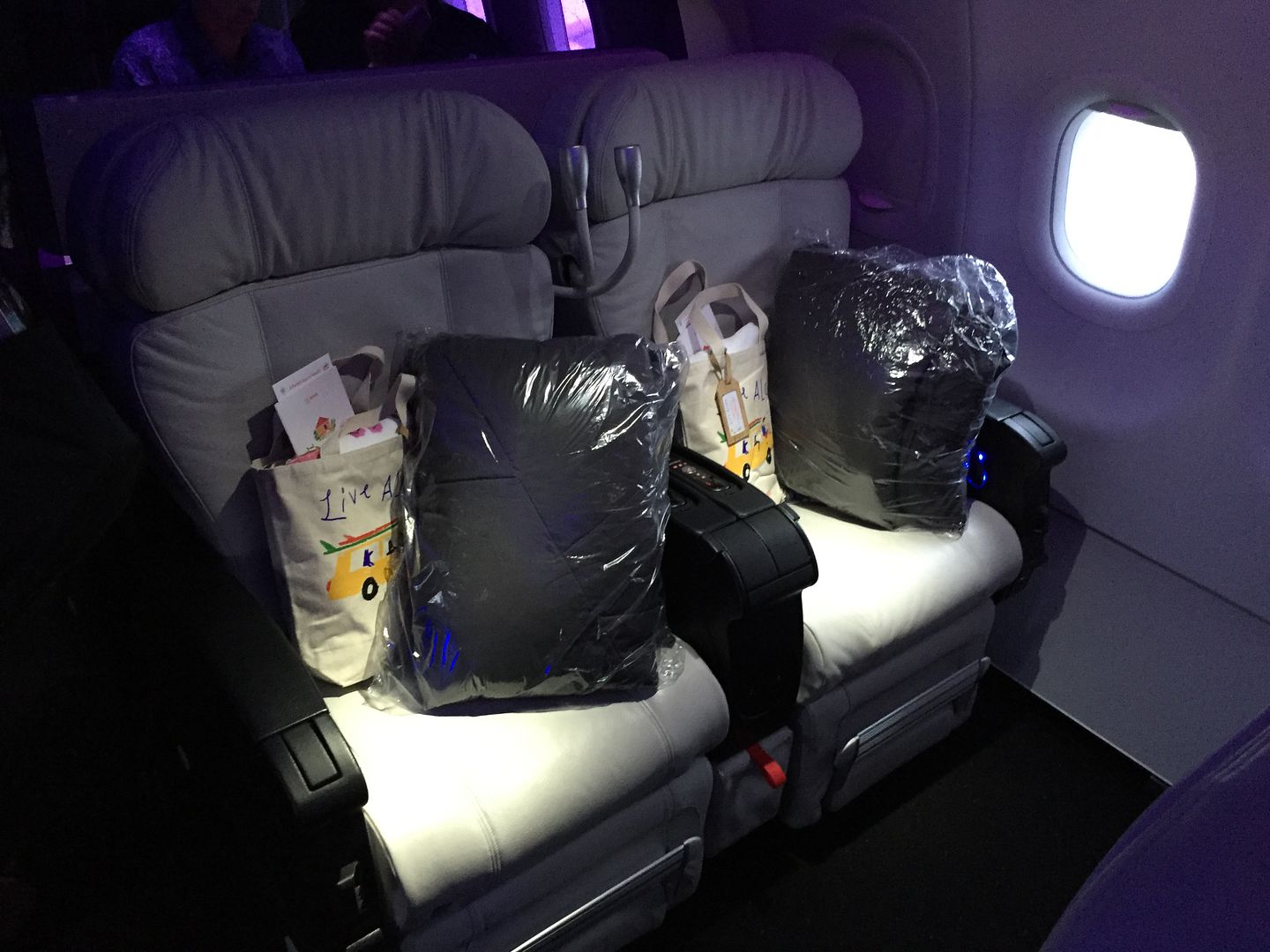 The cabin looked a bit different today with the new Duvet (featured on premium transcontinental flights) and airbnb gift bags, which had a beach towel.  Virgin America is never a big gift bag airline.  I will still love a first flight certificate. 
Main Cabin
First class was surprisingly not full and I might be the only paid first class guest.  Row 1 features all the guests, who include Joe Manganiello (Magic Mike and Sofia Vegara's fiancé), his assistant, Sir Branson and his assistant, and I was the only passenger in Row 2.  I guess they blocked out those seats for interviews and staffs, who were arranging matters.  David Cush stayed in Main Cabin (not even Main Cabin Select).   To Virgin America's credits, there were plenty of activities in the plane this morning, and if you want a quiet flight, this inaugural was not for you.  That phone call was definitely appreciated.
ETOPS safety card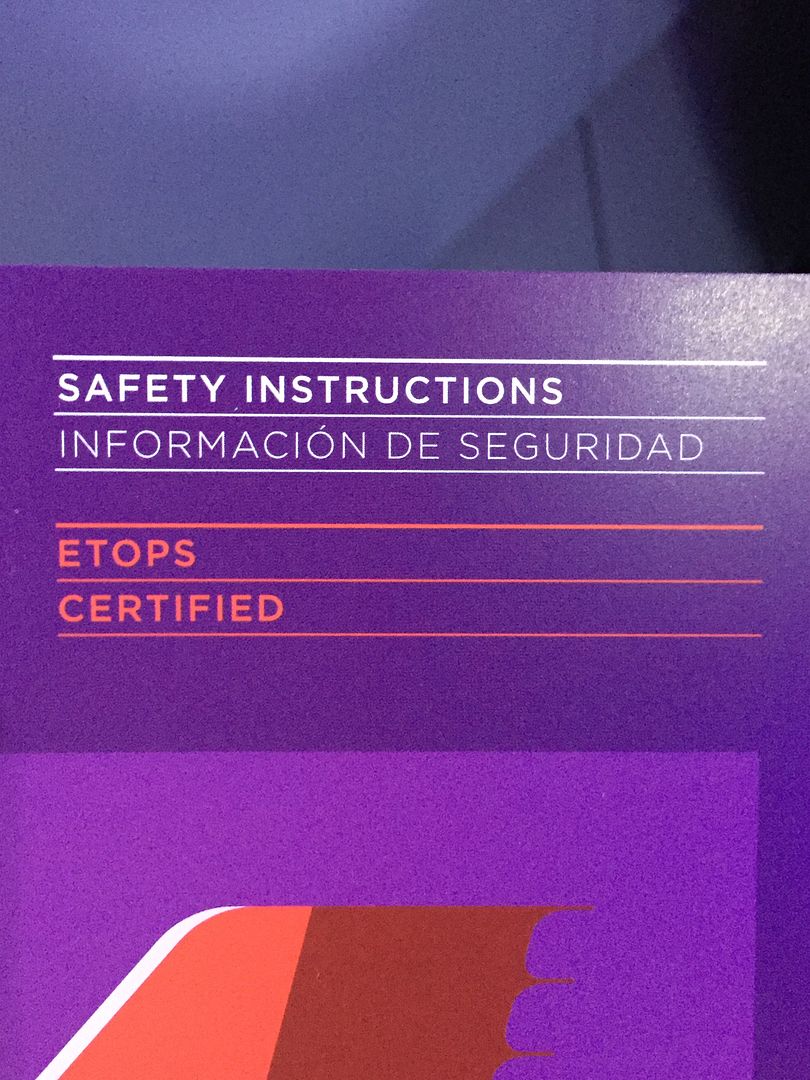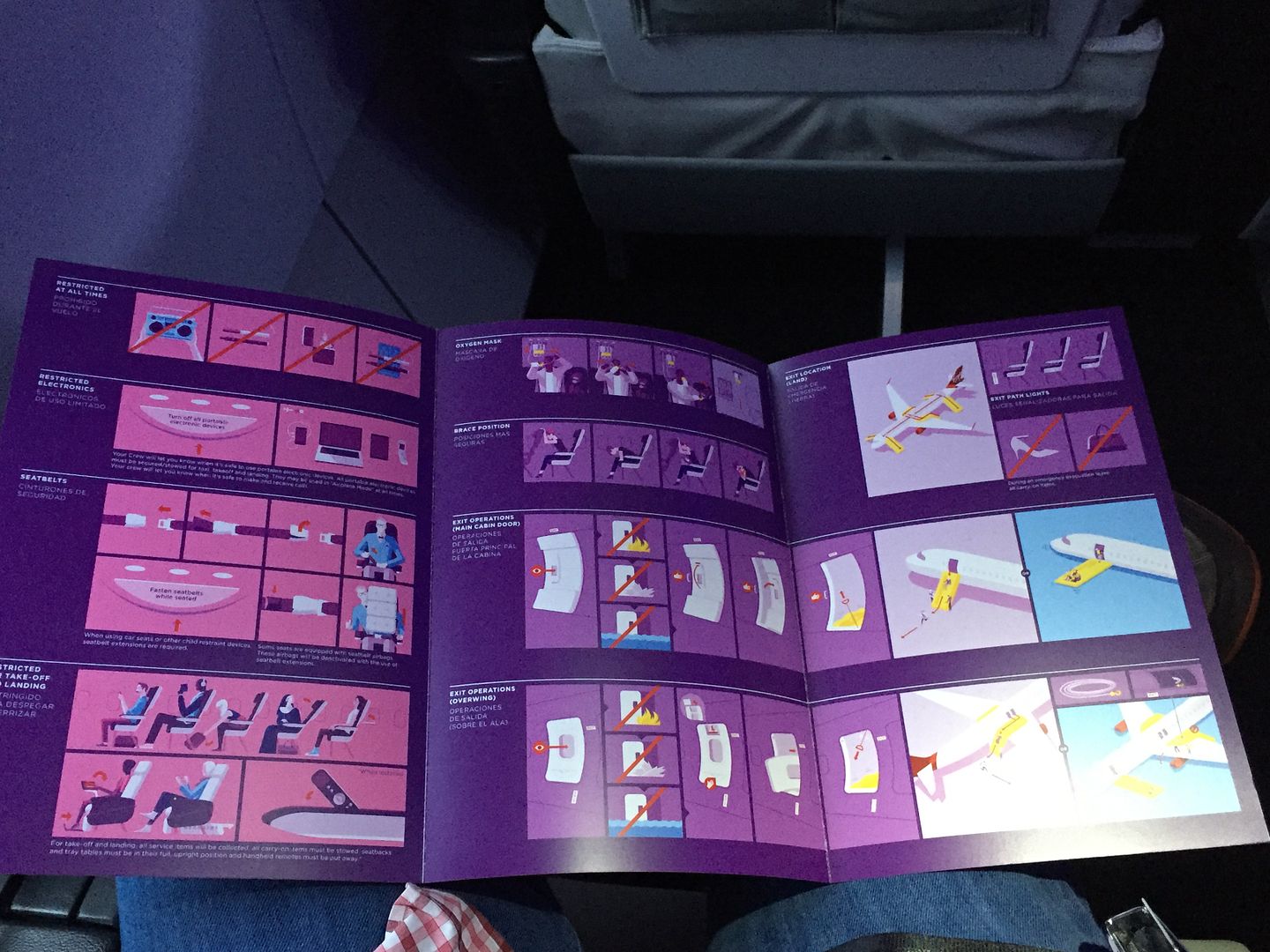 Goodbye rain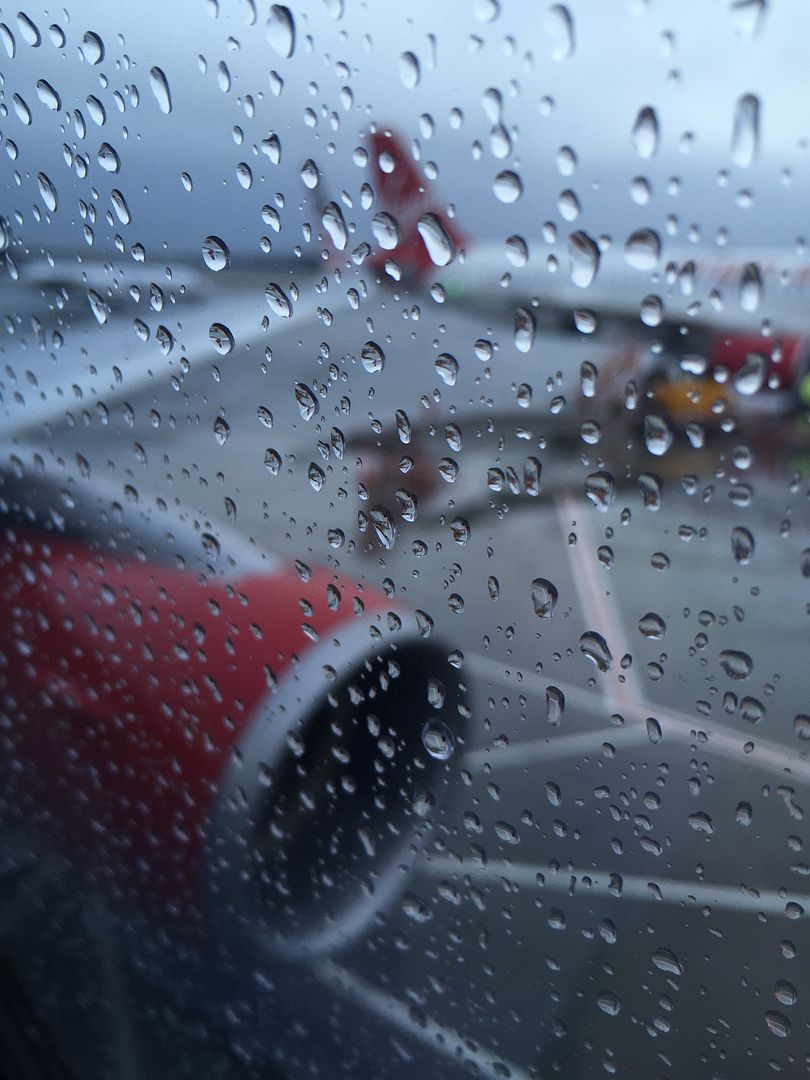 Captain giving us a personal welcome
Door was closed at 8:55am and it was a rainy morning here.  Thankfully the rain was over, and SFO was using all four runways (but no simultaneous landings). 
We took off from a very wet San Francisco's R/W28L at 9:16am for our five hours and twelve minutes flight.  We cruised at 34,000ft for the whole flight.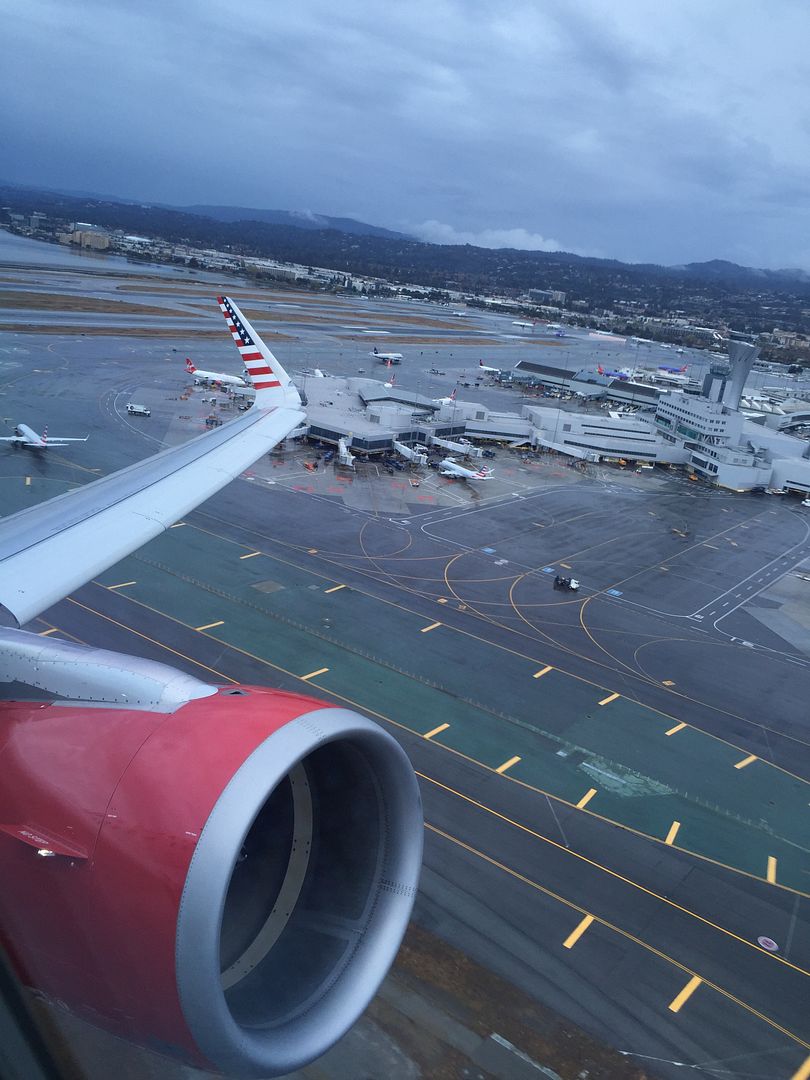 I like the new in-flight map!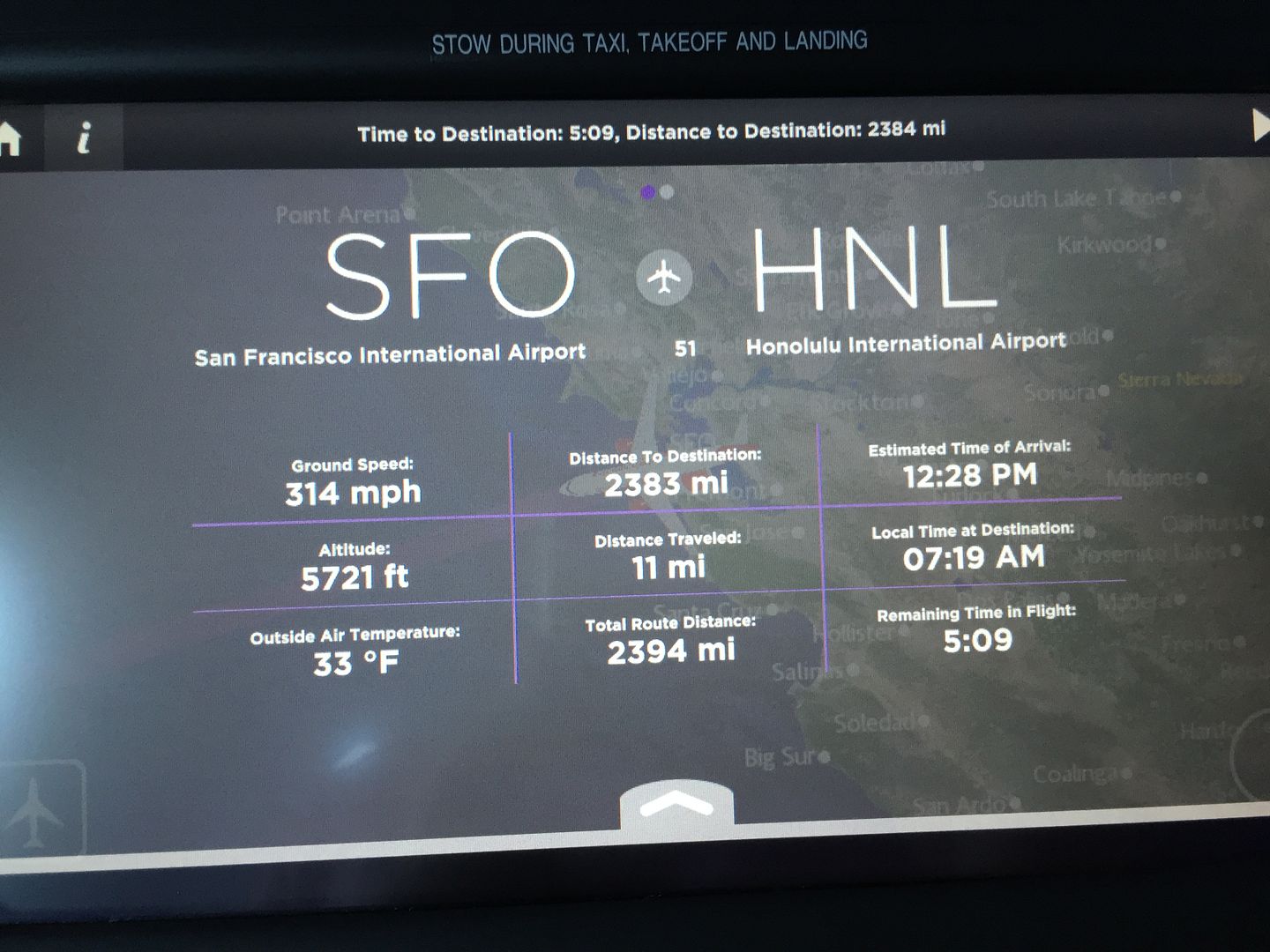 Entertainment:
Virgin America sent out an email previous night reminding passengers that there will not be any LIVE TV or WIFI on Hawaiian flights till mid-2016.  But the email implies that TV and movies will be free (sort of like JetBlue's approach).  I flew first class so I could not verify.  I actually was able to watch LIVE TV almost for the first hour, before signal just got cut off. 
New RED interface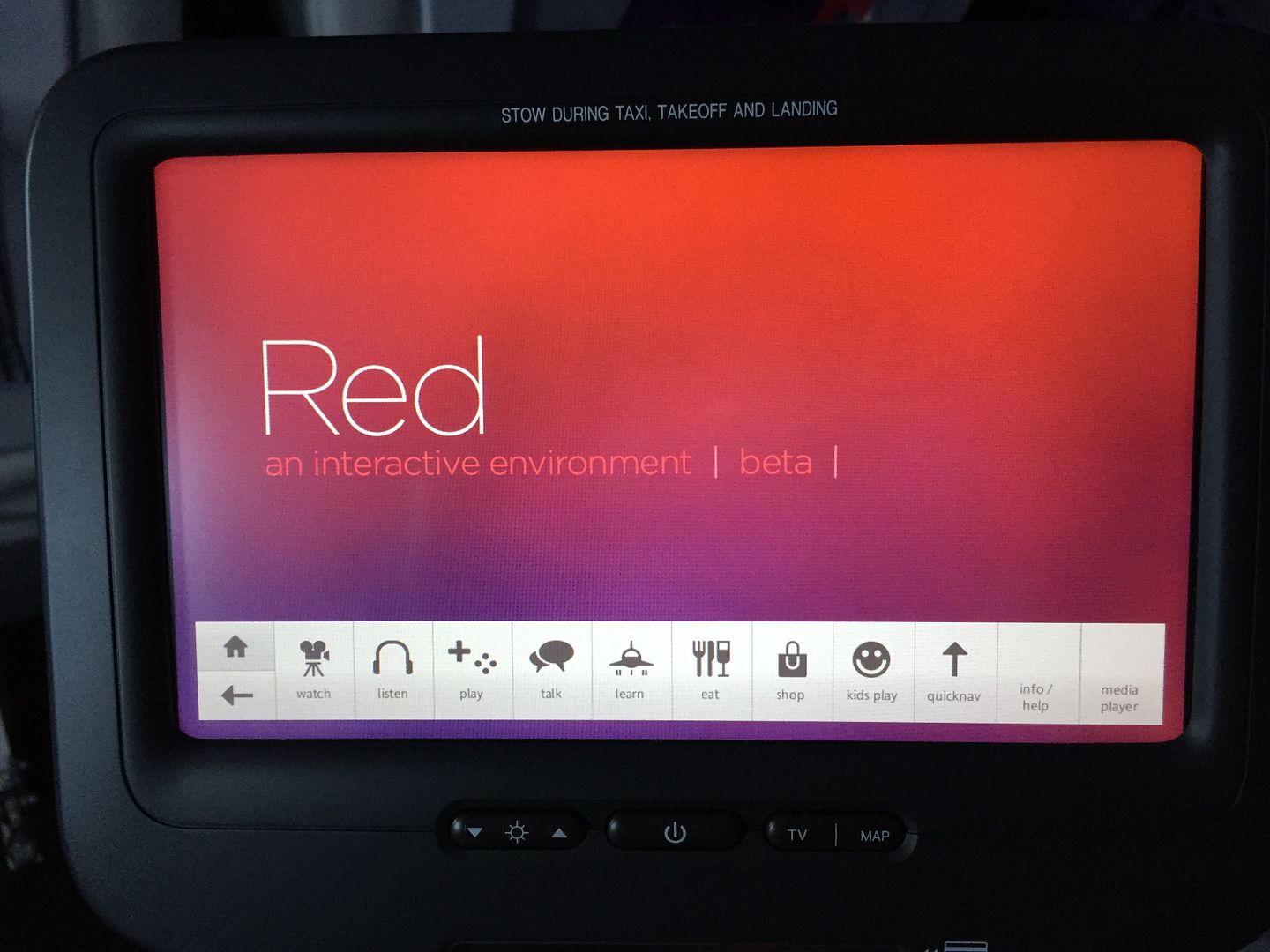 Festivities:
This flight began with a P/A from Sir Branson, free mimosa for the whole cabin, and a toast from Sir Branson of course.  Airbnb CMO made a short speech and invited everyone (well not really but since the plane was mostly staffs) to a party at Paul Mitchell's mansion this evening.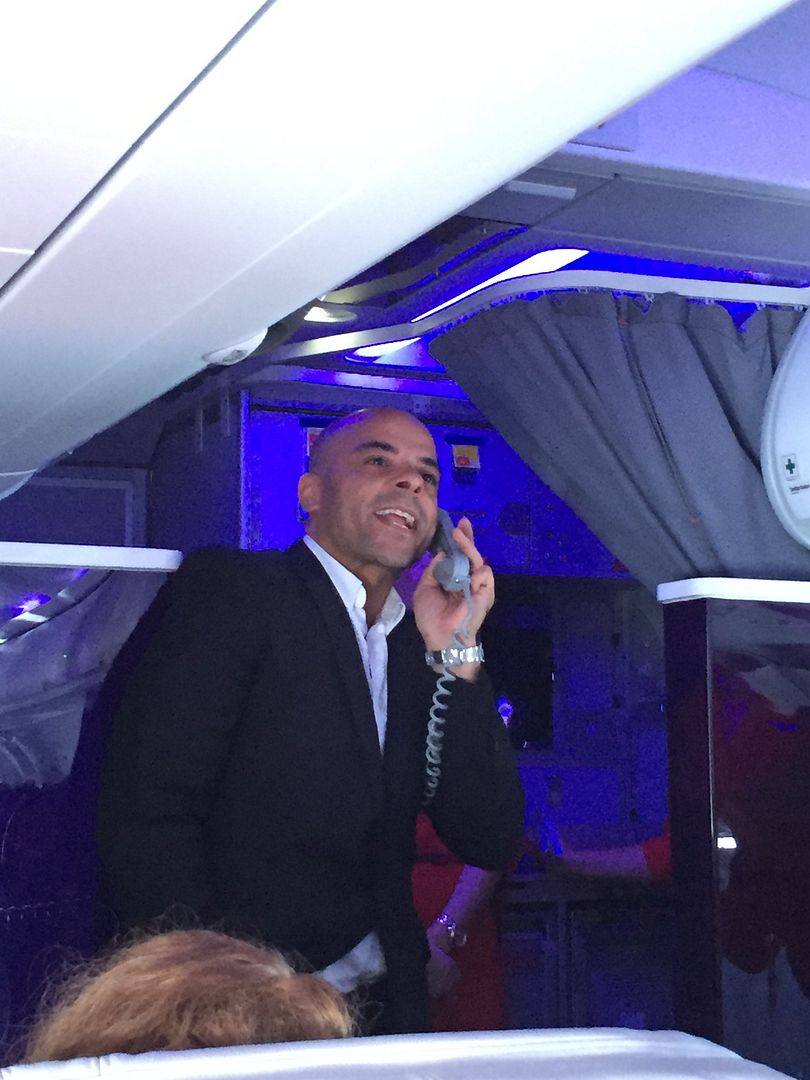 There was live Hula dancing and Hawaiian music, along with a short trivial game prior to landing.  The gifts were airbnb gift cards. 
My failed attempt on taking pictures of the Hula dance –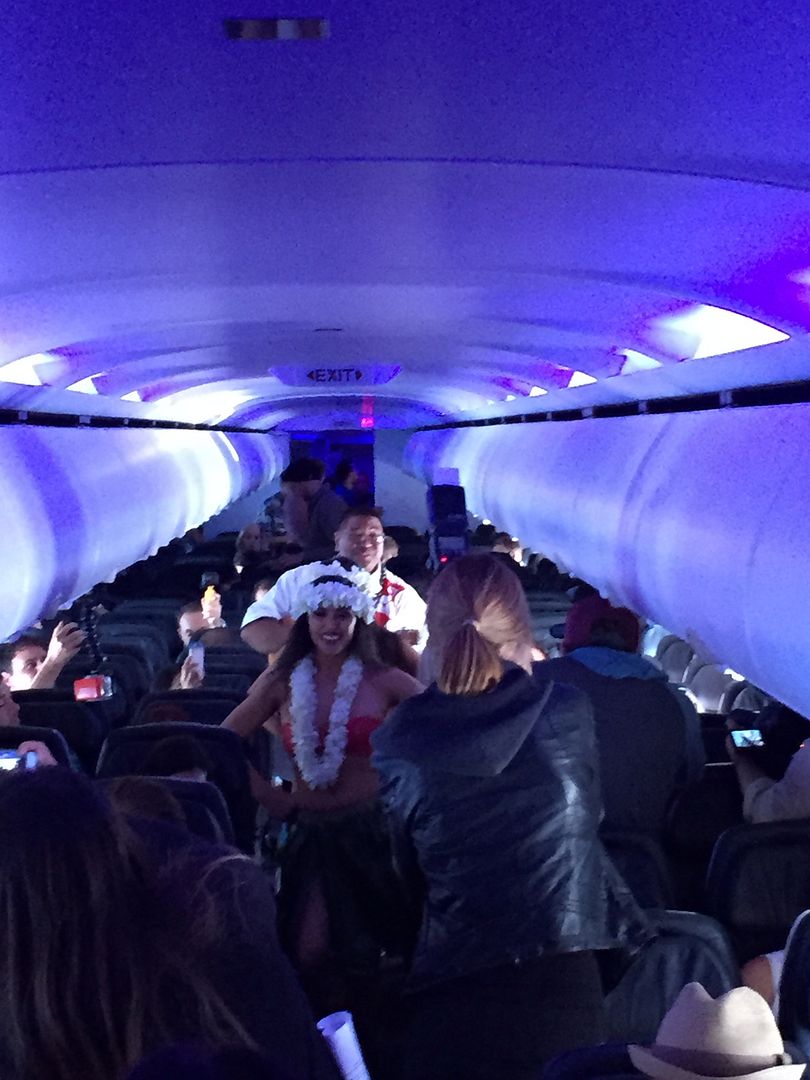 Duvet – really soft and nice and I love the oversized pillow: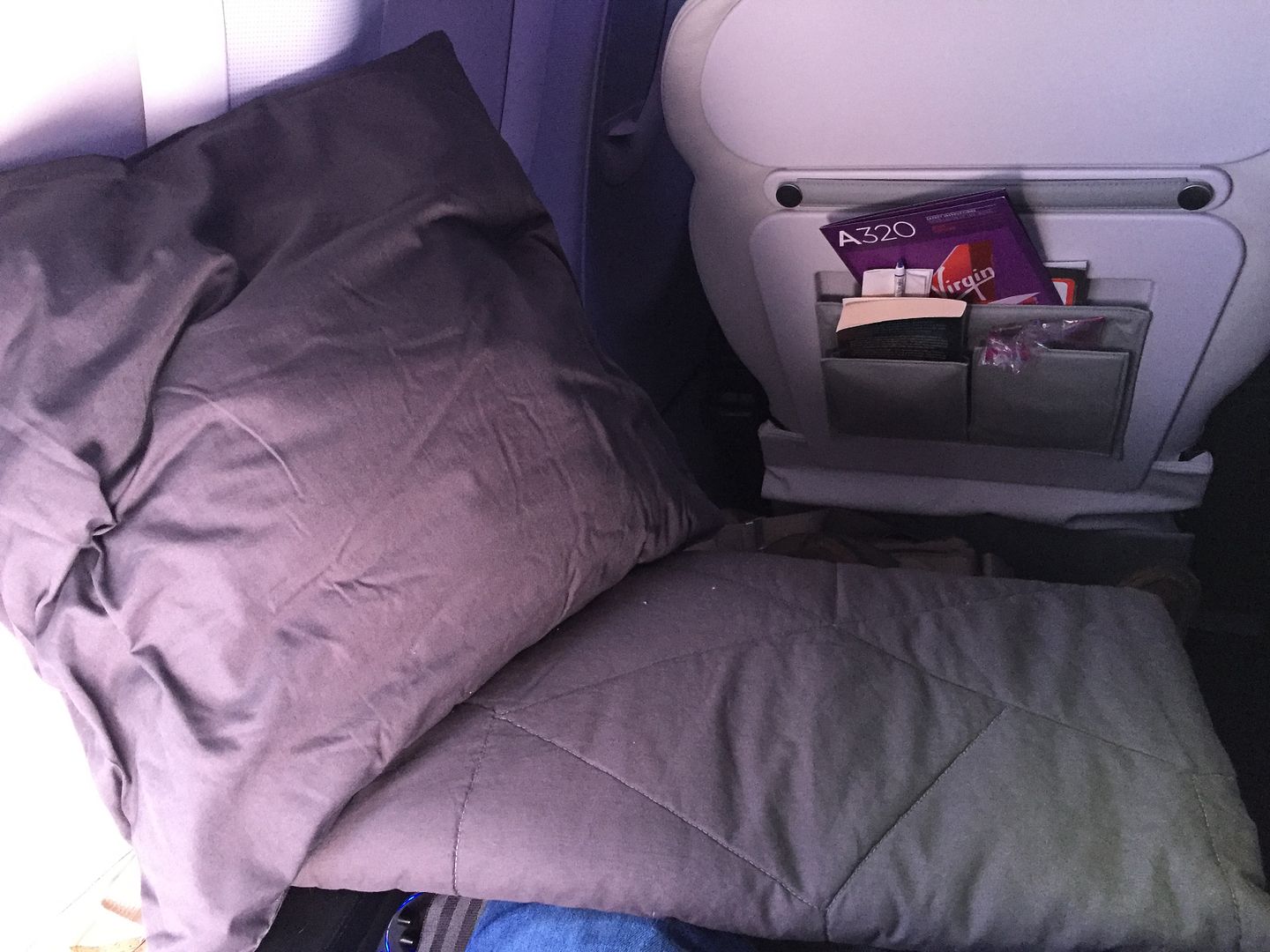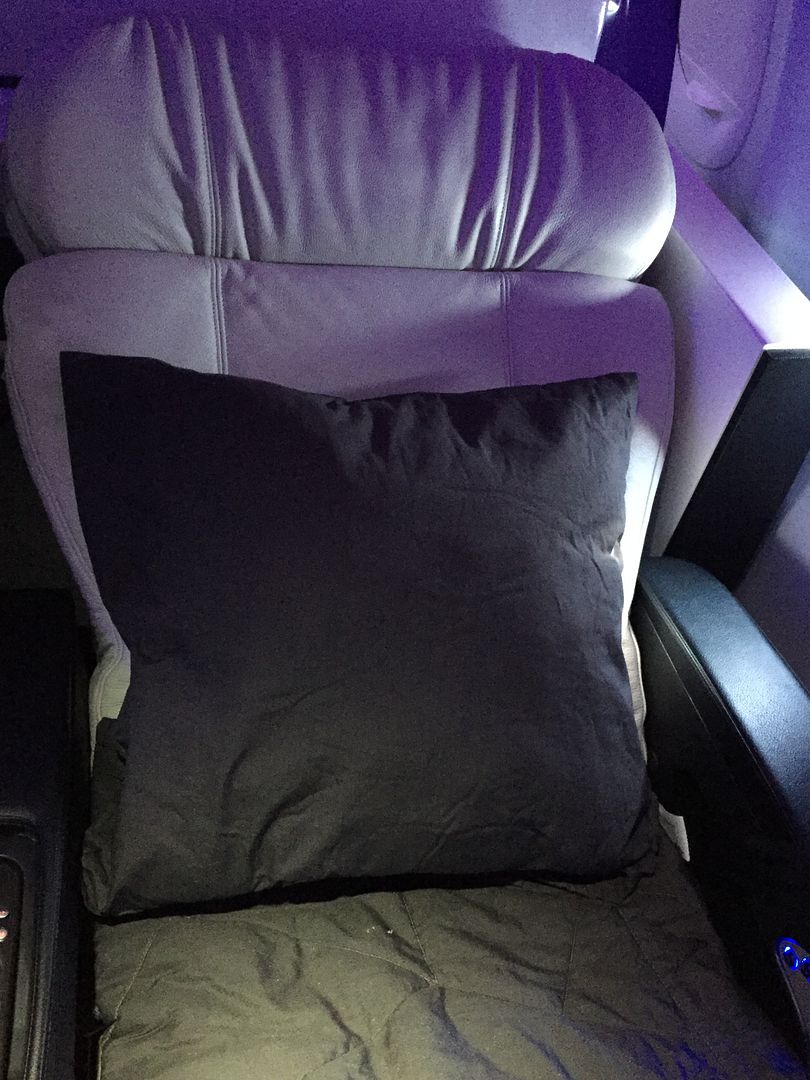 Flight attendants:
We got four flight attendants this morning, and they were all attentive, and of course young and attractive.  They pretty much worked nonstop, so it was a good Virgin America flight, which made an interesting contrast for the return flight. 
Catering:
I was most disappointed with the catering, as there was no special Hawaiian themed menu.  They used the same eastbound premium transcontinental menu, so Hawaiian bound passengers got the warmed nuts and breakfast smoothie service. 
Breakfast was served all in one tray, and except the croissant, the rest of the meal was pretty forgetful – not to mention lacking some quantity.  The spicy scrambled egg was an interesting choice and I definitely preferred omelet or a more filling egg dish. 
Breakfast
Tropical Smoothie Shot
Settle in after takeoff with a tropical smoothie shot of mango, pineapple, passionfruit, low fat yogurt, dragonfruit, and honey
Contains dairy
Breakfast is served with a flaky butter croissant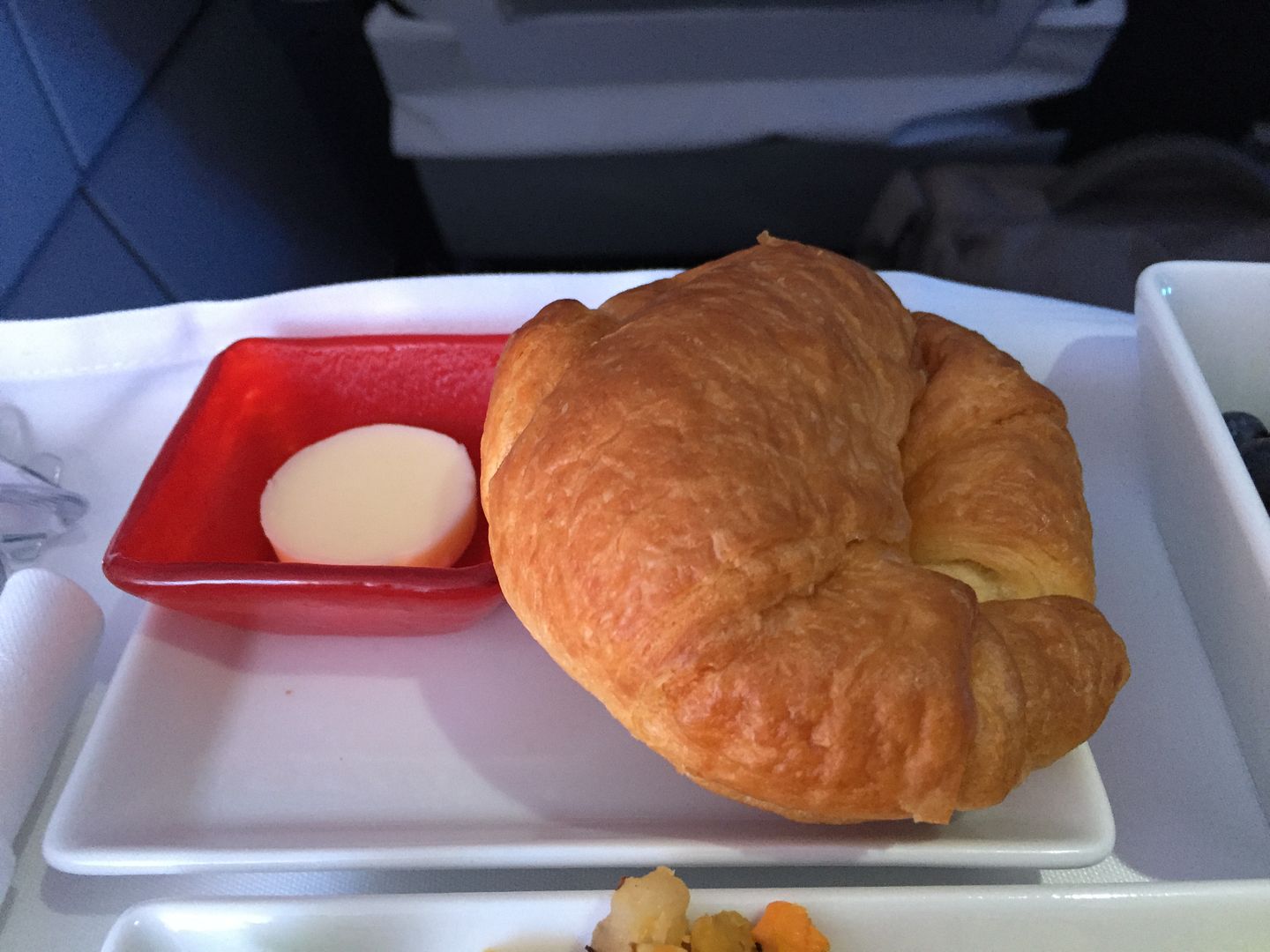 Entrées
Spicy Scrambled Eggs
Fresh cage free scrambled eggs with mixed spices and herbs, topped with a dollop of herbed greek yogurt, served with mixed roasted root vegetables and chicken sun-dried tomato mozzarella sausage
Contains poultry and optional dairy
Hot Steel Cut Oatmeal
Steel cut oatmeal served with Greek yogurt, brown sugar, dried apricots, roasted sliced almonds, and currants
Contains optional sugar, nuts and dairy
Hot entrées are served with a fruit salad of blueberries, blackberries, strawberries, oranges, walnuts, and peach rosemary syrup
Contains sugar and walnuts
Fruit Plate
Green grape clusters, pineapple, mangoes, grapefruit and orange segments, kiwi slices, papayas, strawberries, blackberries, raspberries, and optional Greek yogurt with pomegranate seeds
Contains optional dairy
My choices from the snack basket: Potato Chips and cranberry nut mix
Later, I got a veggie wrap and the F/A plated it for all F passengers.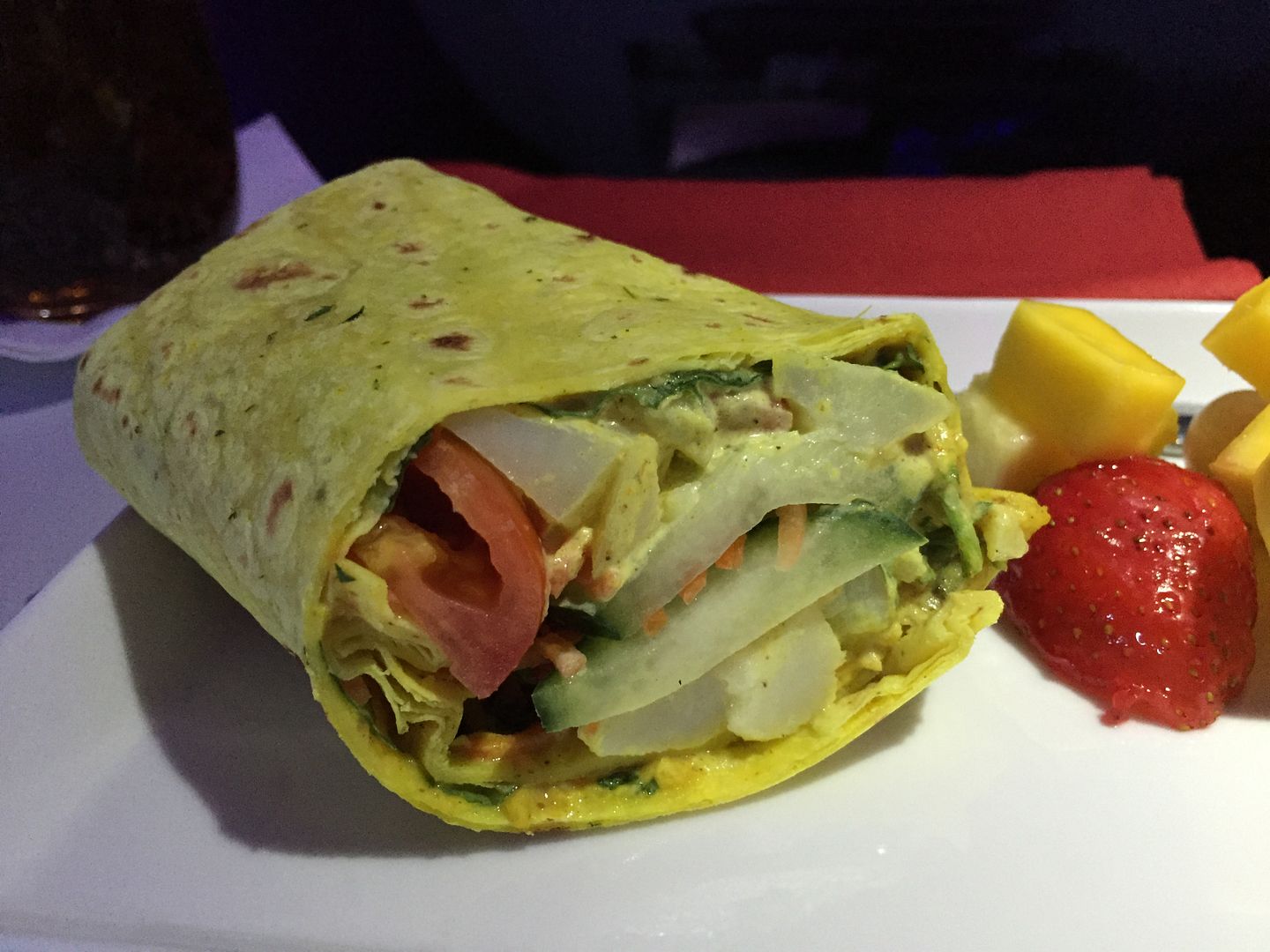 BTW, Main cabin passengers got a complimentary meal for the outbound flight to Honolulu with a choice of Korean BBQ chicken sandwich or vegetarian wrap.  I was not surprised plus almost everyone was staff.  Open bar, too!
Descent began at 12:10pm Hawaiian local time, and there was a final round of hot towels. 
Finally sight of land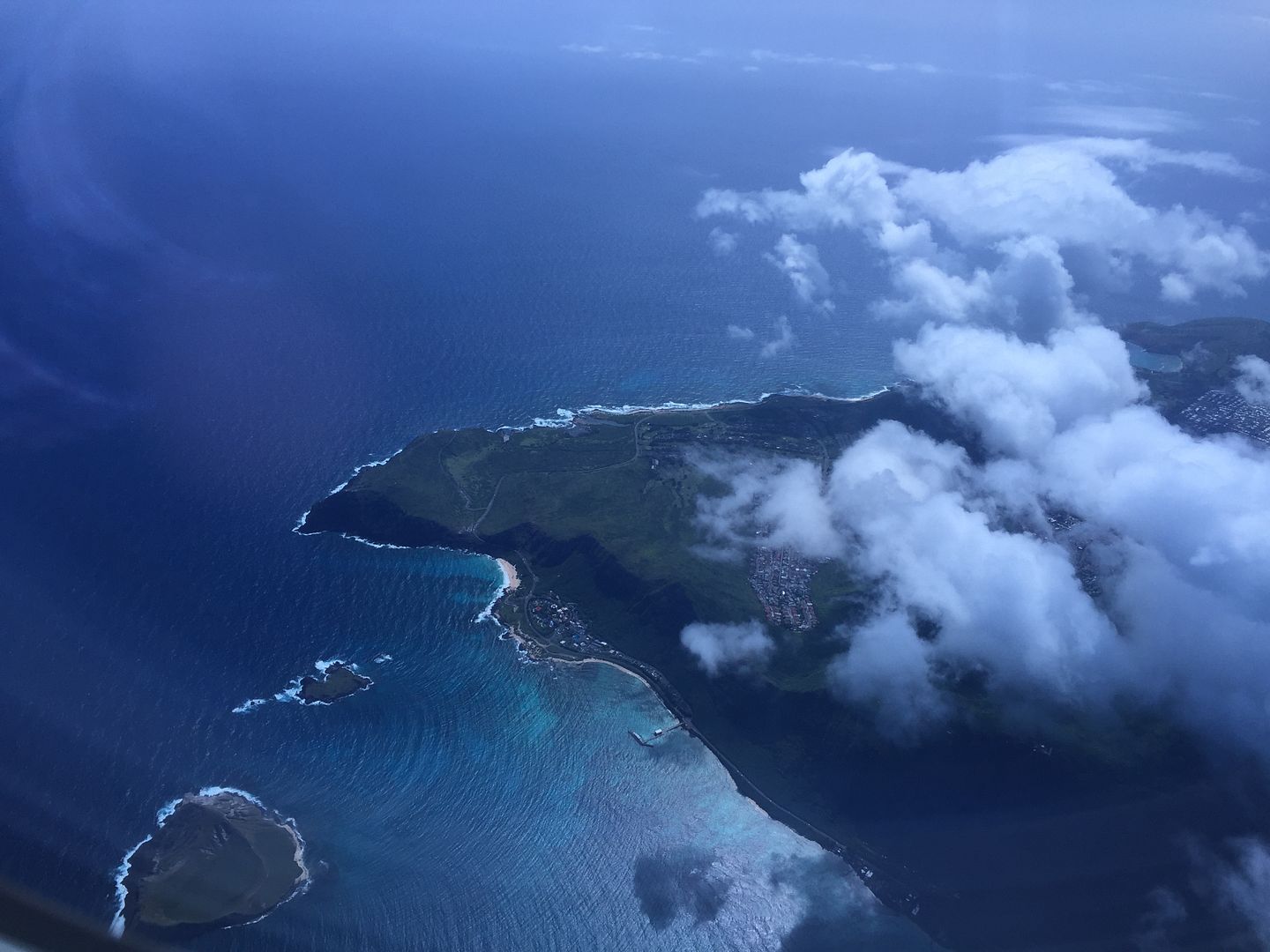 We landed on R/W4R at 12:28pm and it was interesting crossing the reef runway.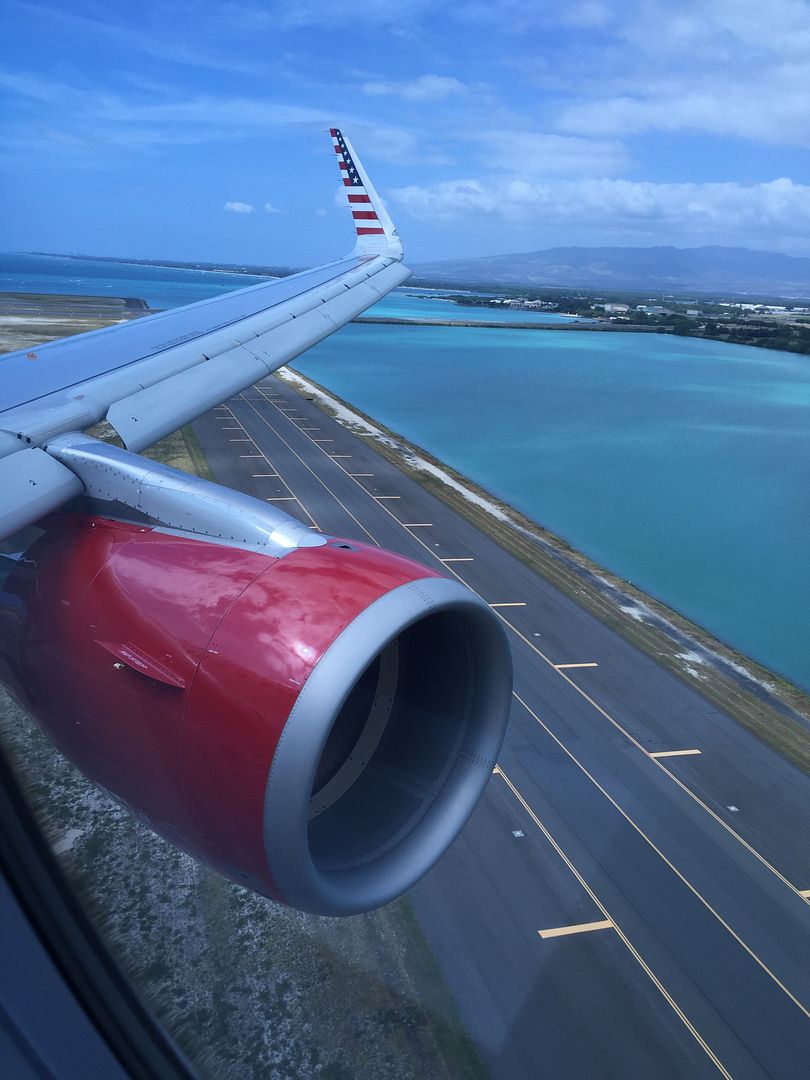 Instead of turning left towards the terminal, we turned right and headed towards the hangar area.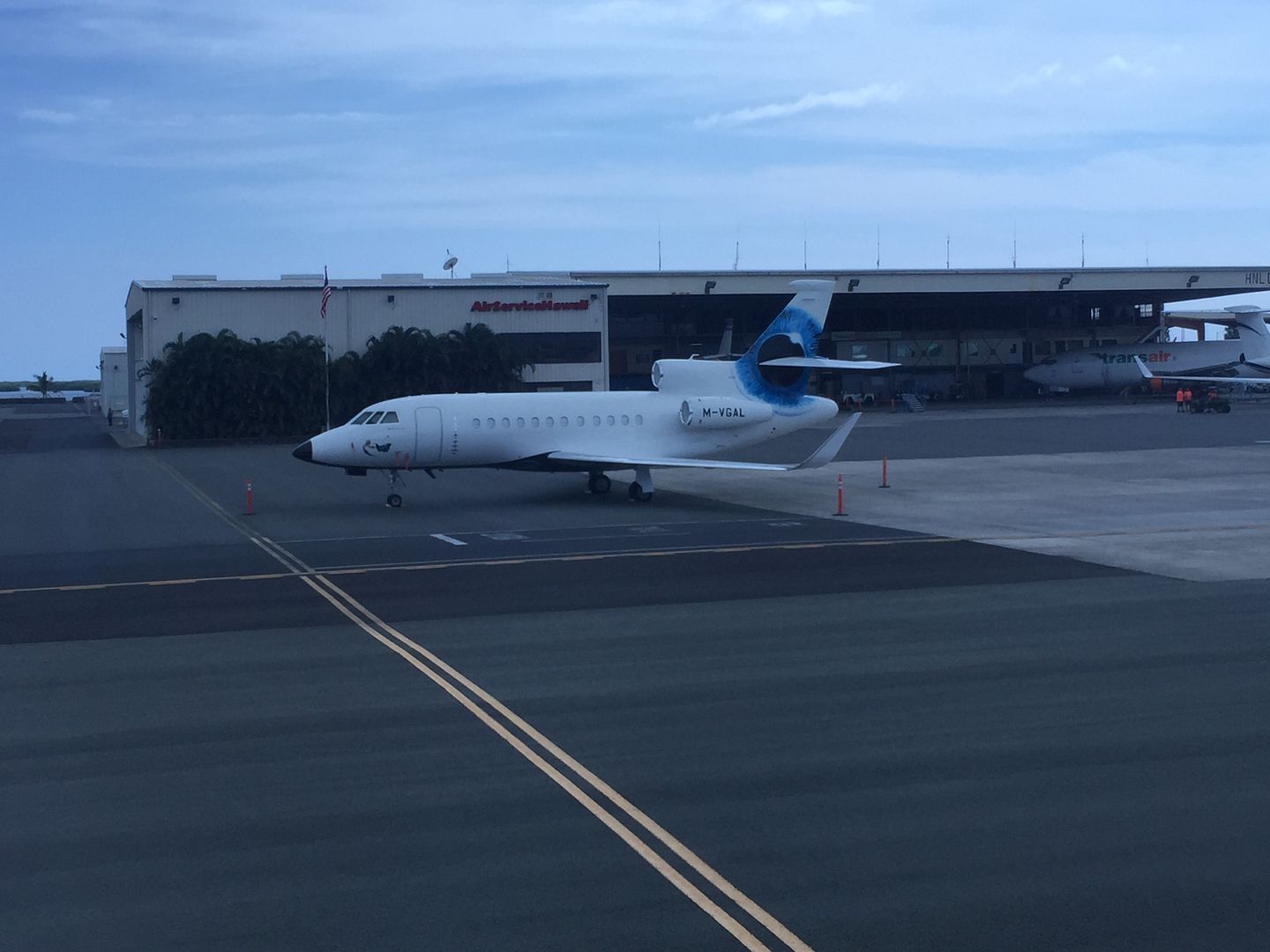 A giant welcome party – this is almost a Virgin America's specialty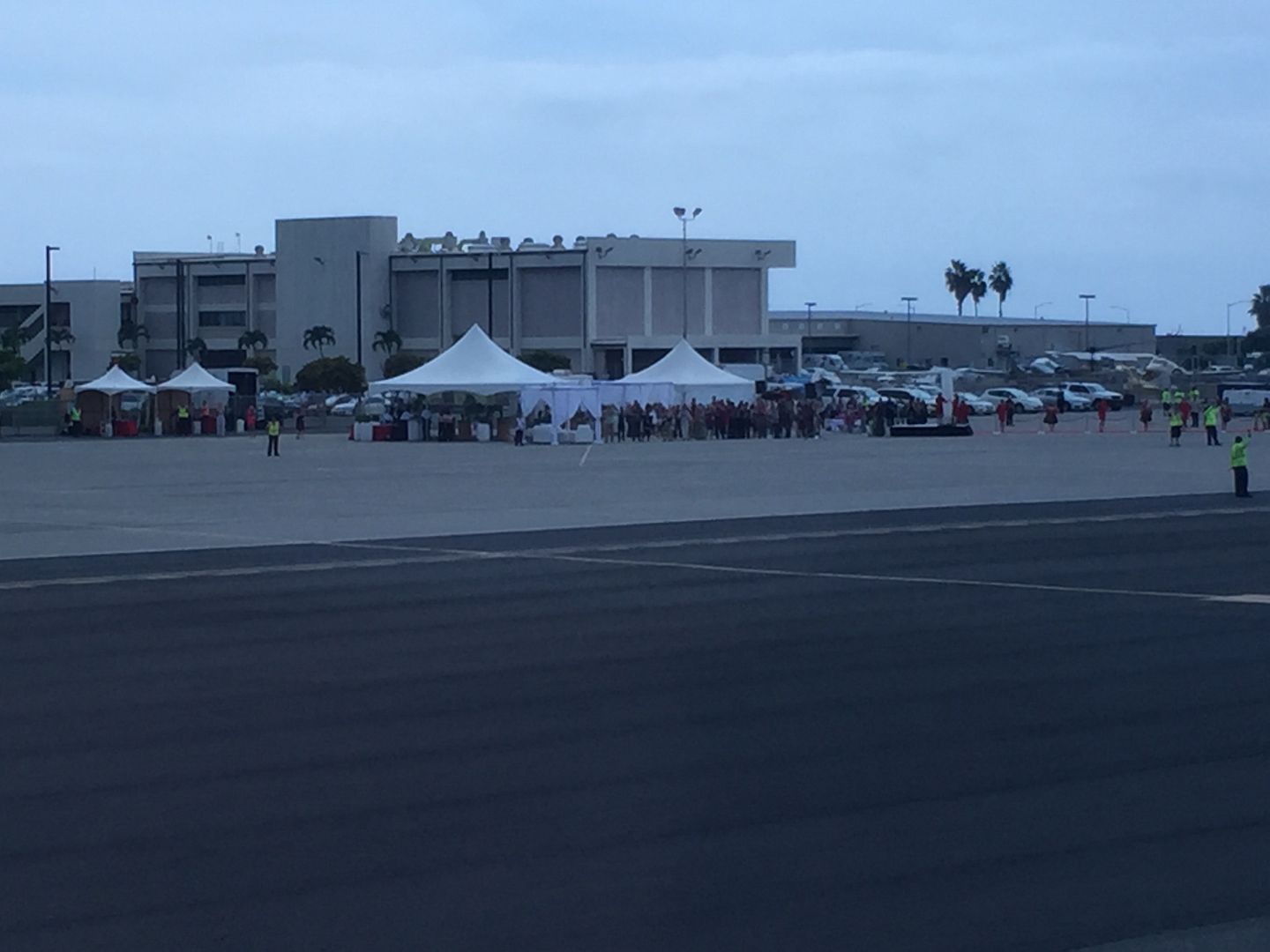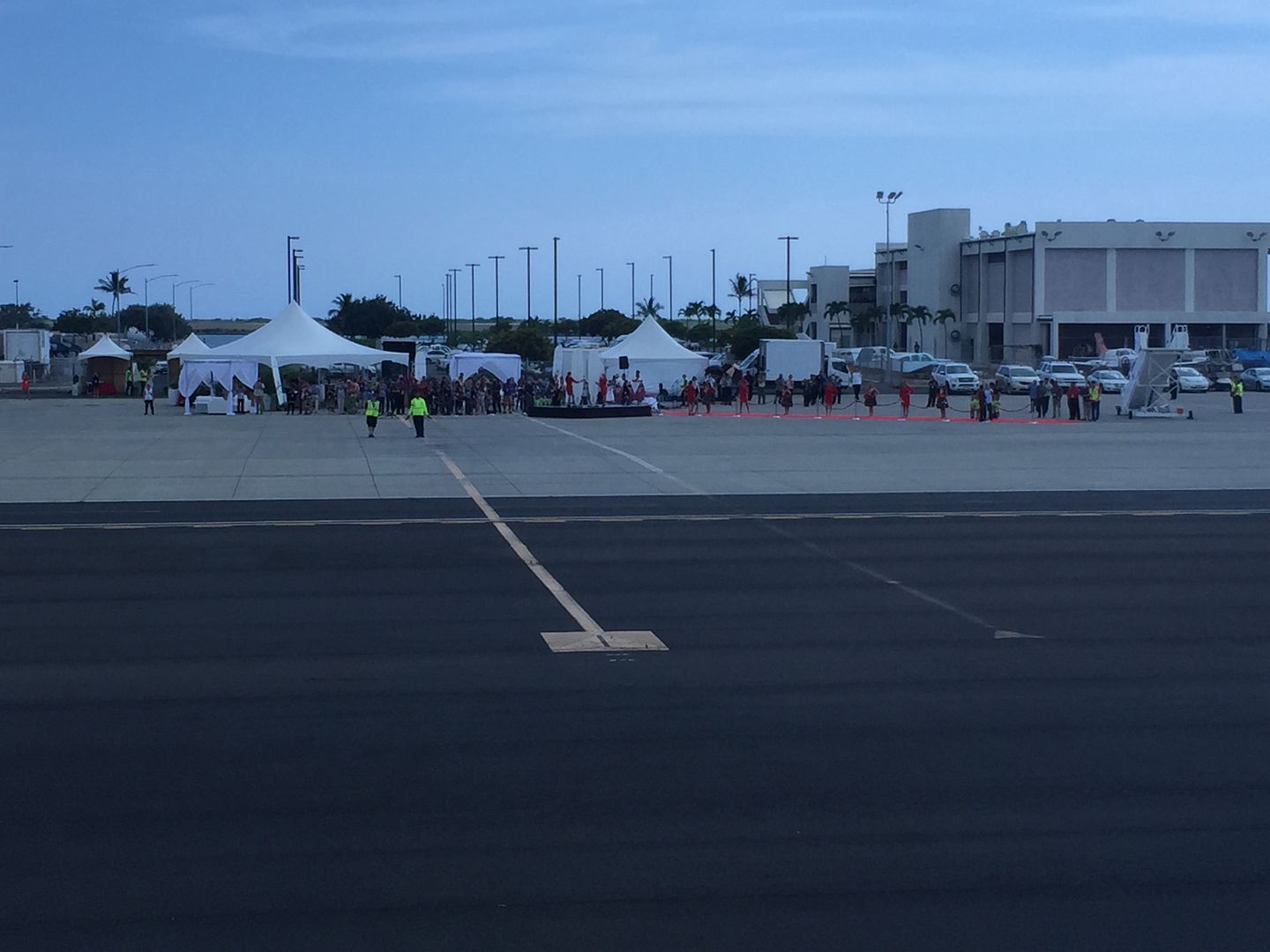 Please note the red carpet – the F/As working the outbound flight were welcoming everyone.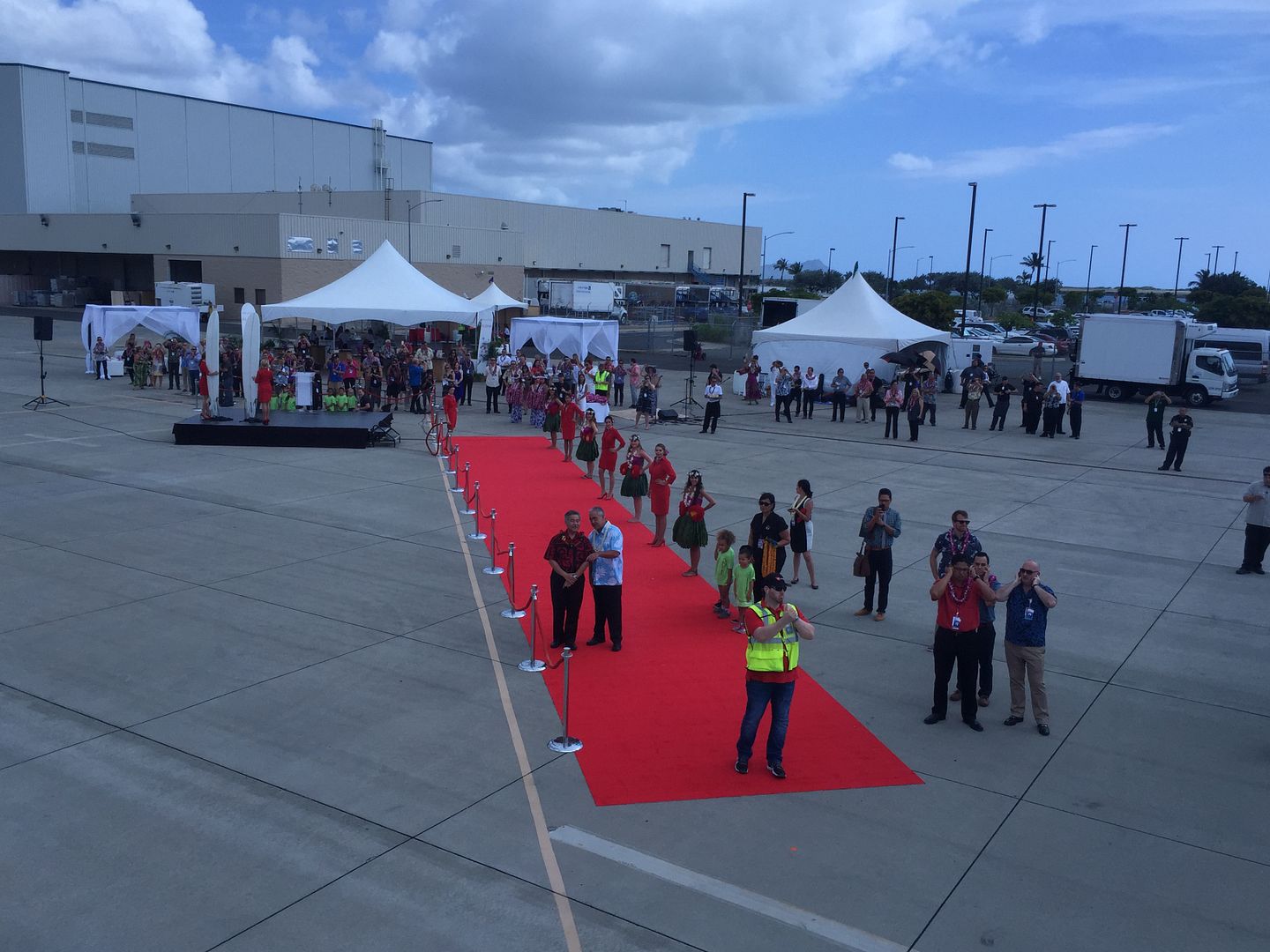 Sir Branson and David Cush were given a warm welcome
Party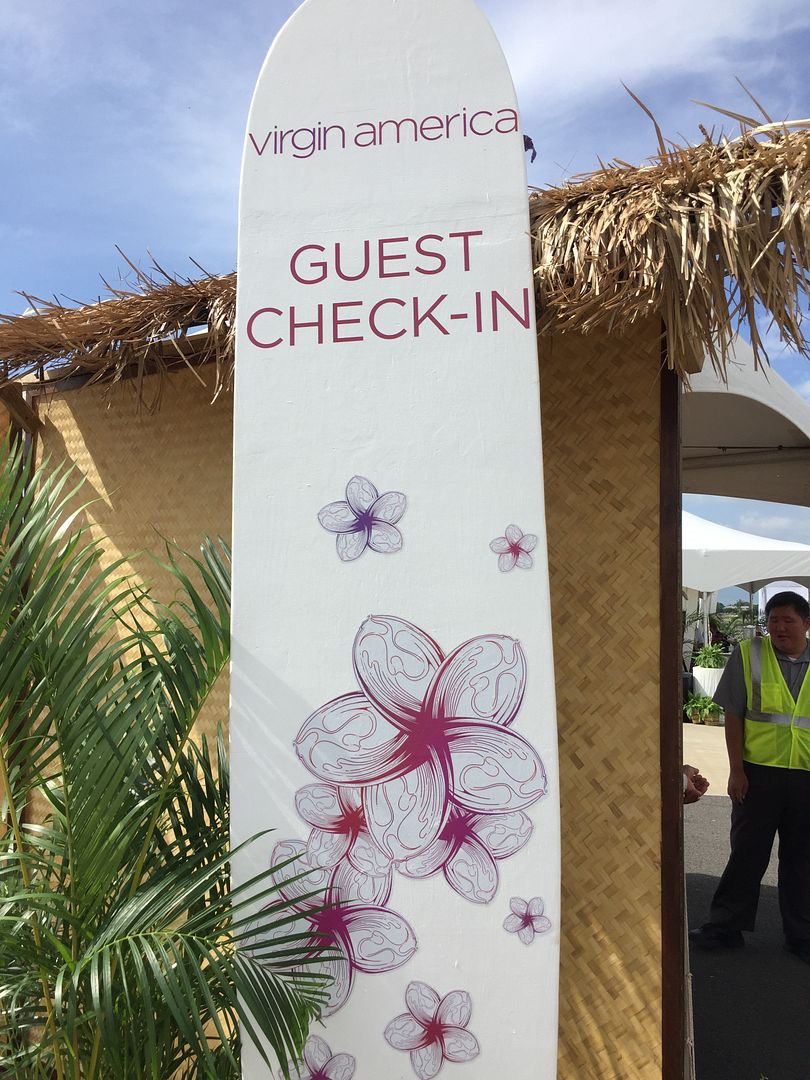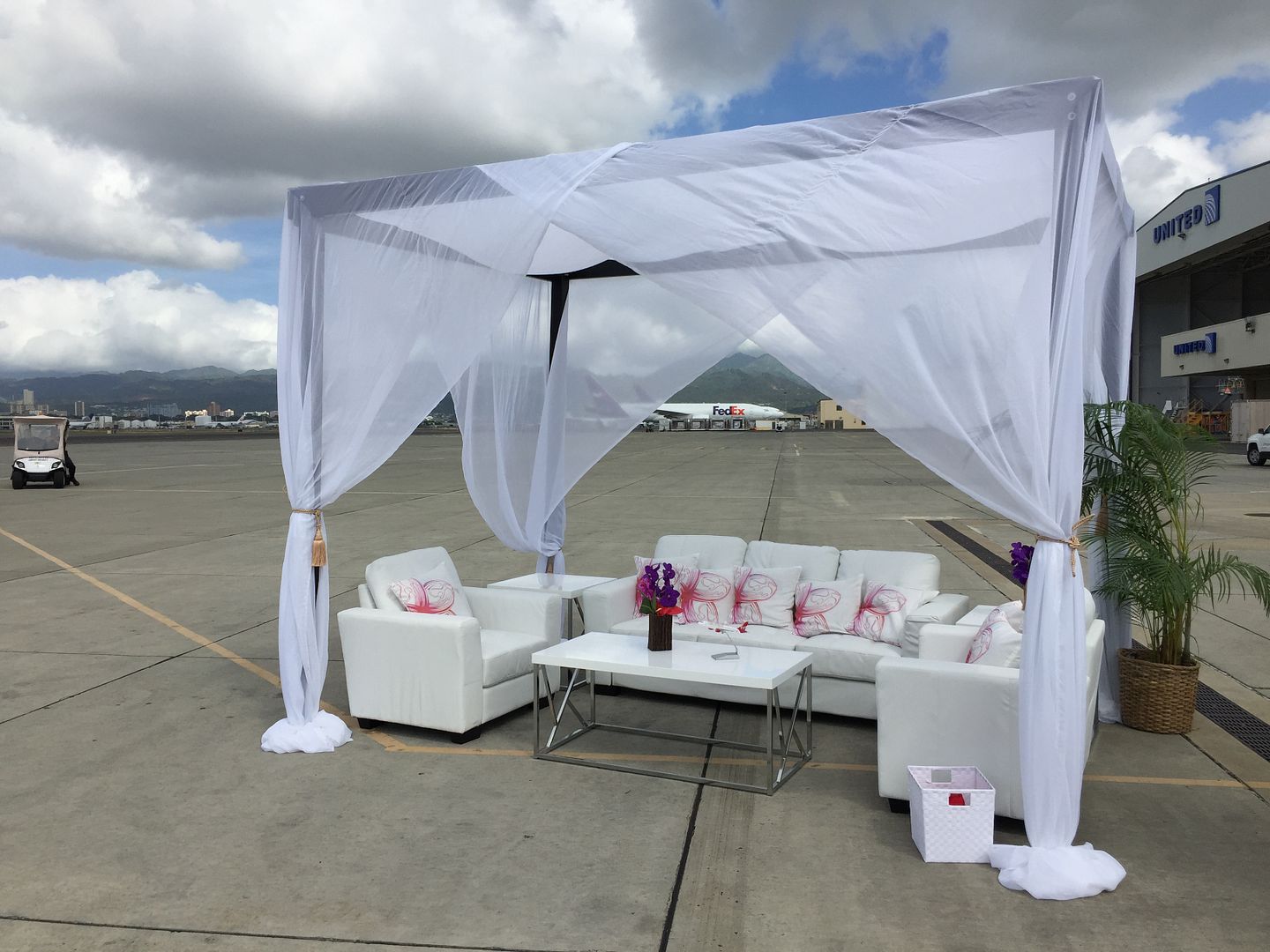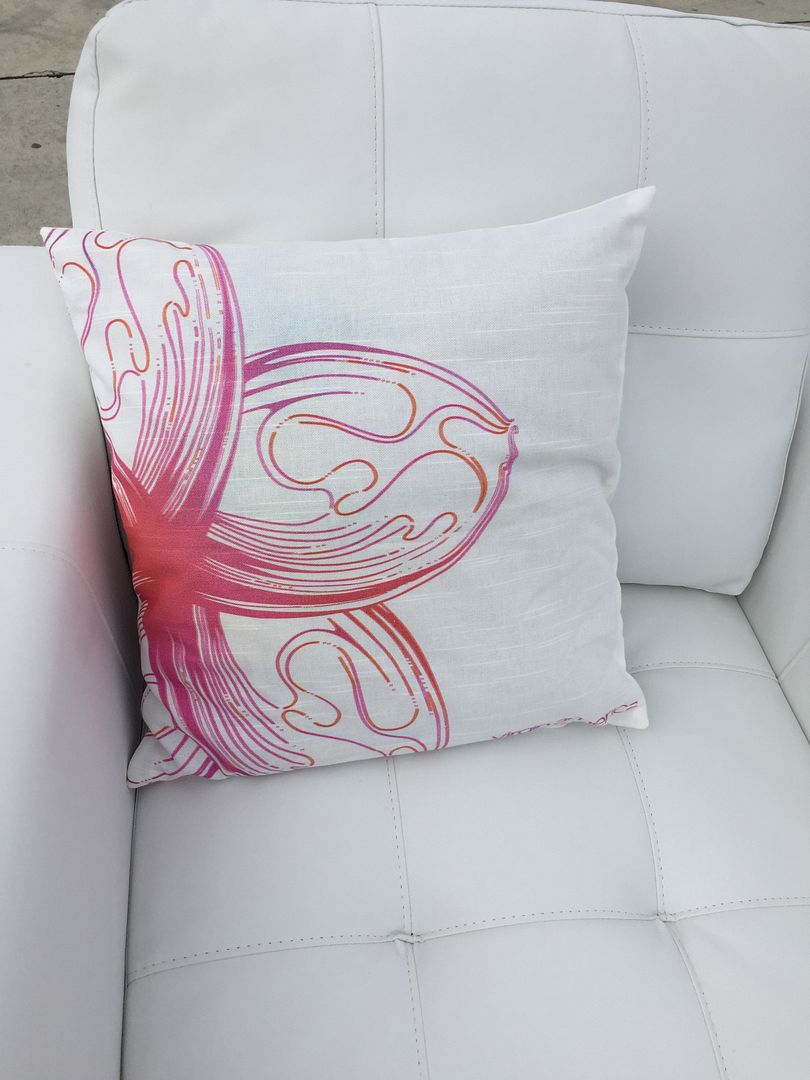 Menu for this special event
Typical speech time – George Sziegeti, Hawaii Tourism Authority President (who was on the inaugural flight in MCS)/ David Ige, Governor of Hawaii/Cush/Jonathan Mildenhall/Branson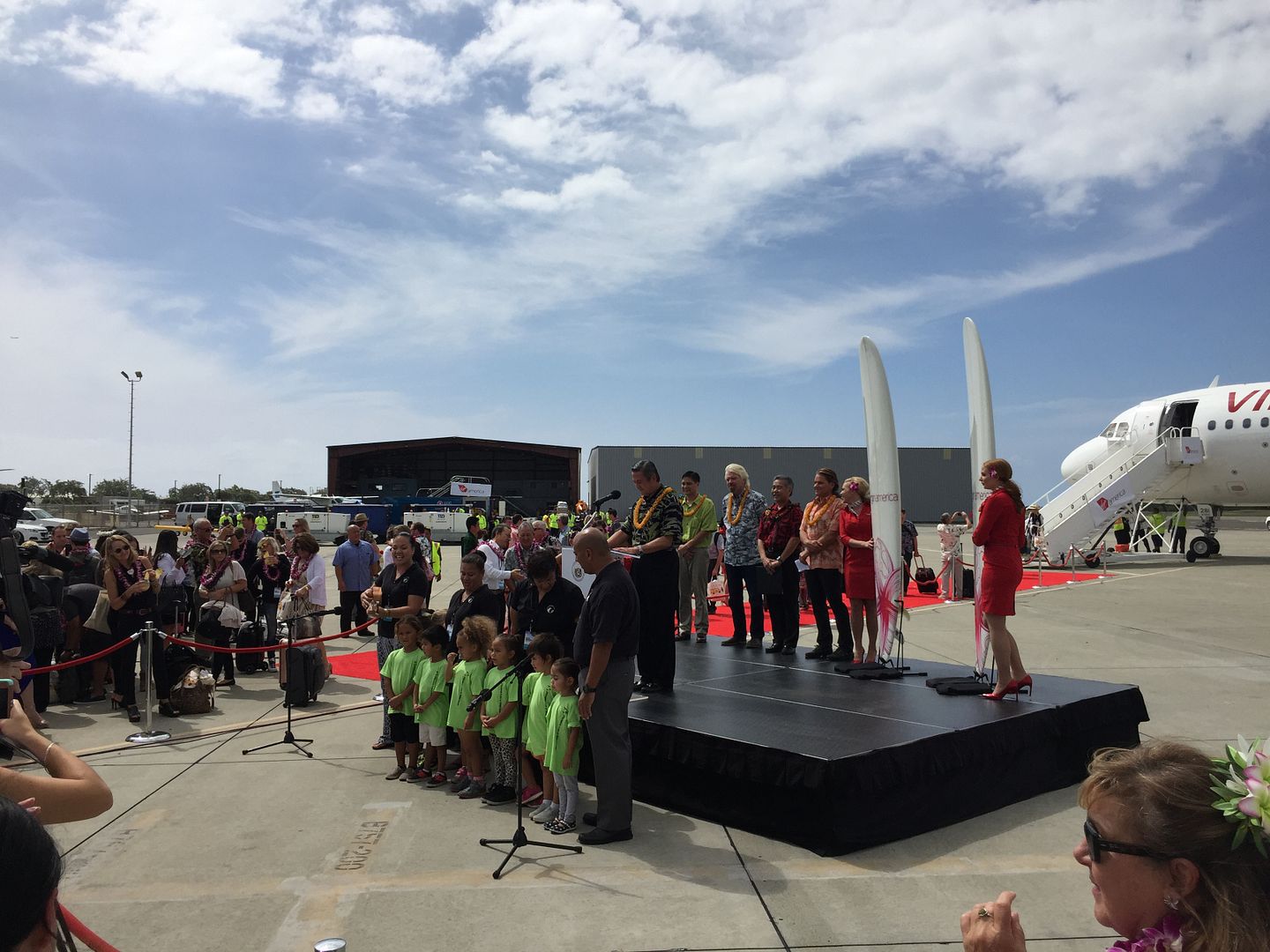 These lovely children in front of us were reciting Native Hawaiian's poem
To me, the highlight is still N281VA "Pineapple Express" and Virgin America's first ETOPS certified A320.  Yes I could confidently tell everyone that A320 has the range to fly nonstop between Hawaii and West Coast. 
Finally no more annoying window at SFO – those blurred window was awful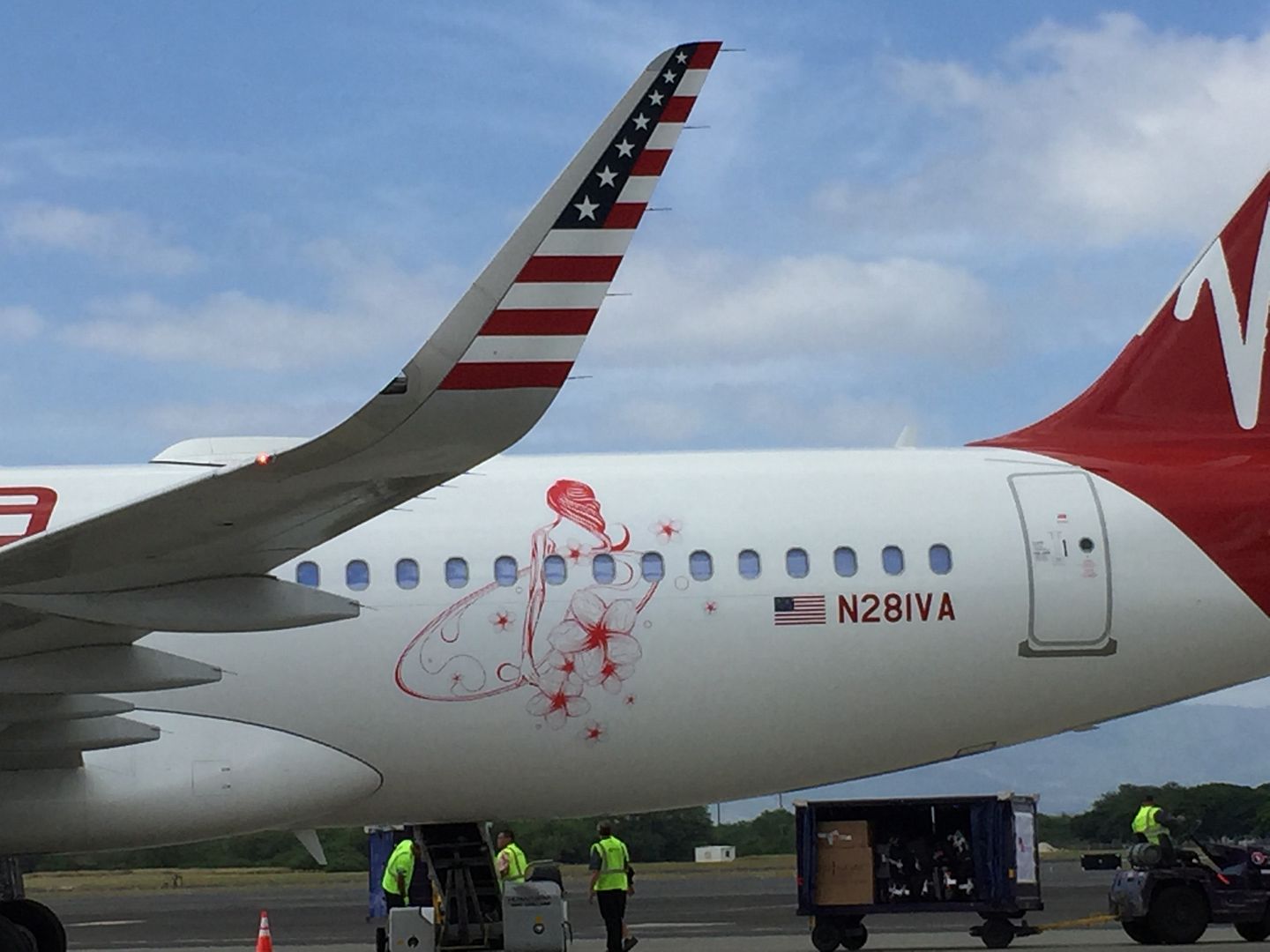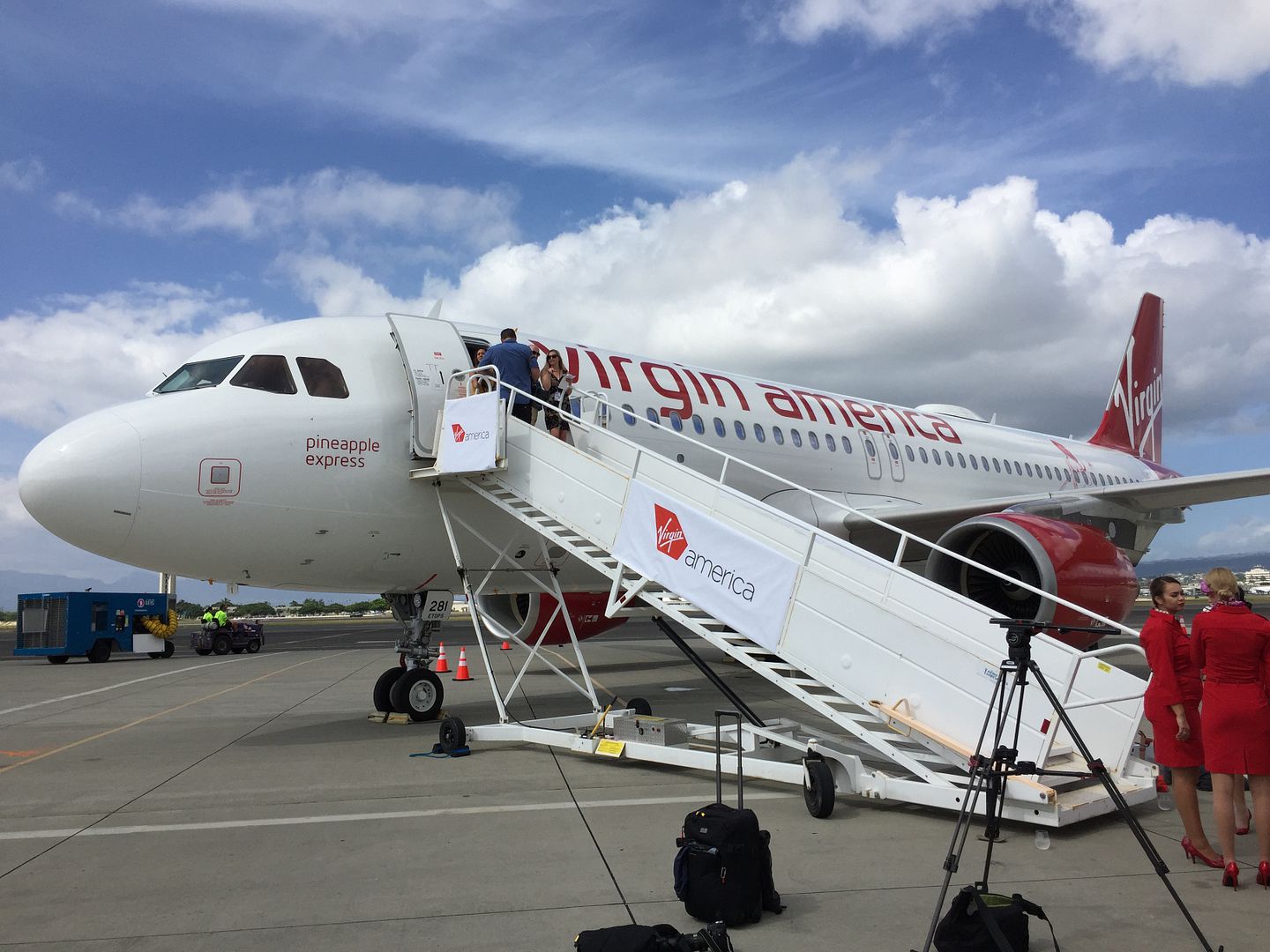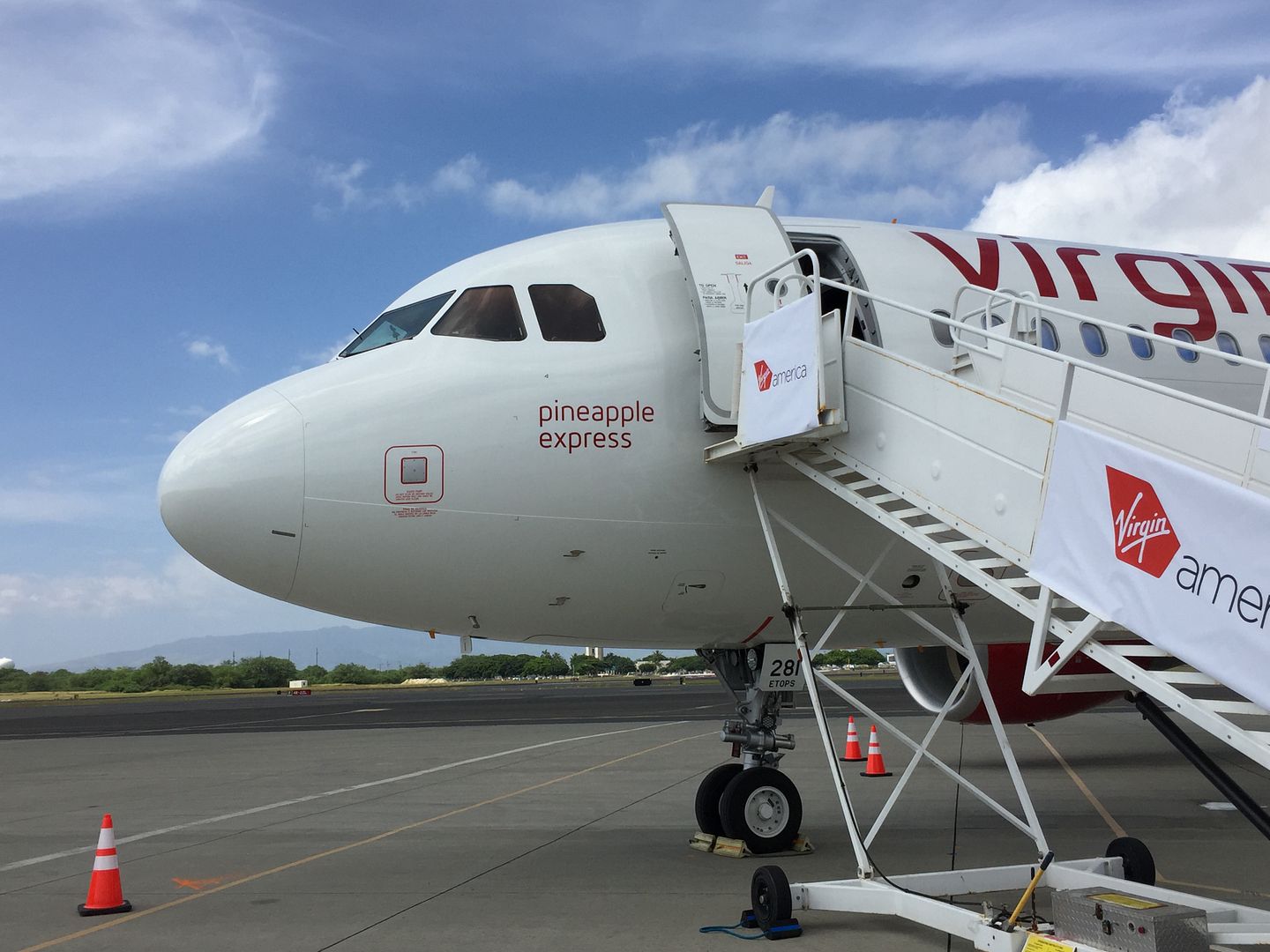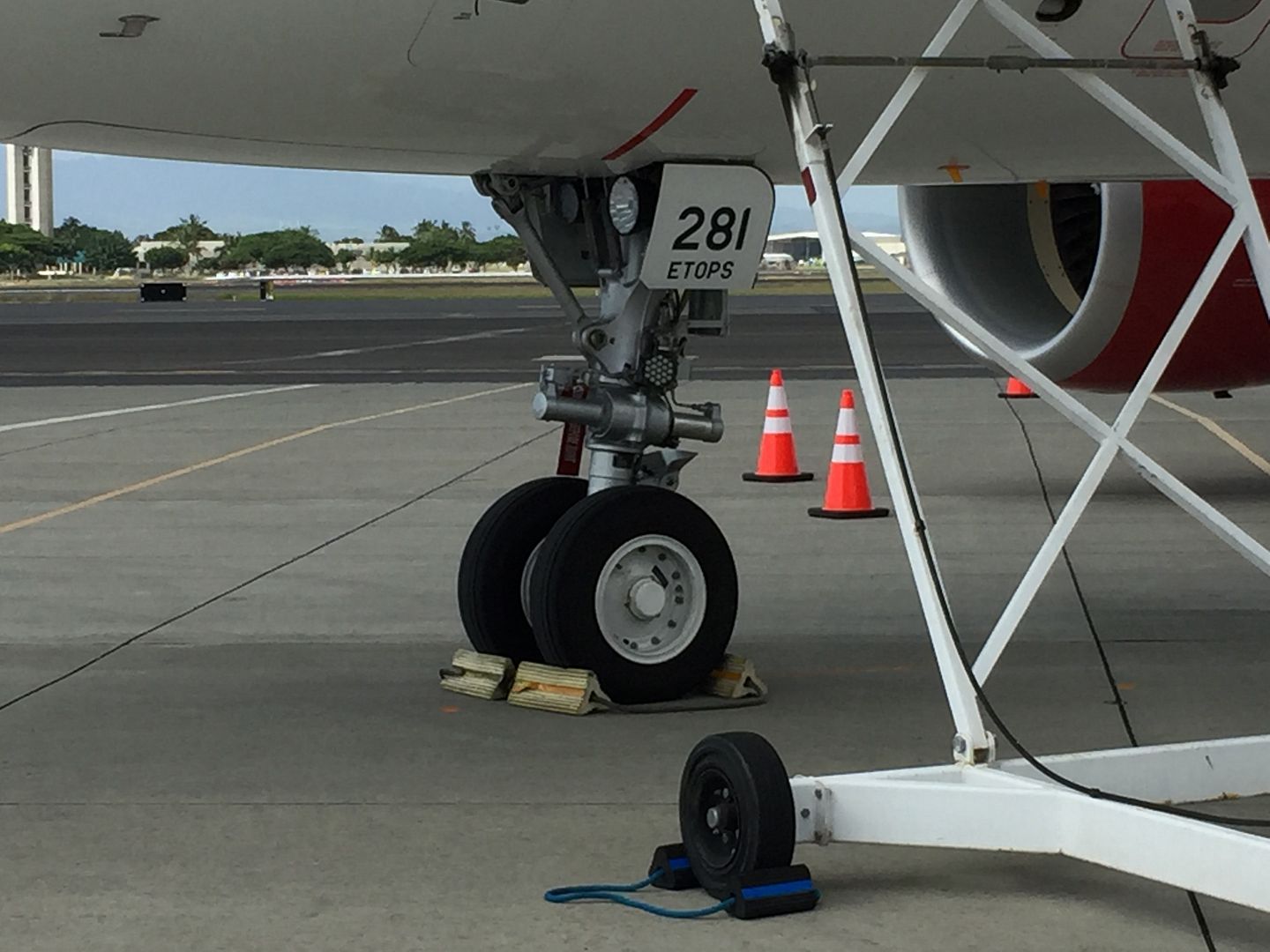 New Hawaiian motif of Virgin America
I got to give credits to Sir Branson, which was such a seasoned pro in this PR event, and brought life to the inaugural party.  He definitely knew when to use his charm. 
The party lasted about an hour and I took the free shuttle back to the Main Terminal for the return inaugural flight.
November 2, 2015
VX 50 HNL-SFO Lv1635 Arr2355 Airbus A320-200 Sharklet "Pineapple Express"
Virgin America's check in was located in Lobby 6, right next to Westjet, and the setup was pretty typical of Virgin America.  The agents are definitely more enthusiastic.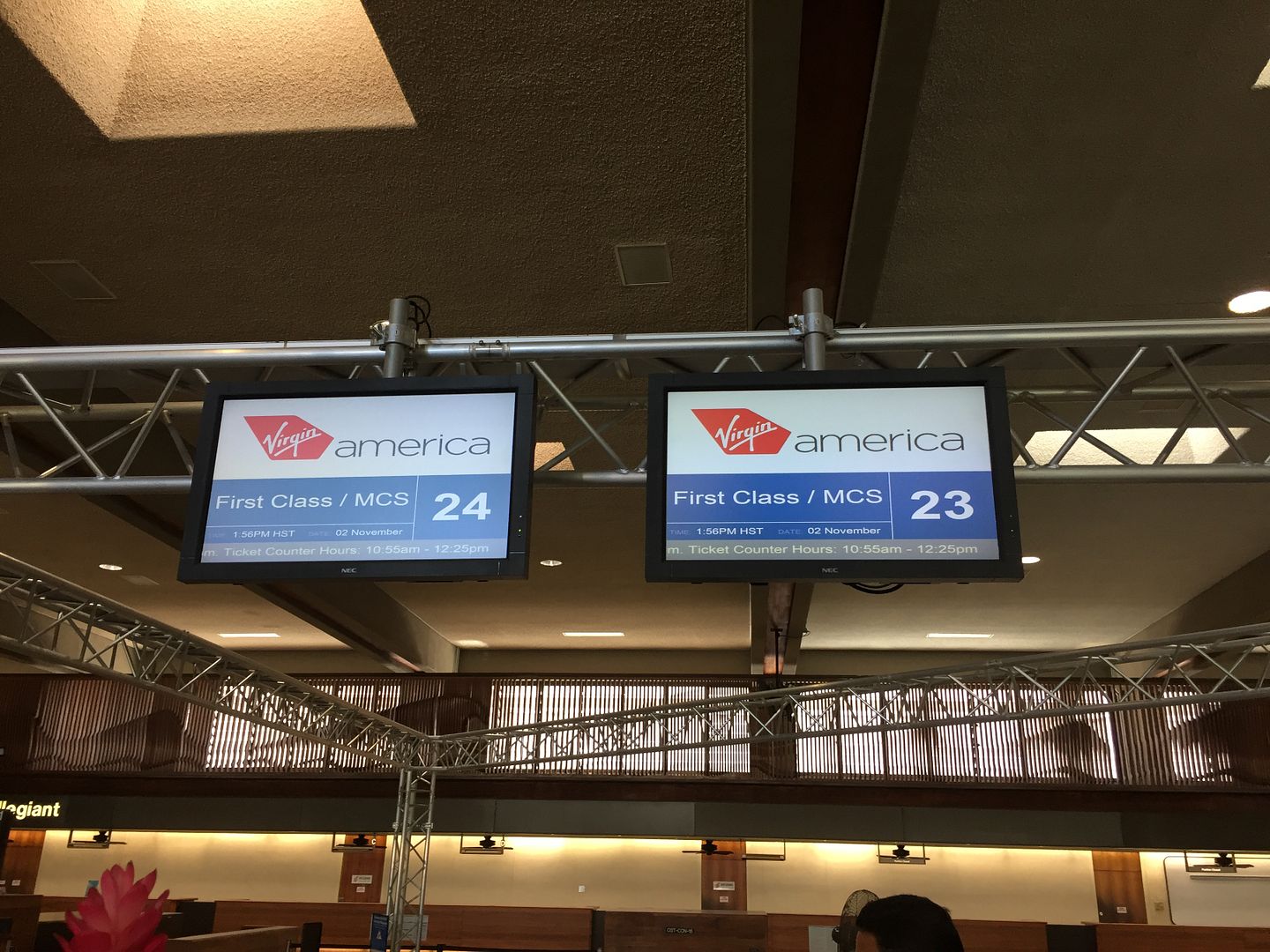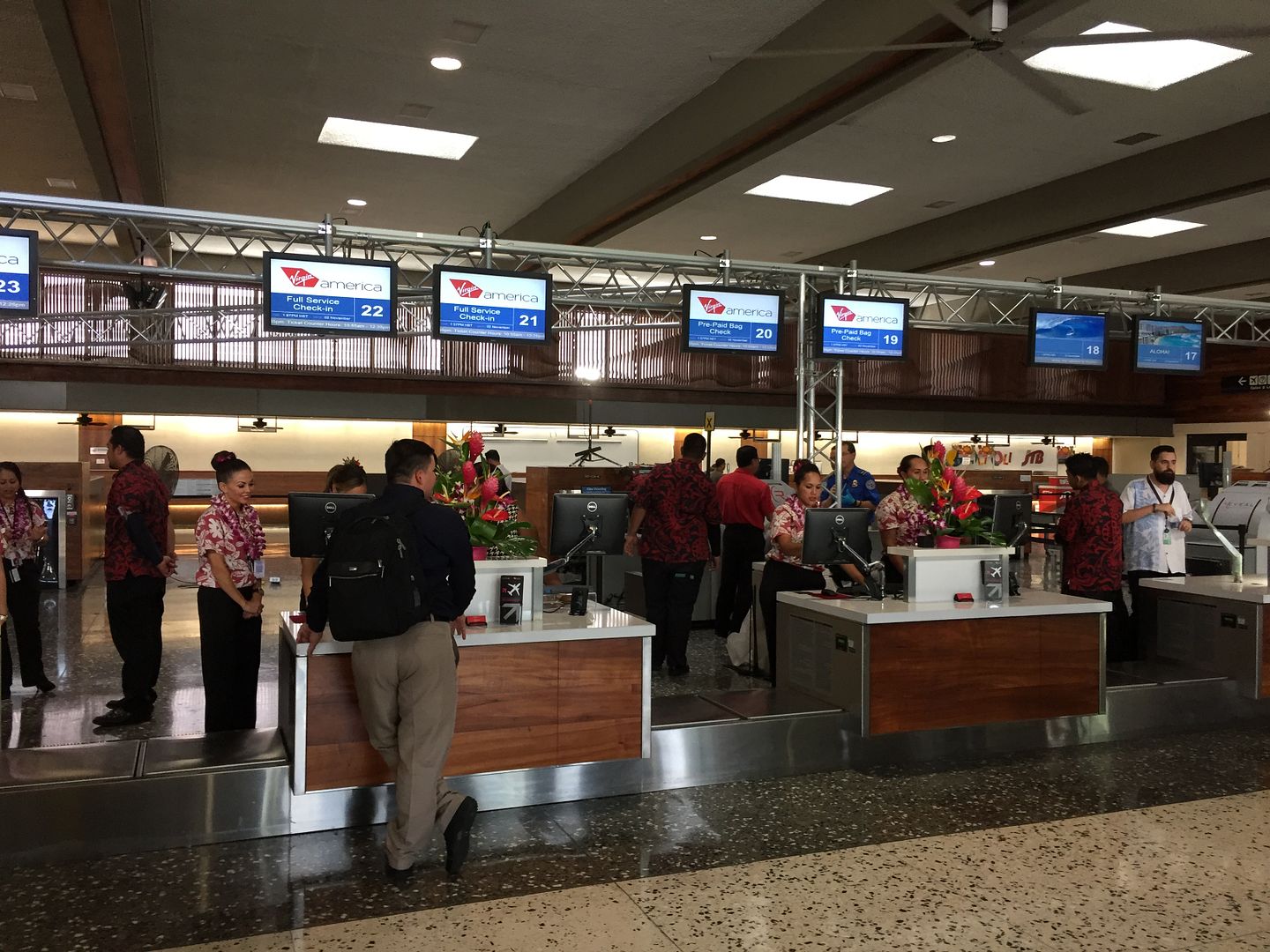 Security was a breeze and TSA Pre was opened this afternoon.  The TSA agent even apologized for the little more scrutiny on my boarding pass, as it was her first Virgin America's boarding pass check. 
I love the open-air terminal.
Virgin America used gate 23 this afternoon, and I have a feeling that VX will use Central Concourse for the foreseeable future.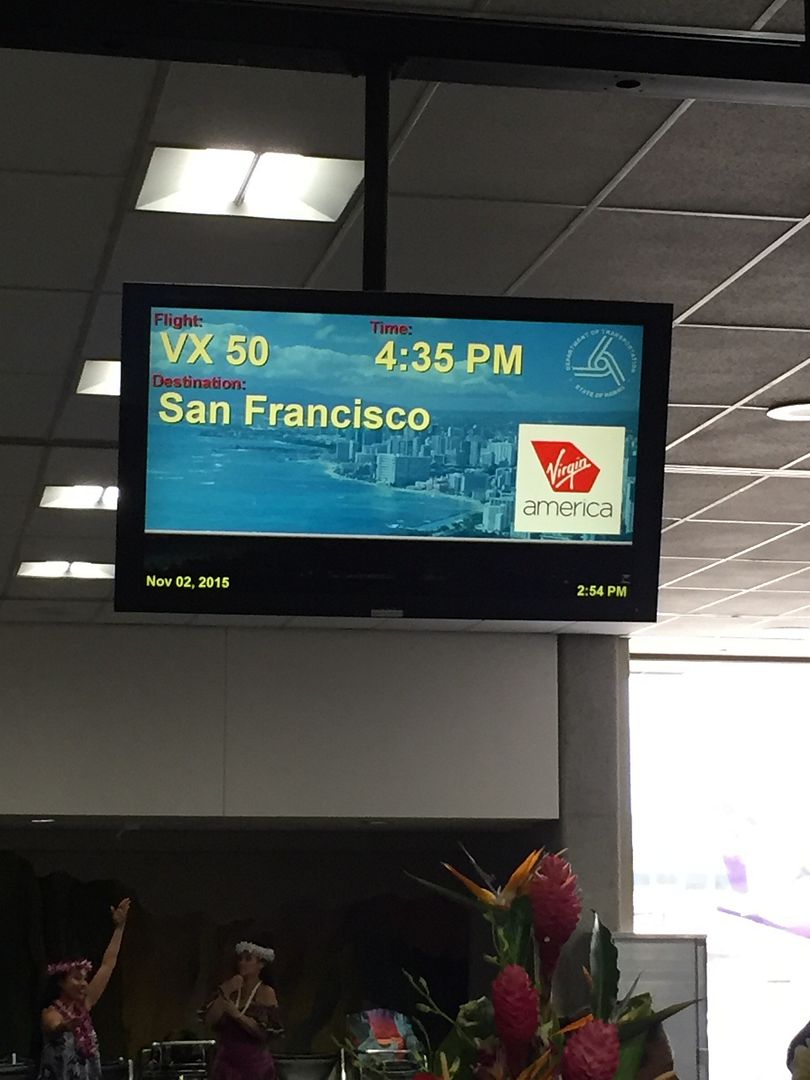 Some more shots of "Pineapple Express"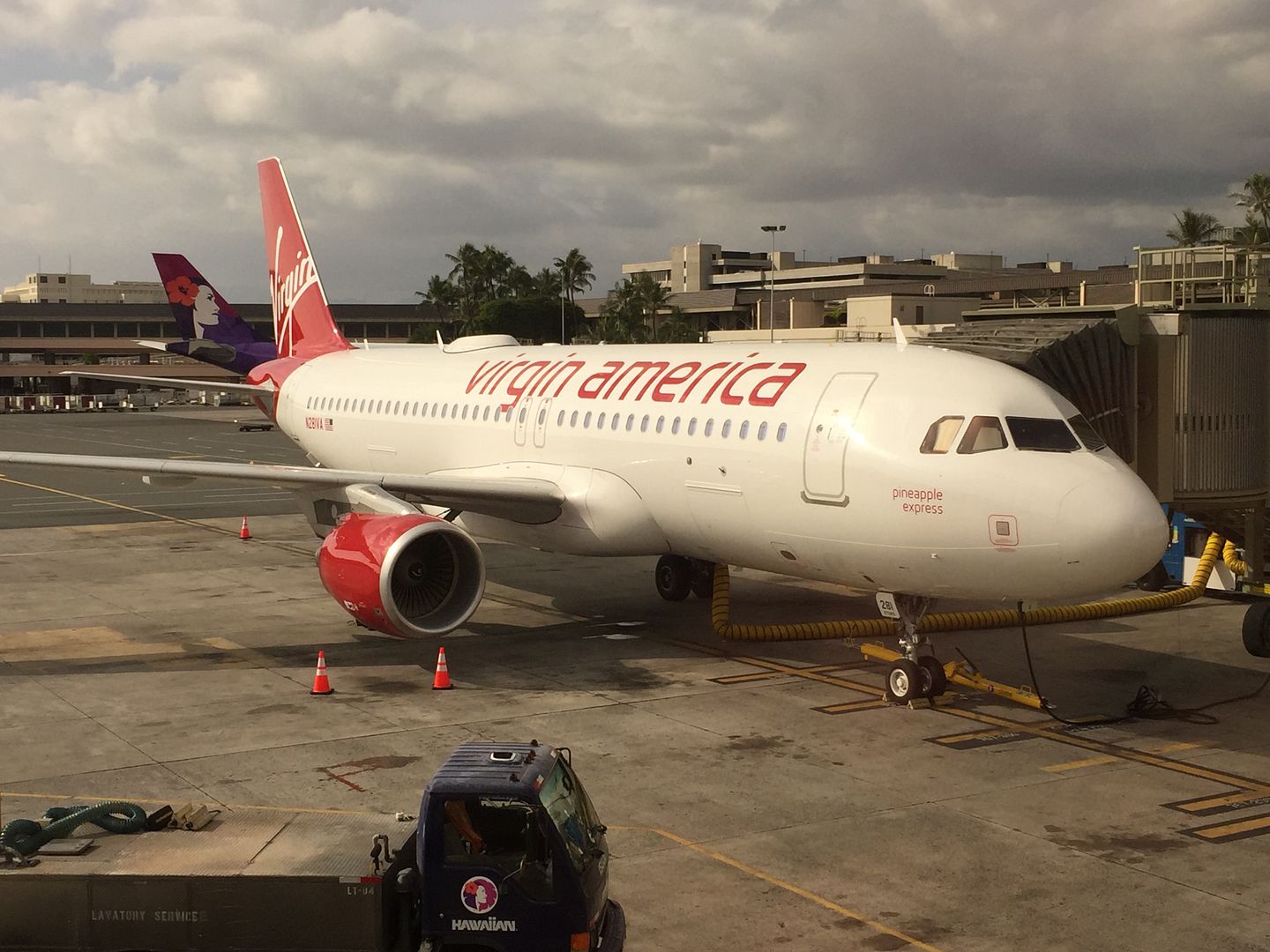 The return inaugural flight was definitely more low profile, but for most passengers, it was their first Virgin America experience.  There was a Hawaiian band playing, along with more Hula dancing.  There is a light refreshment buffet, which features, punches, coffee, water, and cup cakes.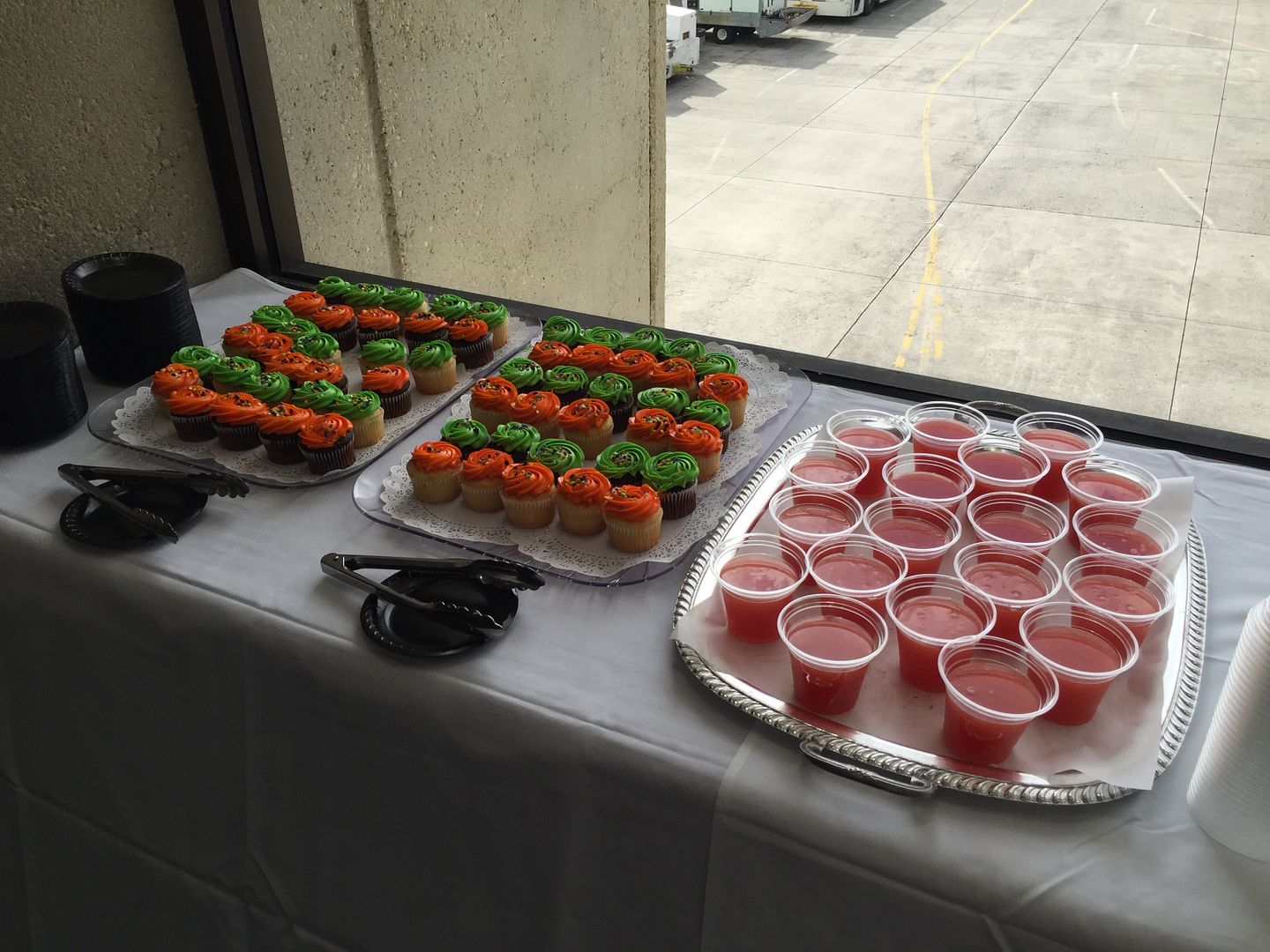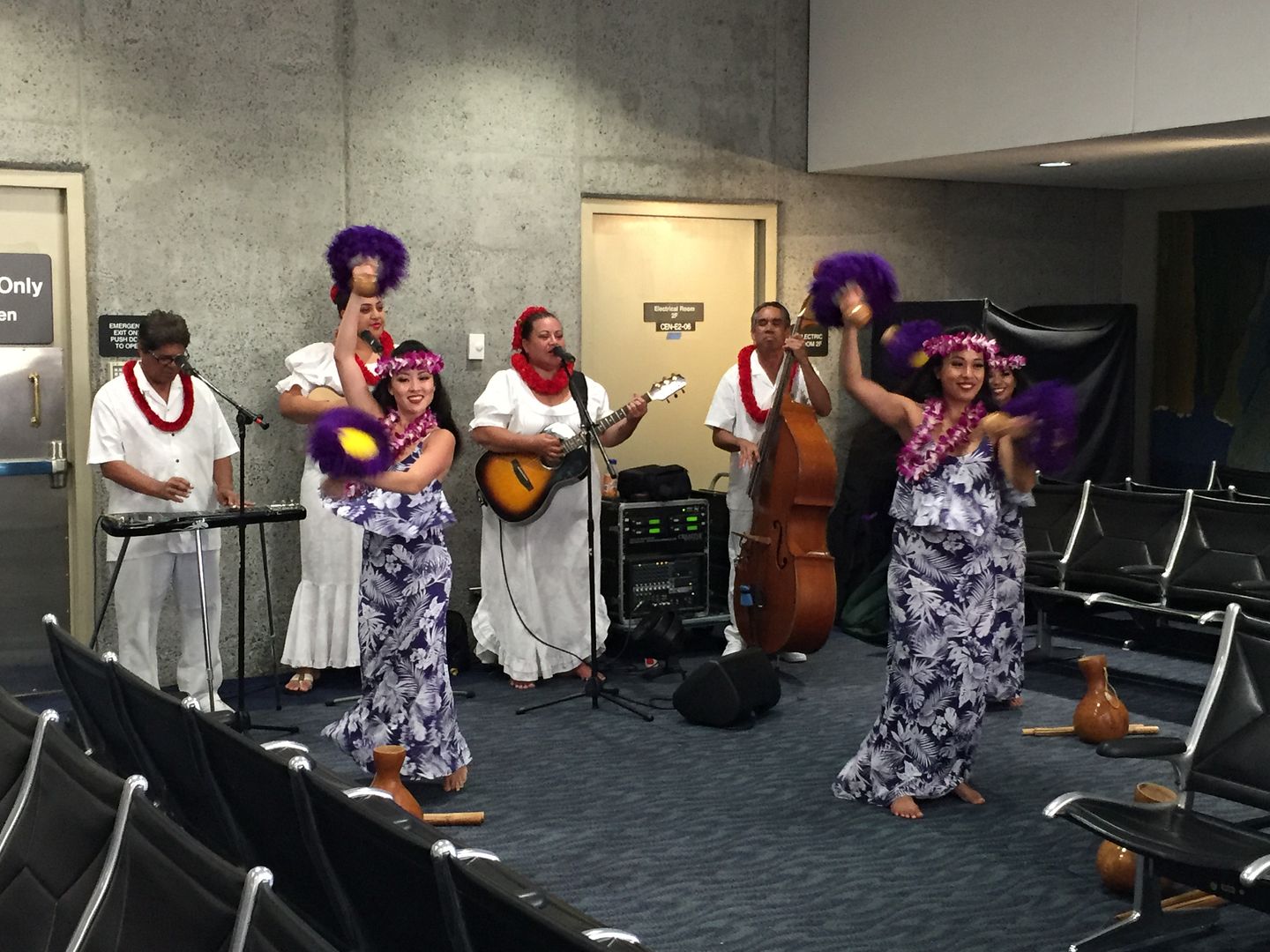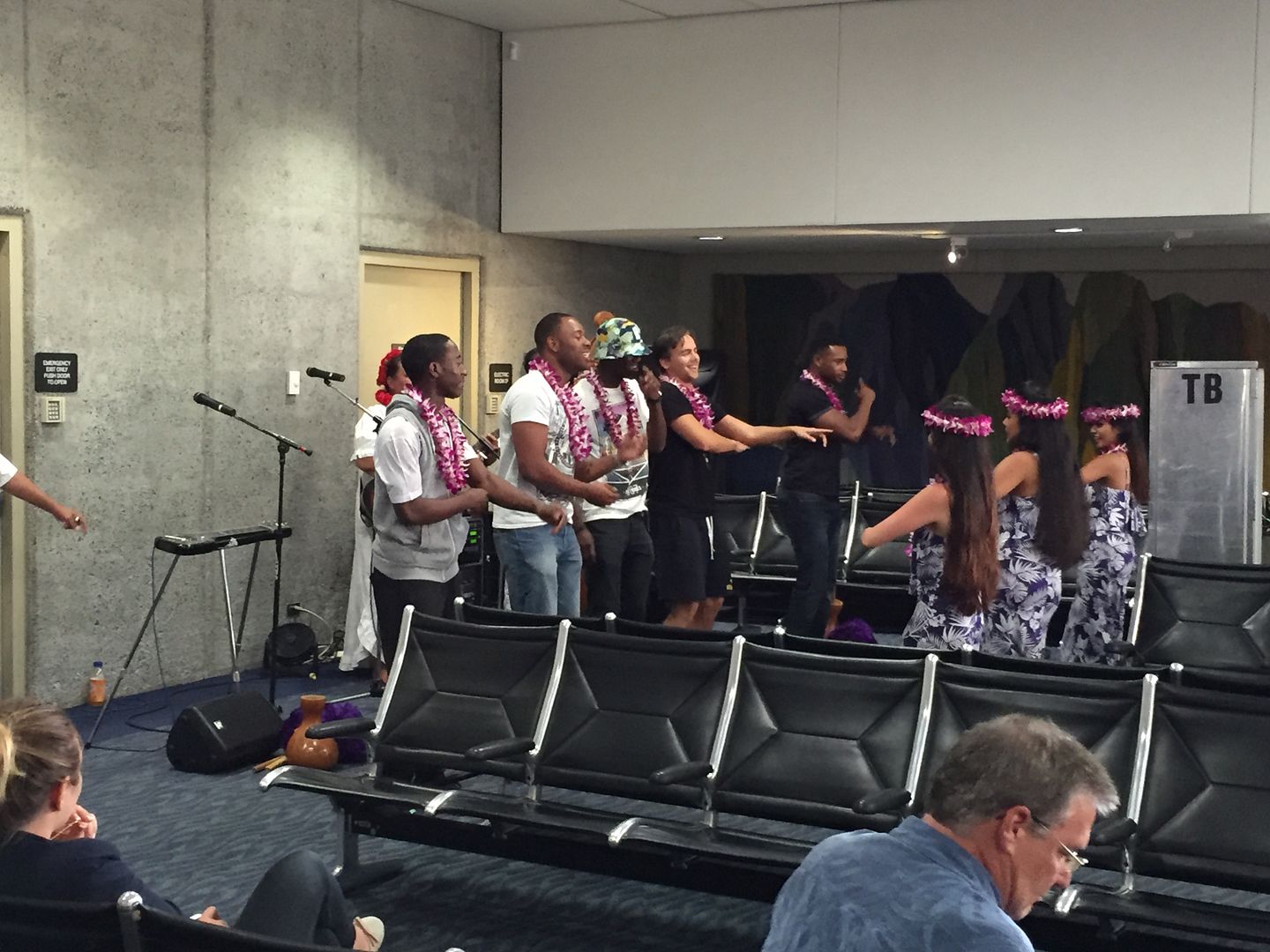 Virgin America's new station manager, Ross Yamanuha (man in red shirt), made a speech welcoming passengers.
I was glad that Virgin America allowed a longer layover, as it was evidenced that staffs were learning along the way. 
Lei – available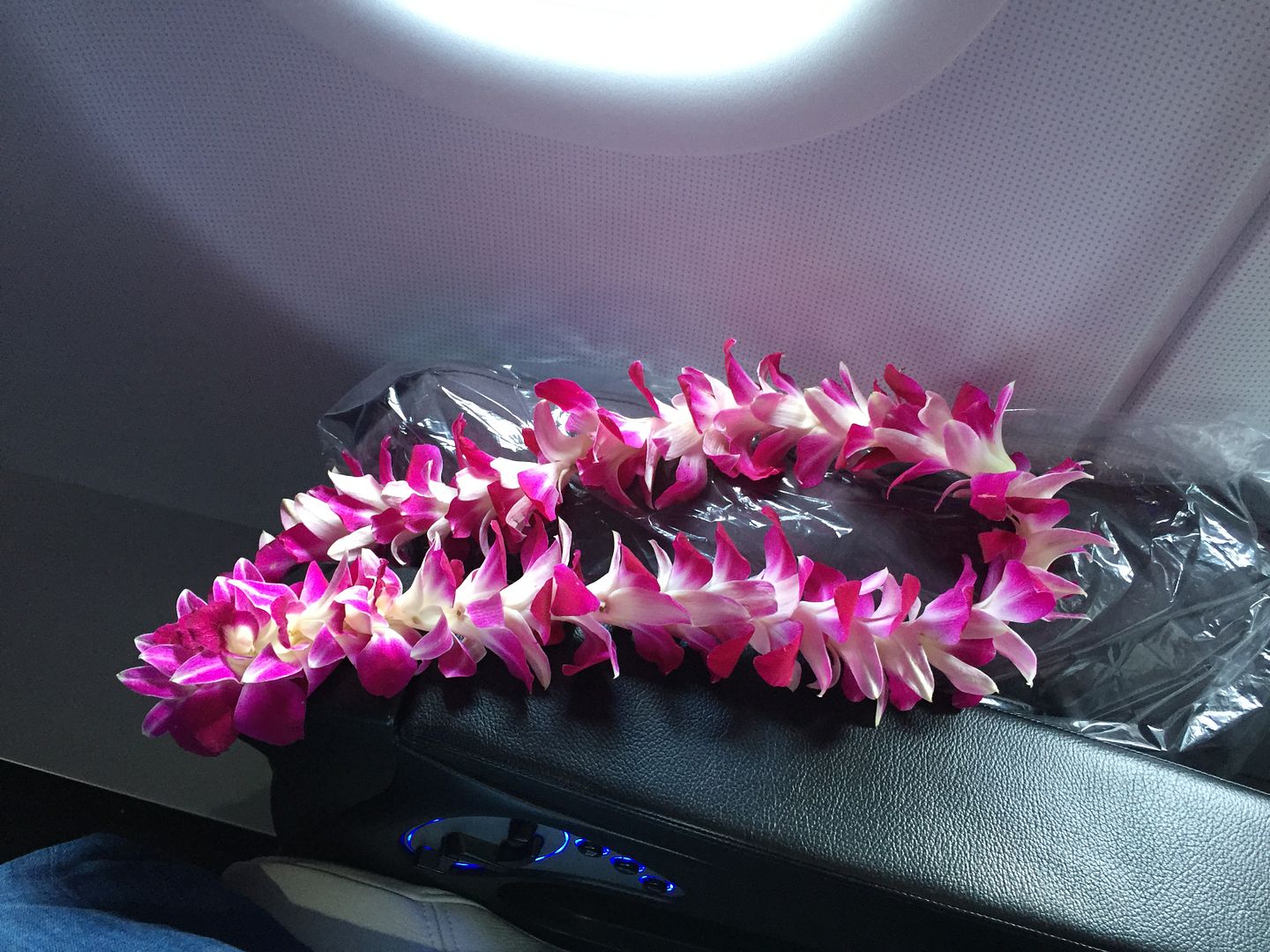 Boarding began at 3:57pm and another great set of crew was welcoming us on board. 
No more inaugural gift bag
-
Beautiful mood light cabin
First class was actually a bit fuller, but I still got two seats to myself. 
Captain giving everyone a personalized welcome… I also noticed that there were three cockpit crews for both inbound and outbound flights!  It might be part of the ETOPS requirement for the beginning of its operation.  Alaska Airlines went through that phase too.
I really got to compliment these four F/As, which were warm, personable and truly went out of their ways to make sure everyone was happy.  They were definitely the best of the best.  My cup/glass was never left empty.  Marshe was the lead purser, and the two Hawaiian born F/As, Trista and Sha, along with Robert were simply outstanding.  Sha even made her round around first class cabin talking to each passenger, and of course being born and raised in Hawaii, she was very proud of this flight.  Compared to the inbound crews, these four F/As are more attentive, detail oriented, and a bit more personable, which is actually not common among all the Virgin franchise airlines.  We had a great conversation prior to door closing at 4:29pm.  Many ground staffs took the opportunities to visit the plane too, and most were pretty awed by the high quality products offered on these narrowbody planes – not something usual here. 
We pushed back at 4:32pm and taxied past couple planes, as we taxied towards the Reef Runway.
We took off from R/W8R at 4:48pm for our scheduled four hours and fifty minutes flight.  We initially climbed to 37,000ft, and then after passing midpoint, we climbed to 39,000ft.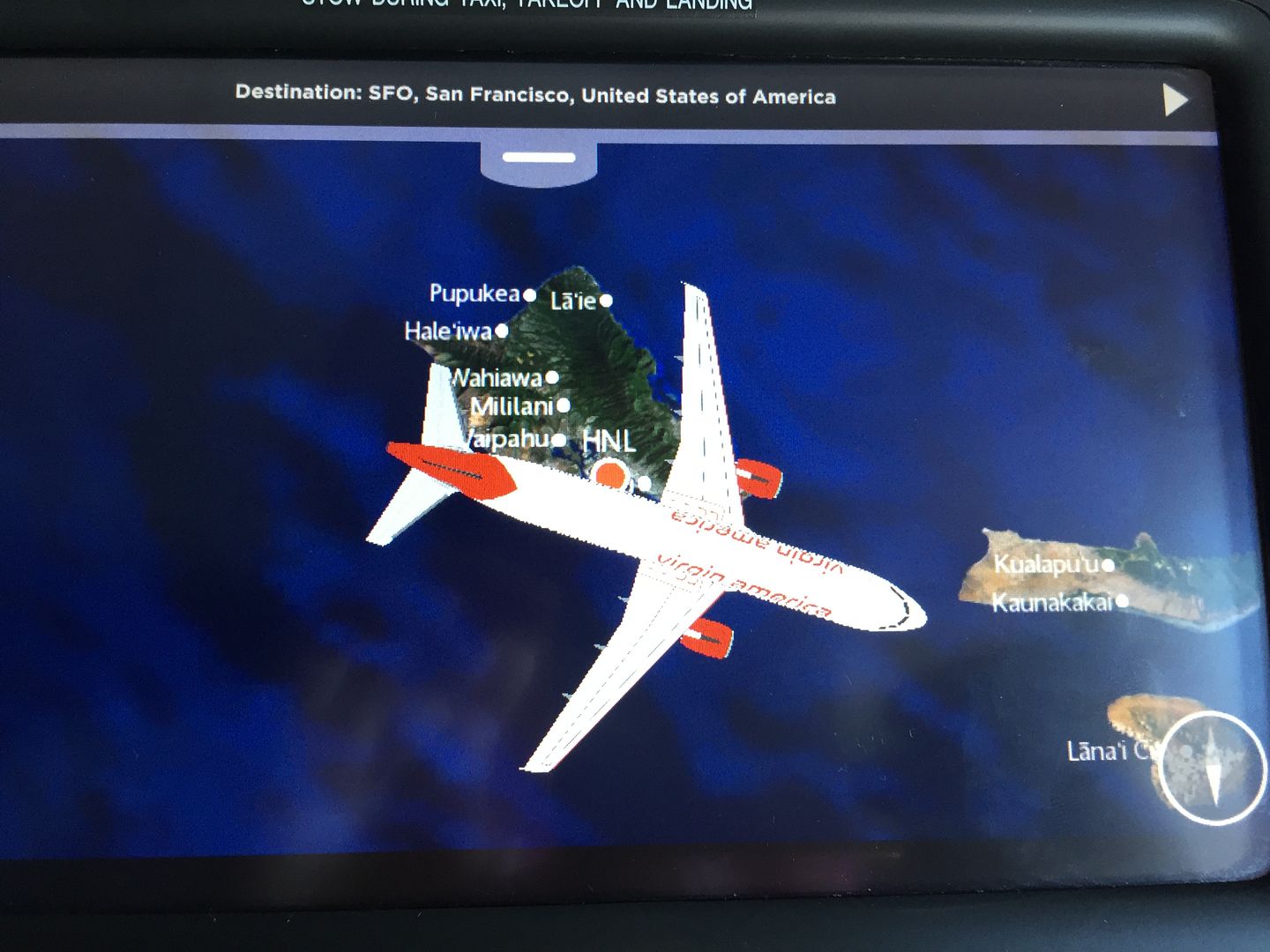 Not going to say much about the amenities and entertainment system, but catering was at least Hawaiian-themed. 
The Hawaii menu actually features three choices of entrées, and all the food items have this tropical theme. 
Cocktail Snack
Warm Macadamia Nuts
Island Cocktails
POG Mimosa
Makena Rum Cocktail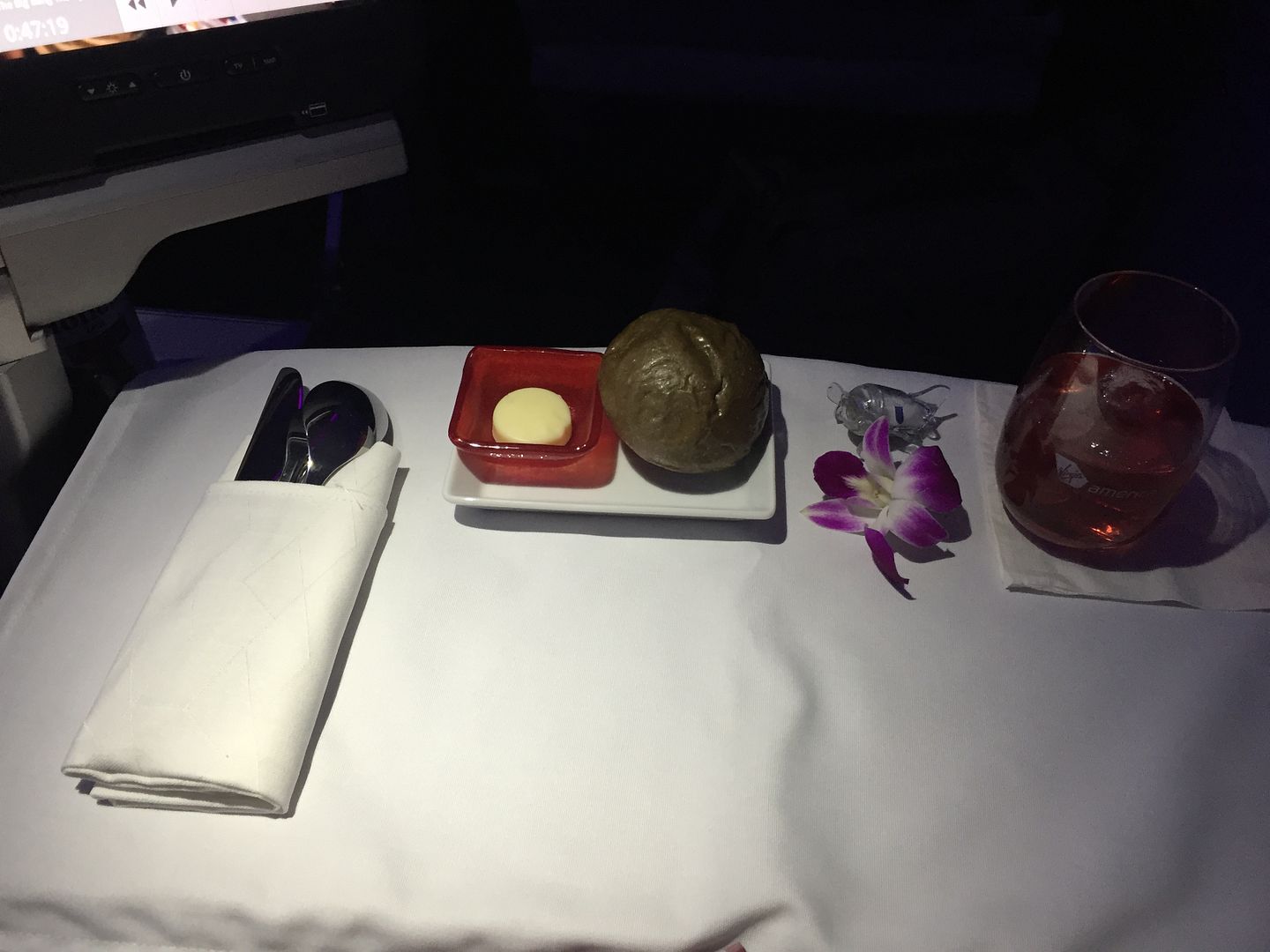 Appetizer
Grilled fresh pineapple, cunchy spiraled daikon radish, red beets, carrots, and creamy goat cheese
Contains dairy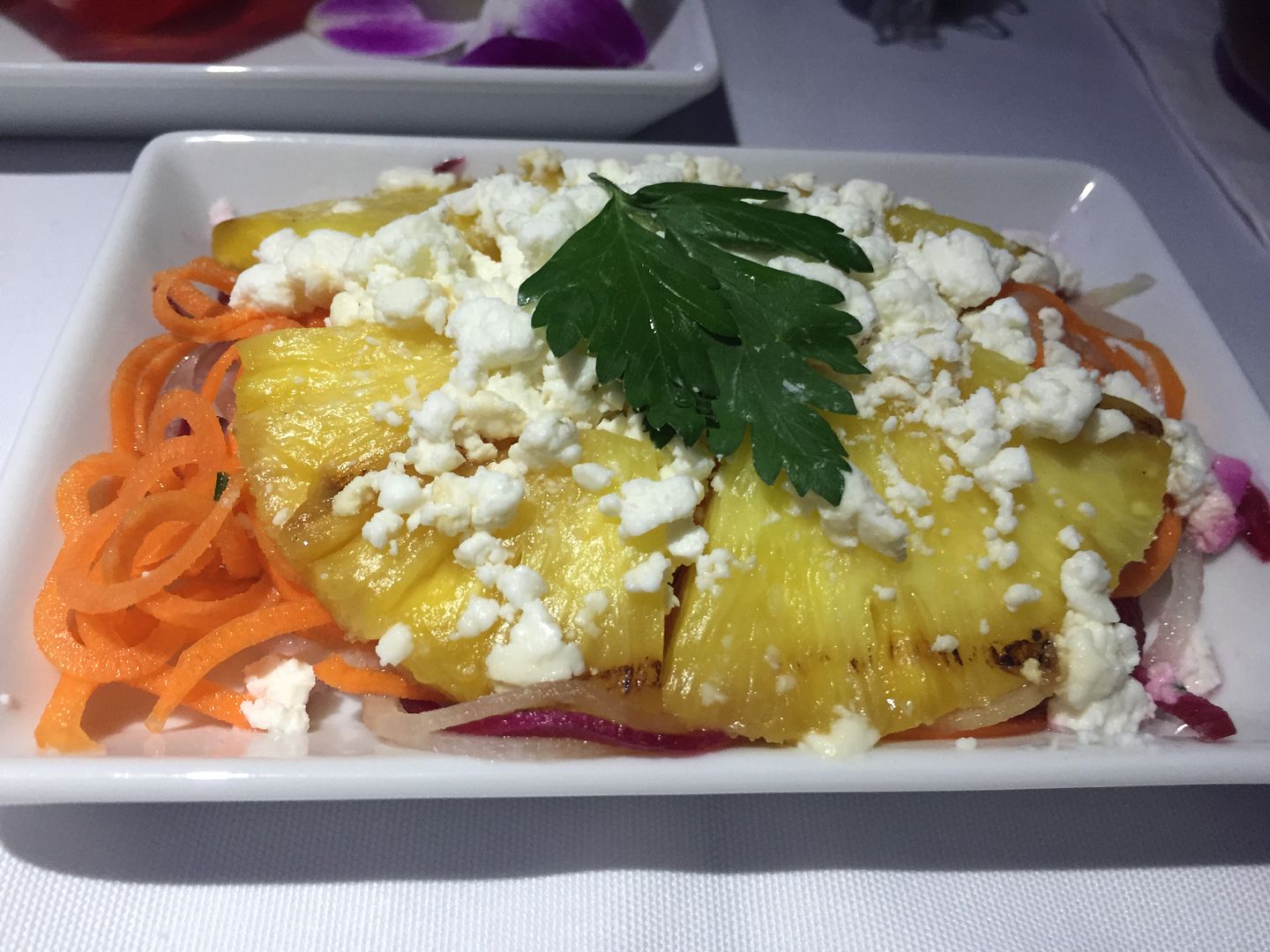 Fresh Guava Rolls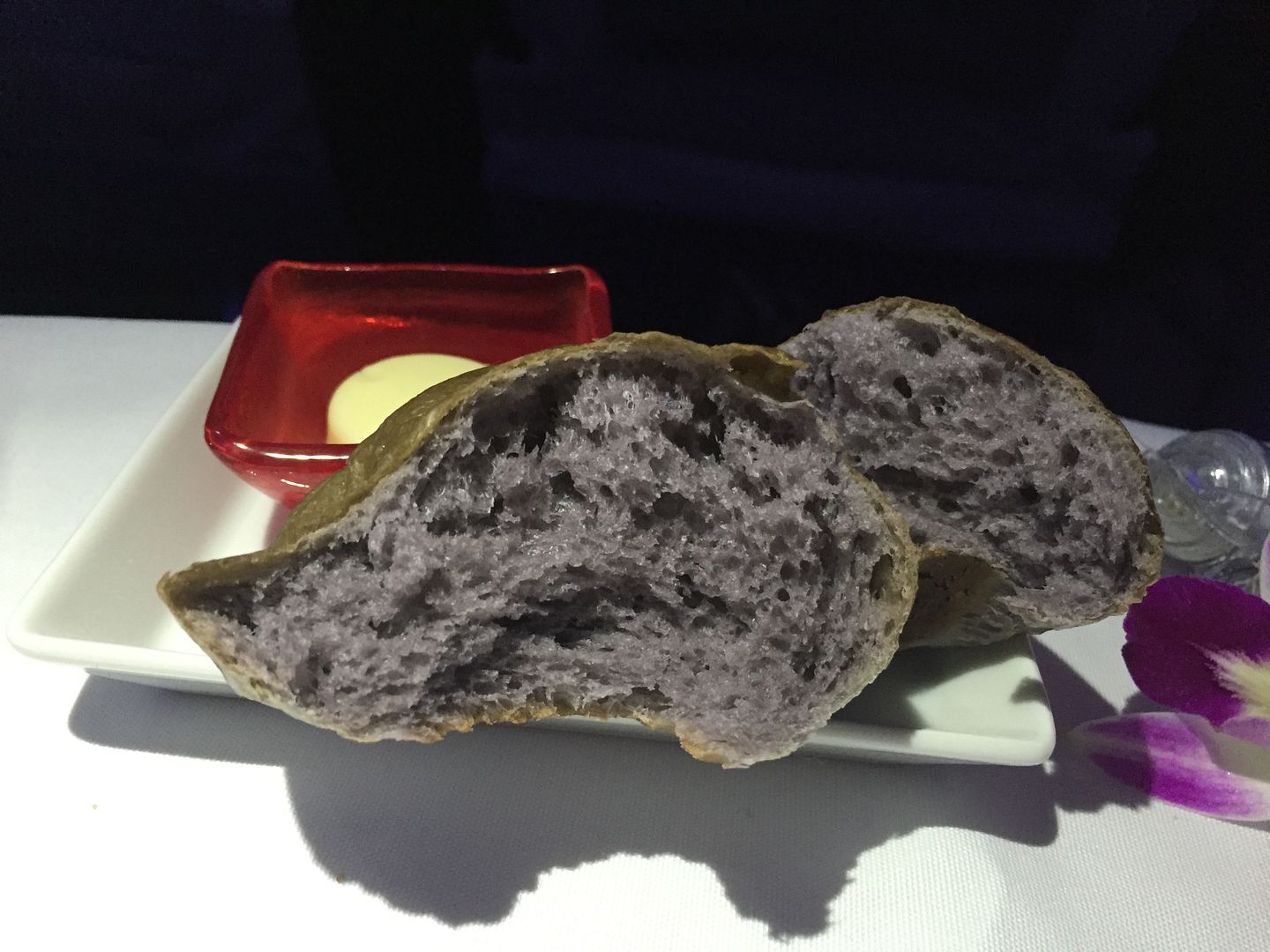 Entrées
Miso Yaki Salmon
Char-boiled miso marinated wild salmon served with wasabi mash potatoes and ginger roasted carrots, crunchy bok choy and a light miso sauce
Contains fish and soy
Crispy Thai Chicken
Crispy macadamia nut crusted chicken served with roasted fingerling potatoes, sautéed carrots, green beans and mushrooms, with a tangy Thai chili sauce
Contains poultry and macadamia nuts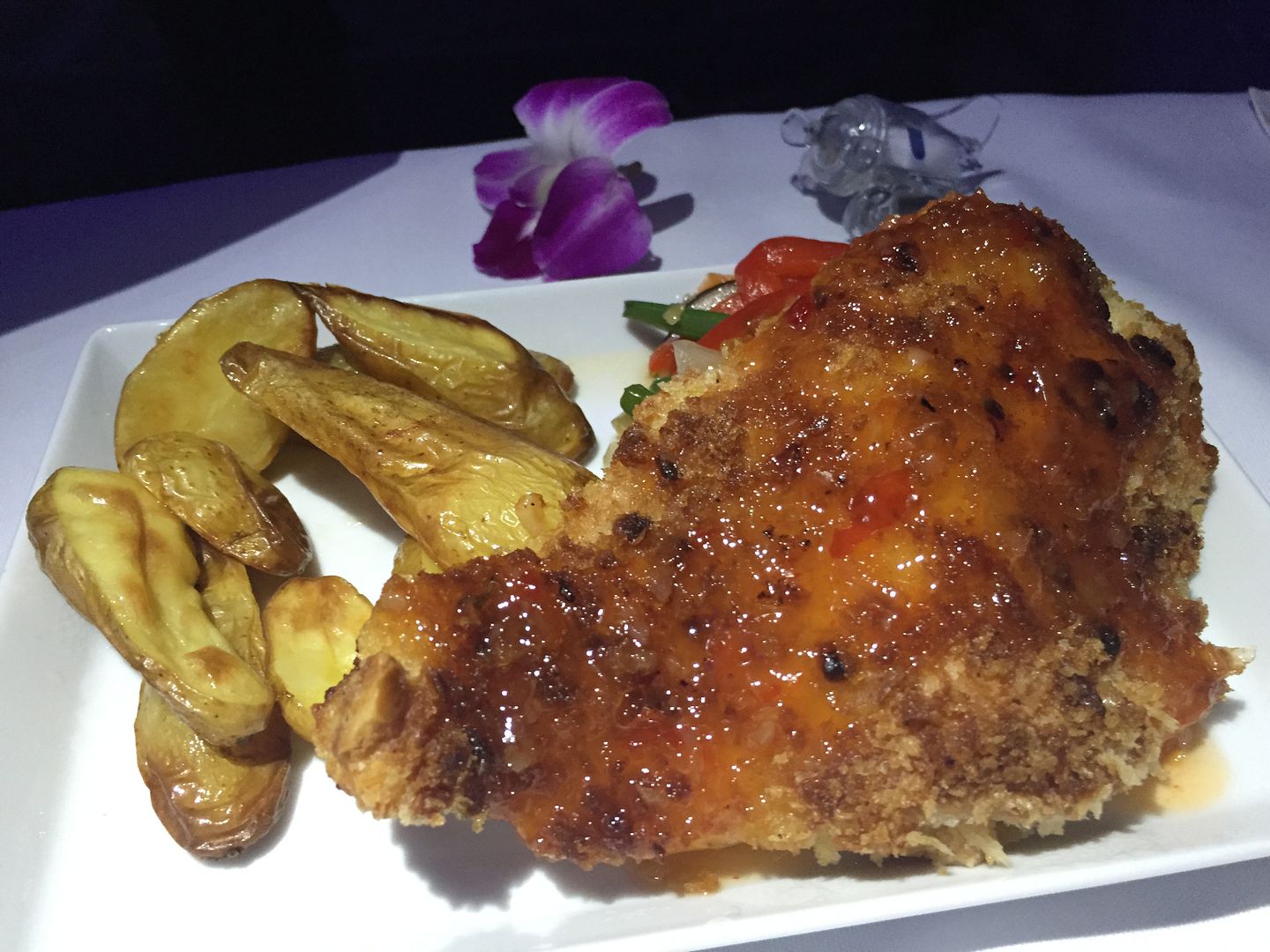 Spicy Ginger Pepper Noodles
Lo mein noodles with sautéed Chinese long beans, red bell peppers and onions topped with sautéed shiitake and oyster mushroom mix and a spicy garlic ginger pepper sauce, garnished with optional scallions and cilantro
Contains wheat
Dessert
Tropilicious Likikoi Ice Cream (Passion Fruit)
Contains dairy and sugar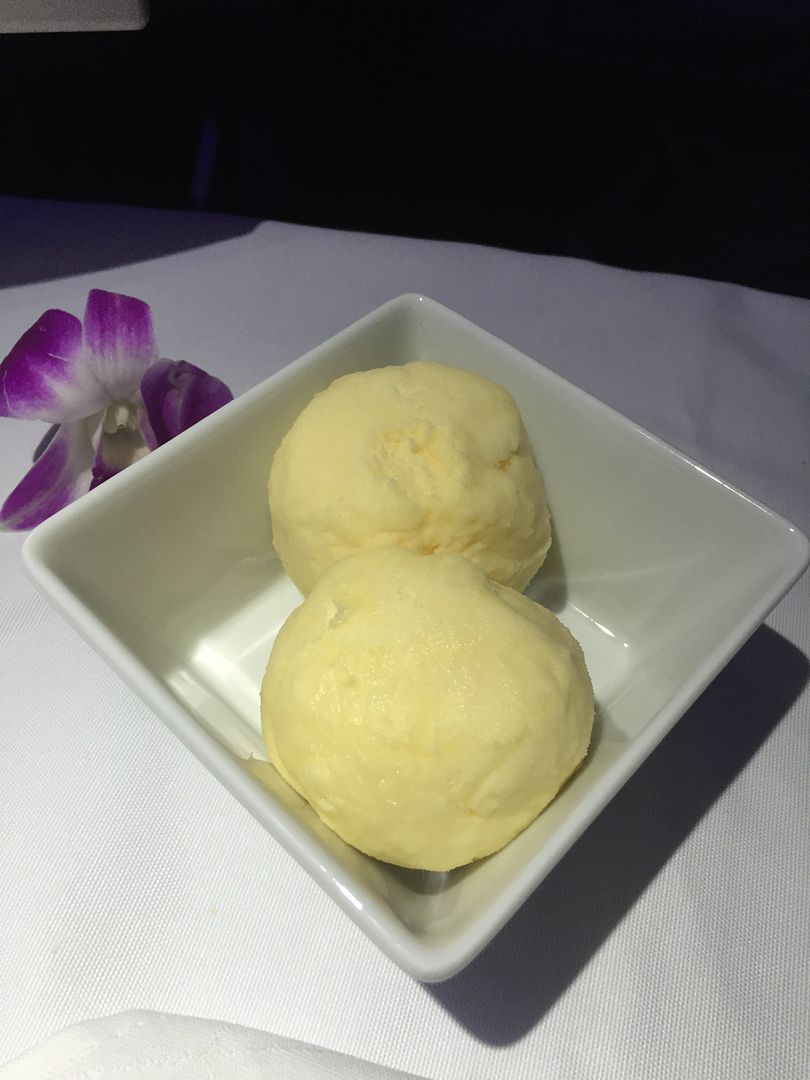 Snacks Anytime
Top Shelf Bites
Nibble on a spread of delectable Dean & Deluca snacks throughout the flight
Chocolate Squares
Kettlecorn
Black Truffle Pretzels
Cajun Mix
Cranberry Nut Mix
Sea Salt Chips
Cashews
Sweet Fish
Getting closer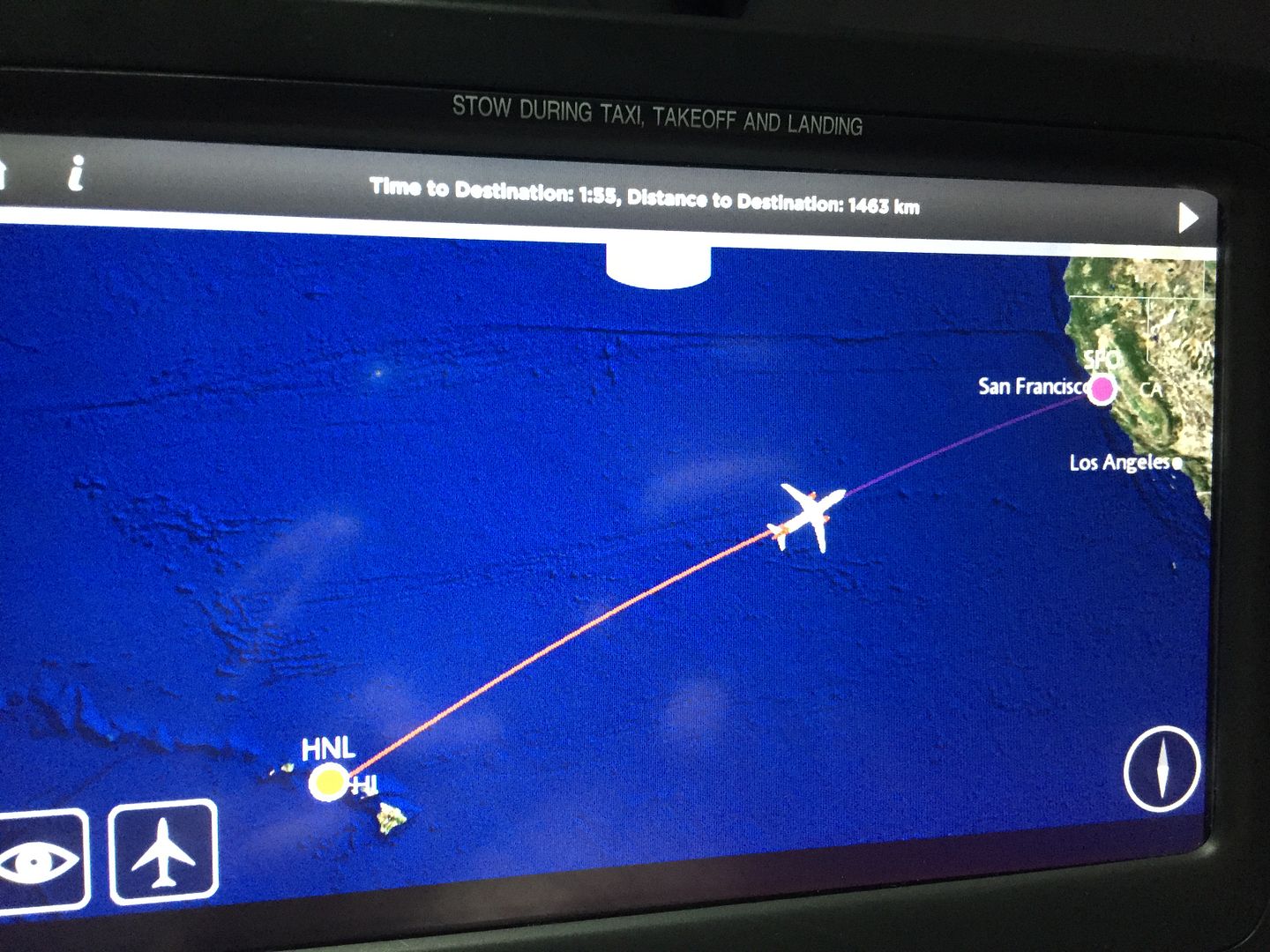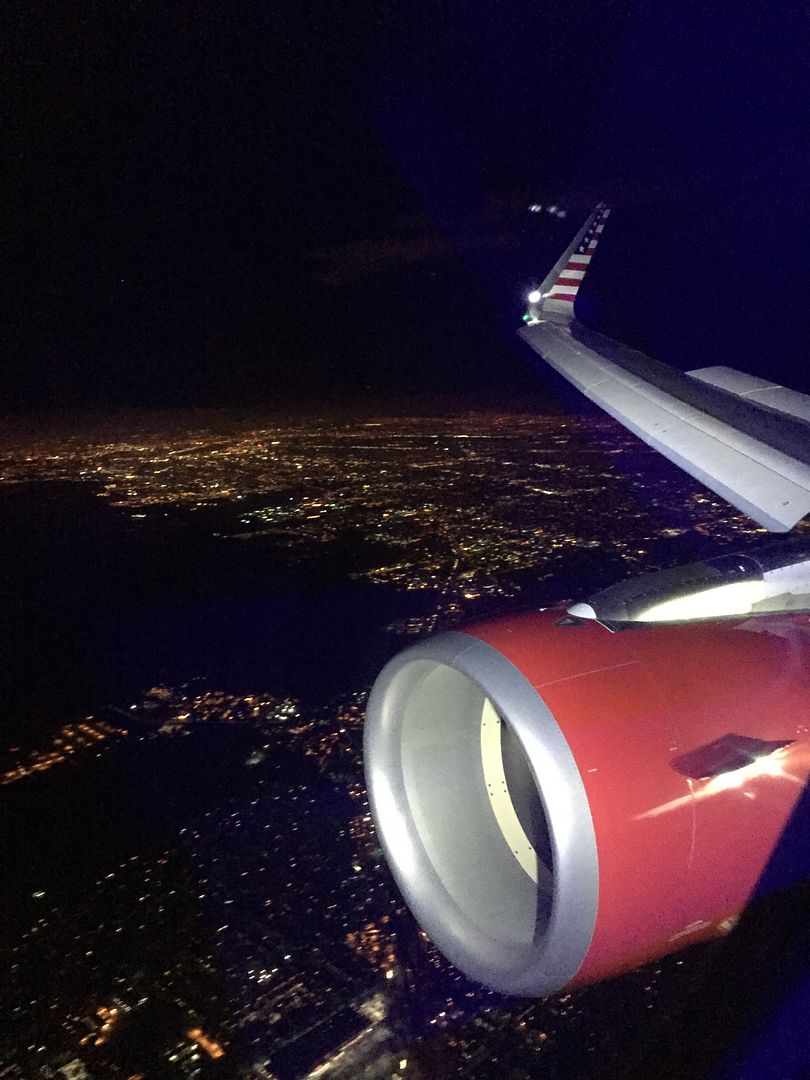 We landed on R/W28L at 11:40pm and parked at gate 54A five minutes later.  Once again the cabin crews were saying goodbye to everyone and it was a nice way to end the flight.  This return inaugural flight definitely ranks as one of my best Virgin America flights. 
In conclusion, Virgin America definitely has much faith on the new Hawaii service, and for first class, I am surprised that it really goes all out with the duvet and full premium service.  Of course I am not sure if it is only for inaugural flights or a permanent feature.  But at the least the Hawaii themed menu is here to stay, and the redeye from Maui will feature a hot meal too – more breakfast oriented.  I just wish the breakfast menu on the outbound flight could be better.  If Virgin America puts its heart on an inaugural, it can be fun, and today's Hawaii launch is definitely another memorable one.  I personally think Virgin America needs to give a bit more attention to its Elevate Gold member.  From SFO to HNL, I was obviously the only Elevate Gold member in the cabin and if VX really takes its Elevate program seriously, it will be really nice to have David Cush to personally thank me for my business.  At least the head flight attendant should do it and recognize other Elevate Gold members onboard this important flight.  I hope you will enjoy this report!
Carfield