National Airlines (N8) 3.0 – Inaugural Scheduled Passenger Flight to San Juan, Puerto Rico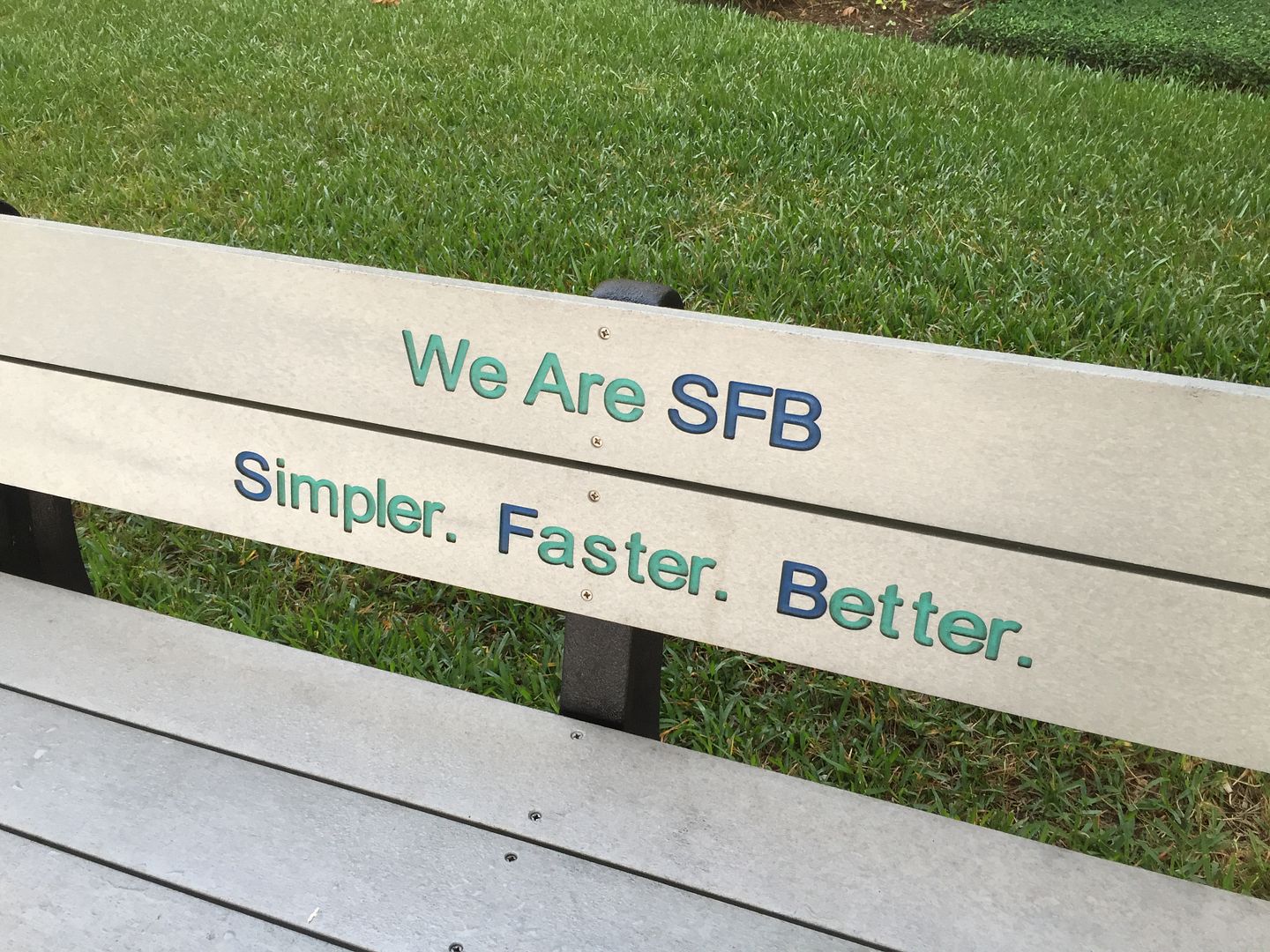 National Air Cargo has been known as a major cargo carrier flying Boeing 747-400 freighter all around the world, and surprisingly it has two Boeing 757s with passenger cabin setup doing charter works.  These two Boeing 757s definitely have history and National Air Cargo announced its plan to launch passenger service earlier this year, and the passengers subsidiary is called National Airlines.  I am sure that I will miss out something, but this is the third time that the brand, "National Airlines," is being launched.  I had many fond memories of the former National Airlines (N7), which was based in Las Vegas, and also used a fleet of Boeing 757s.  The service was pretty good but sadly Las Vegas was not ready.  This time, National Airlines (N8) focuses mainly on leisure flights connecting Orlando Sanford Airport and leisure destinations in North America.  San Juan was its first flight, followed by Windsor on Dec 17, and then St. John, NF, Las Vegas, and Vancouver will come online slowly.  I cannot imagine the airline expanding beyond two 757s for now.  I did not expect a big event, as National Airlines is a new venture for National Air Cargo.  However, Sanford airport ended up being a reasonable regional airport, and quite user-friendly, and National Airlines, while not aiming to be a luxurious airline, is bring back some of the frills that I don't expect a leisure airline will bring back.  While the inaugural flight was low profile, there were some executives and FAA staffs onboard the plane monitoring the flight.
Full album link:
http://s1213.photobucket.com/user/Carfield76/library/Winter%202015-16/NationalAirlinesN8PassengerServiceInaugural
N8 221 SFB-SJU Lv0900 Arr1245 Boeing 757-200 Winglet N567CA
Booking the ticket is actually relatively simple, and its website can handle the reservation booking easily.  However you cannot select seats on the website.  You need to call or email them.  They seem to be relatively fast in responding to email, which takes about 12 to 24 hours. 
Orlando Sanford Airport mainly serves Allegiant Air and a whole range of European charter airlines.  The airport shuttle driver told me that while MCO is much closer to the theme parks and vacation sports, Sanford Airport is user-friendlier and offers cheaper parking.  Many Europeans usually flew into SFB and rented their cars.  However, there were less public transportation options and taxies are expensive.  There are less airport hotels to select from, and hopefully the airport authority can work on. 
There are two terminals here in Sanford, with international airlines using Terminal A and domestic airlines using Terminal B.  They are literally next to each other.  My morning was rough, as the private car driver stood me up, and the company was having a hard time finding me a new driver.  Please never use "Private Car Companies"!  They have a website and an app.  They are very organized with email being sent out the day before telling you who will pick you up, and all those fancy text messages, but they have little control over their drivers.  My driver, William, never showed up, and while the operator was polite, she was useless and for over an hour and half, she was trying to find a new driver, instead of telling me to get a cab and refunding me.  After an hour, I told her that you would refund me and the hotel bellboy was finding me a taxi now.  A very bad trip advisor review is on its way.  I used shuttlefare.com to book the ride, which used www.drivercarapp.com to arrange the actual car service.  I arrived at the airport barely an hour prior to departure, and was the last passenger checking in for the flight.  Yes the agent told the manager that the last one just checked in. 
Check-in area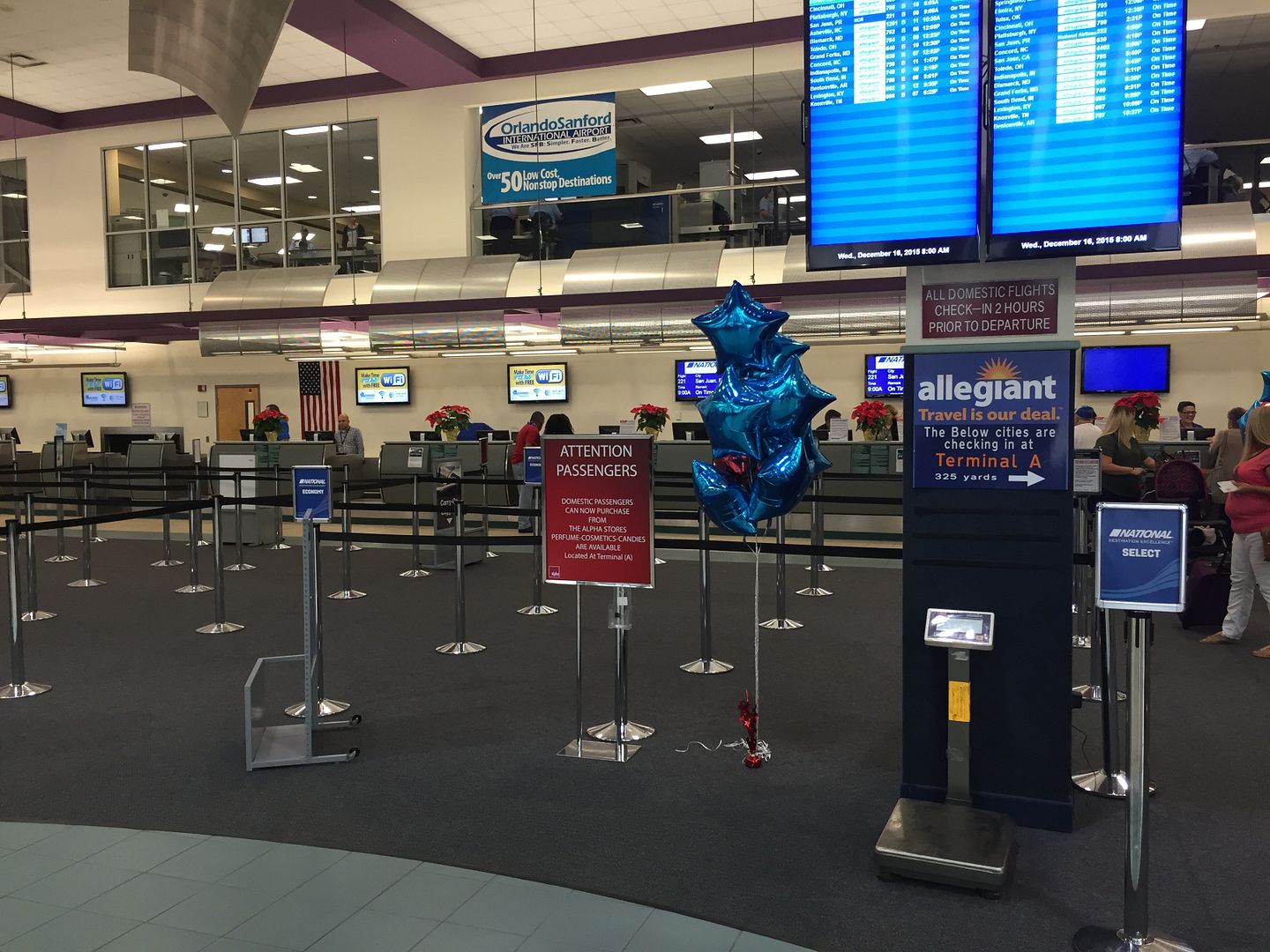 National Select (premium class) passengers have a separate check-in lane.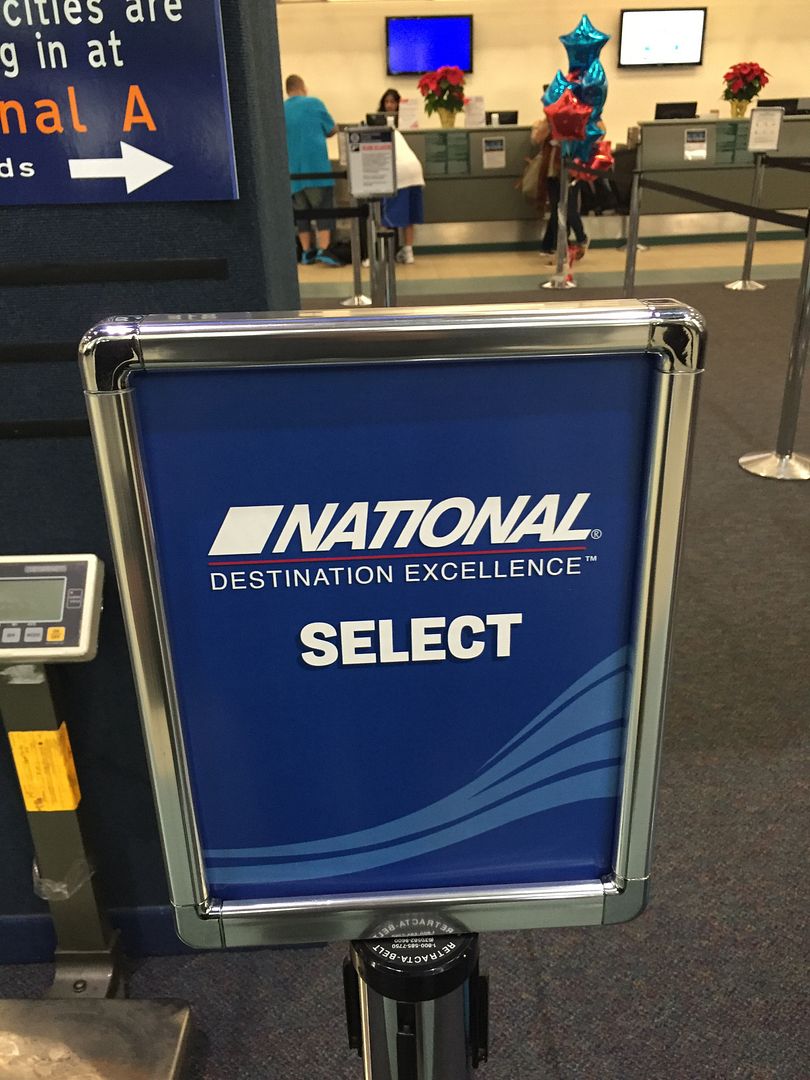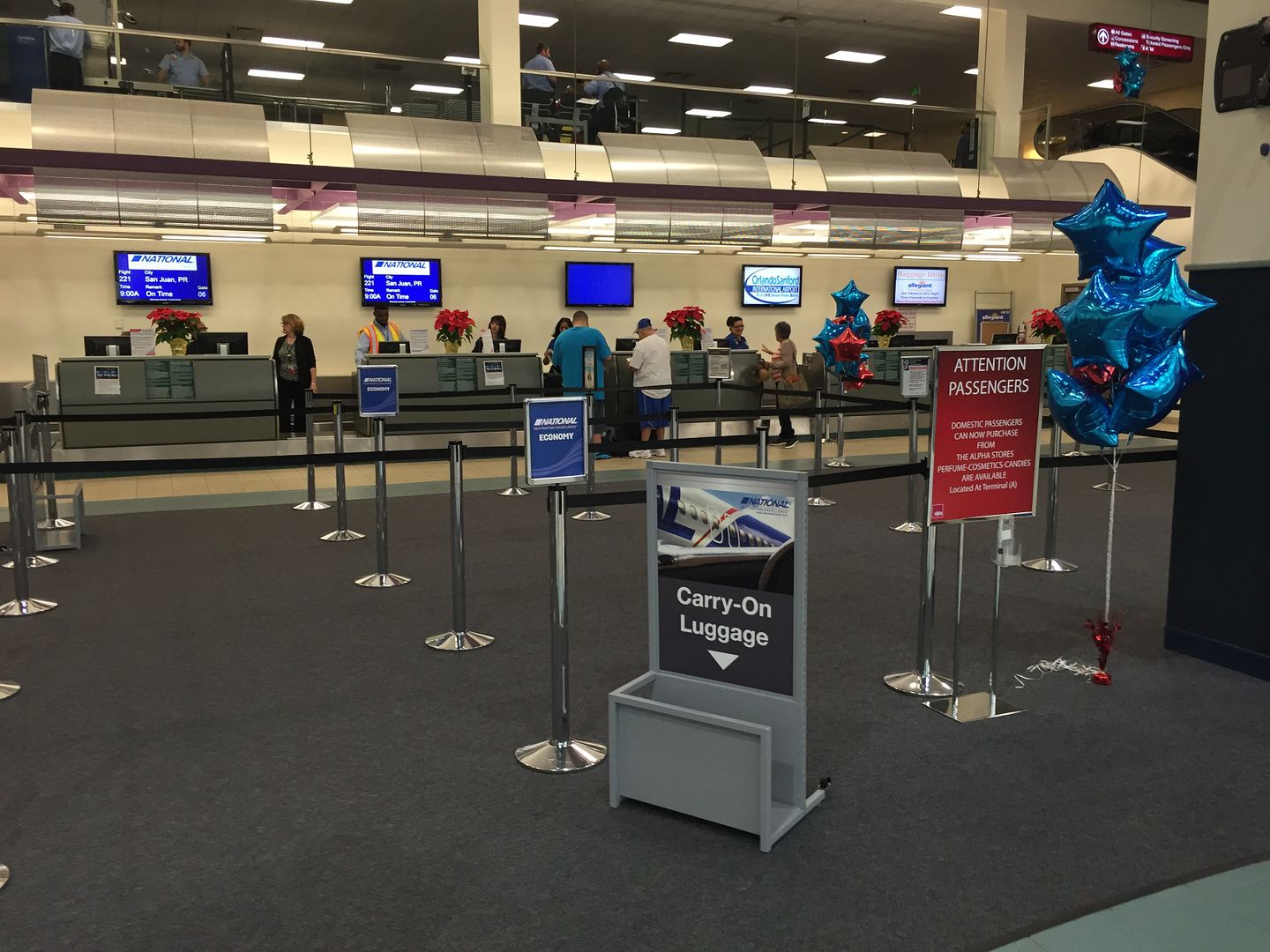 The agent was cordial, as they were obviously busy learning the check-in system of a brand new airline.  Being on time is the theme especially its mother company is a cargo carrier.  However, they need to focus on their agents smiling more and most new breed of US airlines emphasize on that personal touch. 
I saw a National Airlines cake and cookie setup, and there were multiple reporters in the area wrapping up.  I think I have missed the press release party here, as National Airlines possibly wants to get the news out during the morning.  However I noticed that many of the news stations don't even film the right airport and the right airline that they are supposed to reporting on.  N8's PR team needs to step up its effort.  Given the light load, I am surprised that N8 does not invite some local news media to join the flight.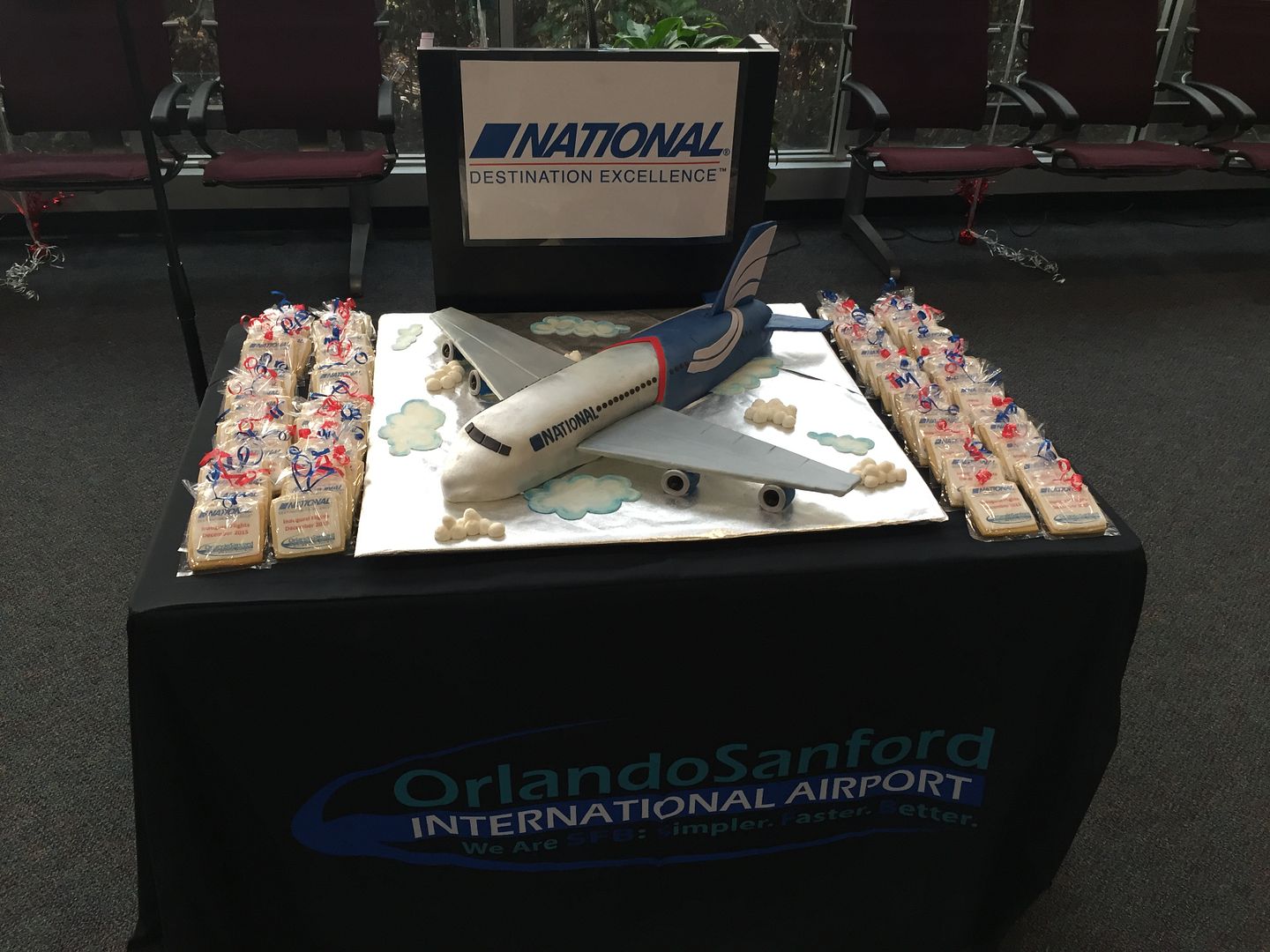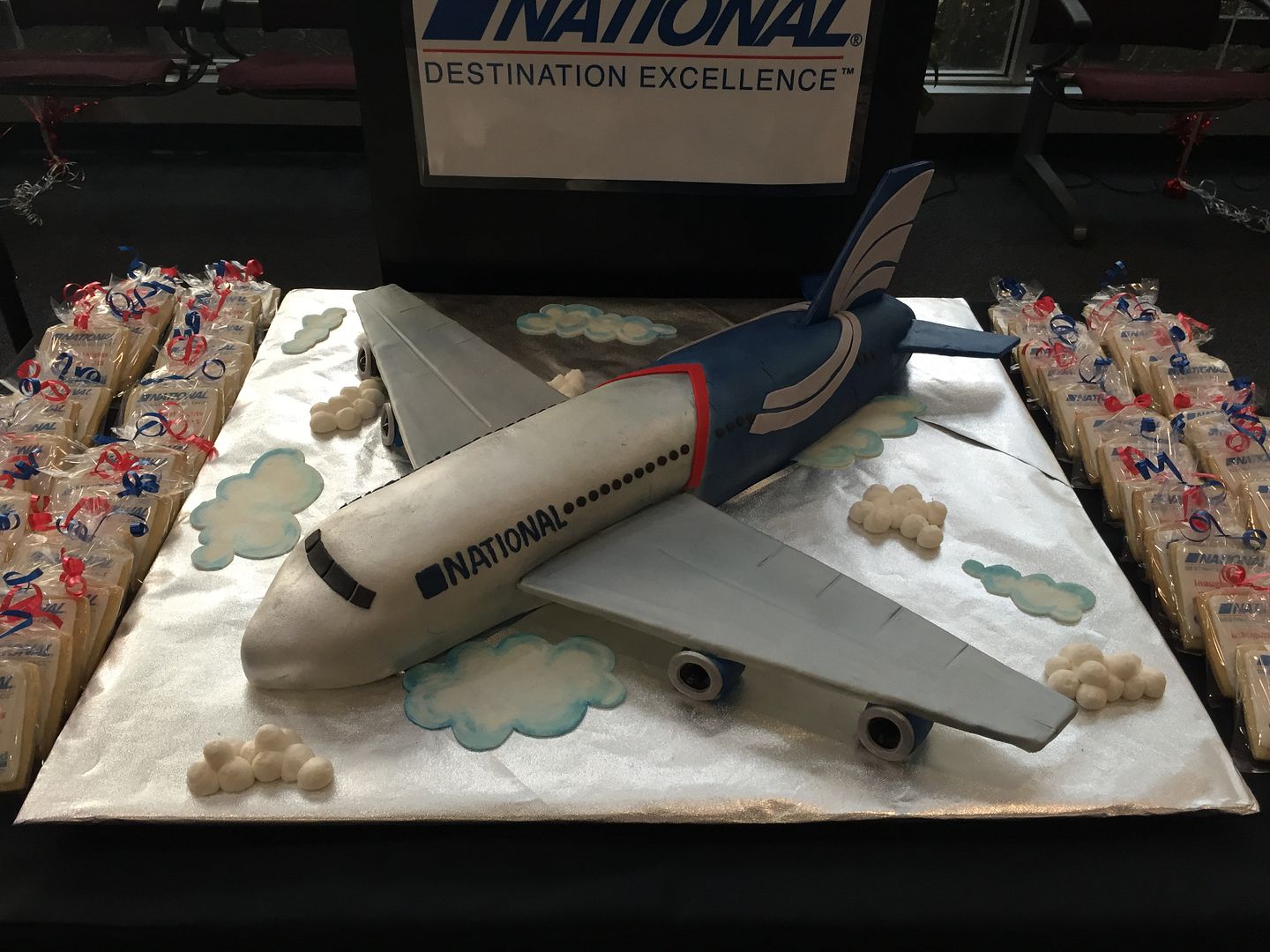 There is no TSA PRE here, but security line is reasonable.  Most passengers are leisure flyers, so things go slower.  The TSA agents are a bit more patient, and there are many Spanish speakers on this inaugural flight. 
The Terminal is actually not too bad – couple of fast food joints and shops! 
Gate 6
Boarding began early at 8:29am, as there were a few special need passengers.  The gate agent was much friendlier and a first flight certificate was passed out, along with an inaugural flight cookie.  
Unfortunately, economy cabin was pretty busy, as most passengers moved around to occupy its own row, and I had a flight to catch at San Juan.  So please pardon the lack of economy class pictures.  I did walk to the back after the meal service, and snapped a few legroom shots. 
Since National Airlines sell its premium cabin, also known as "select," at an affordable price, I give it a try.  I was the first select passenger to board, so I snapped a few photos.  The select cabin was similar to a domestic first class cabin on the 757, and the seats definitely show its age, but have been refurbished with new upholstery.  There is of course no power port, leg rest, or other bells and whistles, but at least the seats are reasonably padded, and the recline was okay.  The furthest destination that these scheduled passengers flights will go is Vancouver in May 2016, so while the cabin can afford to go with one less row of seats, I think it is sufficient for its leisure operation.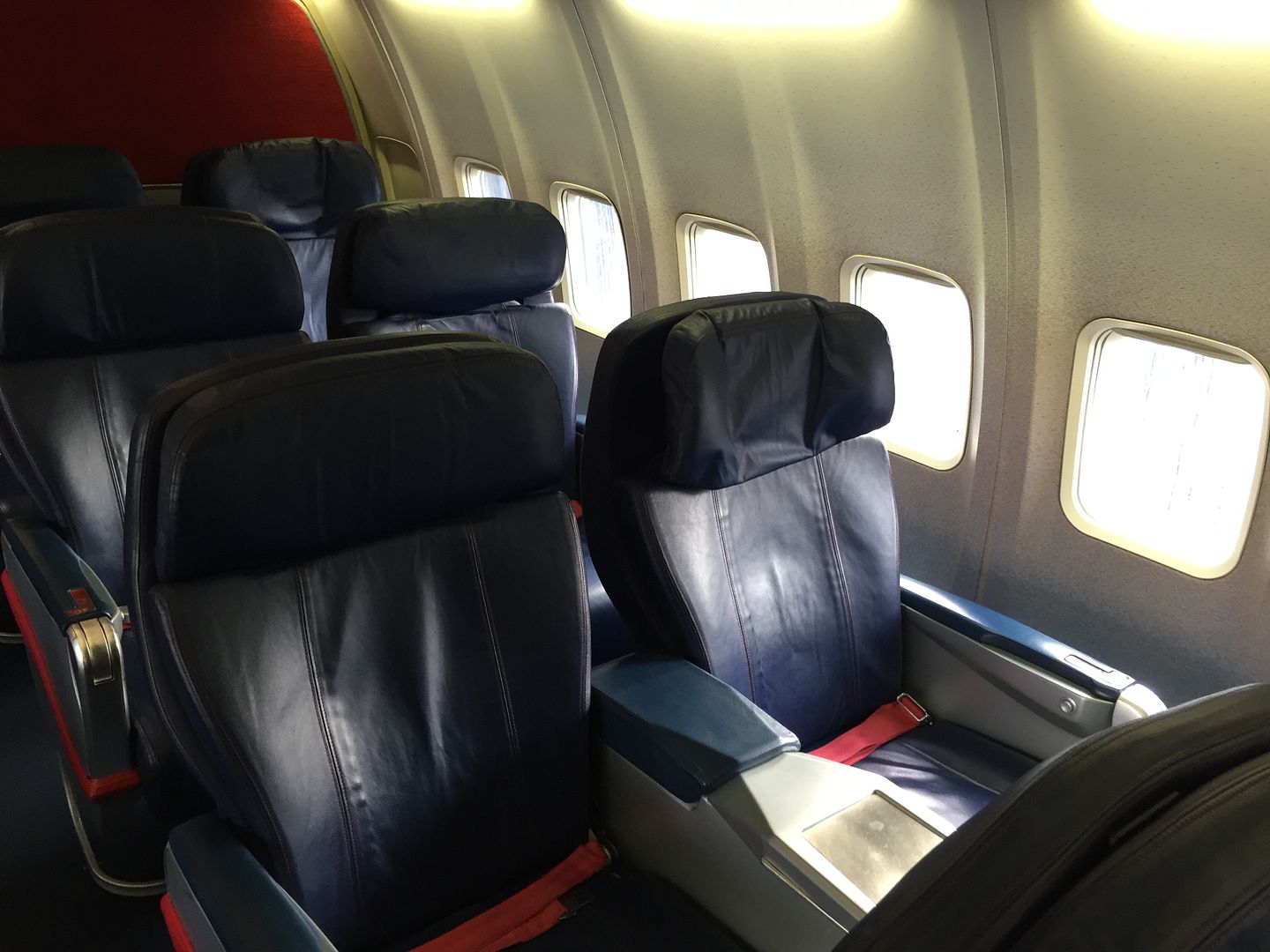 Bulkhead seat – not so good
My seat 2F
Seat in recline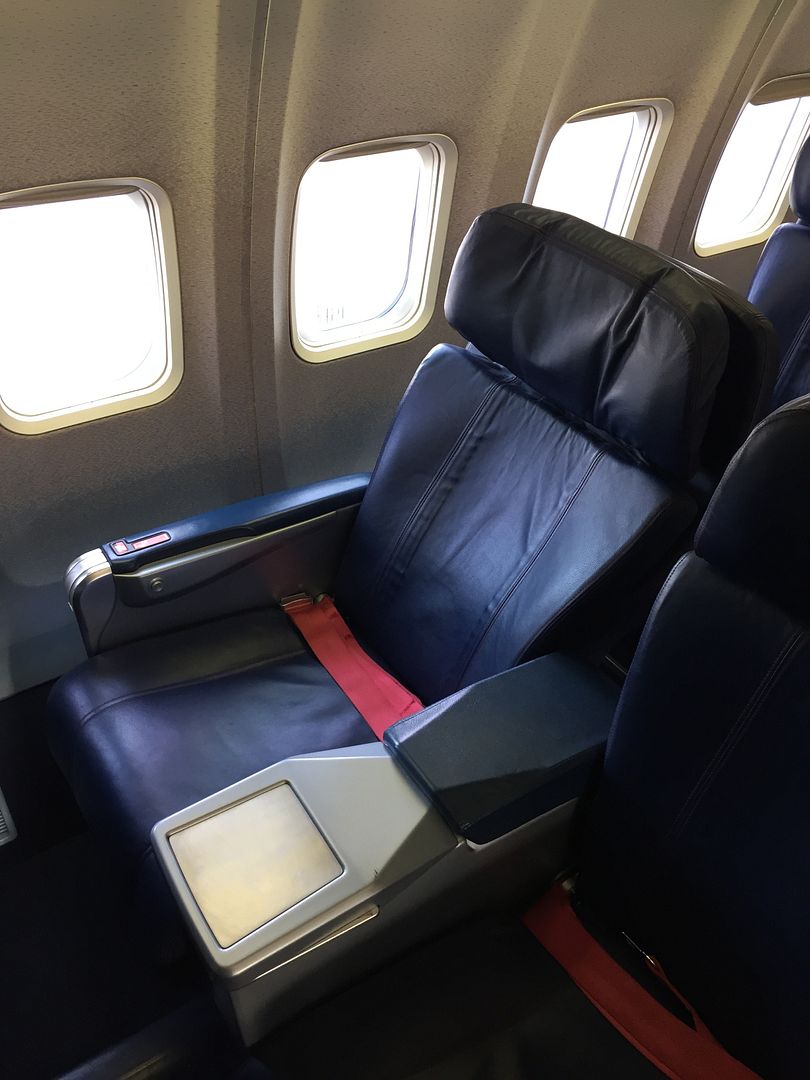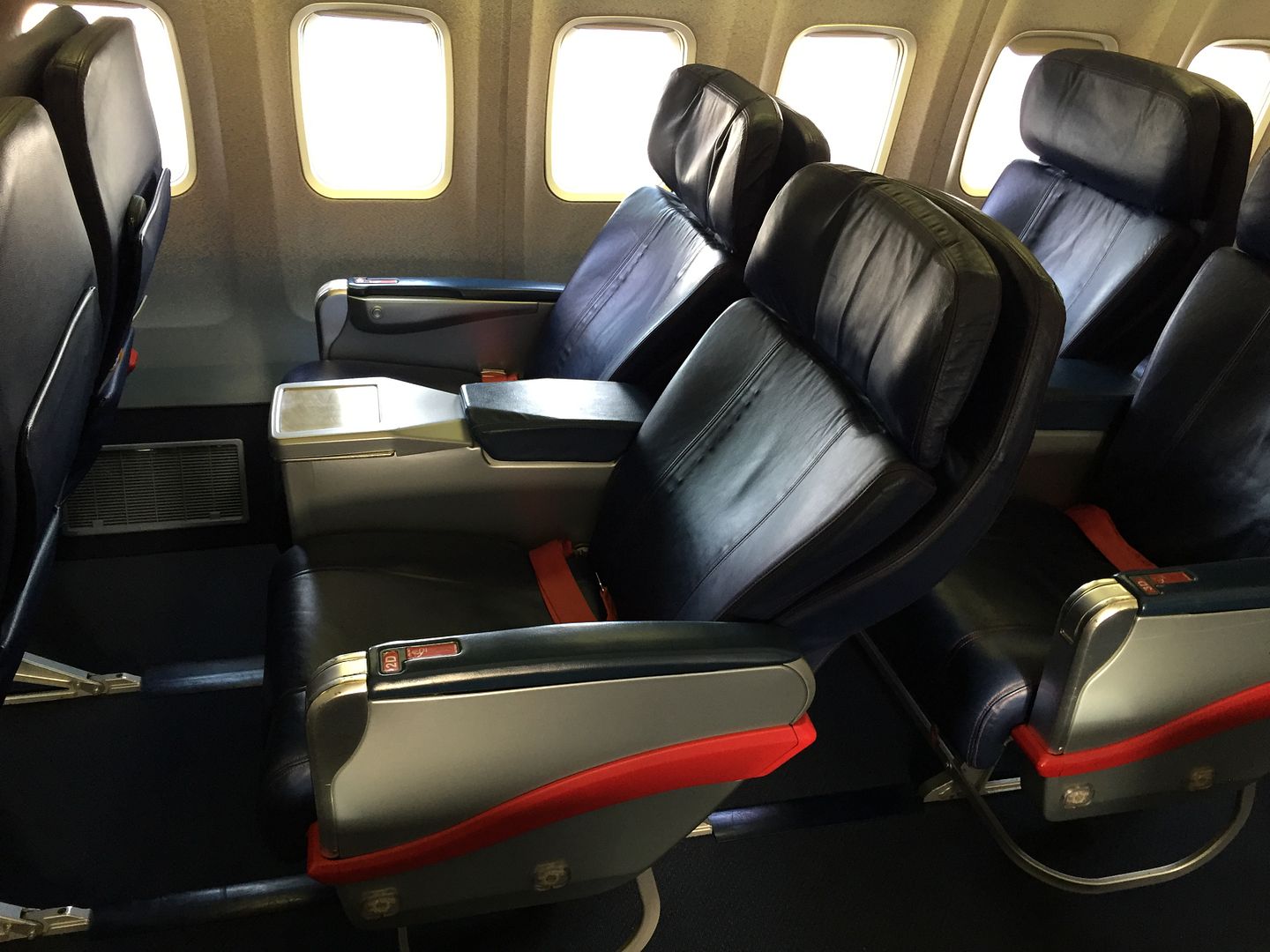 Tray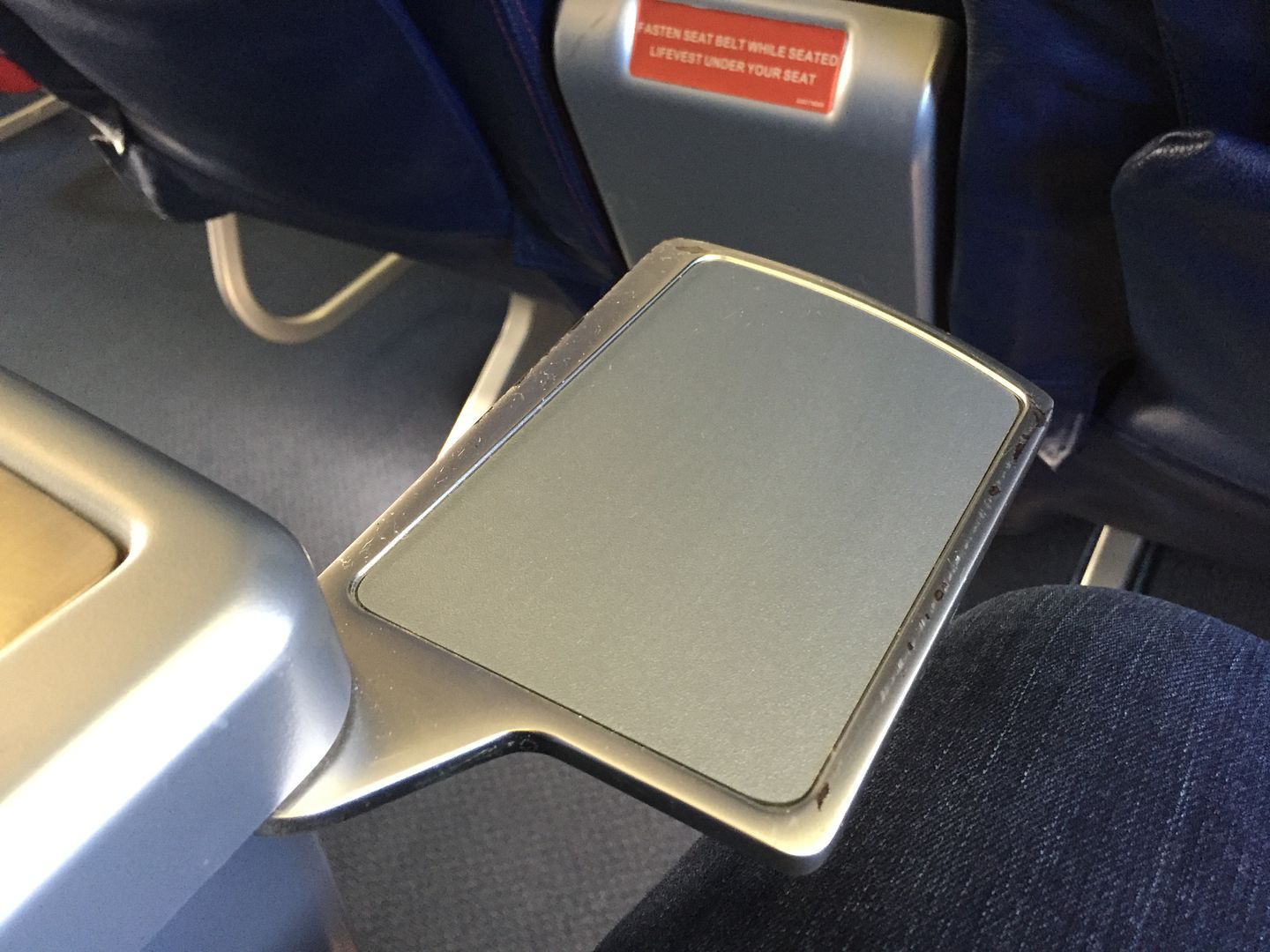 Legroom shot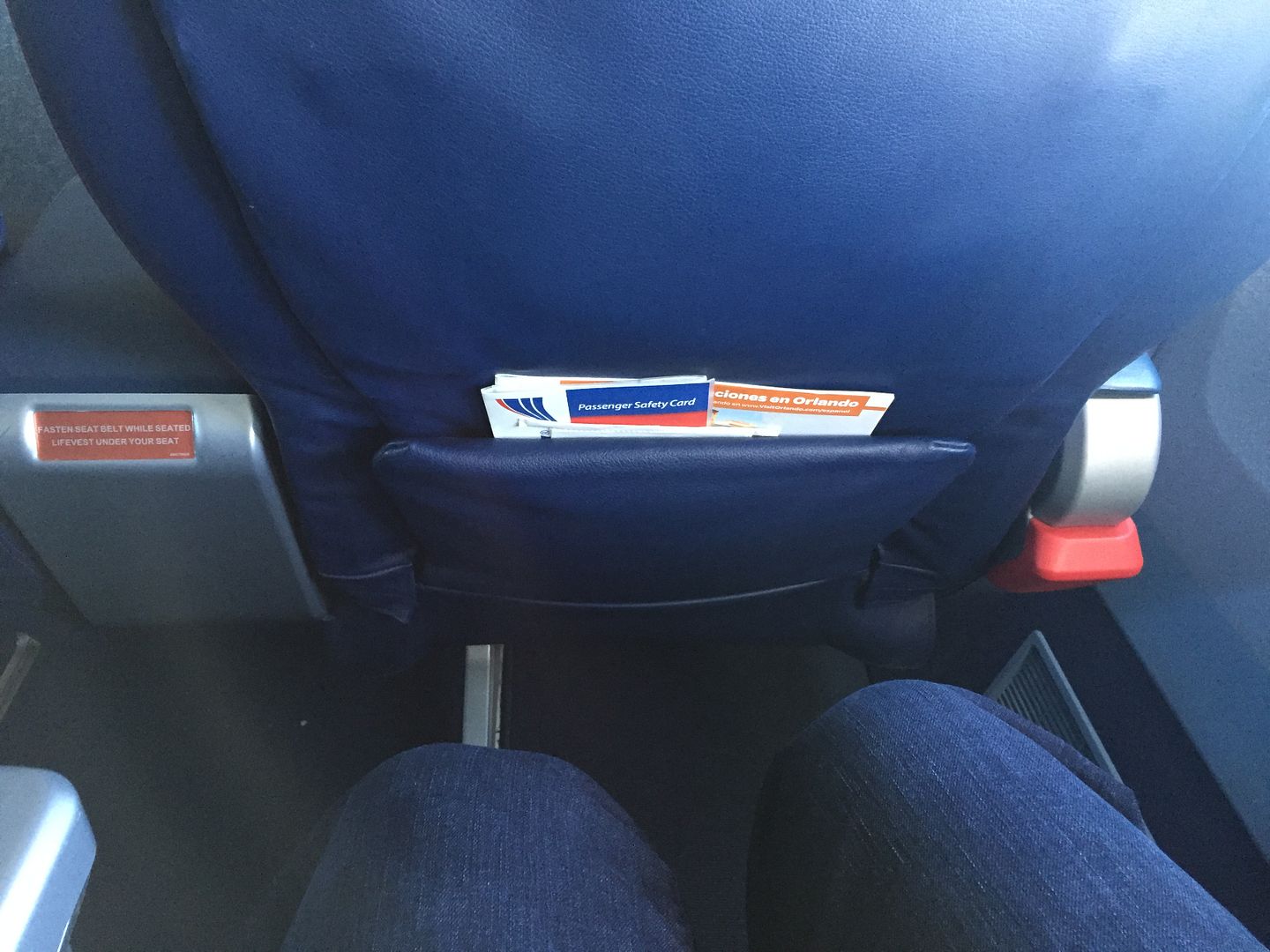 There were quite a number of F/As working this flight, along with two trainees, so it was not overly chaotic as it might occur on its early operation.  Many F/As worked the charter flights, but it was still the first day.  Kalynn, the purser, worked the first class cabin, and a menu, along with a sticker and a beverage list, were passed out once I was comfortably seated.  A pre-takeoff beverage was offered, and champagne was what Kalynn suggested.  I went with it since I had a rough morning.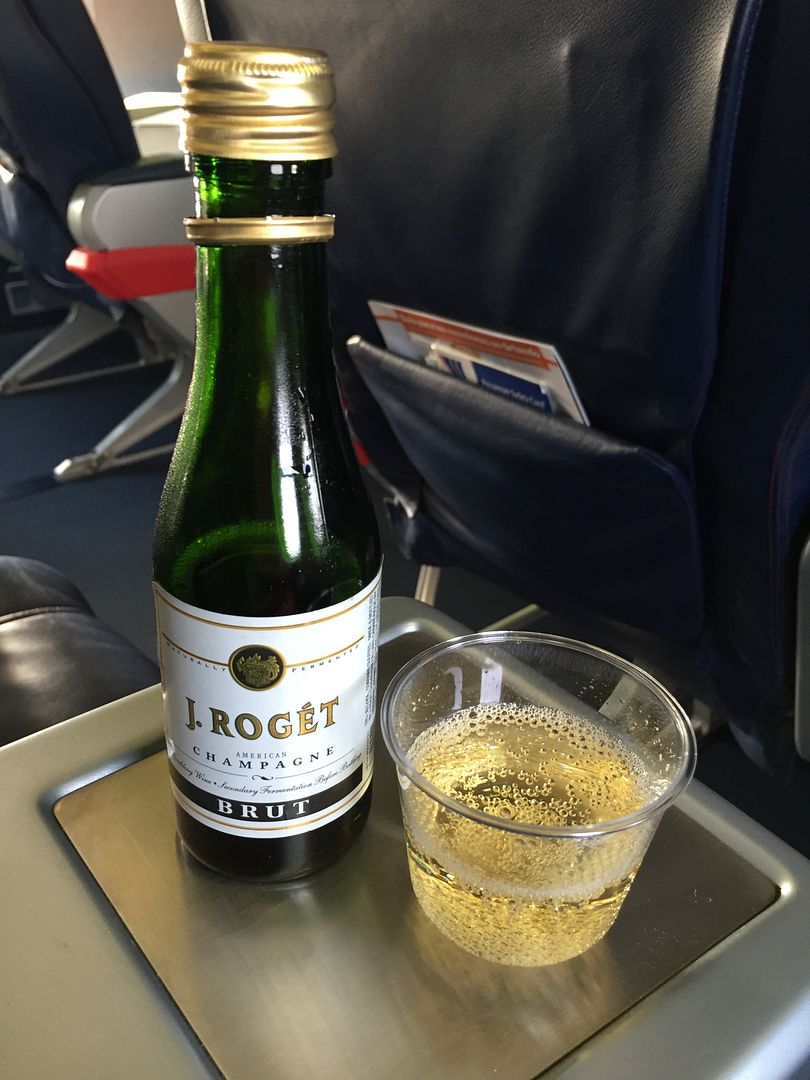 The menu was not fancy but at least they tried.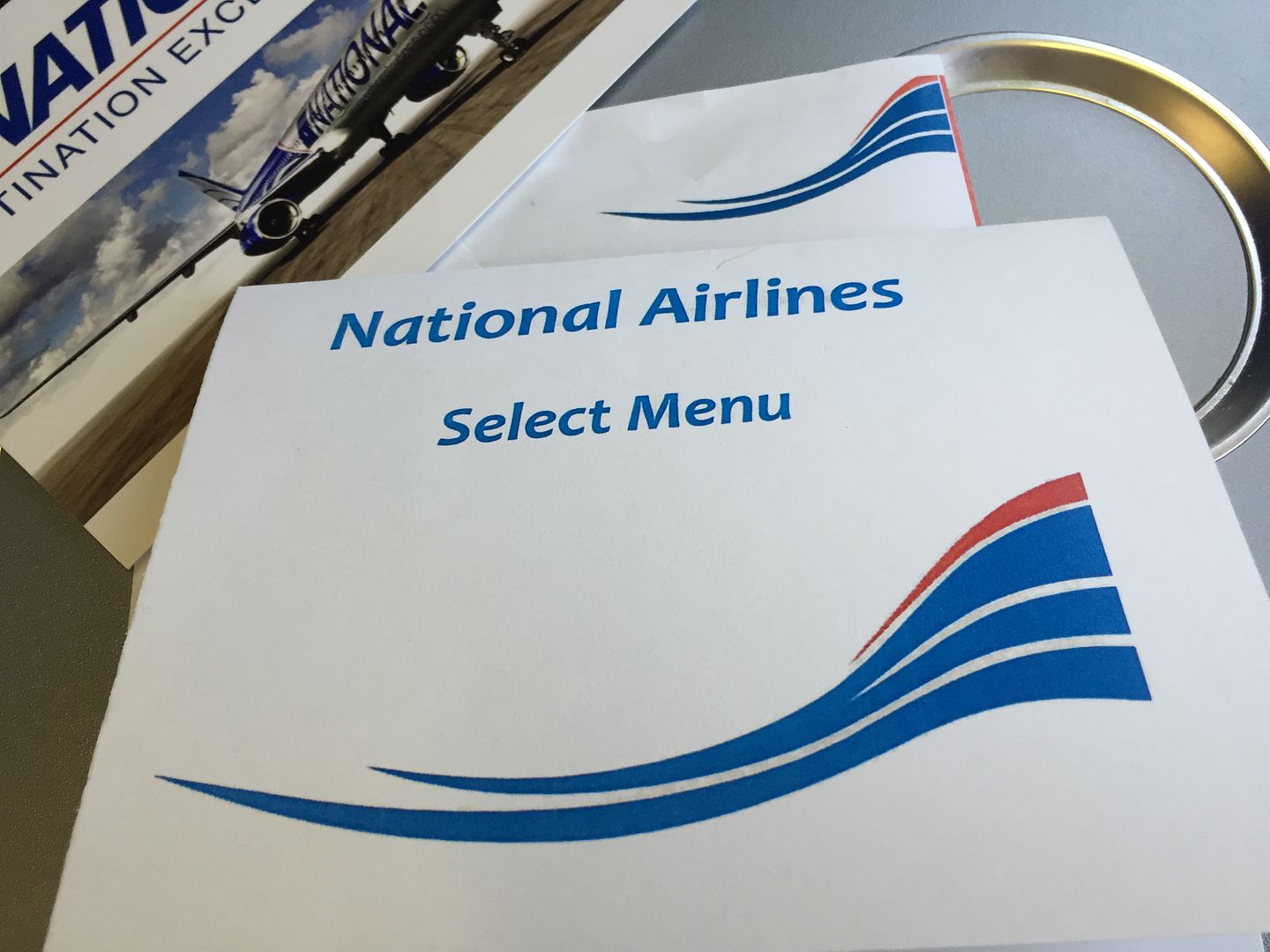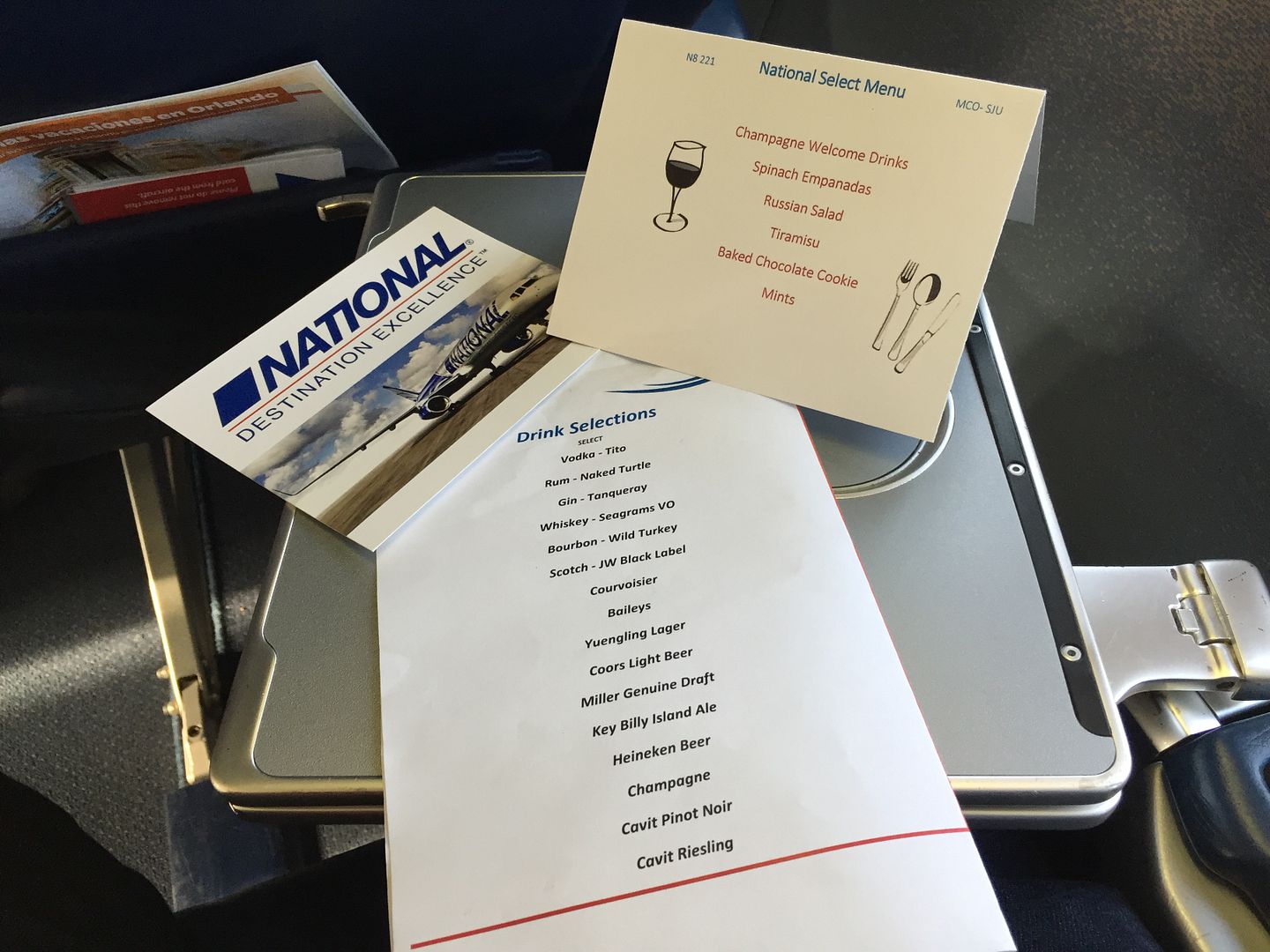 The load was relatively light in select with only me and one other passenger, plus two trainees, one executive, and one FAA inspector.  Economy is about half full, which is pretty good given the lack of advertisement. 
Door was closed at 9:01am, which was pretty good for Day one of regular operation. 
Interestingly we received our water canon salute here at Sanford.  Unfortunately the window was fogged up due to the humidity, and I could not get better pictures.
We took off from R/W9L at 9:13am for our maiden voyage.  Flying time was two hours and twenty-seven minutes with a cruising altitude of 41,000ft.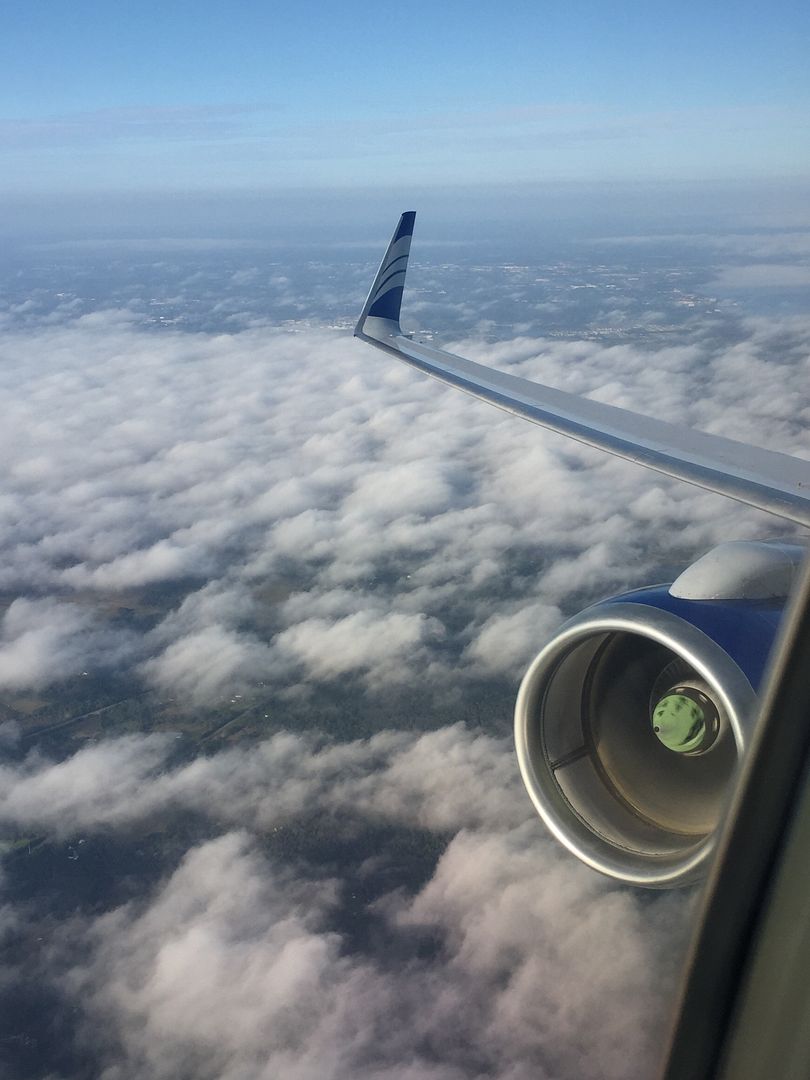 Seat pocket – only a safety card and an Orlando tour guide written in Spanish
Beverage service was offered first, and I noticed that National Airlines used plastic and paper cups, along with plastic dining wares.  While I understand the ticket is not expensive, they really need to use real glassware, china, and metal utensils.  I don't need linen, but at least something that is more premium.  The meal was a bit different from the menu – and there was a choice of empanada, which is beef or spinach.  There was no tiramisu but a strawberry yogurt parfait.  The empanadas were delicious and we got two pieces but the two side dishes did not work. The Russian salad tasted funny and the muesli on the yogurt parfait was already soggy.  If N8 wants yogurt parfait, pack a small bag of granola separately and let passengers add it to the yogurt when they eat it, or simply offers a yogurt from some types of fruit toppings.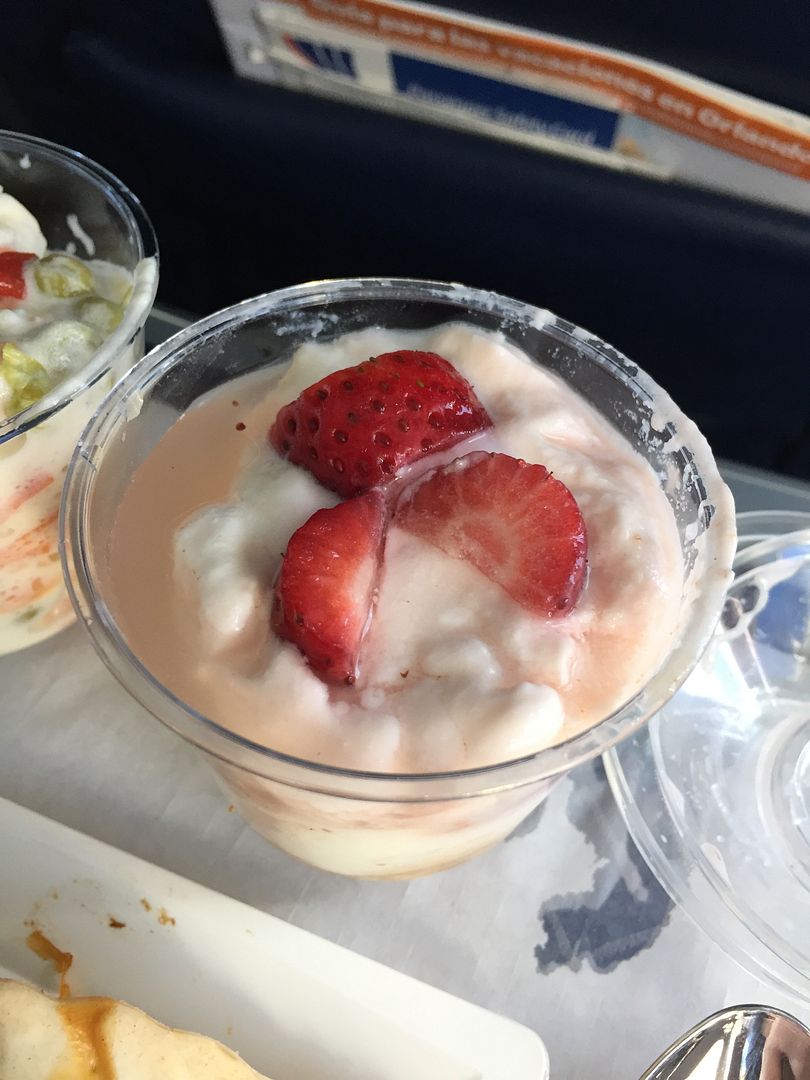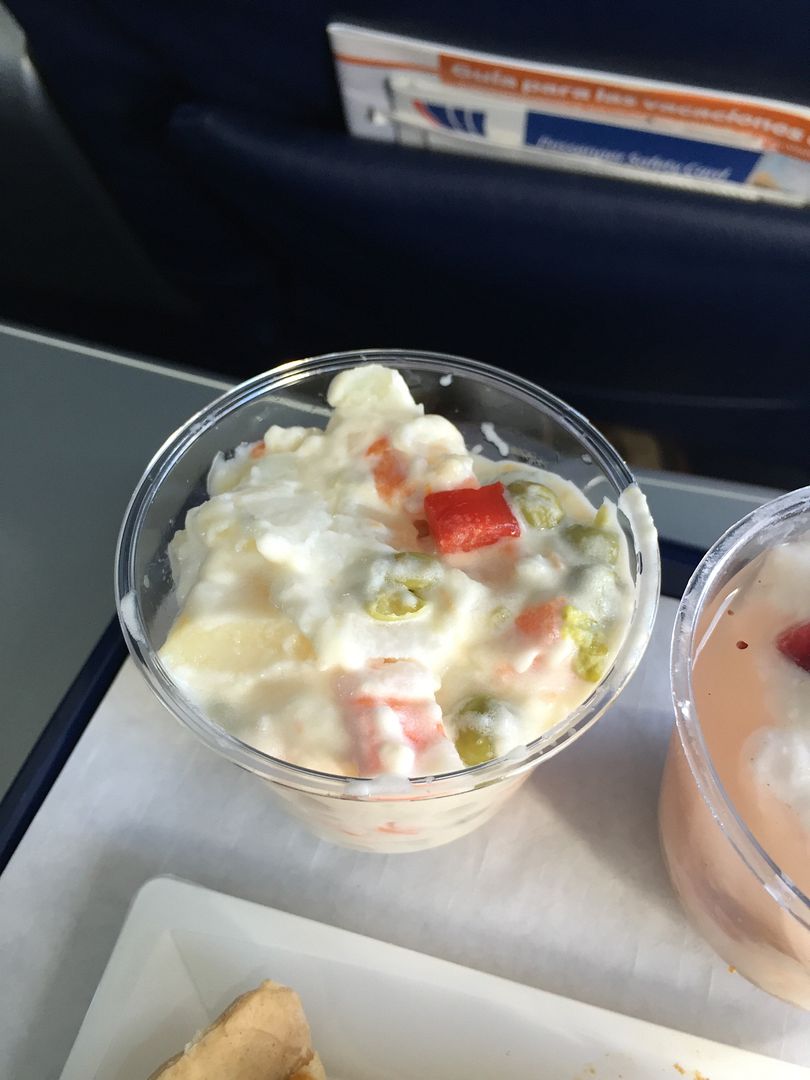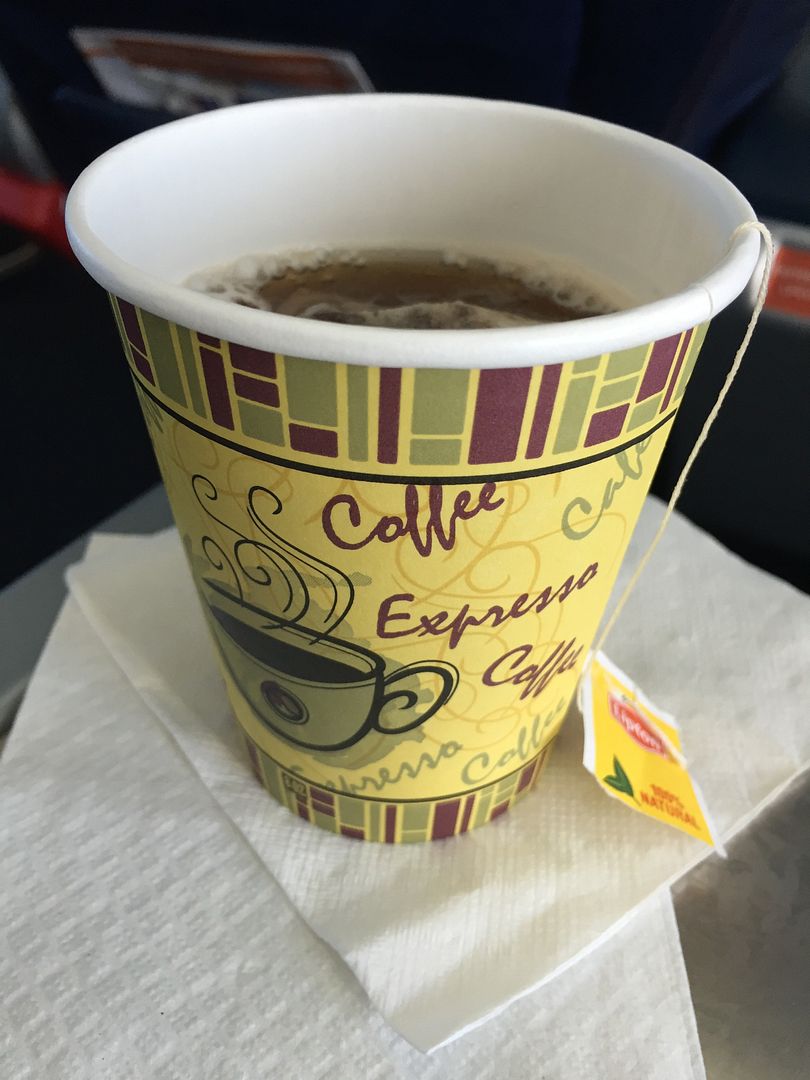 While I smelled the cookie towards the end of the flight, it never made its appearance.  The catering executive confirmed that the dough was loaded, but the F/A did not allow enough time to bake them.  It was their first flight, so while it was disappointing, I totally understand it.  It is the thought that it counts. 
For economy passengers, there was a free beverage service and it seems to be that alcohol might be free.  Maybe someone can confirm it.  However, I notice that a free hot meal was service.  It was served in a half tray with an aluminum entrée tray.  Not sure what was offered, but it was nice to get a bite these days.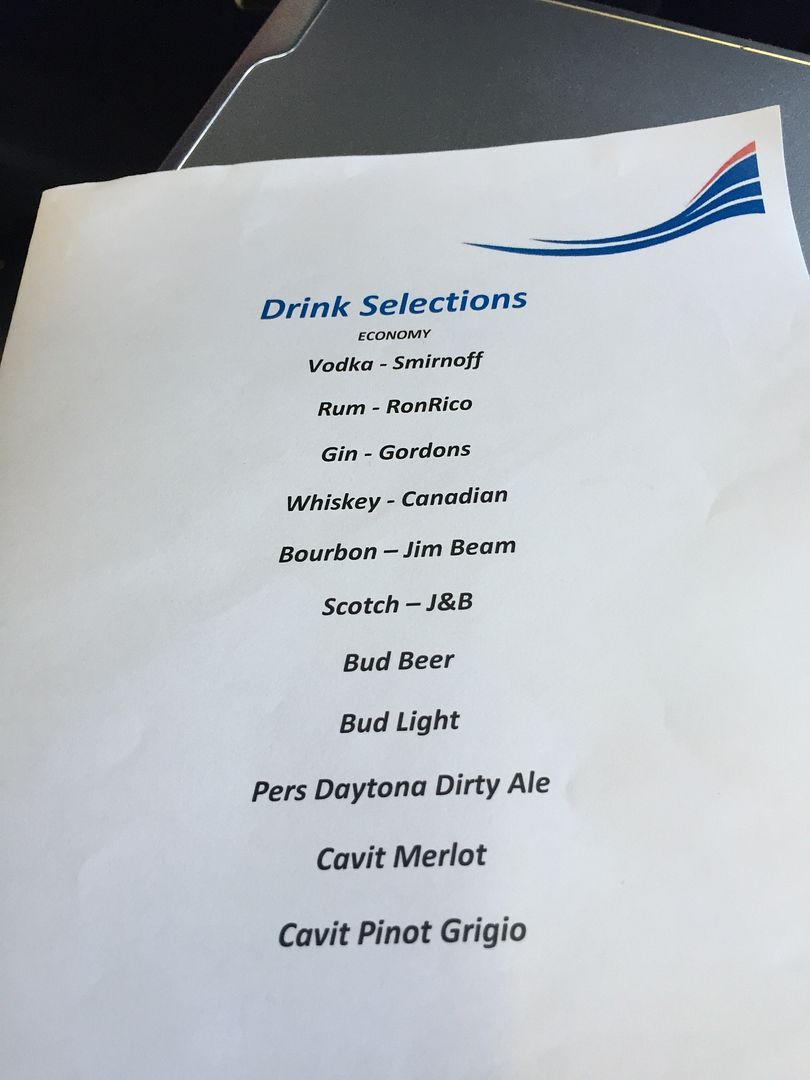 There is no entertainment option, as I mention earlier.  There is no power port or anything.  I hope National Airlines will offer some kind of portable entertainment options for rent in Y and for free in Select.  At least it should invest in some portable chargers for Select/Premium passengers on these long haul flights. 
I also tested out the seat in the back.  The regular row was rather tight and the legroom was about 30-31".  However the seats were refurbished ones, so they had adjustable headrests and the padding was good. 
The bulkhead and exit rows were much better, but you have to pay for those seats, which I think it is reasonable, these days.

Bulkhead seat
Exit Row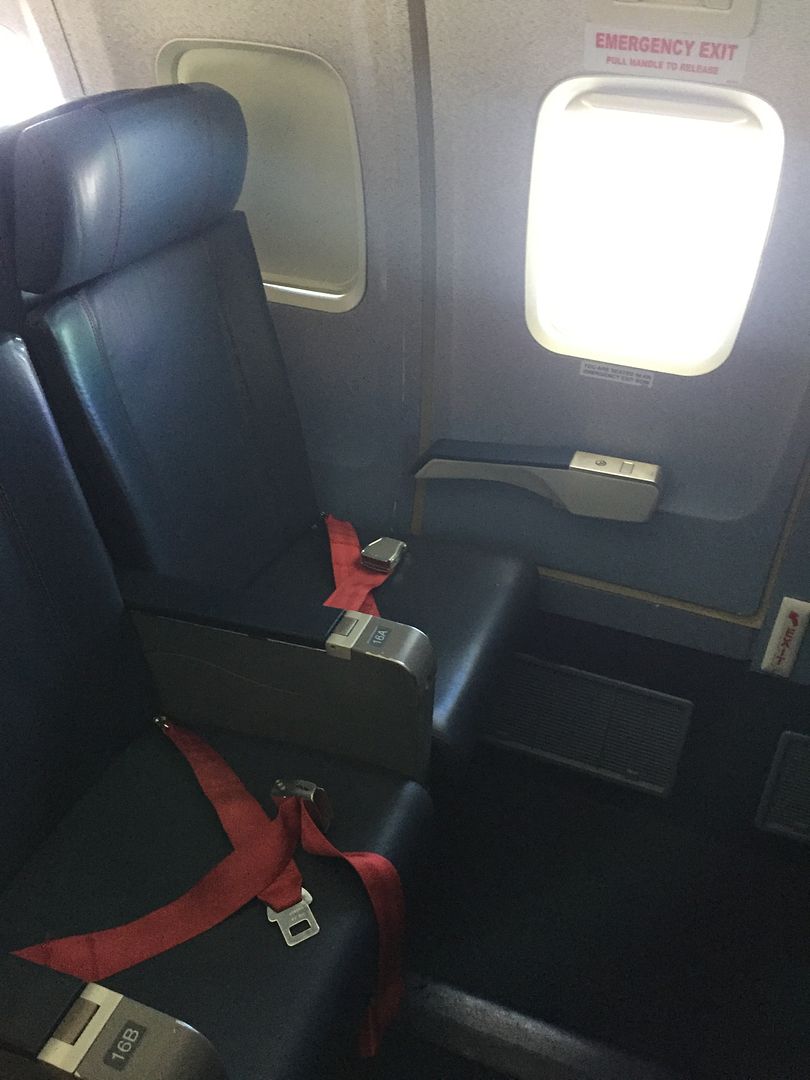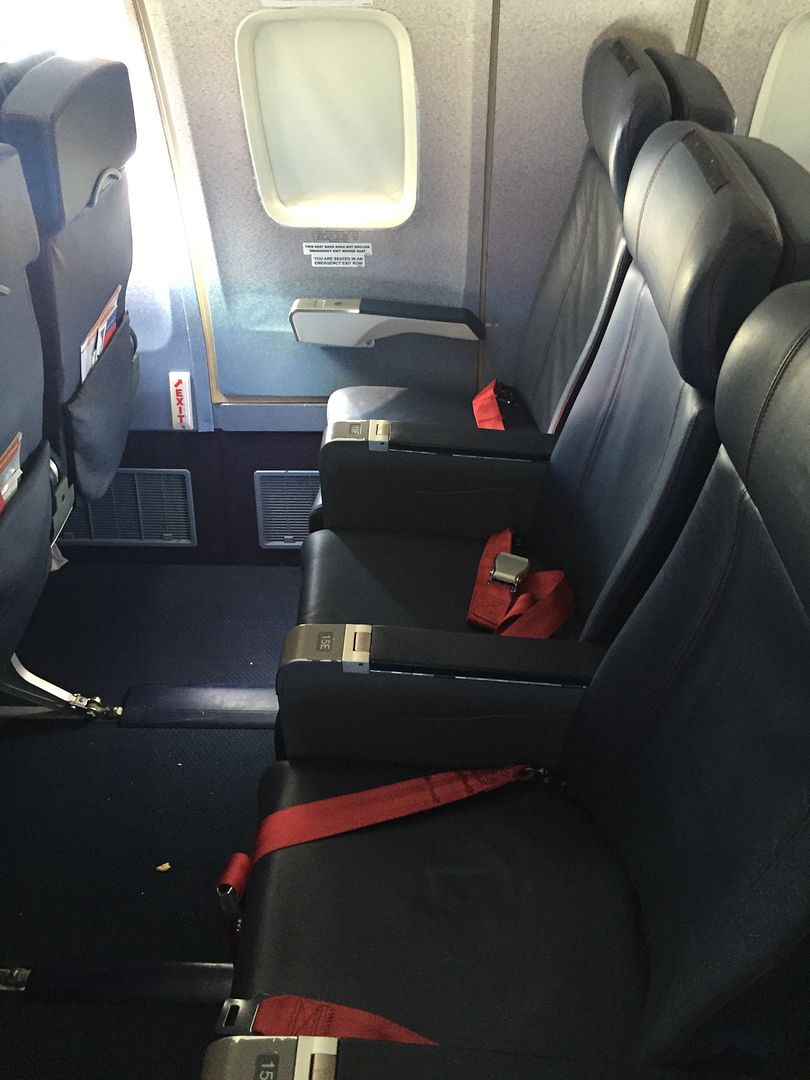 Winglet shot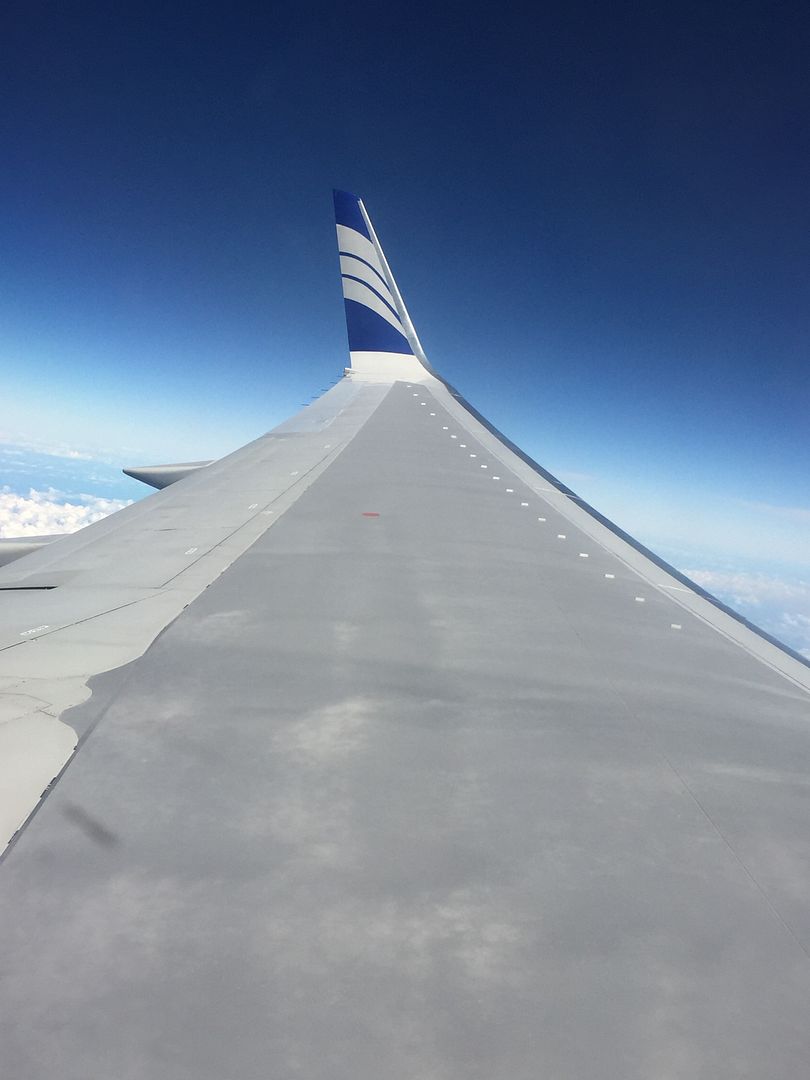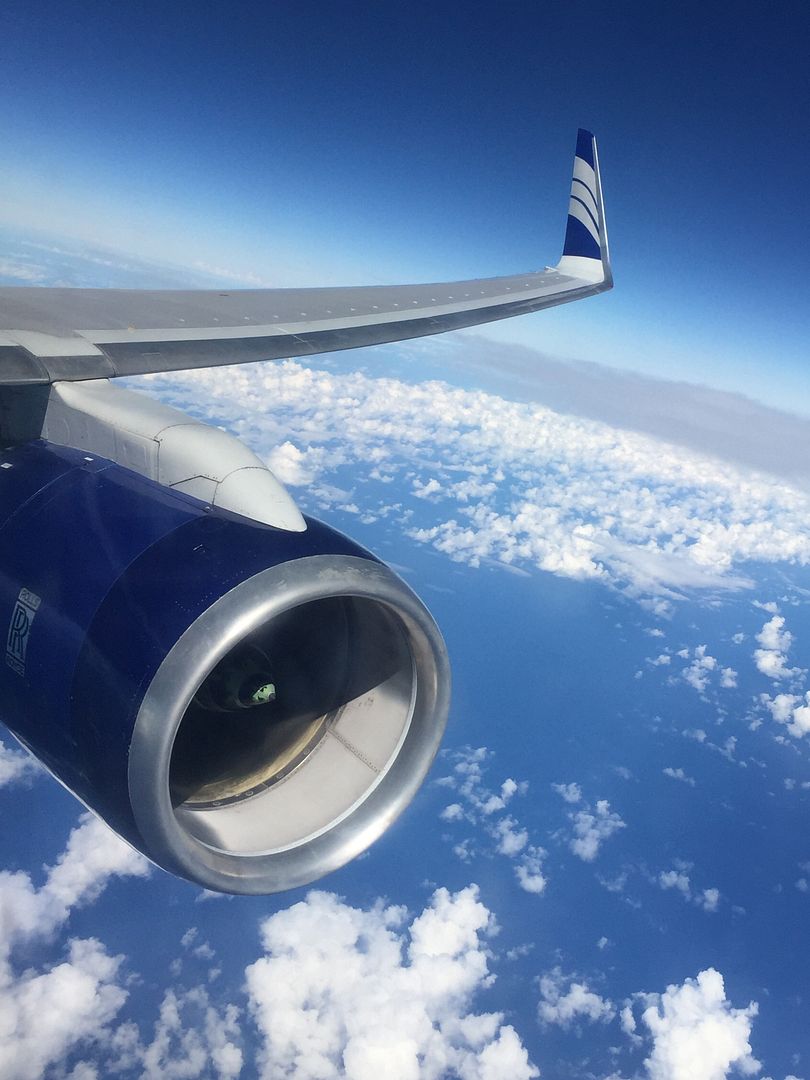 I took a short nap and the seat was relatively comfortable. 
Descent soon began at 12:13pm at San Juan local time, which is an hour ahead of Orlando. 
There was some light chop along the descent, but the view was nice.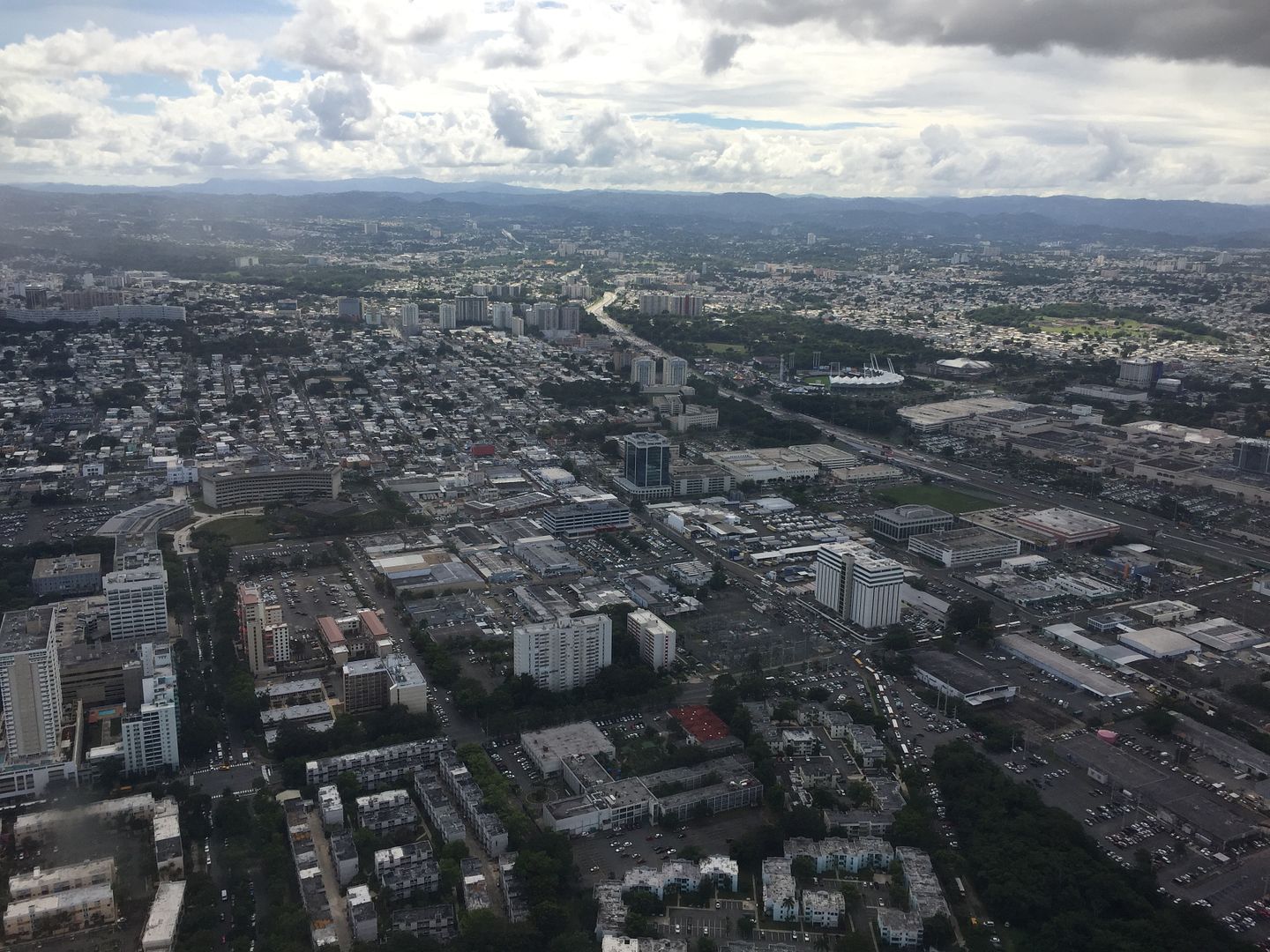 We landed on R/W10 at 12:40pm and parked at gate C28 three minutes later.   However at least it uses some of the newer gates here at San Juan Airport, but C28 provides no view of the plane. 
There was absolutely no fanfare here at San Juan airport at all.
In conclusion, National Airlines (N8) is an interesting leisure full service airline with an interesting plan.  I am sure N8 will continue its current charter work, so I think it might work out.  I admire N8 going with providing full service in economy, and even providing a premium cabin – Select.  However, National "Select" definitely needs some little fixes here and there, including possibly real glassware and china for its beverage and meal service.  If it has to stay with plastic, please at least make it look nicer.  I am also not sure if Russian salad is a good idea for premium food especially mayonnaise can easily be spoiled.  Maybe sticking with a basic green salad or fruit cup makes more sense.  However I am impressed with the beverage list.  The F/As are all friendly and I think it will be a nice leisure airline.  I am interested in doing their Vancouver launch in May but its website is giving me strange availability.  I hope N8 can finalize its launch soon.  For the select cabin, there is definitely some work need to be done especially better catering and it will be nice to have pillows and blankets.  For short flights like SJU, pillows and blankets are not that important, but for long haul flights to St. John, Las Vegas and Vancouver, you will need to stock those items – either sell them or stock them at each seat.   Some types of portable power source is almost a must these days and I personally care less about portable entertainment units, but portable power sources for tablets and cell phones are almost a must.  Ultimately, National Airlines needs to decide if it wants its "Select" cabin to be more first class or premium economy, and then publicize it correctly. 
I also think National Airlines needs to step up its publicity campaign because they really have lots of work to introduce their brands to the US traveling public.  The logo is sort of cool, so they need to advertise more.  I also think they should have invited more aviation press to the inaugural flights, and am pretty sure that Airways magazine will more than happy to send someone to report on the inaugural flights, as well as some local Orlando and San Juan news stations.  The San Juan flight was short enough that many Orlando local news stations will be happy to send a crew out for a few hours and they will be back in Orlando in time for the evening news.  That is an opportunity wasted.  You don't need to do crazy stuffs like JetBlue or Virgin America, but a nice buffet spread and some news press will be nice. 
I got a picture with the really funny captain!  He was in a more celebratory mode than many other staffs.
It is an interesting experience and I hope you enjoy this trip report.
Carfield