I thought I would post a few photos from my trips around Australia, by car, bus, boat and of course plane.
I started 2015 in Tumby Bay South Australia where I was competing in a sailing titles.
The trip back to Perth was 2300 kms(1400miles) drive.
As you can see there are no major cities between Adelaide and Perth, well nothing over 10,000 people accept maybe Kalgoorlie.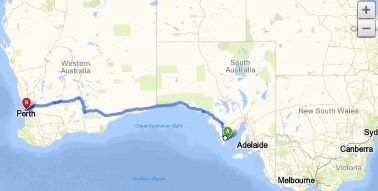 The drive took just on 2 days, departing Tumby Bay at 7:00am on a Monday and arriving in Perth Tuesday at 3pm, with an overnight stop in Balladonia, (1,400kms driving from Tumby Bay and still 1,000kms from Perth.
2 items of interest on the first part of the trip were.
Nullarbor plains, (Nullarbor, meaning no trees. ) this is located on the western side of South Australia.
And the great Australian bight, a place called Head of bight is the top of the Australian bight but it was further off the road,
1 car, 2 boats and 4 travelers, each boat is sailed by a crew of 2.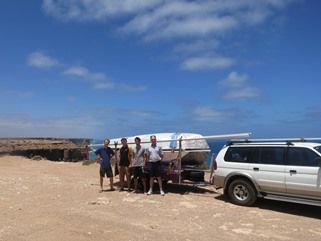 About 1 hour after seeing the Great Australian Bight we crossed into Western Australia, at a place called Border Village.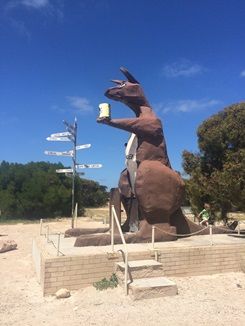 This place is pretty remote, we were still 1462 kms from Perth.
Another piece of interest,
according to google.
The section between Balladonia and Caiguna includes what is regarded as the longest straight stretch of road in Australia and one of the longest in the world. The road stretches for 145.6 kilometres (90.5 mi) without turning, and is signposted and commonly known as the "90 Mile Straight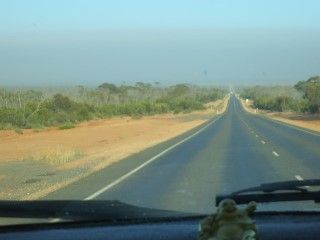 After another early start, we were woken even early because someone still had their watch on South Australia time, 2hr 30 minutes ahead of Western Australia.
After another 400kms we took a look at a hole in the ground.
The Fimiston Open Pit, colloquially known as the Super Pit, is Australia's largest open cut gold mine. The Super Pit is located off the Goldfields Highway on the south-east edge of Kalgoorlie, Western Australia. The pit is oblong in shape and is approximately 3.5 kilometres long, 1.5 kilometres wide and 570 metres deep. At these dimensions, it is large enough to be seen from space.

[

1

Hello Perth, after sitting in a car for 2300 kms my legs were sore and I was getting cramps on the final day. Some of the trip felt like flying 14hrs in economy.