Garuda Indonesia Boeing 737 Business Class Trip Report!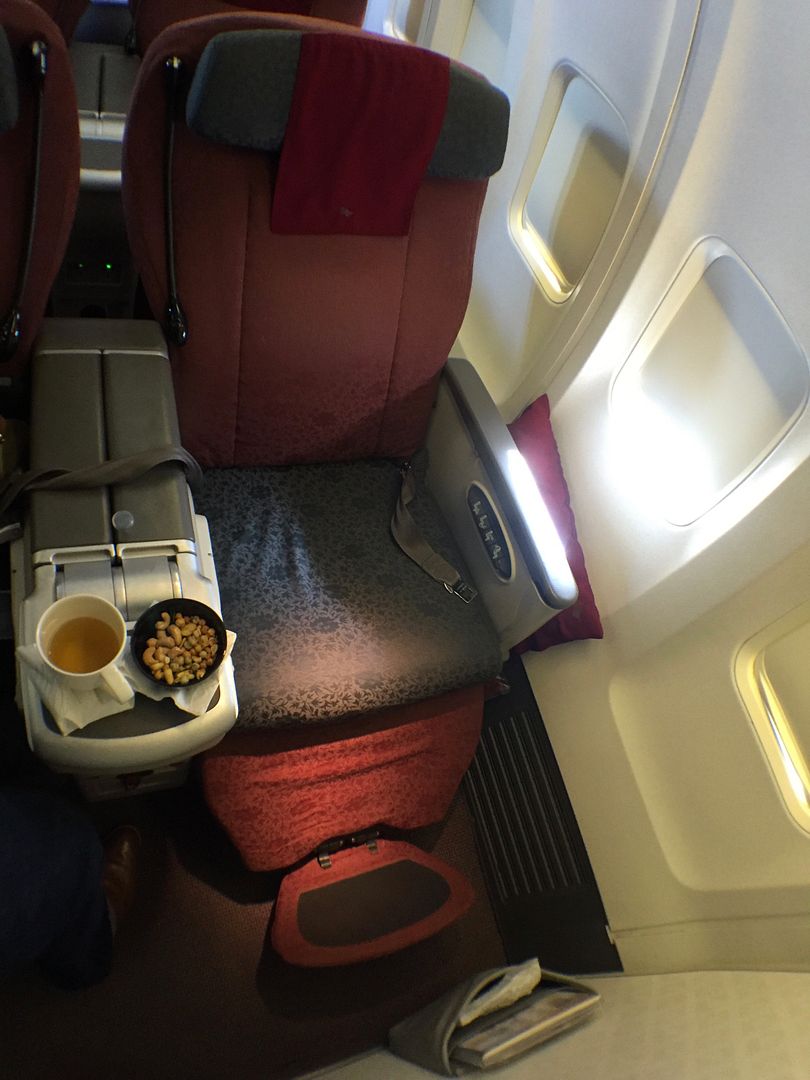 In February, I took a number of flights, as I was trying to burn some of my American Airlines miles before the switch to the new chart in March 2016.  In order to use these award tickets, I have of course booked a couple interesting positioning flights on a couple airlines that I have yet to fly.  For the first report, I have finally flown Garuda Indonesia Airlines flight from Hong Kong to Jakarta.  I have originally planned to use miles for a CX flight, but then the one way fare in business from HKG to CGK is HKD$4417 including tax, so I decide to save the miles for long haul flights.  I have also wanted to get a taste of Garuda before deciding on investing on a first class ticket from London to Singapore via Jakarta in the summer.   It will be a much shorter trip report, as I really did not take too many pictures. 
February 17 2016
GA 873 HKG-CGK 0900 1300 Boeing 737-800 Winglet PK-GMK
I have debated if I should leave an evening earlier just to take the A330 flight, but in the end, I chose to maximize my time in Hong Kong.  It is a five hours flight and business class in 737 could not be that bad.  I used a travel agent to book this ticket, so I could not comment on Garuda's website.  I tried to change my seat assignment at Garuda's website, but despite you can use the "Manage the Booking" function at Garuda's website, you could not change seats. 
I checked in at the Hong Kong Airport Express station, and the agent was reasonably friendly.  I was reminded on where the Skyteam lounge was and was given a fast track immigration form for my arrival in Jakarta.  Strangely, I was asked for my local mobile number, in case they need to find me during final boarding.  This is a very strange request, but I guess things have happened before.  I did not take any pictures in the Skyteam Lounge.  Compared to the former Korean Air lounge, this Skyteam Lounge is a major improvement.  The lounge is managed by Plaza Premium Lounge, so the food is similar to other Plaza Premium lounges in HKG.  There was a hot noodle stall with fish ball noodle soup, minced beef congee, and one other soup dish freshly made to order.  There are your typical breakfast dishes in the buffet, along with salad, yogurts, cereals, breads, and assorted snacks.  There is a coffee machine, along with limited choices of tea, along with the usual assortment of soft drinks.  There are plenty of sitting areas, and the design is a bit from the London one.  There is no tarmac view like other lounges in the lower level. 
Since the gate, 28, this morning was a bit far from the lounge, I left early so I did not need to rush! 
PK-GMK arrived at HKG a few hours ago and was getting ready for the return flight to Jakarta.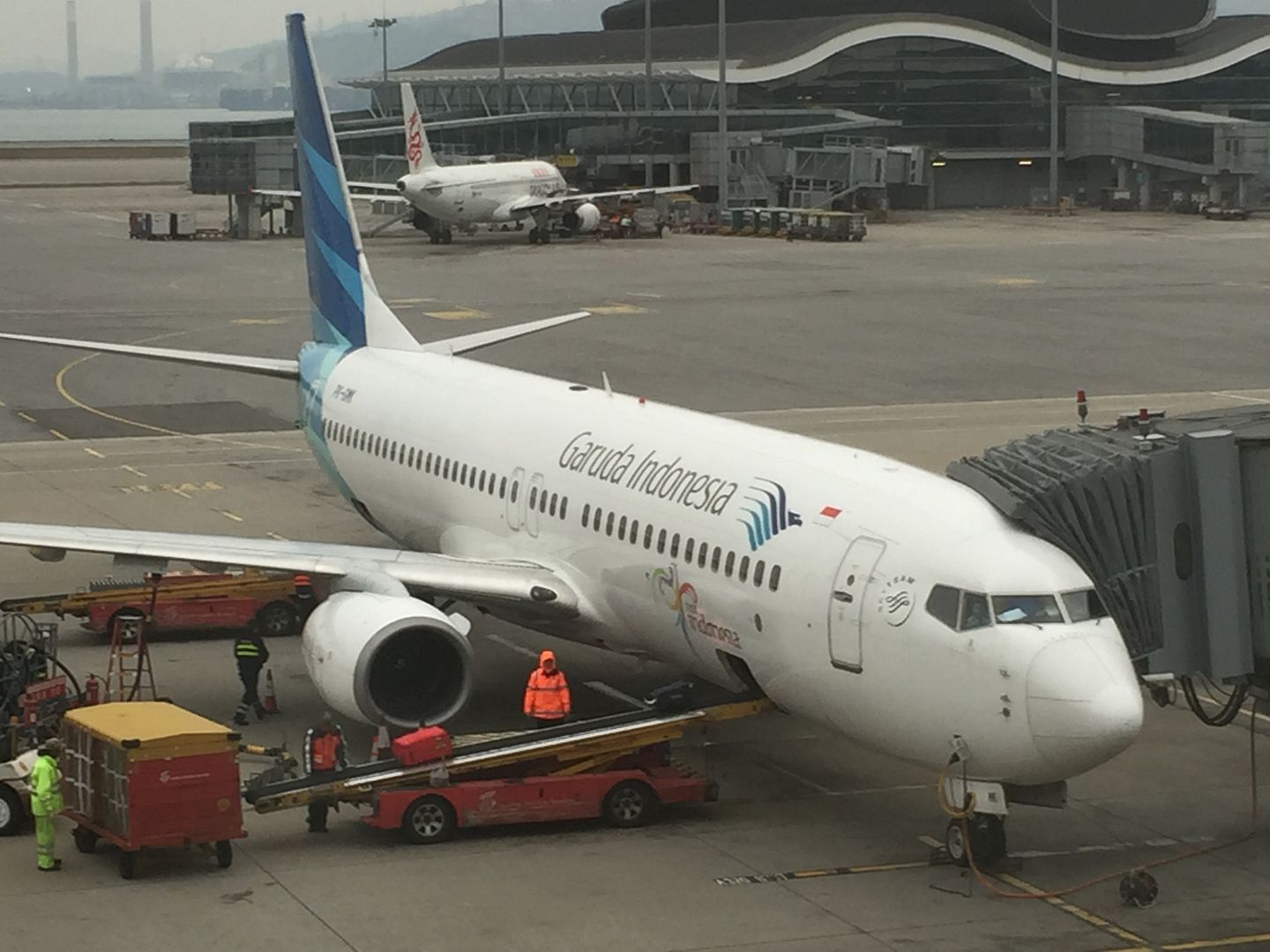 The gate area was not overly busy, as I roughly estimated the flight to be half full in economy and there were only two passengers in business class (with one no-show). 
Boarding began at 8:40am and two smiling F/As were greeting passengers.  I chose 6A, a bulkhead window seat for this flight, and three newspapers (Ming Pao – HK newspapers & two Indonesian Papers) were already stuffed in my magazine pocket along with menu and wine list. 
The F/A immediately welcomed me onboard and asked for my choice of pre-takeoff beverage.  Water was my choice this morning.  She also pass me hot towel served in a lacquered tray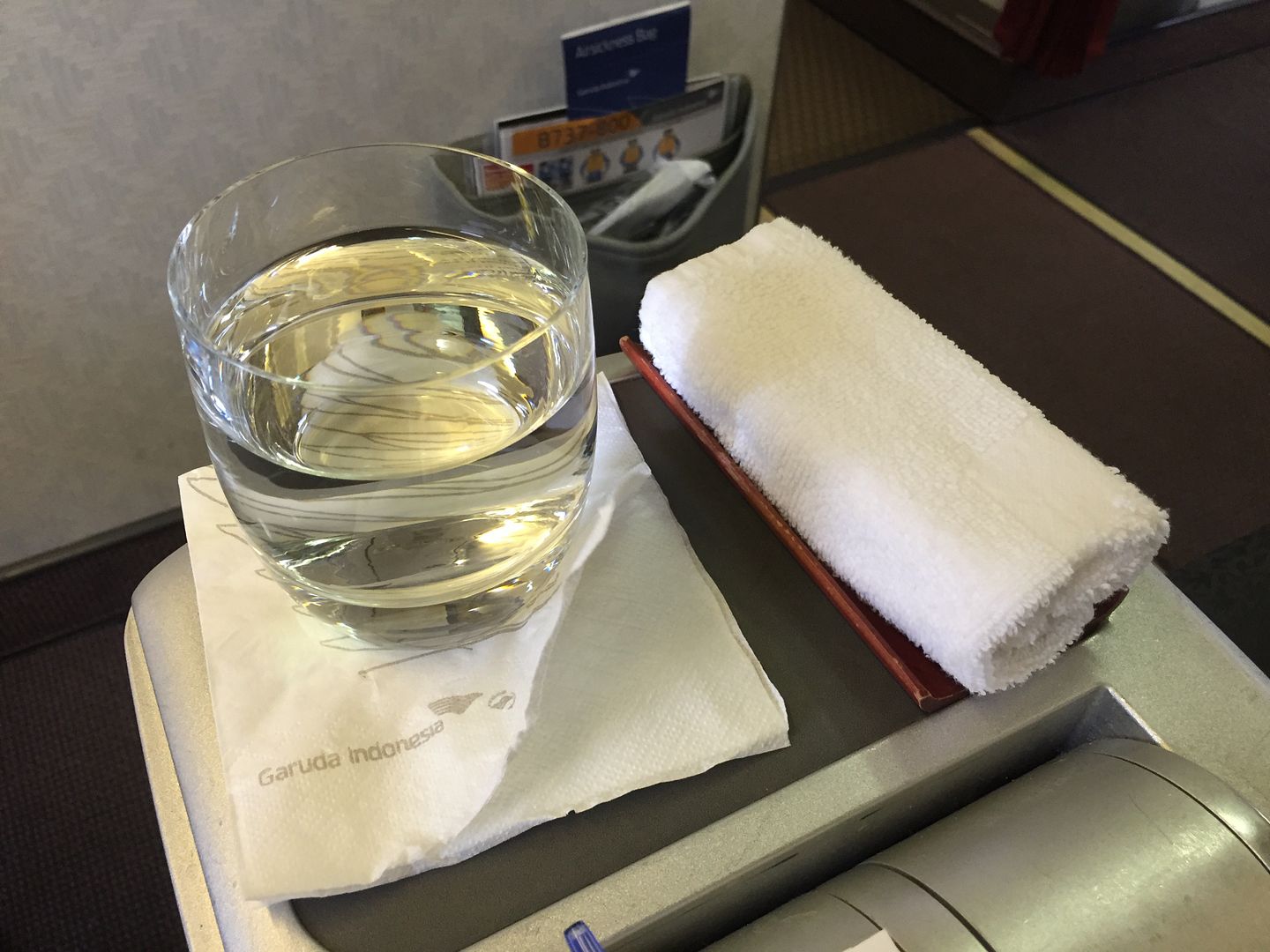 Skytrax Cabin Crew of the Year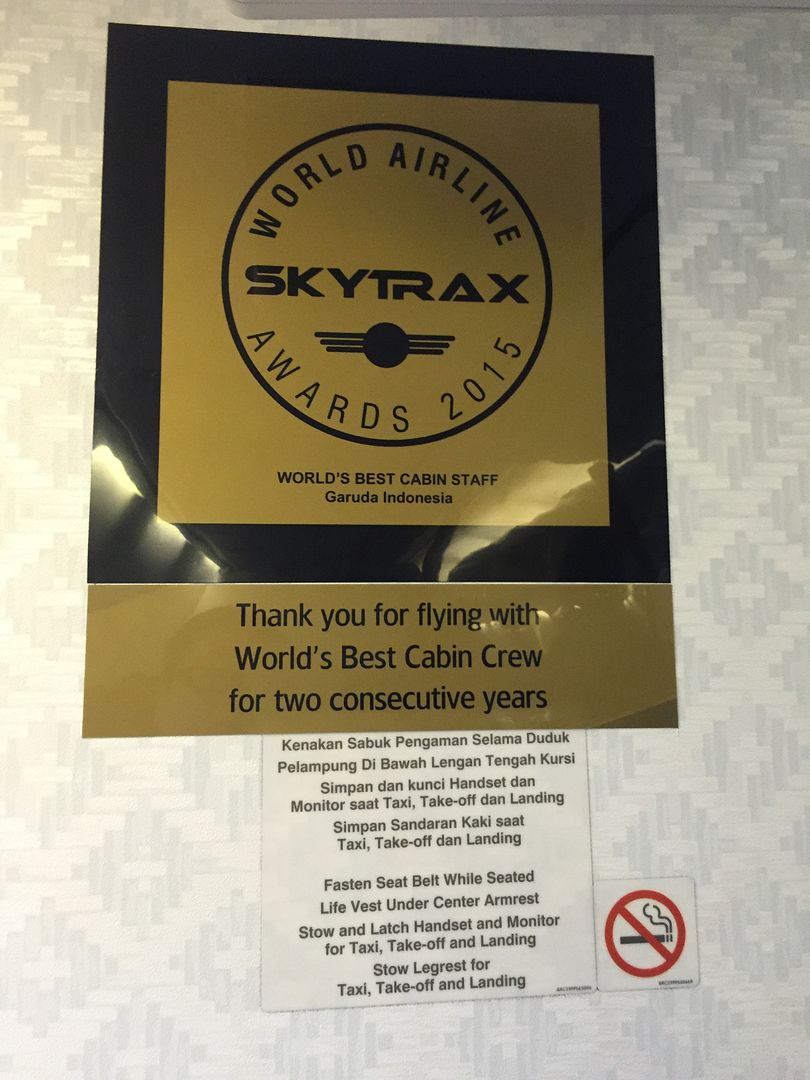 The 12-seat business class cabin on GA 737s is fairly typical among all the SE Asian operators, and the seats are similar to the ones used by Malaysia Airlines and Malindo Air.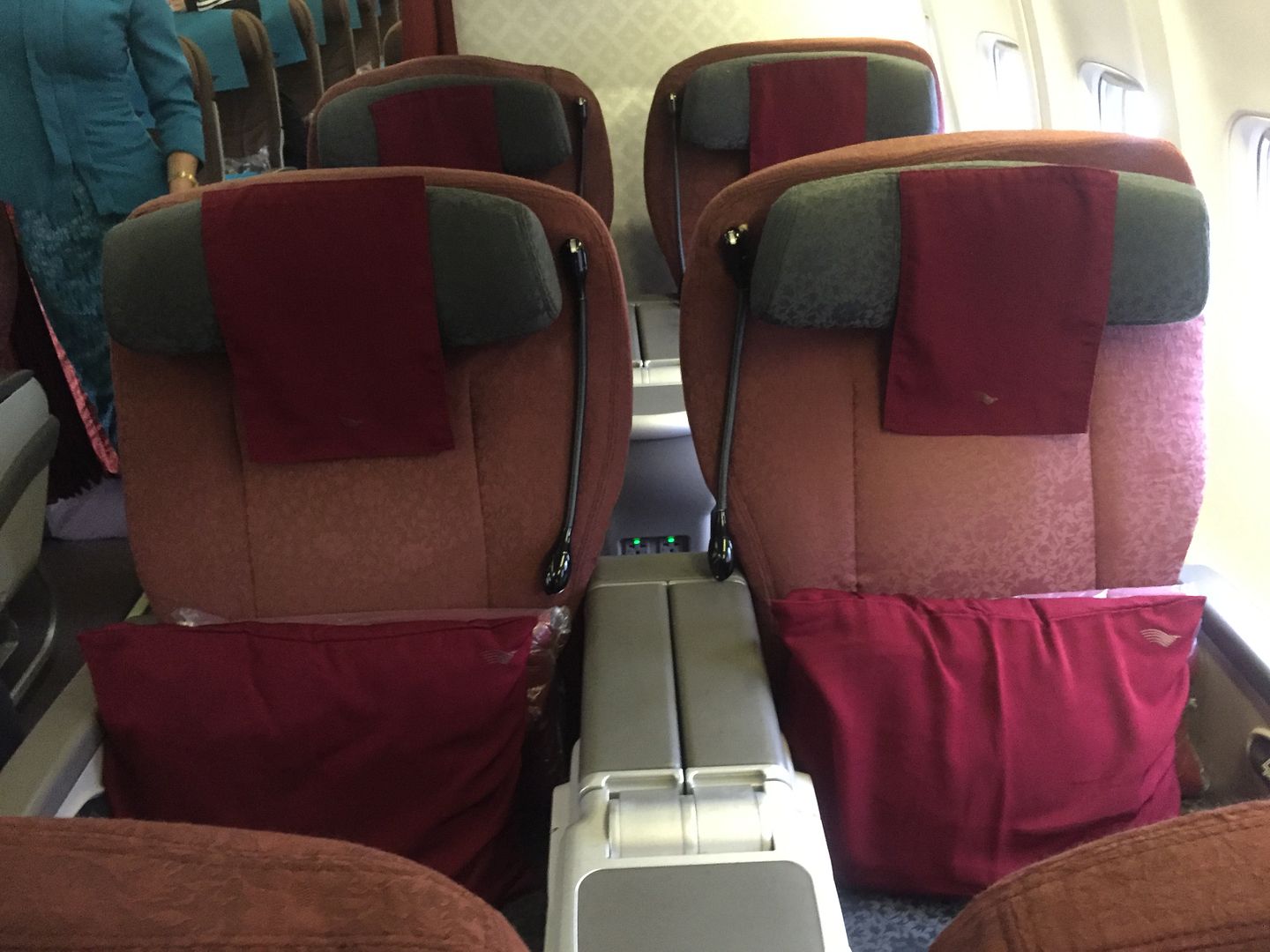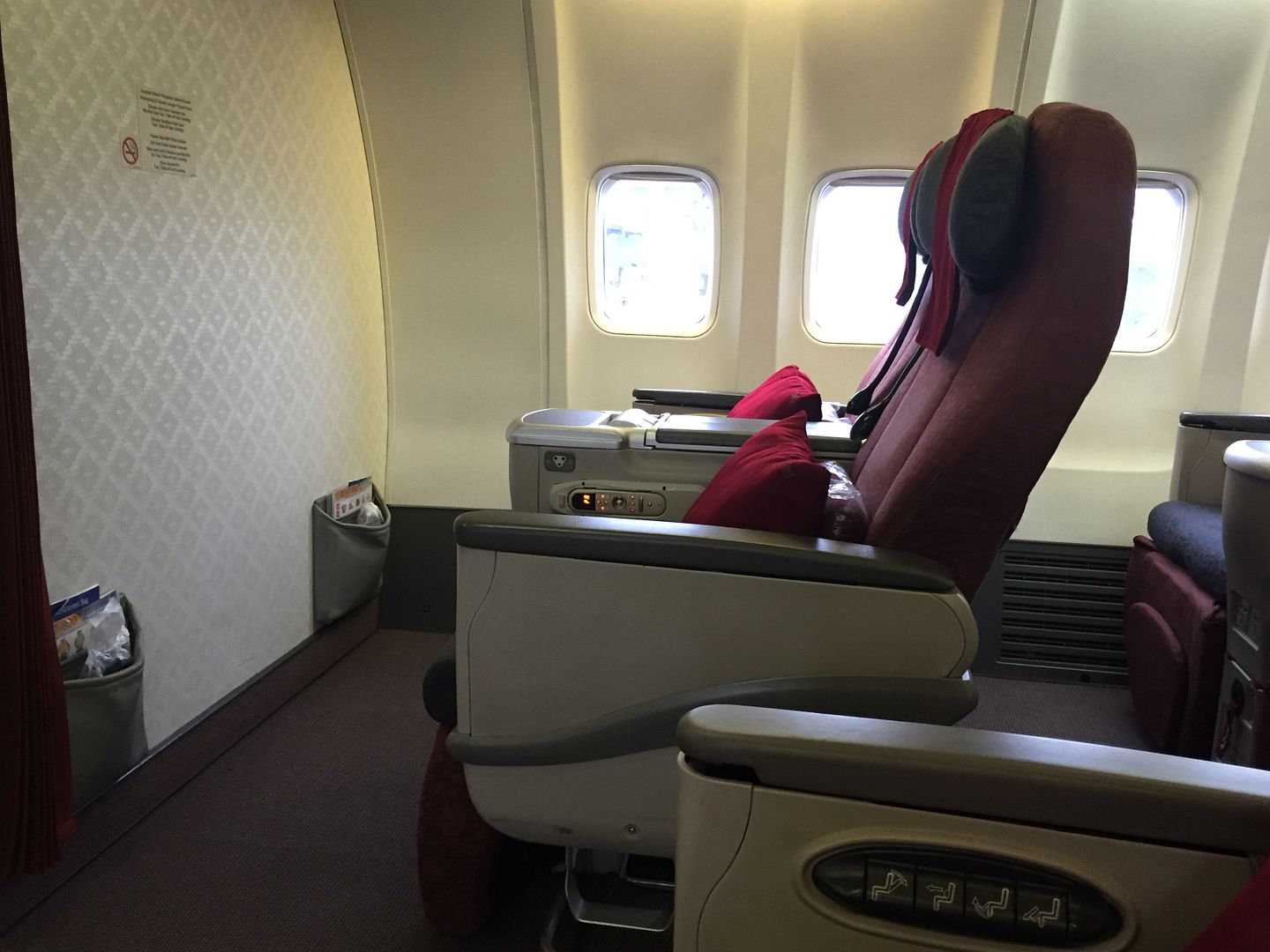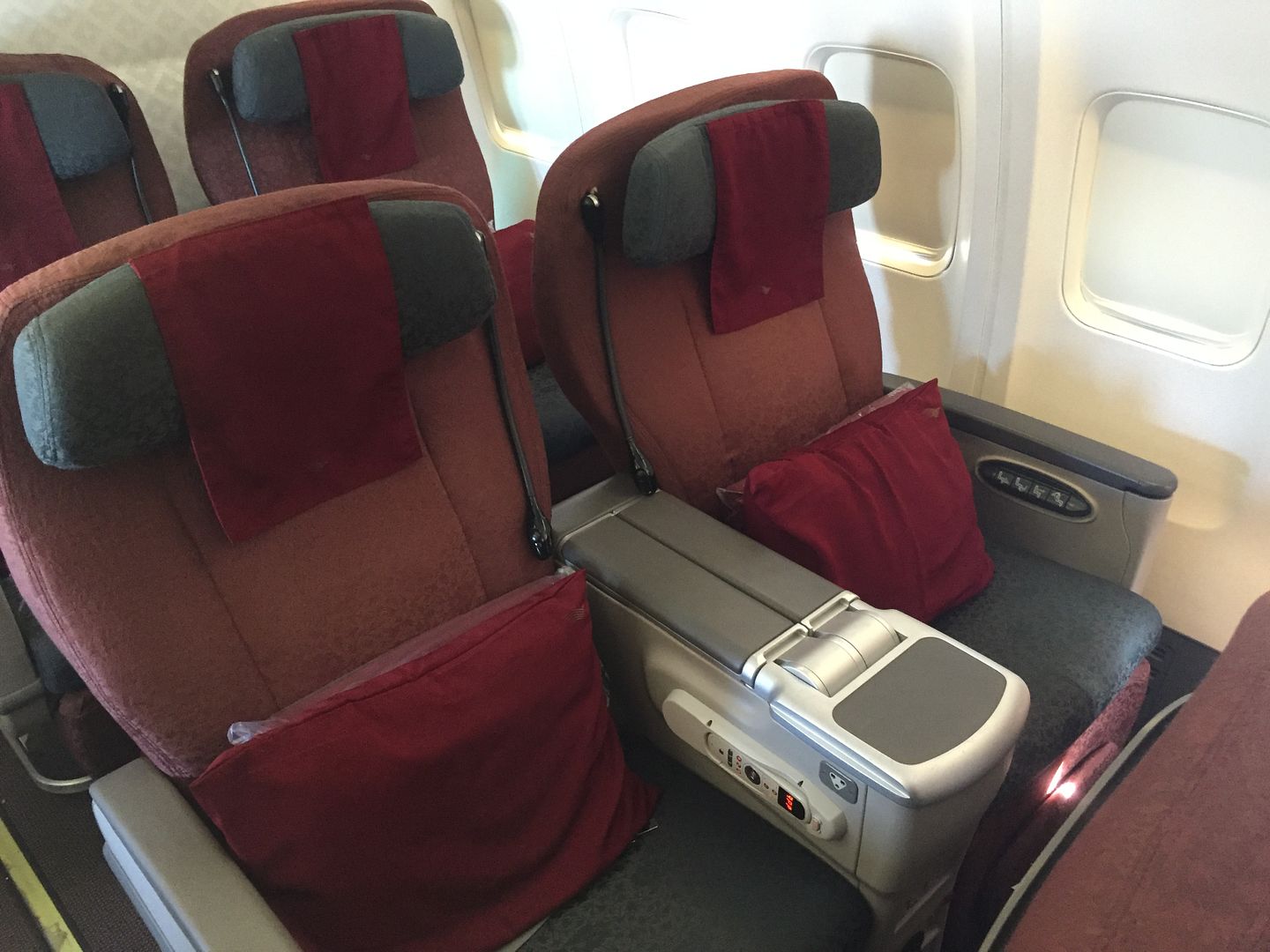 Newspapers
Menu and wine list
L'Occitane Amenity kit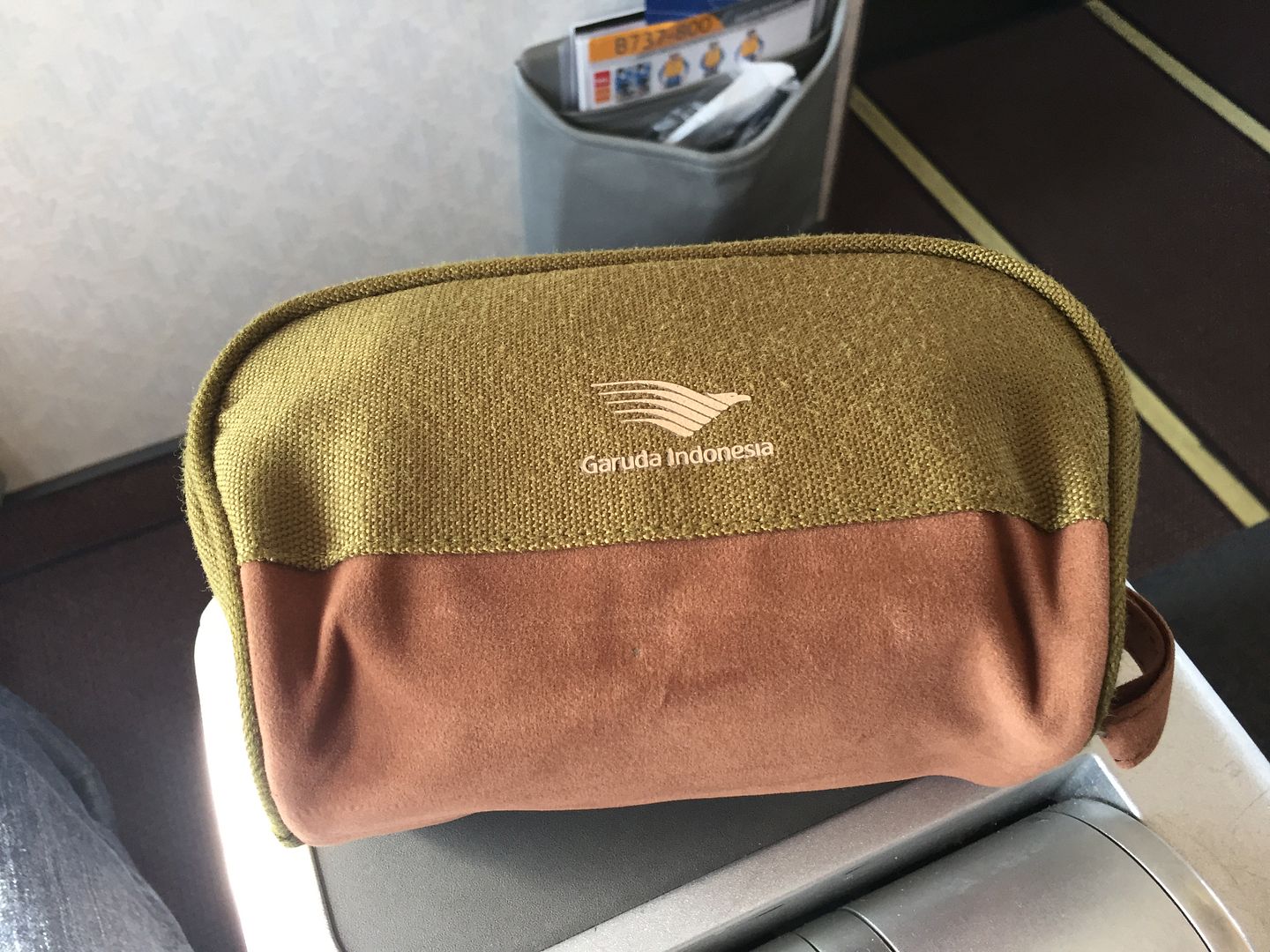 I read from previous reports that Garuda Indonesia actually passes out amenity kits for the HKG-Indonesia flights, but you never know.  I am pleasantly surprised with the lovely L'Occitane amenity kit. 
L'Occitane amenities available in the bathroom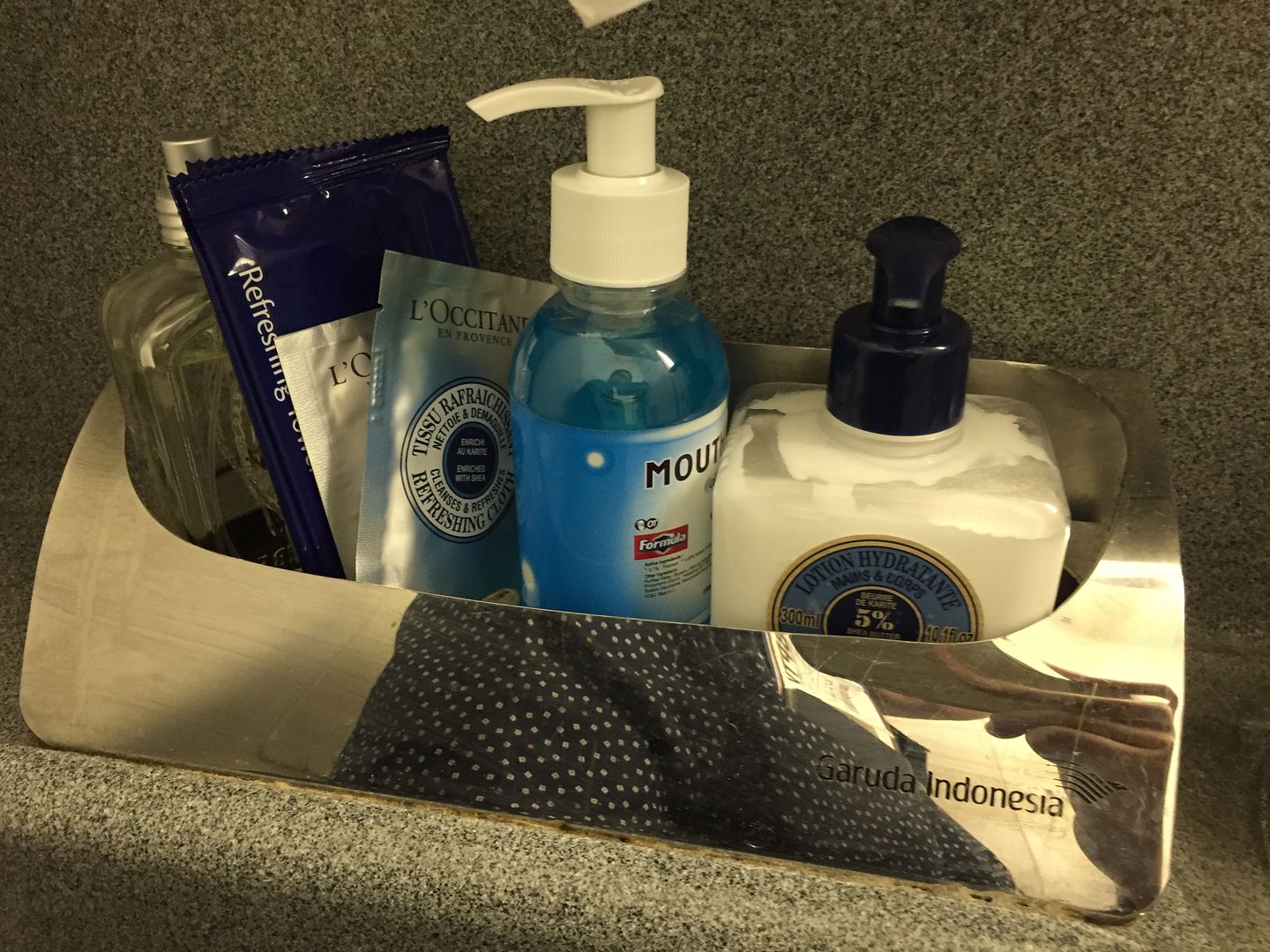 Door was closed early at 8:54am and it is really not that difficult to board within a reasonable frame of time if everyone can just be considerate and take their seats, not dragging so much carry on.   Unfortunately, due to ATC congestion (which is quite usual at these peak morning hours in HKG), we did not push back till 9:04am.  It was honestly not too bad.  We took off from R/W27R at 9:25am for our four hour and twenty-eight minutes flight to Jakarta.  We first climbed to 36,000ft, as we headed towards Vietnam.  We then climbed to 37,000ft after passing Thuy, and we passed Tinjang Pandara, and then slowly decent towards Jakarta. 
Beverage with a canapé of seared tuna and a bowl of mixed nuts – shortly after takeoff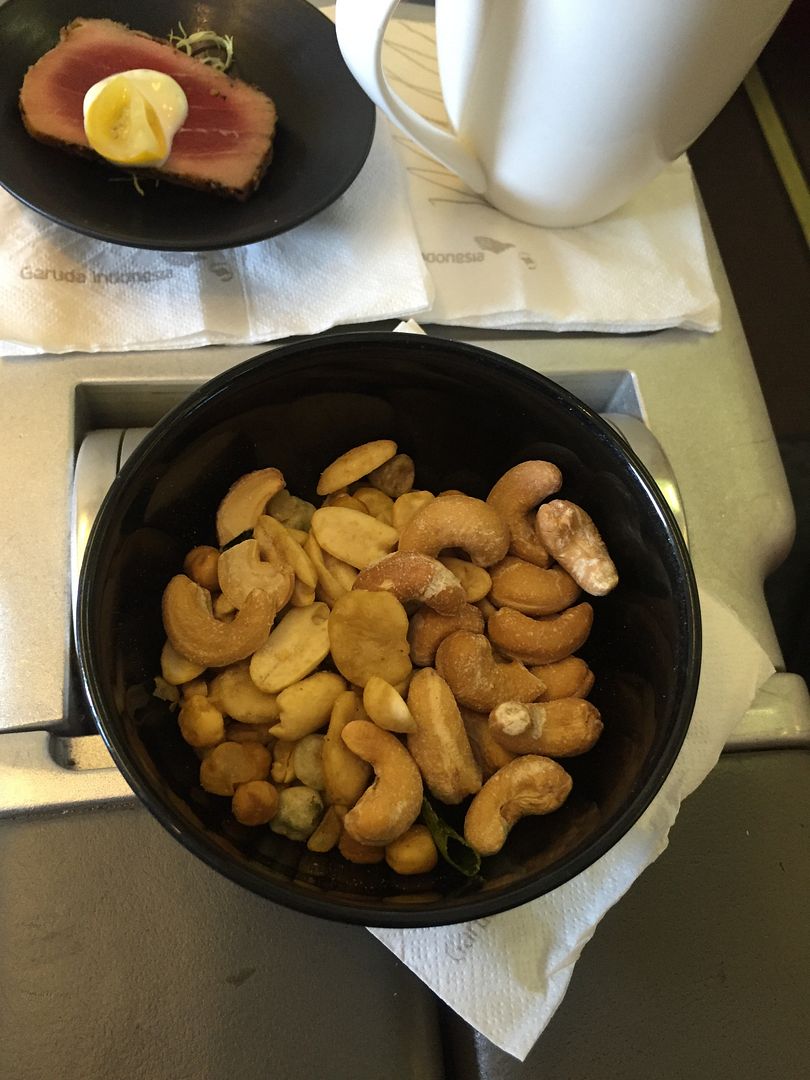 Peppermint tea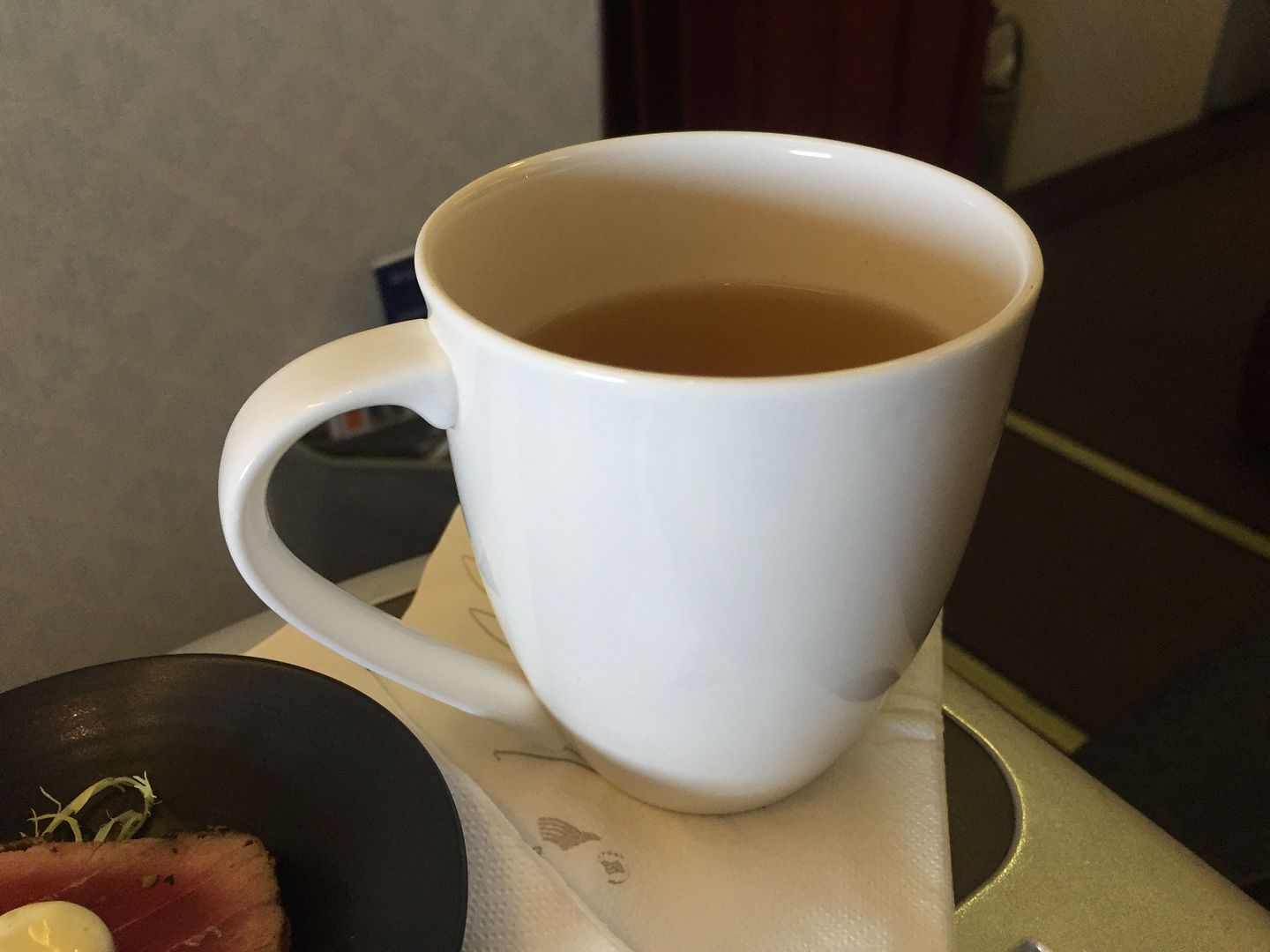 Strangely, lunch was being served on this flight and the F/A took my meal order and asked me what time did I want my meal.  I was not sure if this was the usual protocol, but it was nice to have this on demand option.  I chose to eat at 11am Hong Kong local time. 
I took the time to take a few shots of the cabin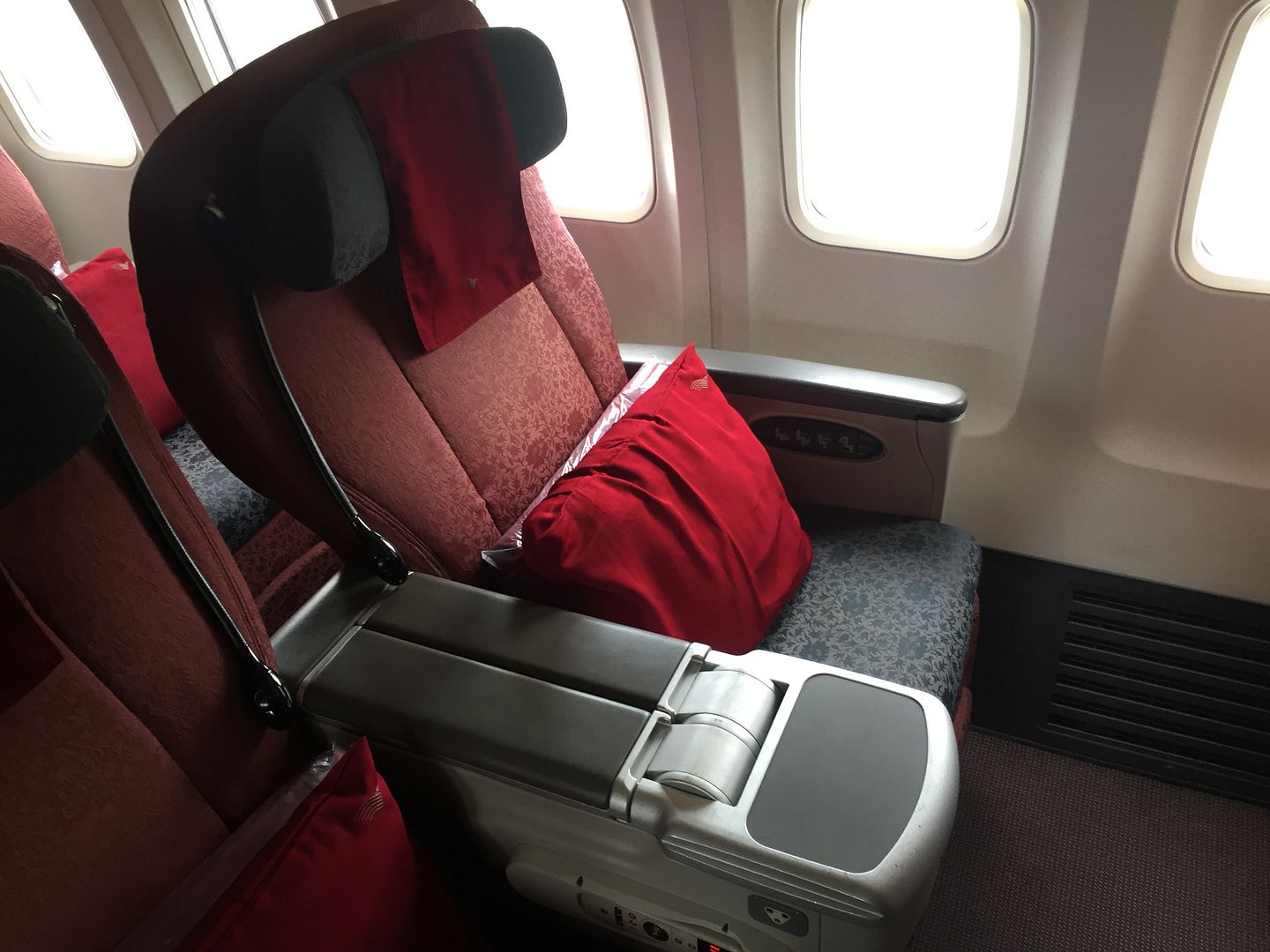 Seat 2AC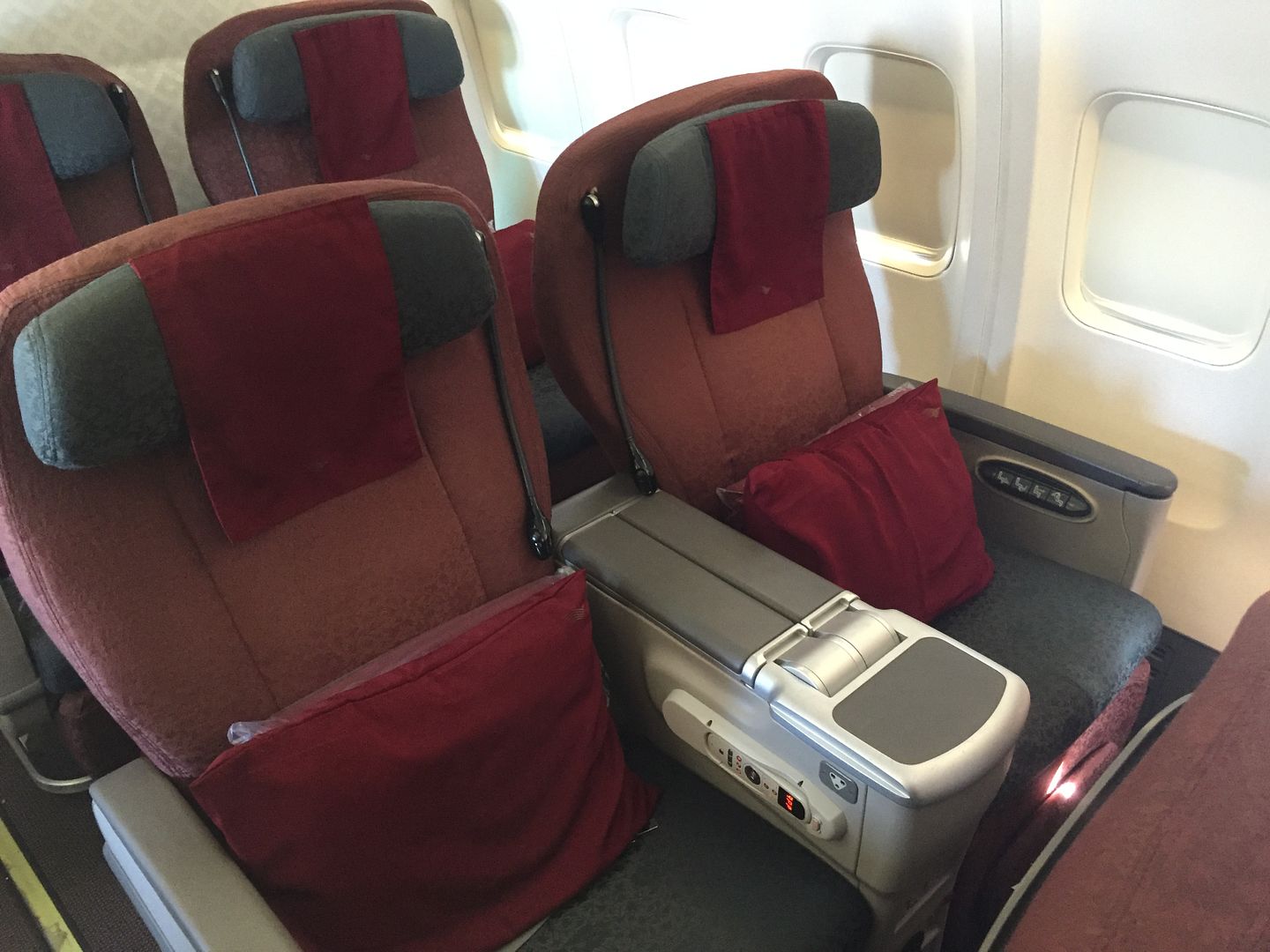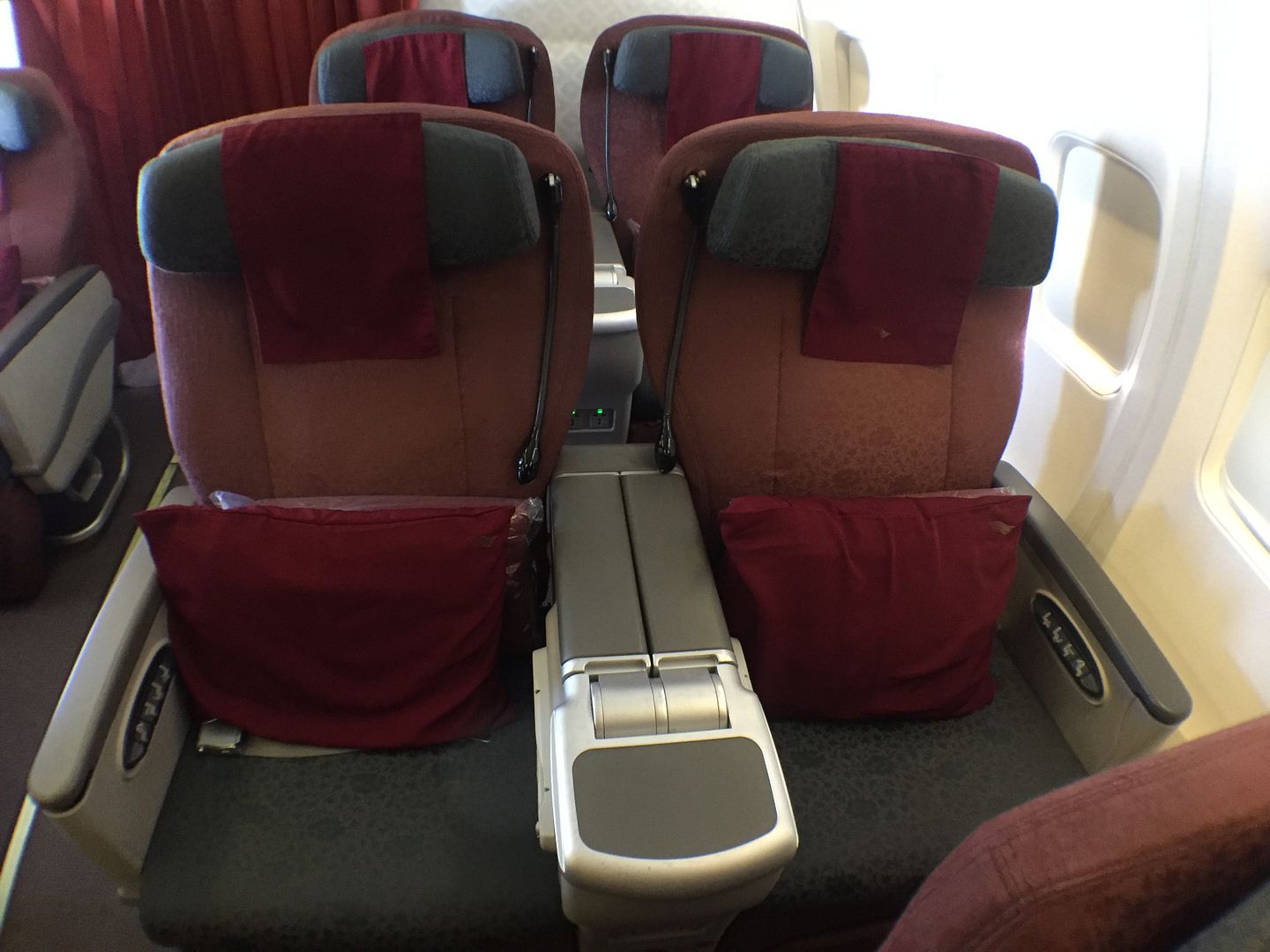 Seat 6A
Power outlet
Seat in recline position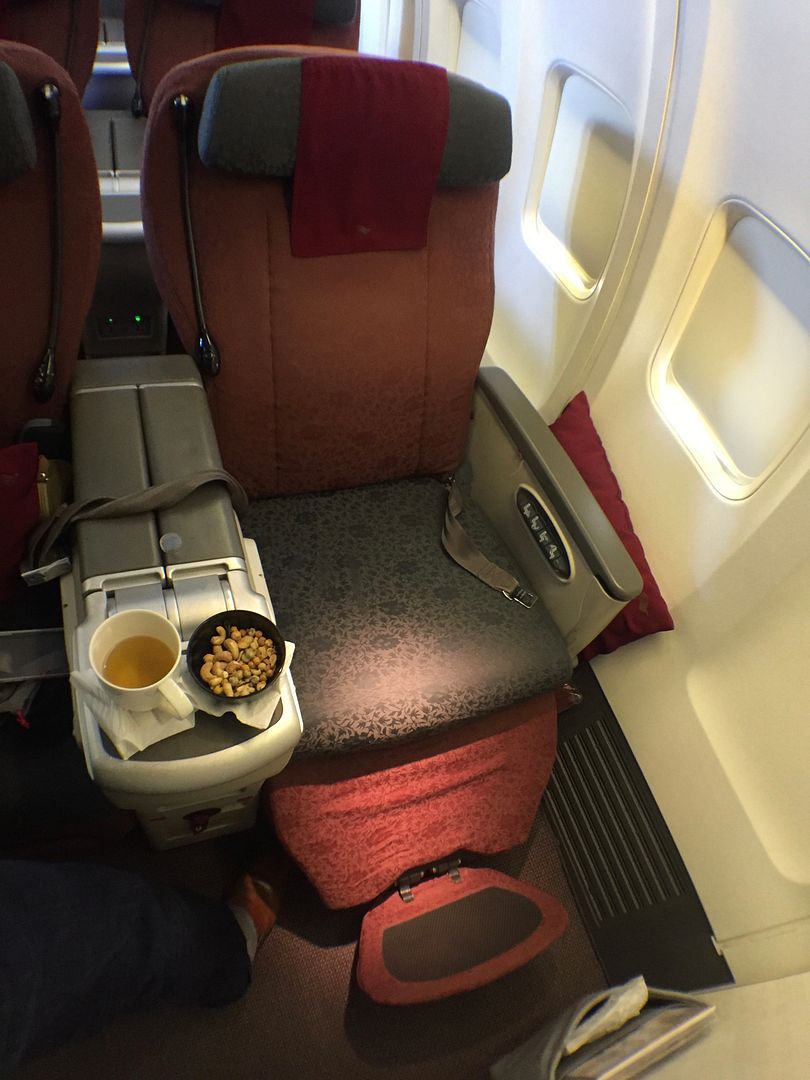 Unfortunately, while the seats are adequate for a daytime flight, I will have a hard time falling asleep on the overnight flight from CGK to HKG, as the recline is really limited, and the footrest is too short to make it useful.  I am only 5'10-11" tall and for most Westerners, this legrest will be useless too.  I can't really extend the legrest to a length that I can stretch out my leg in full.  I also had a hard time reclining the seats and lifting the legrest.  The seats need some greasing and when you look closer to the seats, these seats have shown heavy usage and signs of worn-out.  MH seats are better maintained. 
PTV – Basically the same PTV used by Malaysian Airlines and Malindo Air: the system had some initial problems and it took a while for the F/A to reset the system.  There is the usual selection of movies and television shows – not the best but not the worst.  I watched a few Big Bang Theory episodes towards the end of the flight, but just a warning, there was some heavy editing.  It is strange that they have no issue showing Penny in a bikini but will cut out the Chippendale reference and that brief 5 seconds scene of a shirtless man.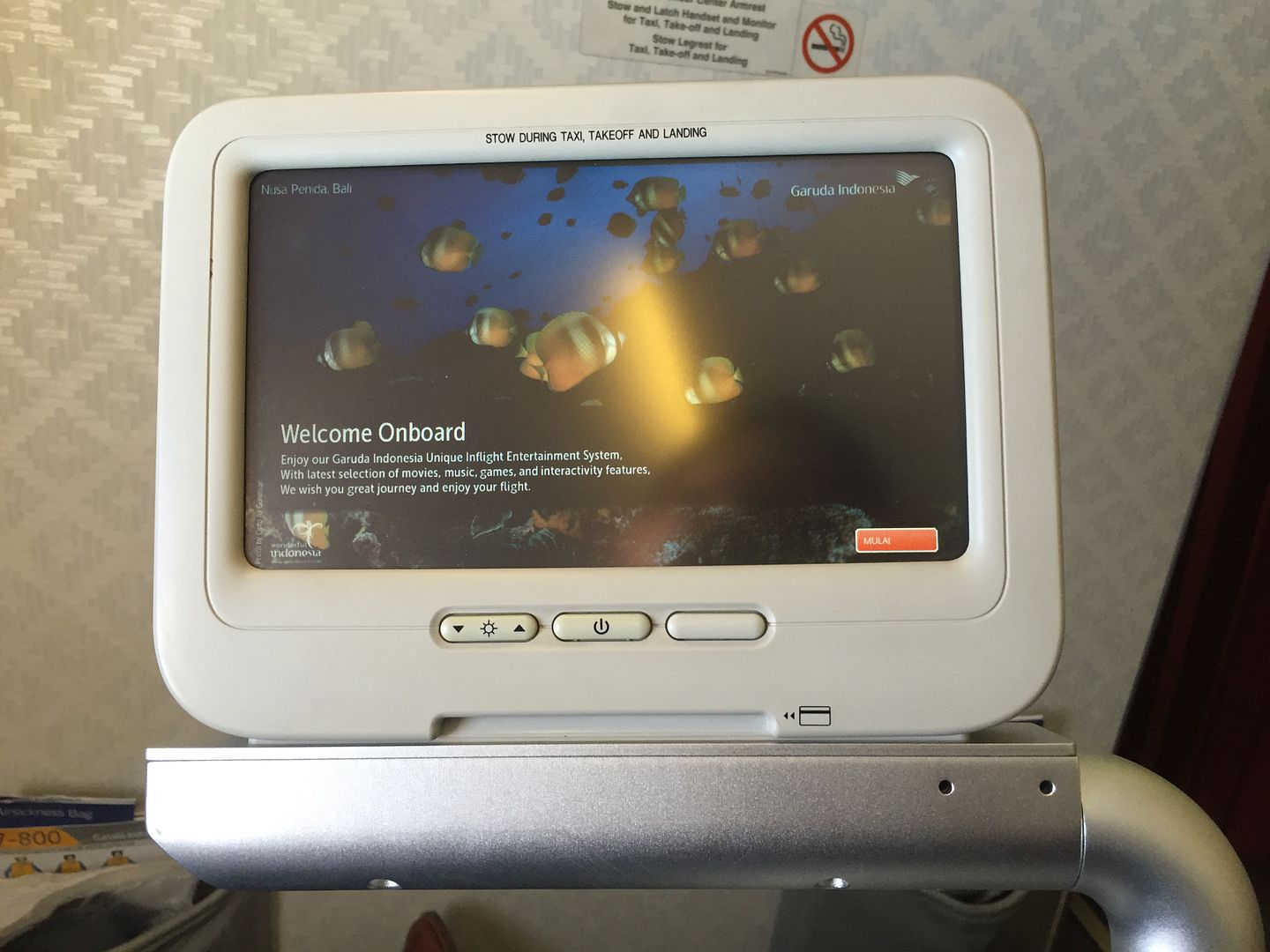 Here is the menu and wine list:
Lunch
I love the Garuda branding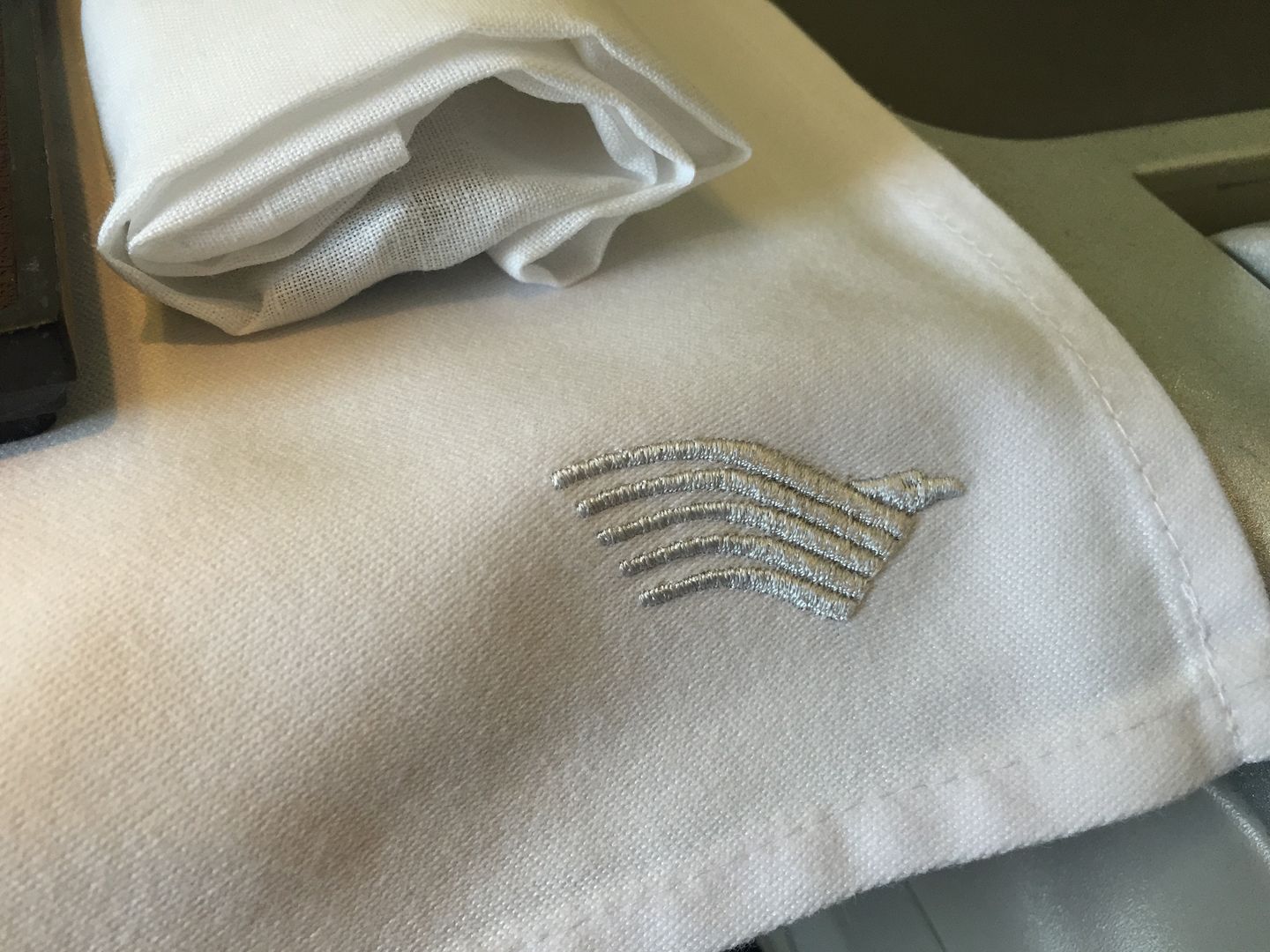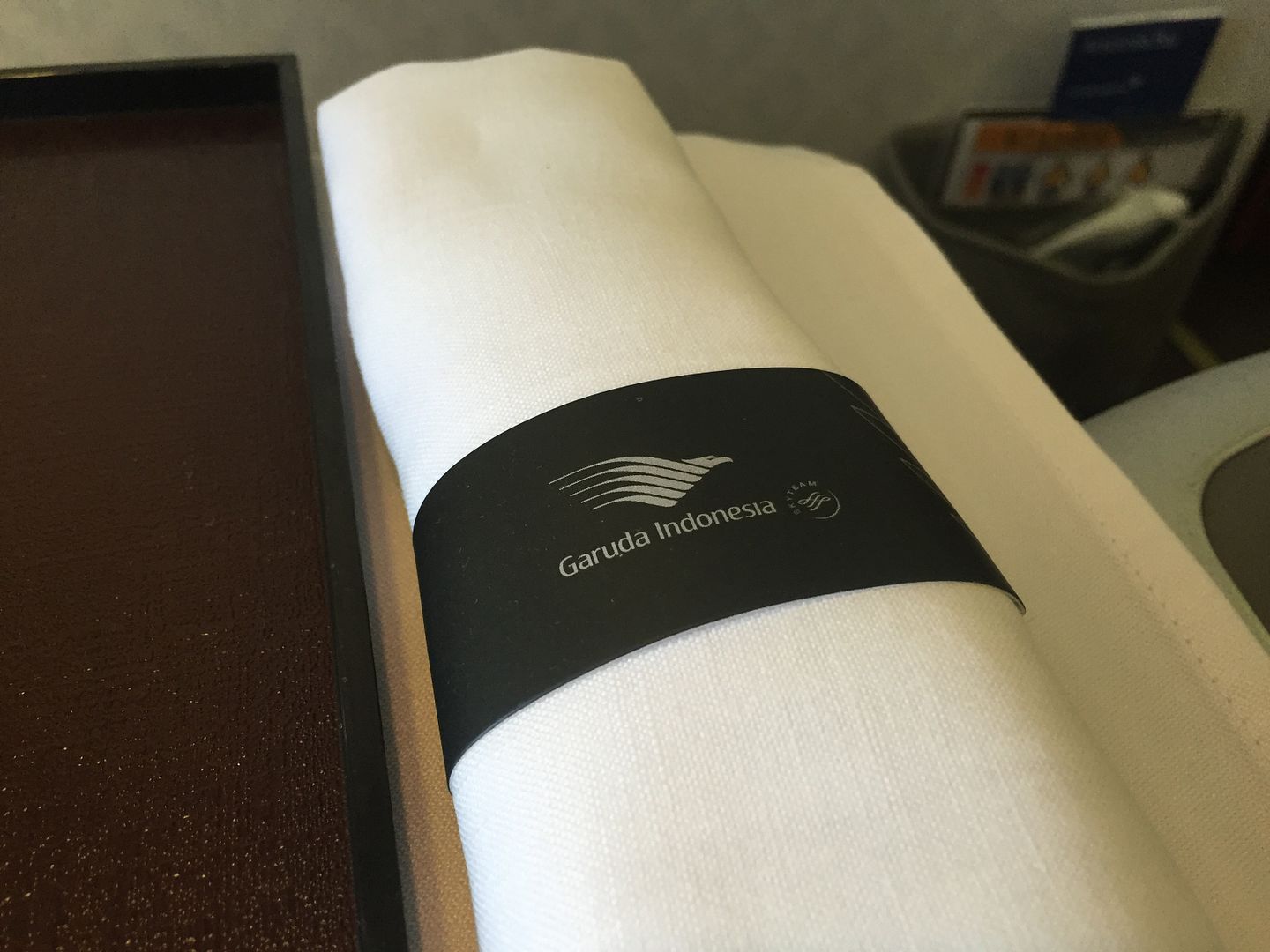 Appetizer
Smoked Trout, fennel salad with honey lemon dressing
Main Course
Pan-fried sea bass with capers cream sauce
Potato and pumpkin mashed, sautéed baby carrots and sugar peas
Or
Grilled Beef Tenderloin with kalio sauce
Turmeric rice, sautéed carrots and four seasons beans
Or
Chicken Oyster sauce
Stir fried egg noodles and sautéed mixed vegetables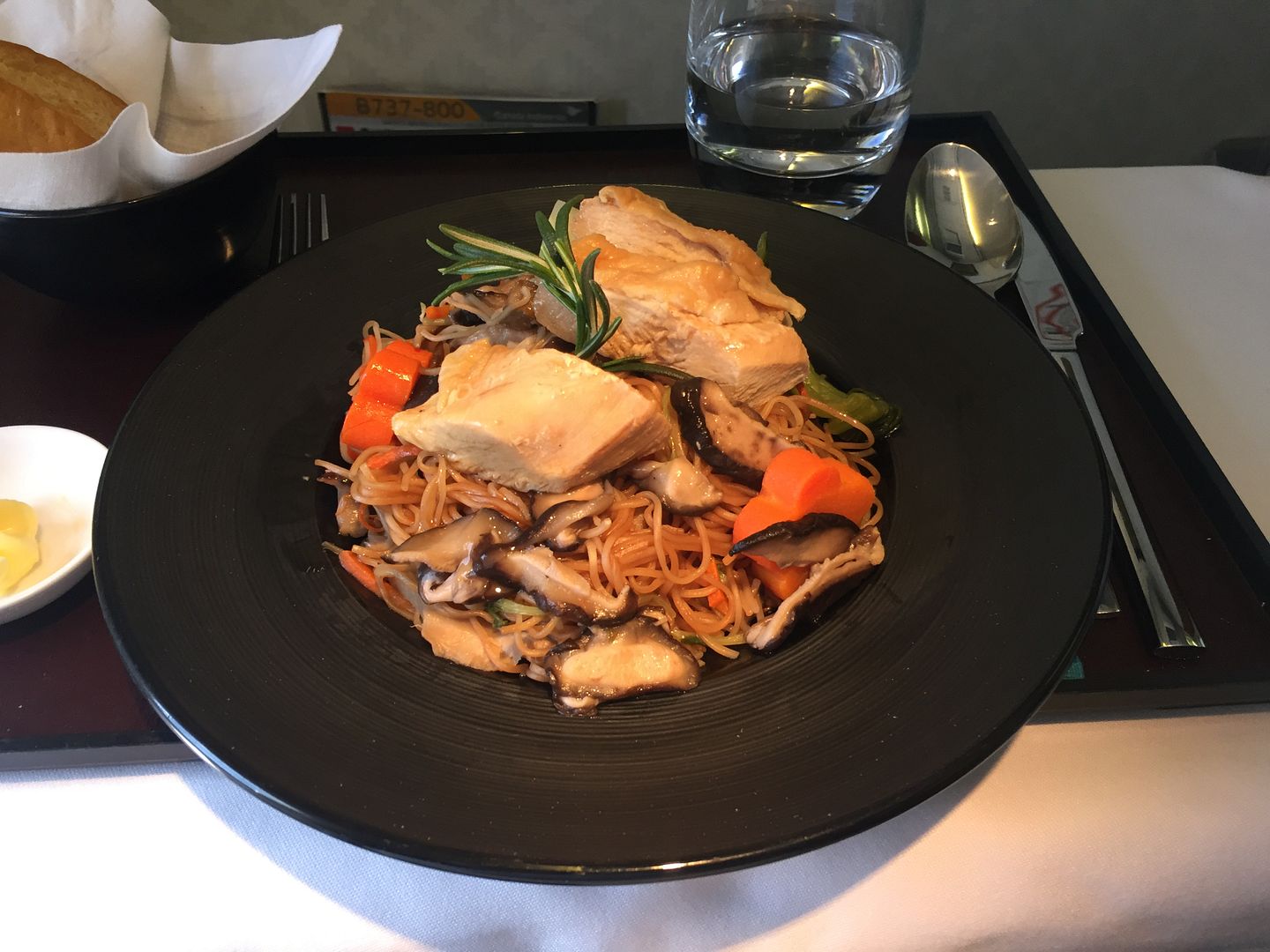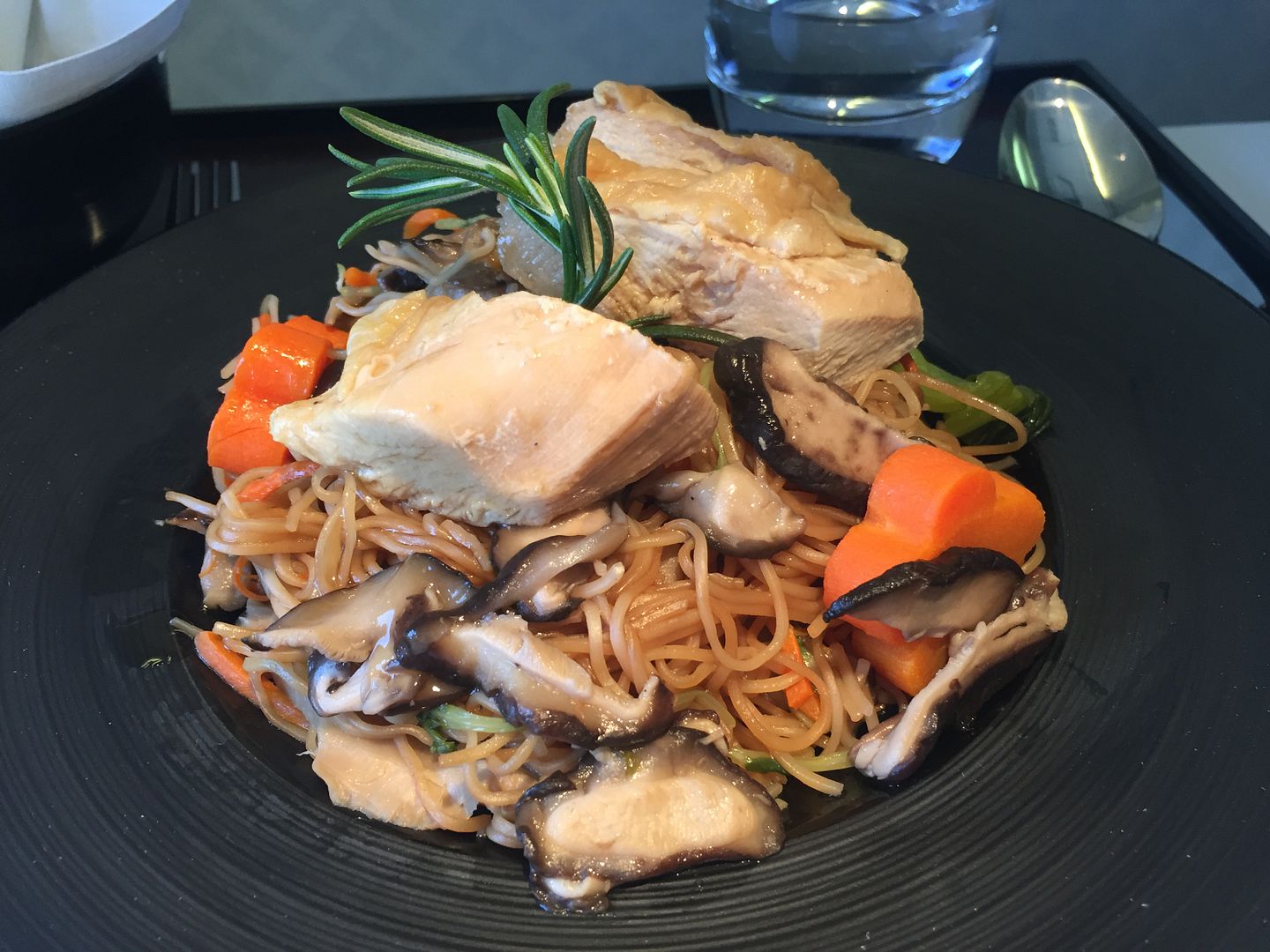 Dessert
Turkish chocolate mousse cake
From the bakery [you have your own bread basket]
Assorted warm bread
BUSINESS HKG-CGK (GA 873) CYC 1/2016
IND-ENG [V1.1]
Wine List
Champagne
Bilecart-Salmon Brut Rose
Whtie Wines
2013 Chapoutier Belleruche Cotes Du Rhone Blanc, France
2013 Sancerre Henri Bourgeois "Les Baronnes" Loire, France
Red Wines
2014 Chapoutier Belleruche Cotes De Rhone Rouge
2008 L'Andrea Montevibiano, Umbria, Italy
Spirits
Chivas Regal 12 Years Scotch
Jack Daniels Black No. 7
Smirnoff Vodka
Gordons Dry Gin
Liqueurs
Baileys
Beers
Bintang
Tsing Tao
Cocktails
Martini
Juices
Mertebe
Tomato
Freshly Squeezed fruit juice, your cabin crew can help you choose from today's juice bar
Soft
Coca Cola
Diet Cola
Sprite
Club Soda
Tonic
While the lunch was honestly nothing overly special, I felt that the starter was a bit disappointing, and will prefer a heartier starter.  I wonder if the A330 will feature a more elaborate meal.  However I appreciate the fact that the entrées are individually plated, and the deep black casserole dish was stylish.   The chocolate dessert was okay.  I love the individual breadbasket, which features a French roll and an Oatmeal rye roll. 
The F/A came by with a snack basket about two hours prior to arrival, which feature cup noodles, biscuits, mixed snacks, peanuts, and other packaged snacks.  That is a nice touch especially these flights to Indonesia can be quite long.  Since I had my lunch late, I did not partake in any of these snacks.
Descent soon began at 12:21pm local time – Jakarta is an hour behind from Hong Kong.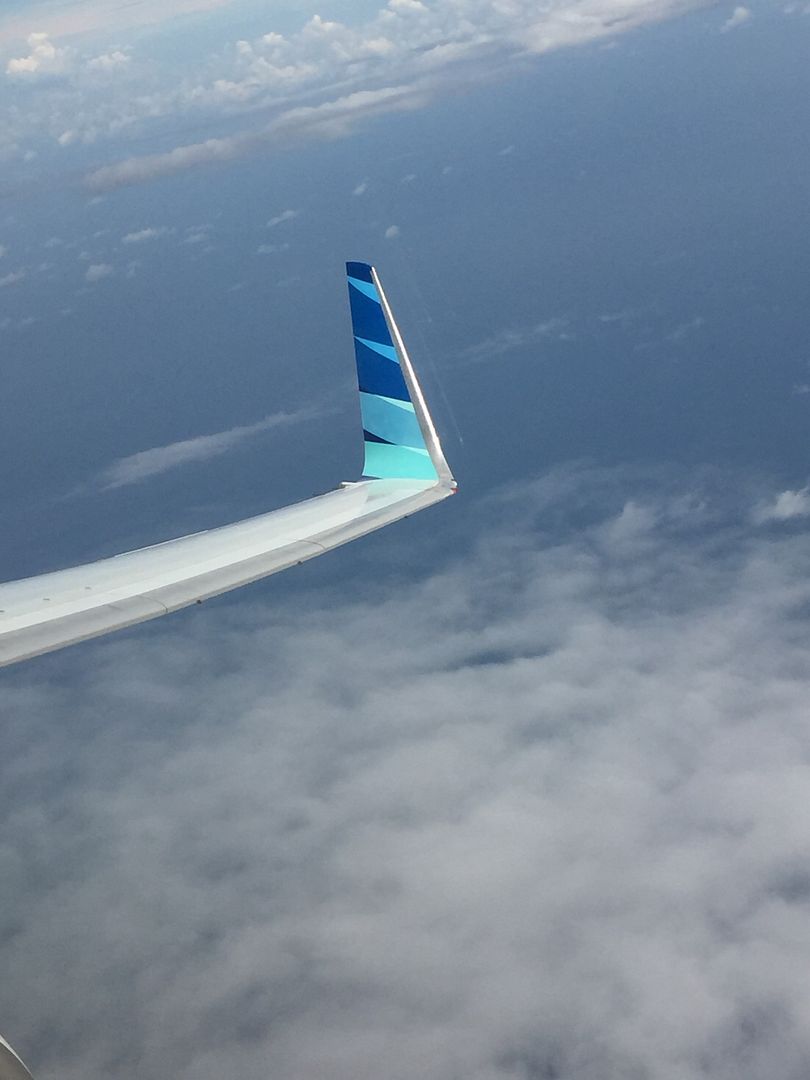 Jakarta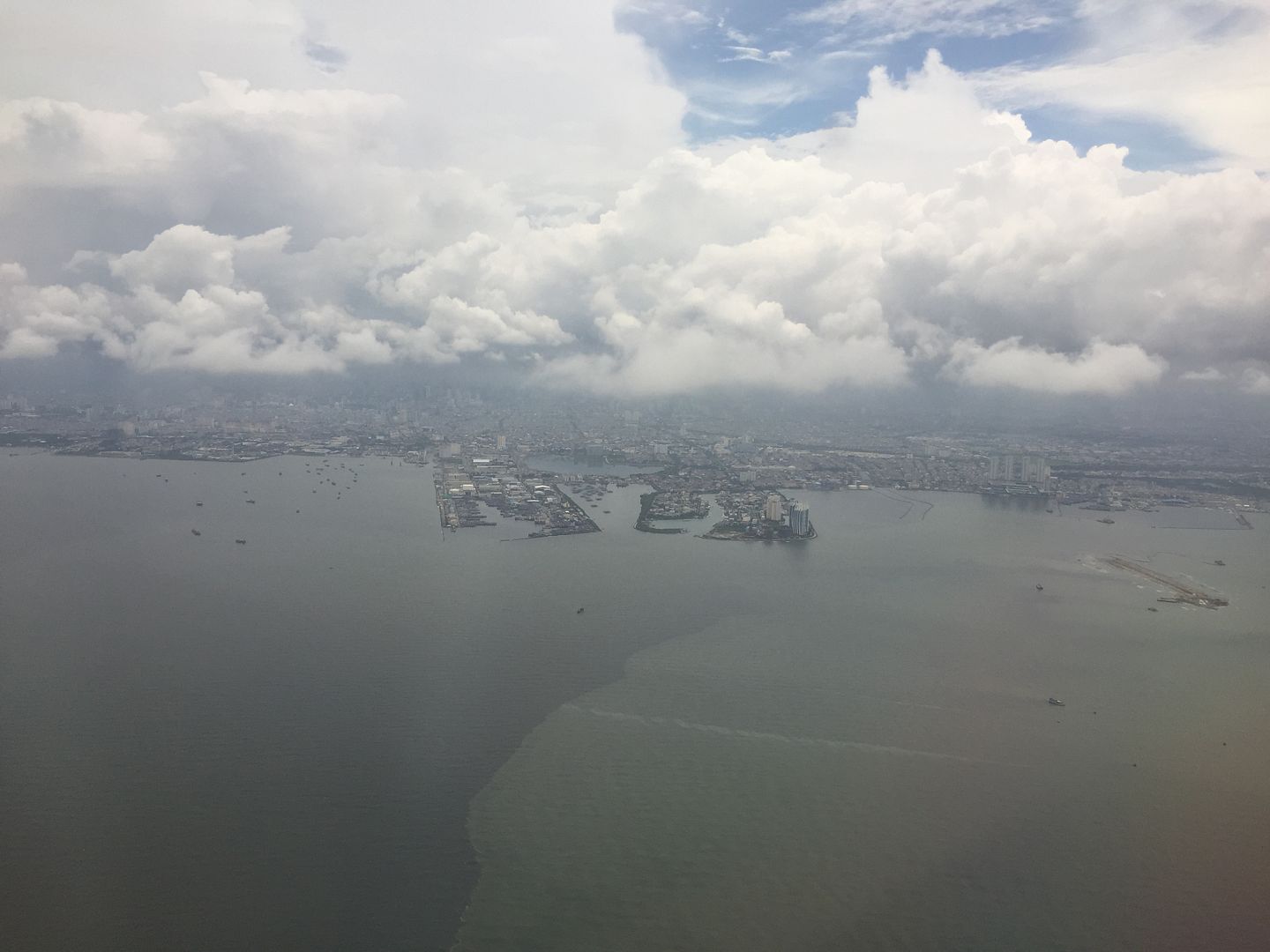 Approaching R/W25R – new terminal – hopefully it will open soon
We landed on R/W25R at 12:53pm, and parked at Stand R74 at 12:58pm.
Heading to parking stand R74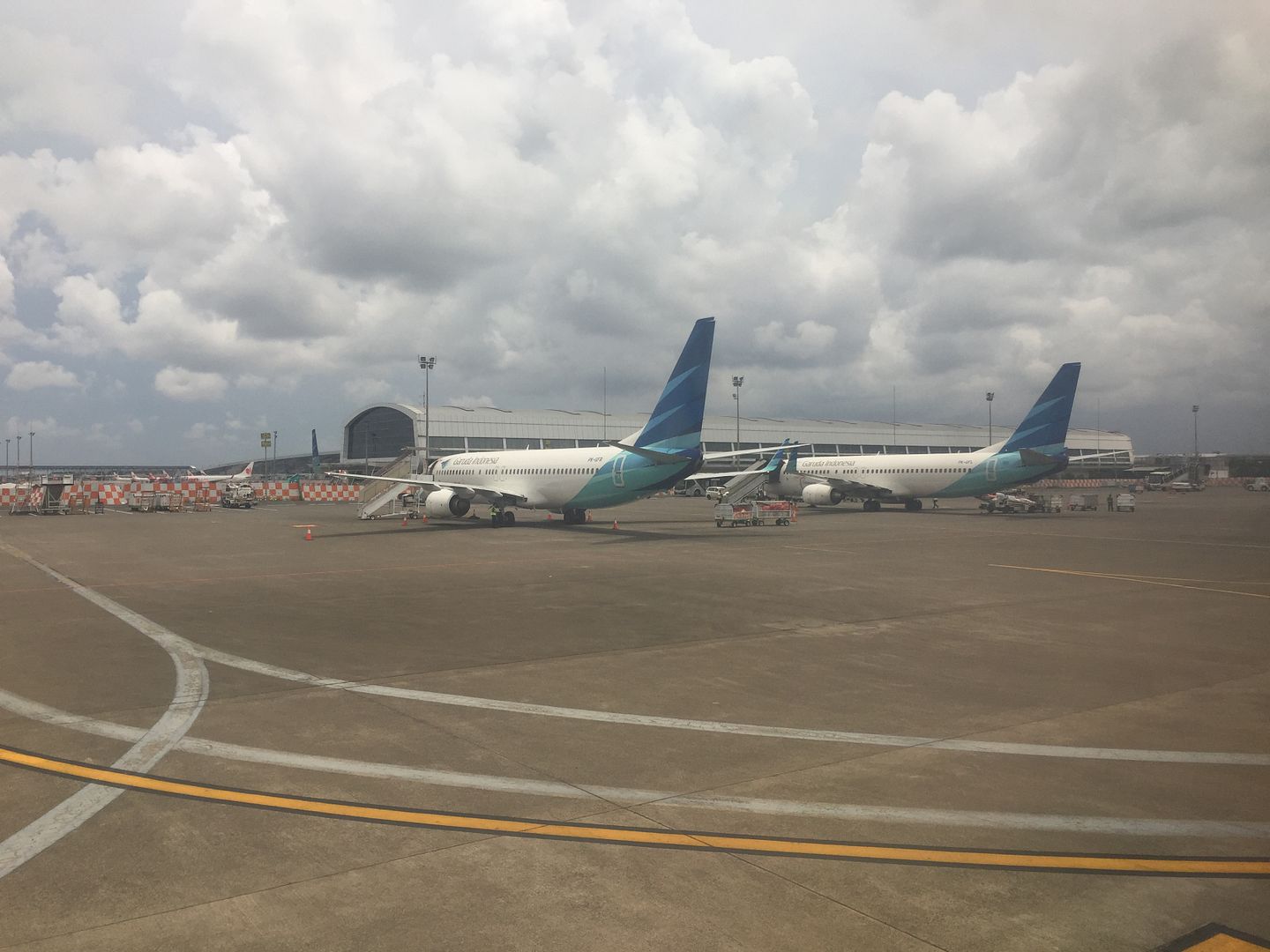 Business class passengers got their own buses and I think Garuda does a good job in the arrival experience.  Although I think they need to be a bit detailed on their instruction, you really got through immigration much quicker as a premium passenger.   The airport was also not too busy at this time too, so I went through immigration within ten minutes.  It could be quicker if I did not confuse the Visa On Arrival counters with Fast Track Immigration counters. 
Another brilliant feature of flying GA is the availability of a Premium Arrival lounge – so you can wait for your bags in a quiet and A/C room.  The lounge was nothing more than a nice room with comfortable sofa (not even free WIFI but the counter staffs will ask a porter to bring you your luggage once they are delivered.   Given how CGK T-2 is, this lounge is much appreciated. 
In conclusion, it was a pleasant flight and Garuda Indonesia did a reasonable job on these regional services.  Of course I will prefer an A330 flight, but given the light load, 737 is the right choice of aircraft.  The F/As in general are pleasant and frequently checked on us throughout the flight.  They did not just chat in the galley.  They definitely live up to the Skytrax award.  The bathroom was kept clean, and in general, I am confident to recommend GA to other people in the future.  I hope you will enjoy this short report!
Carfield