Trip Report: Excellent Way to Fly – JAL CGK-NRT-JFK in First
Photo album:
http://s1213.photobucket.com/user/Carfield76/library/Winter%202015-16/JAL%20First%20Class%20February%202016
As many of you know, American Airlines is going to devalue its award charts and many mileage awards especially those in first class will increase significantly.  For transpacific routes from USA to Asian Region 2, the price will increase from 67.5K to 110K one way, which is about double the previous prices.  Plus earning will be based on revenue soon beginning in Fall 2015.  Even flying first and business, your earning rate will suffer.  I have thought of many ways to use these miles and ended up using it on first class from Jakarta to JFK via Tokyo.  I can get two JAL first class flights, which both feature long haul services.  Despite being under the weather and not being able to drink more than a glass of Salon S Champagne, I still think I get really good values.  While JAL First suites are not the most fancy first class suites out there, the service is impeccable and the F/As are nothing but efficient, graceful, polite, and warm.  The food is excellent (but as a disclosure, I love Japanese food).  All the amenities are nice and I have nothing but praise for JAL First Class.
February 17, 2016
JL 726 CGK-NRT Lv2125 Arr0635 Next Day Boeing 777-300ER JA739J
Check-in: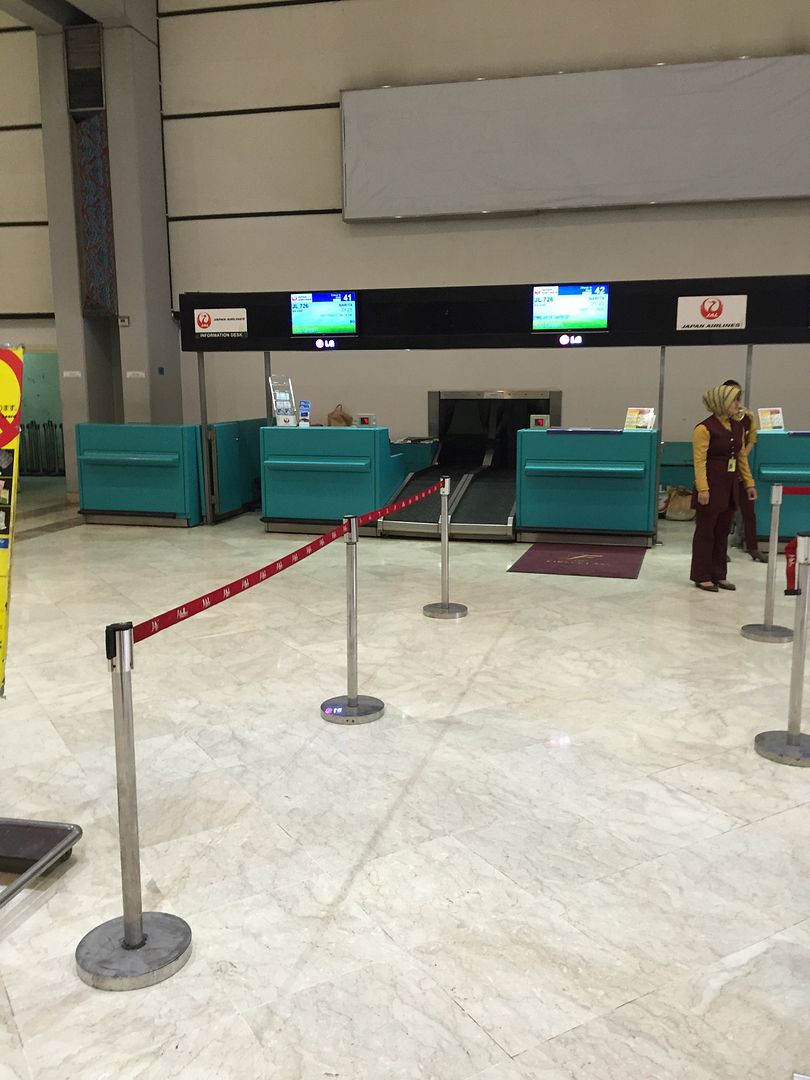 JAL uses Terminal 2D at CGK's rather outdated terminal, and please be reminded that there is a passport & ticket check, along with security check before you are permitted to enter the check-in area.  Please remember to print out your e-ticket receipt or have your e-tickets handy on your smart phone. 
Check-in desks are not too busy, as I arrived three hours prior to departure.  There is a dedicated first class/Emerald lane, and the agent was very efficient and friendly.  My bag was checked through to JFK, and I also received a lounge invitation to the Pura Indah lounge.  There are actually two sections – one first class and one business class.  As a first class passenger, I have access to the first class section, which I have not visited before.  
This lounge experience is the weakest part of the whole journey.  When I first arrived at the lounge, the place was so crowded that I could not even find a seat till some other flights departed.  While I don't expect JAL to have its own lounge at Jakarta, I hope all these non-GA airlines can get their acts together before the new terminal will open.  Oneworld carriers should get together and open a larger lounge with more natural light, more amenities, more seating, and fast working WIFI. 
Since passengers have to go through security before approaching the gate area, I left the sad looking lounge about an hour prior to departure.   The boarding area, D7, was divided into two sections: one for first/business class/priority passengers, and a second one for economy class passengers.  While the premium cabin looked fairly busy, economy class cabin looked not too full this evening.  Boarding finally began at 9pm, and first class was three quarter full (6 out of 8 seats were occupied).  JAL First Class cabin looked very smart and stylish, and I love the brown fabric seats.  There were two F/As assigned to first class, along with the purser, and three of them immediately introduced themselves to each passenger, distributed pajamas, took order of pre-takeoff beverages, and passed out menus.  Many first class passengers chose to change into pajama immediately, but I chose to do so after takeoff.   Since it was an overnight flight with a relatively short flying time, the F/As worked efficiently.  But while being efficient, they maintained their friendliness and nothing was ever too much to ask.  That service attitude is something that I find lacking with the new Cathay Pacific, Singapore Airlines, and most Middle East and European airlines. 
My seat this evening: 2K
Cabin shot:
Pre-takeoff beverage: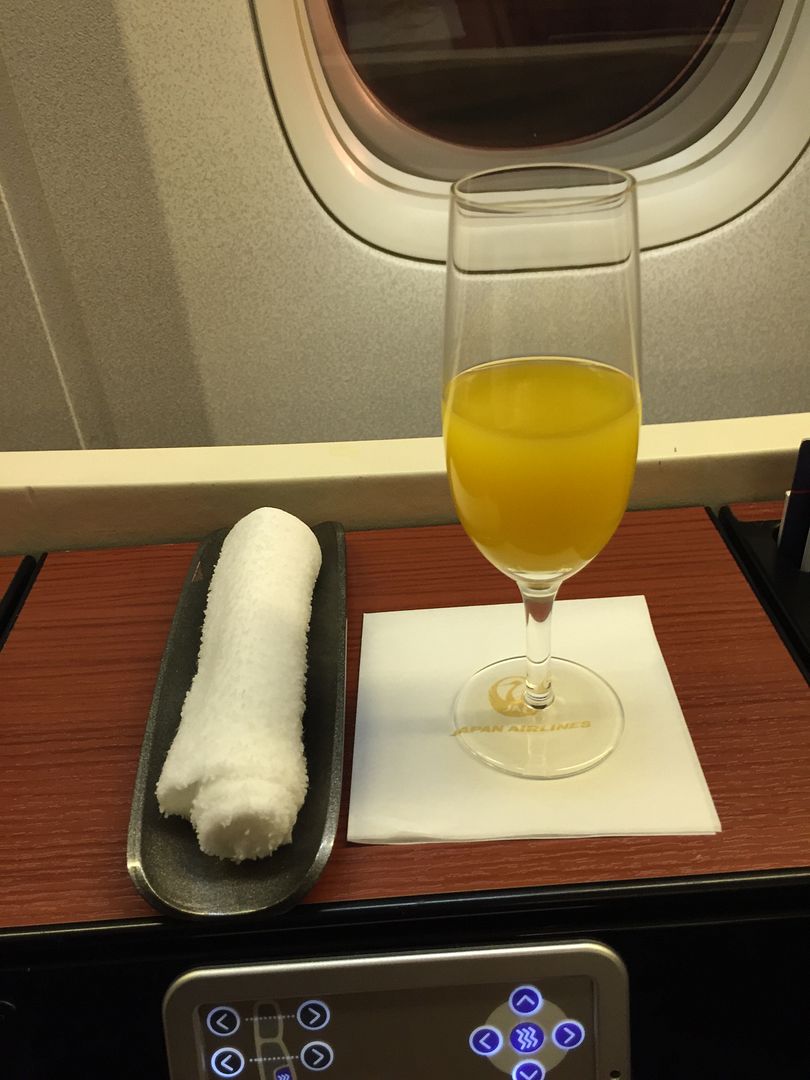 Door was closed early at 9:13pm and it continued to amaze me how the Japanese airlines can board a full load of Boeing 777 in thirteen minutes.  What it takes in reality is consideration (such as moving into aisles to let other passengers passed by you), and high organization.  We pushed back five minutes early, and we took off from R/W25R at 9:37pm.
Tonight's flying time is six hours and thirty-three minutes and the routing took us towards Maja at 35,000feet, and then cities of Tangit, Kapit, Belaga, and Long Lama, before descending towards 31,000ft.  Then we passed Membakut, Pulau Gaya, Narra, Puerto Princesa, Boayan Island, and Busuanga, and then climbed to 37,000feet before passing Manila and Illagan City, and then climbed to 39,000ft after leaving the Philippines.  Because of turbulence, the pilots descended towards 37,000ft before flying back to 39,000 feet again.  Due to favorable tail wind, we took quite a huge detour around the coast of Japan, as there is a curfew at Narita, as no arrivals are permitted before 6am.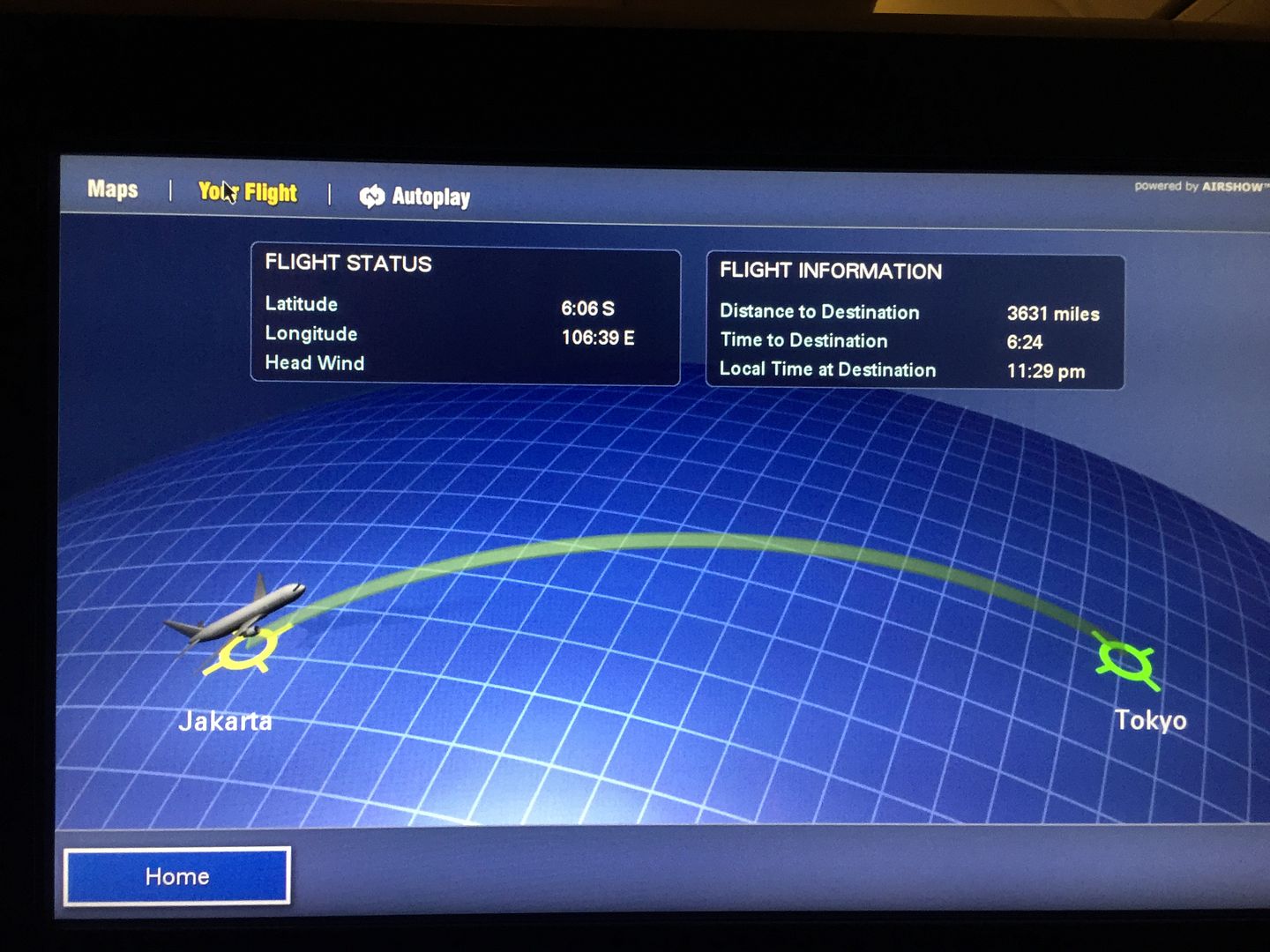 Seat belt sign was turned off five minutes after takeoff.  The F/As immediately swung into action and I was immediately invited to the bathroom with a fresh pair of pajama, and as soon as I stepped out from the lavatory, a F/A immediately got my clothes and hang them up.  Beverage and meal orders were immediately taken, and the F/As emphasized that I could order as many items from the a la carte menu as possible.  Given the poor array of food in the lounge, most passengers actually chose to eat.  I was fairly hungry, so I chose to start with the sushi plate and caviar, and then a bowl of noodles.  The food was delicious and the F/As served them with a smile and just the right speed. 
Wine List – same for this and next flight
Wine List
Champagne
Champagne SALON 2004
Bollinger La Grande Annee 2005
White Wines
Bourgogne France
Puligny Montrachet 1er Cru "Sous Le Puits" 2010
Bordeaux France
CLOS FLORIDENE blanc, Graves Aoc 2013
Austrian
Brundimayer Riesling Steinmassel 2013
Japan
SUNTORY Tomi no Oka Winery "Tomi no Oka" KOSHU 2013
Red Wines
Bordeaux France
Chateau Langoa Barton, St Julien AOC 2011
Bourgogne France
Volnay Caillerets Ancienne Cuvee Carnot 1er Cru Domaine Bouchard Pere & Fils
California USA
Ch.igai Takaha "SONO" Pinot Noir 2013
New Zealand
Kusuda Martinborough Syrah 2013
"The Passion of Japan"
Premium Japanese Sake Junmai Daiginjo
Jyuyondai
Kokuryu
Premium Japanese Shochu
Gokujo Mori Izo
Hyakunen no Kodoku
Premium Japanese Tea
Royal Blue Tea "Queen of Blue"
Hot towel to start
I love the logo
Beverage & setup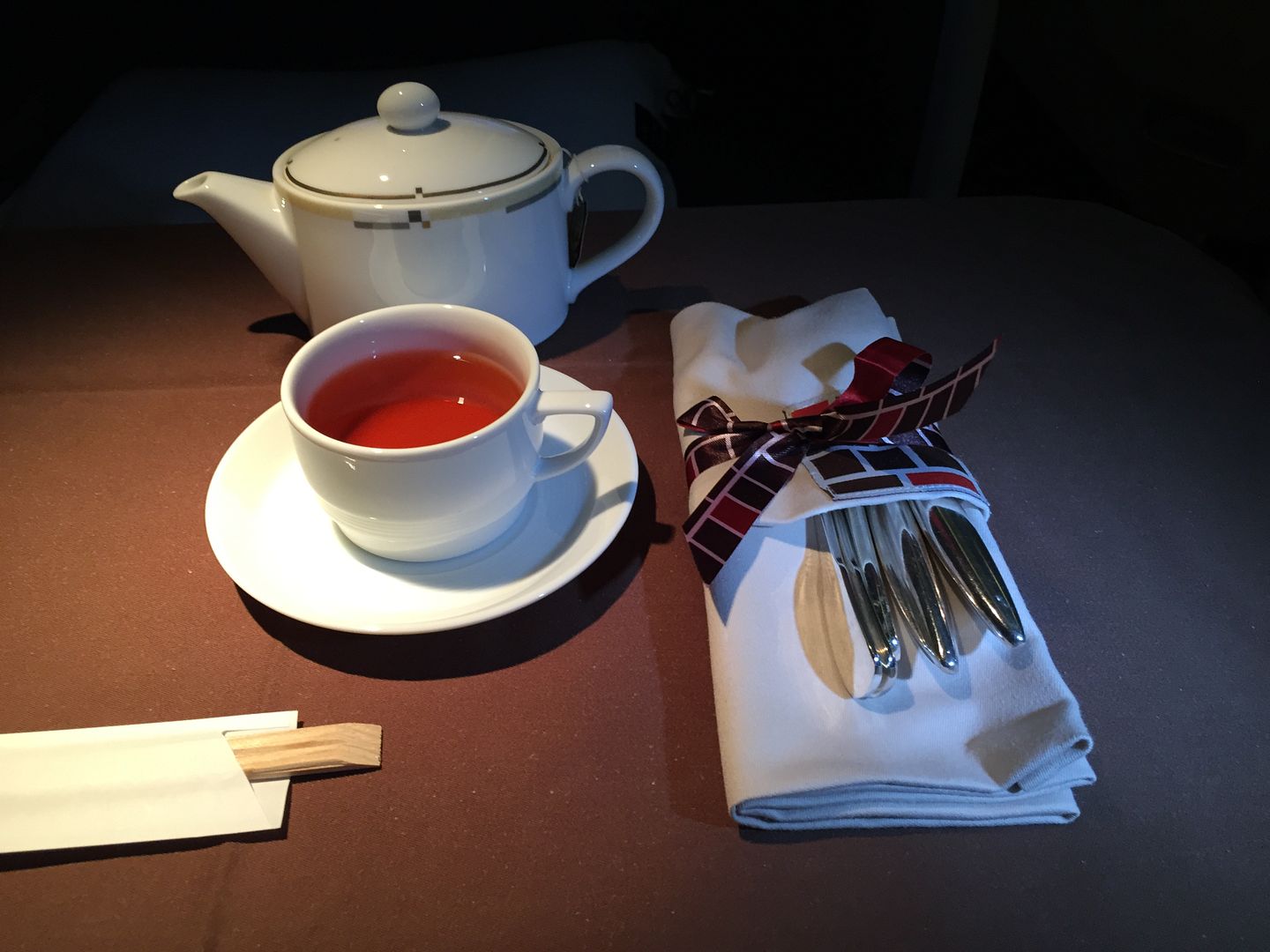 A La Carte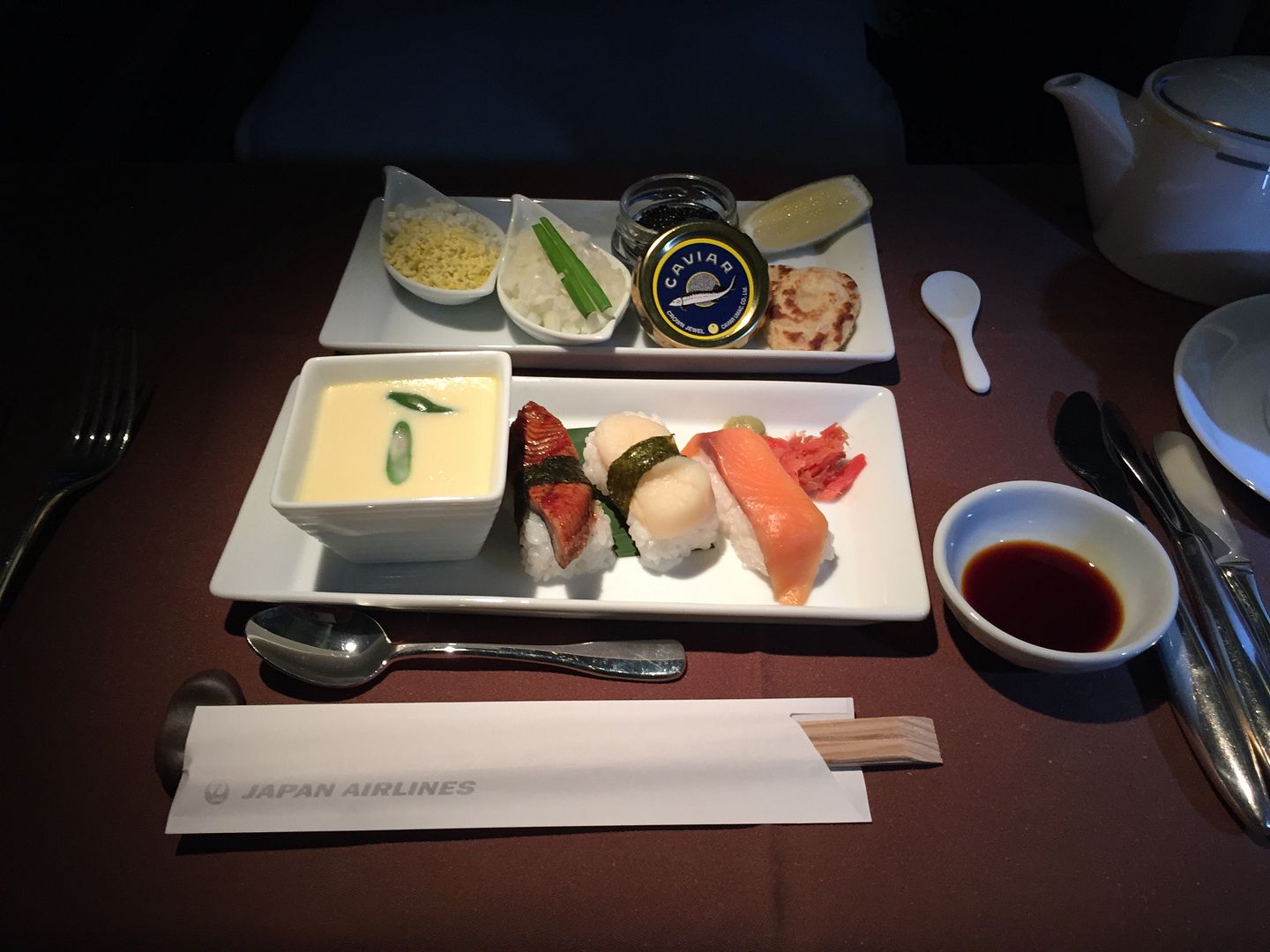 Japanese A La Carte
Assorted Sushi & Savory Steamed Egg Custard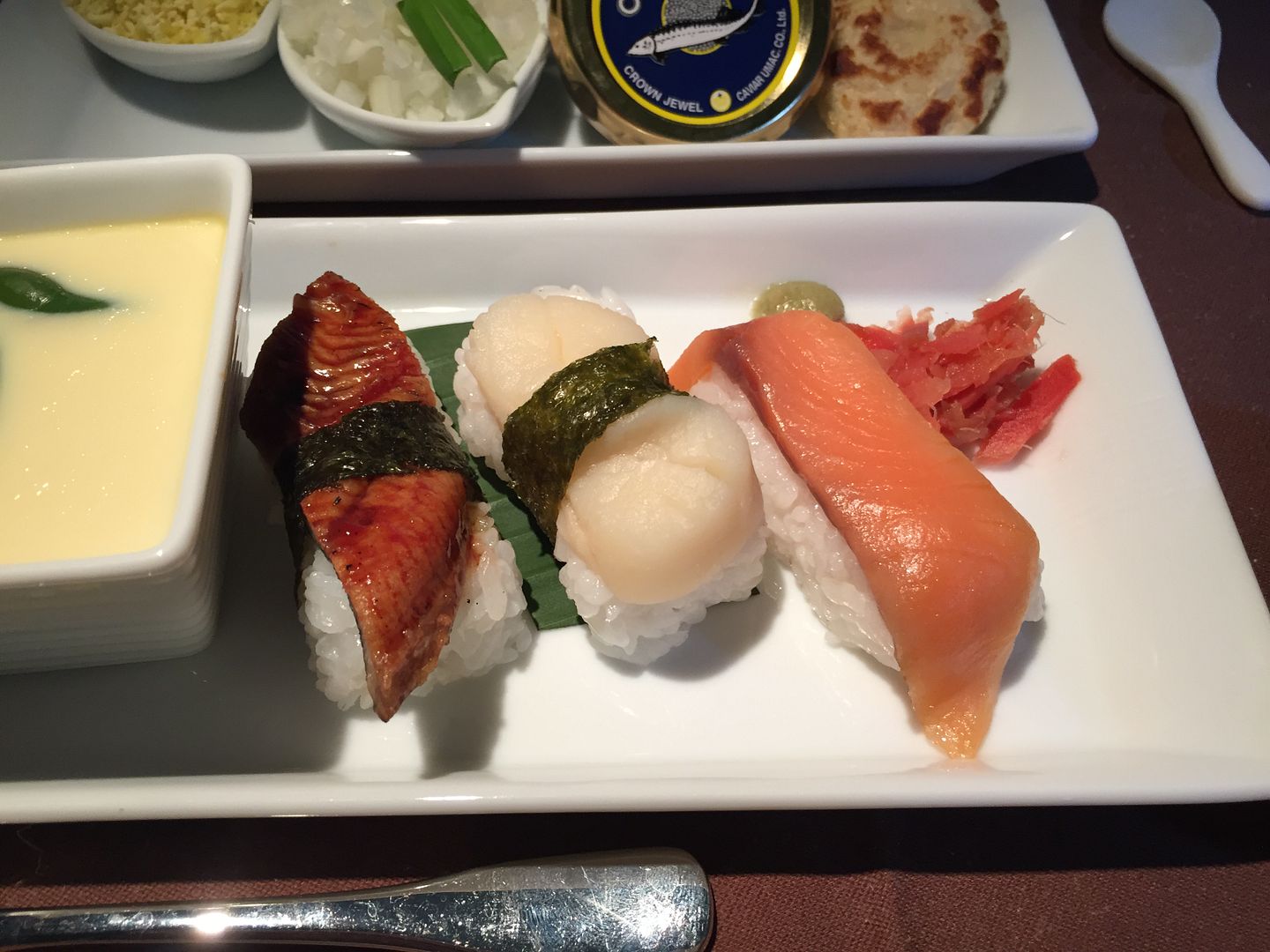 Tokyo Curry Lab X Japan Airlines
Japanese Seafood Curry with Steamed Rice
Light Meal
Assorted Cheese
Caviar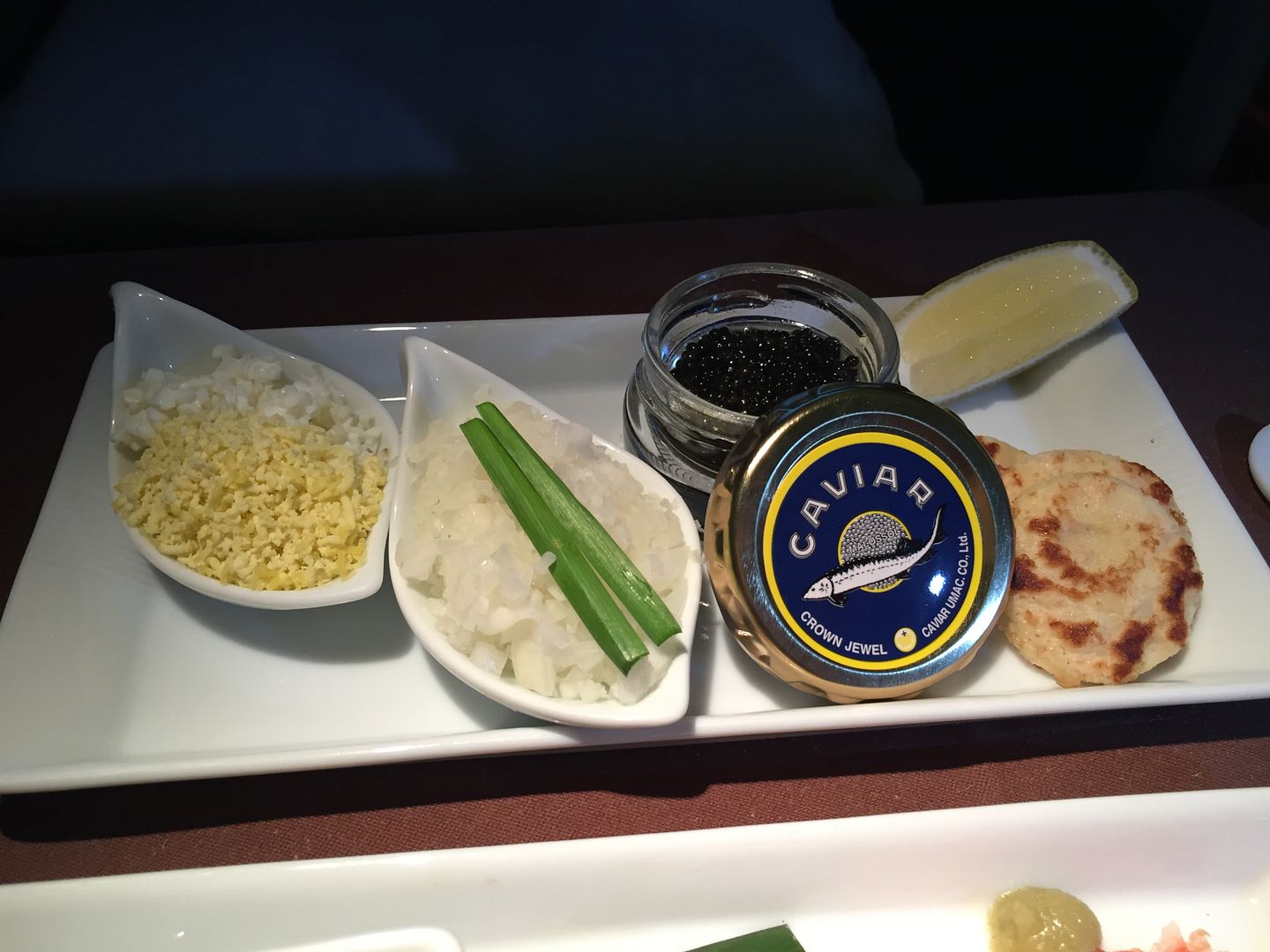 Noodles
Japanese "Soba" Noodles & "Somen" Noodles
"Ramen" Noodles in Miso Flavored Soup
Japanese Hot "Udon" Noodles with Seaweed
After supper, the F/A immediately asked me if I wanted breakfast, and it was okay for her to set up my bed on the aisle seat right across from my window seat.  They also passed out the amenity kit and the Shiseido Men set. 
I pretty much went straight to bed, as JAL has a very weak entertainment system.  There are basically nothing much to watch, in terms of television programs.  Since I will be traveling on the same aircraft to JFK, I bought a 24-hours WIFI pass for $18.80, which is quite reasonable.  The speed is decent for most of the flights.  I managed to do some basic social media, surfing, and followed my own flight on flightradar24.  I tried to watch some youtube videos, but not always successful.  In general, it worked all right.  I was able to continue to use my WIFI pass on the next flight from Narita to JFK. 
Origami in the bathroom
Snack Pantry
Around an hour and fifteen minutes prior to departure, they switched on the cabin lights in first class.  Hot towel and beverages were served first, and then breakfast was served in one tray.  It was another delicious breakfast, and I was very happy with both the quality and quantity. 
Morning Beverage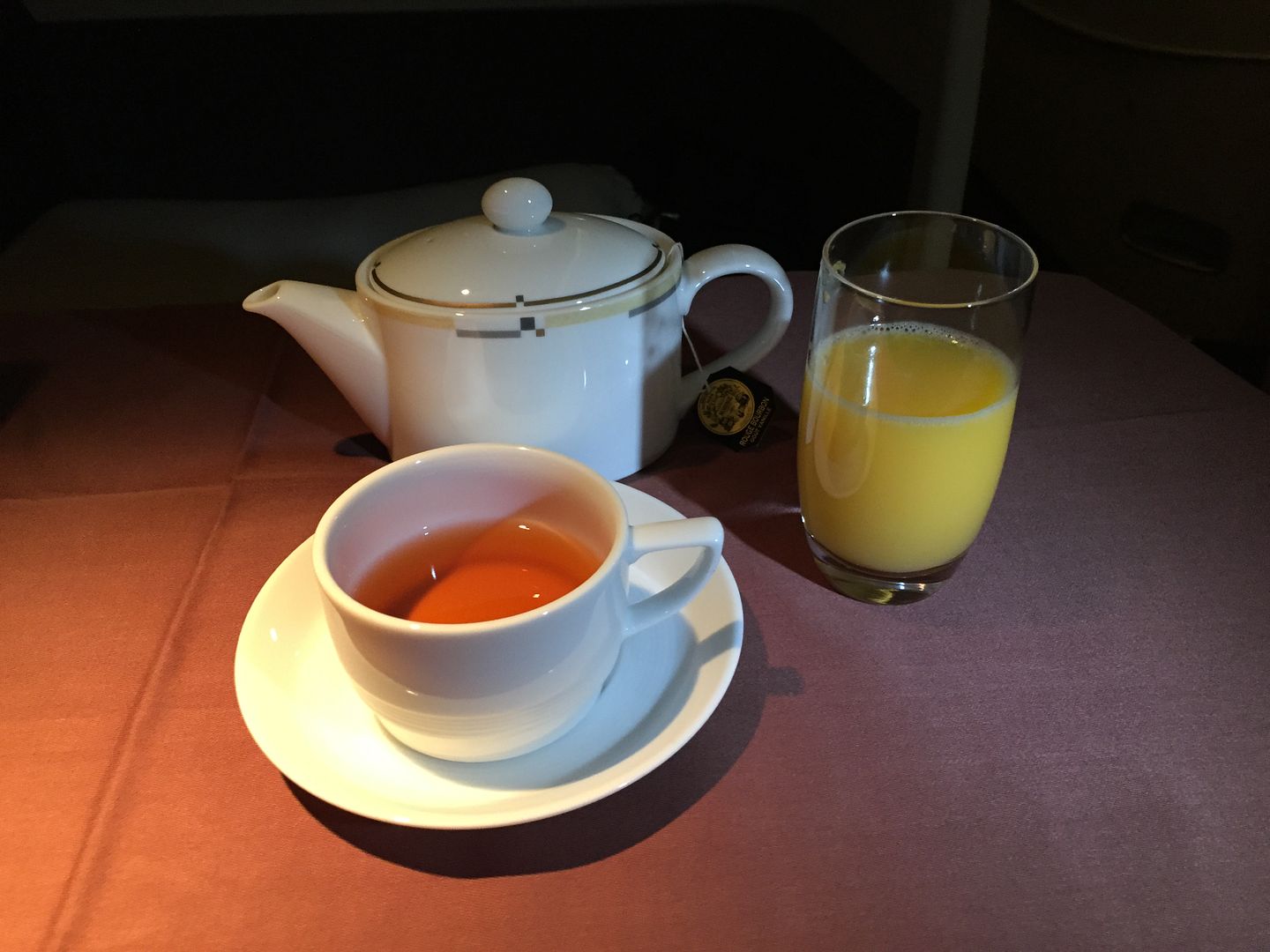 Japanese Breakfast
Sakizuke
Salmon Roe & Vinegared Vegetables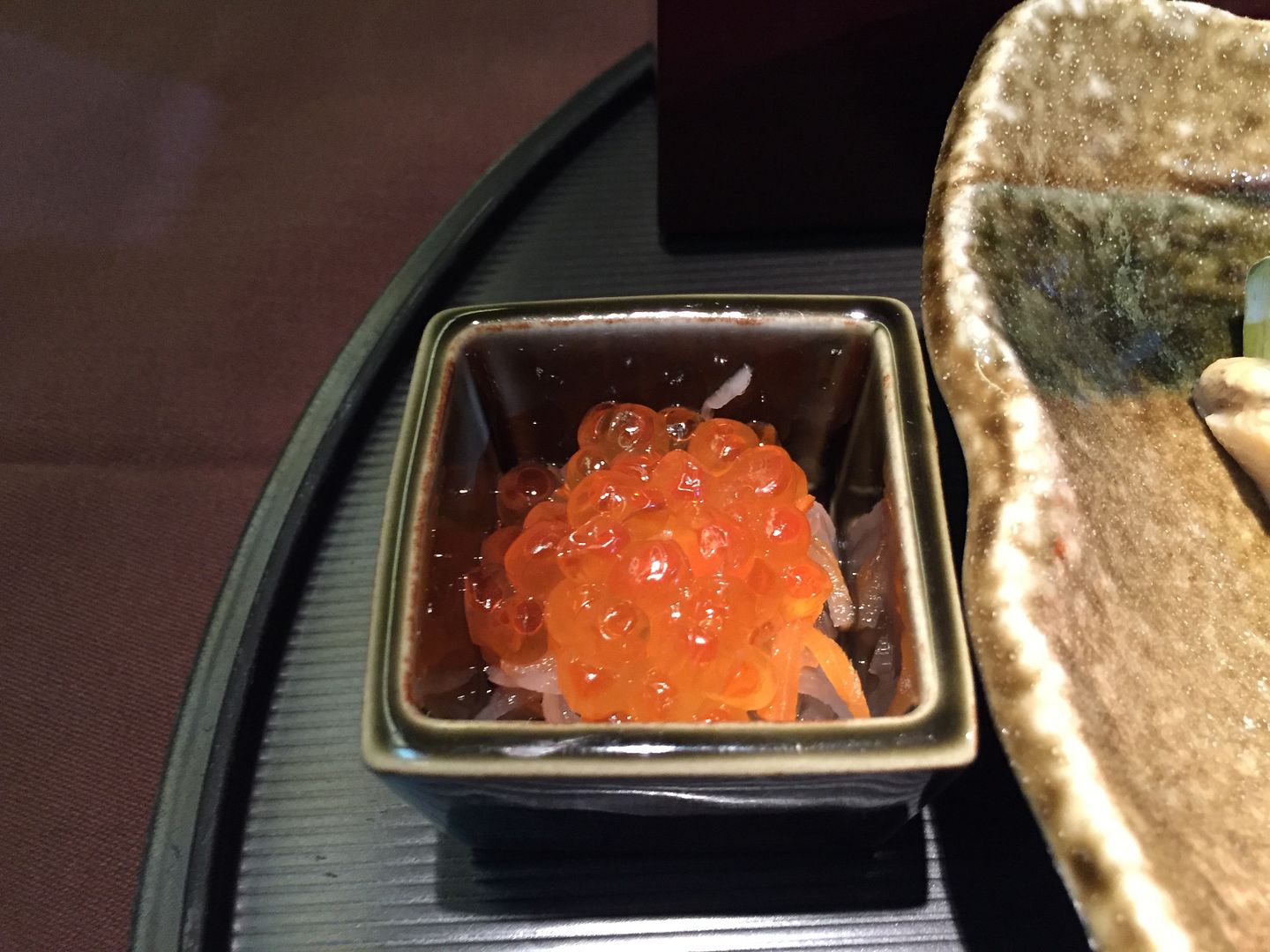 Kobachi
Seared Tuna Loin
Egg Cake with Okra
Braised Beef "Sukiyaki" Style
Dainomono
Grilled Cod "Saikyo Miso" Style
Steamed Rice
Or
Japanese Congee
Miso Soup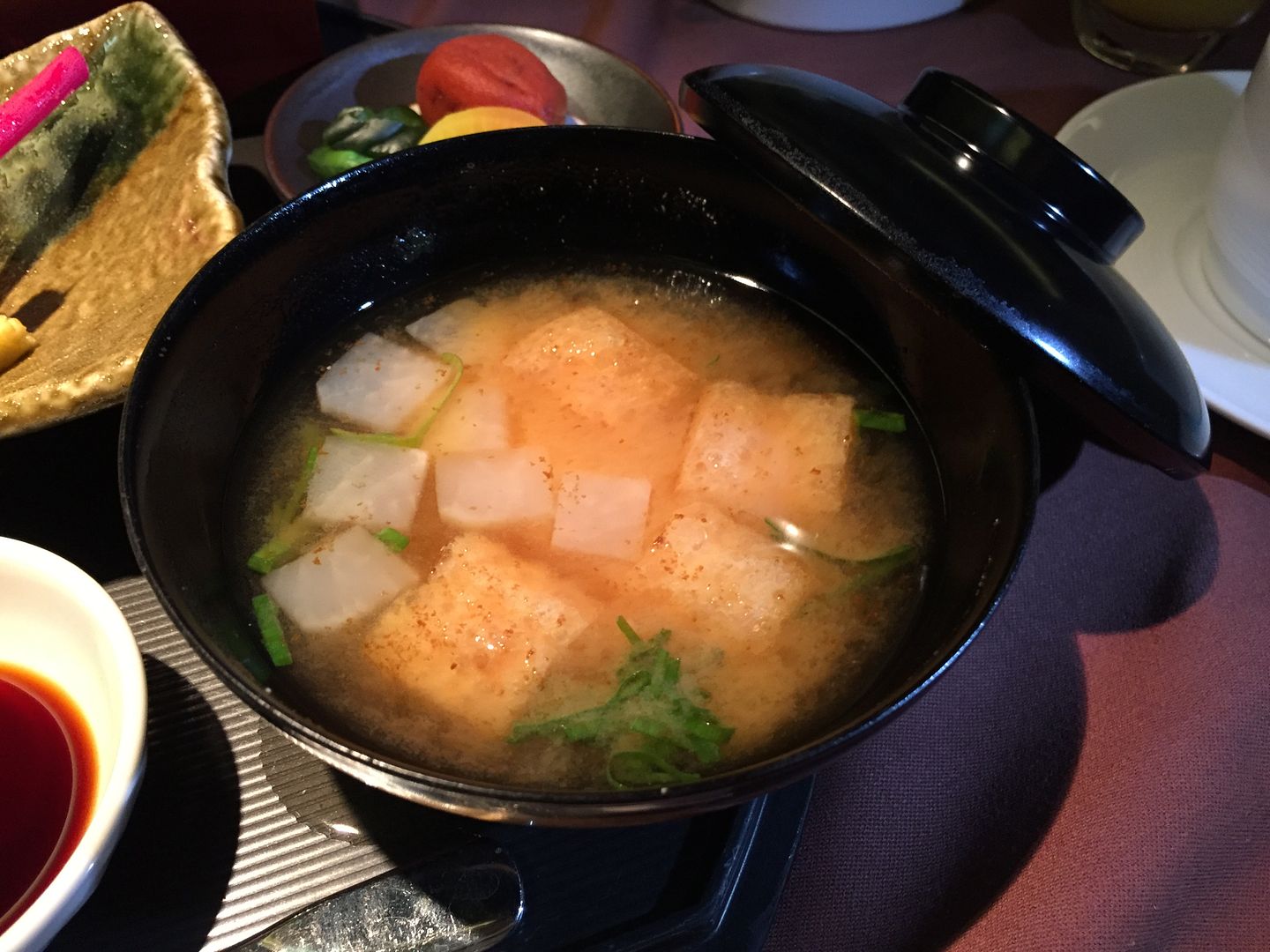 Japanese Pickles
Western Breakfast
Fruit Starter
Fresh Salad
Main Dish
[December] Pancake with Mixed Berry Compote & Maple Syrup Butter
Tortilla Gratin & Apple Chicken Sausage
[January] Belgian Waffles with Mixed Berry Compote & Maple Syrup Butter
Hashed Potato & Apple Chicken Sausage
[February] Croque Madame with Hashed Potato
Plain Yogurt
Corn Flakes, Caramel Banana & Caramel Cream
After breakfast, F/As began to invite all the pajama-wearing passengers to switch back to their street clothes.  They approached each of us one by one, and the F/A offered me a fresh pair of pajama to bring home, which I appreciated.  Then the purser and each first class F/A thanked each of us one by one, as they were told to take their seats earlier than normal.
Descent began at 5:36am Tokyo local time.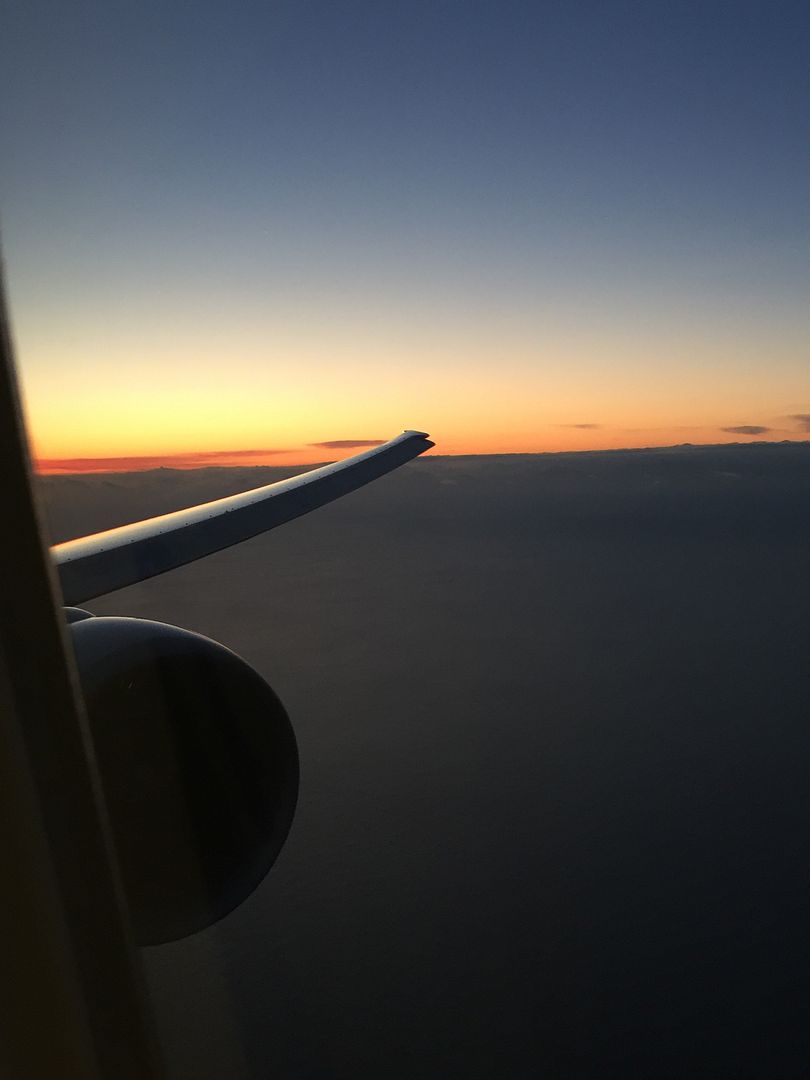 We landed on Narita's R/W34R at 6:10am.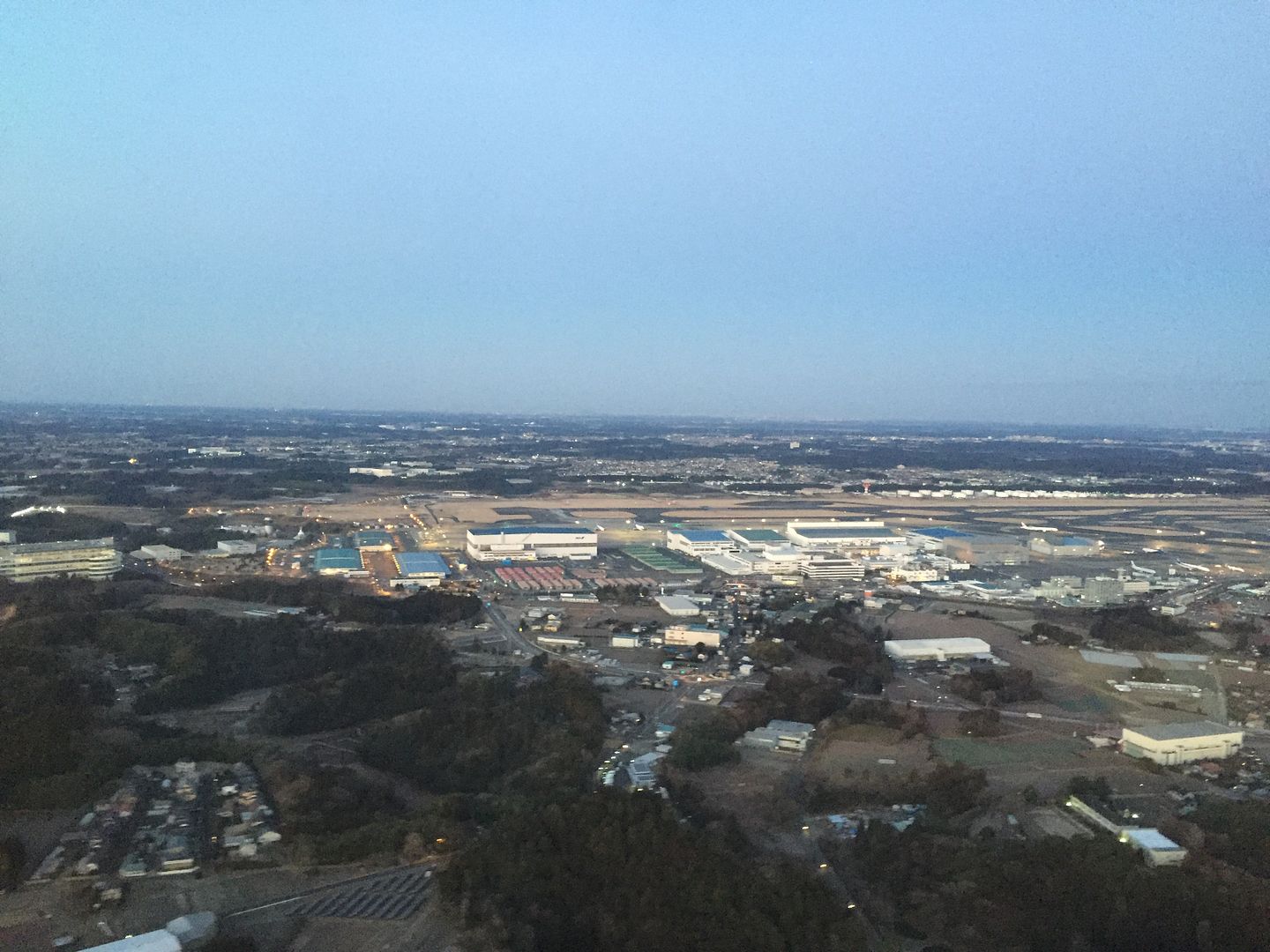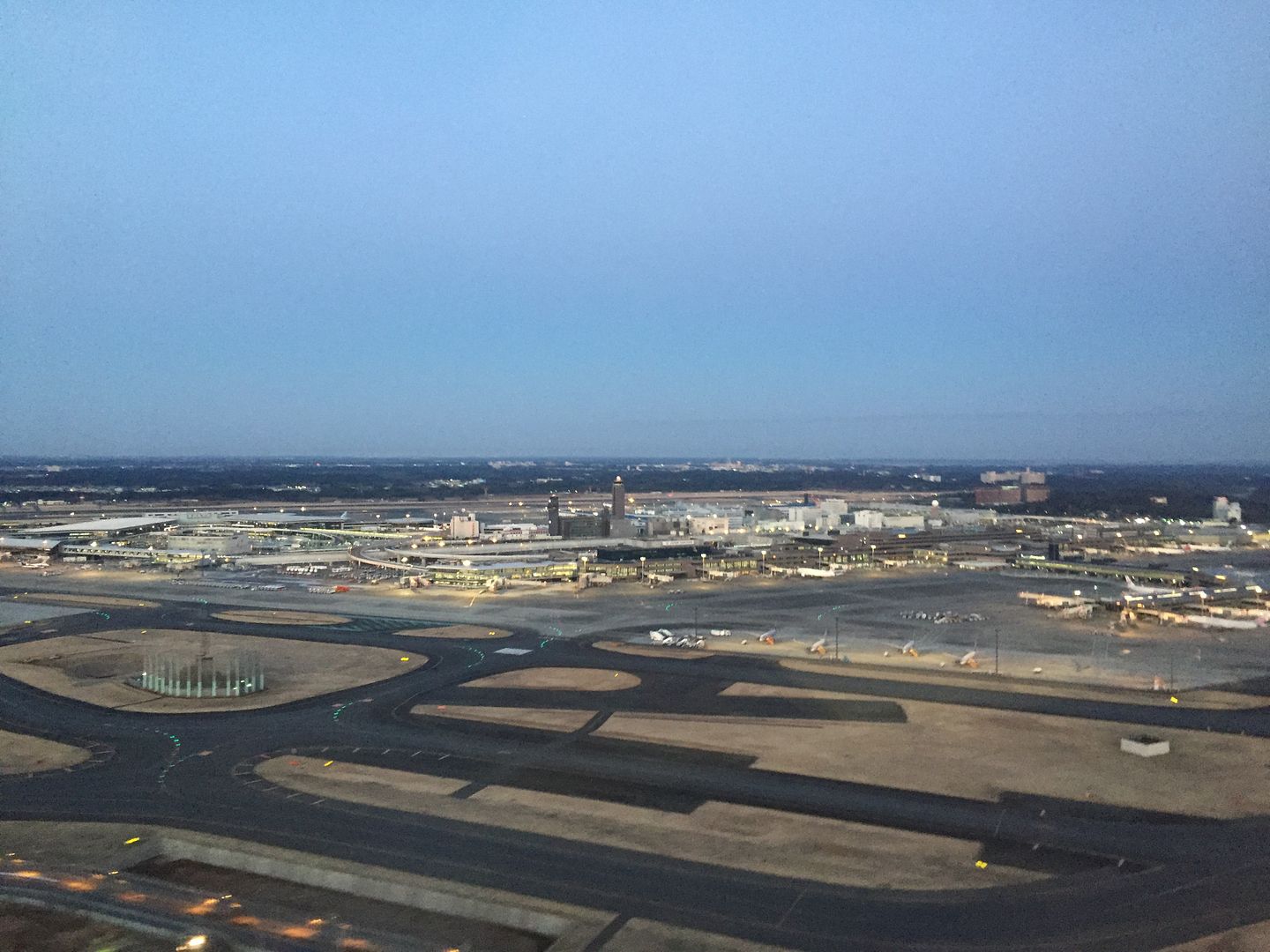 We parked at gate 61 at 6:23am.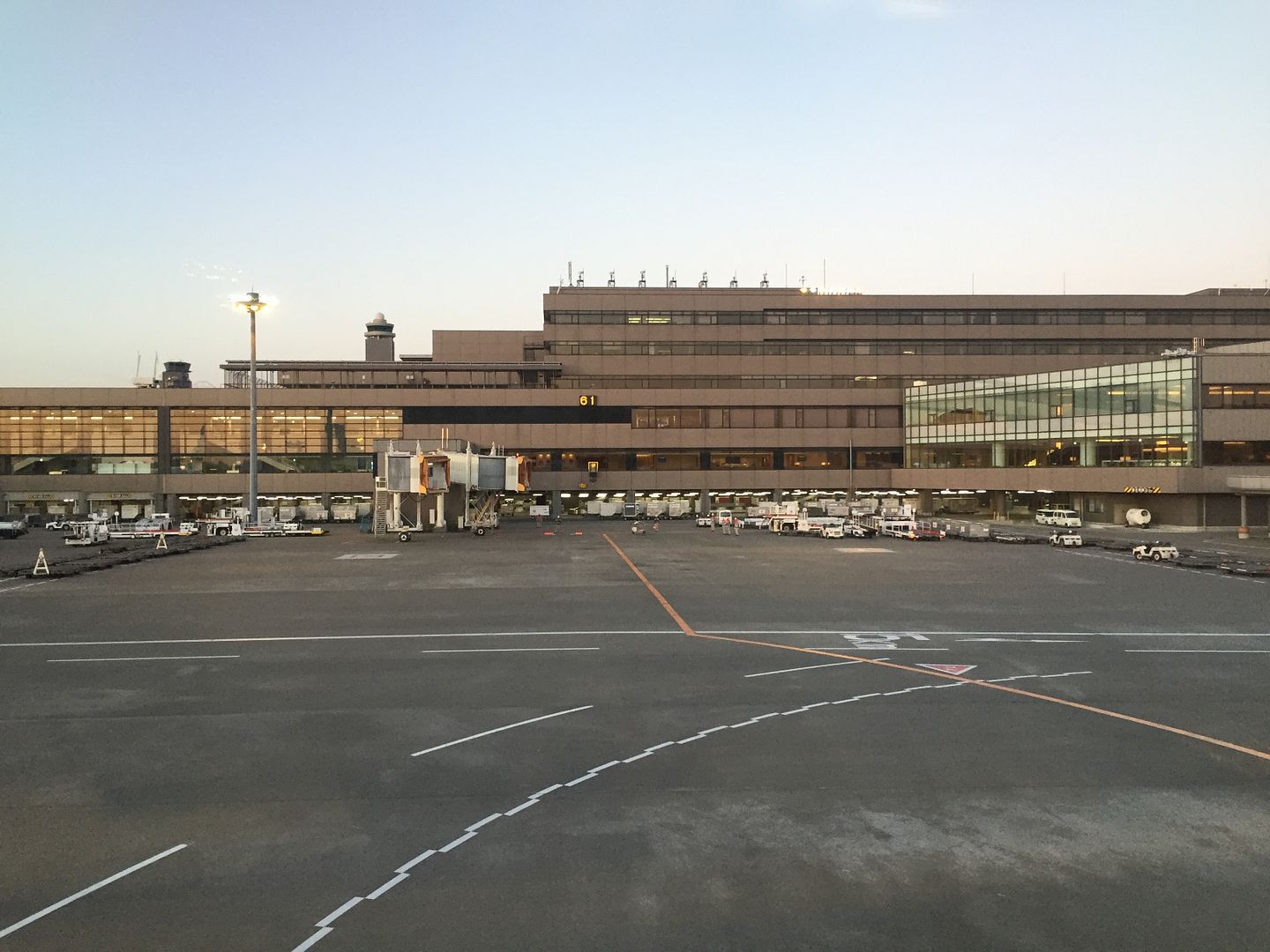 February 18, 2016
JL 6 Tokyo Narita to New York John F Kennedy Lv1100 Arr0955 Boeing 777-300ER JA739J
Tokyo Narita Airport was pretty quiet at 6am, especially inside the secured area.  None of the shops and restaurants, and even lounges was officially opened, but since two other passengers and me were transiting to the US, the lounge supervisor approached us, as we waited outside the lounge.  We were welcomed into the lounge and I was the only one in the first class section for a whole hour.  The lounge was actually very clean when I walked in, and I just settled in a corner. 
First Class lounge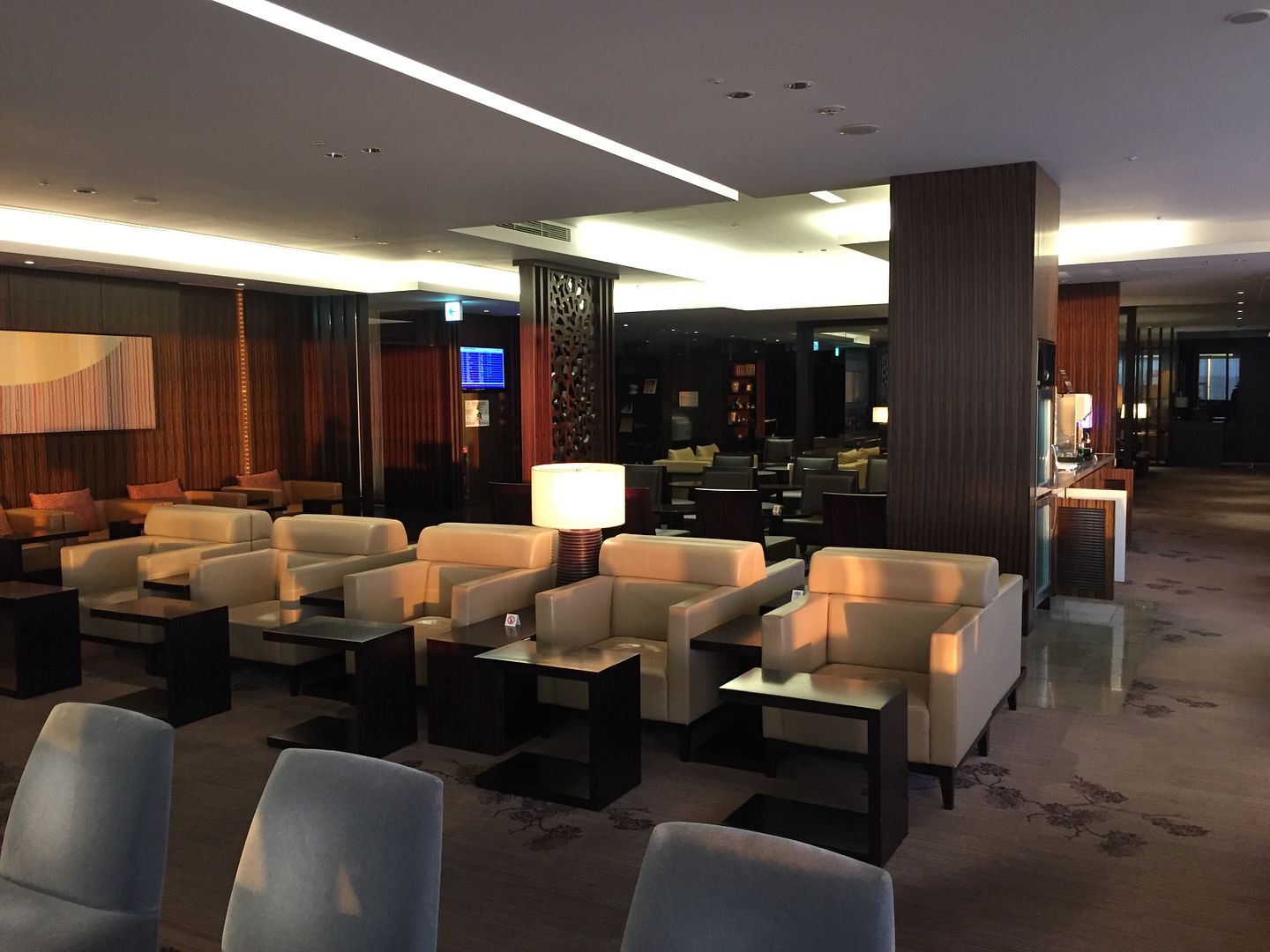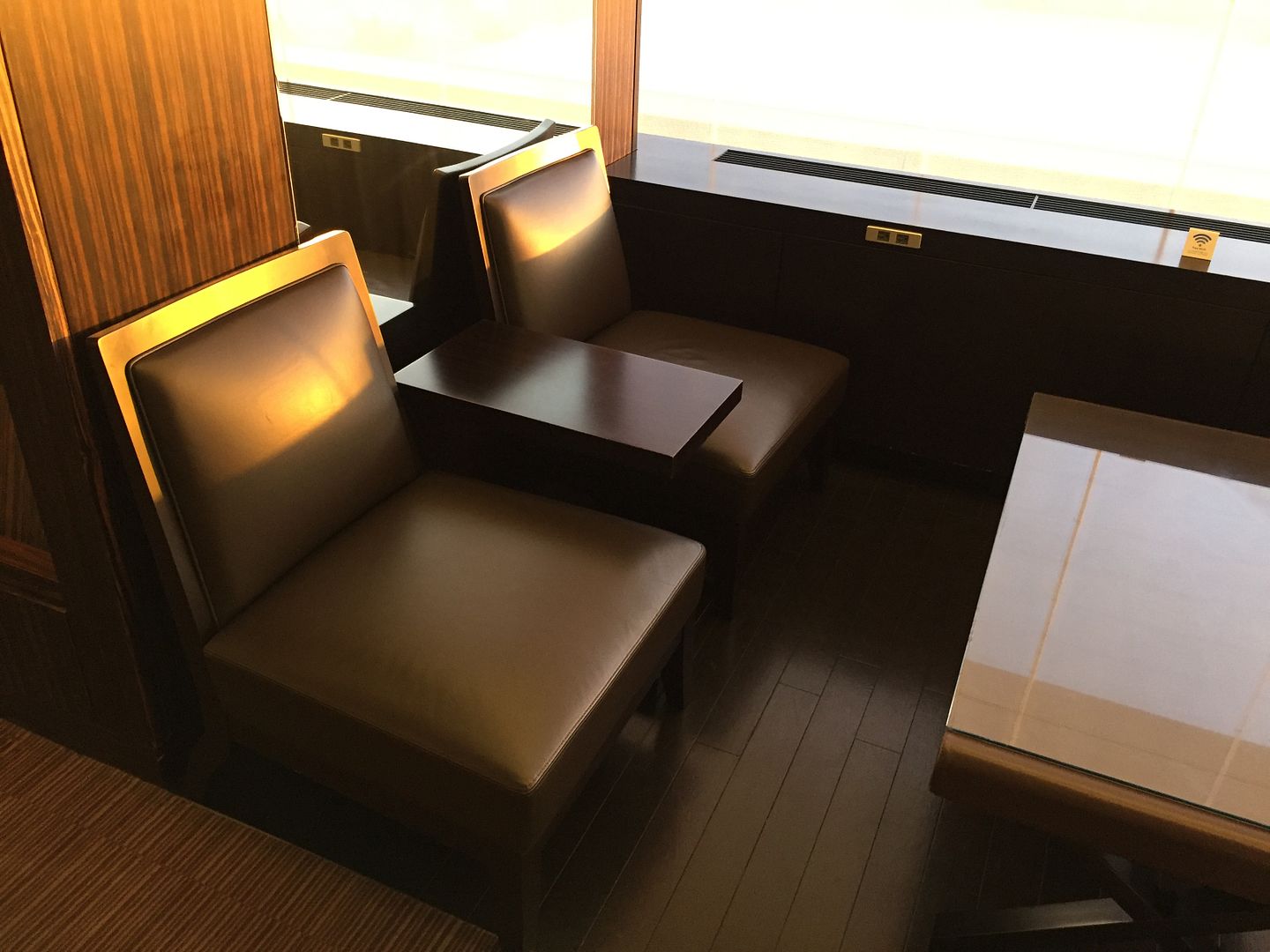 Buffet – food and beverage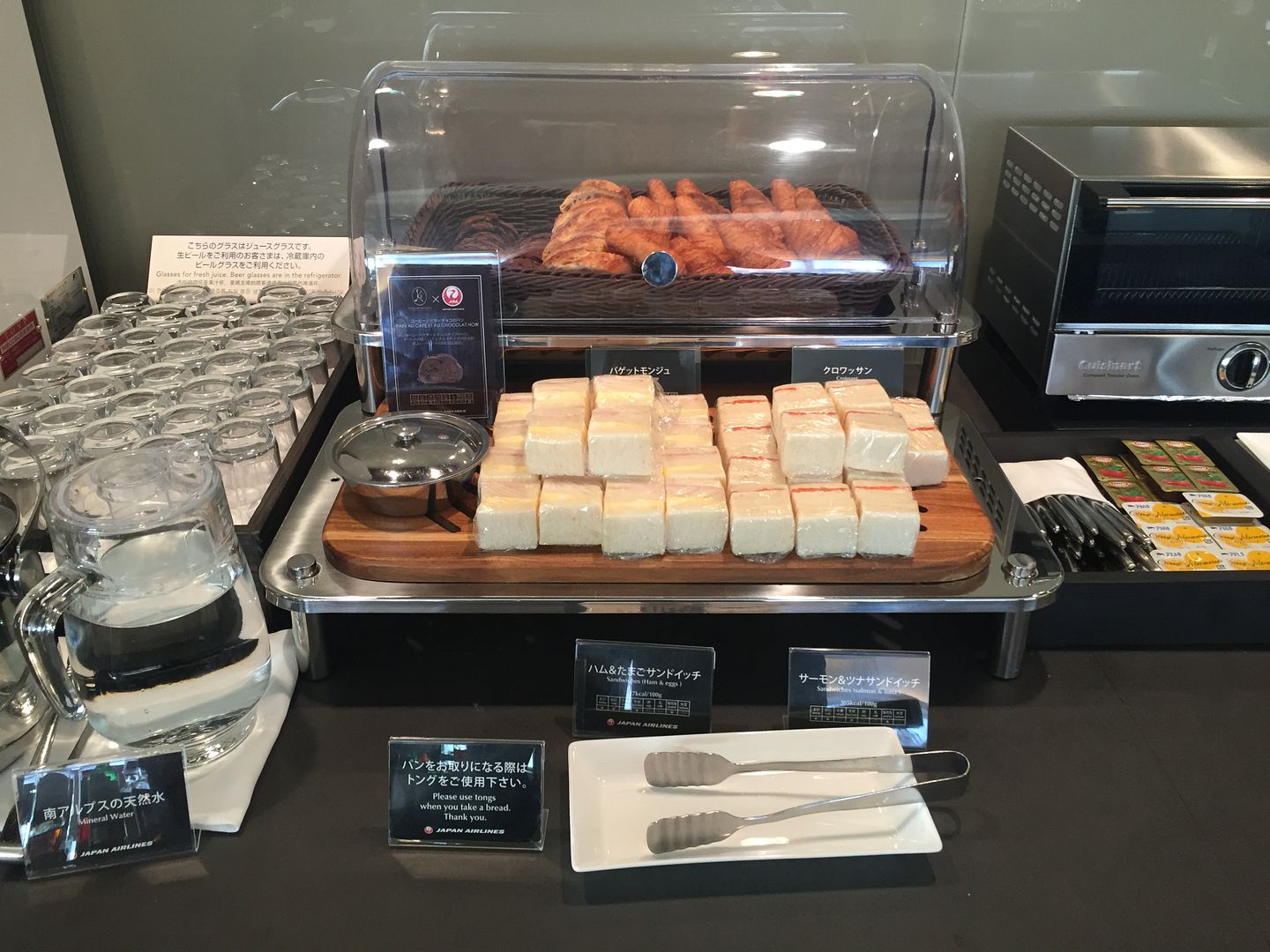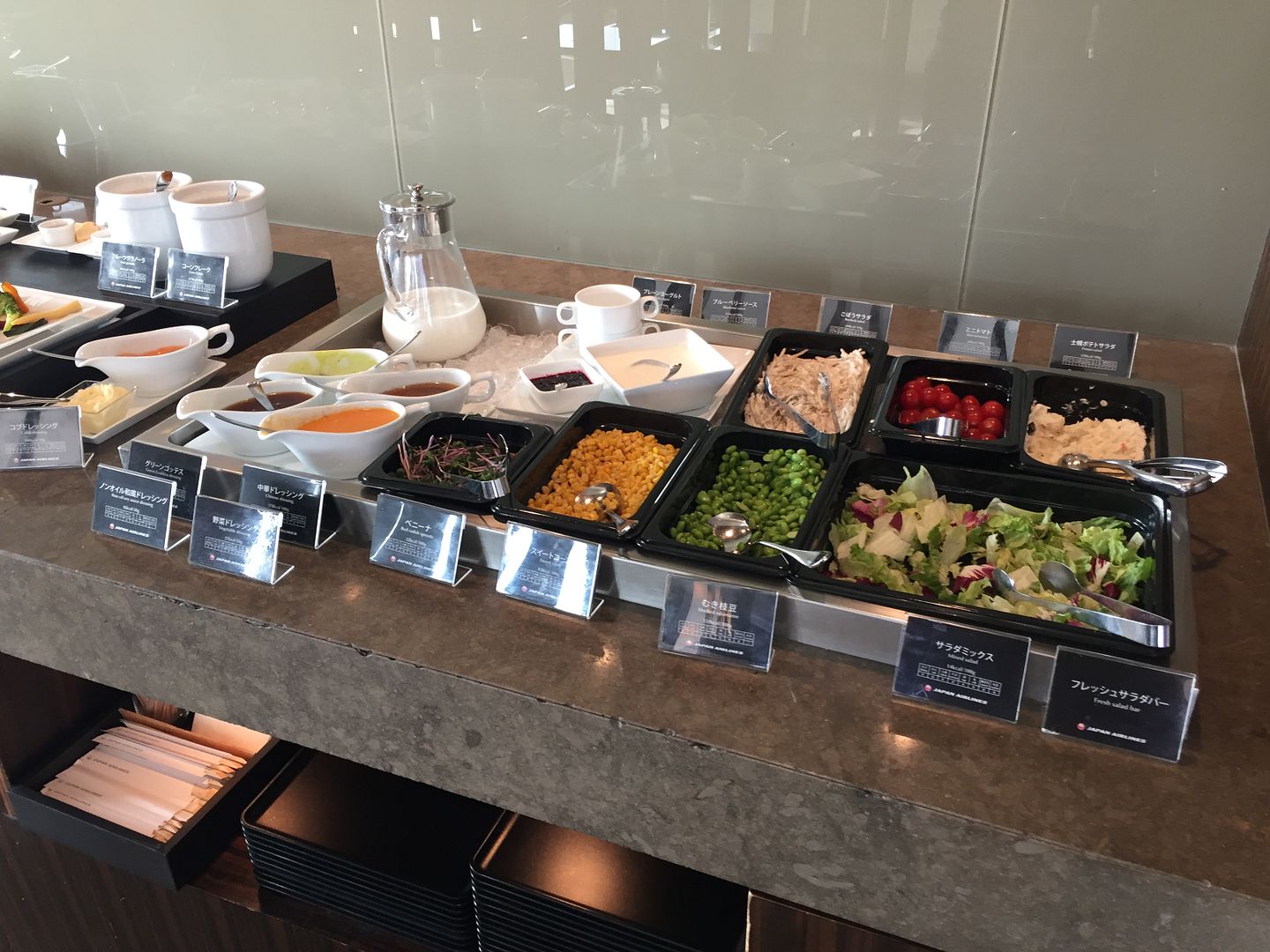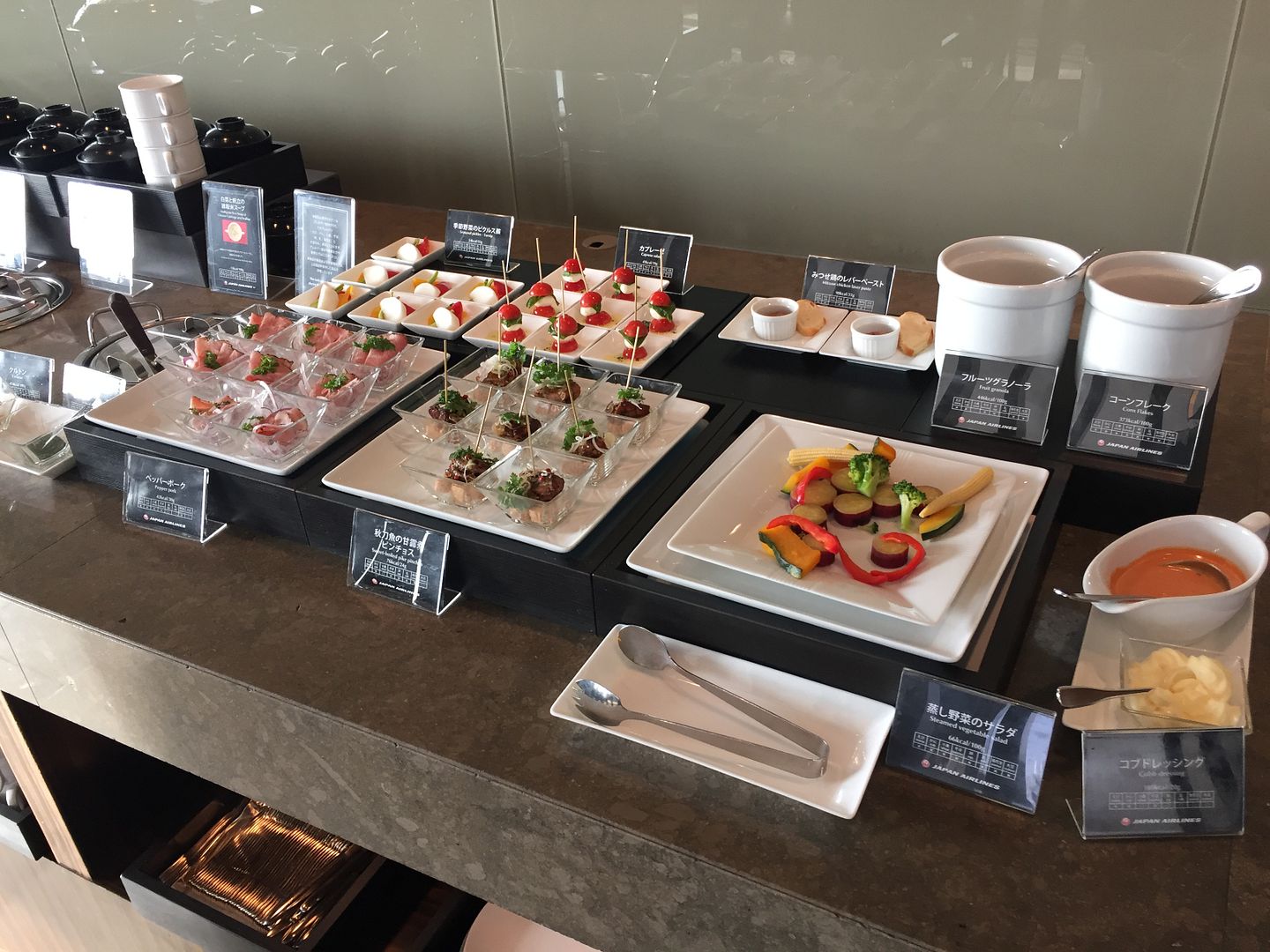 Sushi Bar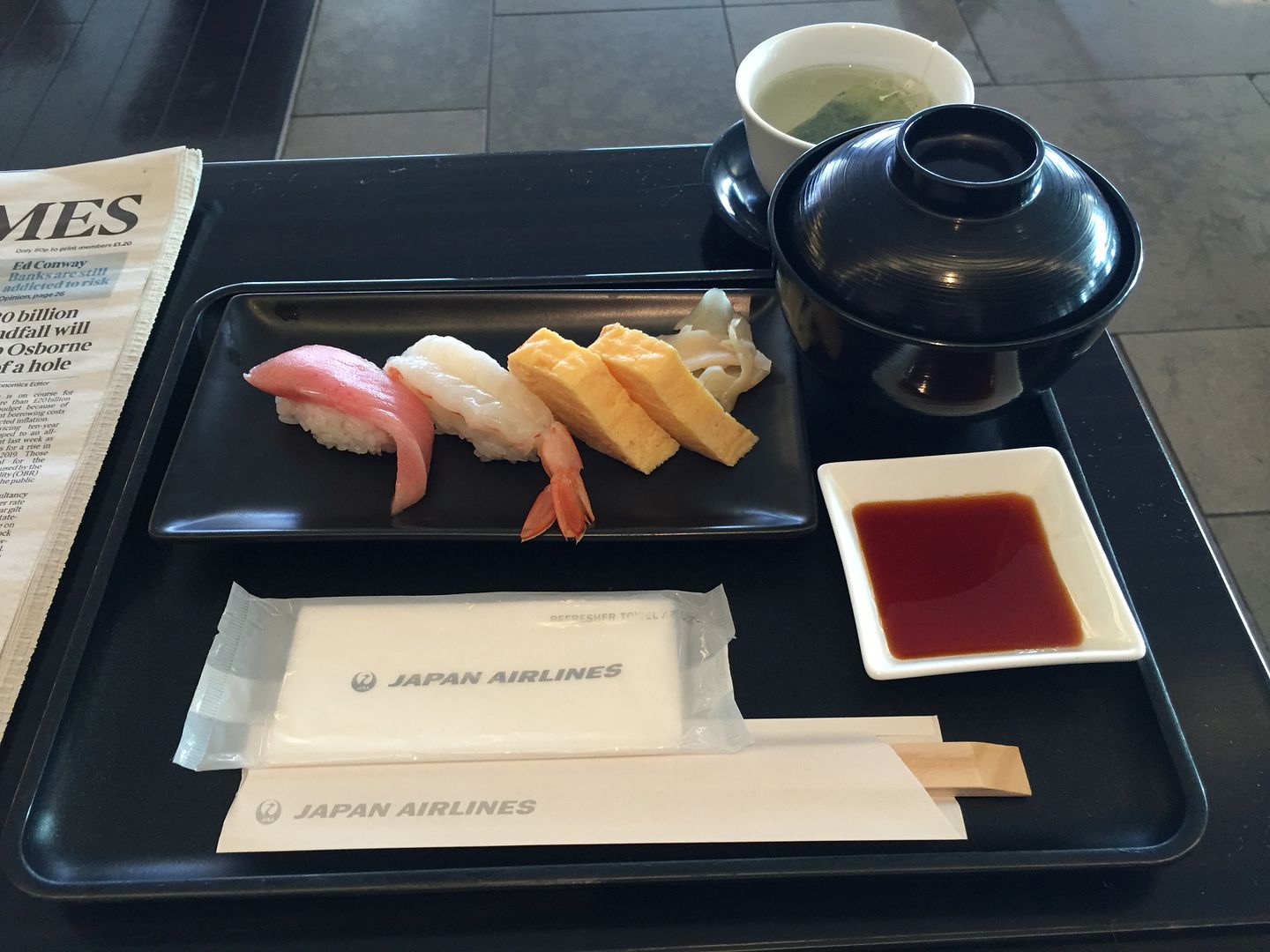 Sake Bar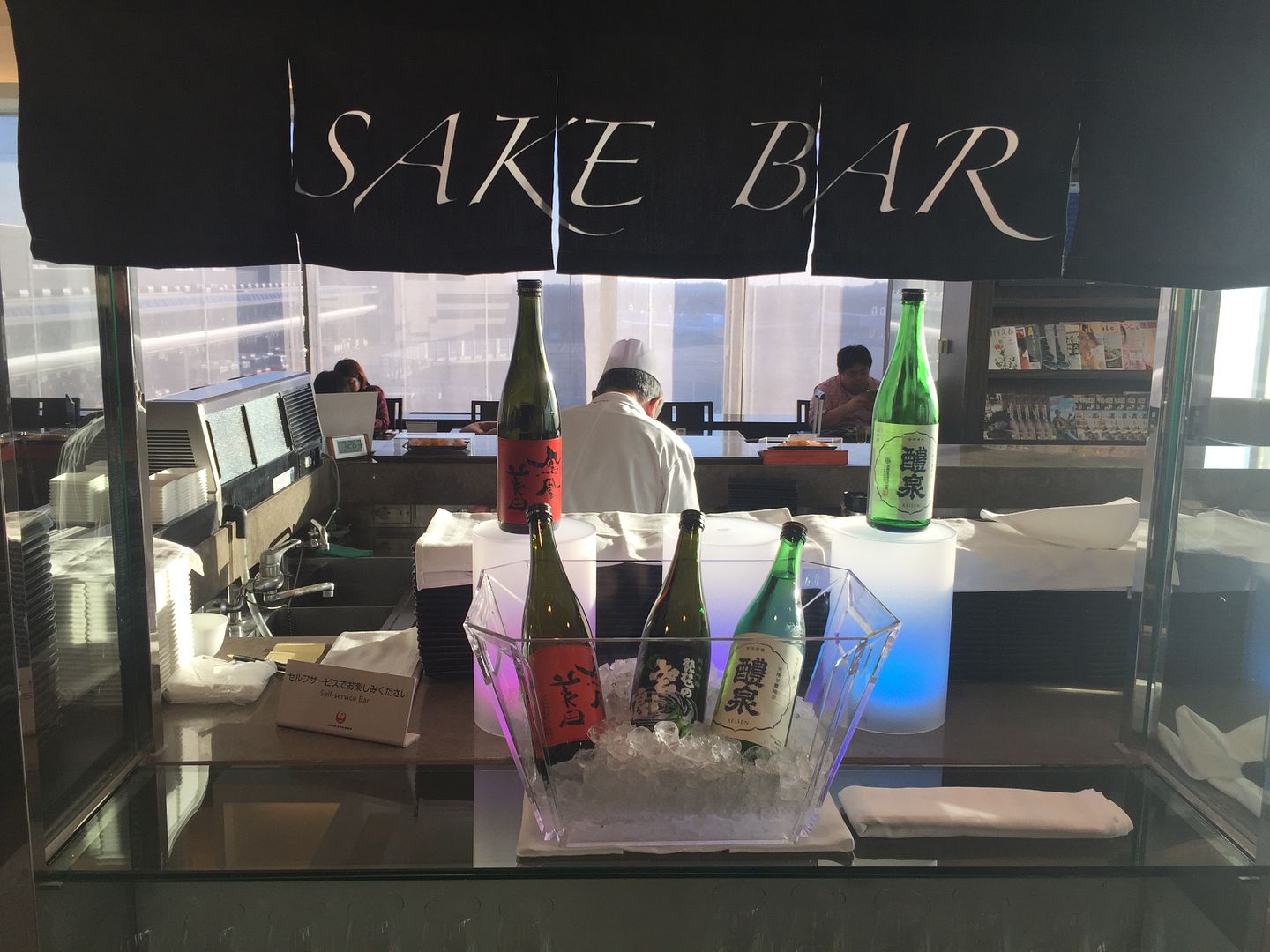 Shower – After an overnight flight, taking a shower was my priority, which was my first task when the clock clicked to 7:30am.   The shower was pretty decent – not fancy like Cathay Pacific the Wing, but acceptable.