Virgin America Denver Inaugural: VIP Only & who care about passengers?
I don't think I have ever written about a really bad inaugural flight and so far the worst is simply inaction or no recognition of the special nature of the flight.  Virgin America's move to Dallas Love Field is a non-event, but at least you know moving an airport is nothing special for an airline, which had actually fought hard for it.  Unfortunately, this Denver inaugural will hopefully be one of the exceptions, and I hope someone from Virgin America will read it (since you might not get a reply from their customer service anyway).  Despite paying a higher fare, Virgin America usually has this big party that welcomes passengers and I can sort of justify it.  Today, their gate party at A37 was only limited to VIP, not even arriving or departing passengers.  Guess what, their top guests all left anyway shortly after the press release, so the party was for employees and sponsors.  Great way to "share" your Virgin America motto – "who cares about passengers, if we get sponsors?"  I guess for those outdoor ceremonies, they could not separate out the passengers, so they were "forced" to have us outsiders joining them.   Maybe it is time for Virgin America just to close off inaugural flights to passengers.  Why bother if you are going to end up upsetting them more?   Back to the flight itself, the flight is scheduled to be two hours and thirty minutes, but catering is limited to short haul – only snacks and those meal packs on sale, and there is no fresh food available.  Virgin America might want to update their websites.  The service was fine, as the focus is on beauty, rather than actual service.   Let goes to the good part now – check-in, gate, and actual flight, and at least the latest addition, N285VA, was featured on the inaugural flight:
March 15, 2016
VX 860 SFO-DEN Lv0730 Arr1100 Airbus A320-200 Sharklet N285VA "flights with benefits"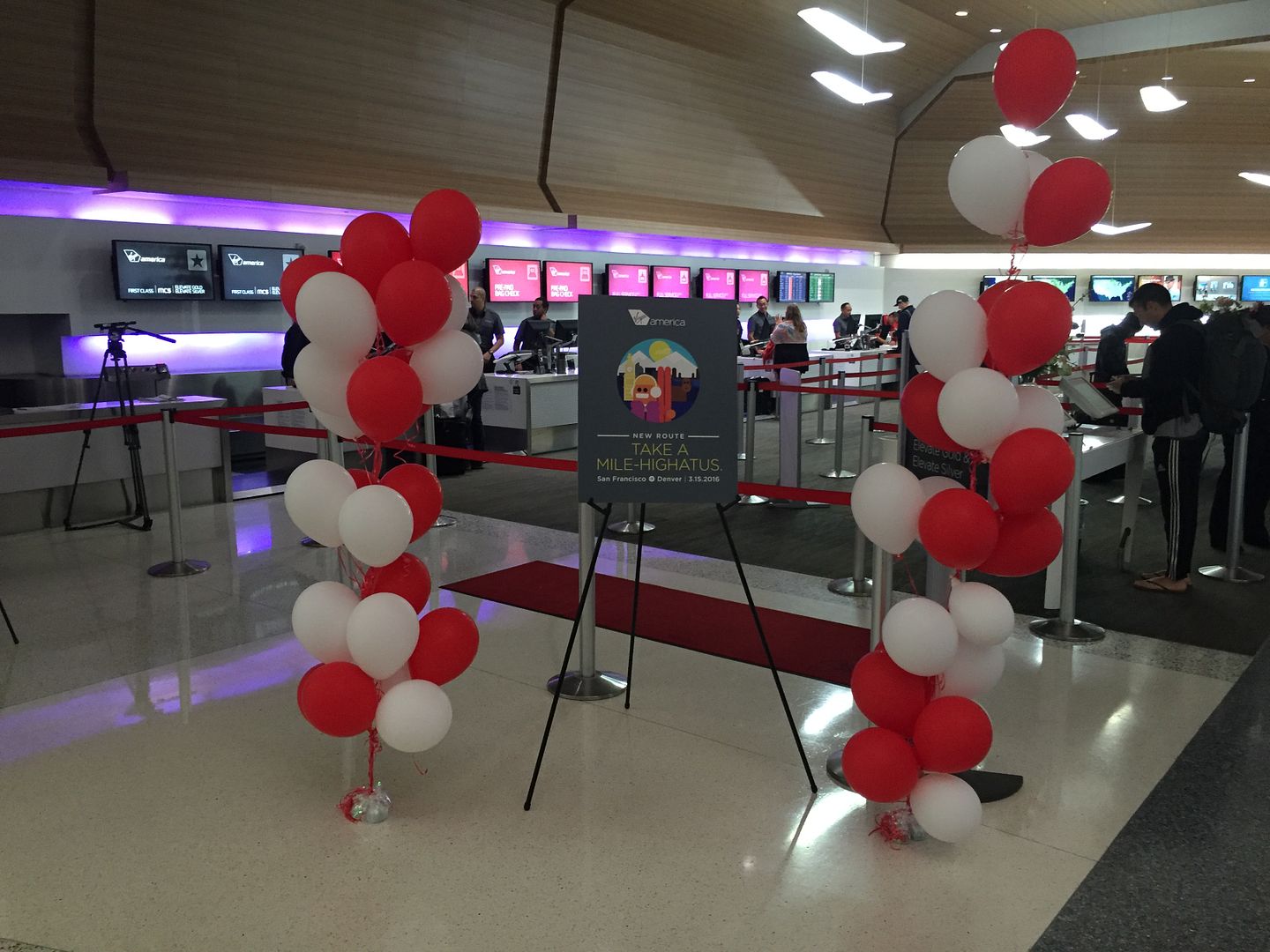 Full album:
http://s1213.photobucket.com/user/Carfield76/library/Spring%202016/Virgin%20America%20Denver%20Inaugural%202016
I arrived at the airport about an hour and forty-five minutes prior to departure, and Virgin America's terminal was not that busy yet.  There were plenty of signs celebrating the launch to Denver, and there were special check in counters for media and guests.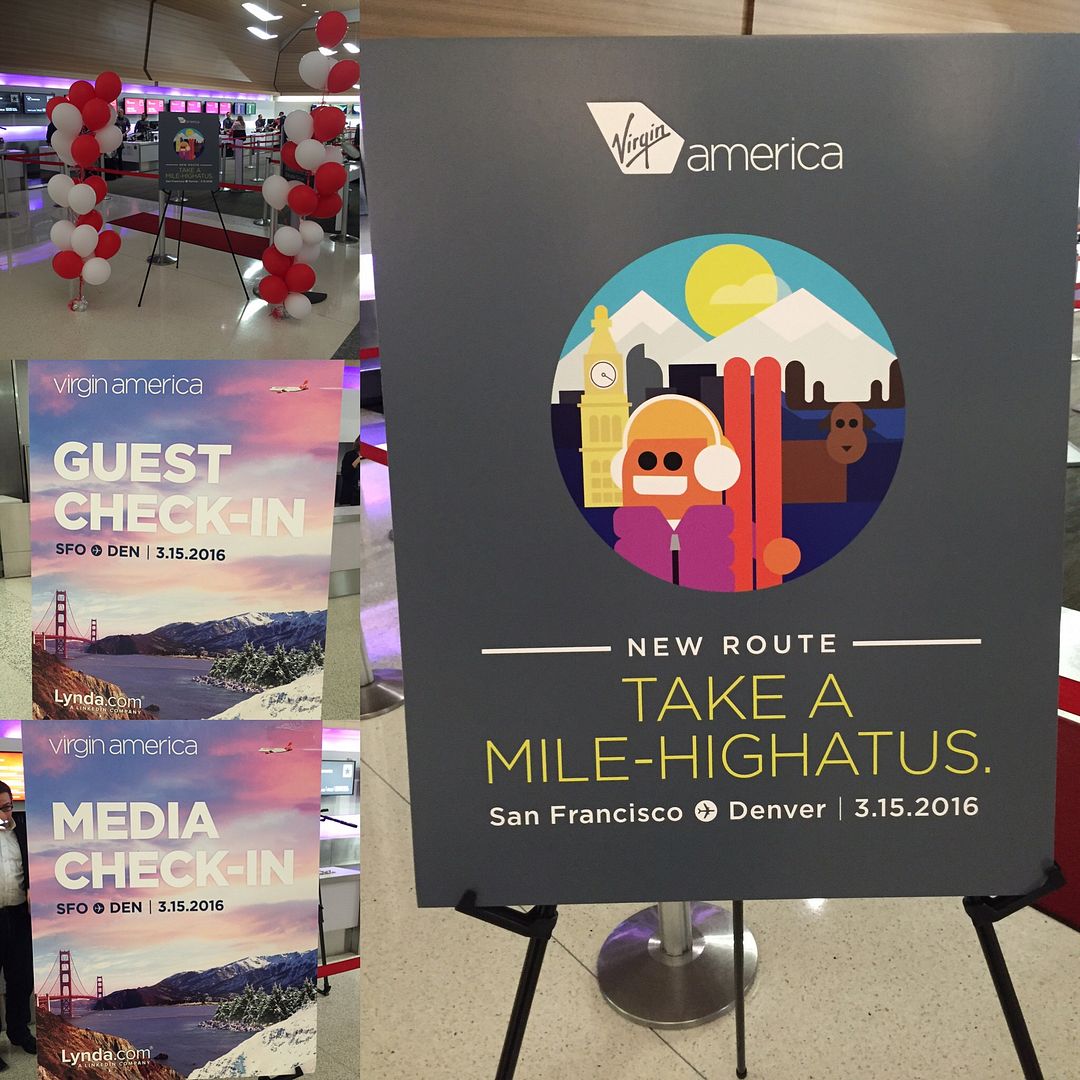 The first class check-in agent was very friendly and I asked about any spare MCS or first class seats.  She told me that the whole flight was blocked, and I guess since they were doing the live press conference onboard the flight, there were plenty of VIASAT staffs onboard and all occupying the Main Cabin Express section, and the VIP guests had to move to the exit rows.  I only managed 13F but not bad.  She was excited about the new flight. 
Gate 54B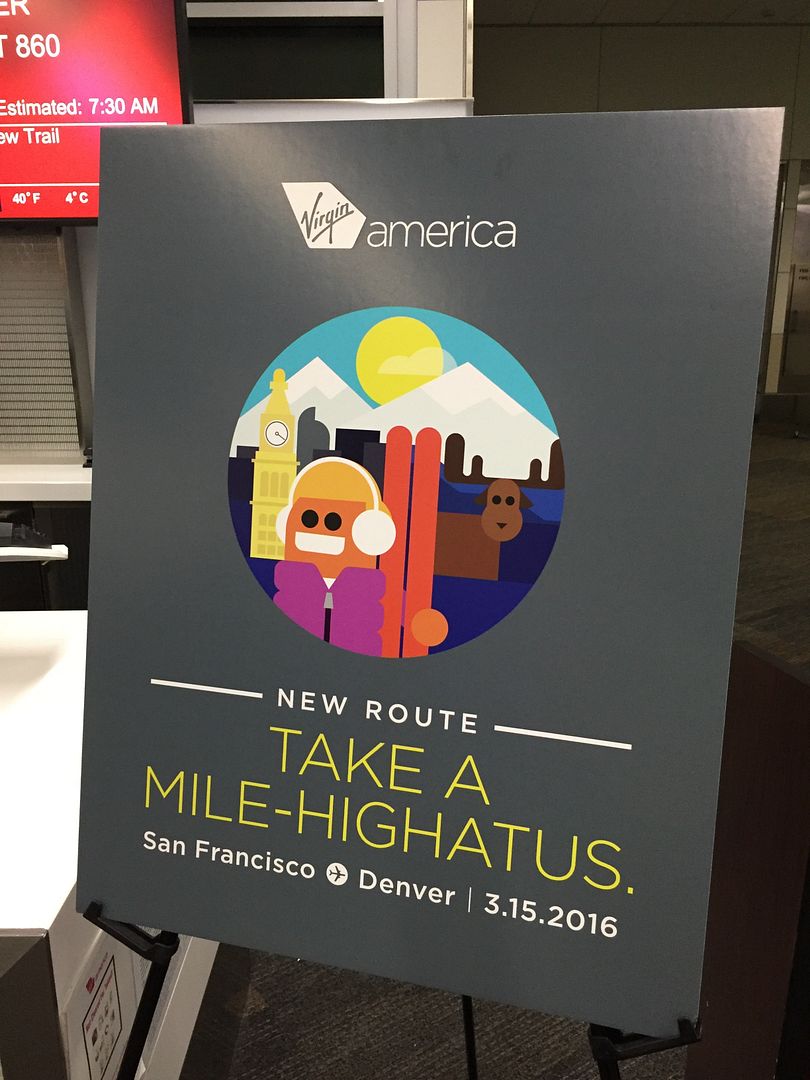 TSA Pre lane was opened and I went through TSA within 5 minutes, and gate 54B was still a bit quiet.  Only the LinkedIn staffs were setting up their special booths, as LinkedIn would give out free LinkedIn update, such as new head shots with staffs dressing you up, as well as some free profile helps.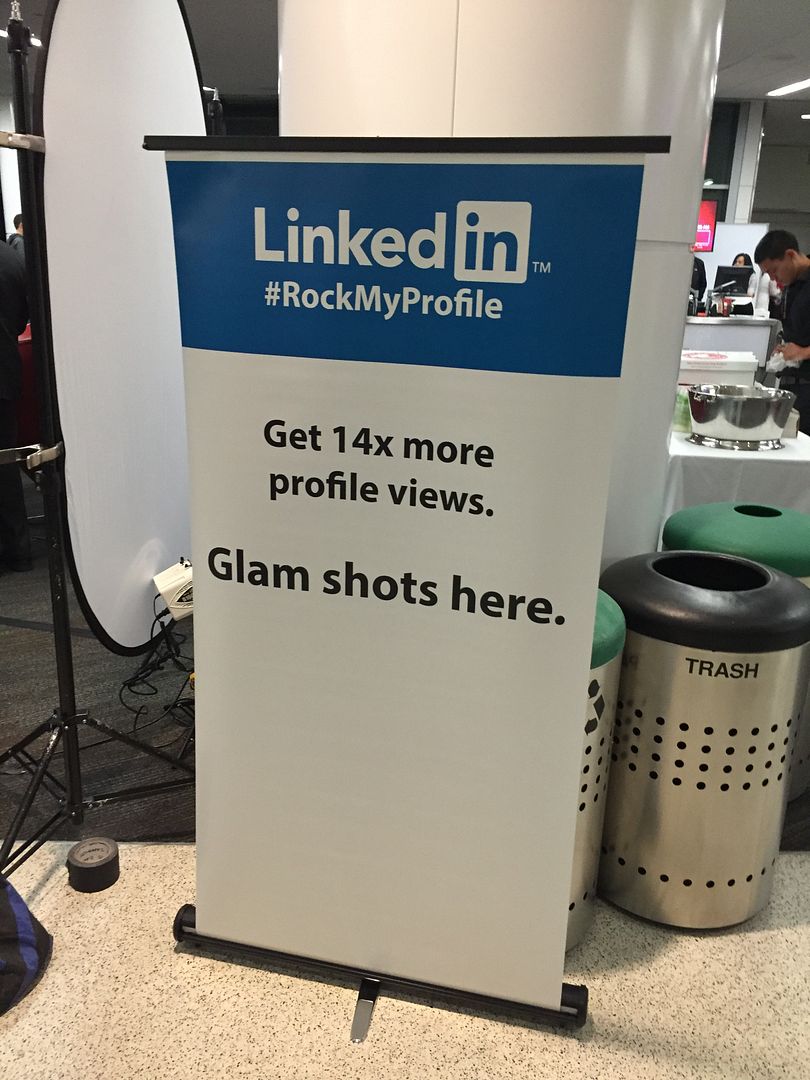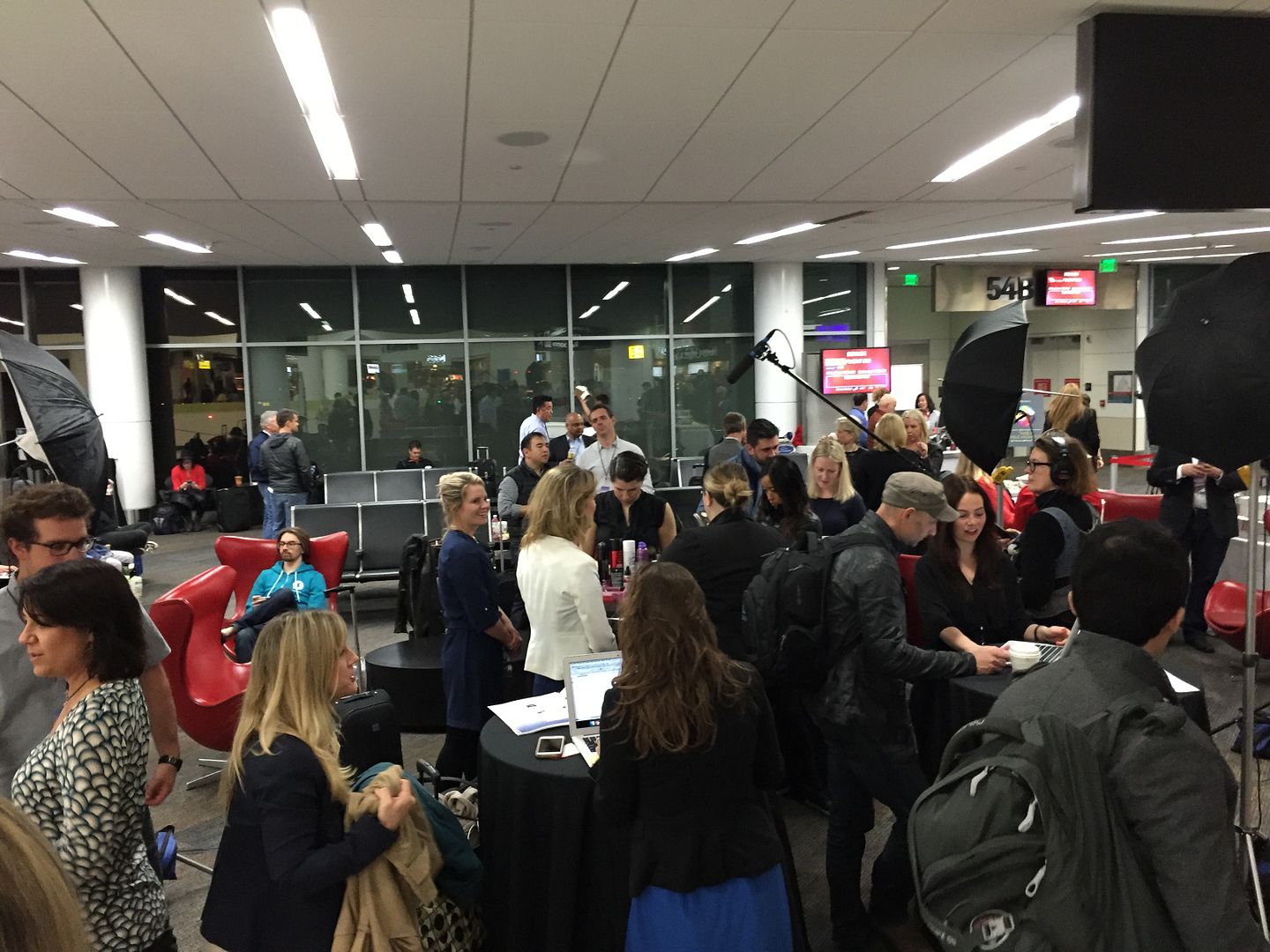 Blaze a New Trail – was the new motto, which promote Denver's recent number one city ranking and to support its entrepreneur spirit.  Given how the high tech flyers love Virgin America, this whole PR campaign made sense.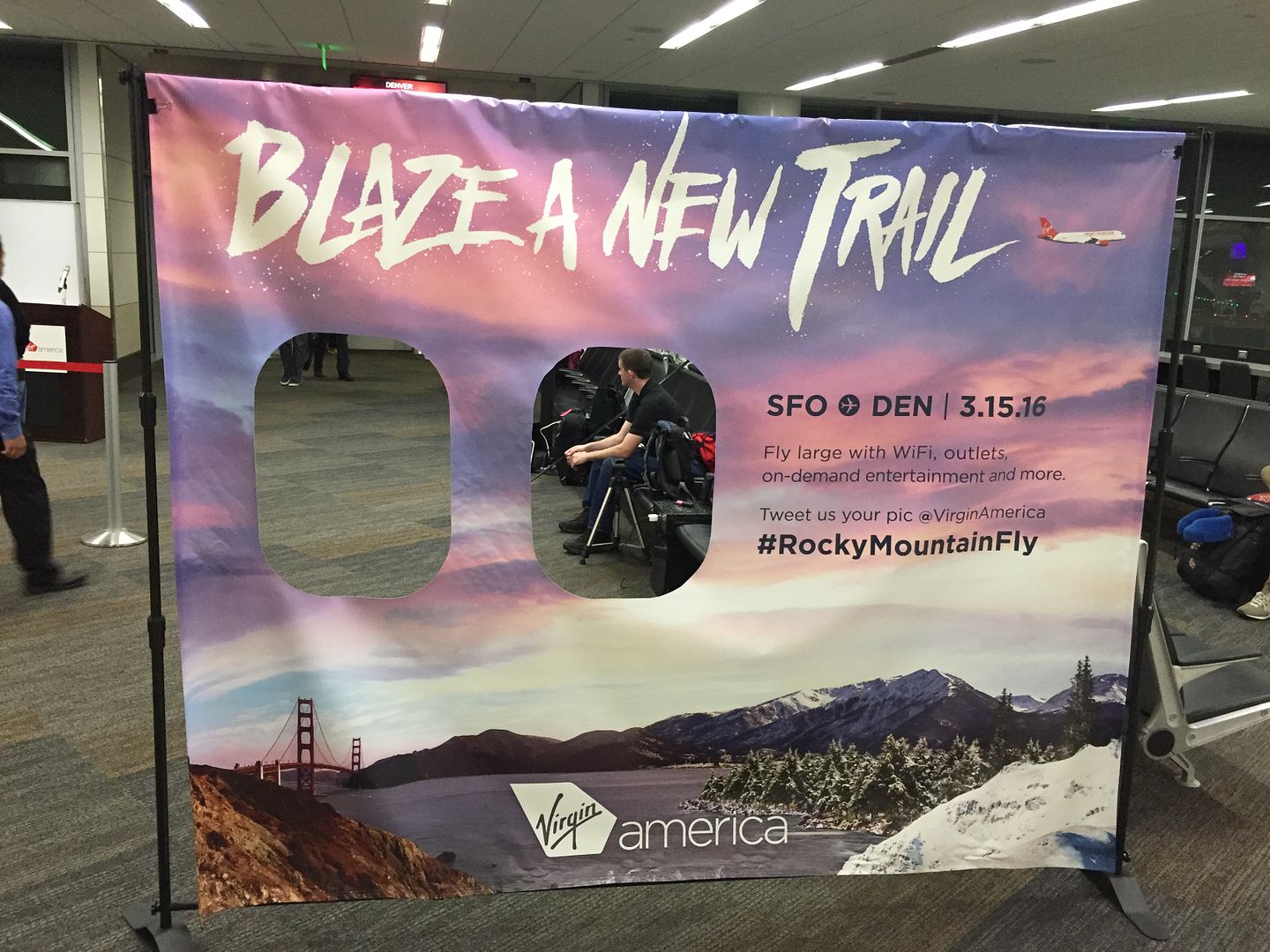 The continental breakfast buffet was a bit more subdued compared to Hawaii launch.  There were muffins, mini quiches and yogurt/granola cups, along with OJ, coffee, and lots of booze, including mimosa, Irish Cream coffee, and a few hard liquors.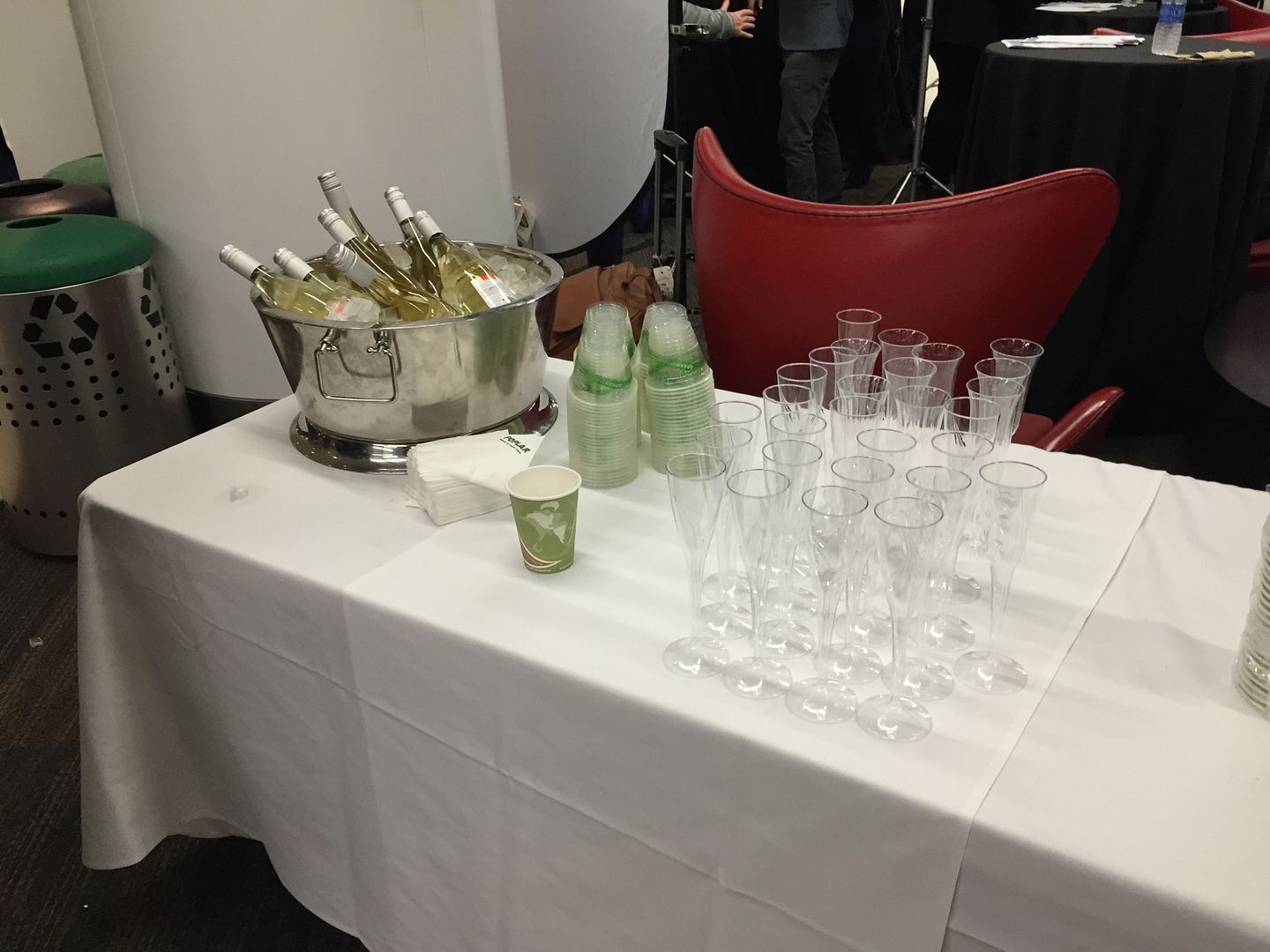 There was the usual F/A troop working on today's flight – more than 4 were working the inaugural flights, as I presumed that they would work the return flights.  They all looked smart.
Unlike previous inaugural events, Virgin America is finally listening to my request for inaugural goodies – something that is related to the airline.  The F/As troop went around passing out Virgin America branded wool caps, headbands and special headsets to both actual passengers and other guests.  That is a surprising and nice touch.
There is a press conference before boarding, and today's speakers included Sir Richard Branson, David Cush (who really need to cut his hair), Denver Mayor Michael Hancock, and LinkedIn VP of Global Consumer Product, Ryan Roslansky.   Nothing really special, except Sir Branson has been attending every single Virgin America's inaugural flights, and made comments about reasonable political leadership by praising Mayor Hancock.  Mayor Hancock promotes the concept of Silicon Valley to Silicon Mountain, which is the new title for Denver, and how this flight truly symbolizes this concept.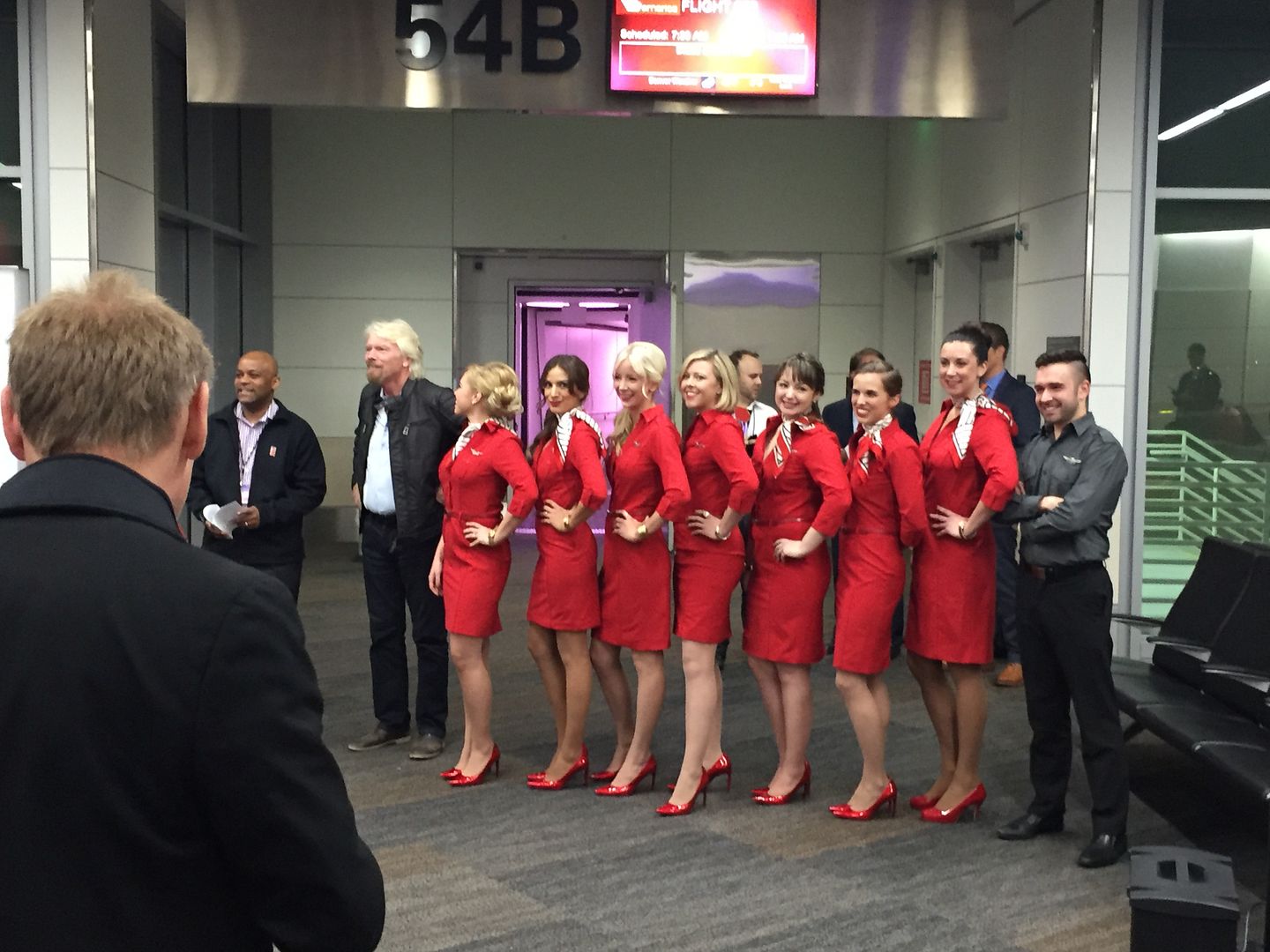 Boarding began at Gate 45B at 6:58am and despite being early, the plane was sort of crowded with VIASAT staffs.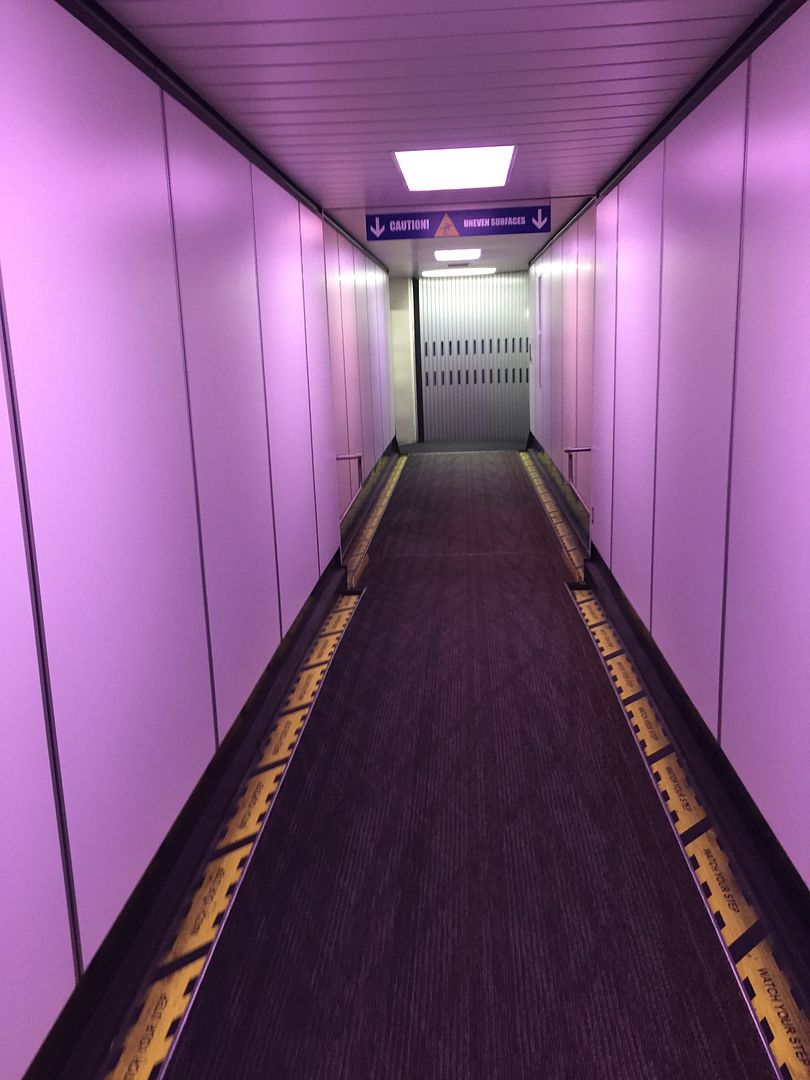 First Class – not on this segment – noted that duvet was loaded for this special flight
Never tired of the moody-lighted Main Cabin shot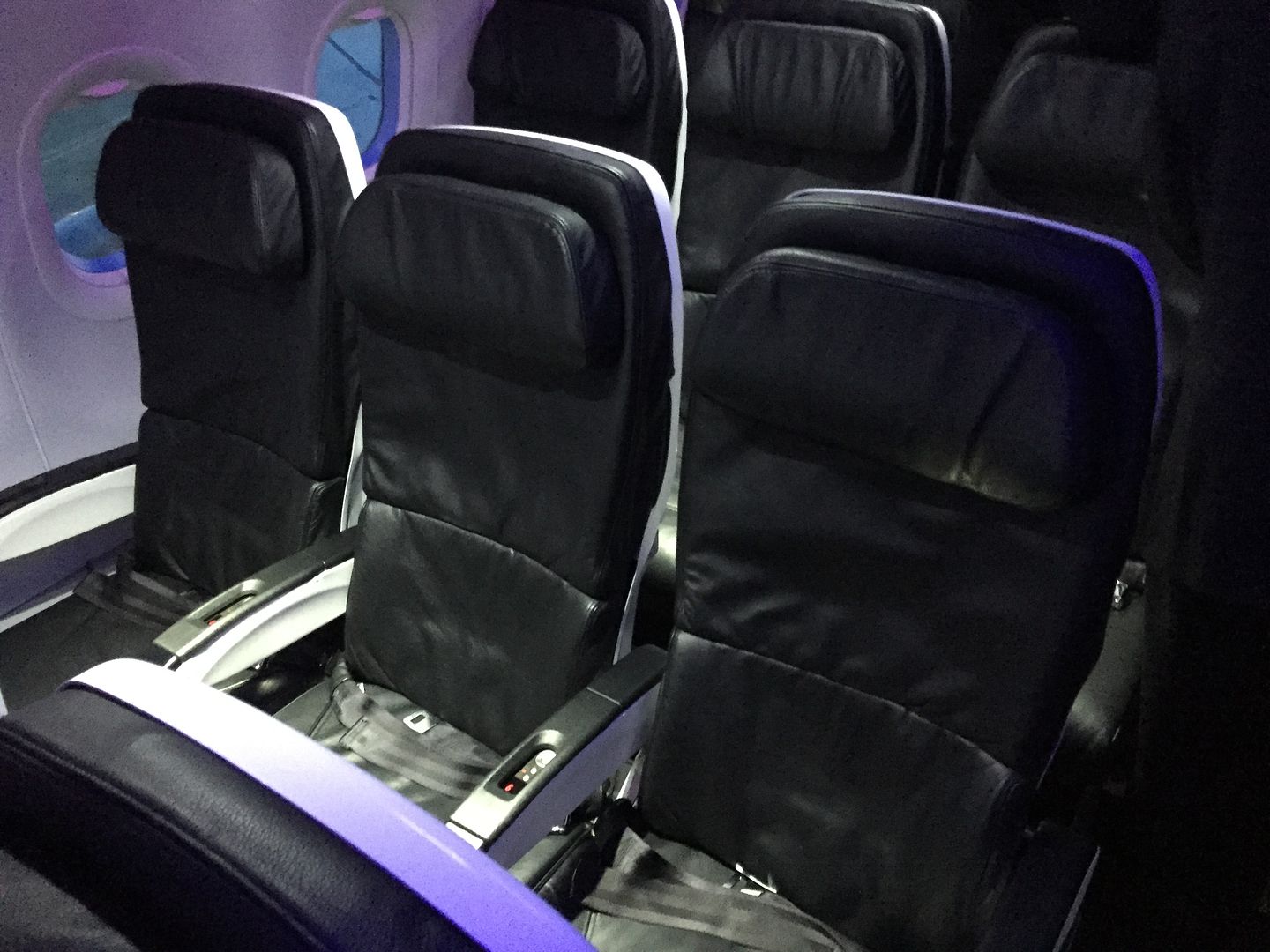 Seat 13F – my seat today and thankfully I had an empty middle seat next to me
Legroom shot – not bad given today's LCC and ULCC seating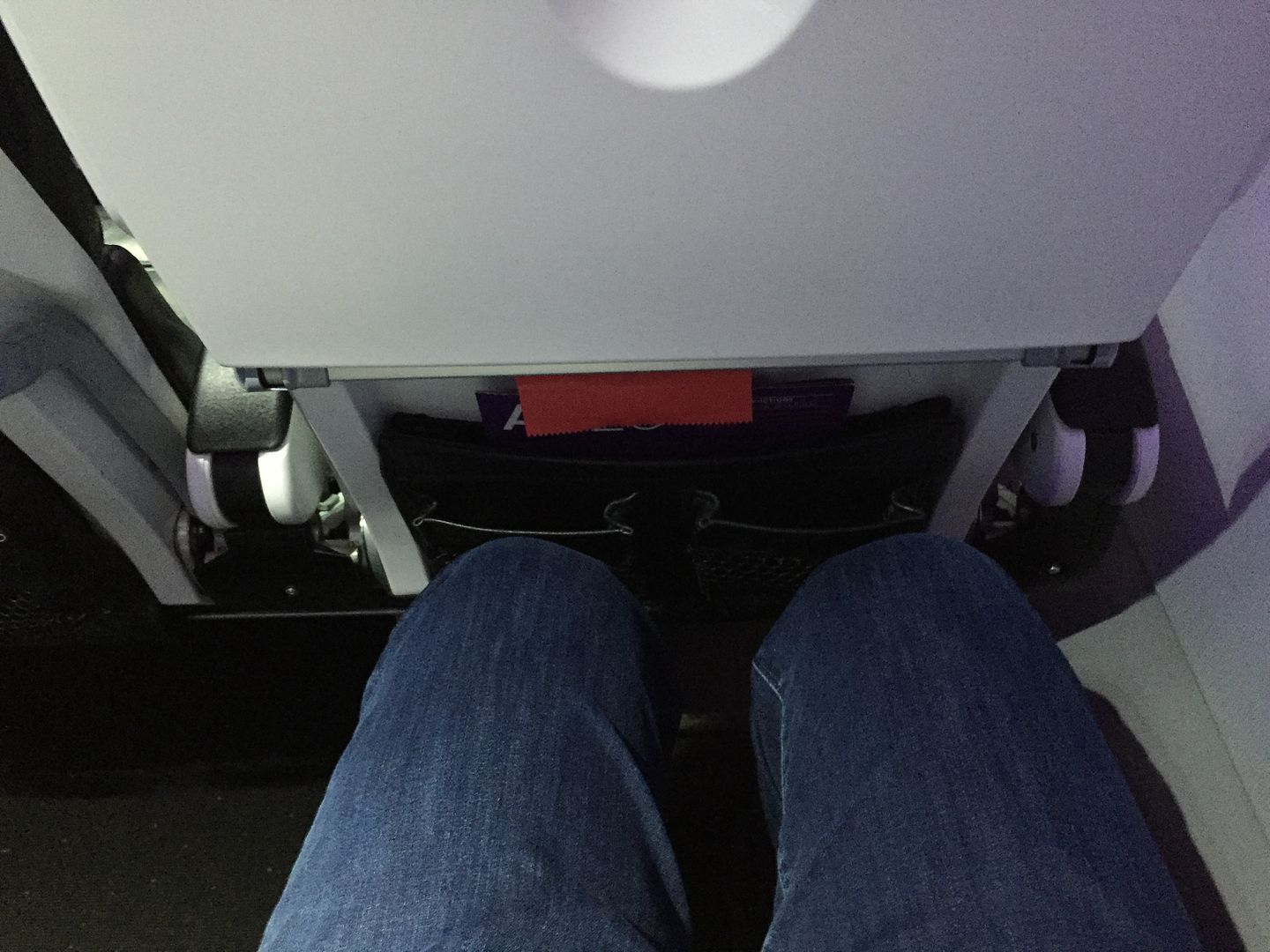 Sharklet shot of course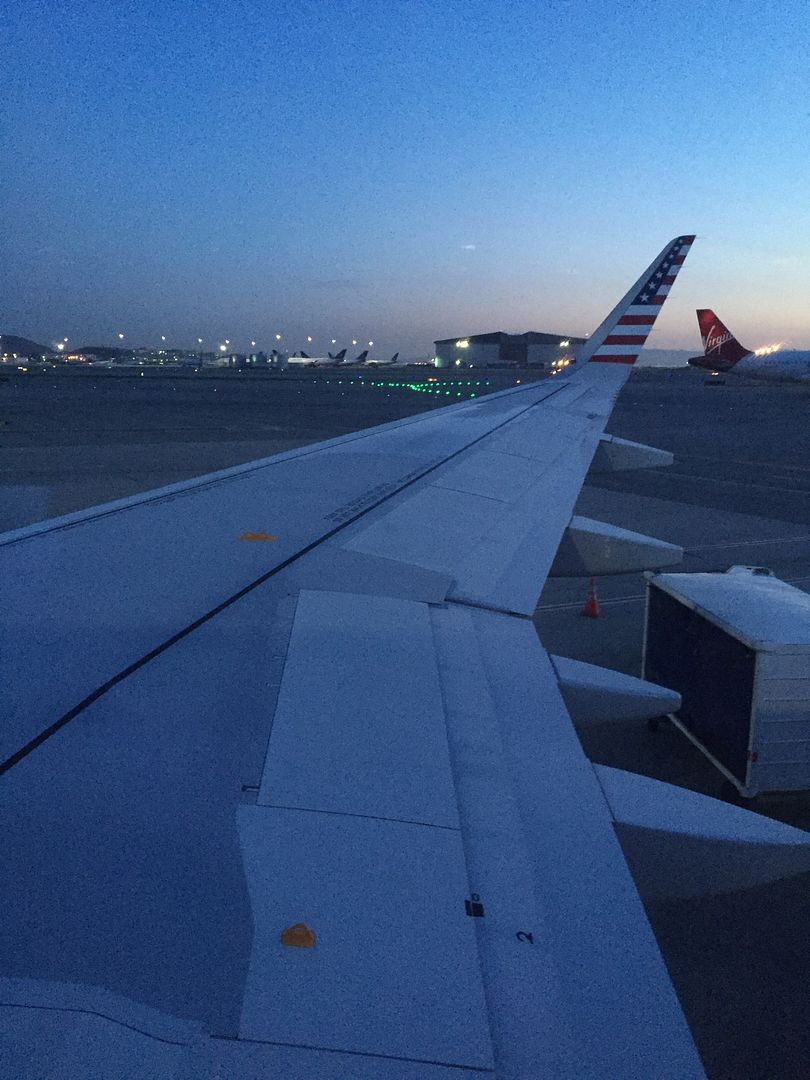 Door was closed on time at 7:29am and we pushed back four minutes later. 
N281VA was here
Sharklet to Sharklet
Delta A330 N814NW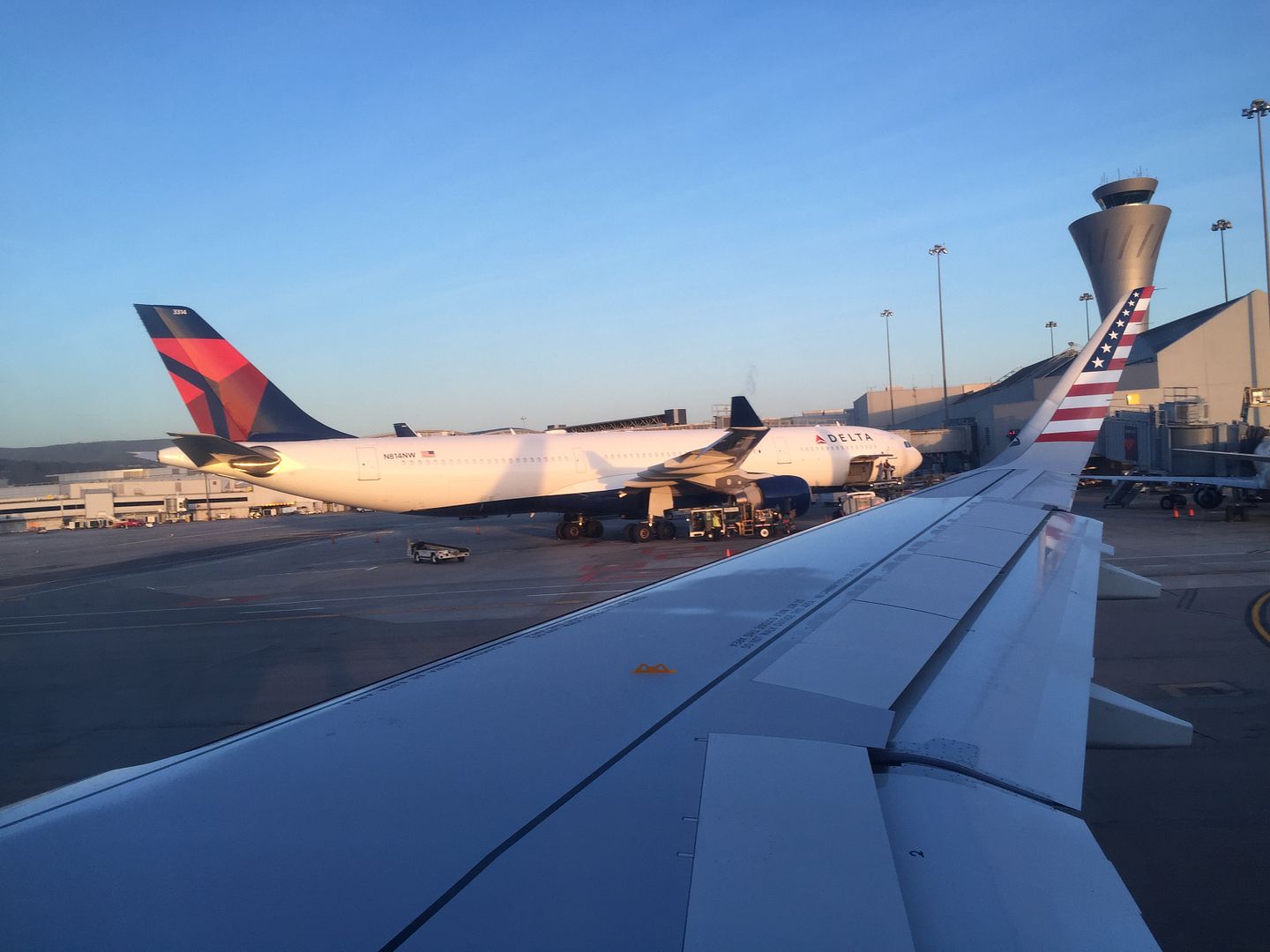 We took off from R/W1R at 7:45am and our flying was an hour and fifty-eight minutes with an initial cruising altitude of 35,000ft and later at 33,000ft.  There was a strong tail wind today, but the return flight will possibly be longer than normal.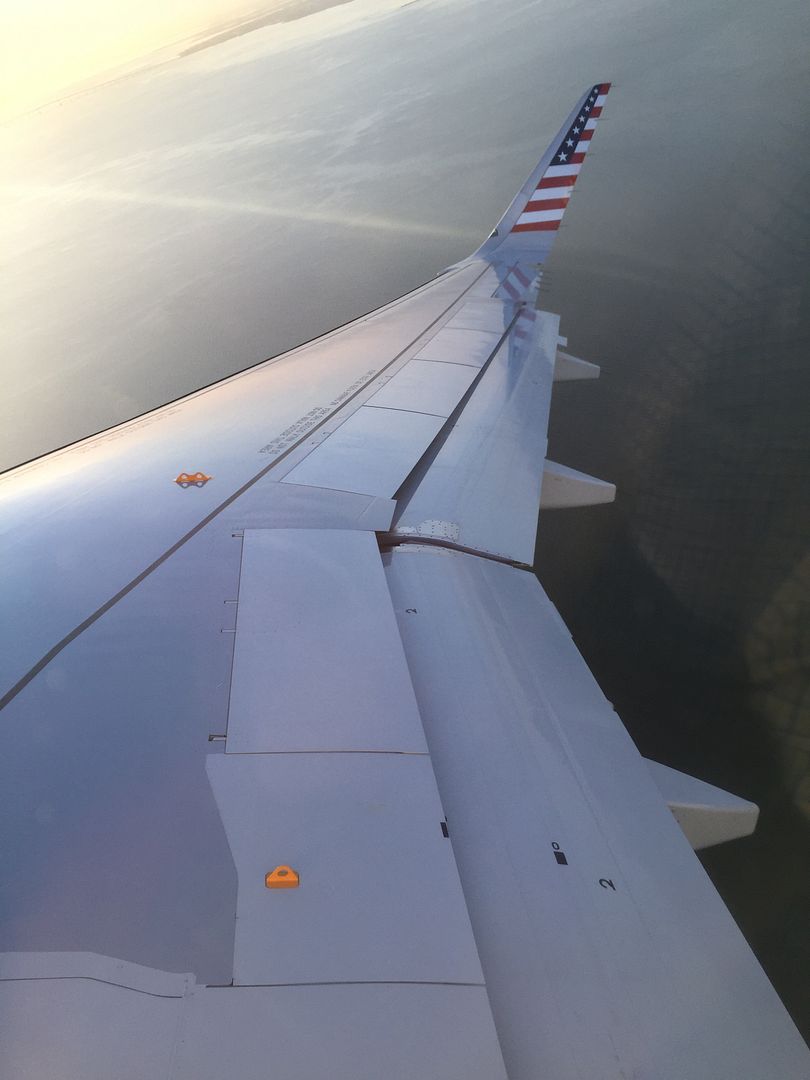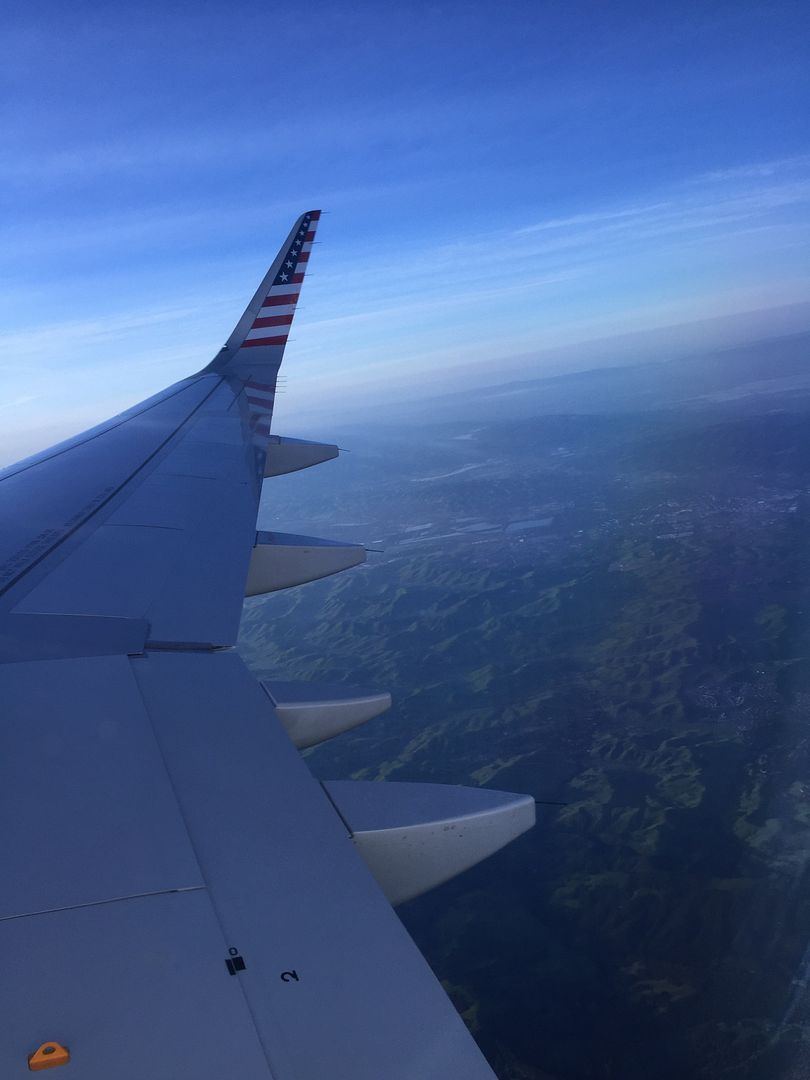 There is a live press conference onboard the plane, but as passengers, we did not take part of the actual press conference.  We were not even told about it, as well as free WIFI provided by VIASAT till really late in the flight.  I guess they did not want to have too many users. 
I snapped pictures of the buy on board menu before takeoff, and was a bit surprised about the lack of fresh food on sale, despite the flight being over two hours, which was Virgin America's threshold.  Virgin America, please update your website with correct info. 
The usual snack and junk food boxes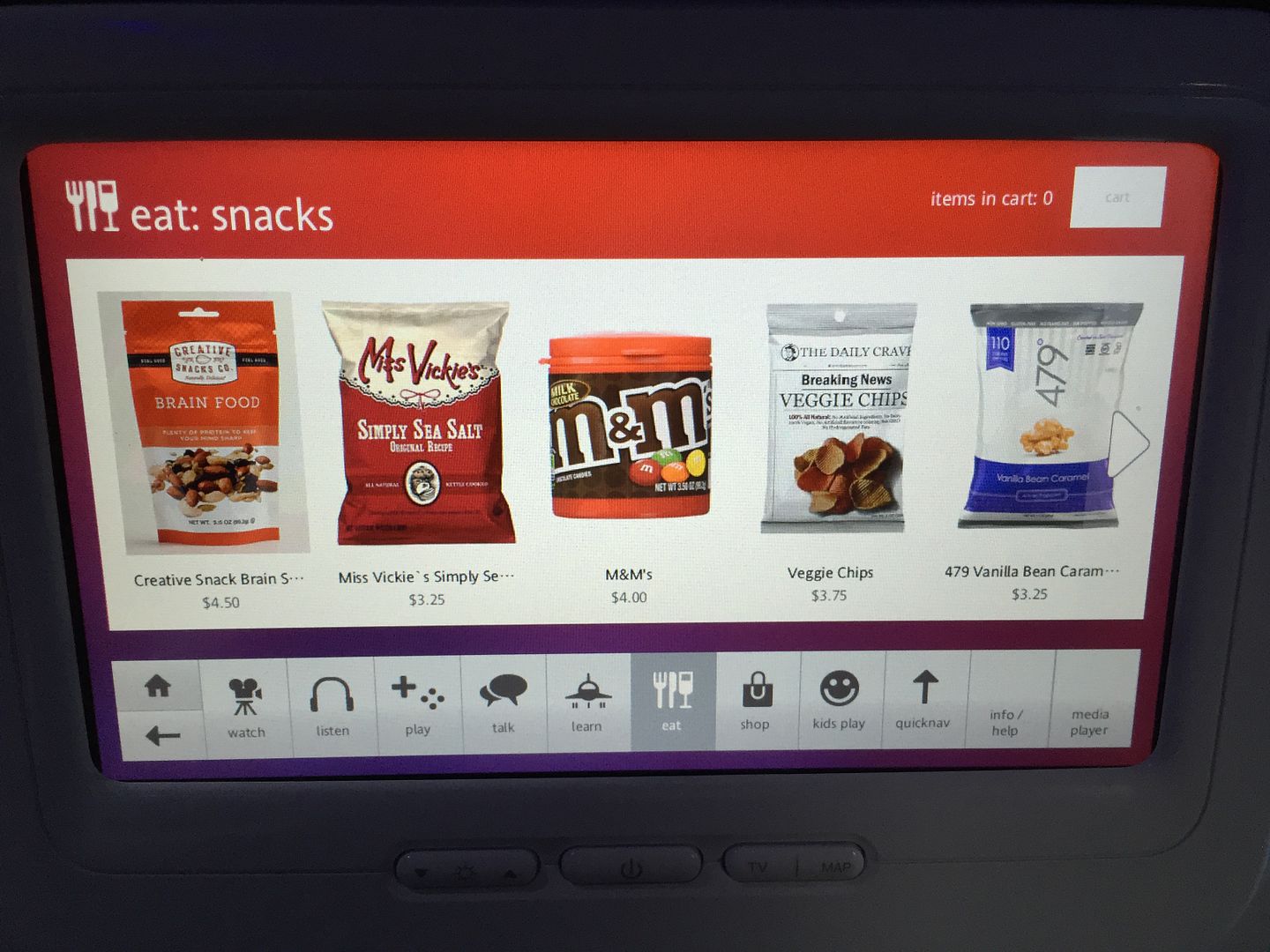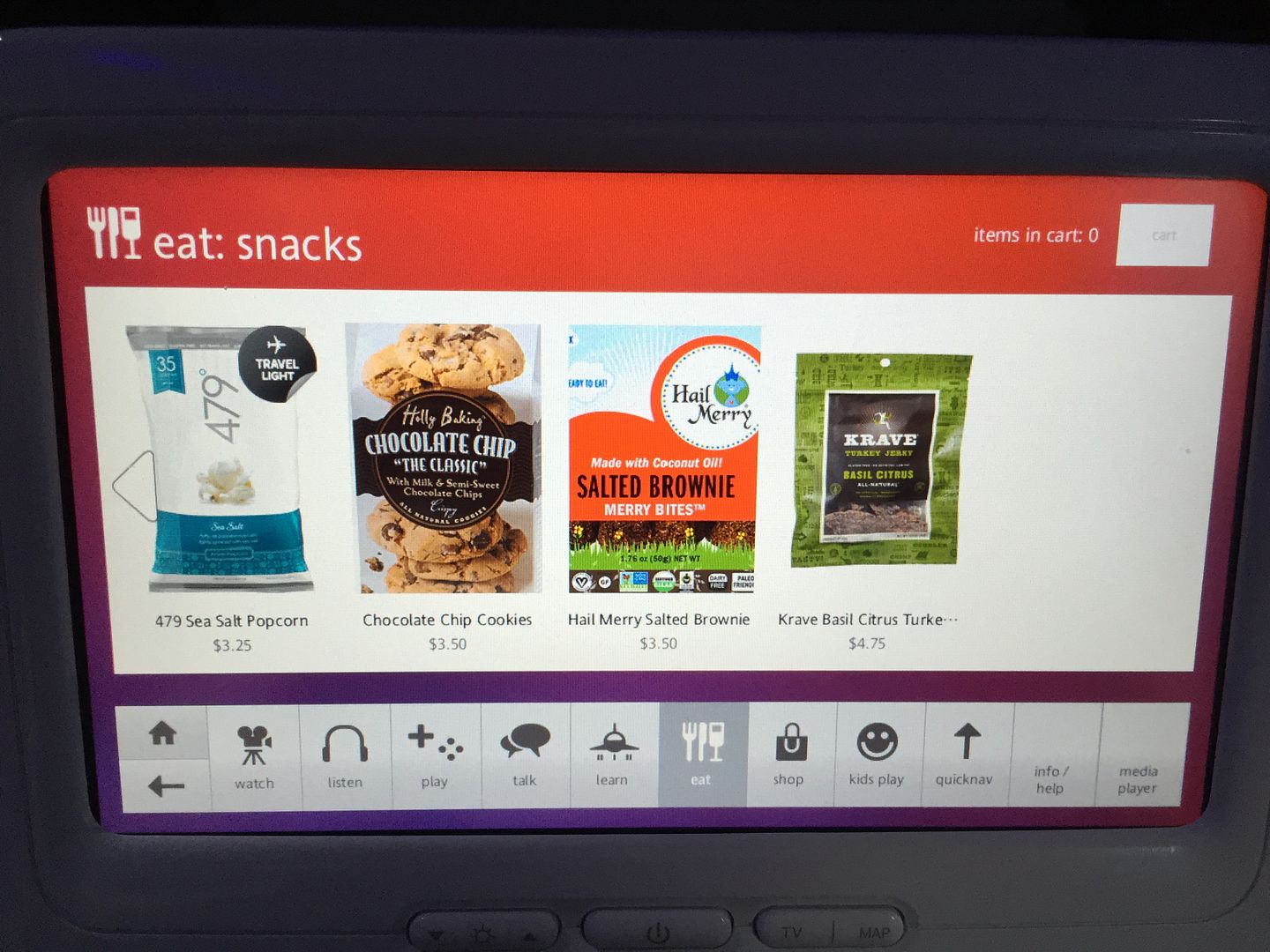 For today's flight, things were special, as we got complimentary beverages and food.  But beverages were really limited to cranberry mimosa and bottled waters.  Food was limited to a choice of cheese and fruit box or the protein platter.  They turned off the food ordering system after takeoff, so I could not even order other beverages.  I had the protein platter in first class before, so it was nothing new to me.  Poor showing for first class, but if you served them as free in Main Cabin, it was acceptable.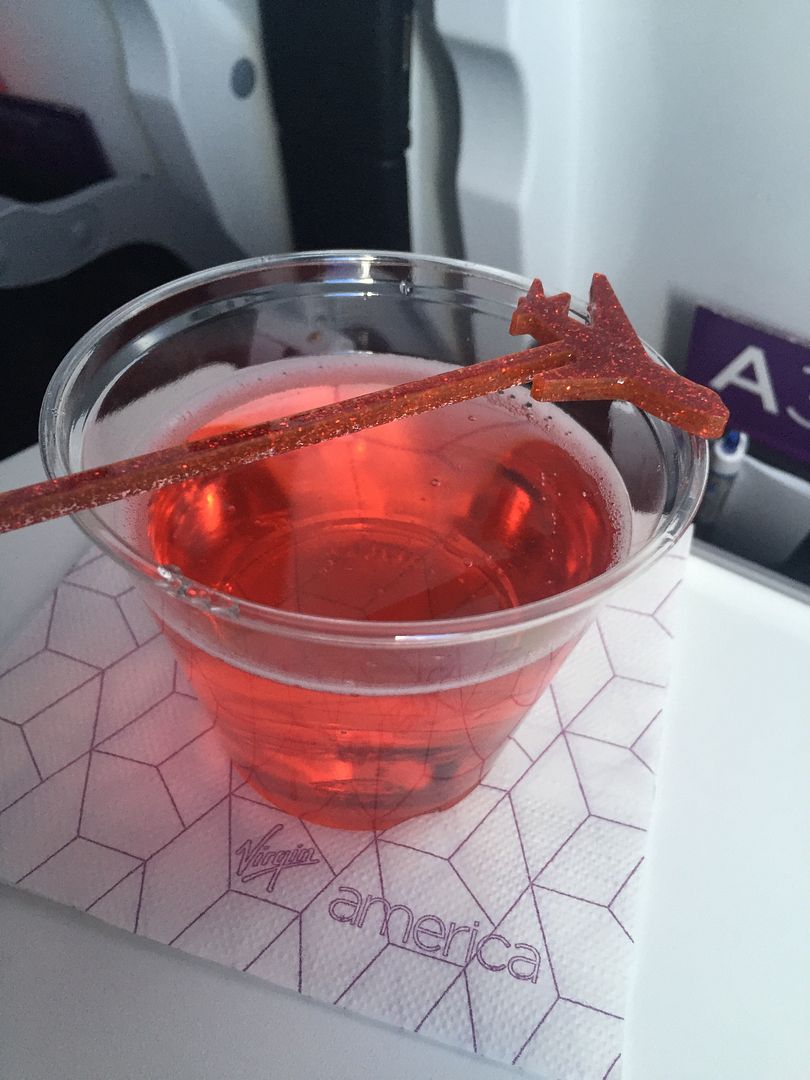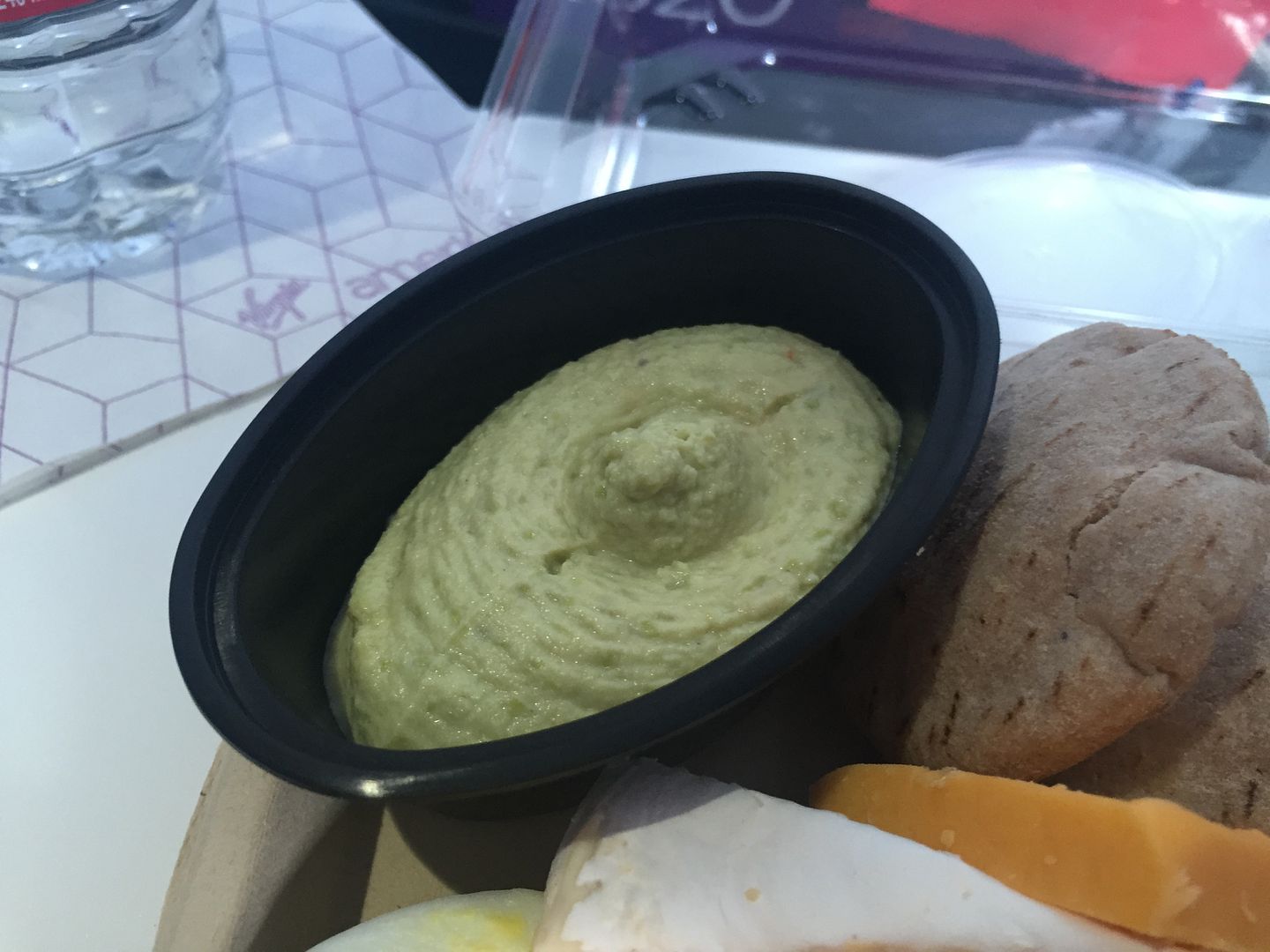 Only about 40 minutes prior to arrival, the F/A announced that there was complimentary WIFI thanks to VIASAT – possibly testing too!  It will last till April 22 on VIASAT equipped planes.  The speed was definitely better than normal, but you can still tell that you are sharing with many people.
Another freebie
Close up of Sharklet
Descent began at 10:18am Mountain Standard time, which was an hour ahead of the West Coast, and it was a beautiful sunny day in Denver.
We landed on R/W26 at 10:43am, and parked at gate A37 twelve minutes later.
Of course, we received a traditional water canon salute!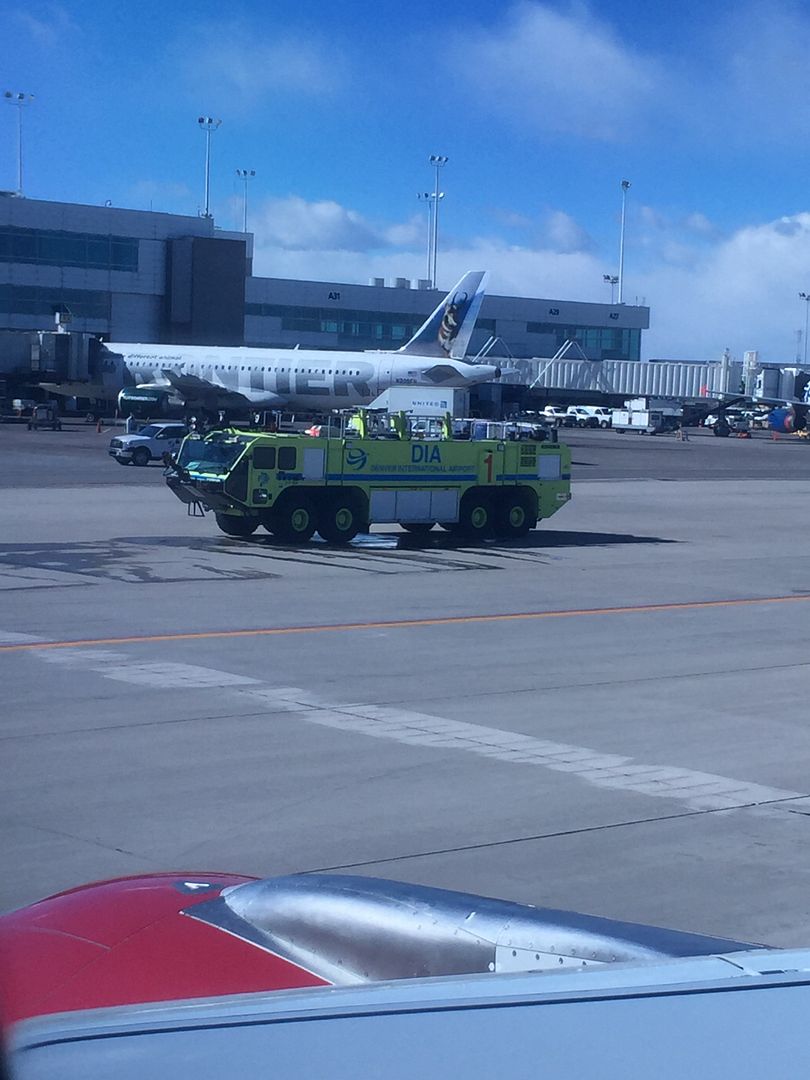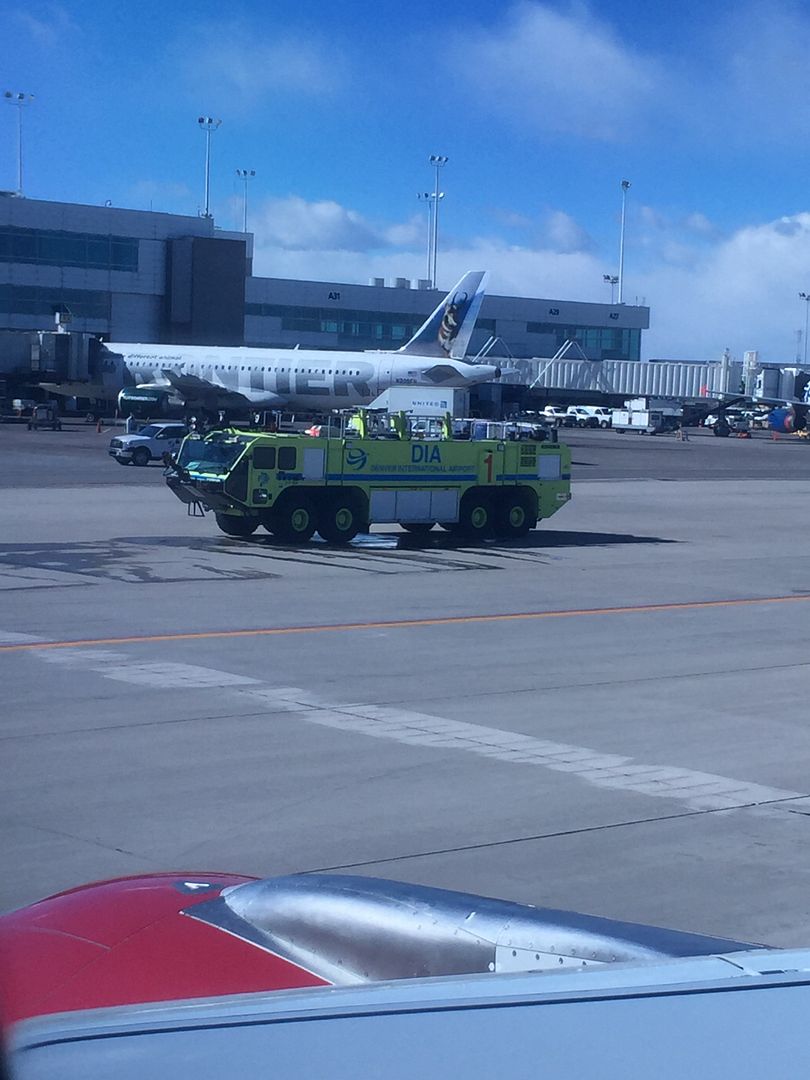 On arrival, there were airport staffs handing out postcards and commemorative pins for the Denver inaugural flights.   A press conference was immediately going on, and the atmosphere was festive as usual.  The whole A37 was transformed into an airline lounge, which was not different from most Virgin America parties.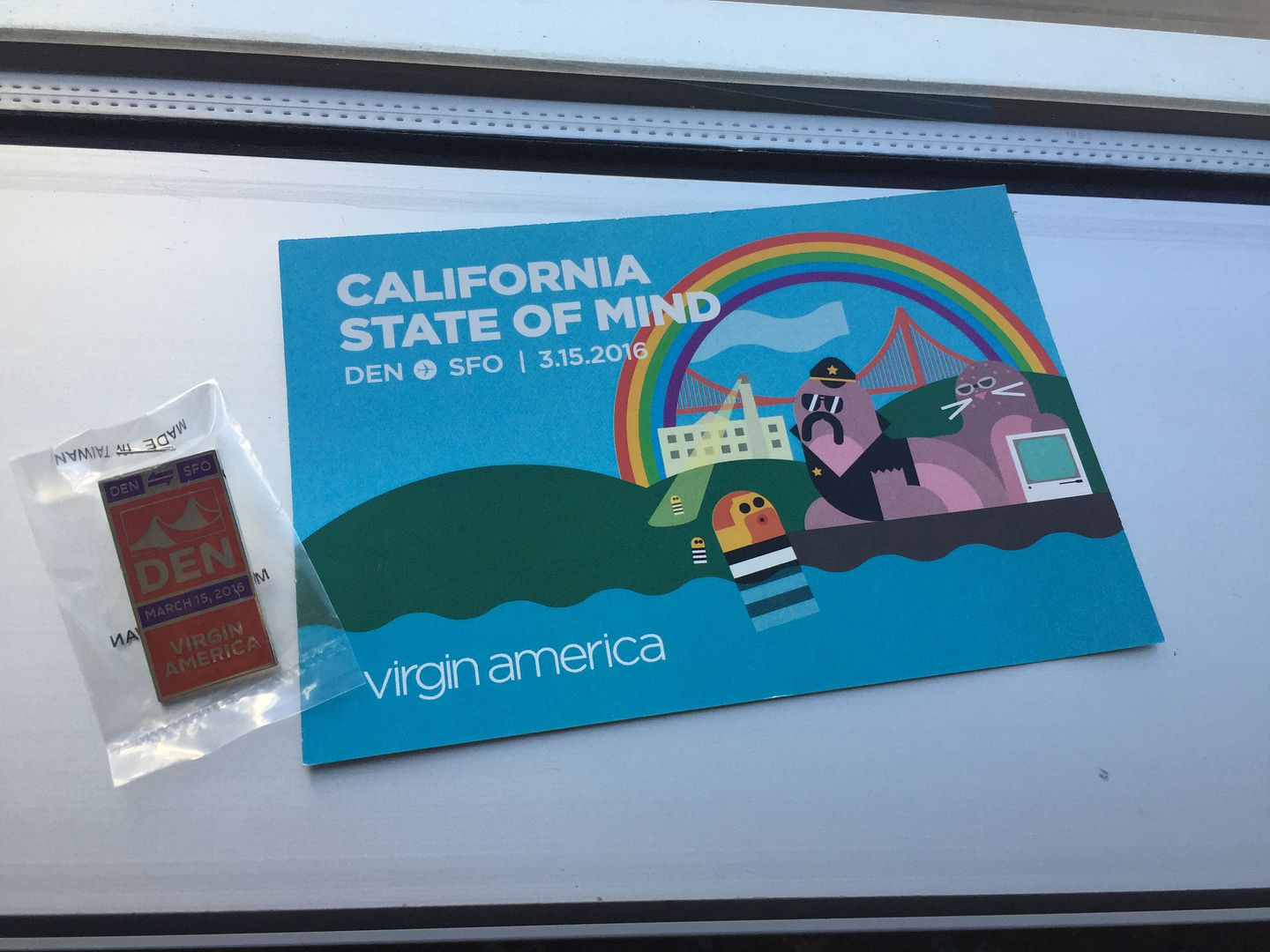 Despite wanting to tell you more about the party itself, I was denied entry into the area.  The Denver International Airport Staff J staffing the entrance said only VIP guests were permitted to the area.  She turned away a few folks too, so after she turned me off, I just went to the baggage claim to pick up my bags.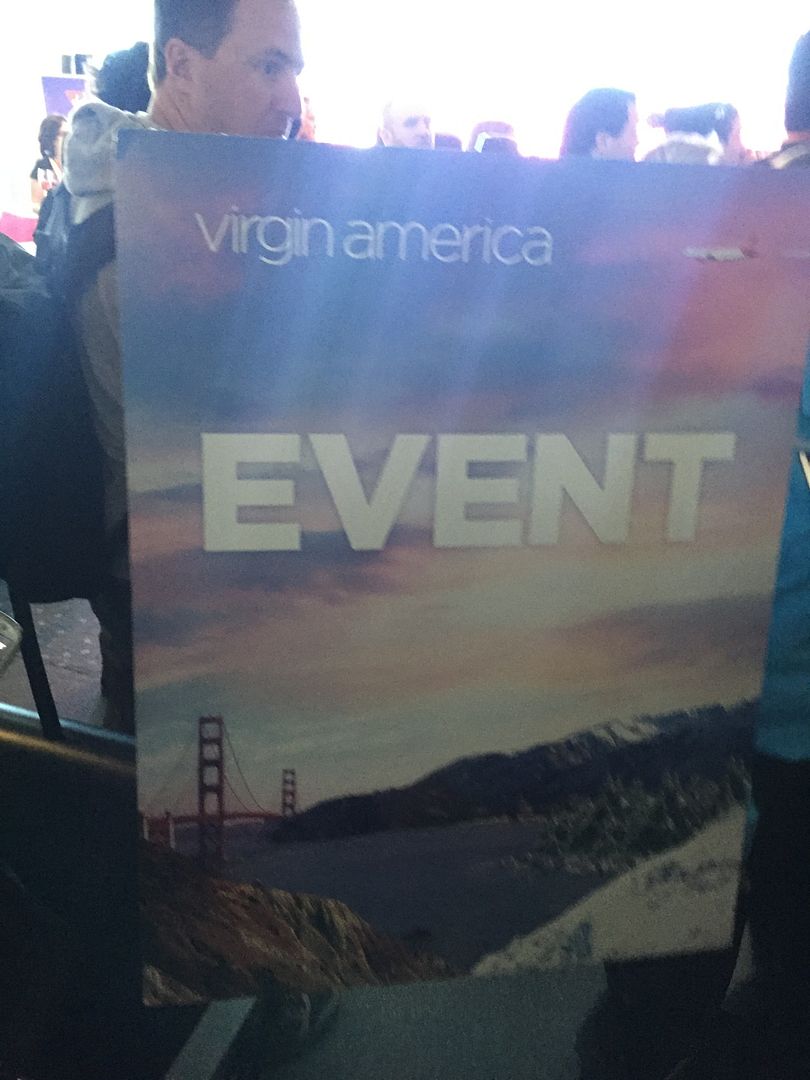 N285VA at Denver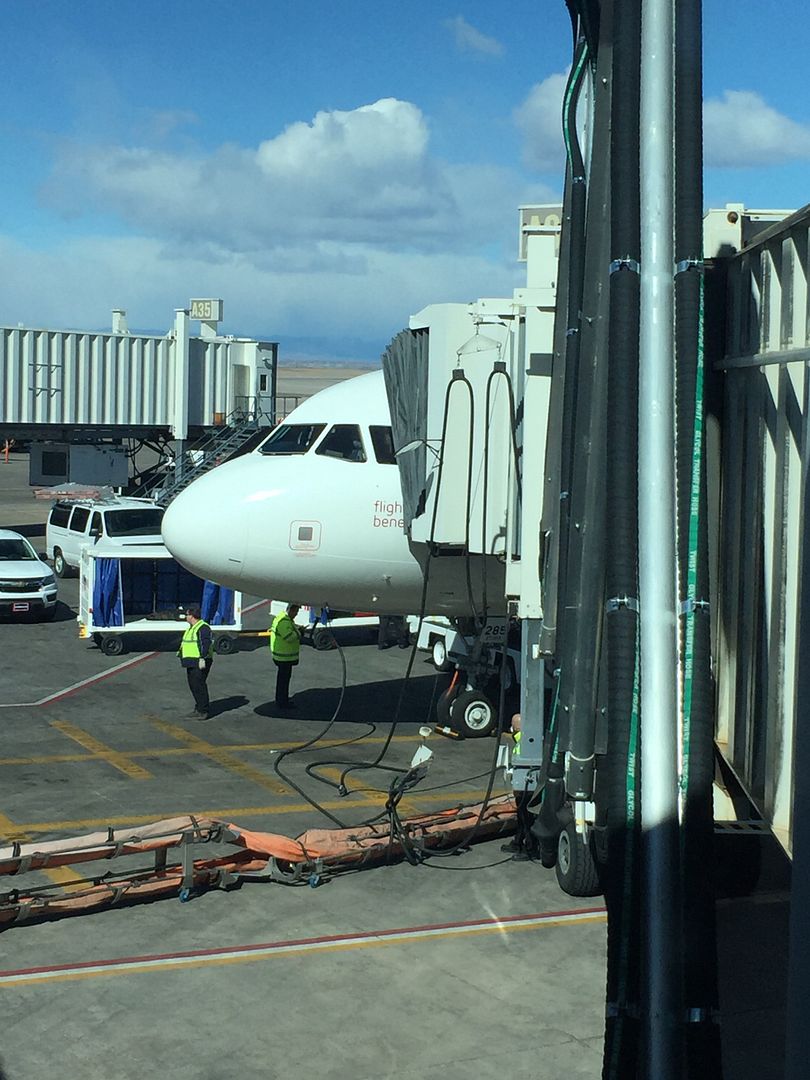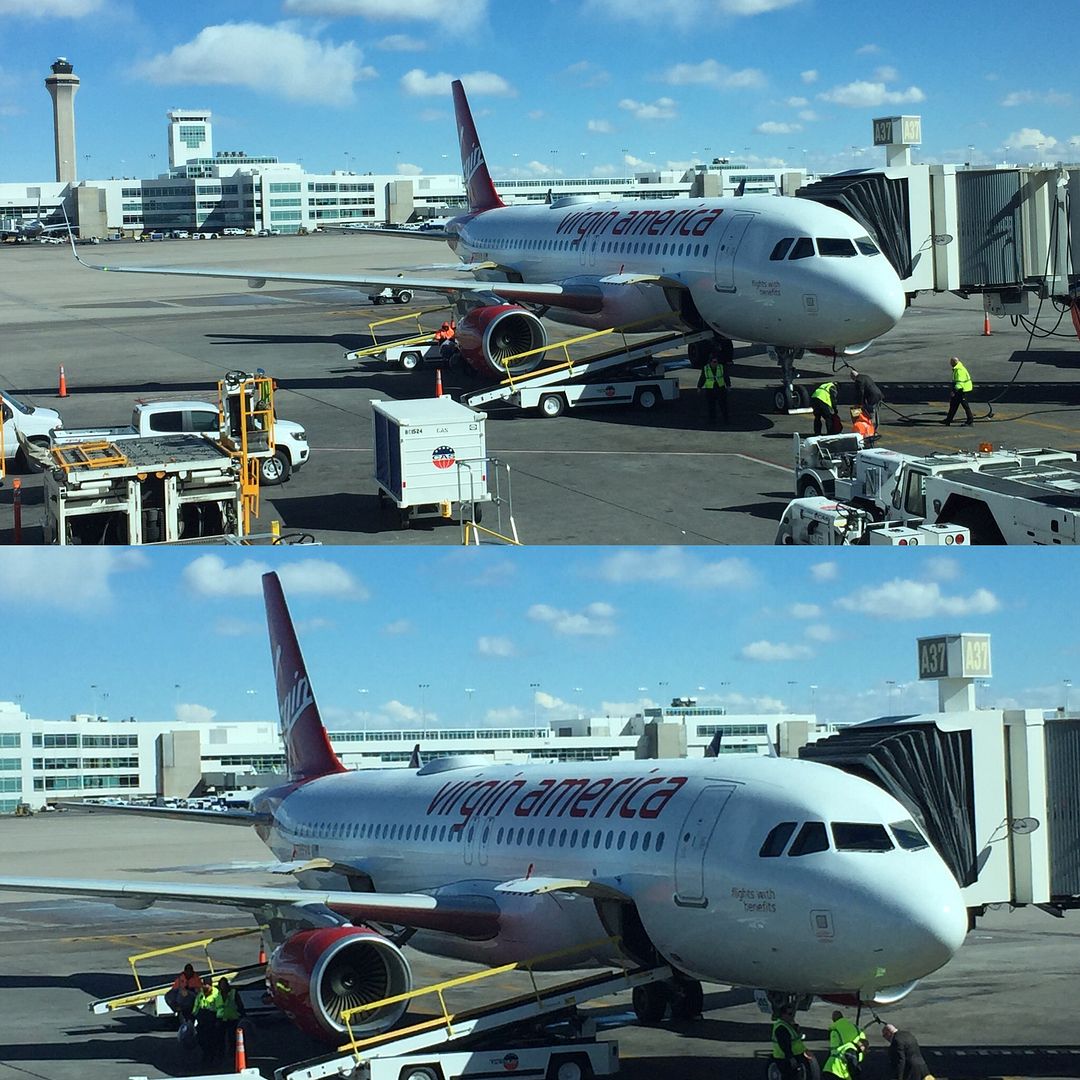 Virgin America uses Baggage Carousel #1 for all the flights. 
VX 867 DEN-SFO Lv1500 Arr1650 Airbus A320-200 Sharklet N285VA "flights with benefits"
The new check-in area was set up nicely – it was located next to Great Lake Airlines, Boutique Air and Frontier Airlines.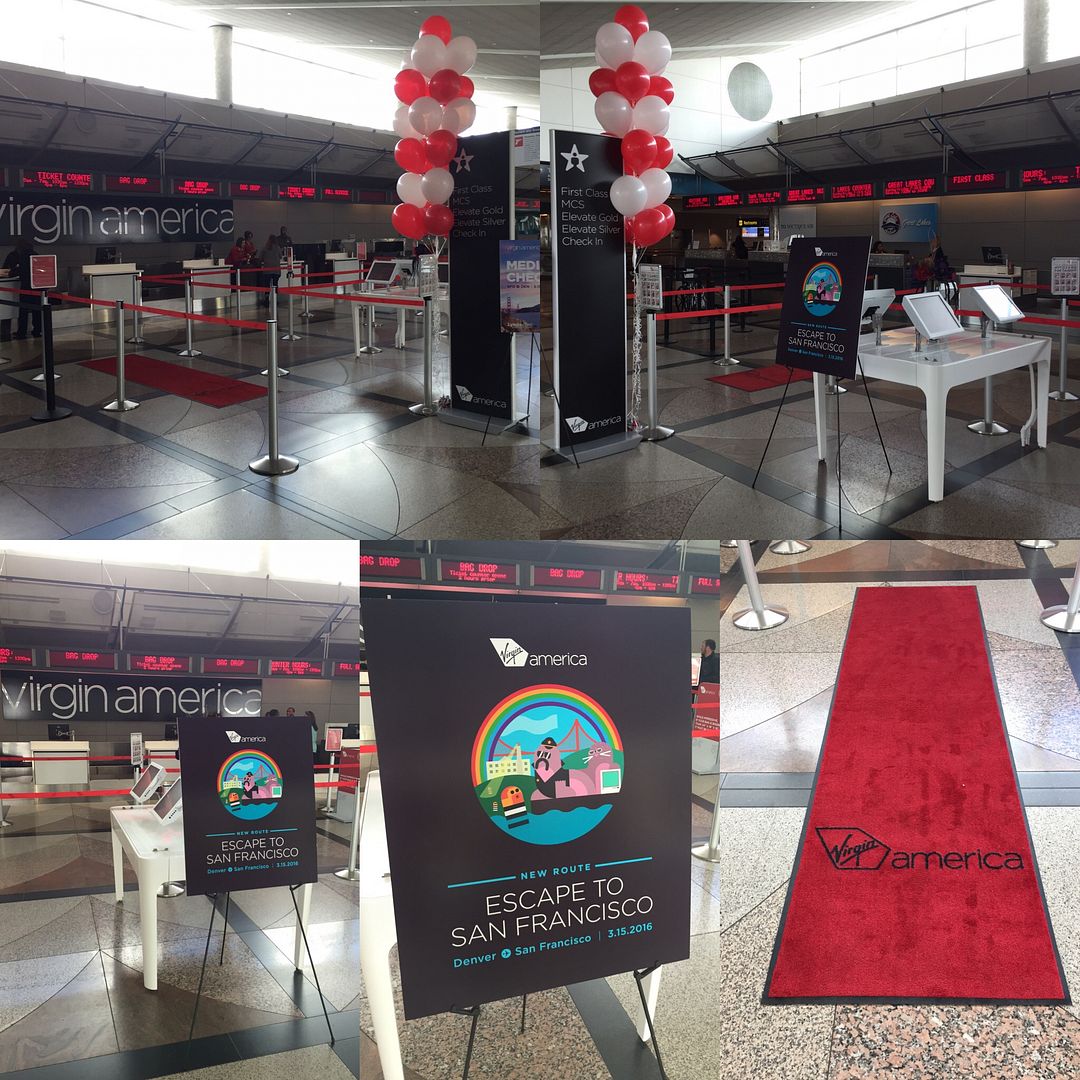 Of course there is a poster celebrating the return flight.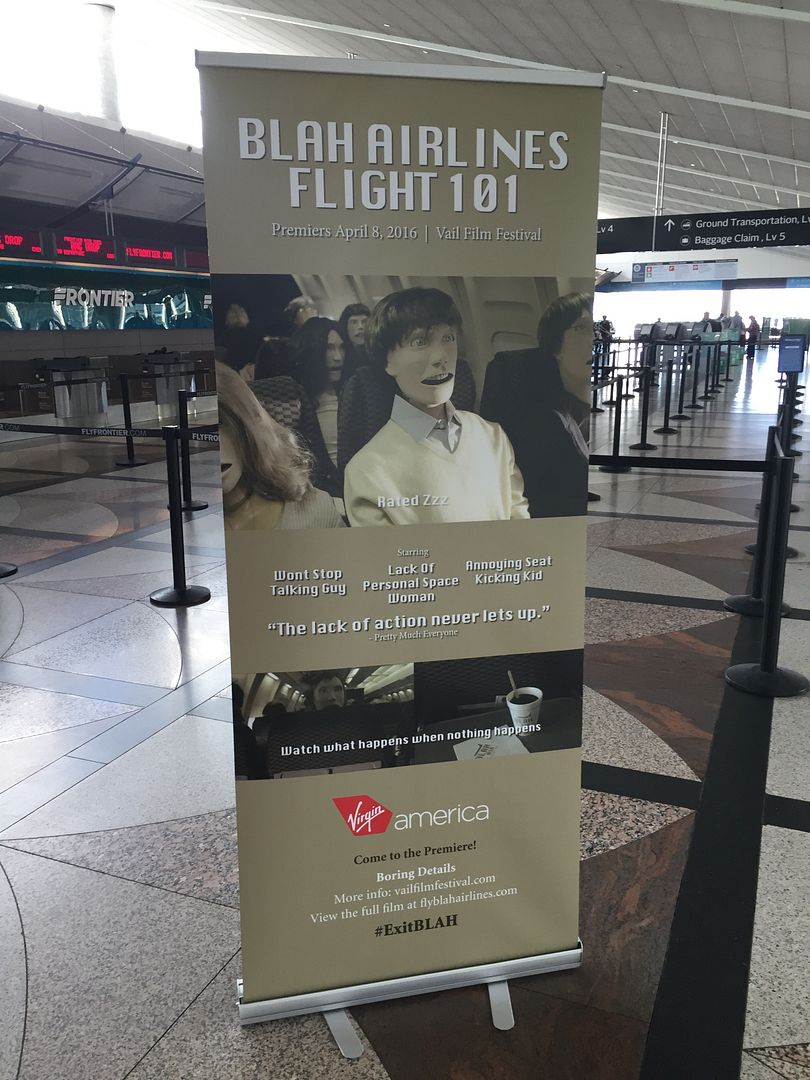 I asked the check-in agent about the inaugural party situation and she told me that she had no idea, but found it strange that actual passengers were turned away from the functions.  She obviously did not want to go the extra step calling the gate so I left her alone.  They were possibly contract part time workers anyway.  
Since I am live writing this report, I will add a part two to it after I am back in LA tonight.  I possibly won't add anything till tomorrow. 
I hope you enjoy this small section first.
As of now, it was 2pm MST and Virgin America's twitter team finally reaches out to me.  I will keep you posted!
Carfield