Trip Report: Iceland Air Saga Class – Affordable way to fly transatlantic in business class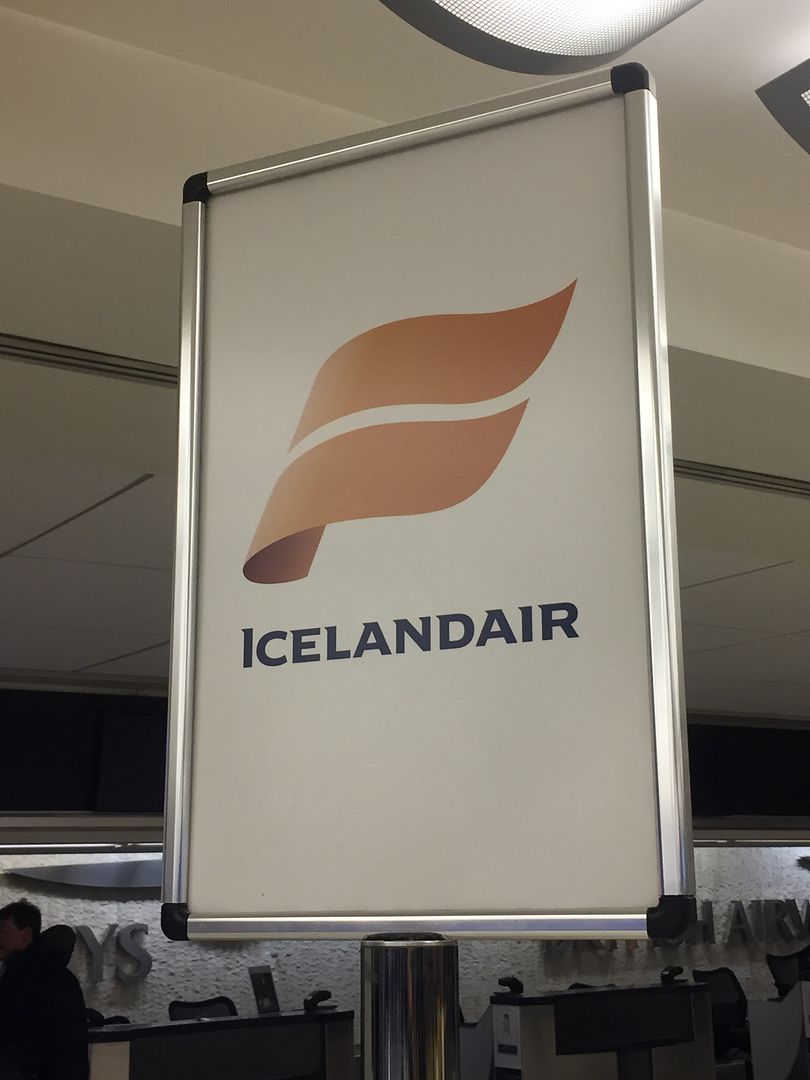 Photo album to my complete European trip in February 2016:
http://s1213.photobucket.com/user/Carfield76/library/Winter%202015-16/European%20February%202016
As I was planning this round the world trip, I had thought about using my American Airlines miles for a transatlantic flight, but given how high the fuel surcharge was on BA, I really think I didn't want to waste any miles on these rather typical transatlantic flights.  In terms of paid fares, one way trip is rather expensive especially ex-USA, so I narrow my choice to Iceland Air and Norwegian Air International, which both offer a more premium economy than business class product, but they are both affordable.  Norwegian is $200 cheaper than Iceland Air, but I choose Iceland Air in the end because of its better on time performance and I can earn Alaska Airlines miles.  I settle on a one-way $830 ticket from JFK to Copenhagen via Keflavik.  Iceland Air definitely has some nice branding and I love all those small quotes in various products, everything from blanket to the sugar packet.  Given the price, I don't expect much, but in the end, I am rather disappointed because the planes are very tired-looking with tiny issues with various functions of the seats, such as broken reading light to power port.  For both flights, there is something wrong with either the seat or the personal TV.  The catering on the overnight flight from the USA to Iceland was really disappointing, not to mention the lack of choices.  Pre-order is definitely recommended.  The only saving grace is its on time performance and the easy transit at Keflavik International Airport.
February 19, 2016
FI 614 JFK-CPH Lv2000 Arr0645+1 Boeing 757-300 Winglet TF-FIX "Hengill"
British Airways' staffs conducted check-in for Iceland Air, and there are separate lanes for Saga Class, Economy Comfort, Economy, and Baggage Drop.  The agent was very cheerful and efficient, and my inquiry about the load returned with a full flight in both Saga and Business Comfort, but economy class is not too full.  I was given a written paper pass for the British Airways Galleries lounge, and TSA security lanes were busy, but not too bad. 
No pictures of the BA Galleries lounge at JFK, as it is widely discussed in various aviation forums.  The lounge was busy as usual, but I manage to find a seat.  Clam Chowder and Tomato Basil were the soups of the day, along with the usual sandwiches, and light snacks.  Iceland Air Saga Class passengers are not invited to the pre-flight supper, which is really not a surprise, and IMHO, you also do not miss much!
Iceland Air currently owns one Boeing 757-300 Winglet and TF-FIX was in maintenance for the past month or so.  It had only been returned to duty for a week when I took the flight.  The plane basically served the JFK flights along with European duties in between the JFK runs – Copenhagen, Amsterdam and Brussels will feature this long 757.  As most of you know, JFK Terminal Seven is really not good for photography, so no pictures of the plane at all. 
But each Iceland Air plane has a name, and TF-FIX is named "Hengill".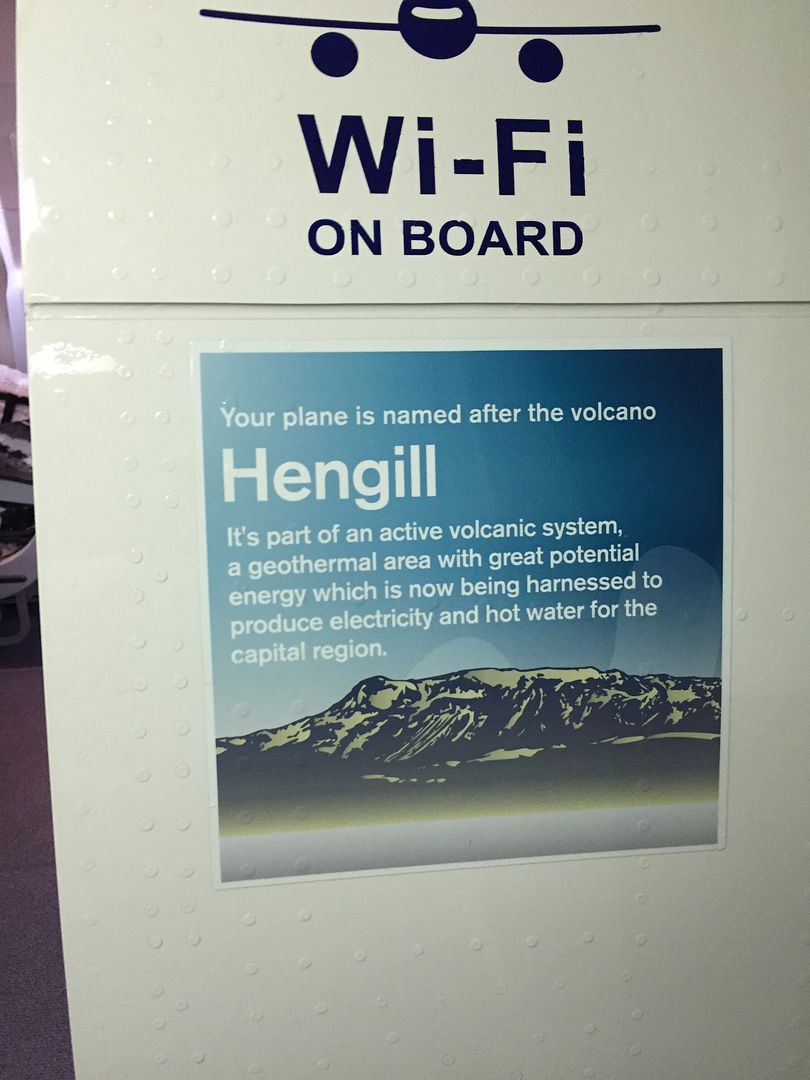 Boarding began early at 7:10pm, and business class, along with economy comfort, passengers got to board first.  Unlike in Keflavik, priority boarding was enforced, and passengers from economy were kindly asked to step aside.  I managed a few cabin shots of the business class cabin before the crowd arrived.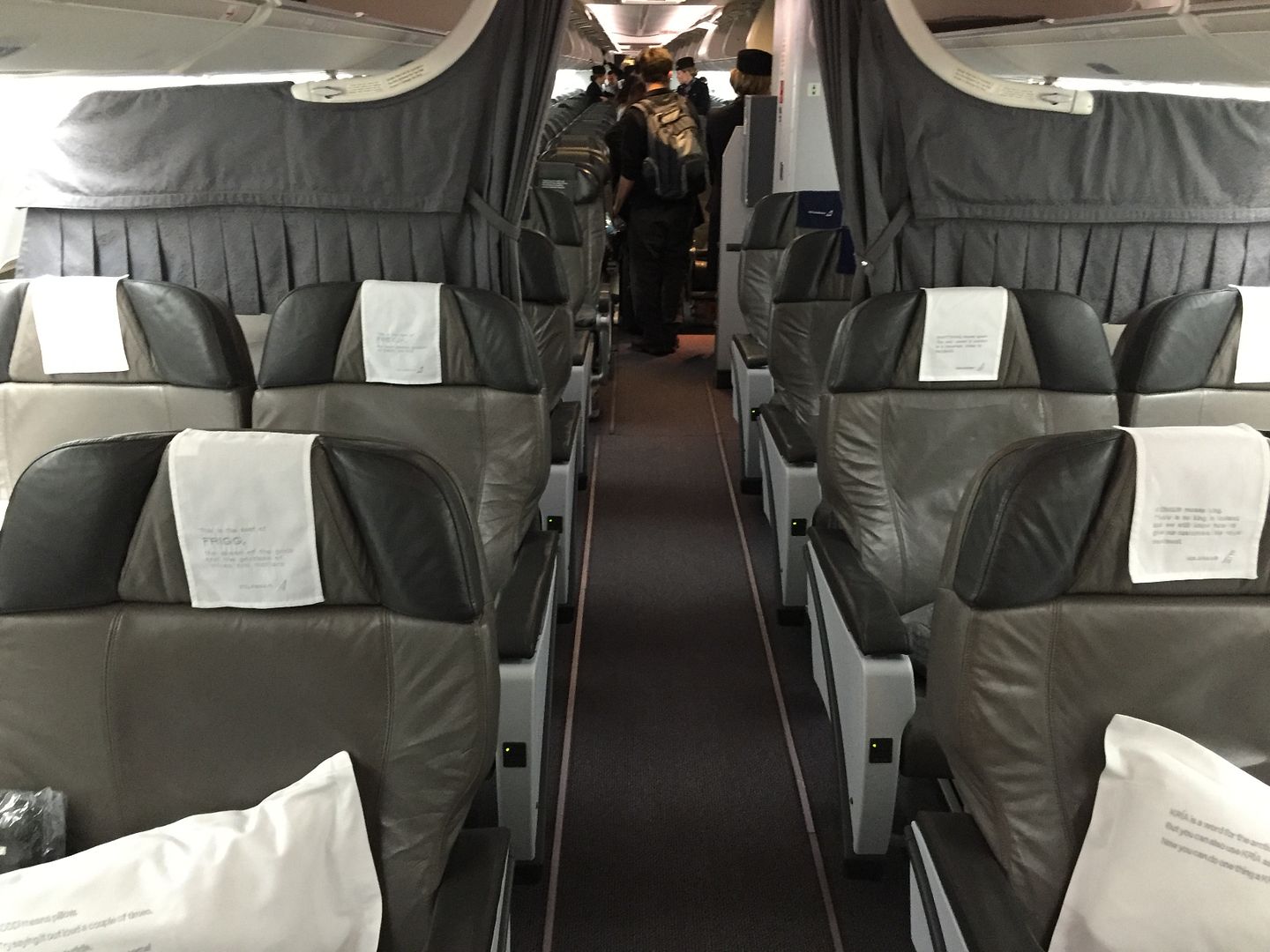 As you can note, Iceland Air's Saga class seats are similar to North American domestic first class seats on narrowbody planes, but with tiny bit of more legroom and recline.  As you have noticed that there is a movable curtain in the Saga business class cabin.  In order to maximize profits, Iceland Air will place economy comfort (premium economy) passengers on extra Saga Class seats, and then I presume that they can free up some economy class seats.  For the airline, it is definitely a smart move, but from a Saga Class passengers' point of view, I am not sure if Saga Class is worth that extra money if I can get the same seats when I fly economy comfort.  Sure, I will not get a hot meal, but catering in Saga class especially on the overnight flights are pretty unimpressive.  Given how economy class is rather light in loading on my flight, I see little reason for Iceland Air to use part of the Saga Class cabin for economy comfort.  Saga Class is full with 14 passengers, but if we have the whole cabin, we can spread out comfortably. 
The seat itself is rather comfortable for a short four to five hours flight.  Recline was sufficient and I was able to sleep through the flight.  There is a power outlet at each seat, but unfortunately, my iPhone power plug will not stay plugged into the outlet.  Given how this plane is fresh from the maintenance, it was disappointing.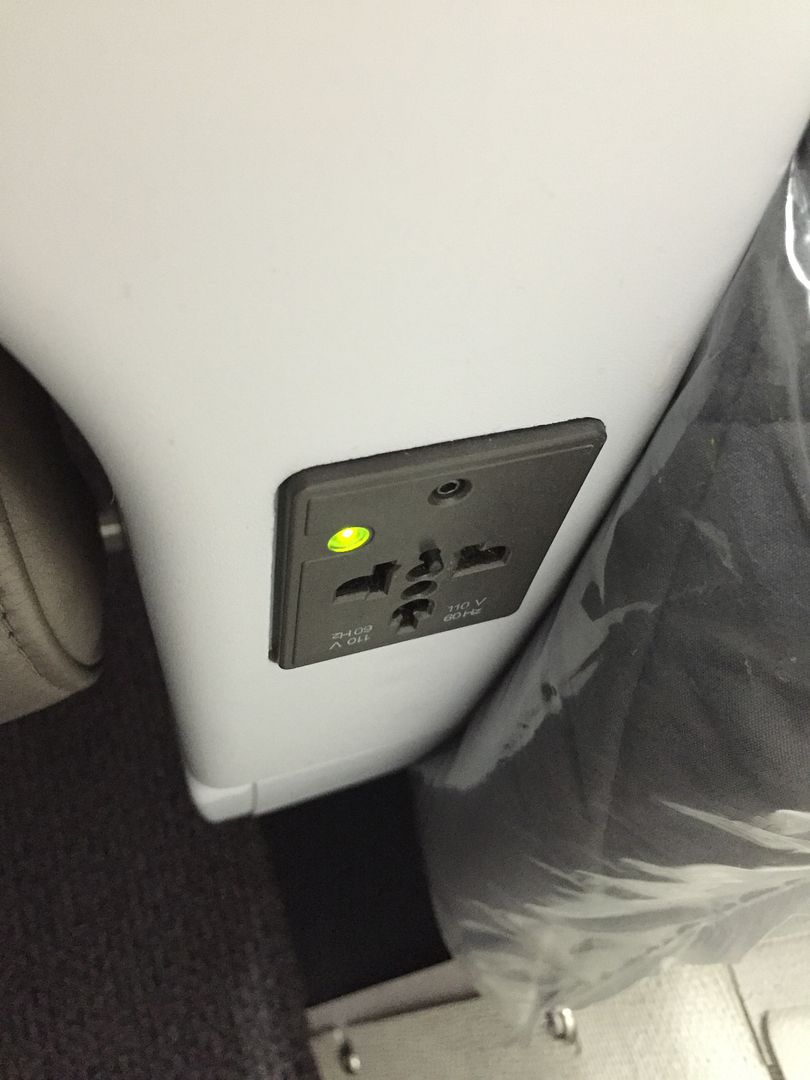 Legroom shot for bulkhead seats – not very good at 1AC – I recommend 2DF!
Cute Disposal Bag
Cute branding:
WIFI was available and was supposed to be free for all business class passengers.  Unfortunately I was not able to login to the Internet at all, and my iPhone kept on rejecting the WIFI signal.  I did not use my laptop, as the flight was full and I did not want to disturb my neighbor.   
Door was closed super early at 7:40pm, twenty minutes ahead of schedule.  We pushed back six minutes later, and the evening queue was quite long, but we managed to take off from R/W13R at 8:26pm for our short four hours and fifty-one minutes crossing to Iceland.  Our routing took us North towards Northwalk, and we reached 33,000feet before passing the Carrabassen Valley, Caribou, Grand Falls, and Dalhousie.  We climbed to 35,000ft before leaving land and into the Atlantic Ocean. 
Amenity Kit – a basic amenity kit was passed out on flights to North America. 
Inflight entertainment – noise-cancelling headsets are available for free in business class, and the selection is okay especially given most Iceland Air flights are rather short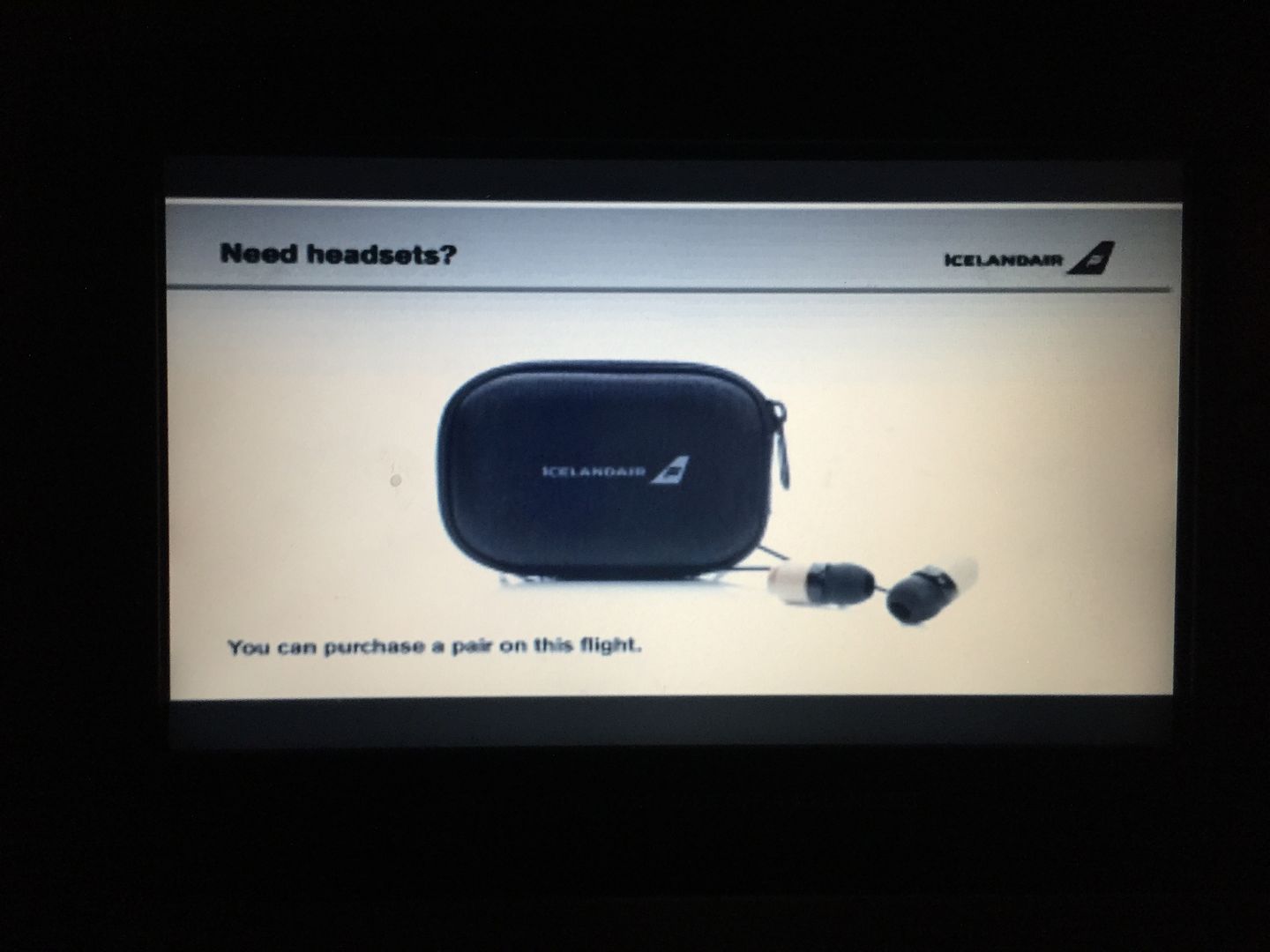 Failed moving map – very disappointing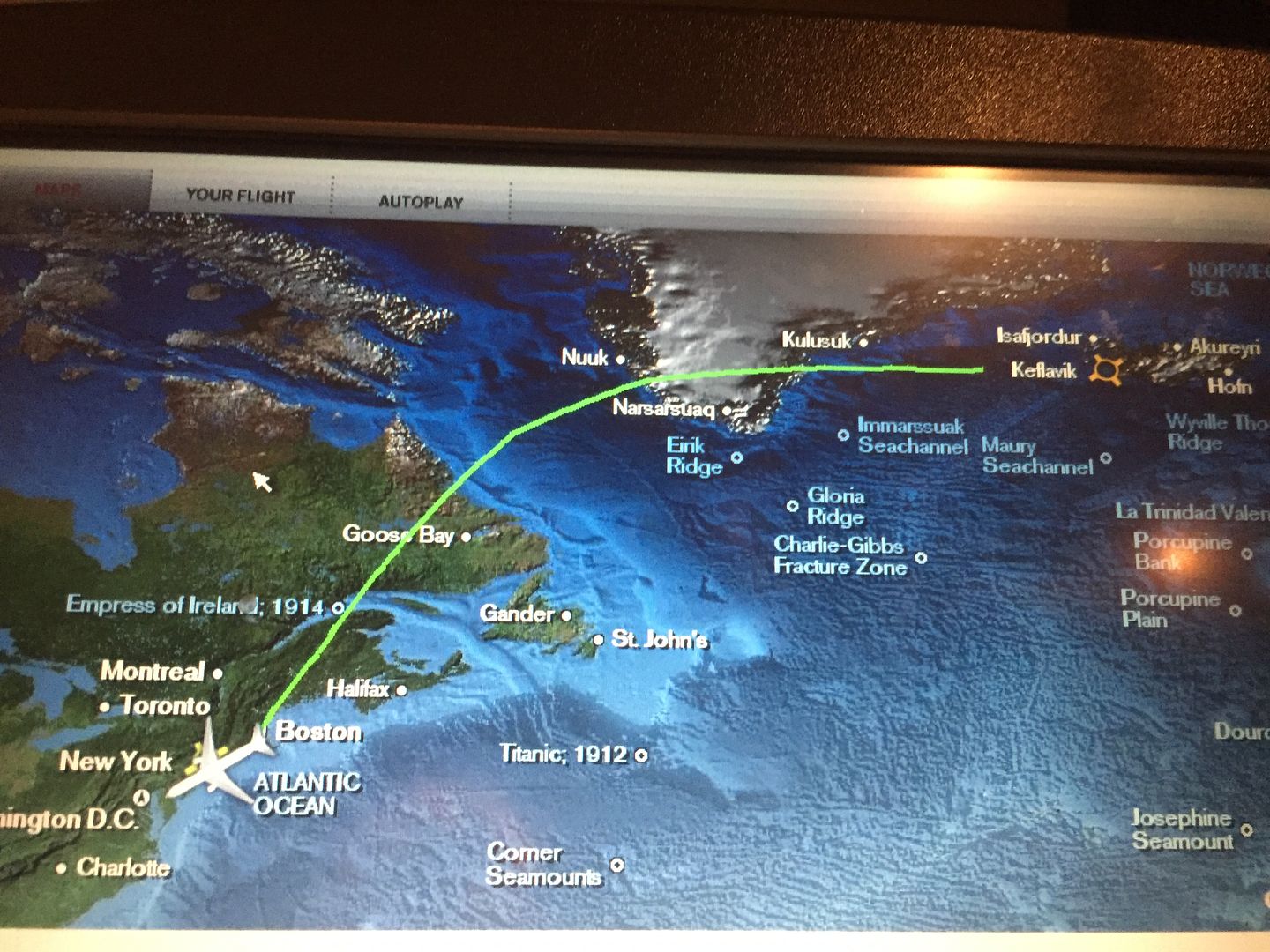 Nice wine list and menu card – just a note that Iceland Air reuses the menus and wine lists, but if you want to keep them, the F/A are fine with it.   Only North American flights feature these new printed menus and wine lists.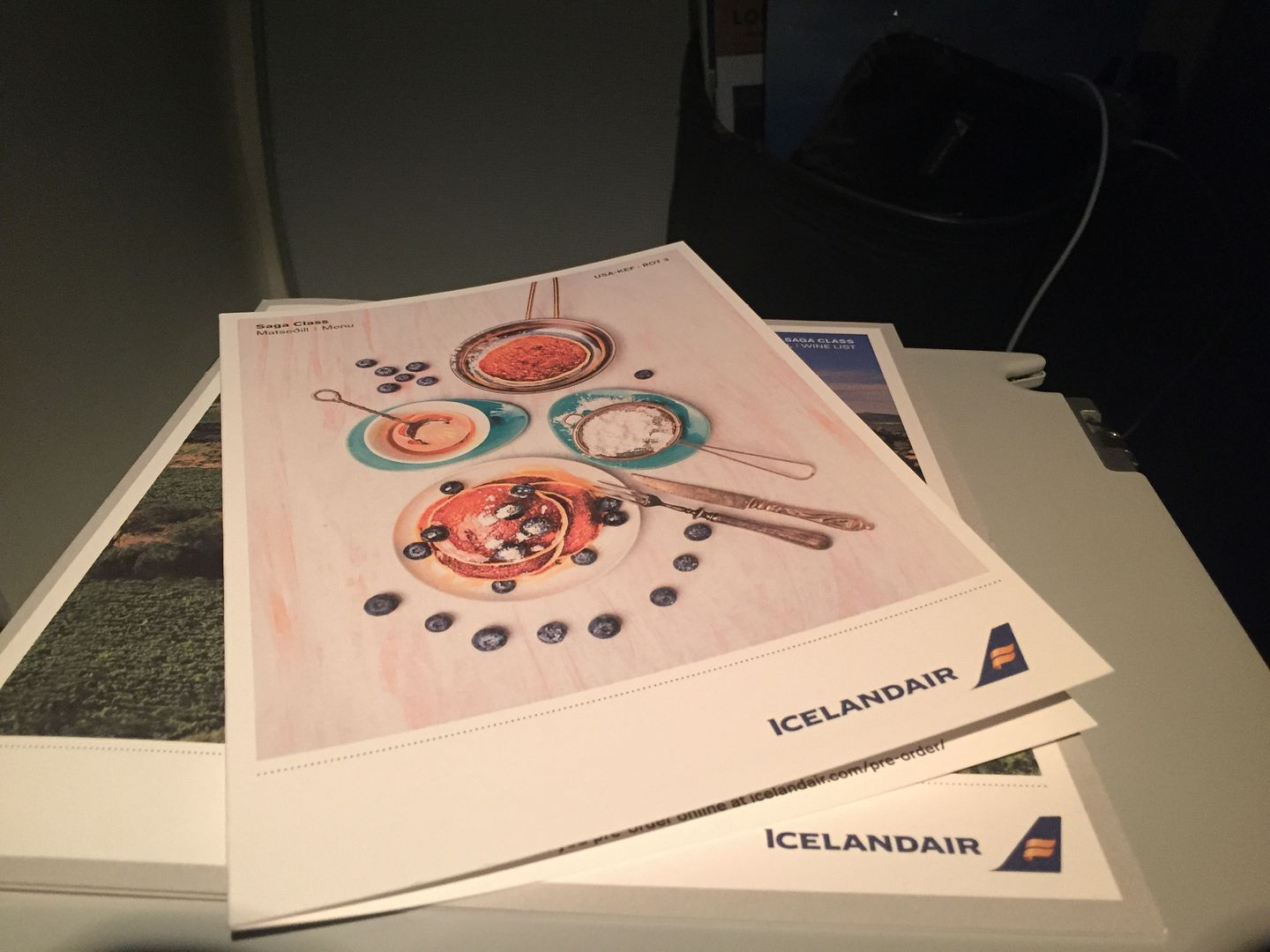 The menu looks rather sad but I have read about previous reports.  But nothing prepared me for the options – one choice is a cold salad – I think business class meals should always feature two hot entrées, so I highly recommend anyone to use their online pre-order systems, especially on those night departures from East Coast.  The pre-order systems feature more choices, including steak and fish. 
The meal began with a beverage service with honey-roasted almonds.  I stick with hot tea, and Iceland Air has a nice selection of teas.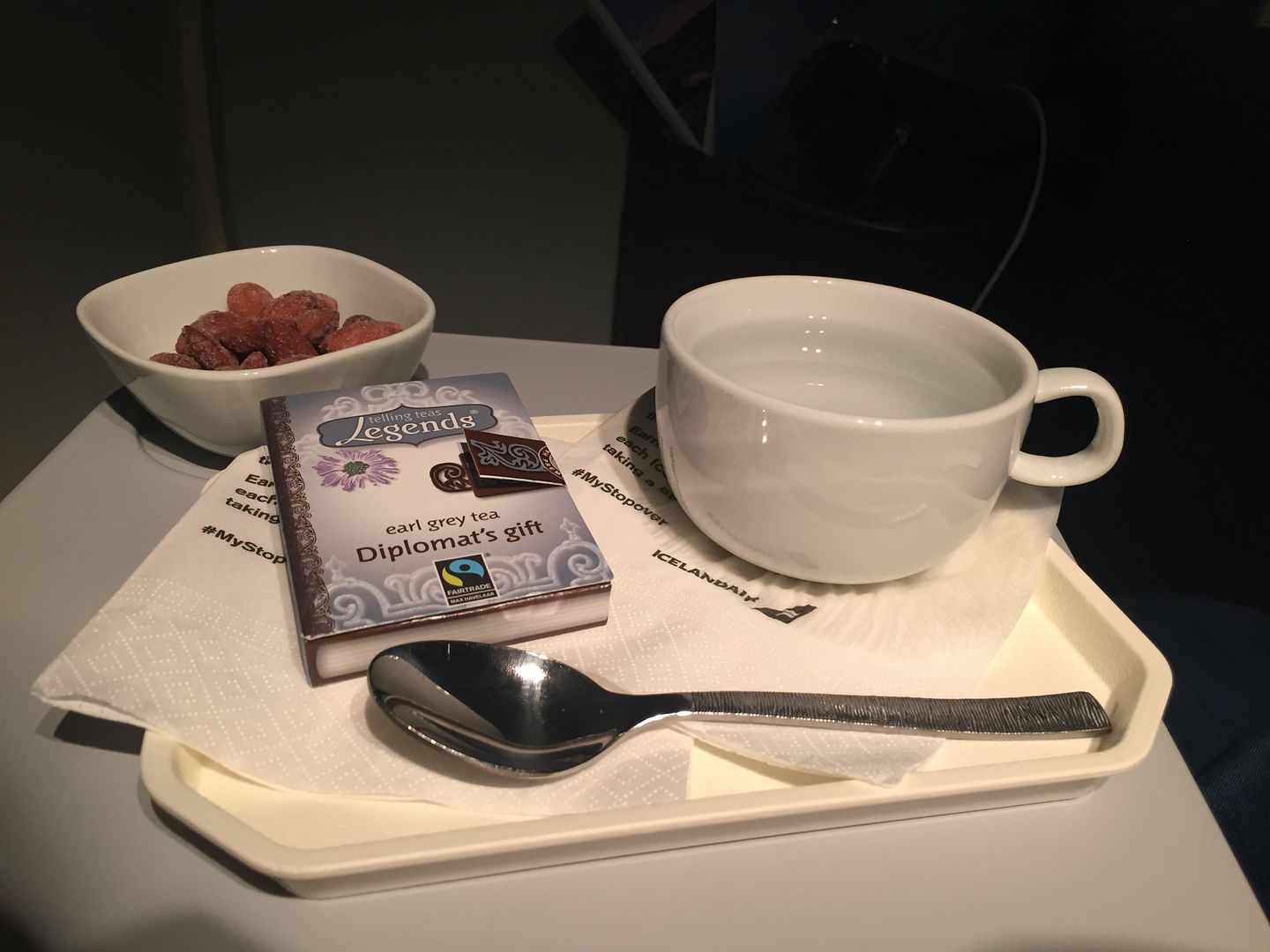 Wine List
Sparkling Wine
Mont Marcal Cava Reserva
White Wine
Laurent Miquel Nord Sud Viognier, France, Cazal Viel
Hardy's Nottage Hill Chardonnay, South Australia, Australia
Red Wine
Santi Solane Valpolicella Classico Superiore, Veneto, Italy
Cune Reserva, Rioja, Spain
This supper service is basically a one-tray service with appetizer, entrée, and dessert.  Warmed breads were offered separately. The meal actually tasted fine and the Indian style chicken was not as bad as I thought.  The meal was a bit on the small side, but since my body clock was all messed up, I was not particularly hungry.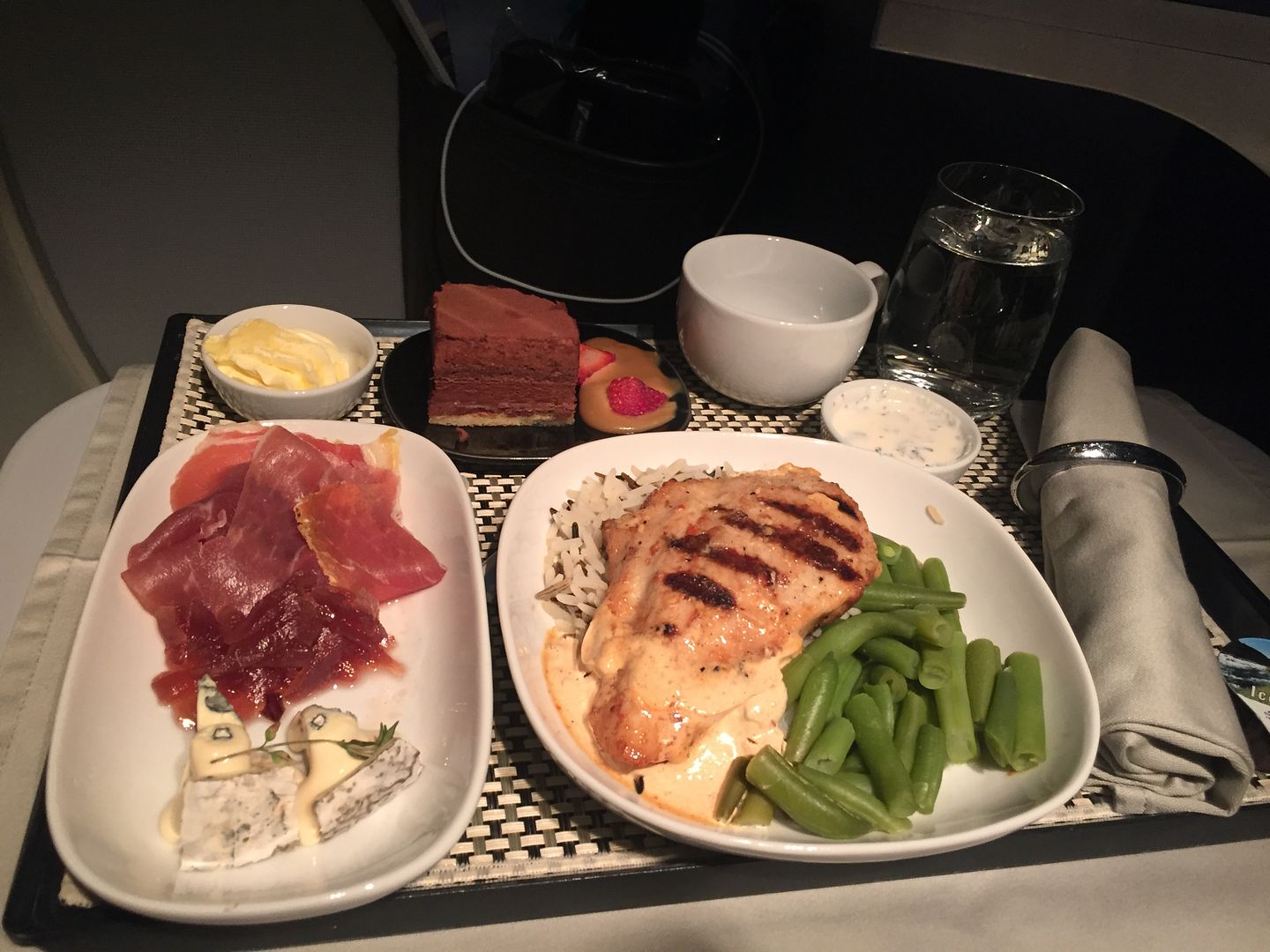 Starter
Parma ham and the blue cheese "Ugly"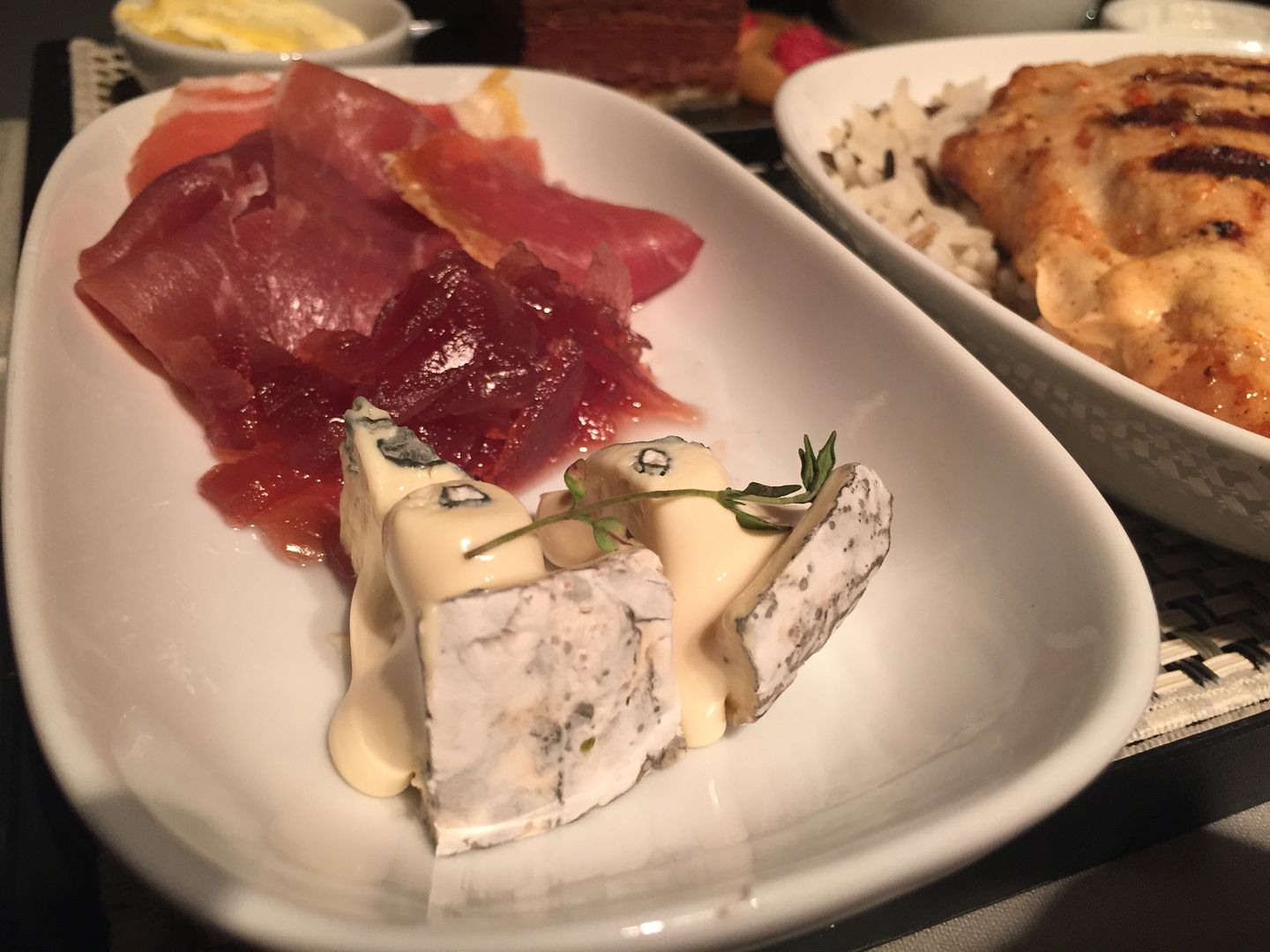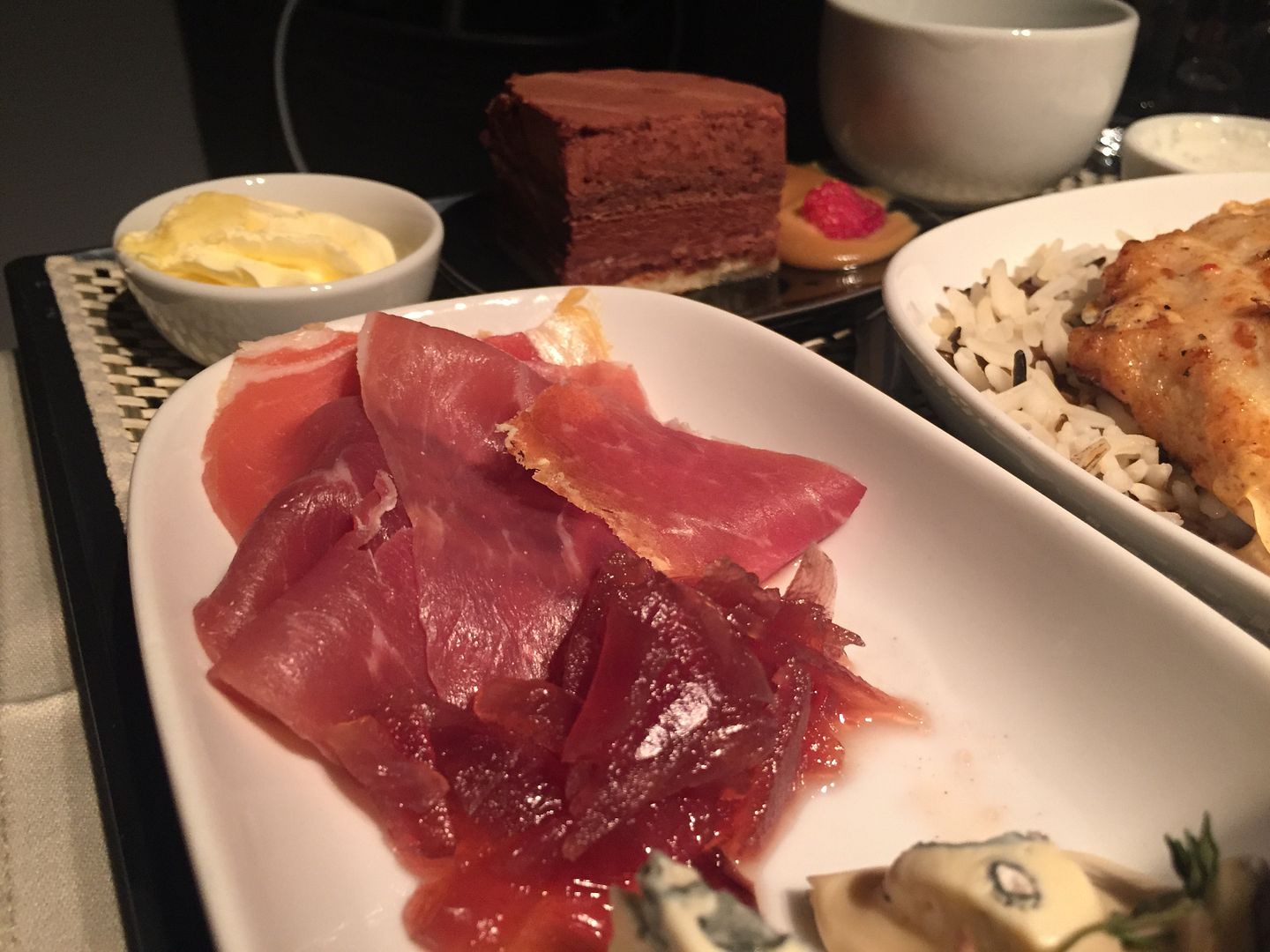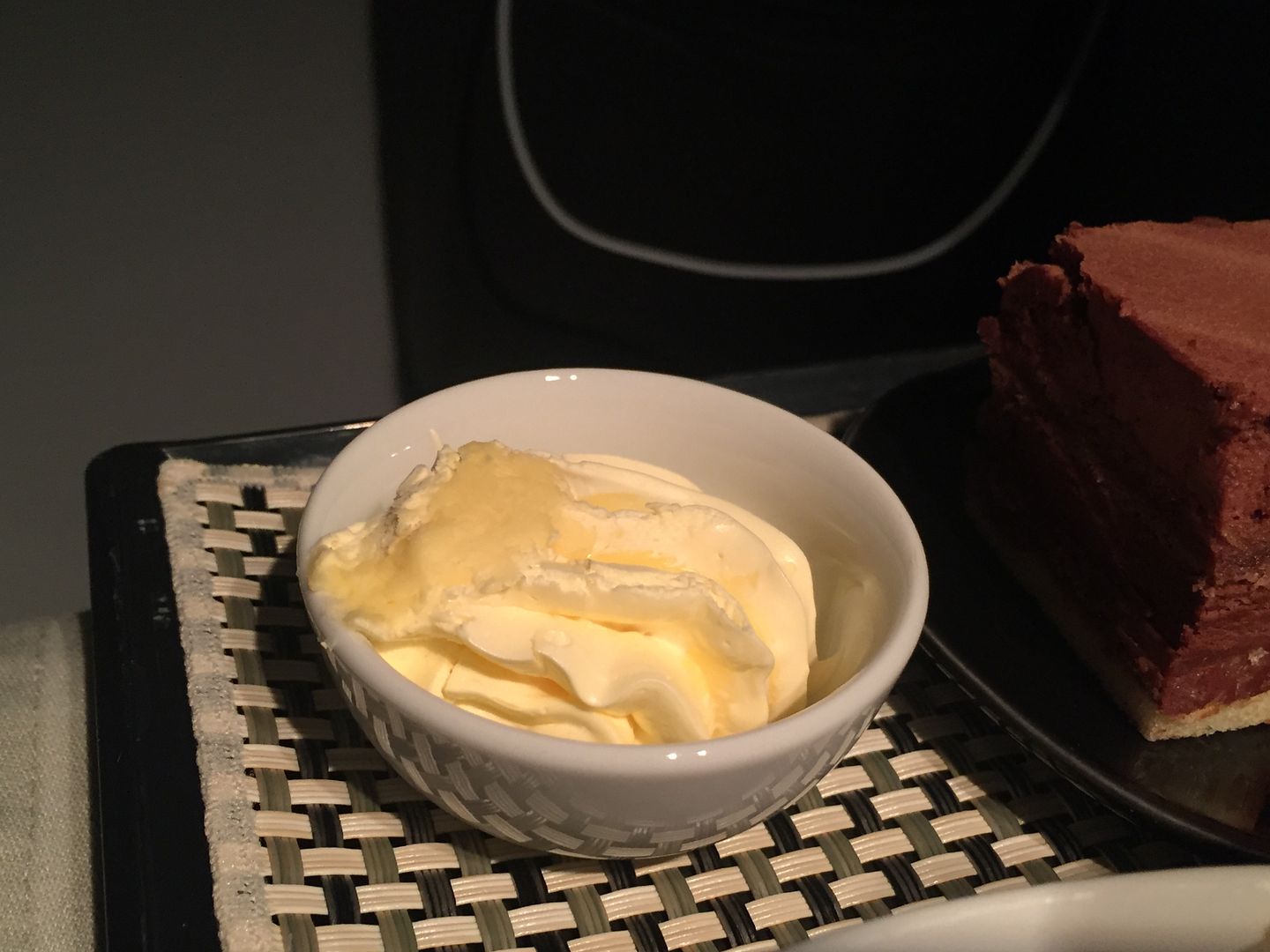 Main Course
Saga Class Salad
Romaine and Iceberg salad with candied nuts, cucumbers and carrots, julienne, and slices of beef with BBQ sauce and an oriental dressing
Or
Indian Chicken Breast
Chicken breast, marinated in yogurt and Indian spices, served with fried rice, haricots verts and yogurt sauce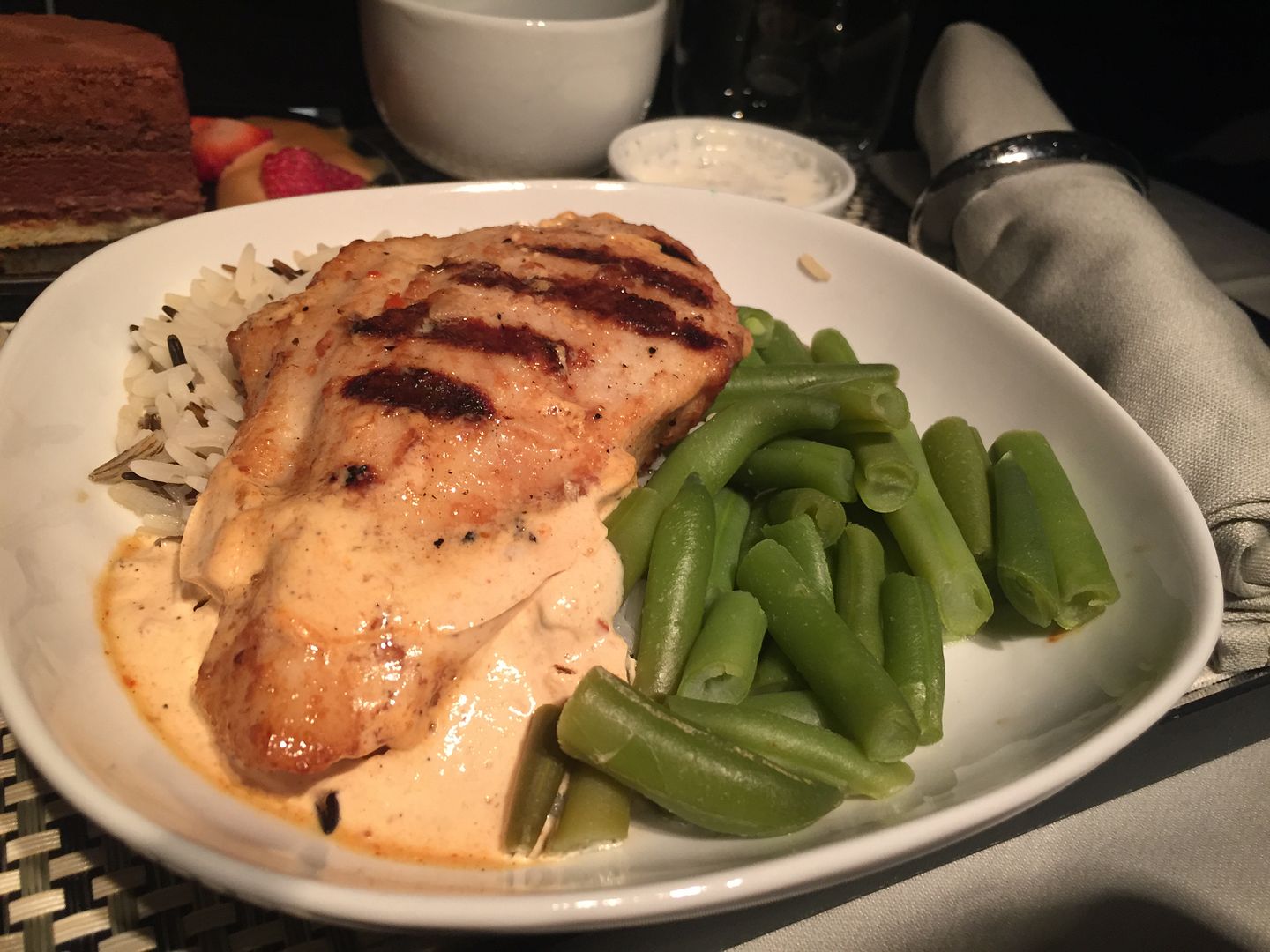 Dessert
Chocolate Cake with strawberries and caramel
More selection when you pre-order online at icelandair.com/pre-order
After dinner chocolate
USA-KEF ROT 3
Utensils
Dinner was completed within 90 minutes after takeoff, and I went straight to sleep.  Freshly warmed croissants were offered about forty-five minutes prior to arrival.  The F/As kept on offering them to waking passengers, and freshly squeezed orange juice was offered after descent has commenced. 
We landed on a very dark Keflavik International airport's R/W11 at 6:17am local time.  We were parked at gate 9 seven minutes later.  Transit was relatively simple and I went through immigration (EU) quickly. 
Attempt to take a photo of TF-FIX
I headed straight to Saga Class Lounge, as photography was not possible at these dark hours.  Sun did not come up till 9am in the winter.  The lounge was surprisingly pleasant with a good spread of breakfast foods, lots of seating options, and free and fast WIFI.  I took some pictures this time.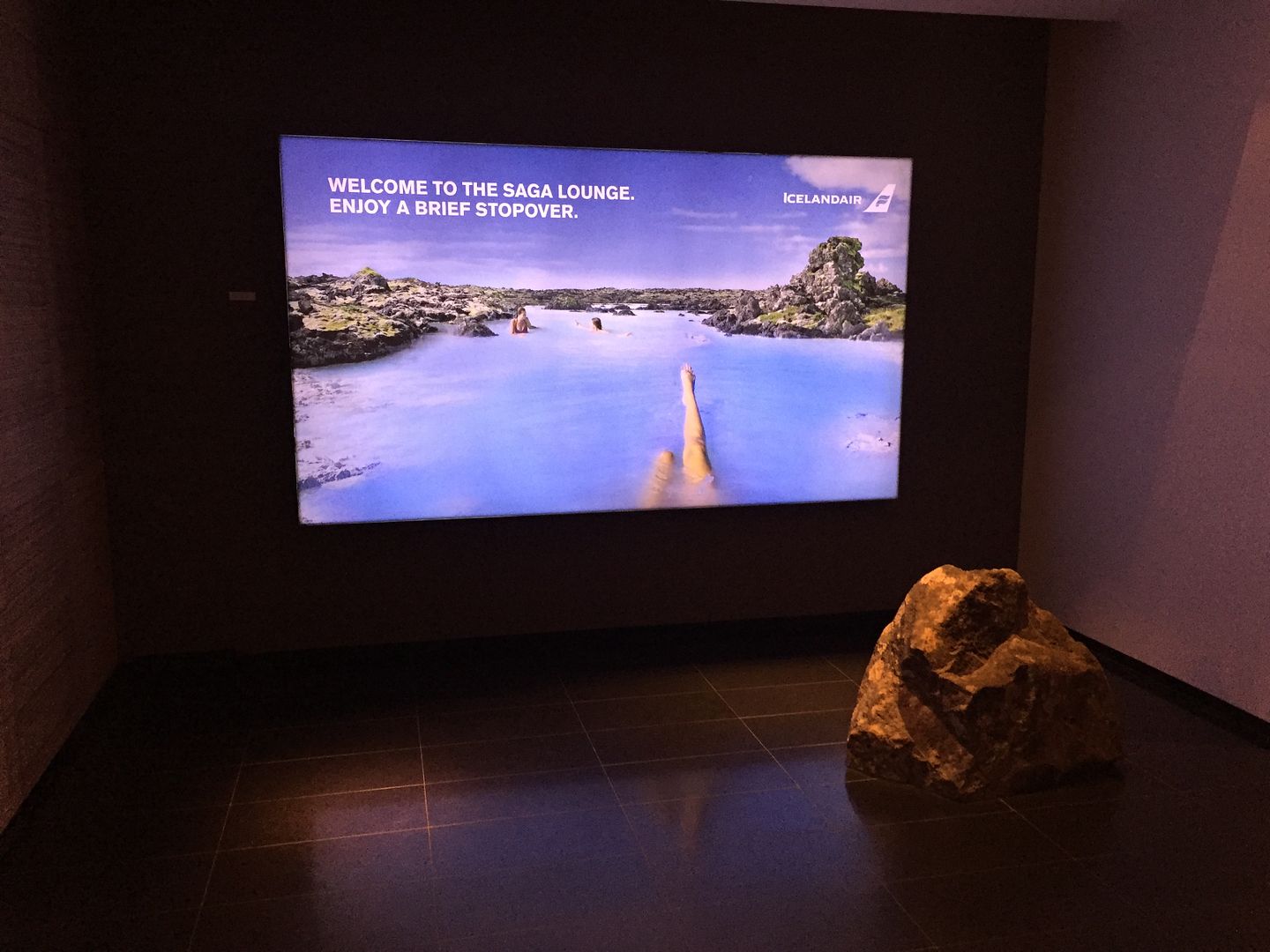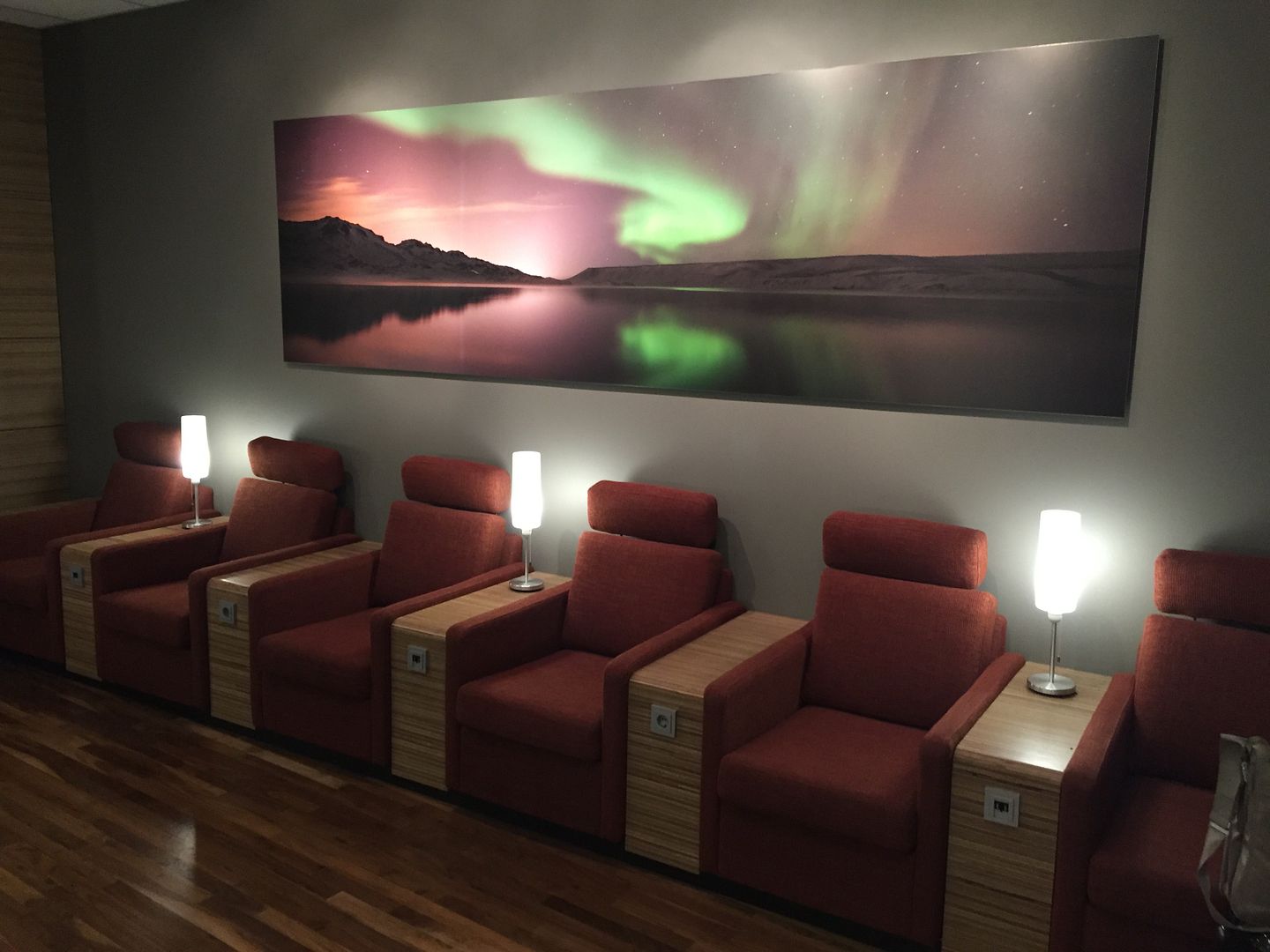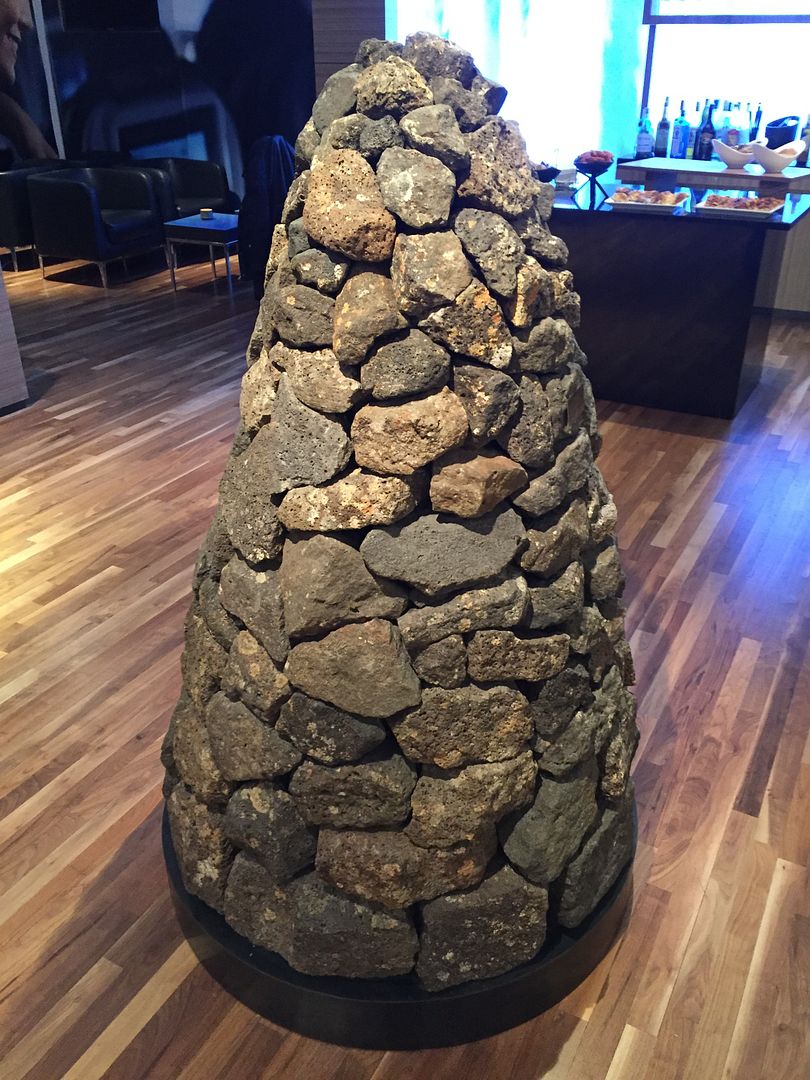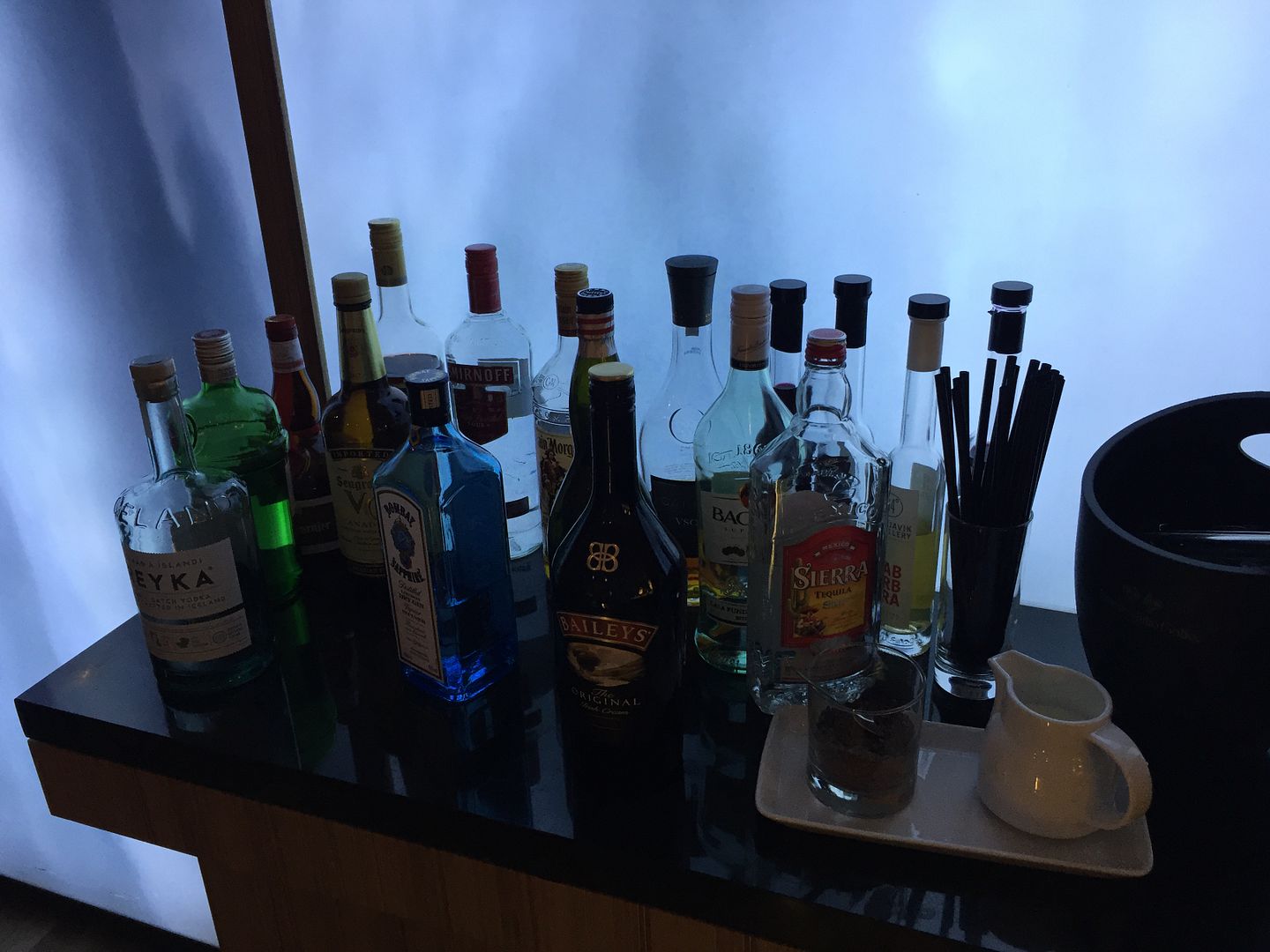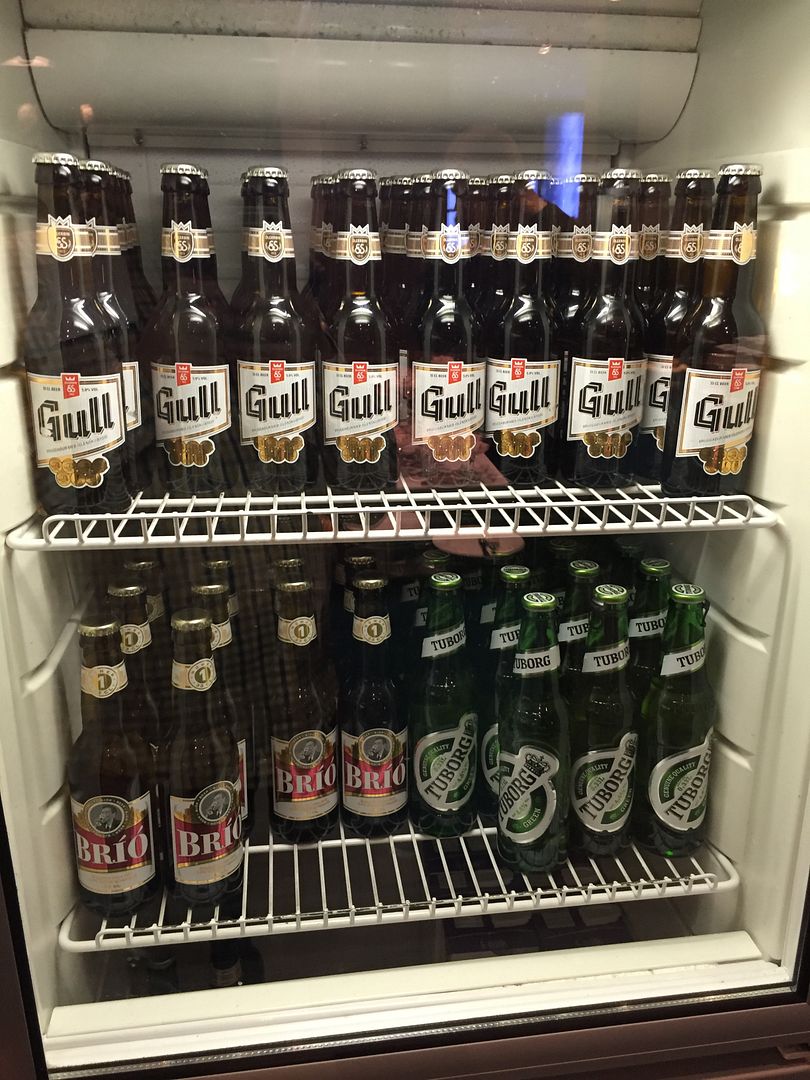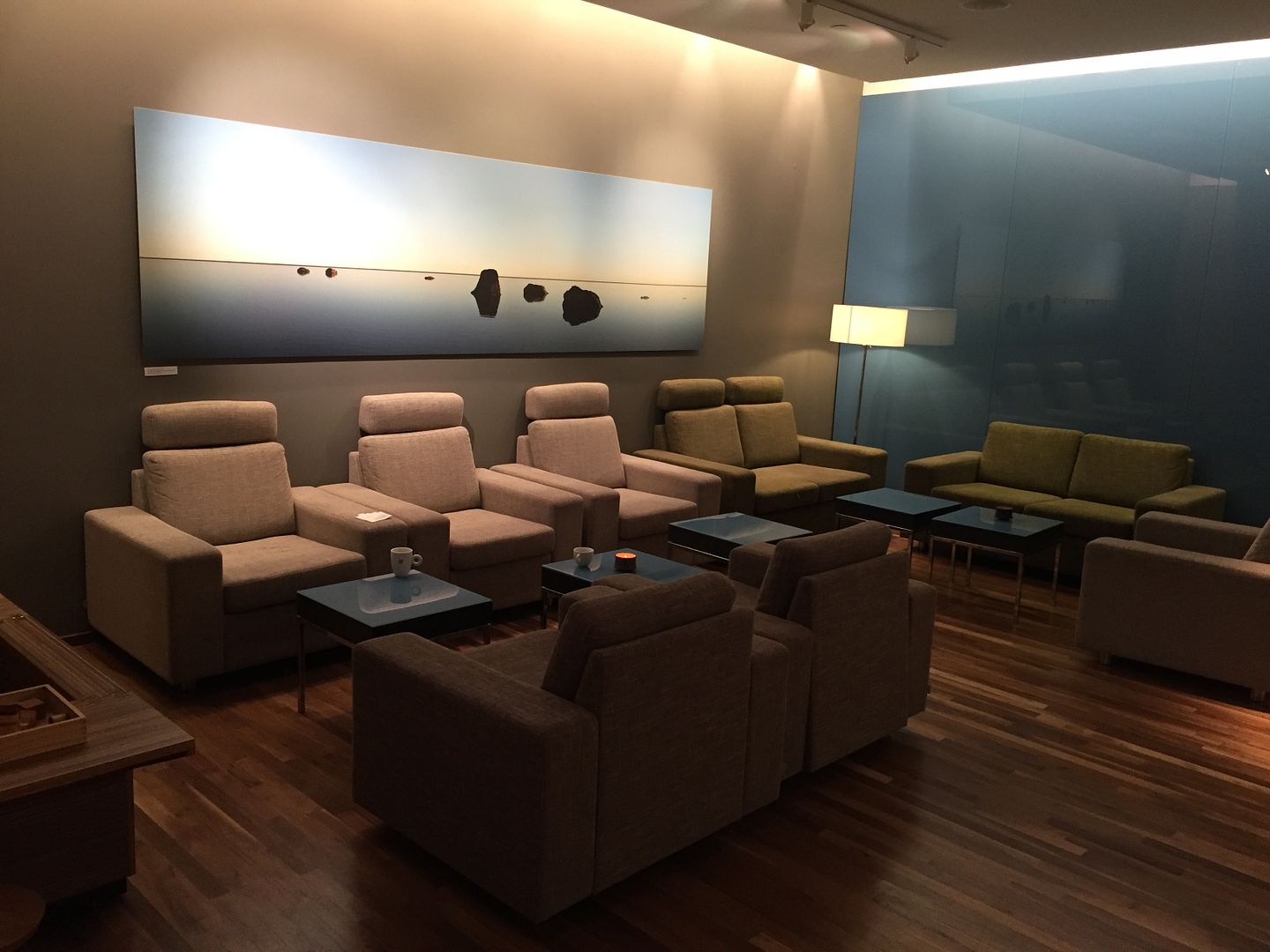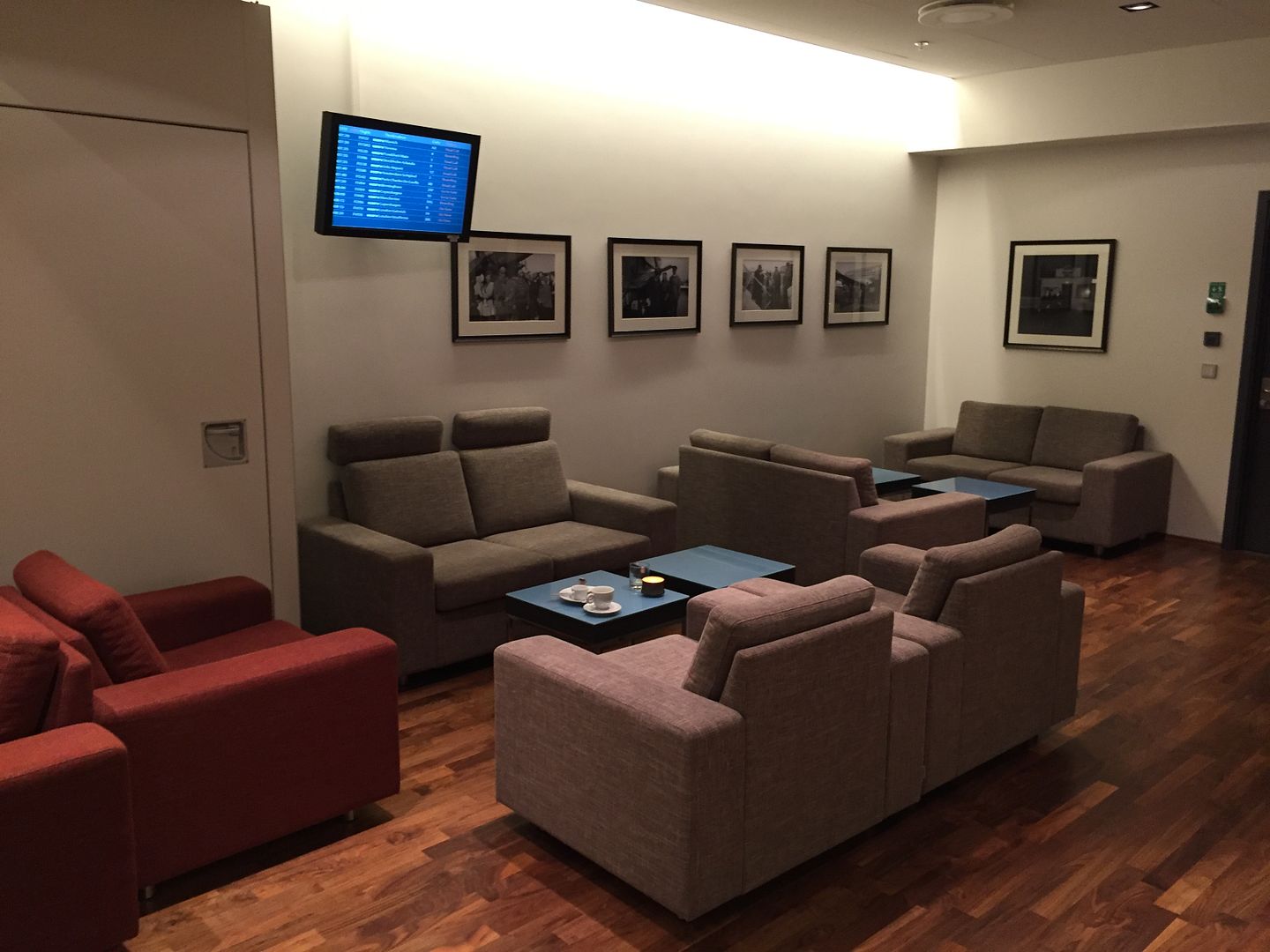 Lounge chair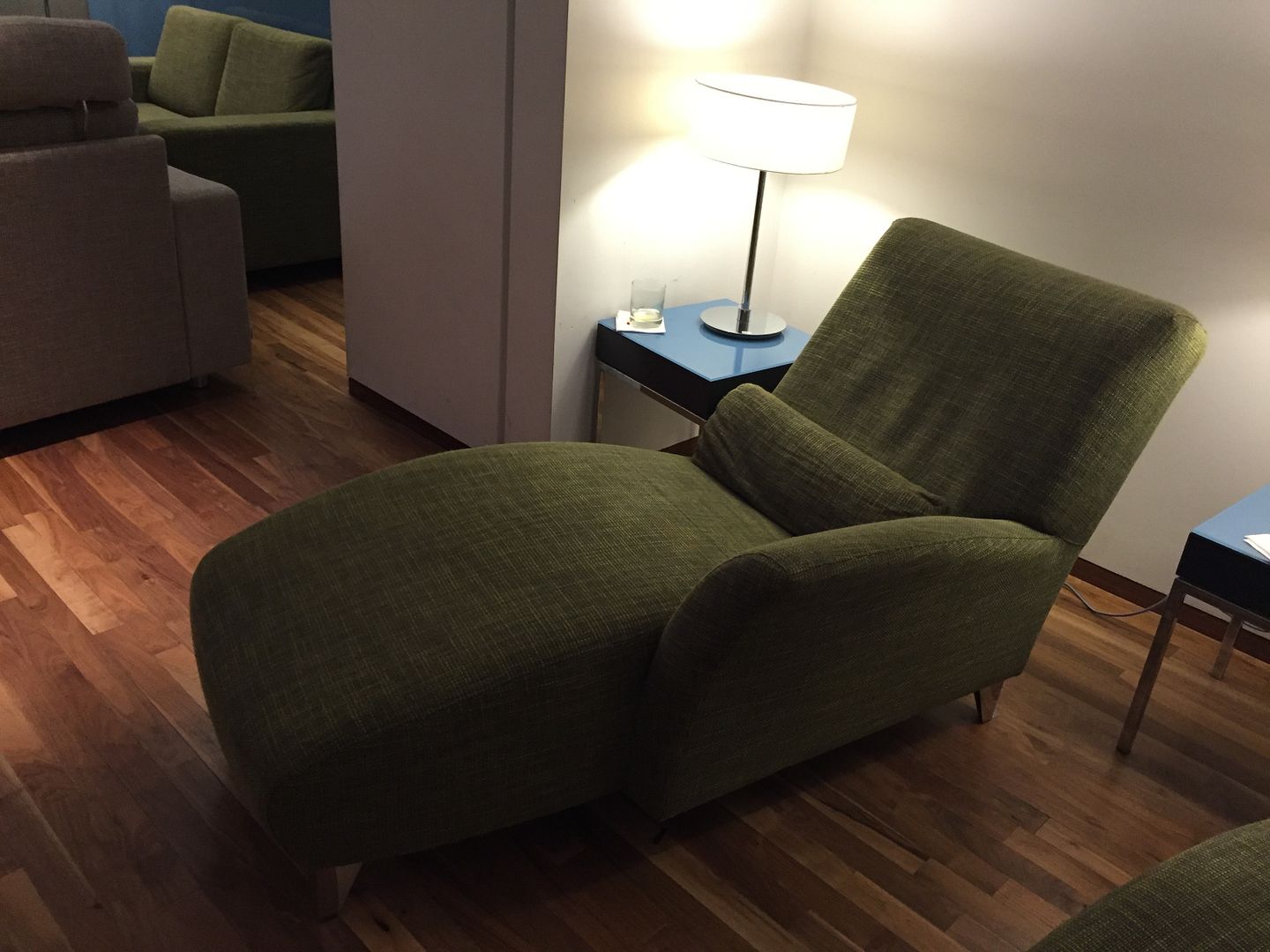 Toys for children