My 13th A380 Operator: Qatar A380 CDG-DOH-BKK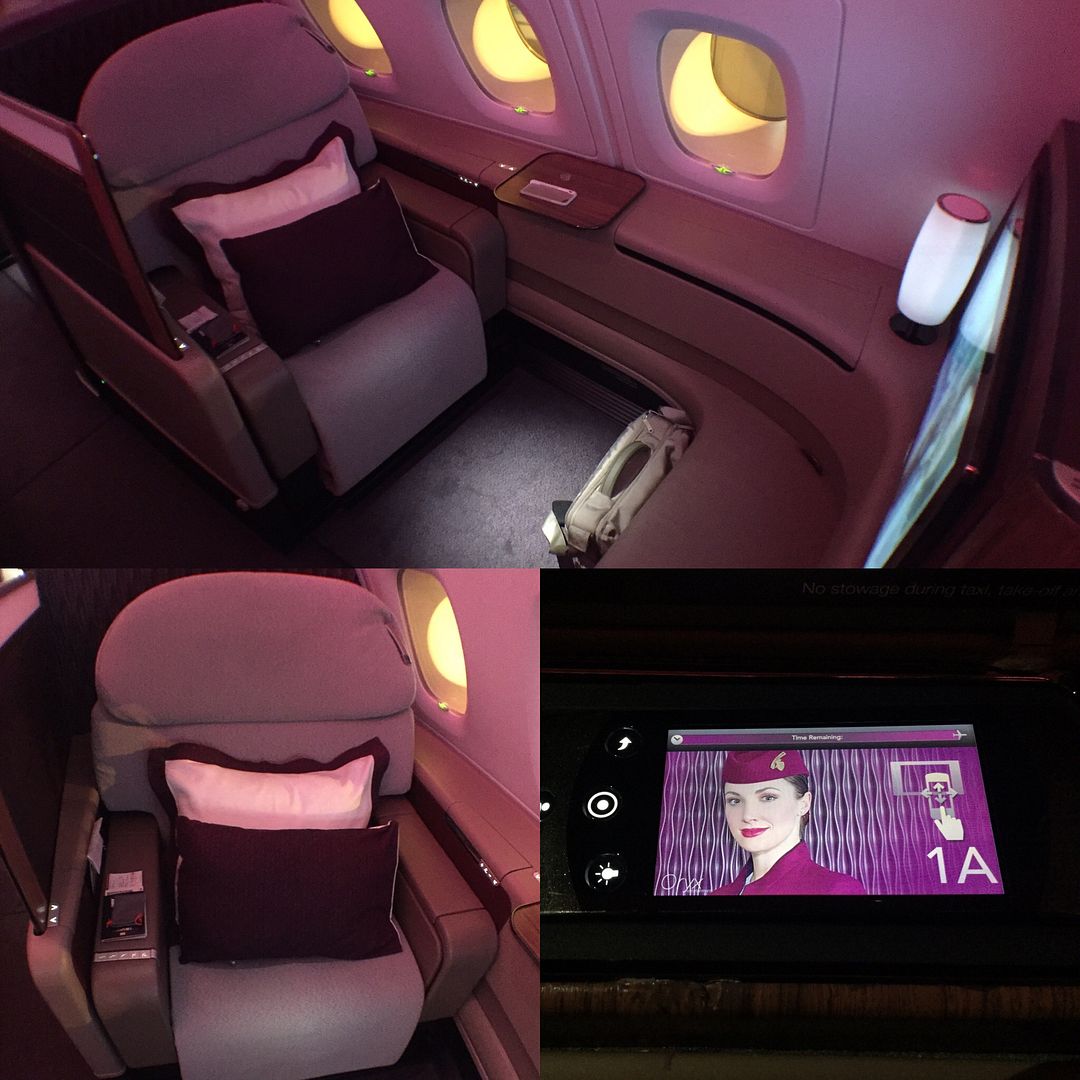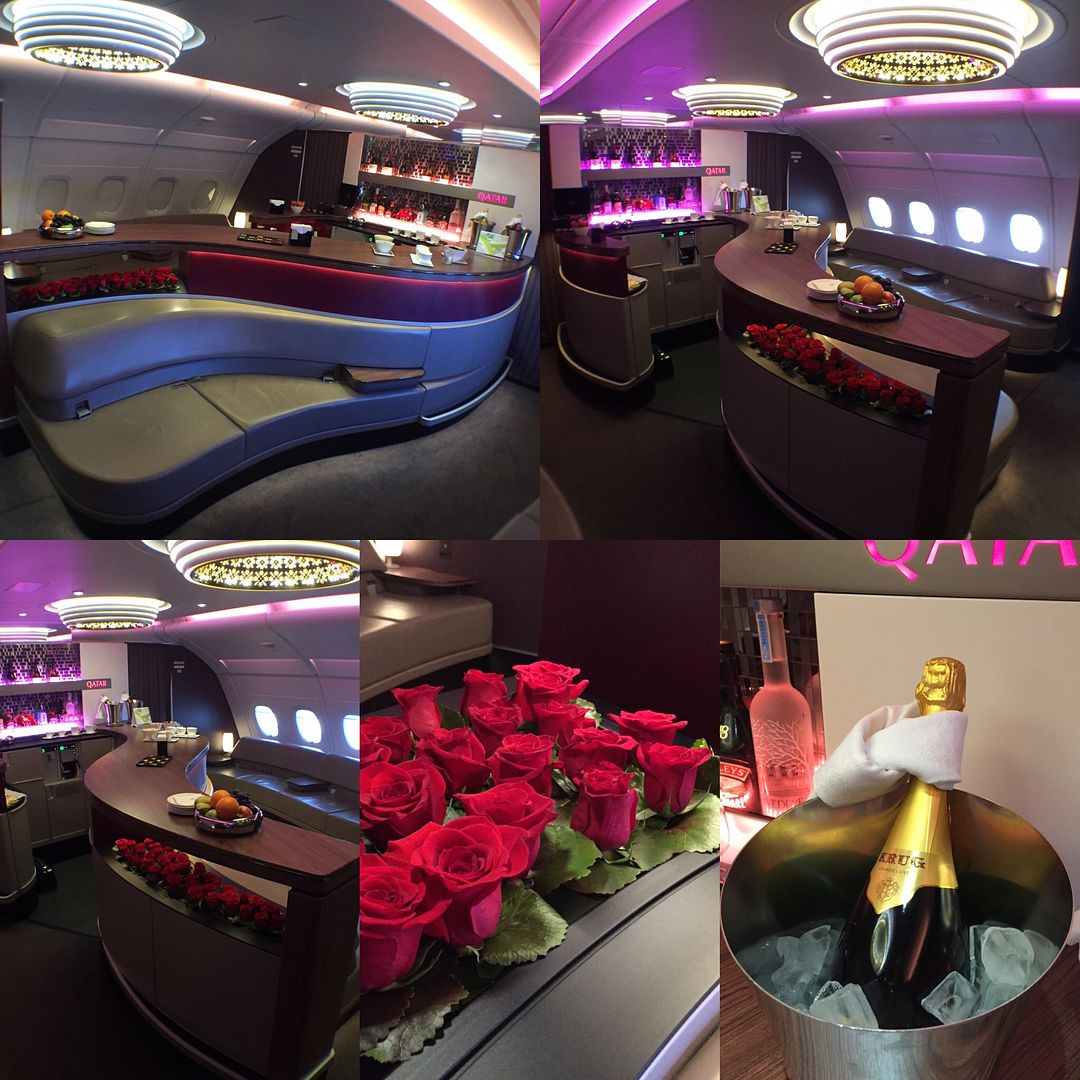 Qatar Airways has always been one of my favorite ME3 airlines, and my first roundtrip flight on Qatar was on its A340-600s with the onboard lounge.  While those suites were not fancy, the service was great.  Catering was excellent, but unfortunately, I found the standard had declined.  While it was still top notch compared to most US and European airlines, catering and amenities offered obviously suffered major cost-cutting efforts.  Catering suffers the most, especially the elimination of the canapés course, as well as the rather poor main course selections, especially compared to Etihad and Emirates' more varied a la carte menu.  There is also a great difference between lounges in out stations and in Doha – they are like two different worlds.  The Paris lounge, "Salon Galaxy" does not even offer free WIFI, while the Doha's Al Safwa First Class lounge is amazing.  What it reveals that Qatar cares about costs – while Doha features amazing lounge and even ground service, Qatar Airways spends as little money as possible in out stations, except the few major cities in the world.  If it is truly generous, it will offer turndown service on all flights above six hours, as well as both amenity kits and pajamas.  Qatar is really not as generous as before, and at the same time, it has a hard time maintainining consistency among its cabin crews.  Anyway, this trip celebrates my 13th A380 operator – until the next operator (ANA possibly) arrives, I can clalim I fly all 13 of them. 
Full album:
http://s1213.photobucket.com/user/Carfield76/library/Winter%202015-16/Qatar%20A380%20February%202016
(I will like to apologize for the lack of actual plane pictures, as all three airports offer little chance for good plane pictures, as well as good close up pictures.  While the plane sat in BKK for the afternoon, that airport is just simply bad for any good photos!)
February 22, 2016
QR 40 CDG-DOH Lv1500 Arr2325 Airbus A380-800 A7-APA
Check in:
I did my research, so I knew Qatar Airways' CDG operation was pretty unimpressive in advance.  I arrived CDG about 150 minutes prior to departure.  The check-in area was very busy, but the supervisor was in hand directing passengers.  There are separate lanes for first, business class, elite passengers, and online check-in/baggage drop off lanes.  First Class lane was fairly busy this morning, and I recognized one of my neighbors eventually later during flight.  Unfortunately this check in was anything but smooth.  The gentleman checking me in was friendly and polite, and he checked my bags all the way to HKG via DOH and BKK, and they could even print out the boarding passes on the Cathay Pacific's segment.  Unfortunately, I immediately noticed that my pre-assigned window seats had mysteriously disappeared.  I of course raised my attention and the agent said that all the window seats were occupied.  I told him that I had already pre-booked and gave him a printout of the reservation with the corresponding seat assignments, 1A and 2A.  He immediately called for help from his supervisor.  The supervisor wanted to give me the go around, but I told her that I booked these seats almost 6 months ago.  Who took my seat?  She spoke a bunch of French with the agent, but all the window seats were occupied.  The agent eventually released a window seat for me on the DOH-BKK flight, as well as the CX BKK-HKG flight, but I was persistent.  So she just said that she would block the seats next to me but I don't know if getting both 1E and 1F help.  Of course the tail camera chose to go out on this flight.  If a major airline can't even honor my seat assignment, how can I book a flight with them?  I was planning an Asian trip in the summer, and despite Qatar Airways offer some good fares from CMB to the East coast on the Airbus A350s, I immediately book other options.  This incident really irritates me.
Lounge:
I received an invitation to the Salon Galaxy, which is just a new name to the previous Air France Le Salon Premier.  This lounge was simply awful in every aspect.  The food options are sad but at least they have cup noodles and sandwiches now.  Unfortunately the furniture were the same – sad outdated and pathetic.  The worst part was that there is no complimentary WIFI at all.  I just can't imagine any business class lounge in 2016 will have no free WIFI, in the age that we are complaining about lack of free WIFI in airports.  For Priority pass users, I recommend you going to the Star Alliance lounge one floor above this one.  Don't even waste your time here.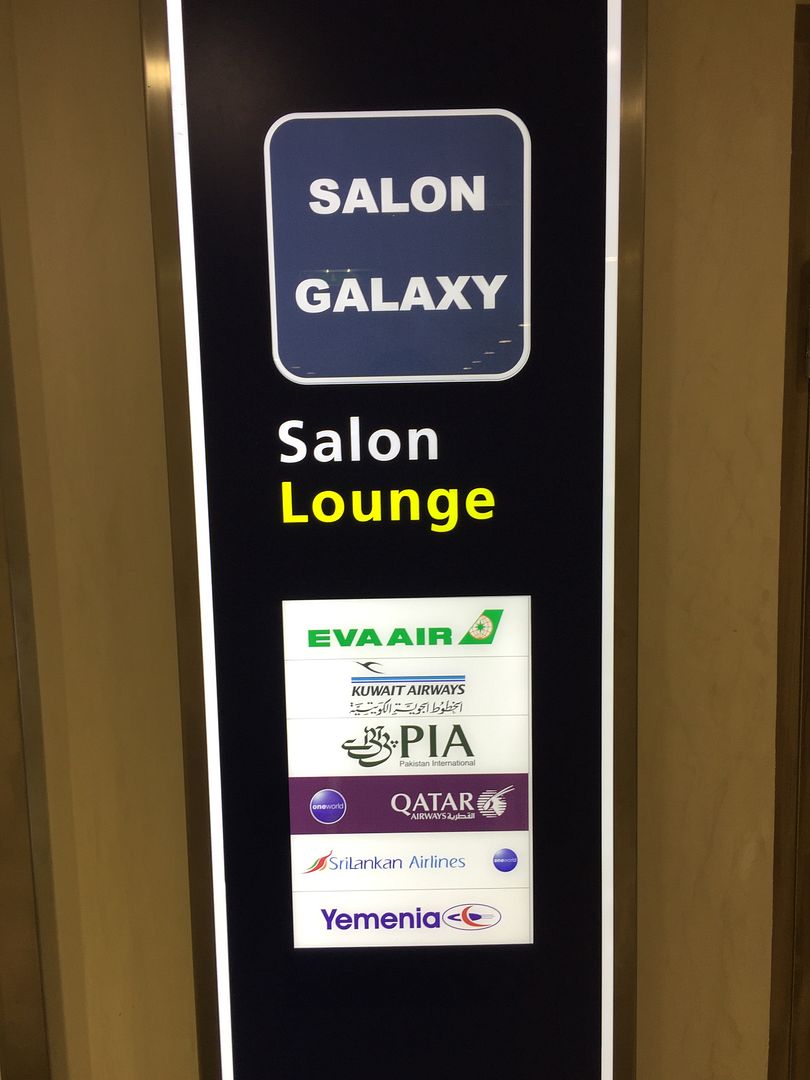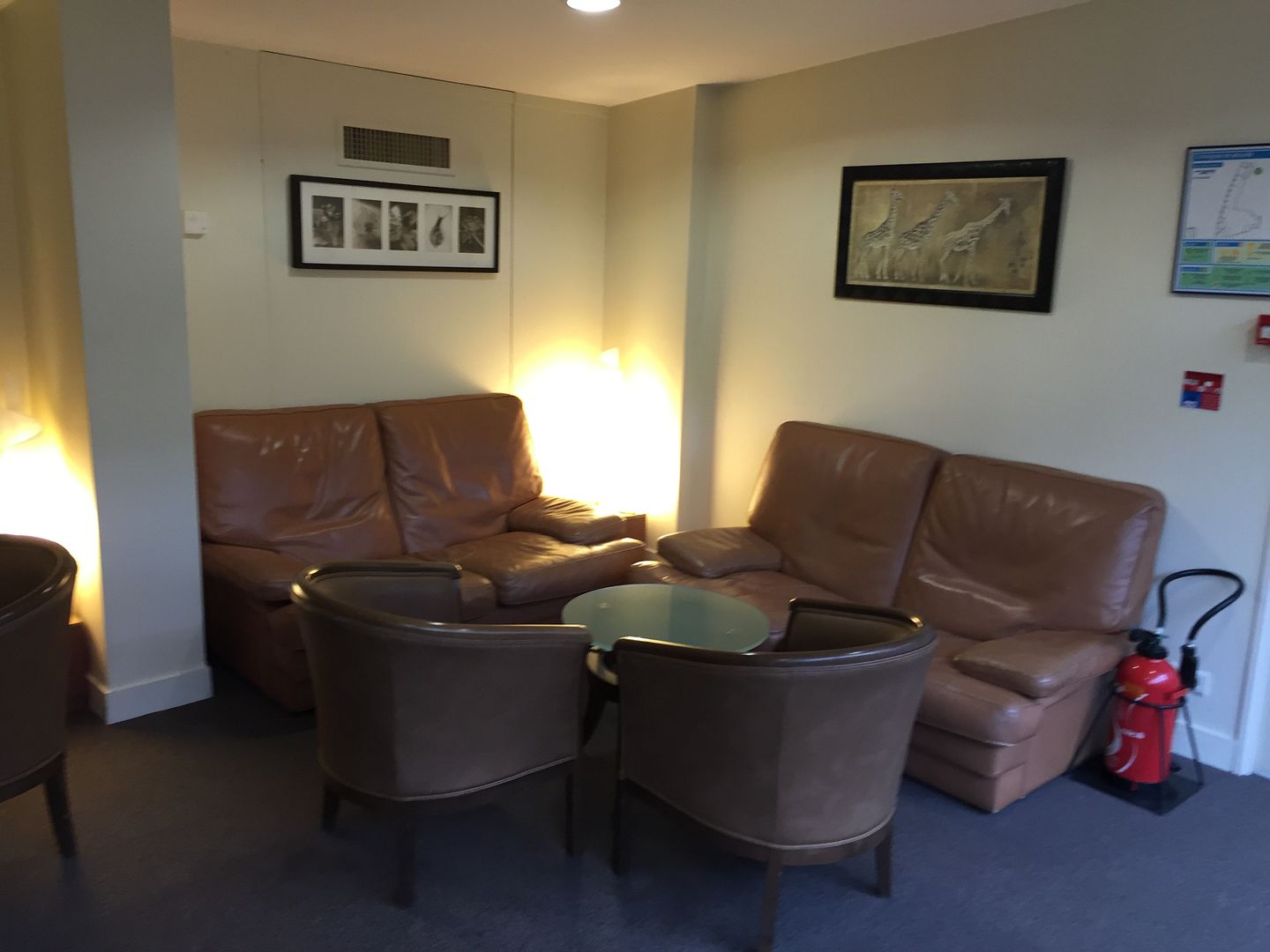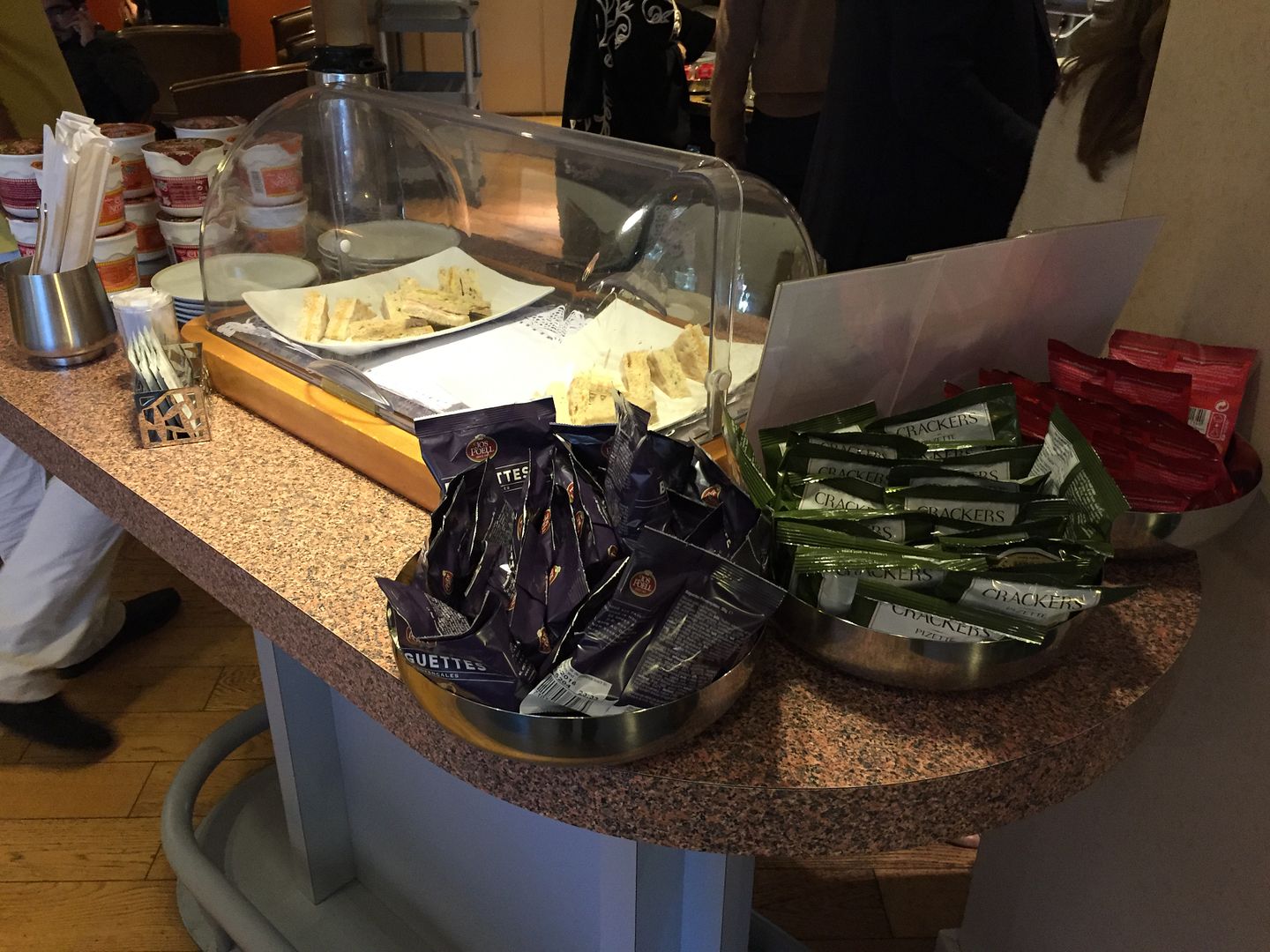 Given the poor lounge situation, I decided to proceed to the gate hoping to at least get to board early and to take some pictures of the cabin, which I at least was about to do so. 
A7-APA
Boarding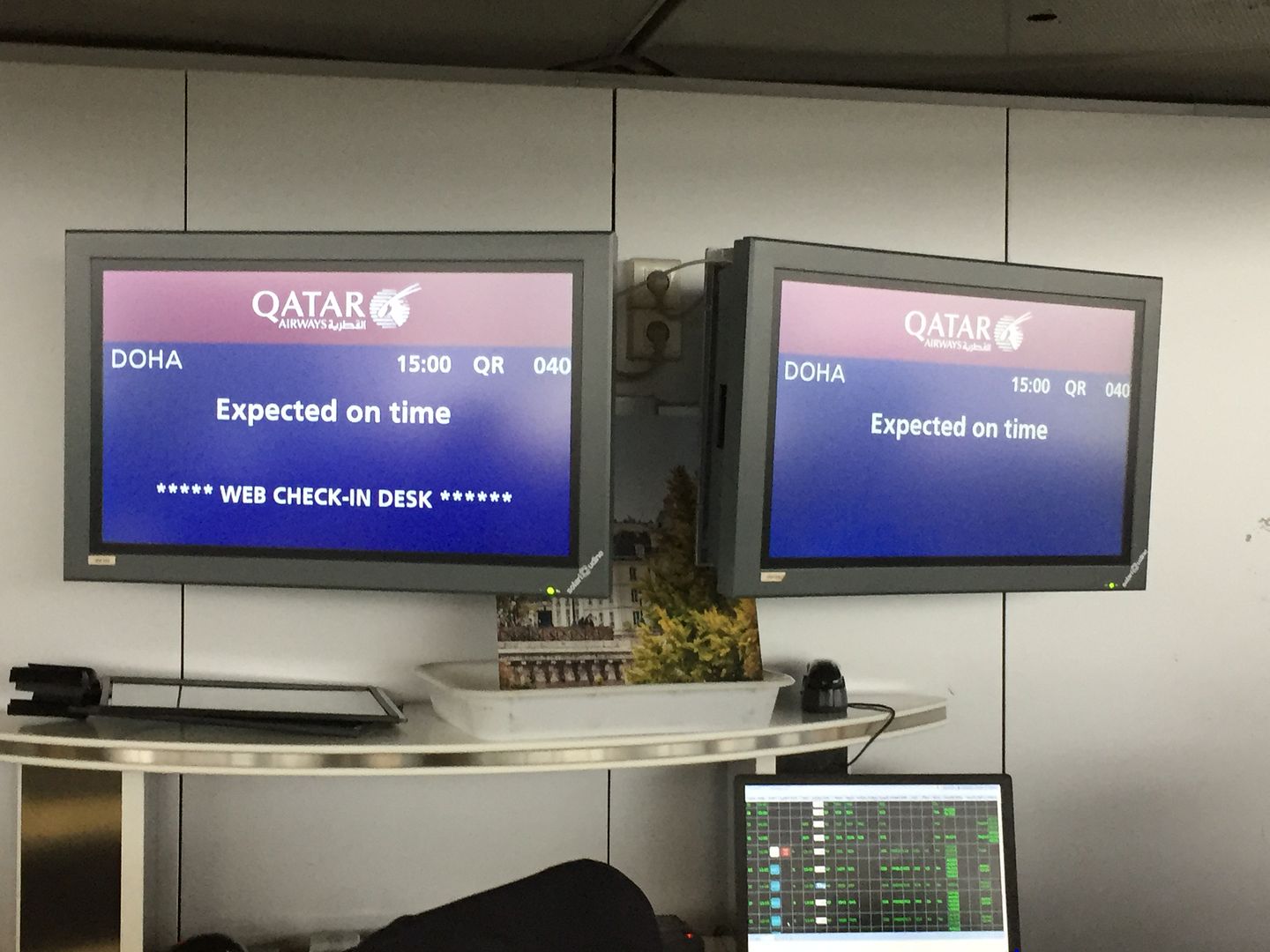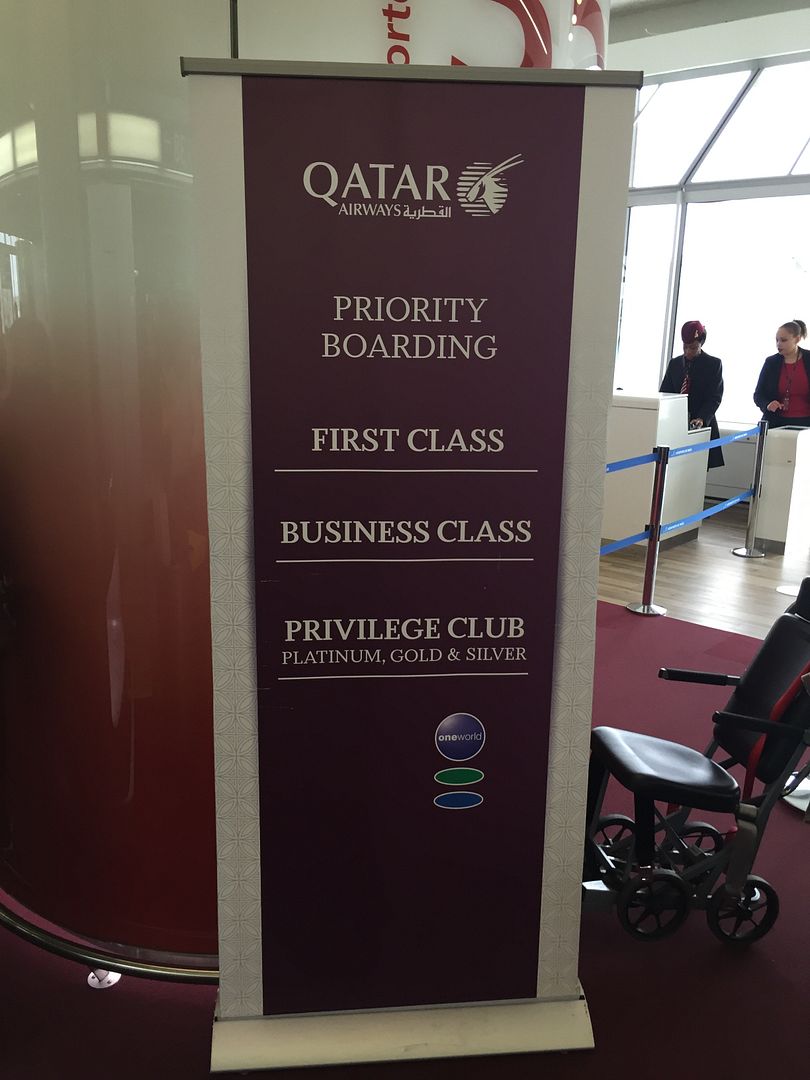 Just a friendly reminder, you went through security check at the gate, and despite fast track access for first and business class, the boarding area was small and you have to allocate at least 15 minutes to go through the formalities. 
Boarding began really early at 2pm, an hour prior to departure.  Unfortunately my neighbor 1A also boarded early, but I still managed some good pictures of the cabin.
Cabin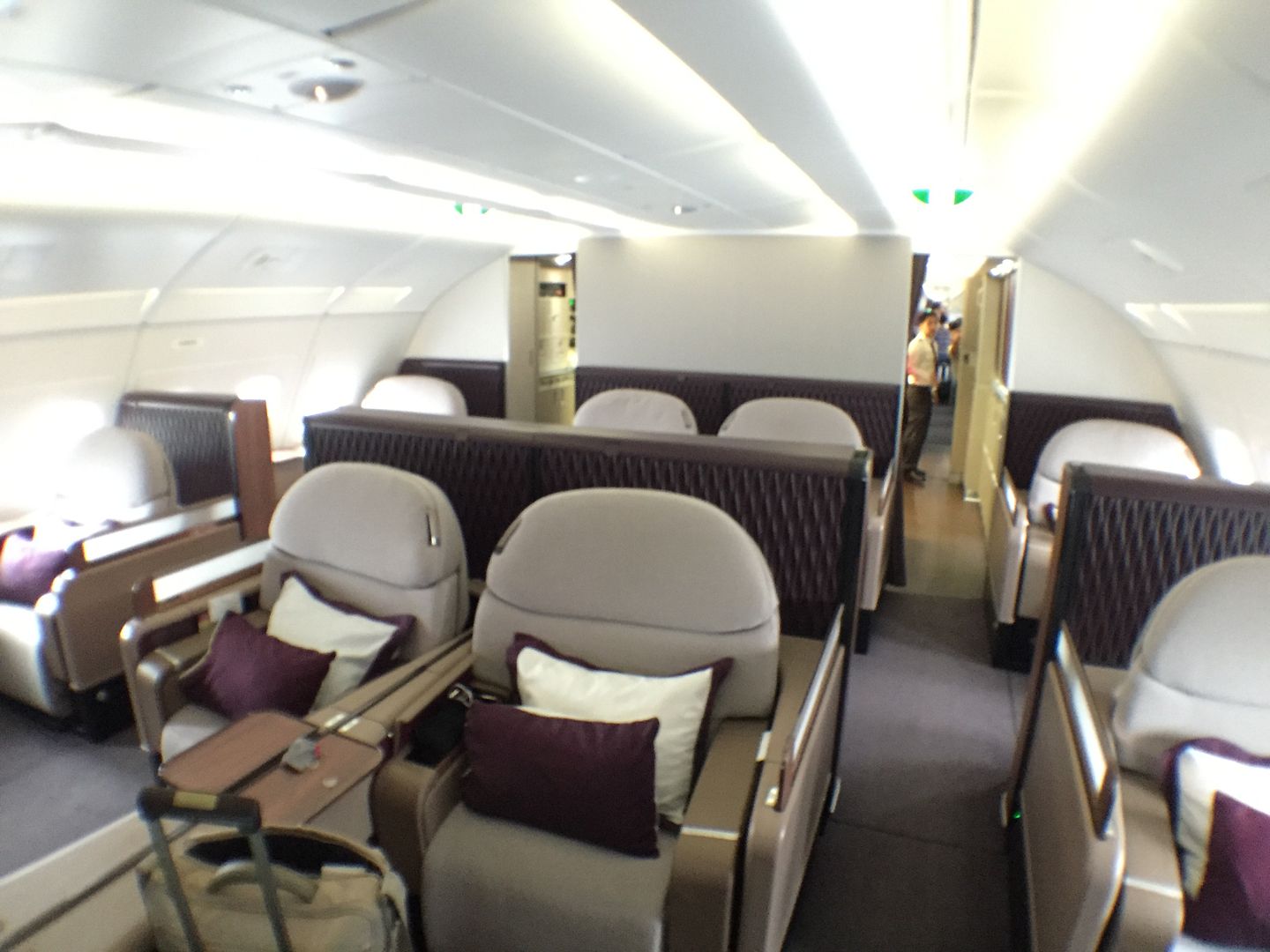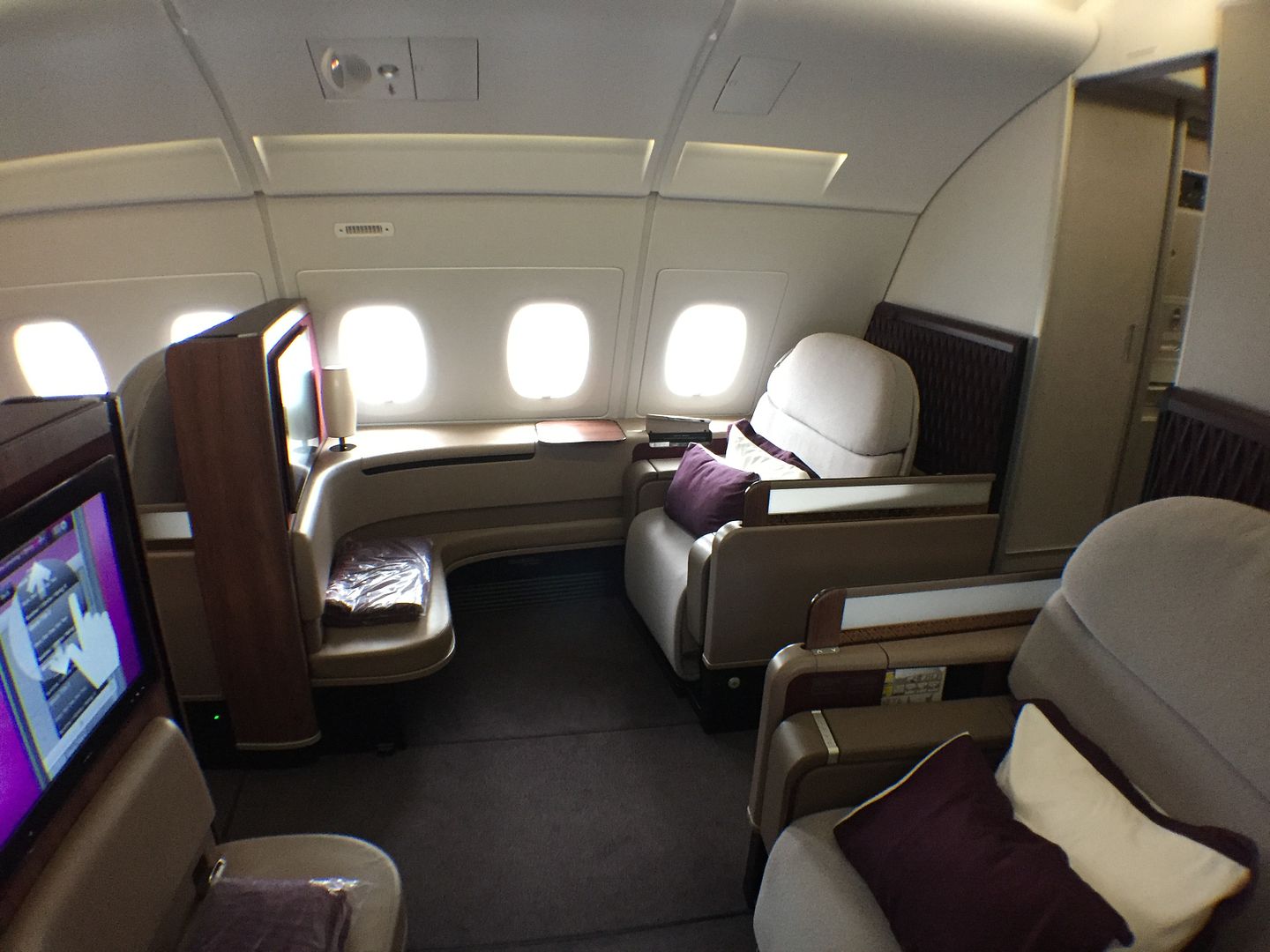 Business Class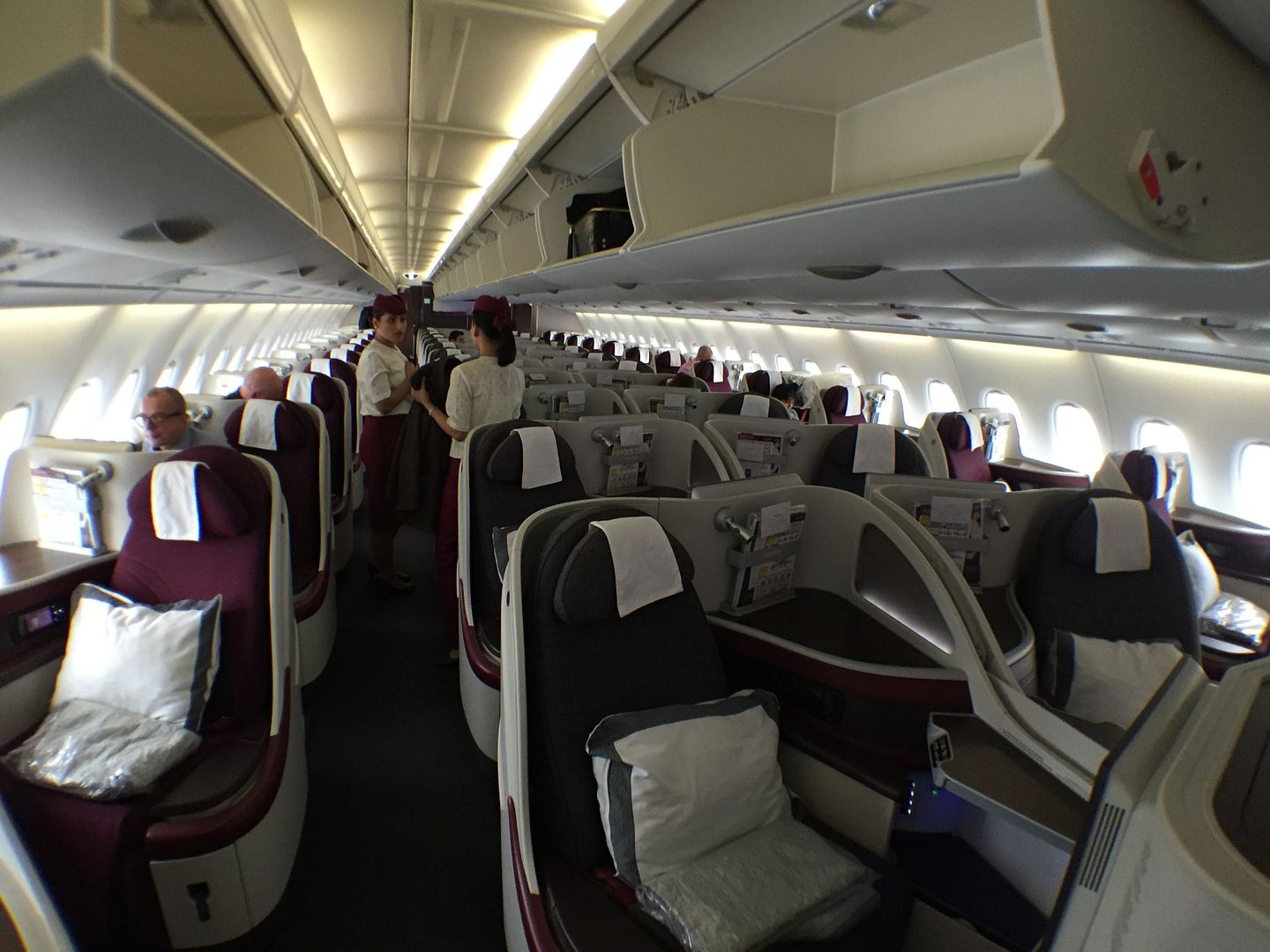 Seat 2K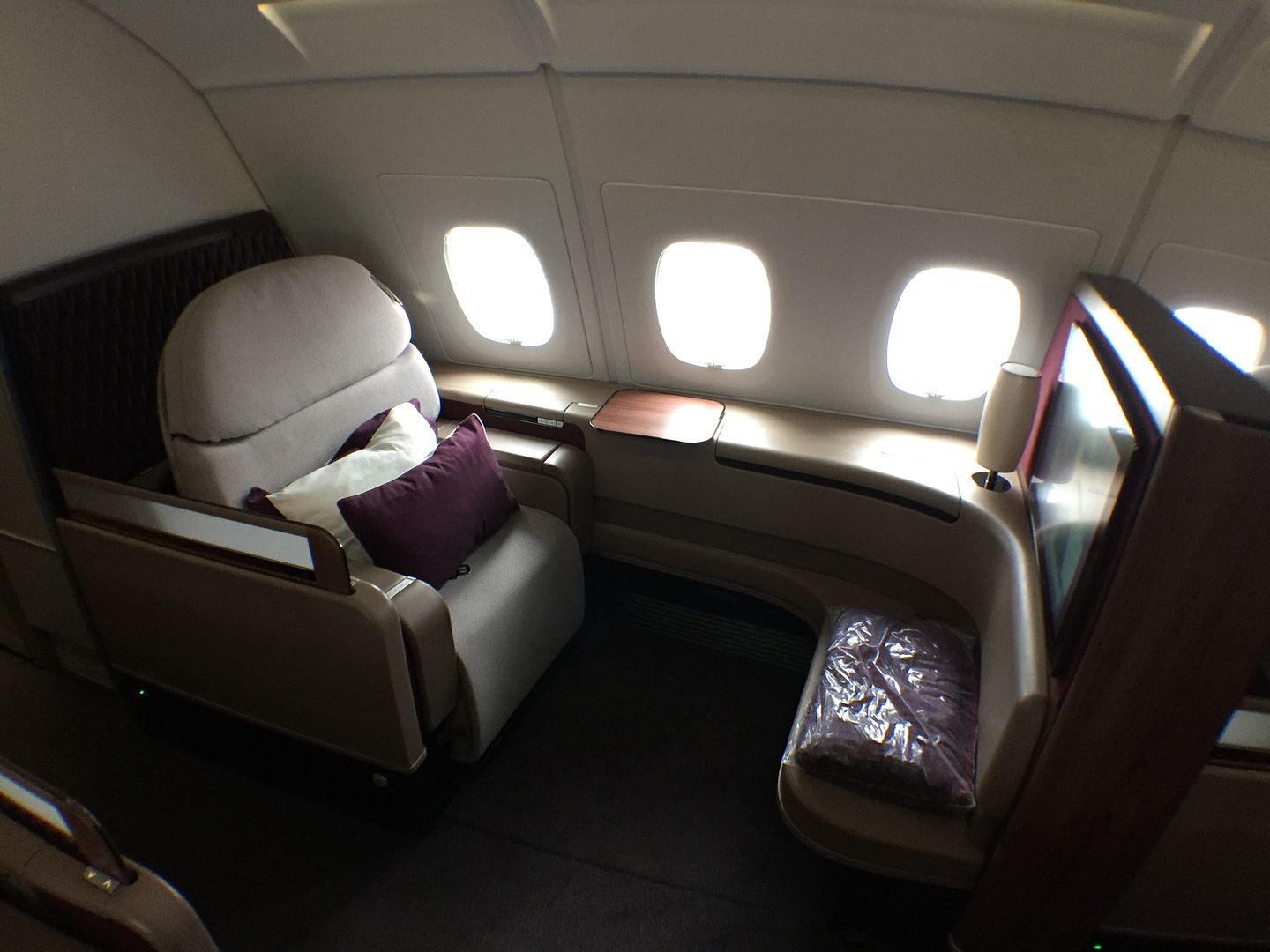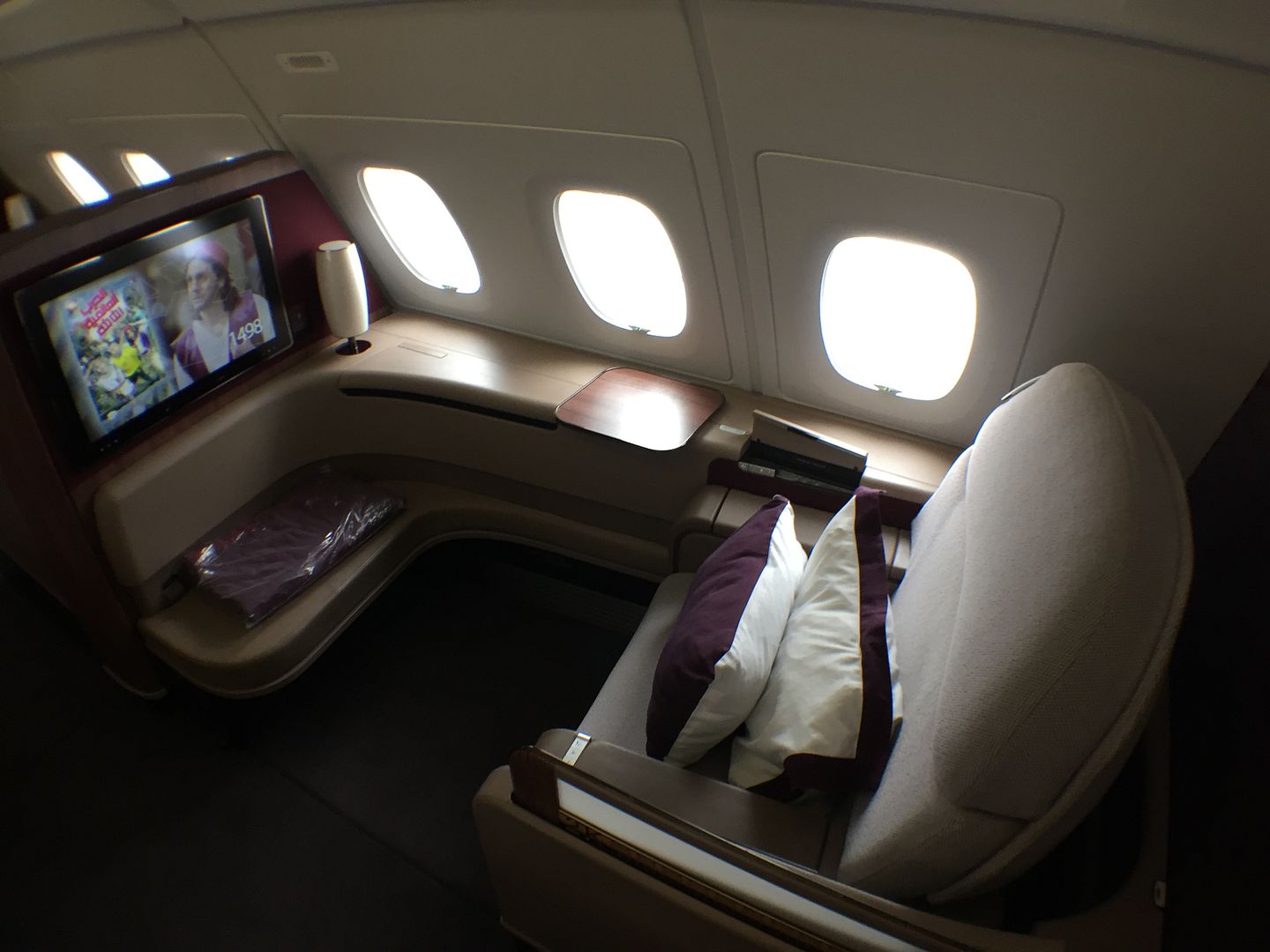 Seat 1K
Mini bar in front of first class cabin: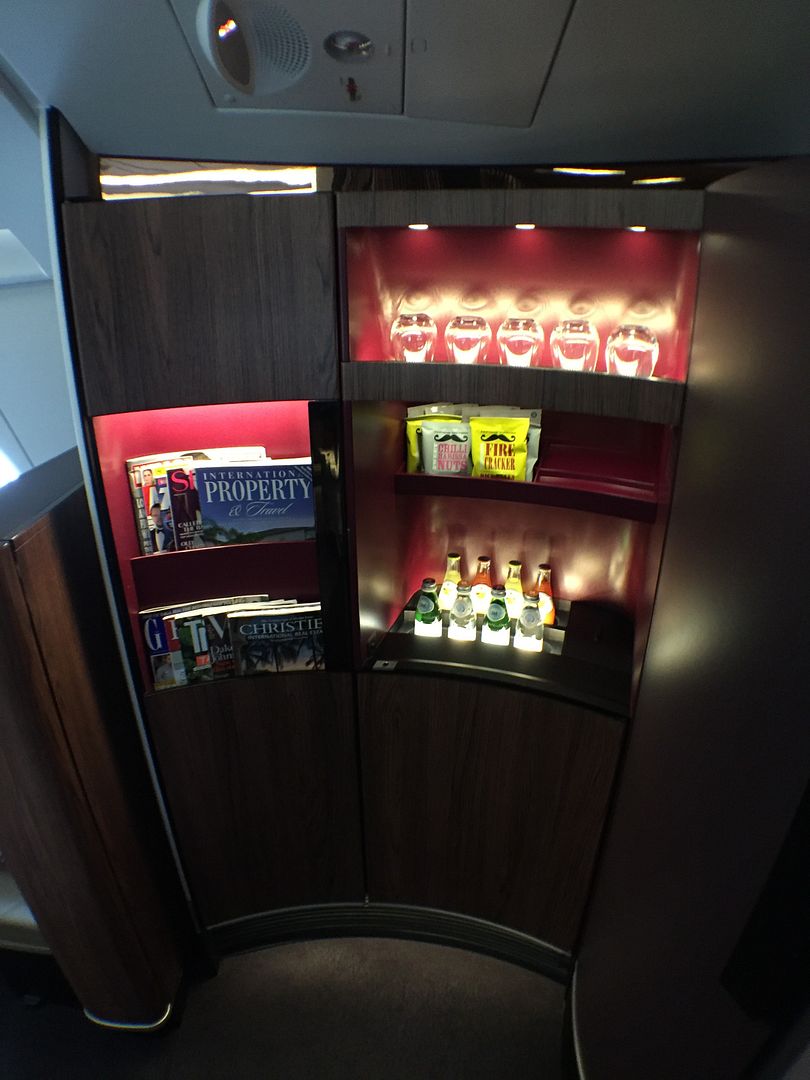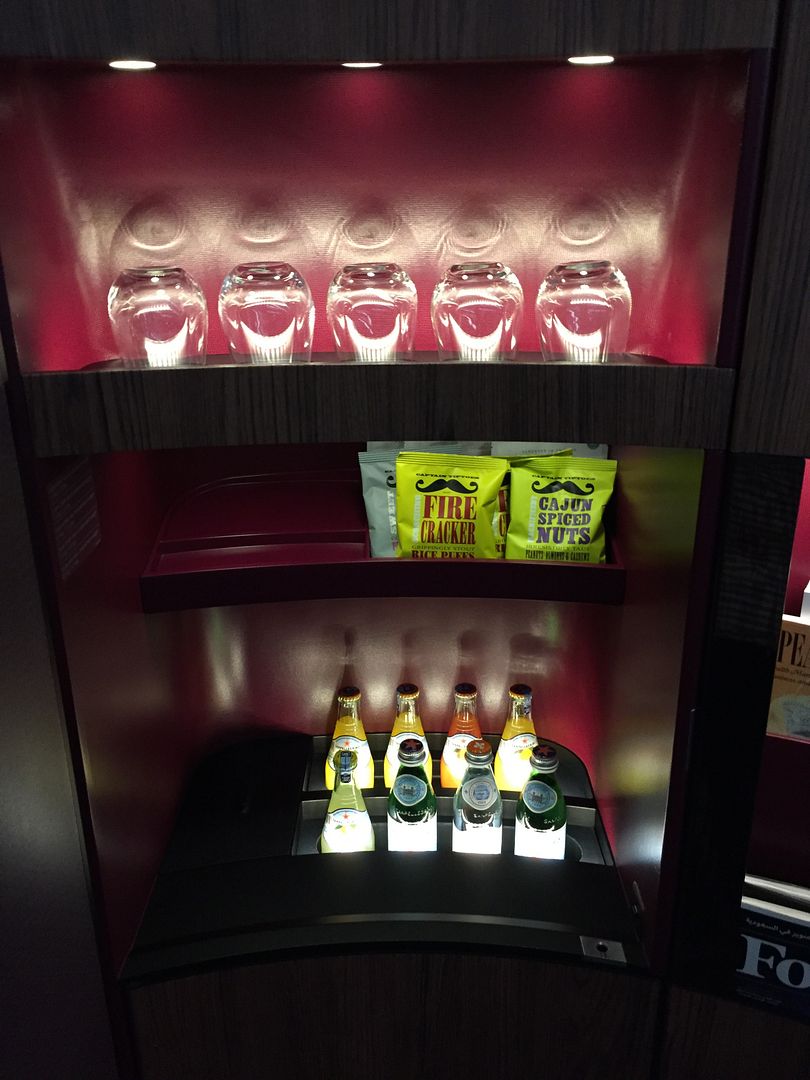 There are two mini self-serving bars in front of first class, which features mostly natural and sparkling water bottles, along with soft drinks, light snacks, and magazines.  There are two closets hidden behind these bars for passengers to store their heavier bags – mostly roller bags.  IMHO, it is a design flaw, as it is inconvenient. 
Coat drawer
Tray table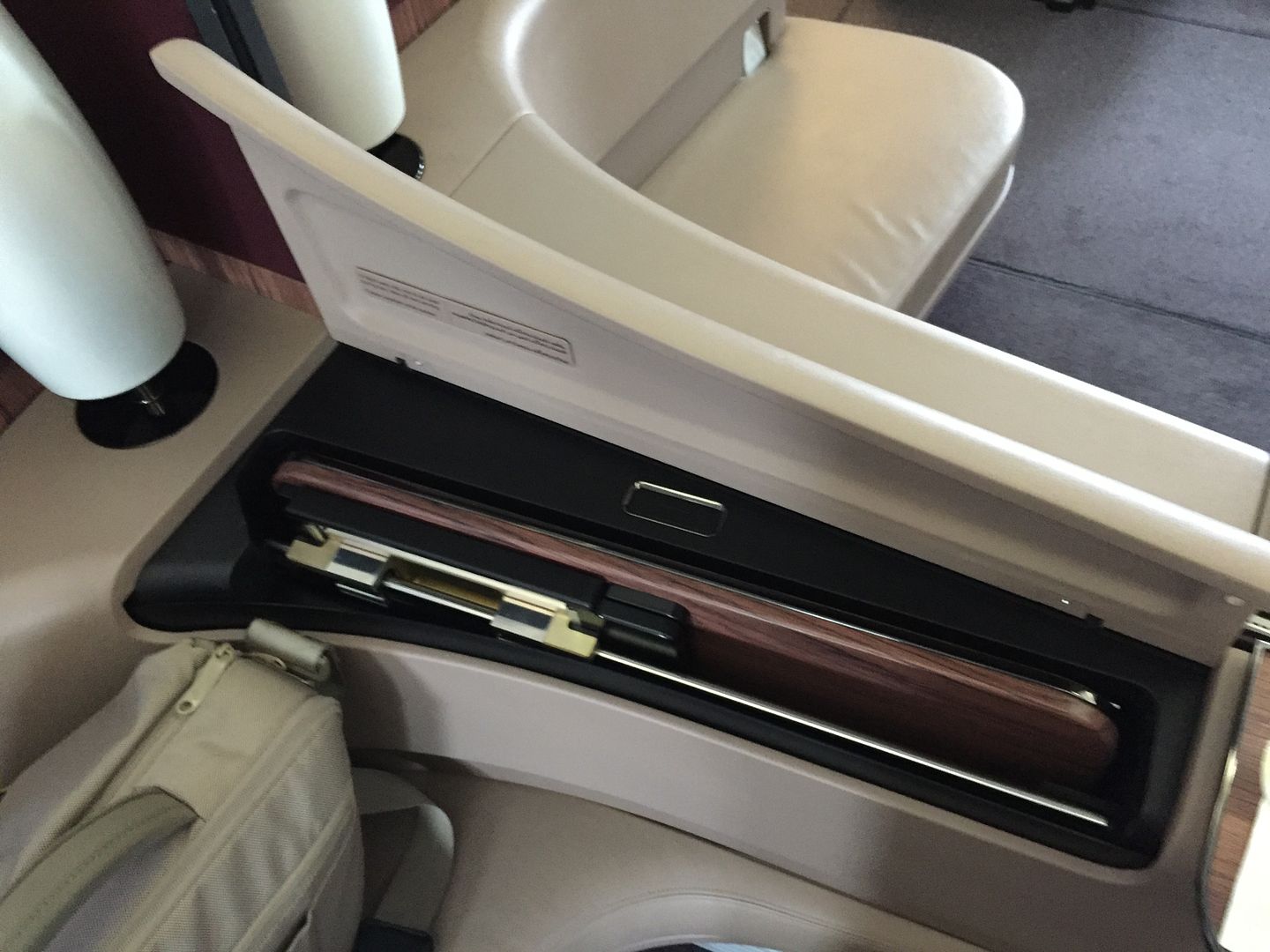 Bathroom – my neighbor at 1A told me that I had to take pictures of those gigantic bathrooms.  I don't think I need to say more about how huge the bathrooms are.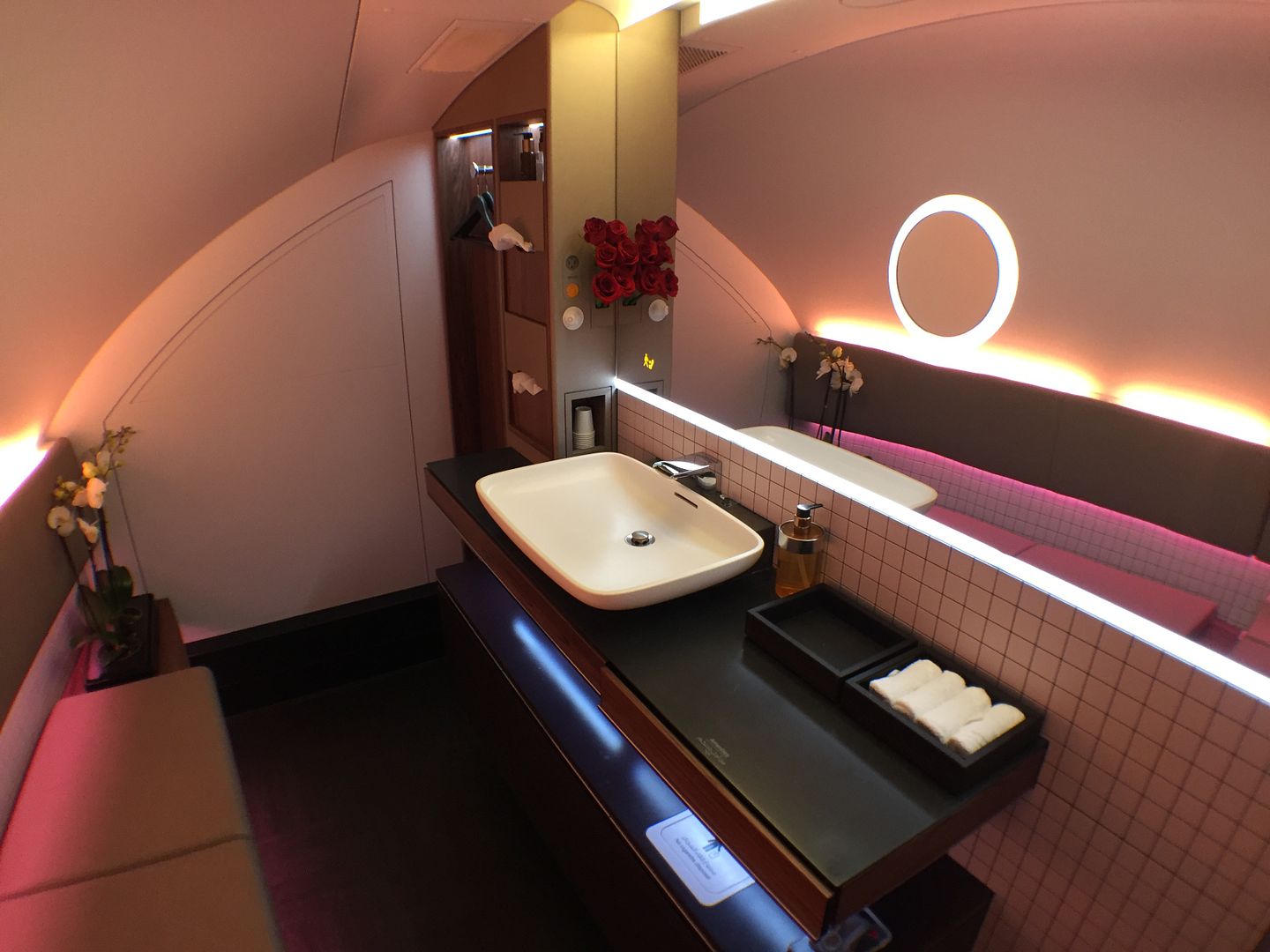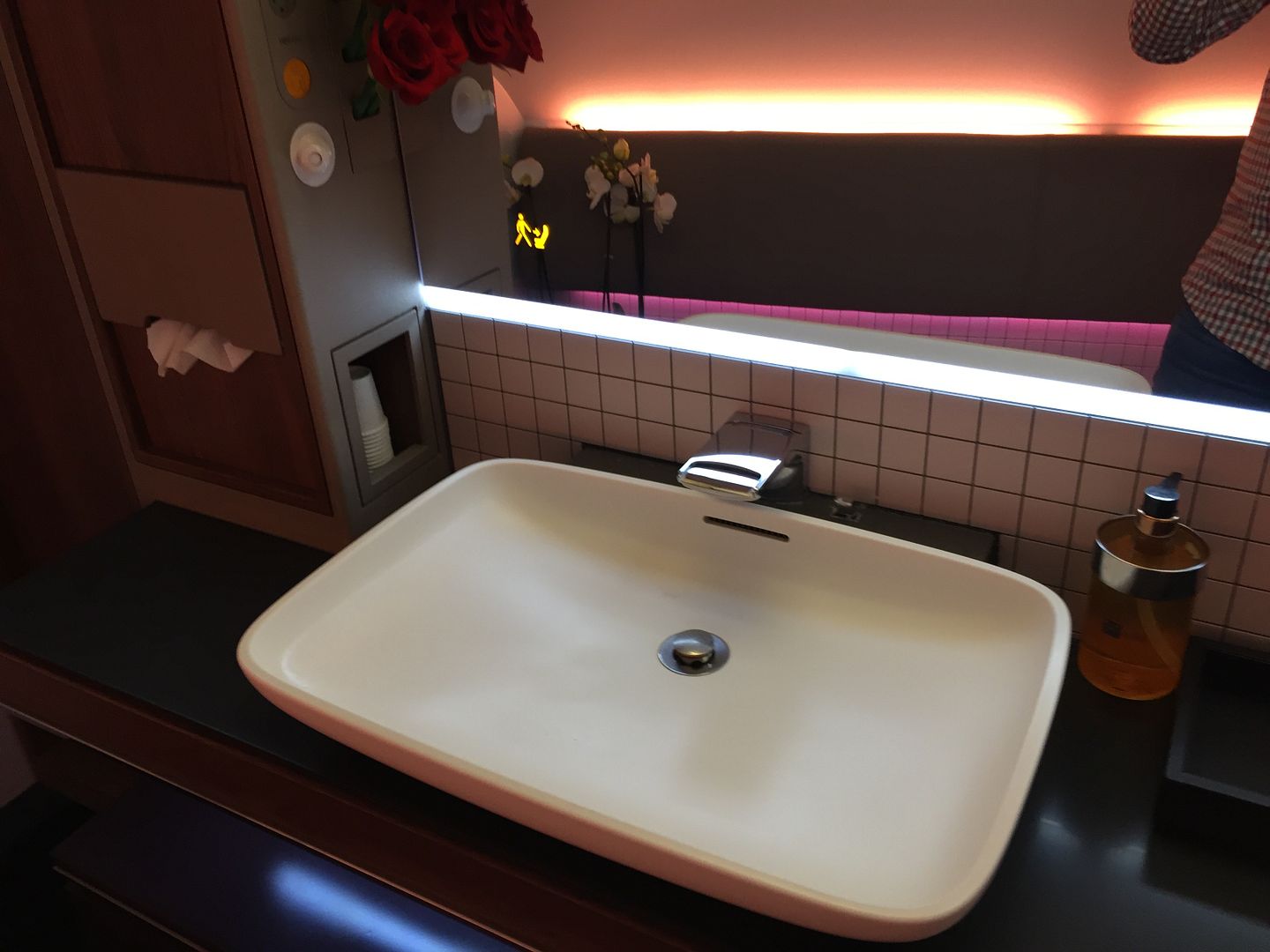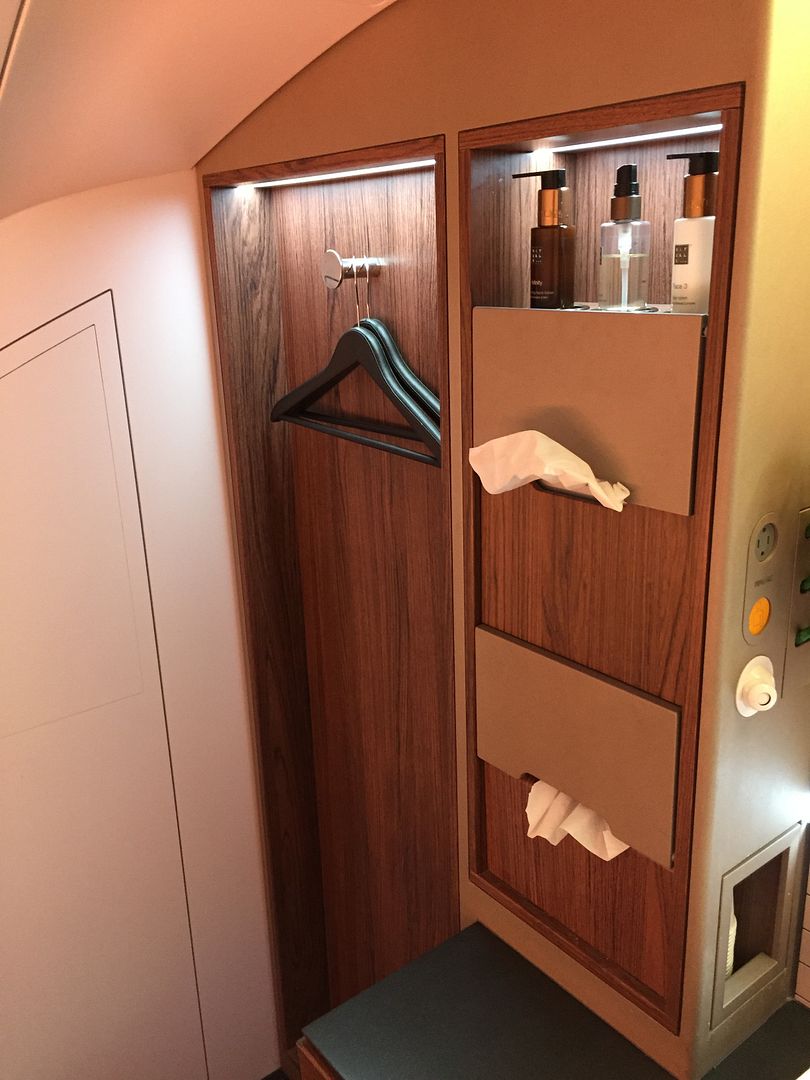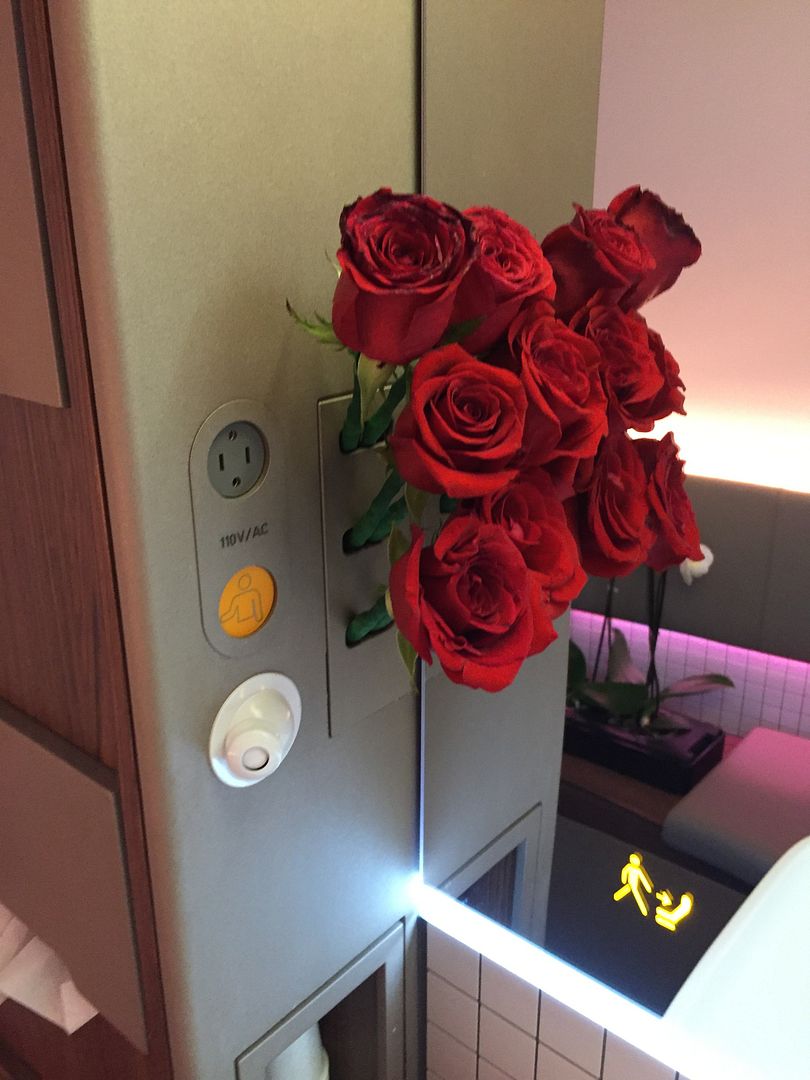 It took me a while to actually locate the lavatory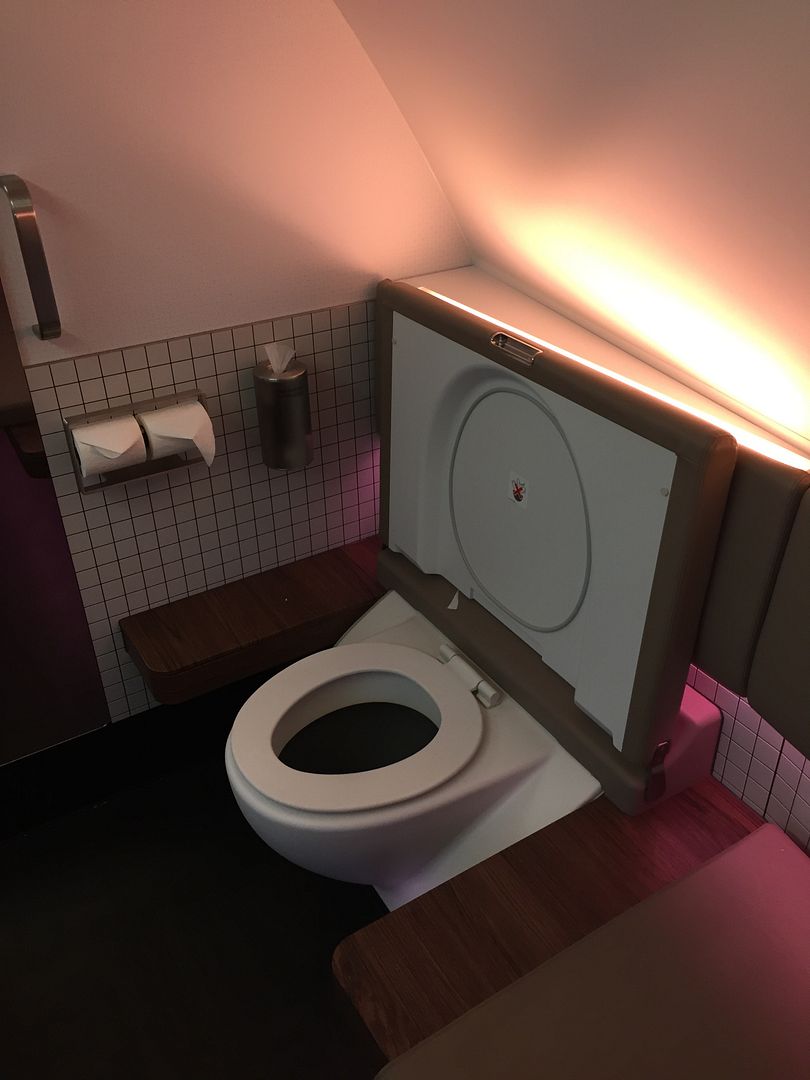 As I finally settled down, two very polite Filipino F/As introduced themselves and asked for my choice of beverages along with choice of hot or cold towel. 
Lovely garlic bread croutons
Arabian dates – packaged now
The weather in Paris was mostly overcast and there was light rain.  Door was closed early at 2:53pm and we pushed back three minutes later from position V6.  We took off from R/W27L at 3:09pm.  Here is our routing: Sommesous-370-Remiremont-Waldshud-Tiengen-Vittorio Veneto-390-Vrsar-Split-Shijak-IOA/Ioannia-Patras-KIT/Kithira Island-Palaiochora-HRG/Hurghada-Al Naih-Al Mithnab-RUH/Riyadh-Sa'ad-HOF/Al Hofuf-DOH
As I mentioned before, there were aspects of the catering being cut or simplified. 
The first sign was the cut of the canapé service – it was down to bowl of warmed mixed nuts now
White Champagne
Krug, Grand Cuvee, Brut France
Rose Champagne
Billecart-Salmon, Brut Rose, France
Chardonnay
Pierre Janny
Miory, Puligny-Montrachet, 2012, Burgundy, France
Sauvignon Blanc
Wither Hills
Rarangi Vineyard, 2012, Marlborough, New Zealand
Gewurztraminer
Gustave Lorentz
Altenberg de Bergheim, Grand Cru, 2010, Alsace, France
Assemblage Merlot & Cabernet
Chateau Leoville Poyferre, Saint Julien, 2nd Grand Cru Classe, 2008, Bordeaux, France
Shiraz
Elderton
Command, Single Vineyard, 2008, Barossa Valley, Australia
Pinot Noir
Villa Maria
Cella Selection, 2010, Marlborough, New Zealand
Sweet Gewurztraminer
Domaine Zind-Humbrecht
Herrenweg de Turchkheim, Vieilles-Vignes 2008, Alsace, France
Tawny Port
Dow's Aged 10 Years, Douro Valley, Portugal
FC 1 FEB 2016
Individual Bread Basket
A la carte
Dine at anytime of your choosing and in any order, from our extensive a la carte menu.
Bon appétit
Soups
Wild Mushroom Soup with Chervil cream
Garlic Croutons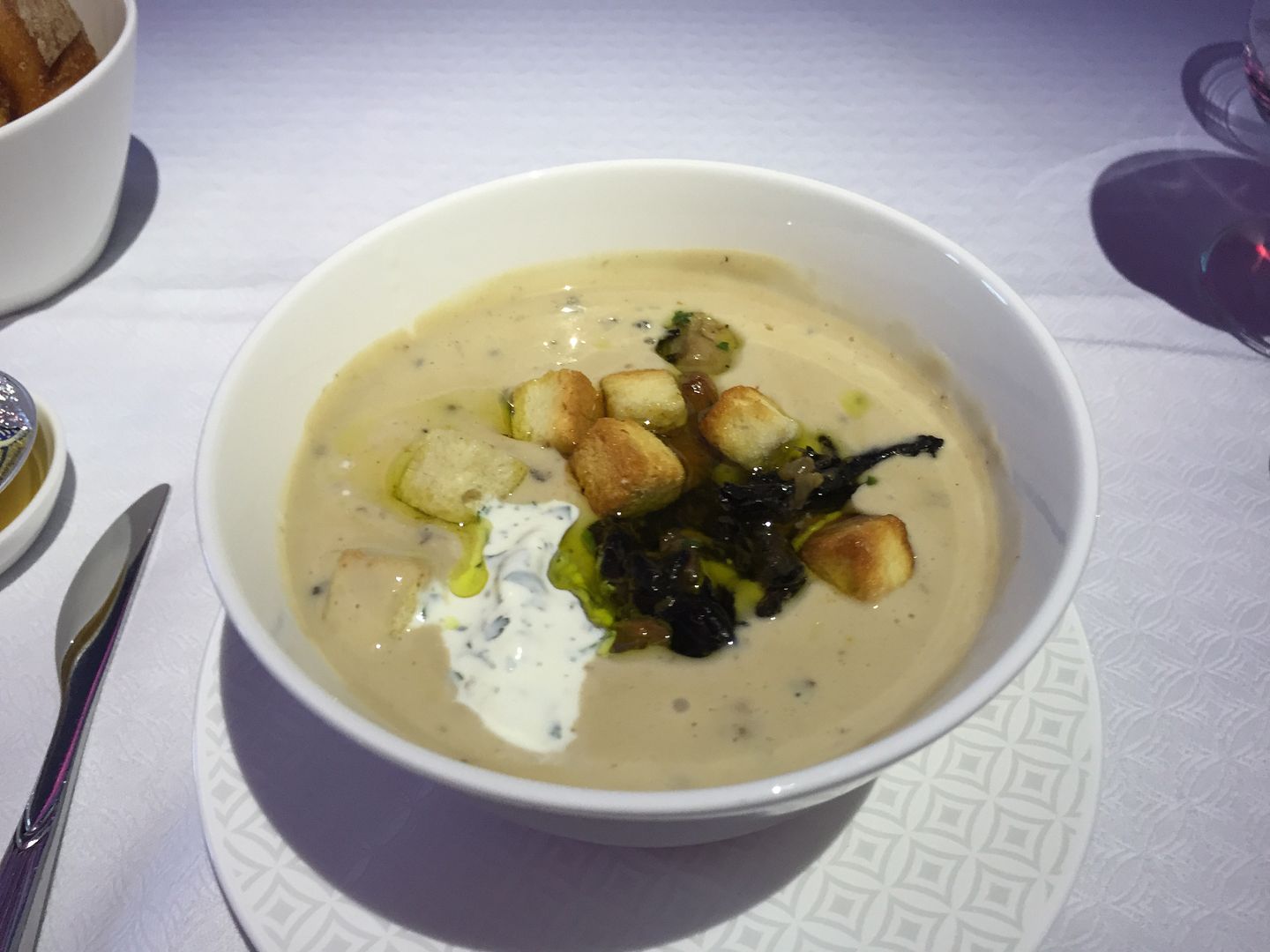 Appetizers
Oscietra Caviar
Served with a full selection of classic accompaniments and your choice of blinis or melba toasts
Signature Arabic Mezze
Hummus with sesame seeds, muhammara with walnuts, mujaddara and tabouleh served with Arabic bread
Lobster, fennel, and heritage potato salad
Orange and smoked cherry tomatoes with tarragon dressing
Duck Spring Rolls with Hoisin sauce
Cucumber spaghetti and spring onion
Mains
Chicken Biryani with golden fried onions and nuts
Cucumber raita
Marinated lamb loin with parmesan cheese risotto
Sautéed wild mushrooms, glazed pearl onions, and basil oil
Keralan fish goujons with saffron and coconut milk *VINEET
Cashew nut and coriander rice with edamame beans and carrot stir fry
Cep filled pasta with vegetable and mushroom broth
Blanched baby vegetables and shaved parmesan cheese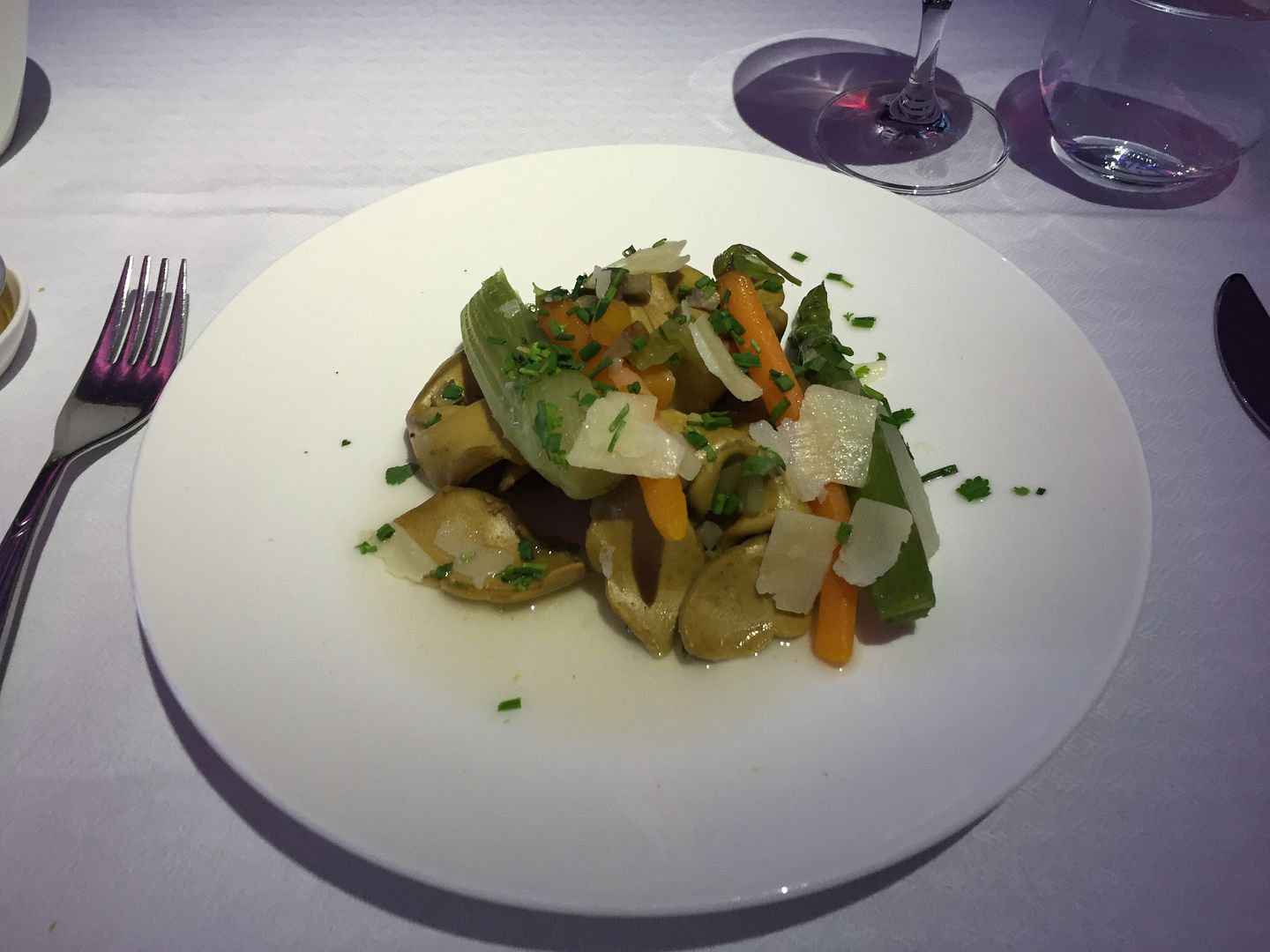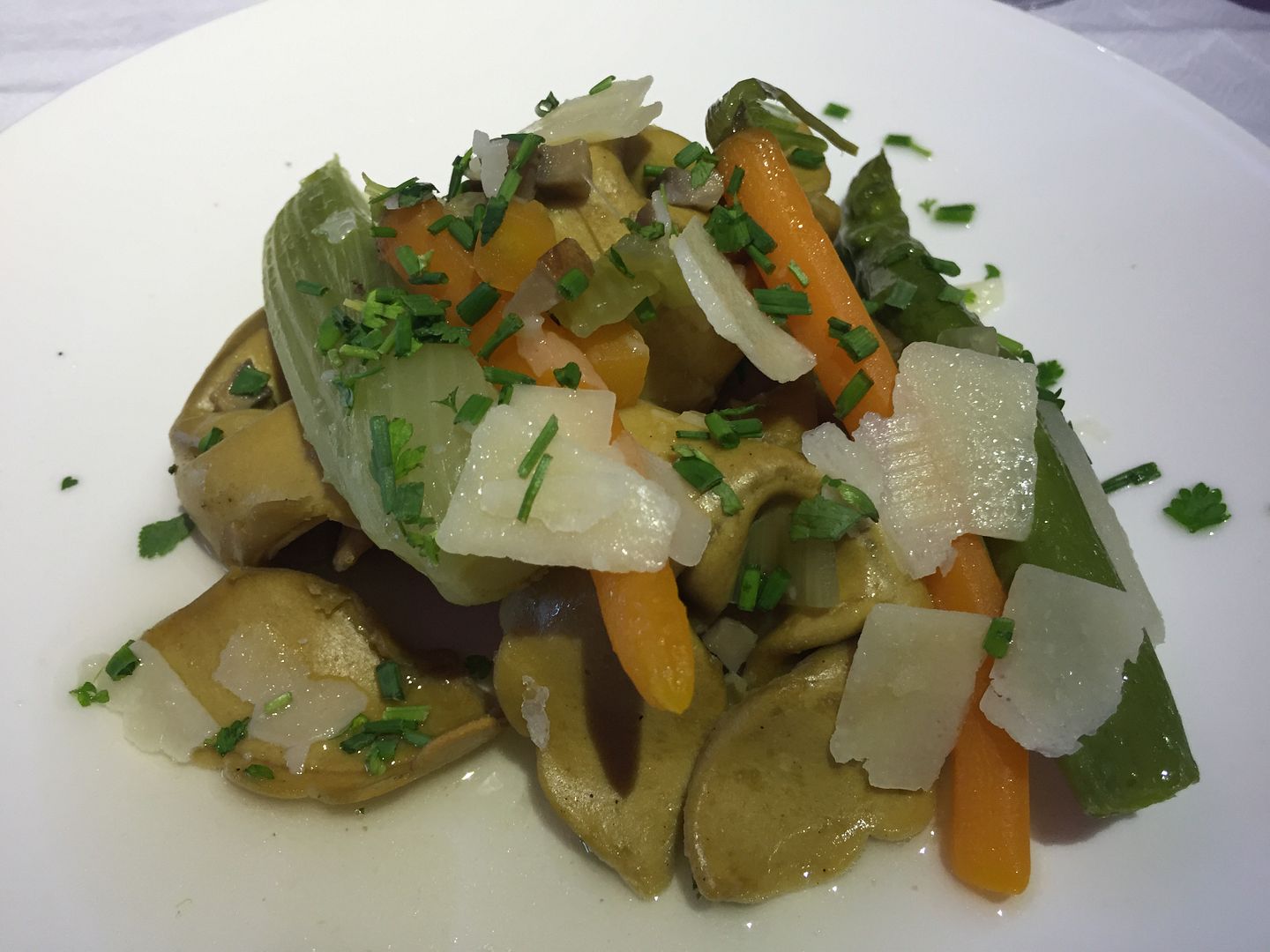 Cheese Plate
Cheese selection served with crackers, grapes and chutney
Desserts
Seasonal Fresh Fruits

Sub Zero *NOBU
Mixed berries, served with blueberry coulis and Greek Yogurt ice-cream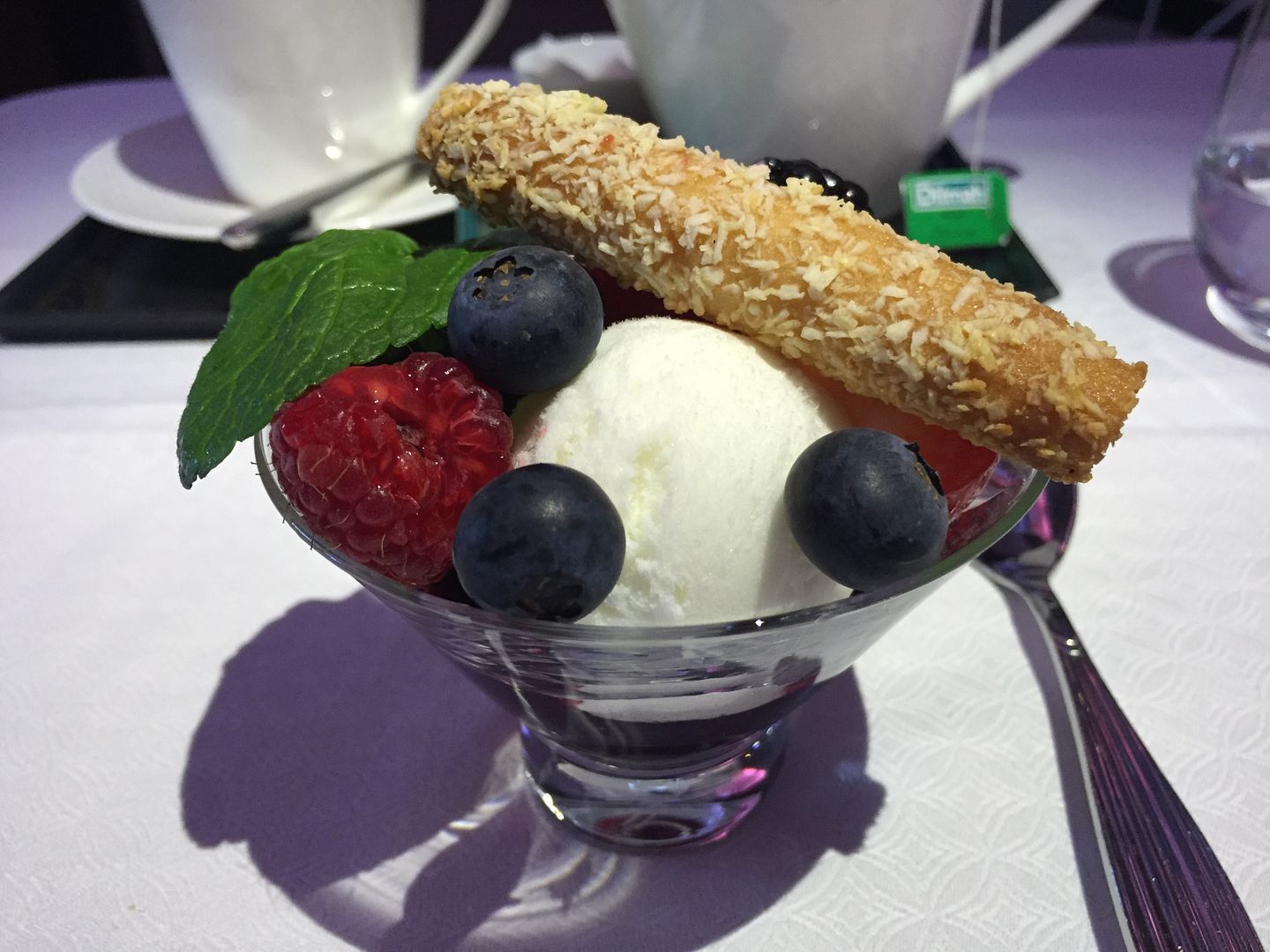 Chocolate Fondant with vanilla cherries
Mascarpone
Gourmet Sorbet
A cup of tea after meal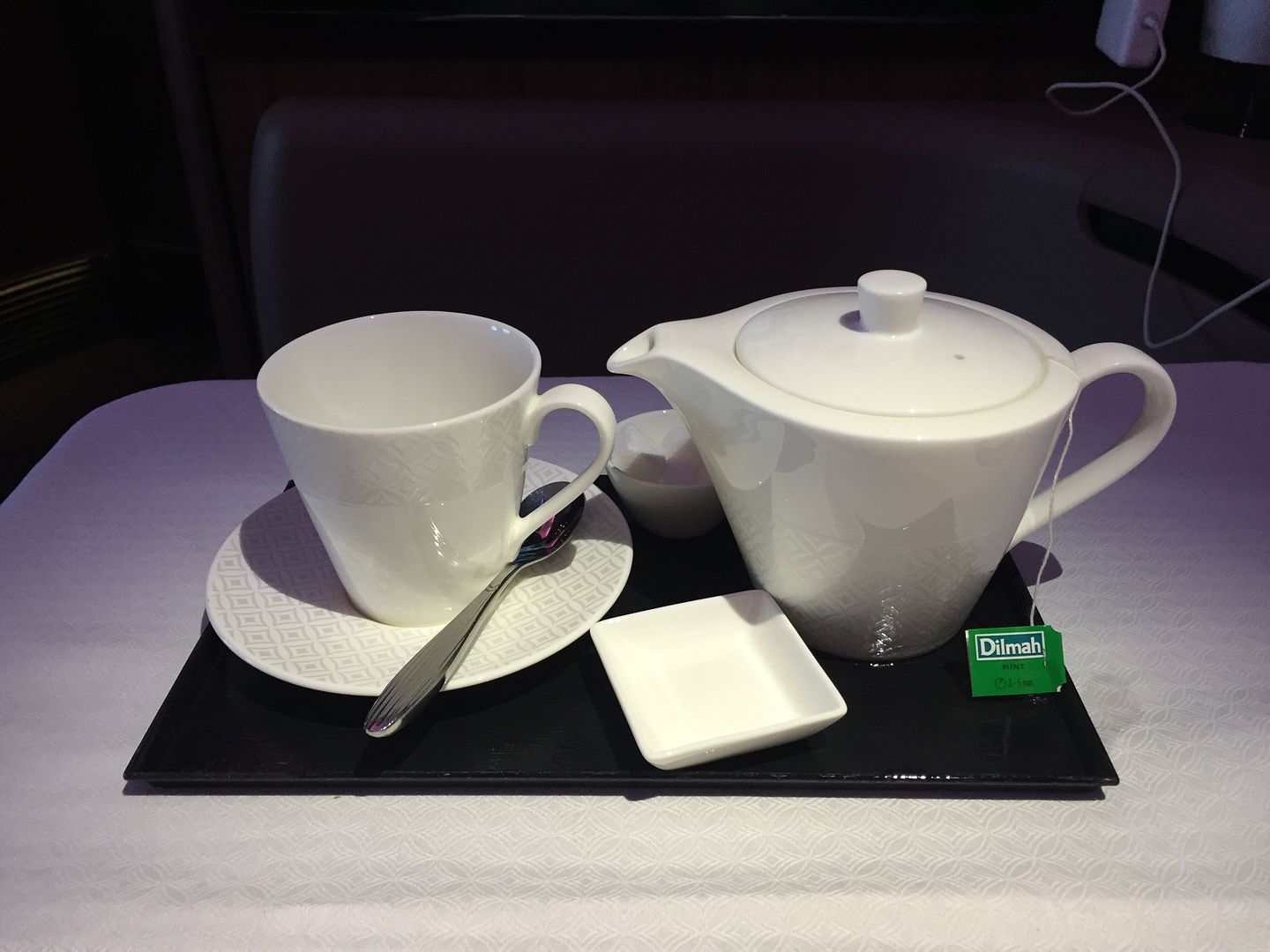 After dinner chocolate
While the appetizer selection remains strong and I am still allowed to have both an appetizer and soup, the main course selection is weak, especially compared to the Grill menu on Etihad, and the elaborate a la carte menu of Emirates.  Since I don't eat lamb, the only non-Arabian and Indian option is the vegetarian pasta, which not very good.  The texture of the pasta is pretty rough.  I honestly was very disappointed with the meal. 
After dinner, I visited the famous bar behind business class.
Despite the lack luster cabin, Qatar Airways definitely has the most impressive lounge with the modern décor.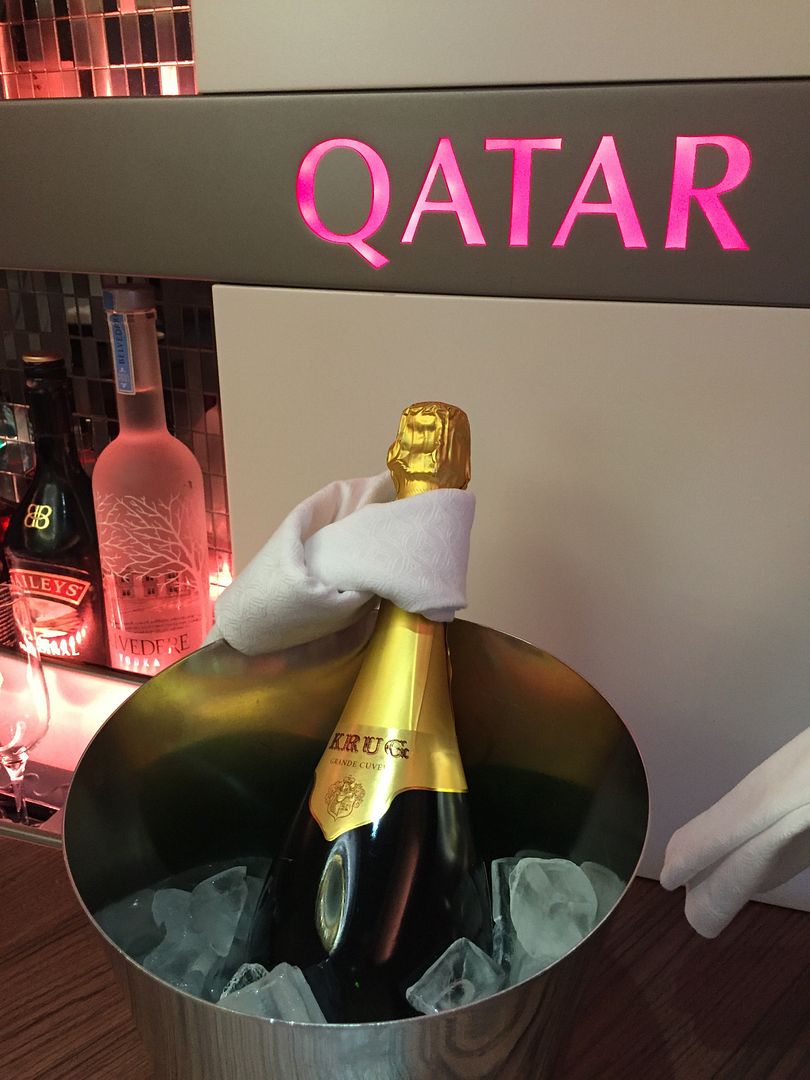 After dinner, I went back to my seat.  I tried to login to the Internet.  As a first class passenger, you will receive complimentary 200MB of WIFI, but the speed was really slow. 
Amenity kits are offered in both flights, and both bags featured slightly different designs, but contents are the same.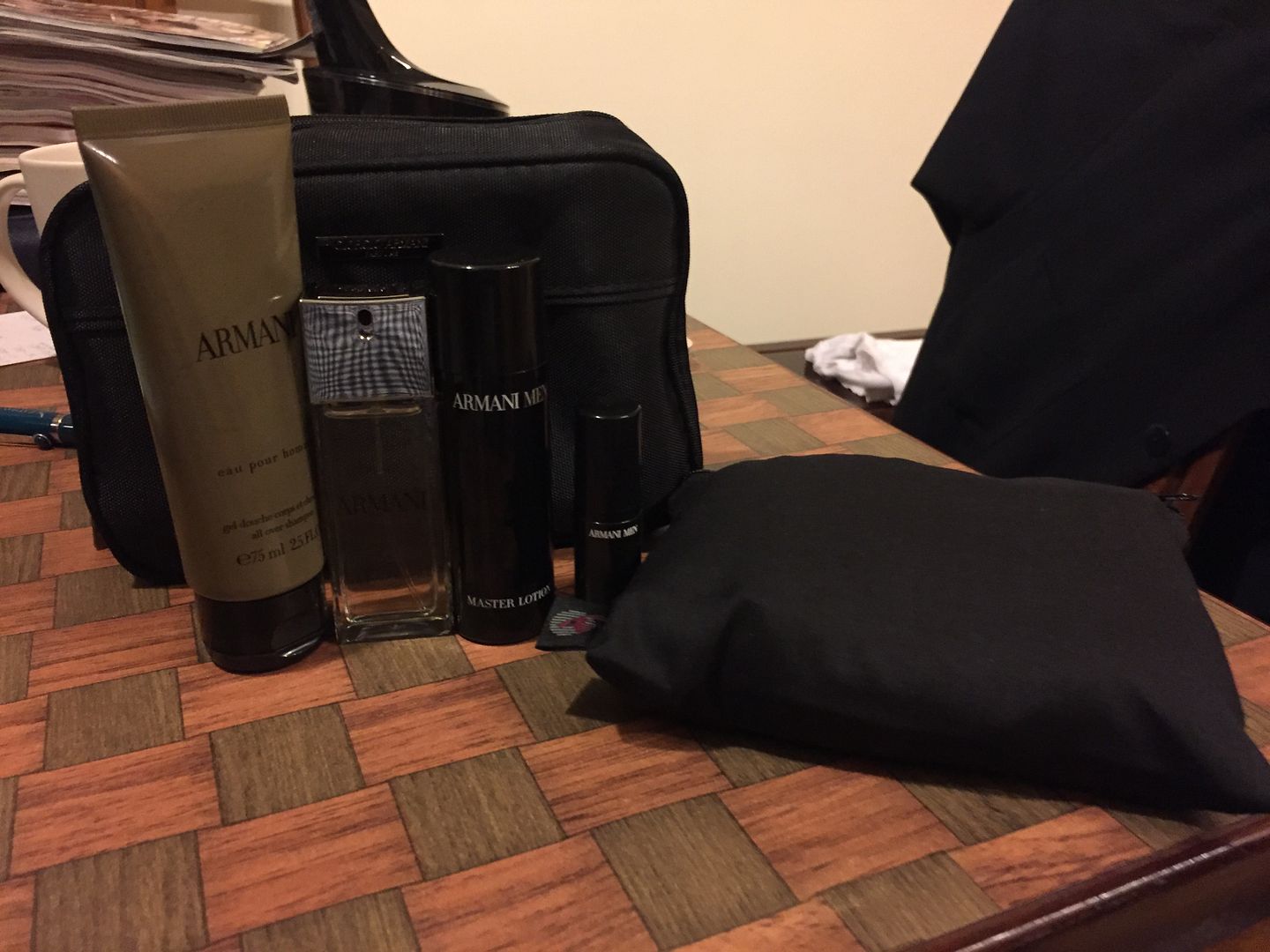 About an hour prior to arrival, hot snacks were served.  The portion and variety had gone down compared to my previous flights.  It used to be more like an afternoon tea with a good variety of canapés, savories and cakes.  But my tray contains only Arabic starters and two different kinds of mini quiches.  There are no pastries, even the menu says it.
Light Options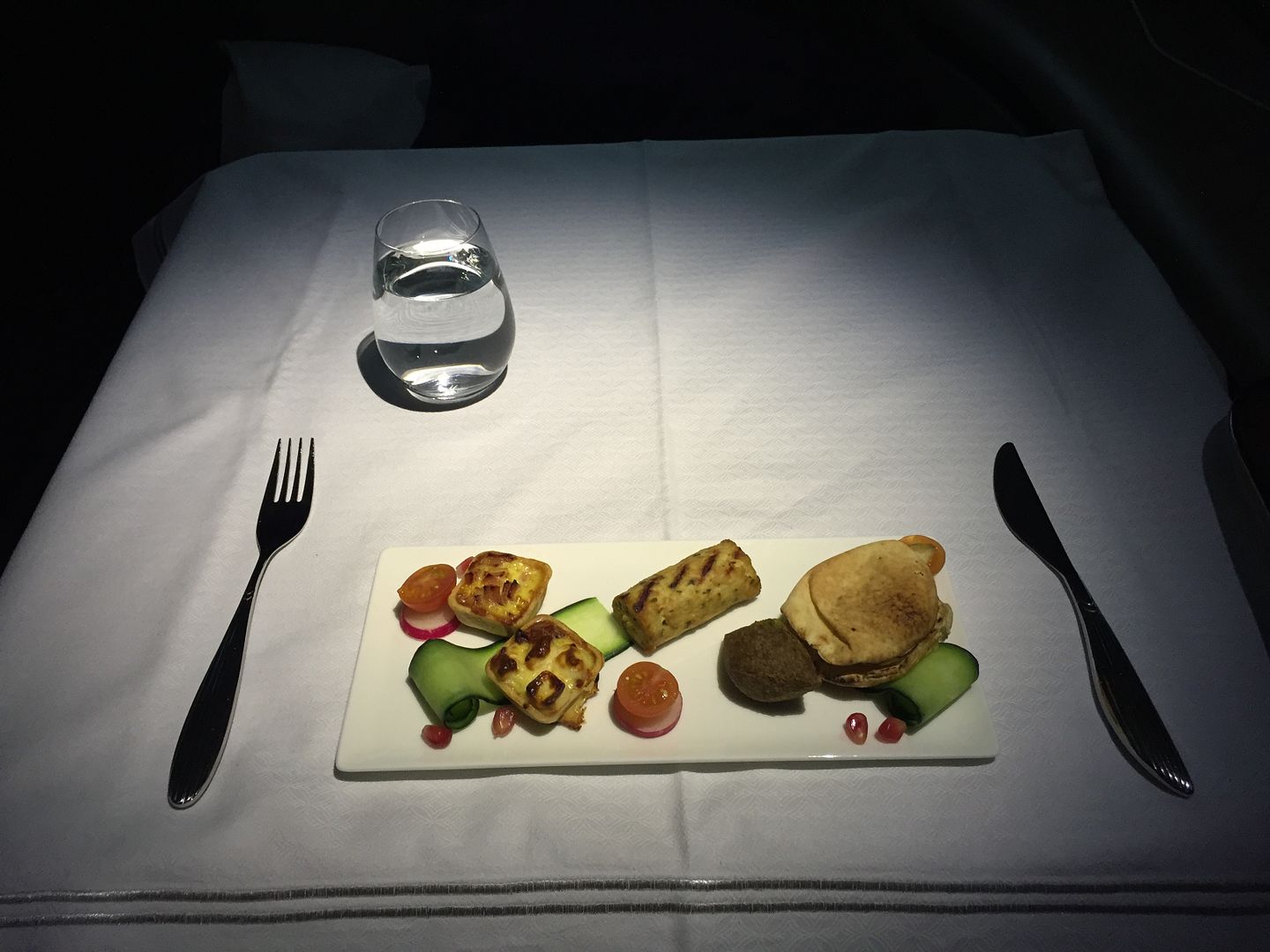 Hot Arabic mezze
Shawarma, Chicken koffa and lamb kibbeh with pine nuts
Selection of sweet and savory assortment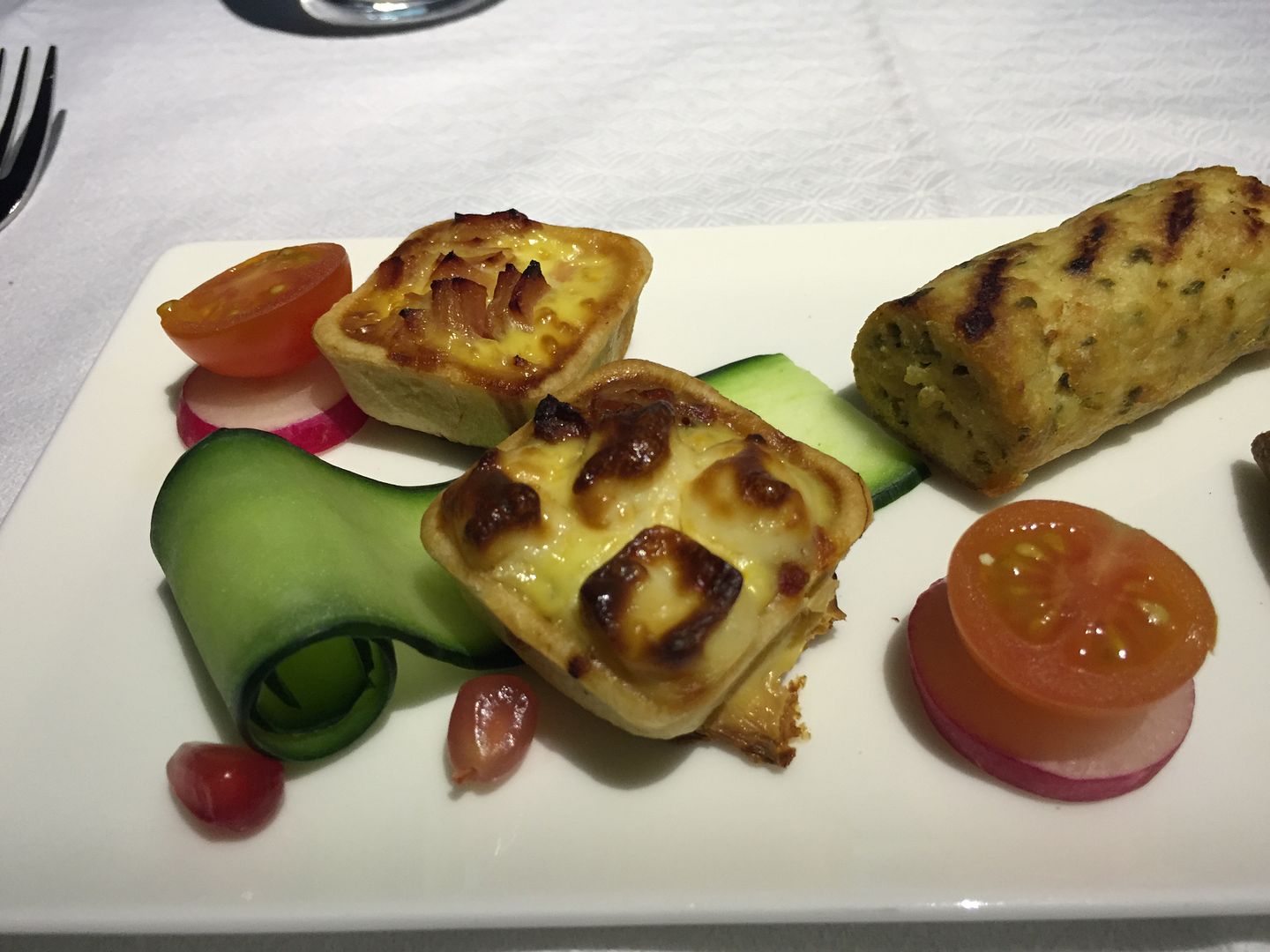 Descent began at 10:36pm local time, and we landed on R/W16R at 11:11pm and parked at gate A5 six minutes later. 
As I deplaned, I noticed these "curtains" in the galley, which was cool.