Jetblue Inaugural Boston Mint 2016
JetBlue has finally brought the Mint service to the Boston Logan market, and given how Virgin America prices its first class cabin on the Boston to Los Angeles/San Francisco market, I really think JetBlue can build up a premium transcontinental service on this market.  Beginning March 24, JetBlue started a single daily flight between Boston and San Francisco, which was also the first day of scheduled A321 service out from Boston Logan Airport (according to the PA).  I was a bit surprised that A321 (even non-mint) has not made its appearance in the Boston market yet.  Anyway, Jetblue will eventually add a second daily A321 Mint on the BOS-SFO market, and Mint LAX-BOS will begin on October 30, 2016.  Honestly I expect a bit more high profile inaugural, but since they brought the plane down to Boston Logan the day before and did a private function at "the Lounge," I knew that nothing was going on.  But I was a bit surprised that they did not even have the Dunkin Donut coffee & donuts buffet.  Anyway, they did put out some Mint balloons and passed out some Mah-Ze-Dahr sweets to all passengers.  So this will be a very short trip report.
Photo link:
http://s1213.photobucket.com/user/Carfield76/library/Spring%202016/Boston%20Mint%20Inaugural%202016
March 24, 2016; Thursday
B6 133 BOS-SFO Lv0800 Arr1150 Airbus A321-200 Sharklet N947JB "Una Nueva Menta-Iidad"
Check-in:
I arrived at Terminal C about an hour and forty-five minutes prior to departure.  The airport was very busy, as it was the beginning of Spring Break.  The Mosaic/Mint lane was easily identifiable and Mint passengers were taken care of immediately.  The check-in agent was extremely friendly and immediately noticed that I was on their inaugural Mint service.  He said that I was among the first Mint passenger to check in.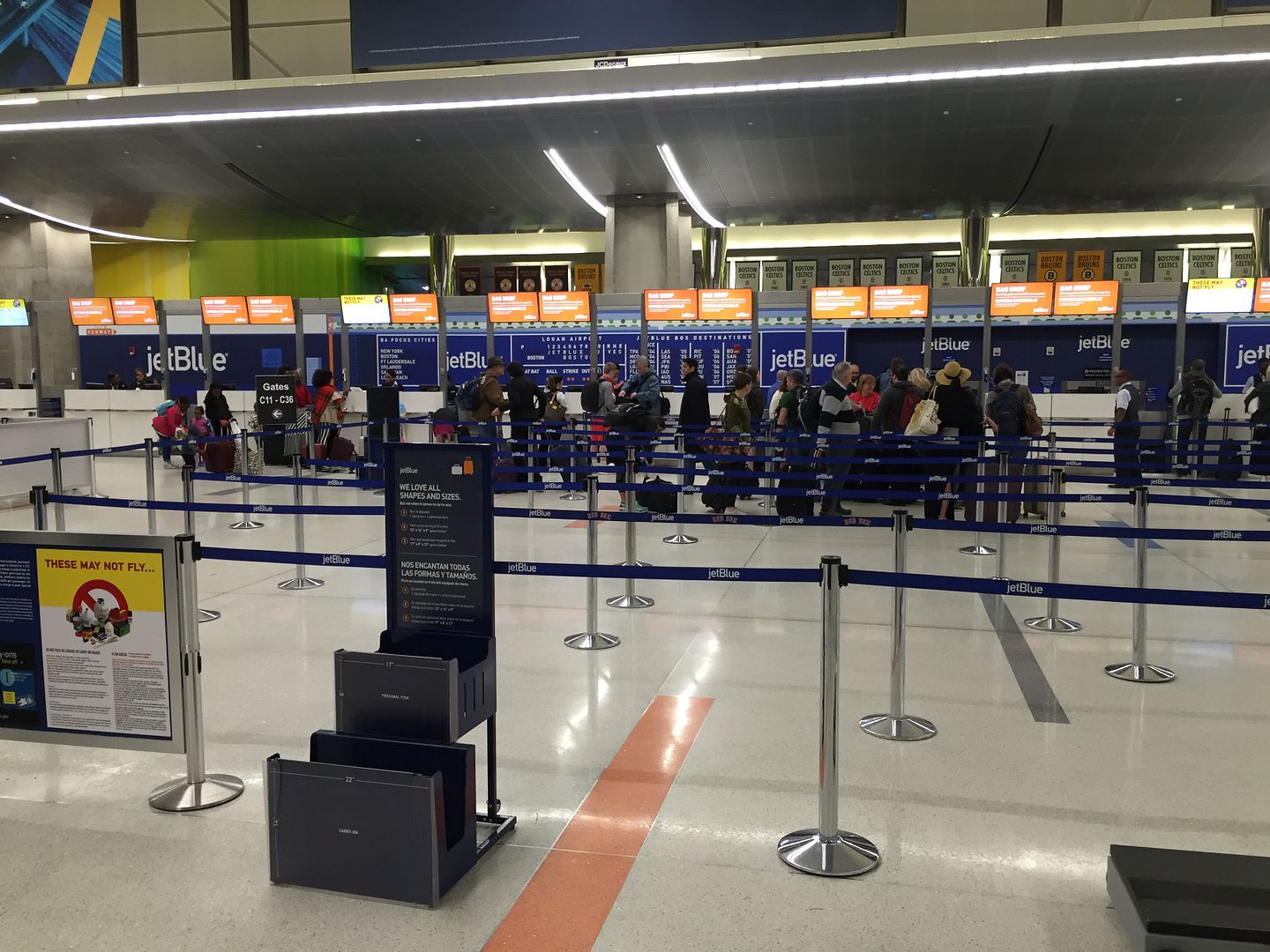 TSA Pre lanes were opened, but very busy.  However, things moved along fast enough.
Gate:
I was at gate C11 the day before, and saw the aircraft pulled into this gate around 6pm (while my flight from JFK parked next door).  The plane had been in Boston Logan for the whole day, as JetBlue had a major media event in "the Lounge," which is being used sole by Emirates now.  The aircraft was parked at those gates initially before towing to C11 later that afternoon.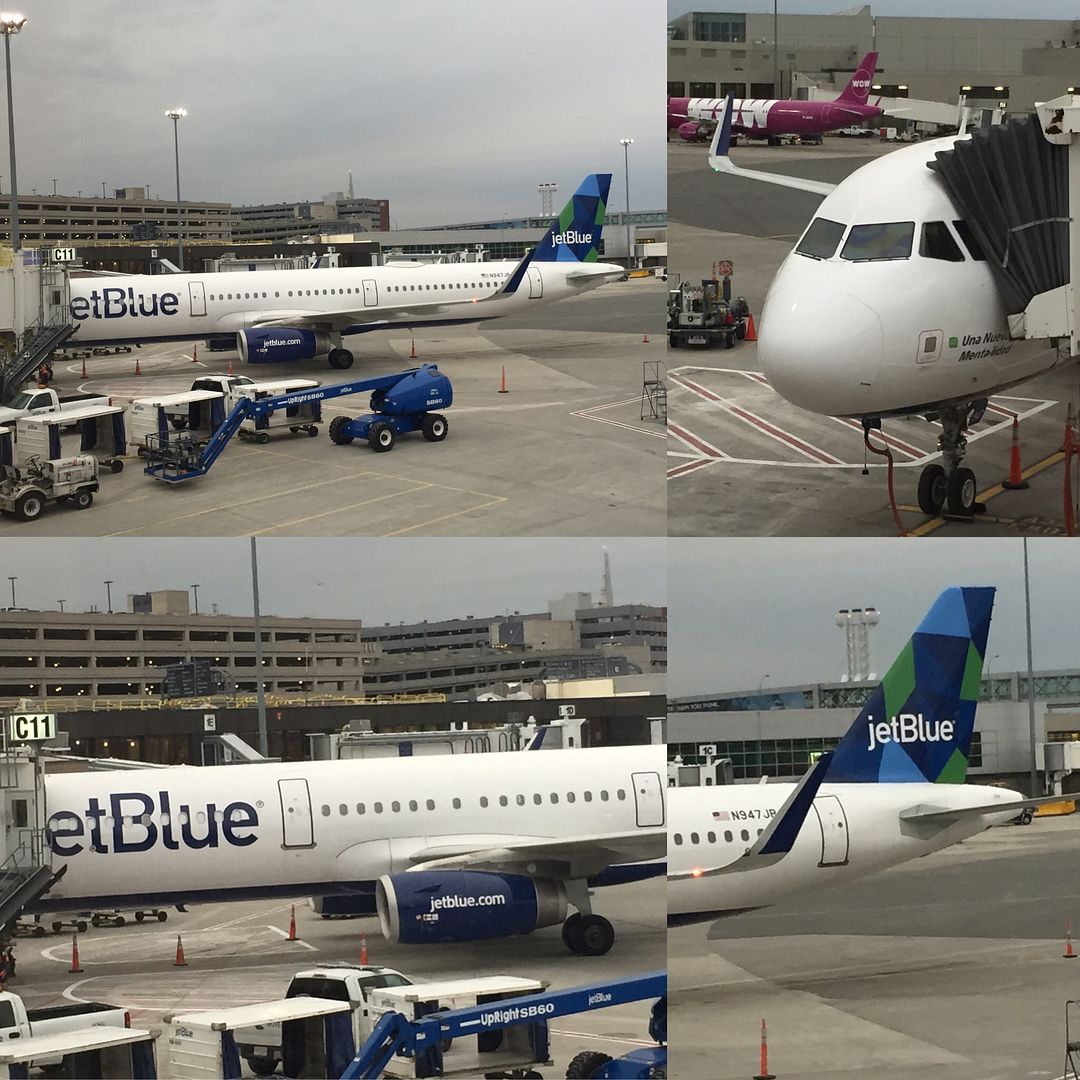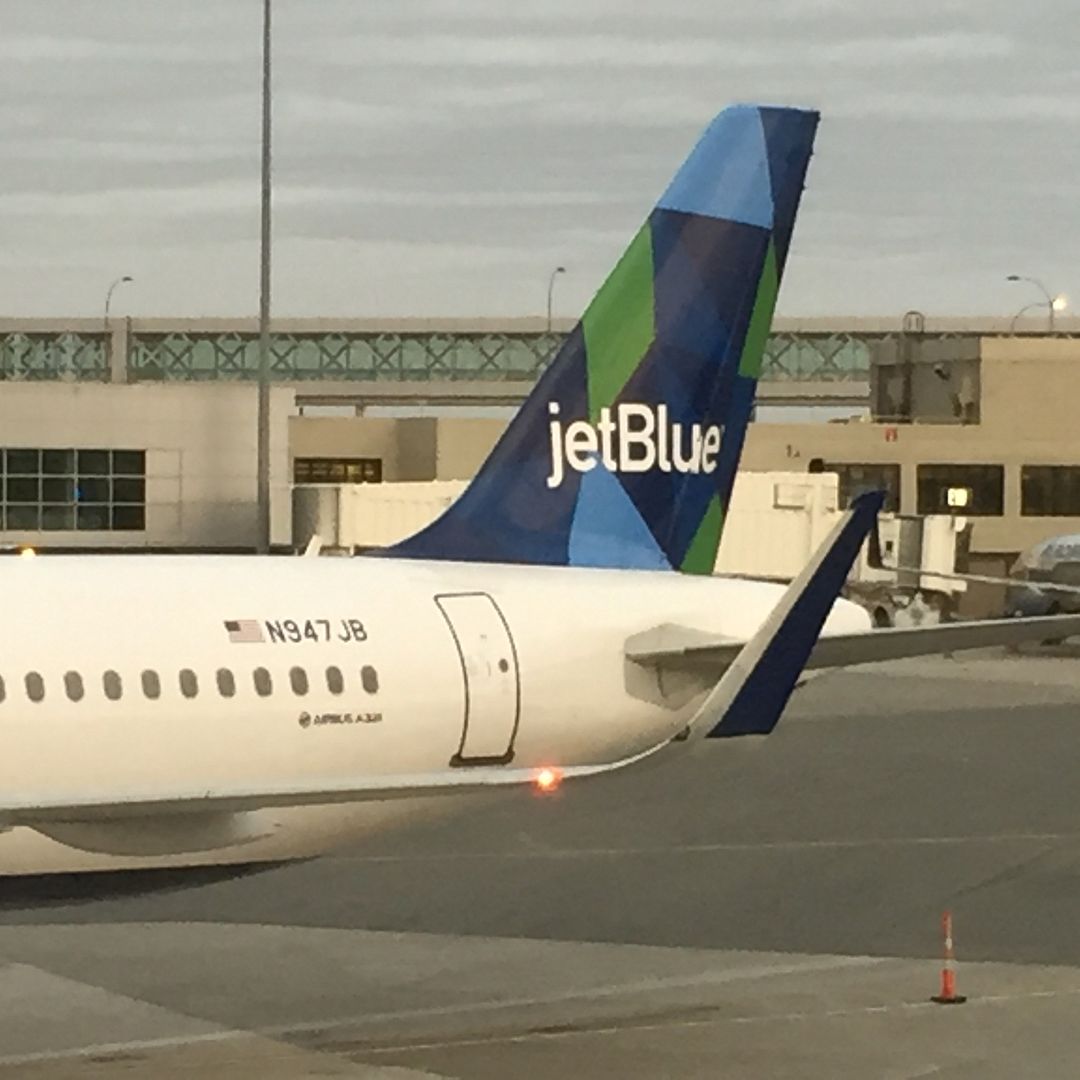 I noticed that there was nothing setup at the gate, as while I did not expect much, the inaugural was a really subtle event and the only thing you noticed was the presence of many Jetblue folks preparing the aircraft and making sure everything went smoothly.  There was no coffee or continental breakfast buffet at all.  Now it makes me a bit hesitate to fly the Buffalo to Los Angeles inaugural nonstop in June.  For those doing that inaugural flight, please lower your expectation.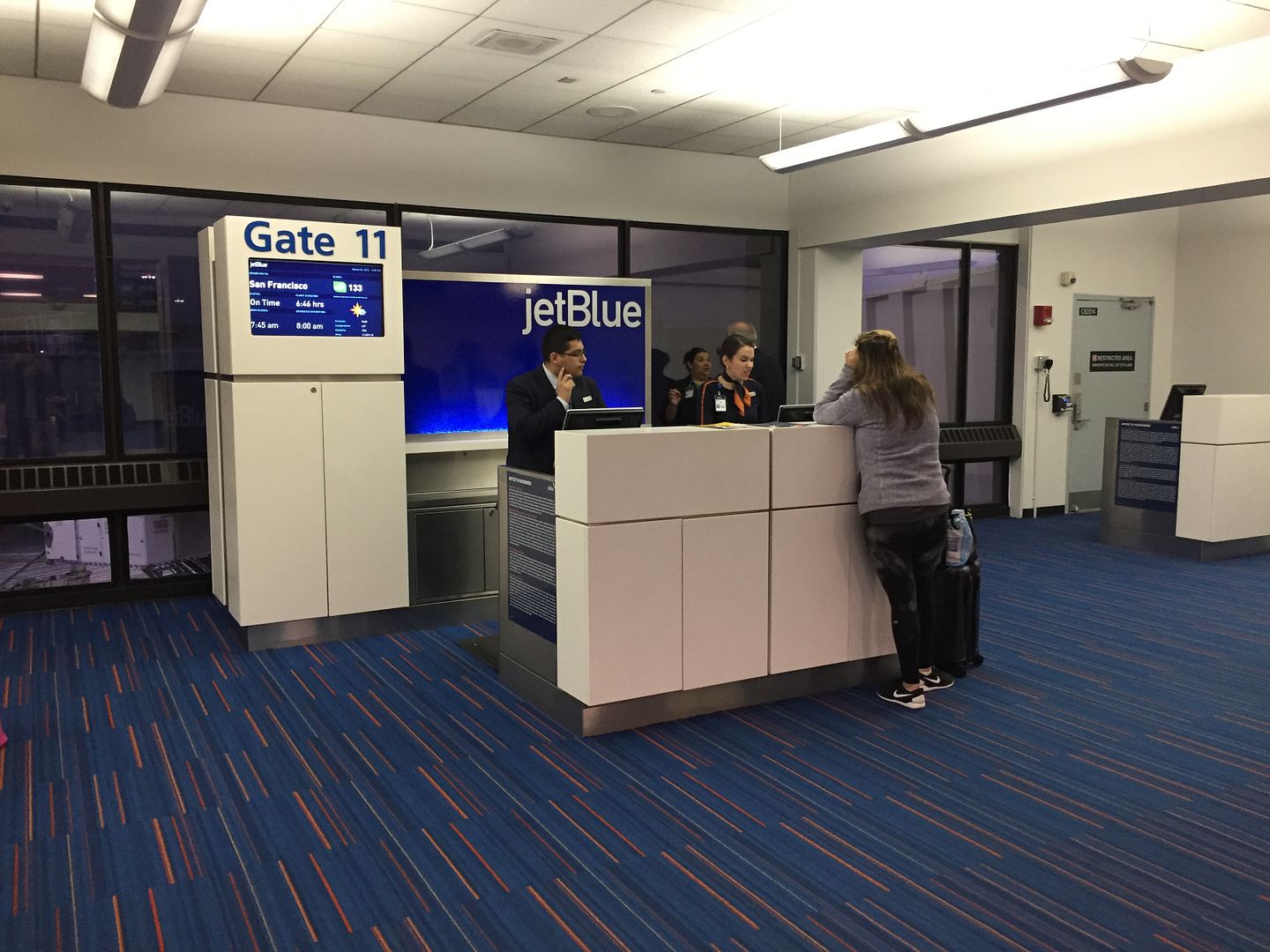 The "Lounge" at Boston – Emirates' lounge at Boston – hopefully one day there will be a paid lounge at Boston for JetBlue passengers!
Eventually there were some Mint balloons, and the gate agent announced that they will pass out some Mah-Ze-Dahr pastry to everyone – basically the same pastry boxes given to Mint passengers prior to arrival – and this month features a Mocha Marshmellow, which I don't quite like, and Vanilla Bean shortbread cookies, which are much to my liking.
I noted that the gate agent actually tried to upsell some Mint seats (overheard that there were five open Mint seats this morning), and Even More Space seats.   I have never heard JetBlue upselling Mint seats, so it might be a new thing coming soon, or they are just doing it in a very low-key way.  They don't want people to wait for upgrades.
Boarding:
Even blue carpet was rolled out
Boarding began at 7:27am and the flight was fairly full in both Mint and Economy.  Michael and Bill were in charge of the Mint cabin, and were both very cheerful.  It reminded me when Mint started.  The F/A explained the features of the seats to most passengers, who were new to the product.  I wrote so many times about the Mint cabin, but here were two pictures of the solo suites.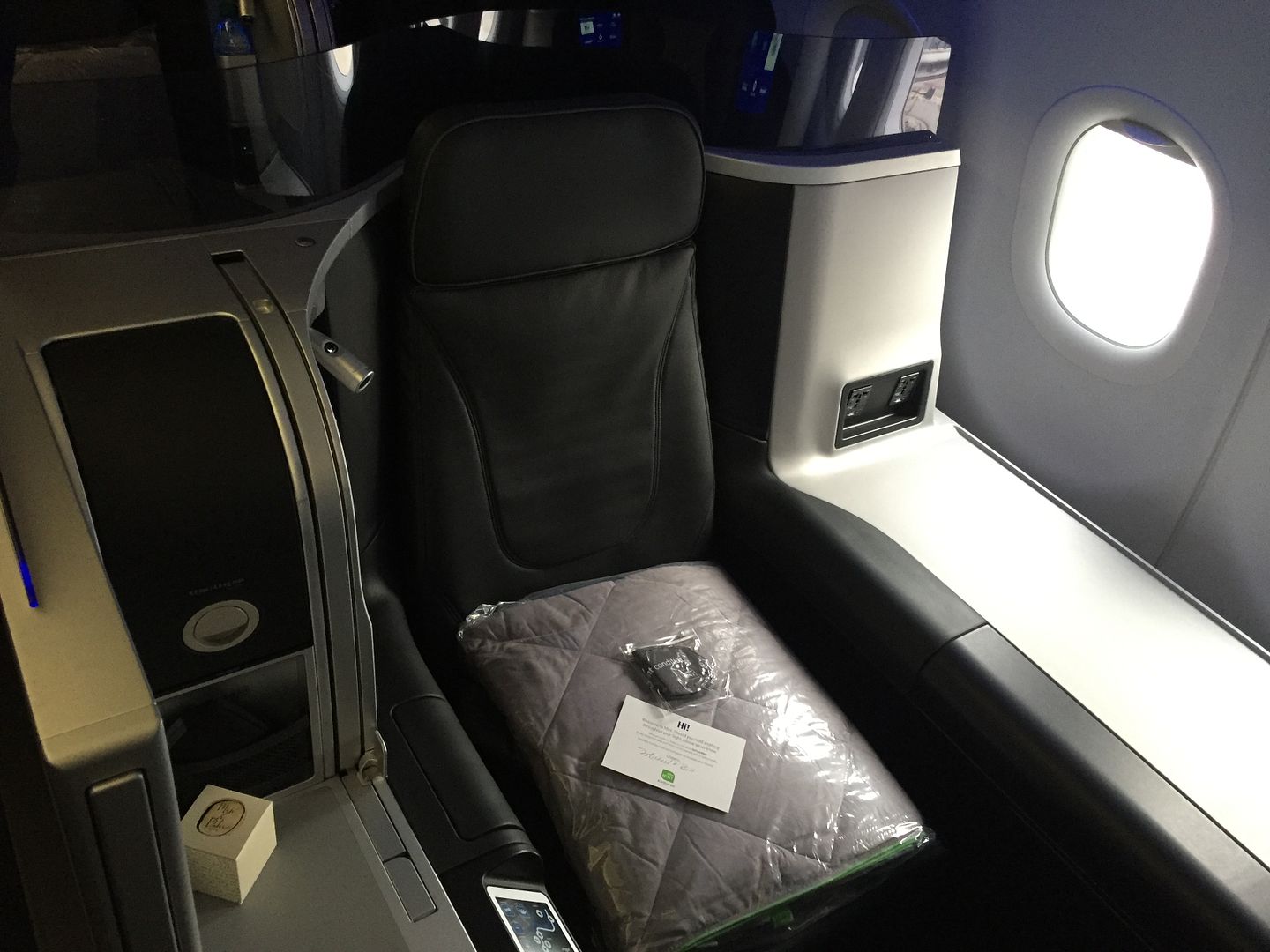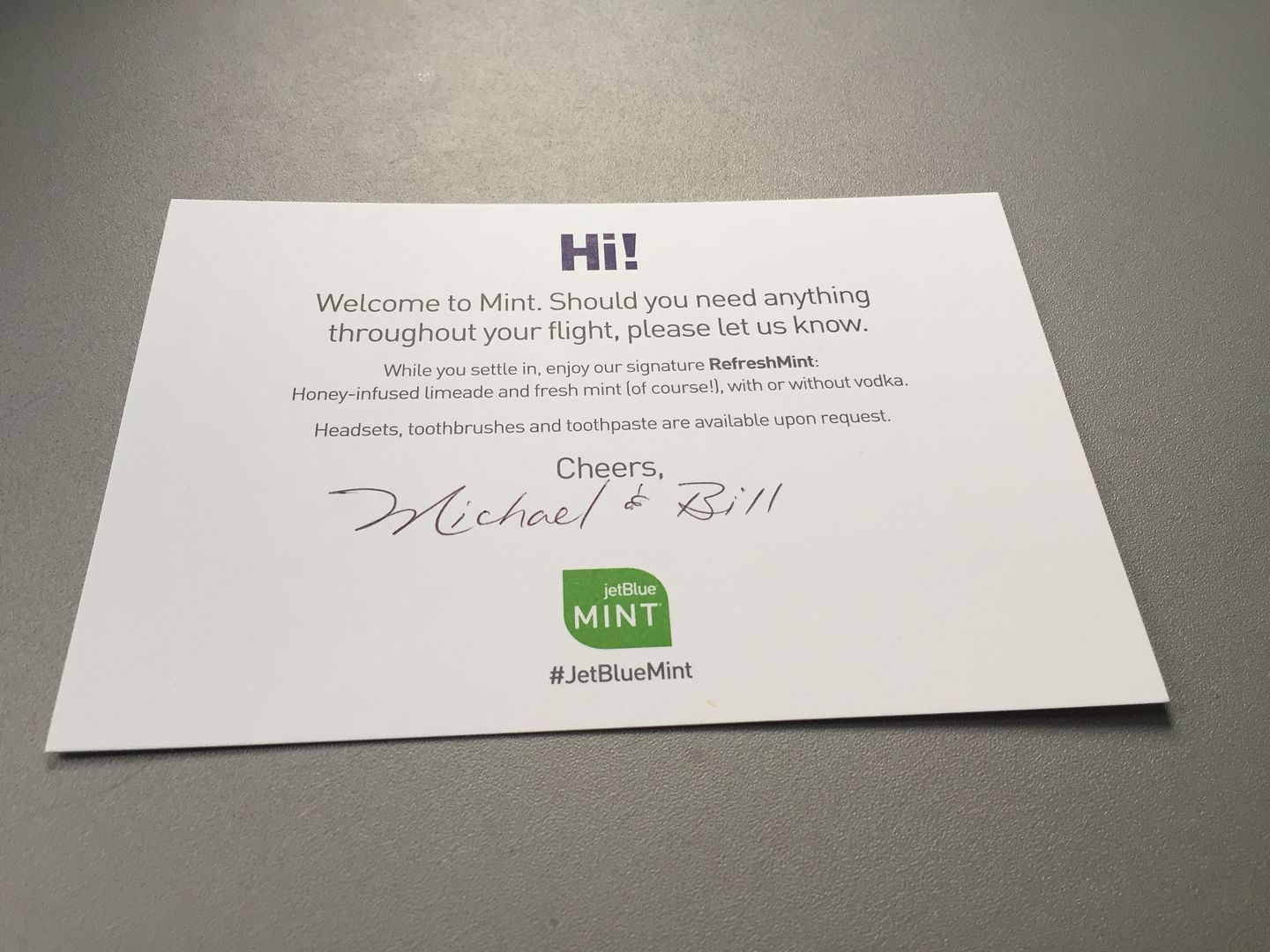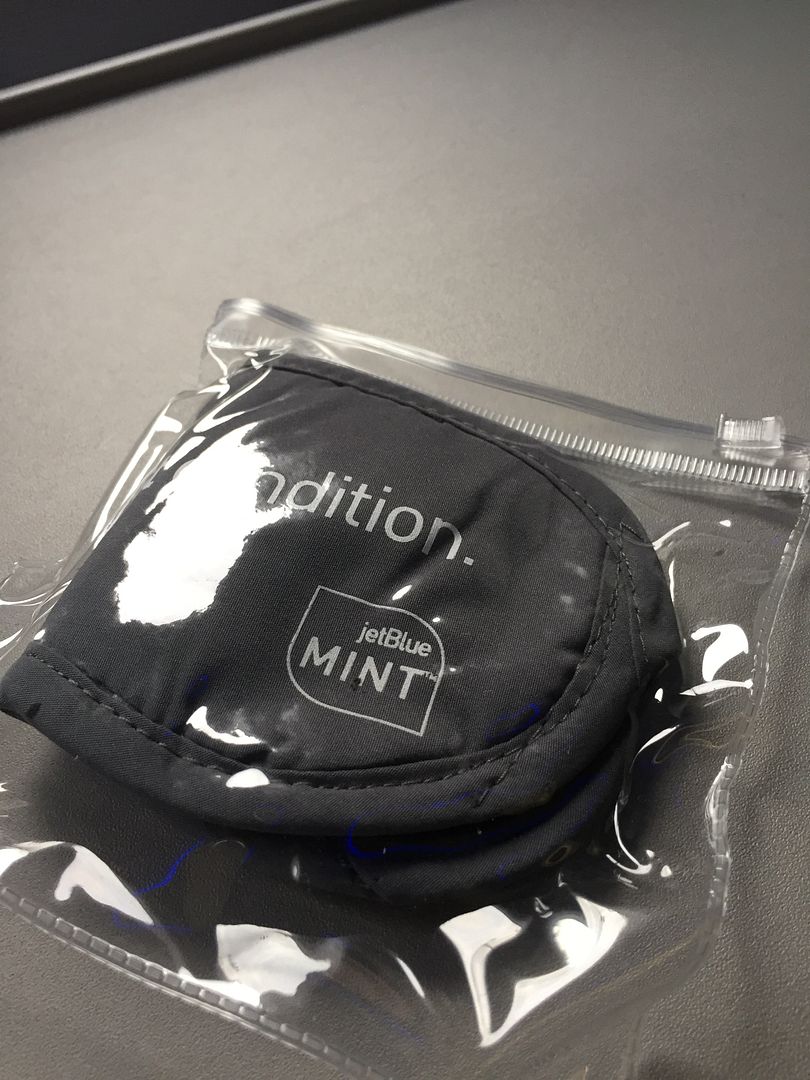 OJ before takeoff
Since I flew a couple of Mint flights this month, I asked for the female birchboxes, so I could show you the contents on both boxes.  I like the new zipper bags, which made it more useful.  I also like the "shoe rescue" wipes on the men's BirchBox.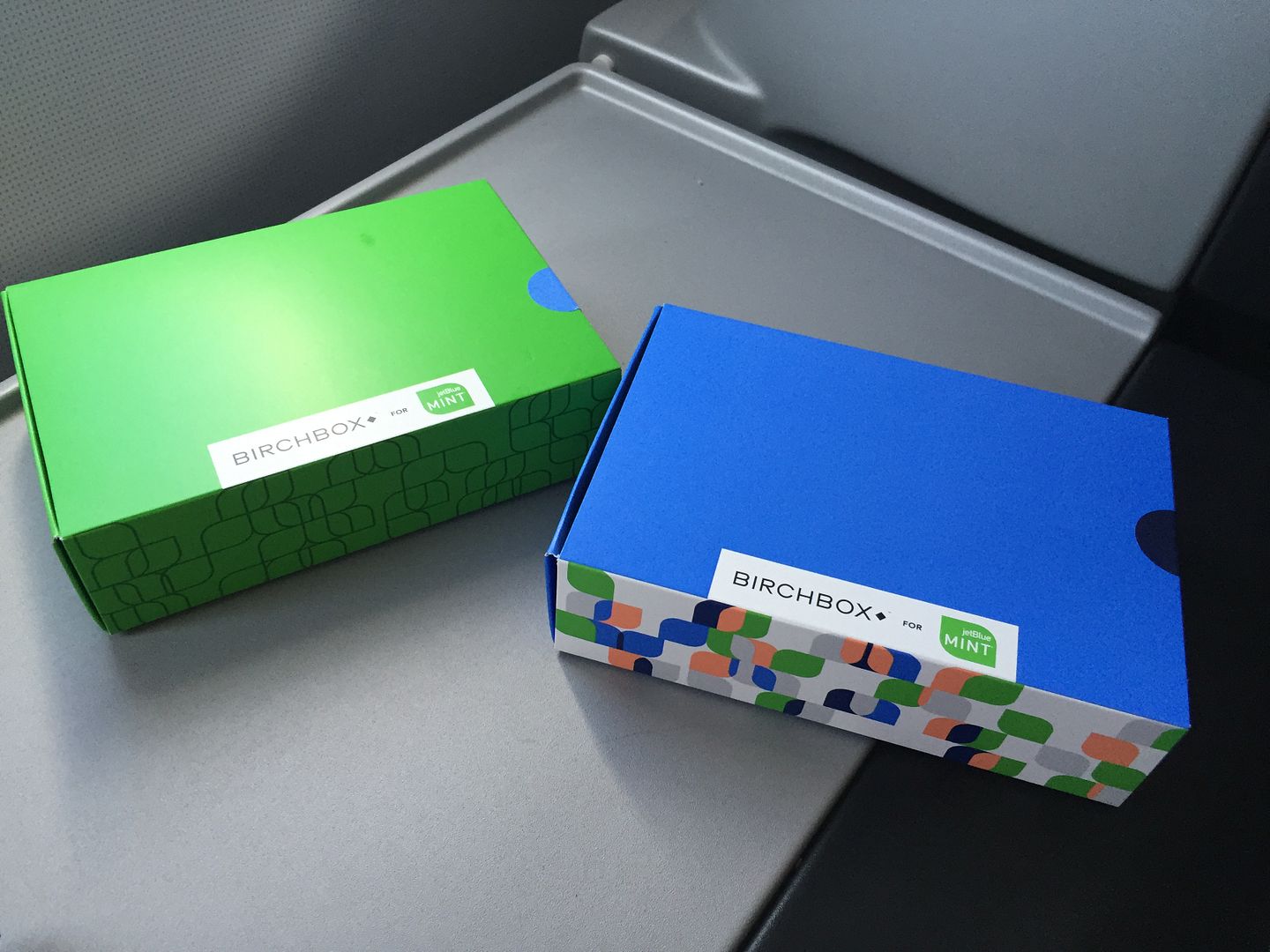 Male Birchbox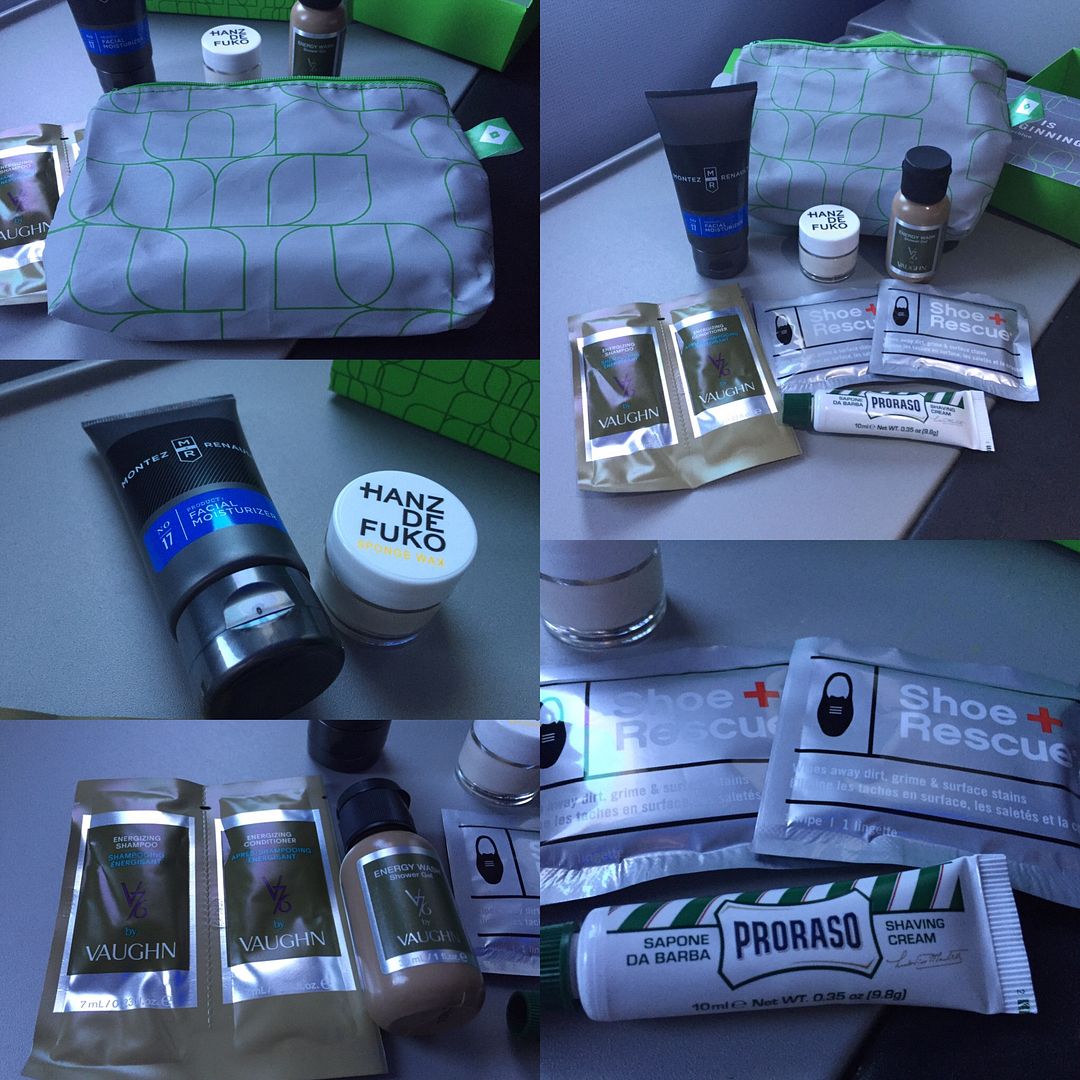 Female Birchbox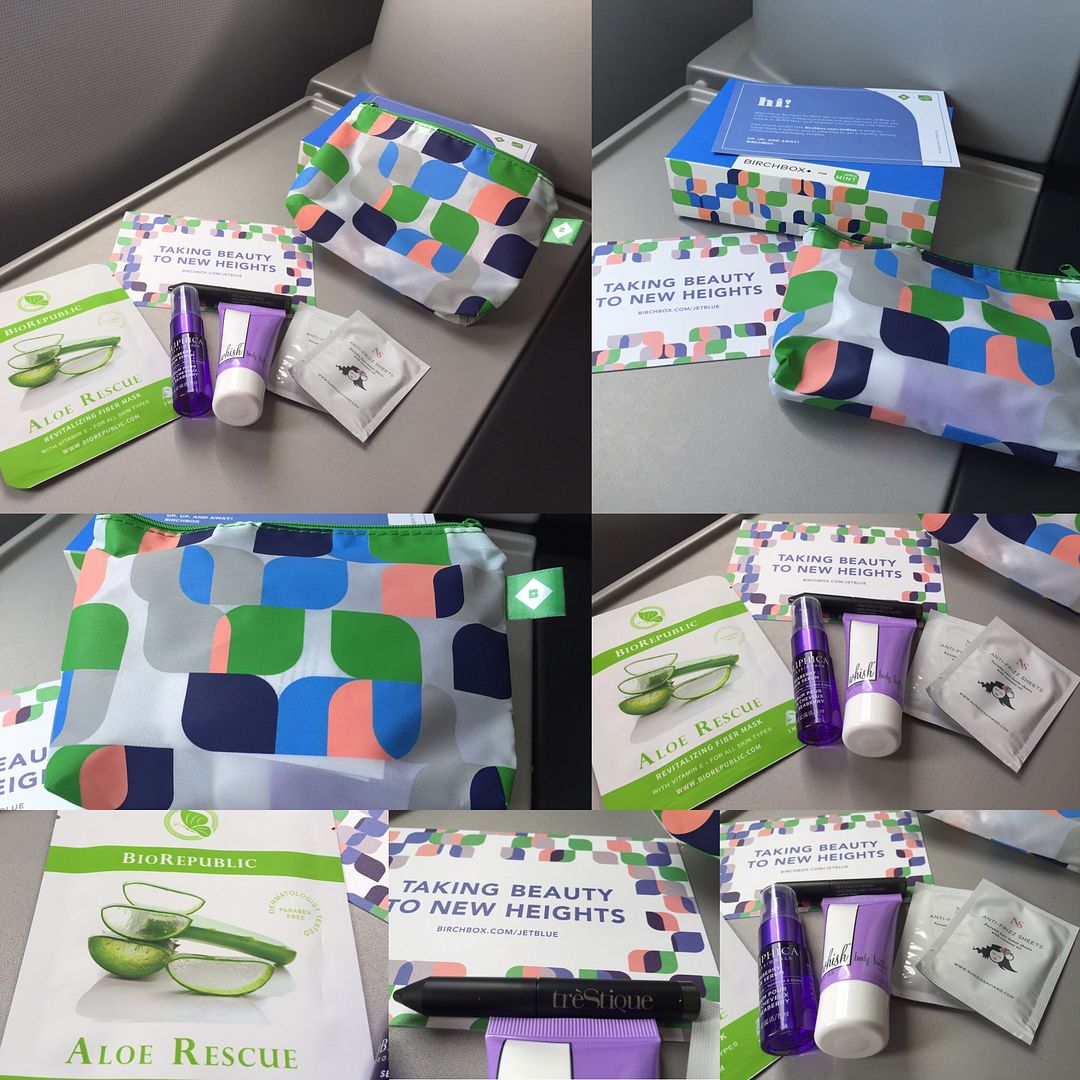 Door was closed at 7:58am, and the JetBlue Mint team from Boston and JFK waved goodbye to the plane.  It was always a sweet sight to see, and compared to other airlines, you can feel that JetBlue's employees are genuinely proud of its airline.  That's why I still love this airline, despite their ups and downs throughout the years. 
We took off from R/W9 at 8:17am, and today's flying time was six hours and nine minutes with an initial cruising altitude of 34,000ft, and later towards 36,000ft. 
Taking off from Logan – the United 757 was also going to SFO
The flight was fairly typical Mint service style: after passing 10,000ft, the F/A made a pass in the cabin and asked if each mint passenger needed anything from the overhead bin, followed by passing out amenity kits, hot towel and taking order for beverage and meal.  Then there is the beverage service with small bites, and then the actual two-course brunch service. 
I am a bit surprised, but flights ex-Boston Logan get different menu from the JFK flights.  The menu items are fairly typical Mint, but four out of the five dishes were different, as well as the small bite.  I don't know how the April menu looks ex-JFK, but Boston changes bi-monthly for the time being.  There will be a lunch flight beginning soon and I wonder if that flight will get a different menu too.
March & April 2016
Westbound & Southbound (Ex-Boston Logan)
Brunch Service
Welcome Taste
Banana bread
With mascarpone & graham cracker crumbs
Delish Dishes
Step up to the plate(s) & choose three.  Please note: The first two dishes are served chilled.  A lighter meal option is available upon request.
*Watermelon salad
With feta, basil & toasted pumpkin seeds
*Farro, barley, wild rice & quinoa salad
With roasted carrots, pickled red onions & carrot harissa puree
Goat Cheese Omelet
With chicken sausage & roesti potatoes
Sweet potato & black bean burrito
With tomatillo compote
*Buttermilk pancakes
With poached pear, pomegranate seeds & crème fraiche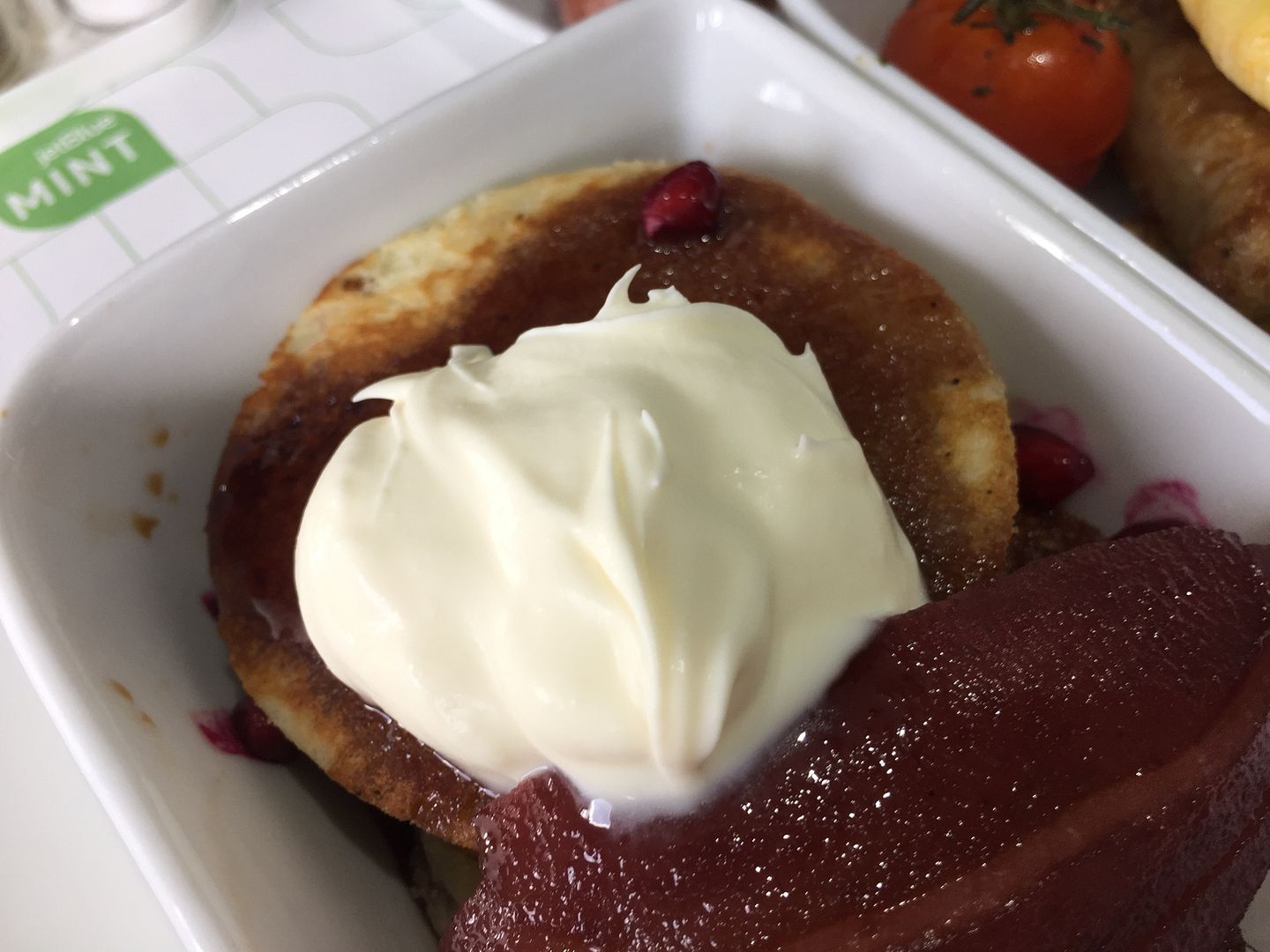 Cold pretzel breadstick – it really tasted pretty bad, and the bread dried out to the point that it becomes a breadstick.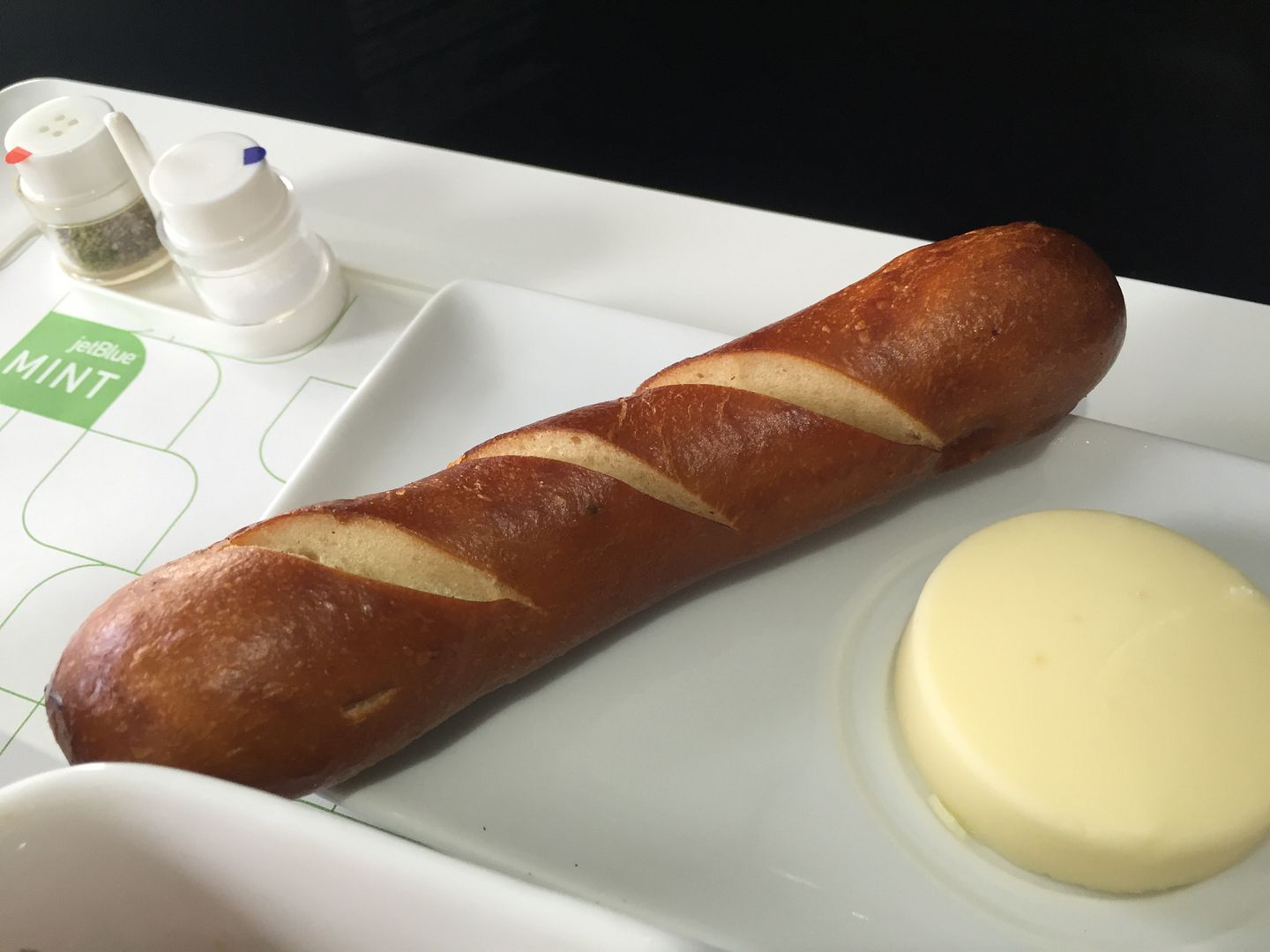 Sweet Bites
Seasonal Fruit Salad
Organic Sorbet, Blue Marble Ice Cream, Brooklyn, New York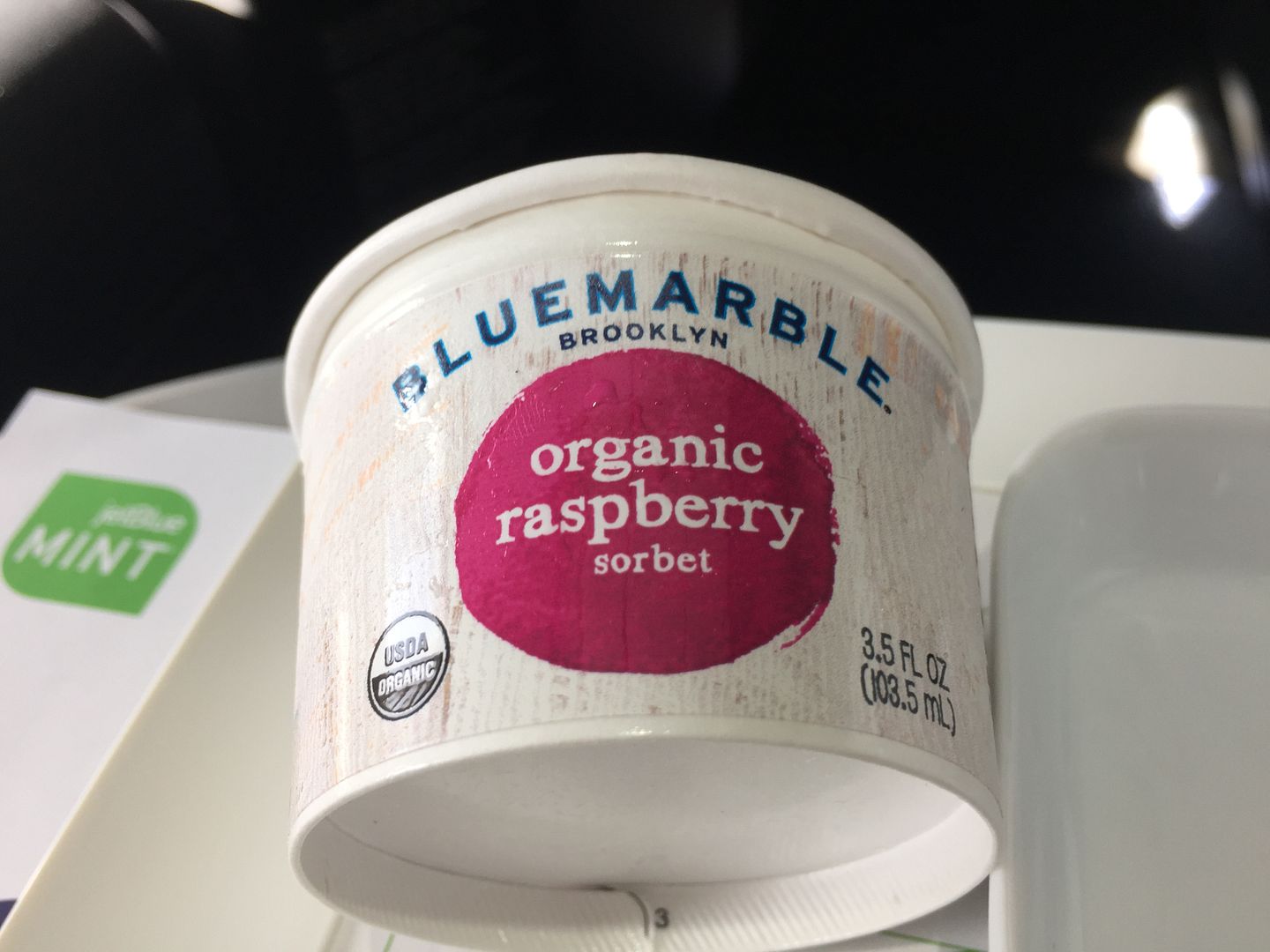 Cappuccino & espresso, Brooklyn Roasting Company, Brooklyn, New York
24/7Snacks
Fresh whole fruit
Signature JetBlue Snacks
When you re-treat
Freshly baked pastries, Mah-Ze-Dahr Bakery, A Colicchio Discovery, New York, New York
There was some weather over the Midwest and we hit a few patch of turbulence after the brunch service.  Marty St George, Executive Vice President of Commercial and Planning for JetBlue, was on board during the inaugural flight.  He made a welcome speech prior to takeoff and introduced the new products to both Mint and Core passengers.  He actually said that it was not only the first Mint flight, but also the first scheduled A321 flight out from Boston Logan Airport, which caught me off surprise.  After the flight passed through the turbulence area, Marty came on to the P/A again, and there was a lucky draw today.  JetBlue was passing out two vouchers worthy of 30,000 TrueBlue points each.   The question of the day was, "How many gallons of fuel is carried on this inaugural flight from Boston Logan to San Francisco International?"  The F/As went through the cabin with everyone's choice of numbers, and in the end, both winners are actually CORE passengers stuck in a middle seat – 27E and 29E.  The answer was 5641 gallons. 
Michael also brought out a special Mint cake for Mint passengers.  He was so sweet by bring around the cake and let everyone take a photo of it.  Of course I had to take a picture.  I think it was a chocolate mint cake, but since I was drinking mint tea throughout the flight, I was no longer sure.  Anyway, it was a nice thing to do.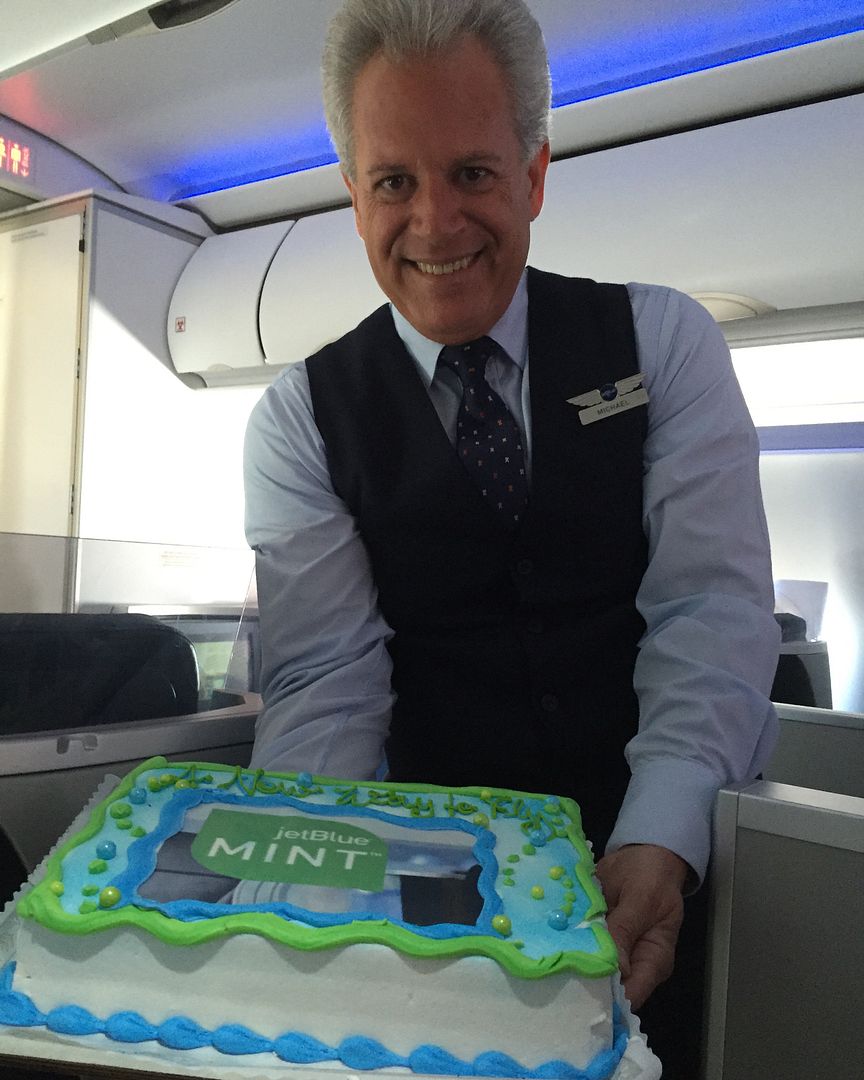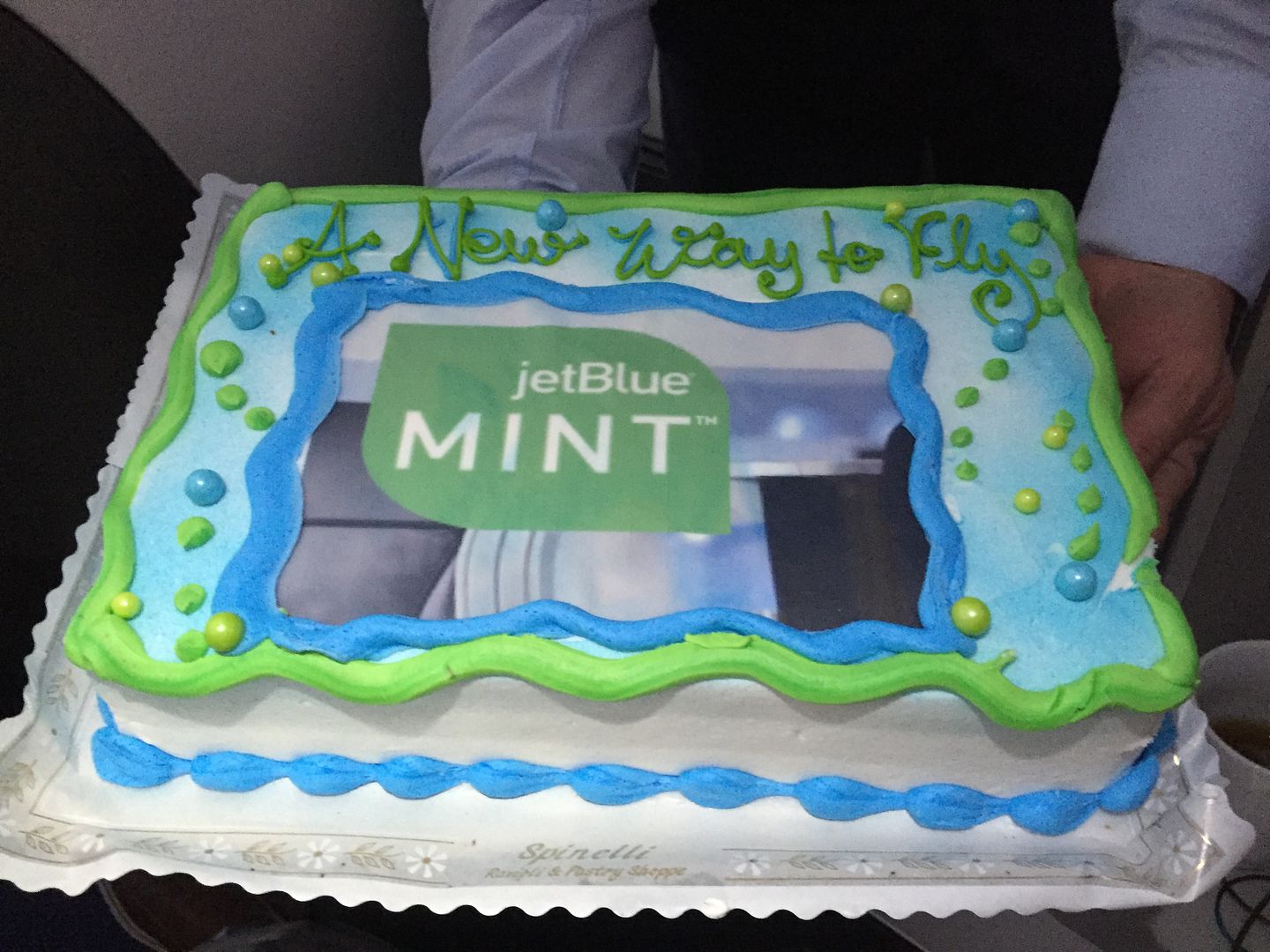 Mint passengers also got two San Francisco City Passes (not sure if Y passengers got them).  They were actually quite useful especially the free 7 days MUNI pass. 
There was the usual beverage and snack basket prior to arrival, and unfortunately, there were no bananas in the fruit basket.  I noticed that JetBlue did not always load bananas on the fruit basket, which was strange.  Anyway, a first world and minor problem! 
Descent began around 11am San Francisco time, and it was a beautiful day in the Bay Area.
We landed on R/W28R at 11:26am, and there was a United Boeing 747-400 taking off from R/W28L.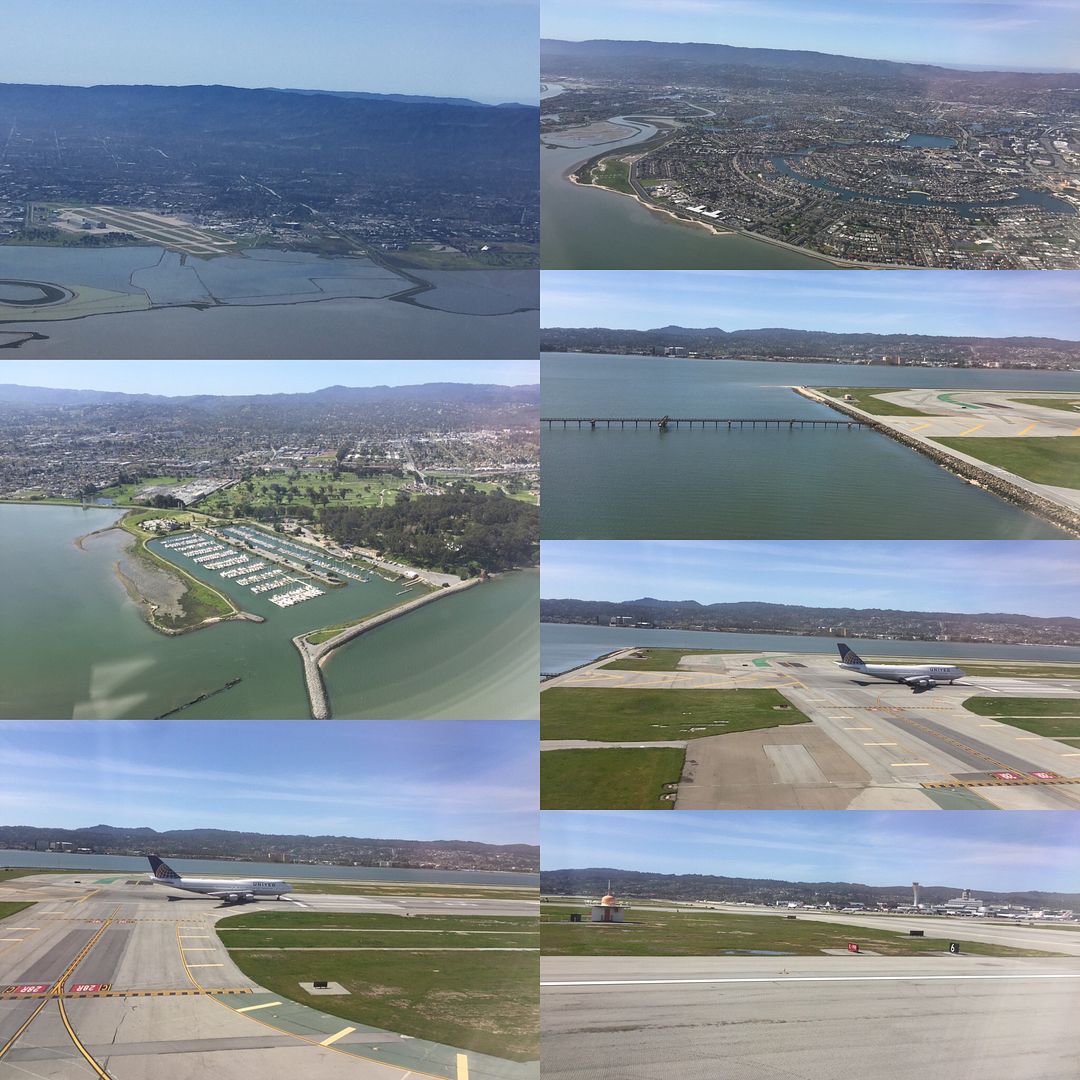 We parked at gate A11B twelve minutes later.  There was zero celebration on arrival, and the aircraft actually turned back to JFK.  The inaugural SFO to Boston flight used another JFK arrival aircraft.  There was also little celebration, but I noticed the boxes of Mah-Ze-Dahr pastries at their gates though. 
I of course hope that there were more festivities, but in general, it was still a nice launch.  The new Mint A321 carried lots of promises, and at least it will help to lower the premium fares on this market.  I noticed that the route with the most expensive first class fares on Virgin America network has always been Boston to LAX/SFO, so JetBlue's Mint product, which is much more superior, should do very well.  I notice that JetBlue even had some $478 fare on the BOS-SFO market for the next few months, so I urge everyone to try it.
I will end the trip report with few plane-spotting photos I took that afternoon at SFO.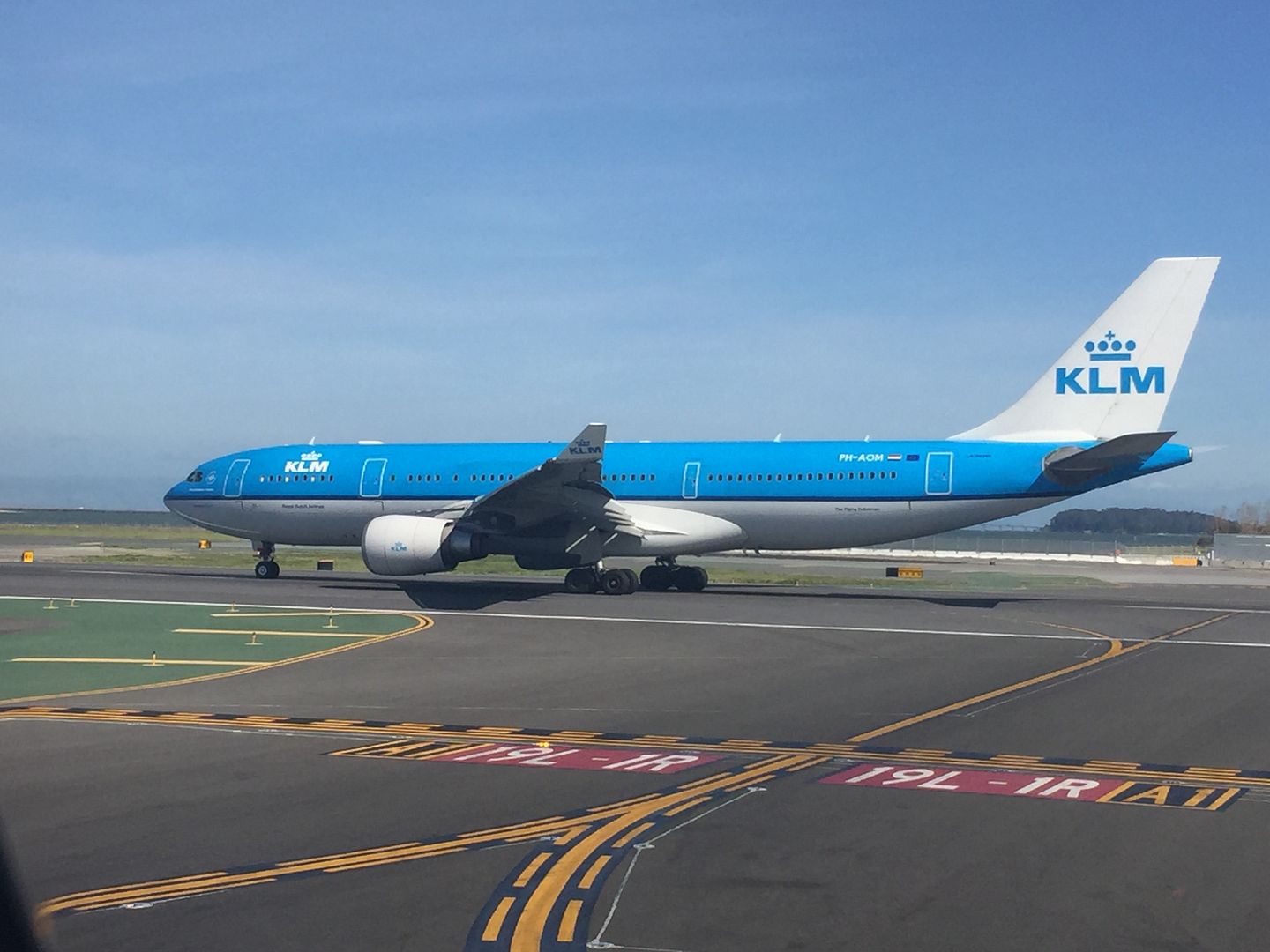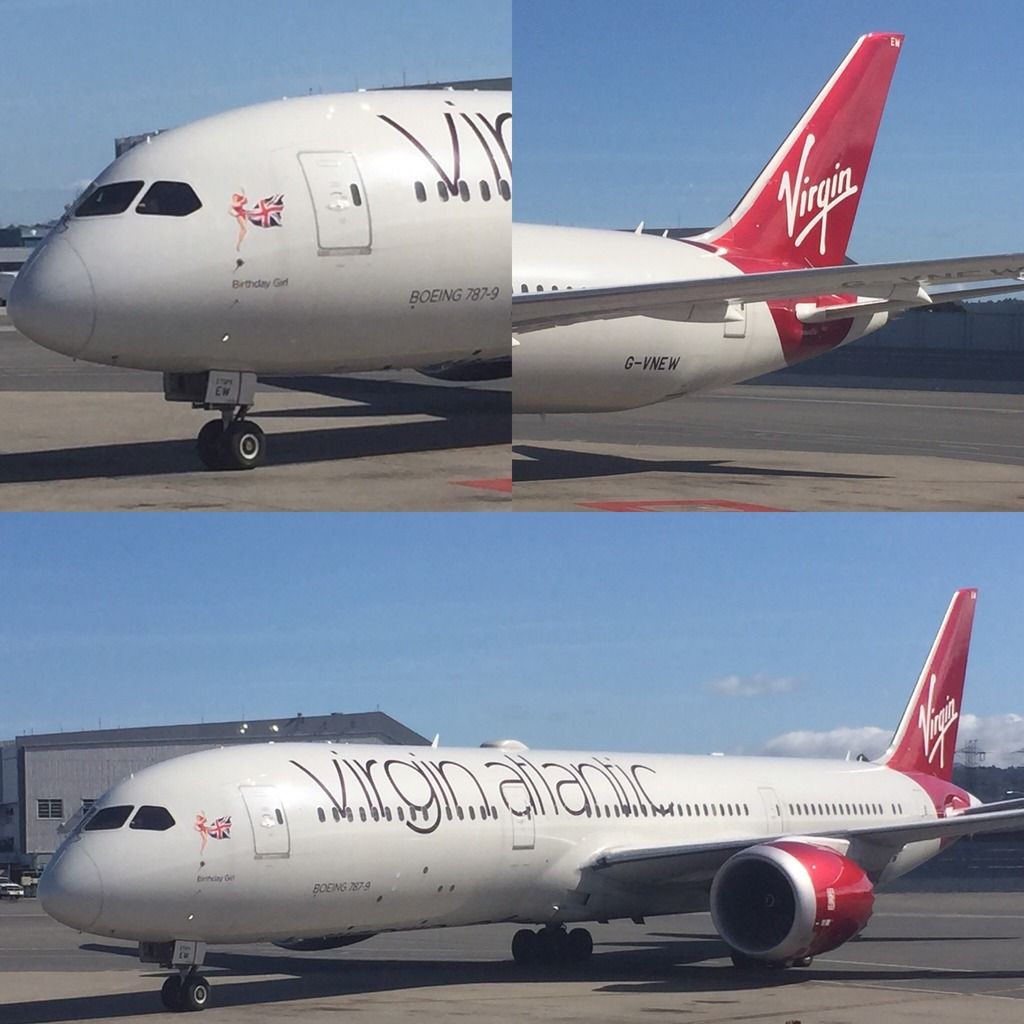 Thanks for reading!
Carfield