Affordable way to fly "Private" – JetSuite X E-135
Album link:
http://s1213.photobucket.com/user/Carfield76/library/Summer%202016/JetSuiteX%20Experience%20June%202016
JetSuite is a private jet company based in Irvine, California, and has decided to try out a new concept early this year.  It has purchased a bunch of ex-American Eagle's used Embraer EMB-135LRs, and refurbished it into a luxurious 30-seats configuration.  The commercial subsidiary is called JetSuite X operated by Deluxe Public Charter.  It has originally based both of its operations on Concord Buchanan Field, and flies to Burbank, as well as Las Vegas.  Since I really don't have any reason to be in Concord, I decide in April for a BUR-CCR-LAS on a Friday because CCR-LAS was originally a weekend service.   JetSuite offers two fare classes – one is a non-refundable fare with the usual change fee and a second one is a flexible one.  For these flights, the cheaper fare is $108, while the flexible one is $268.  I found the fares to be pretty reasonable considered you get a nicer seat, more legroom, complimentary beverage and snacks, along with a private jet experience. 
On May 18, I got an email from JetSuite X, regarding some schedule changes.  They have decided that Las Vegas was a popular destination, and while maintaining BUR-CCR, XE starts a CCR-LAS service.  The CCR-LAS service is changed into CCR-BUR-LAS flight with more frequencies.  While it was annoying as the changes were really late, JetSuite X called me personally and when I replied the phone calls, the rebooking was swift, and in the end, I did a BUR-CCR-BUR-LAS.  It is a bit crazy, but since I have two tickets and don't want to miss out the chance to fly into CCR, that is why the routing is so strange in the end.  I also give XE credits for actually giving me $100 voucher for the inconvenience.
June 17, 2016
XE 102 BUR-CCR Lv0830 Arr0950 Embraer EMB-135LR N719AE
XE 103 CCR-BUR Lv1050 Arr1200
XE 103 BUR-LAS Lv1220 Arr1330
When I spoke with the agent for the rebooking, I asked about how to get to Hangar 2 in Burbank, and she simply recommends using Uber.  I followed her advice and the uber driver has no issue finding Hangar 2, which was undoubtedly the right description.
Entrance to Hangar 2
Check-in:
You can't really miss the Embraer 135 featured in the background
There are basically two desks, one for JetSuite X and one for an agency handling arriving passengers' ground transportations.  Two agents were both checking in passengers and working the ground operation, such as boarding and opening cabin door.  Both agents were very friendly and it is definitely a more personable experience than the typical kiosk.  I asked about flight load, and the agent told me that it was a light flight heading to CCR, but the return to LAS is almost 100% full.  She told me that the Las Vegas flights were always full, compared to Concord.  She welcomed me to the lounges, which were obviously formerly offices with new décor.
Pool table
Lounges
Refreshment station – Coffee machine, hot beverages, and fridge containing cold beverages, along with assortment of packaged snacks that are not featured on the plane.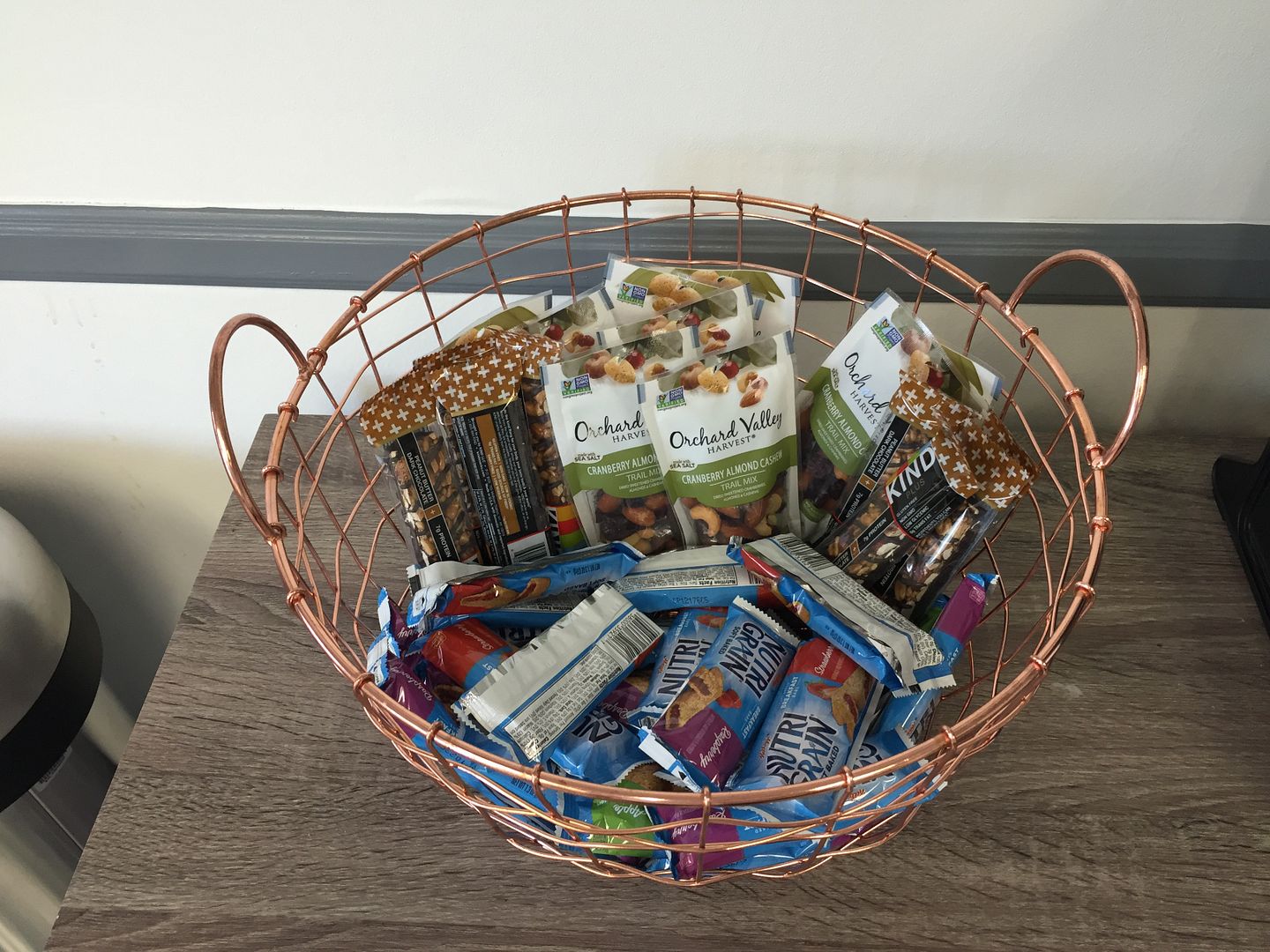 I just love being able to snap picture with no one interfering. 
There is no TSA check, as this is private jet transportation! 
As you can tell from the sign, this is just a temporary lounge, as JetSuite X is building a new lounge.  Hopefully it will contain a bit more faculties, as well as better refreshment, such as pastries.  I don't expect fancy food, but since there is no food outlet, there should be at least some fresh fruits and fresh pastries.   The toilets are also pretty bad and crowded.  They really need to fix them.
Another EMB-135
The plane used for my flight arrived early from Concord, but boarding did not occur till 8:22am.  With only 13 passengers, it took no time for boarding to be completed. 
N719AE at BUR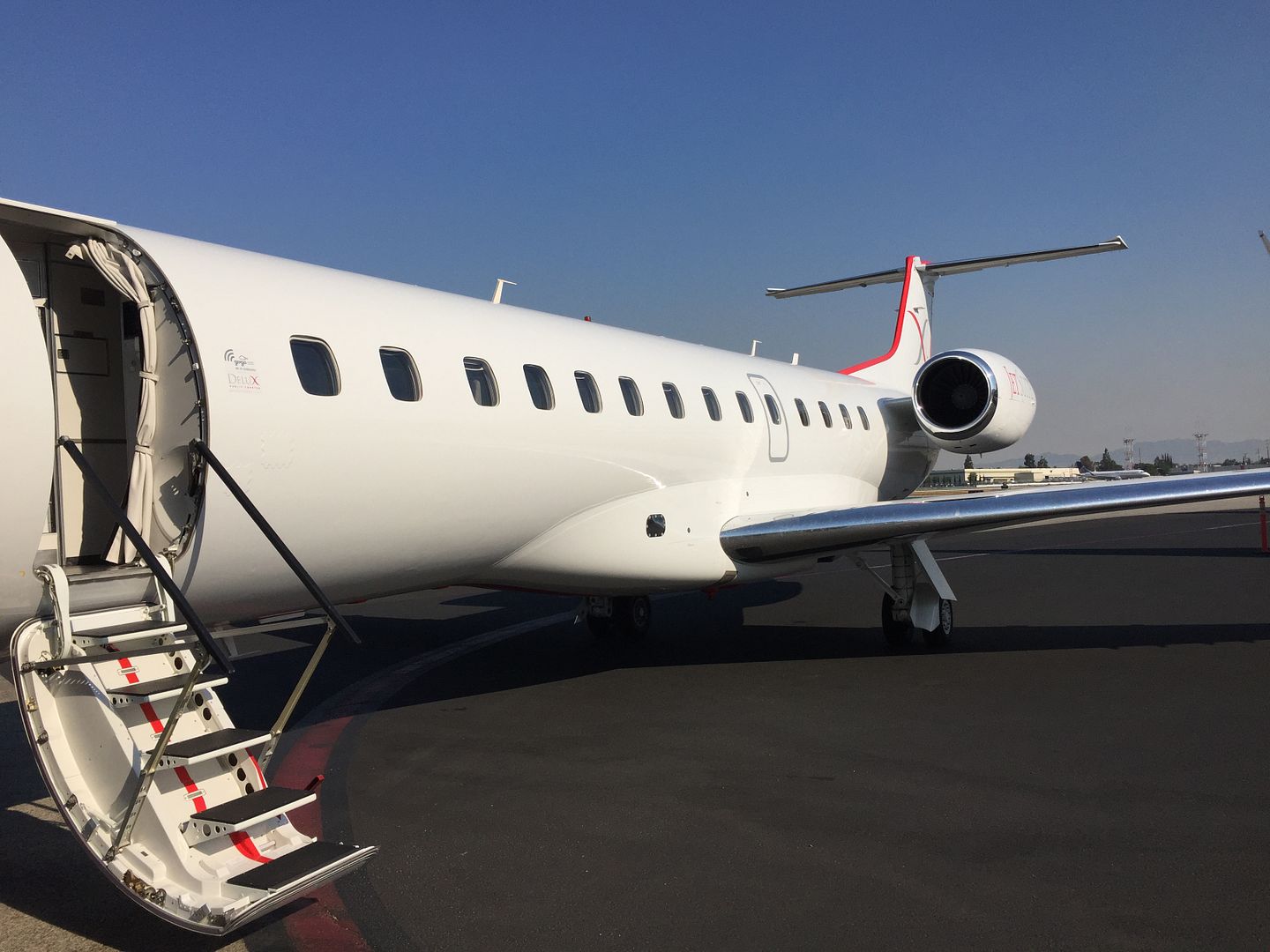 Seat 2A
Seat
Legroom
Our friendly F/A this morning was Melissa, who welcomed everyone onboard.  It was so different from your typical regional jet experience, in which a greeting from F/A was rare these days.  Door was closed at 8:26am and pushed back a minute later.
We took off from R/W15 at 8:35am.  Flying time was fifty-four minutes with a cruising altitude at 34,000ft.
Beautiful day to fly – lovely scenery along the way
No cart was used, as expected.  Melissa went around the cabin to take beverage order, and then brought out the order.  Please note that beverage is served in plastic glassware. 
Here is the menu: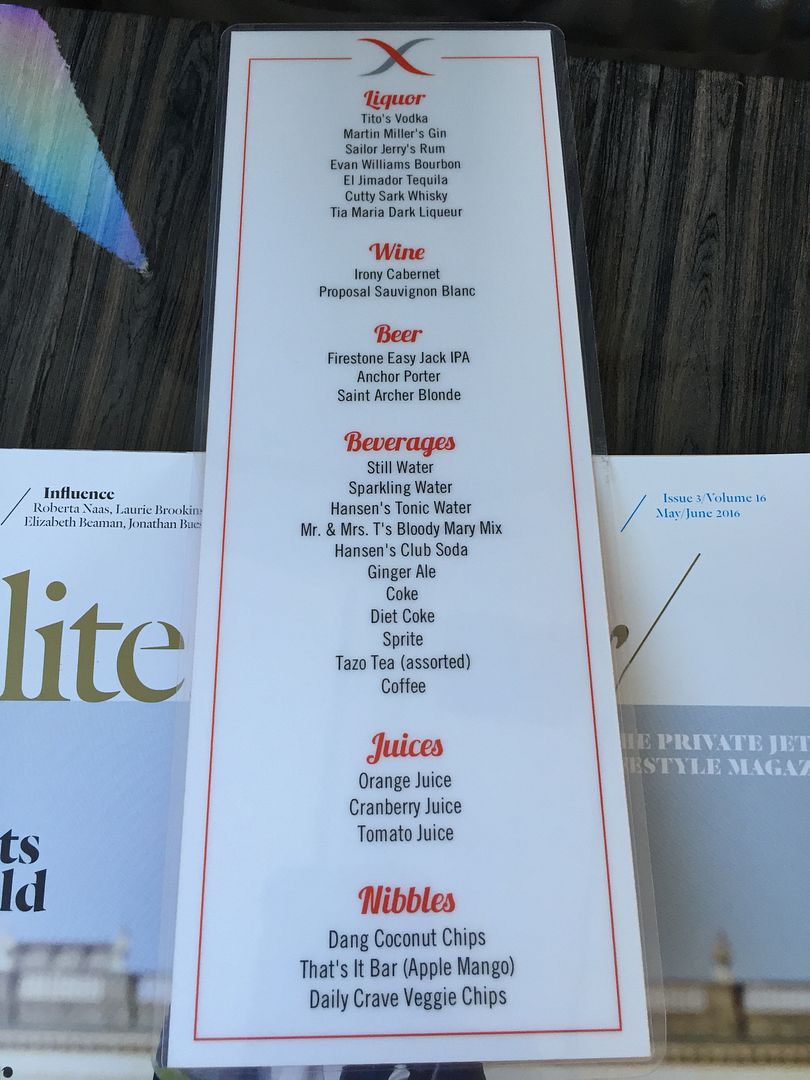 For snacks, there are two choices – Daily Crave's Veggie Chips or That's it Bar (Apple Mango) – Coconut chips were not available, as they ran out of stock.  The Veggie chips were nice, but the fruit bar was too artificial for my taste.
Tray table – really nice table, but they are very slippery
Seat pocket – two magazines – JetSuite in-house magazines and Private Jet Magazines
Safety card
Fancy sanitary bag
Free WIFI was available but Gogo really offers a poor service here.  The connection was slow, and you got cut off frequently.  I was not impressive.  For text messaging and basic stuffs, they are okay, but don't expect to be able to work. 
Descend soon began at 8:58am and Melissa was making her rounds talking with passengers.  The service was personable and warm.  It is just so different from other commercial flights, even in first class cabin. 
We landed on 9:29am at R/W19R, and Buchanan Field is basically a regional airport with no real terminal.  There is no commercial service, other than JetSuite X. 
Lovely regional airport – Control Tower
After everyone deplaned, I took a picture of the cabin, as well as the plane.
Plane here at Concord
JetSuite's Concord Buchanan Field Terminal & Lounge
It is basically a small terminal building with an airline lounge layout.  There is the usual check-in desk, and two agents were handling all the ground operations.  They were friendly and I got my boarding pass.  It was easy and stress-free.  The lounge has a pleasant living room décor with lots of natural light.  There are plenty of outlets around the lounge, as well as free WIFI.  I love the military plane models too.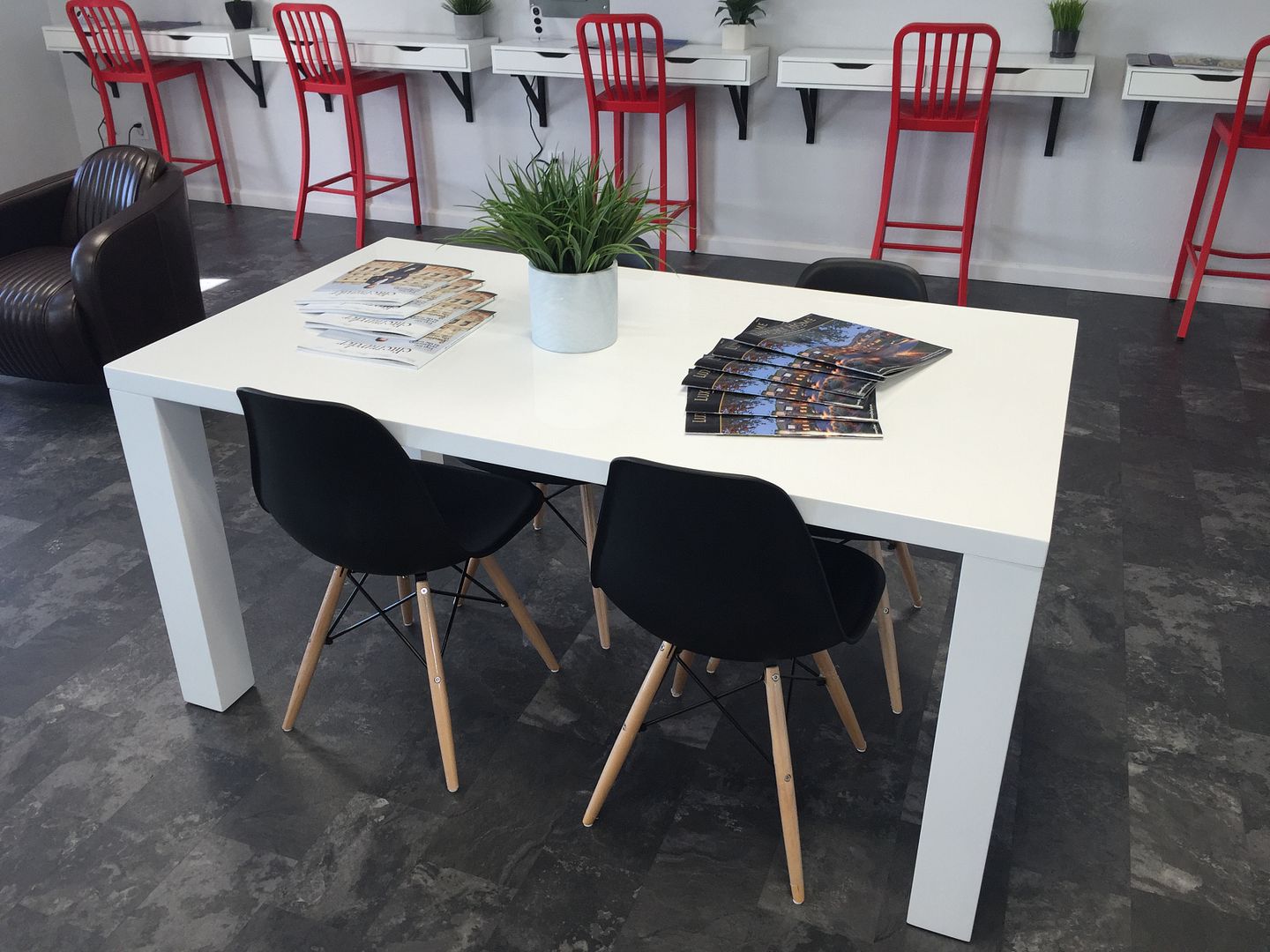 Snacks unfortunately are fairly limited – no soft drink but there is a tray of muffins, but almost all gone by the time I was there. 
The bathroom is much nicer.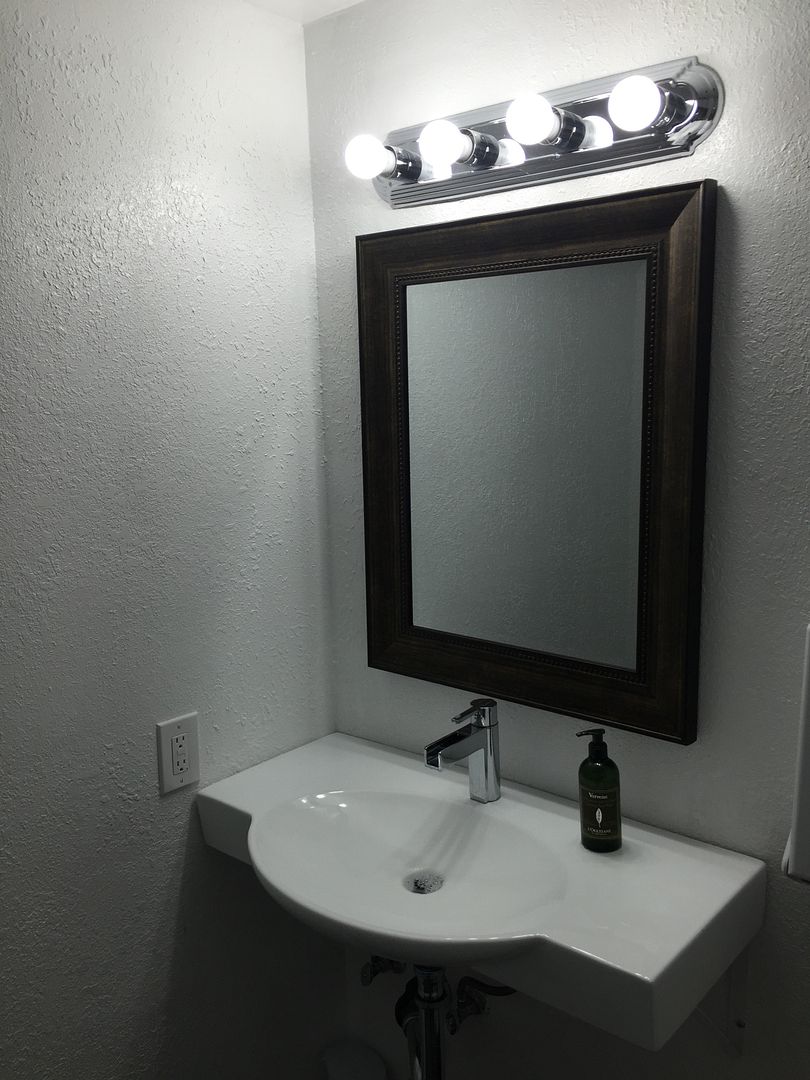 N719AE at CCR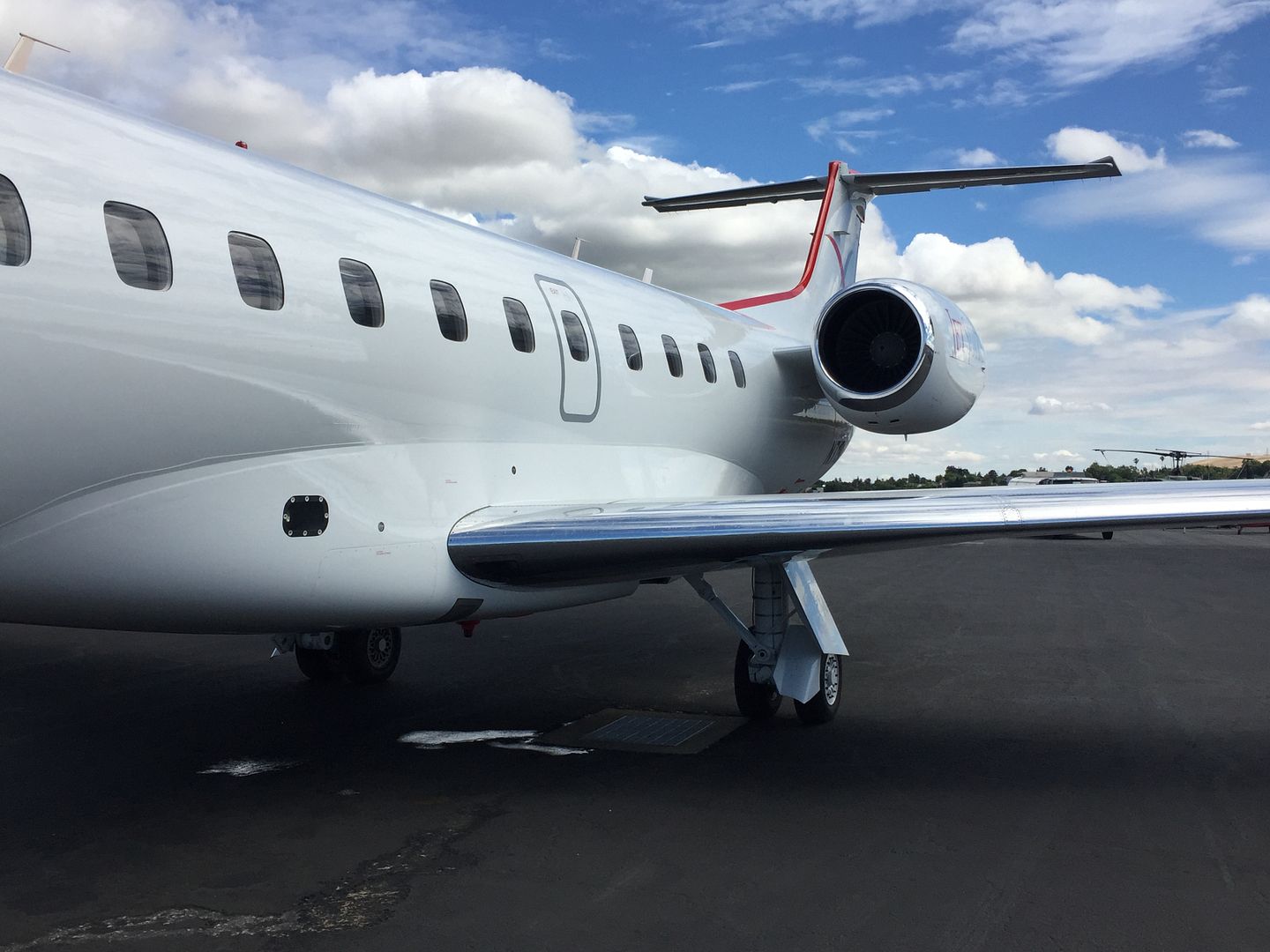 Nose shot
Name Plate
Since most passengers were already checked in, they began boarding at 10:25am.  The flight was a bit fuller, but for this segment, I had all three seats to myself in Row 5. 
Nice seats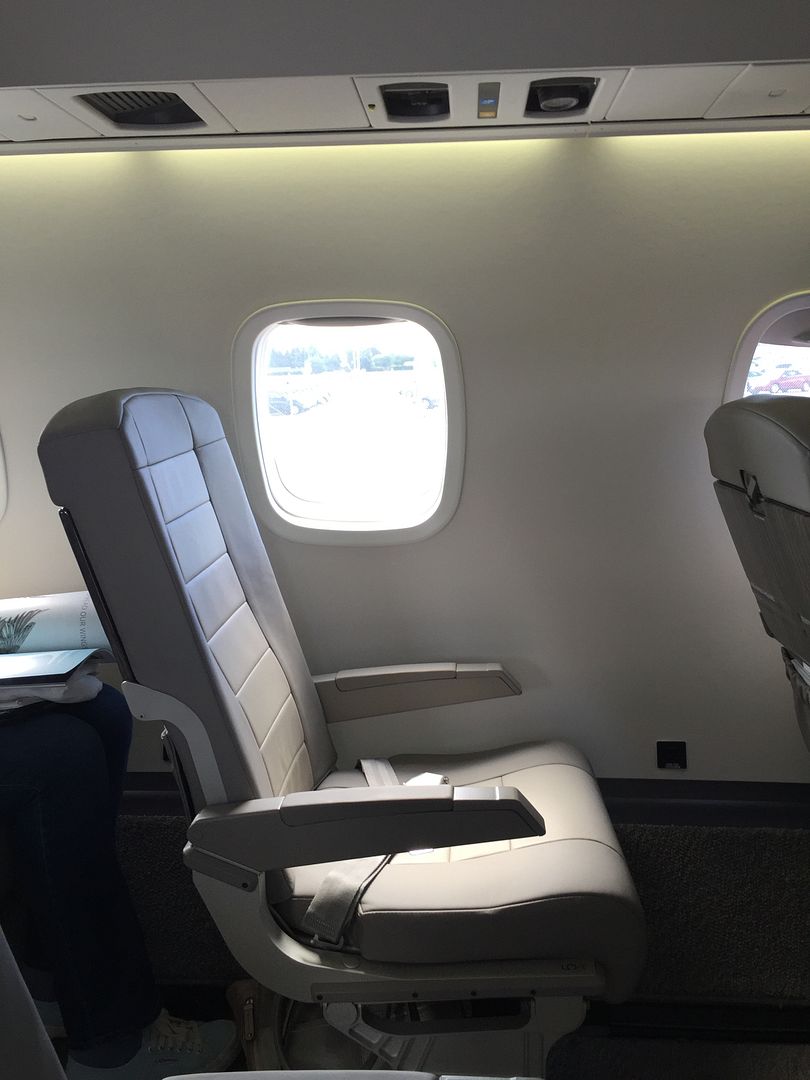 Tray Table
Concord Airport
Door was closed at 10:45am and was soon cleared to takeoff at 10:52am.
Flying time was fifty-seven minutes with a cruising altitude of 31,000ft. 
Melissa took beverage order before we took off, as it was a bit fuller.  She was friendly and had more time to talk to passengers. 
Beverage – a fancy Vodka Cranberry – I am impressed with the use of Grey Goose vodka.
This was the only flight that the pilots turned off the seat belt.  I took the opportunity to visit the bathroom. 
They have refurbished the bathroom, but despite of a fancy faucet, little water was coming out from it.  The water pressure is also non-existent.  I definitely think a functional bathroom is preferred to a beautiful bathroom with no functional faucet.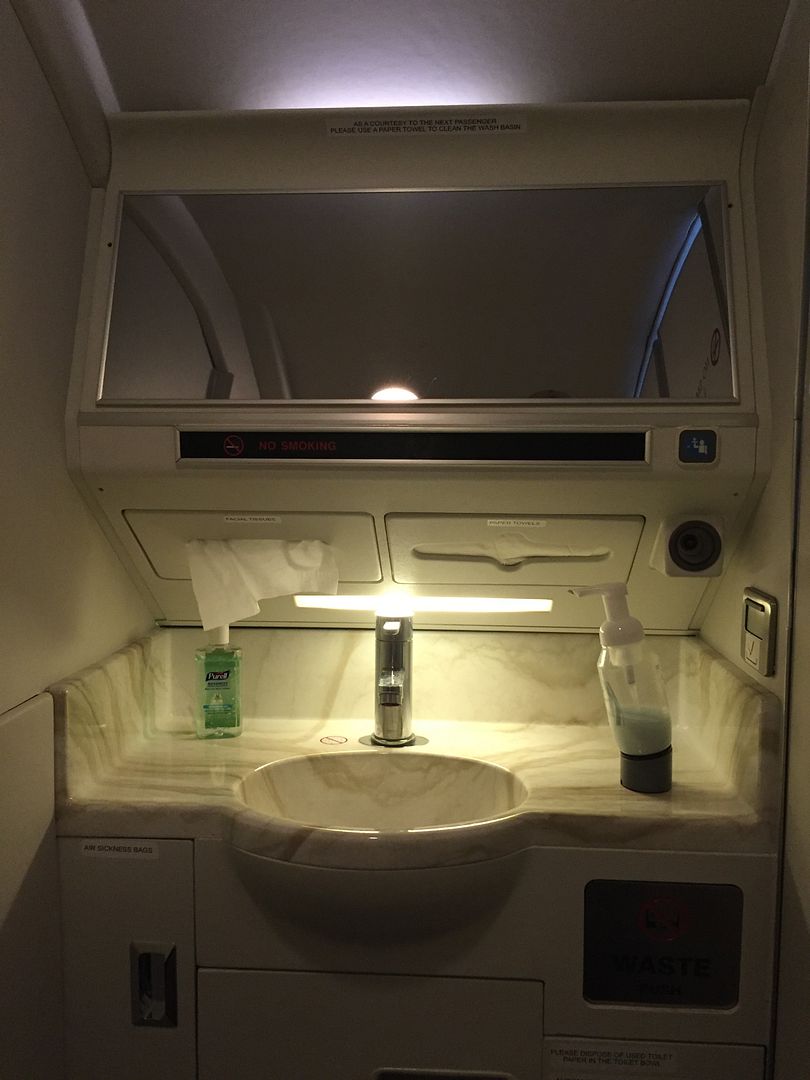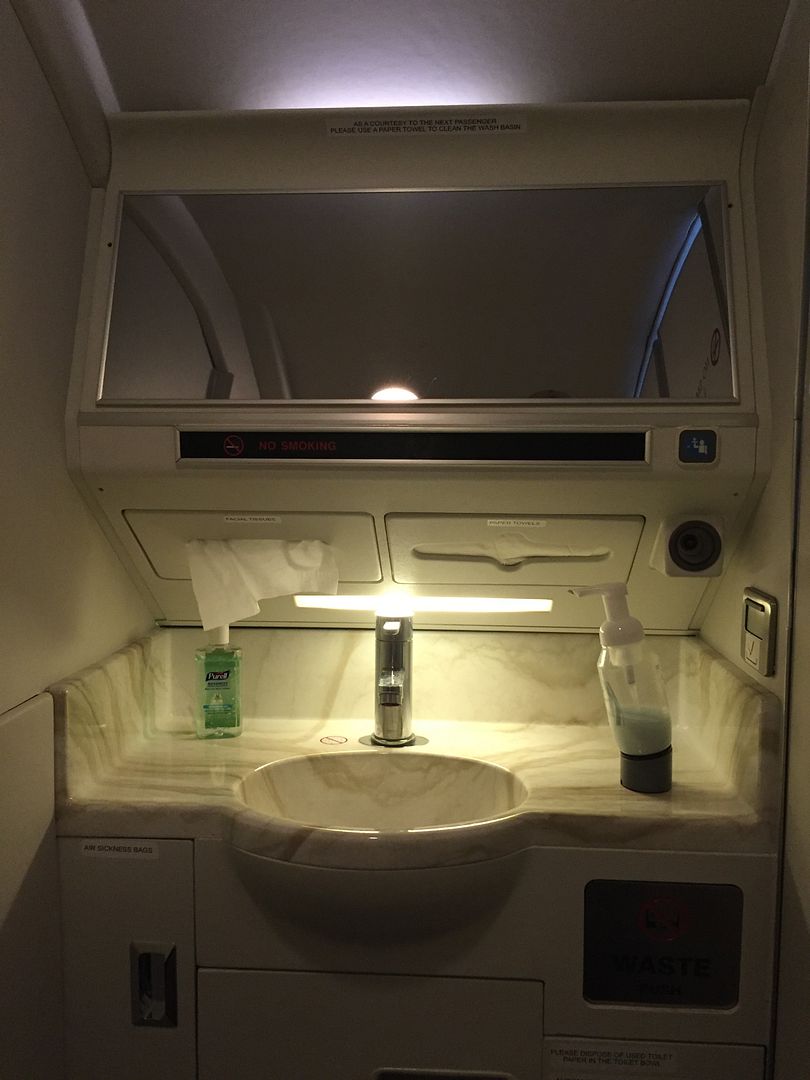 There is an infant changing table.
Descent began at 11:25am, and Melissa went around the cabin and telling each passenger heading to Las Vegas to stay onboard during the short layover. 
We landed on R/W8 at 11:49am and parked at Hangar 2 at 11:53am.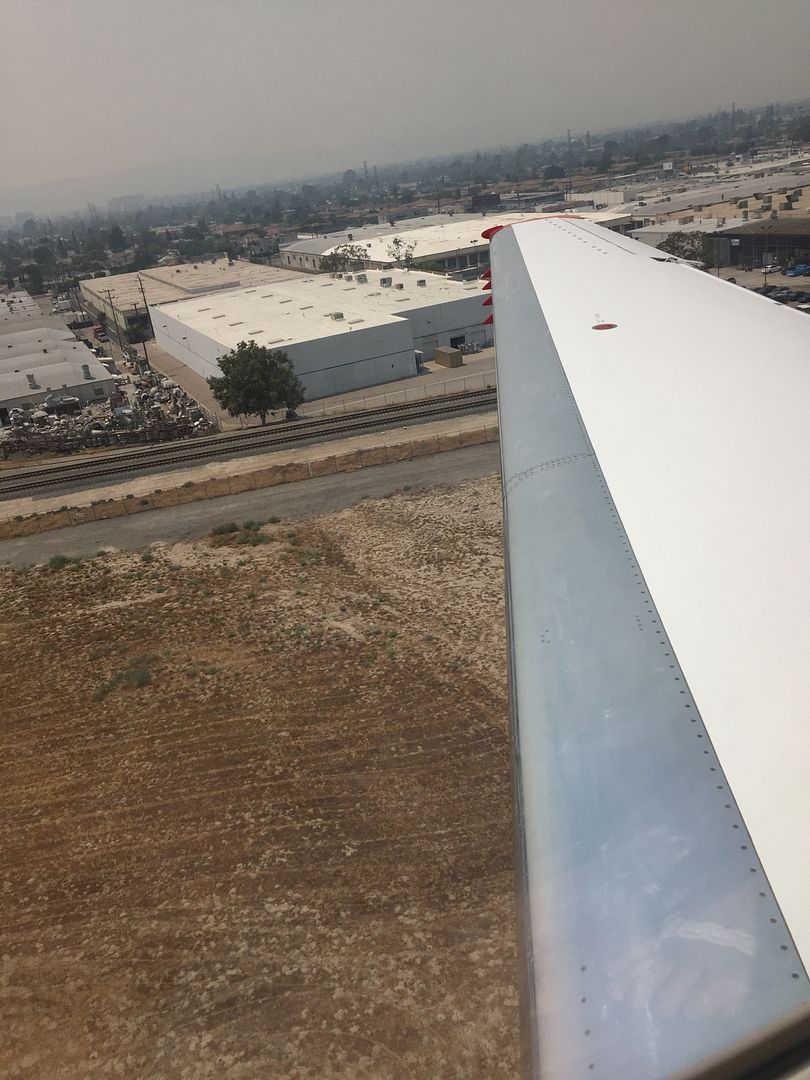 During the layover at Burbank, a few passengers got off the planes and I tried to take a few more pictures.  Melissa also bid her goodbye, as her colleague, Tracy, took over.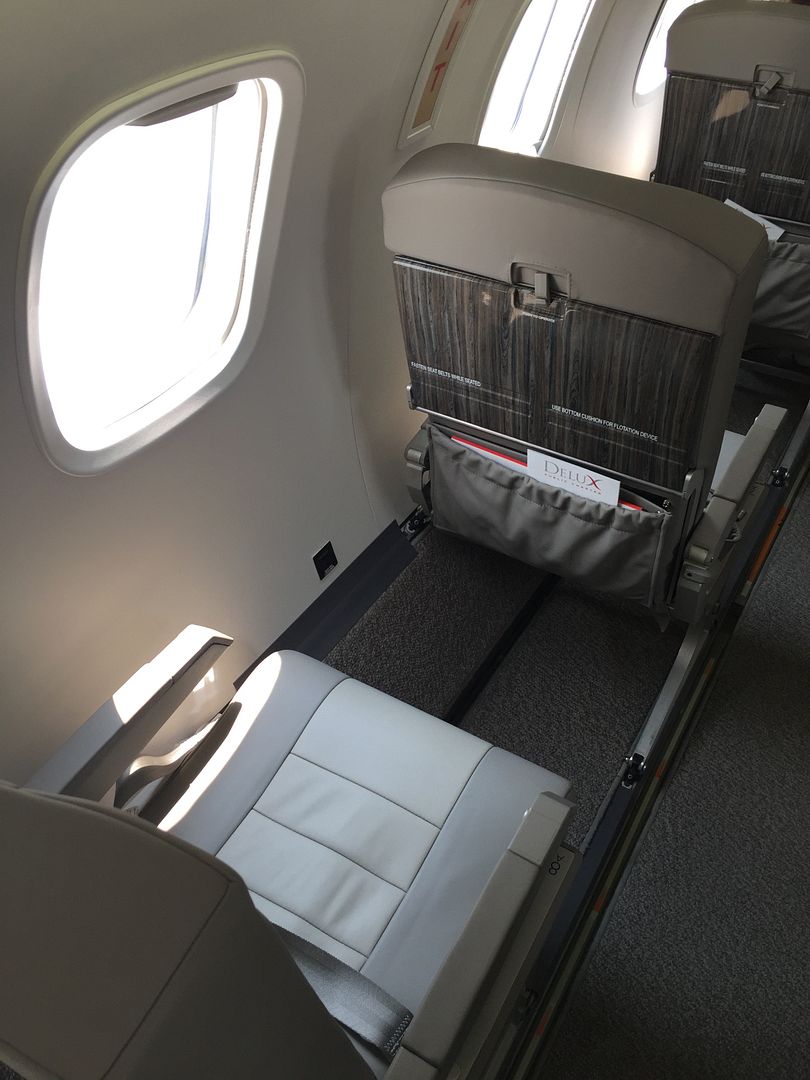 Power outlets at each seat – in the wall for window passengers, and then in the armrest for aisle seats (B).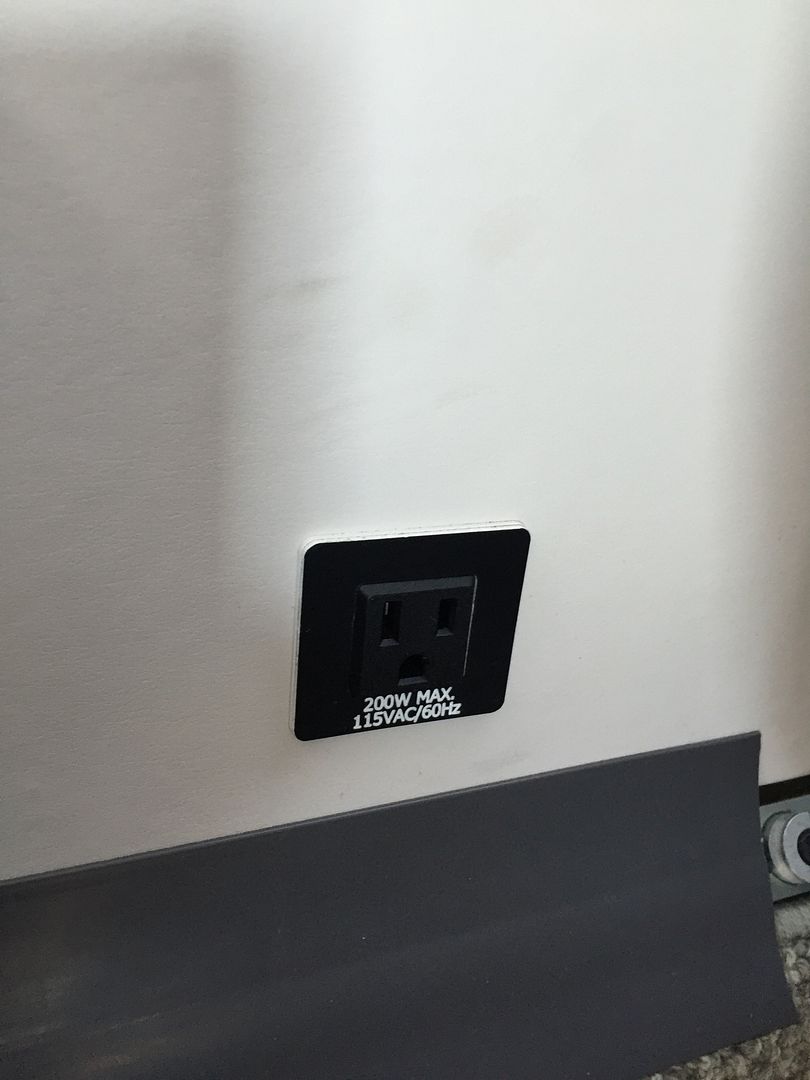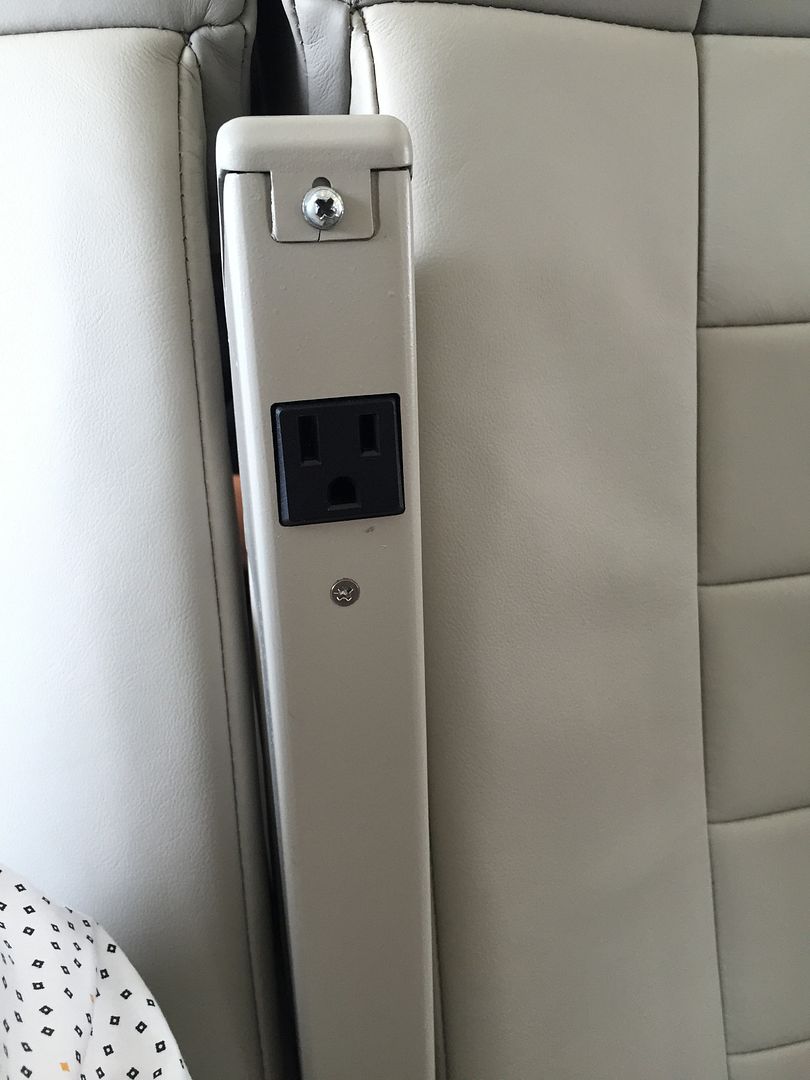 Boarding resumed at 12:15pm, and the flight was almost full.  To accommodate a couple, I moved to 5A, the single seat.  The check-in agent was not wrong and the flight to Las Vegas was almost completely full with families. 
Door was closed at 12:20pm and we pushed back five minutes later.
Spotted this Boeing 757-200 N770BB with Winglet
We took off from R/W15 at 12:36pm and flying time was a short forty-one minutes with a cruising altitude of 25,000ft. 
Tracy was friendly and pleasant, but had less time to serve an almost full flight.  She barely had time to pass out the snack basket and collected all garbage. 
Mexican Mule on this flight – Ginger Ale and Teqilla
Descent soon began at 12:58pm, and while it was a hot day in Las Vegas, the chops was not bad. 
Landing at R/W19R meant some interesting view of the strip and the airport. 
I enjoy the turn to the right side of the airport, and passed by the Sands VIP planes with two Boeing 747SPs and an Airbus A340.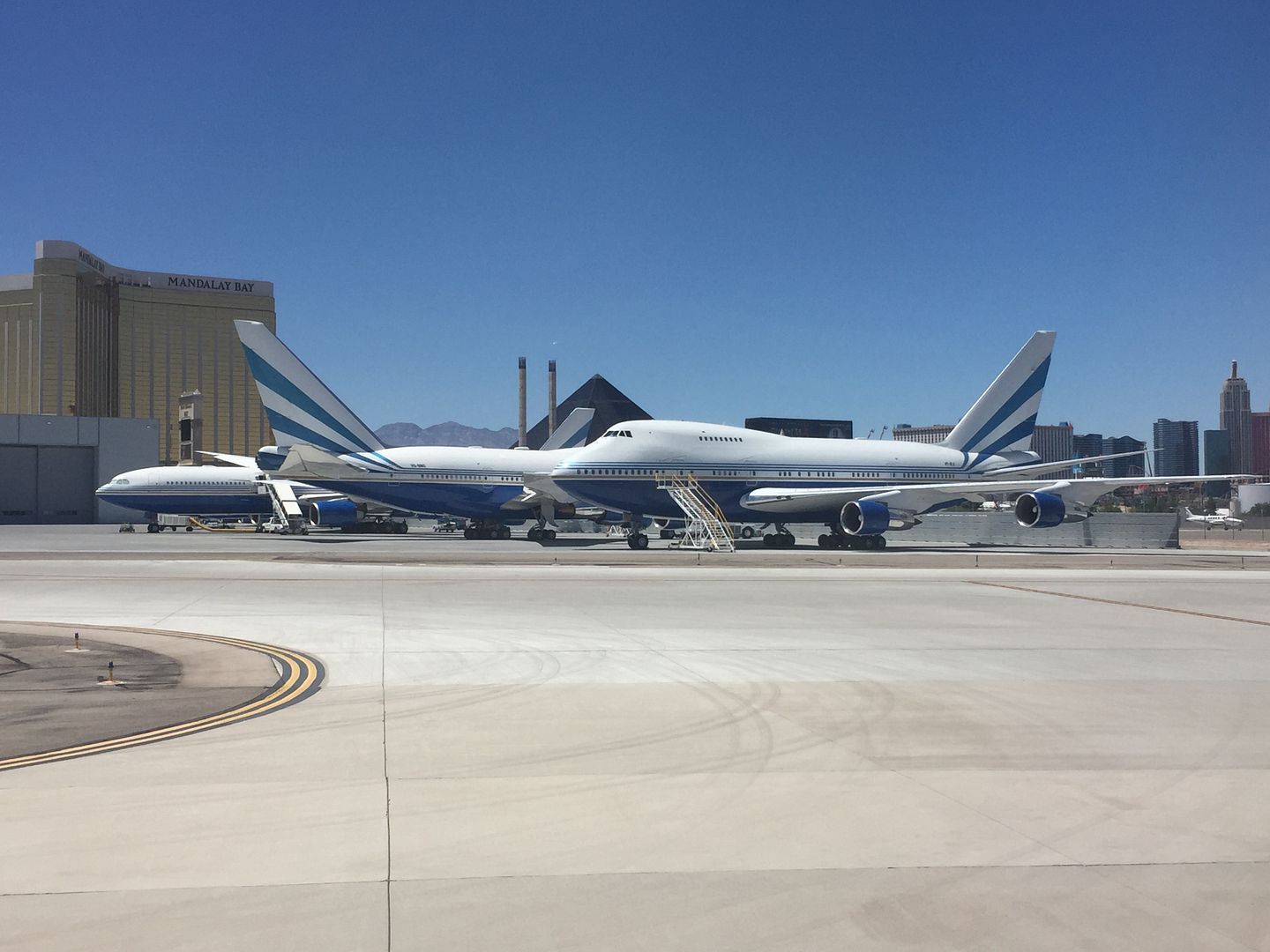 We parked at an open tarmac soon, and I noted a family being picked up right next to the plane.  Lucky people.
Since it is an open tarmac, they have to wait for everyone to pick up their bags before the ground agent escorting us to the Atlantic Aviation terminal. 
Great chance to snap some more pictures. 
In conclusion, I highly recommend JetSuite X to everyone, and you can't find a better airline flying between Burbank and Las Vegas.  As XE headquarter is in Irvinae, I overhead from the staffs that XE wants to fly to SNA.  However I feel that they can only fly into LGB too, in which it will be more useful to me.  Anyway, if you want to experience a semi private jet experience, JetSuite X definitely gives you a taste of how the rich and famous travels.  There are definitely rooms for improvement, such as better catering in both the lounge and in the air.  I don't expect meals, but it will be nice to get some kinds of fresh food like pastries, sandwiches and wraps, especially on the flights to Concord.  They soon will start some longer flight to cities like Bozeman, and it will be nice for them to step it the service a little bit and maybe an improved snack basket.   
I hope you enjoy this trip report!
Carfield